Plates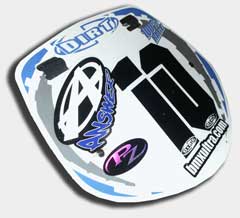 This is where it all started, Dirt number plates.
Below are some examples from the Dirt range of plates which fit the full range of handlebars from mini, to cruiser, to "ape hanger" pro bars.
Our plates comply with BMX Australia and UCI BMX regulations and are available in white, blue, red, green, orange, black and yellow.
We also manufacture custom presentation plates for clubs and associations, a popular and cheaper alternative to trophies.
Dirt plates

Custom plates