March news
BMXUltra.com is aiming at bringing you the most up to date BMX news from around the world, if you have anything that might be of interest feel free to e-mail us at webmaster@bmxultra.com
Don't forget to press the refresh button on your browser when you're looking for the latest news.
31/03 Factory Hyper / No Fear Dominates Winter
Hyper/No Fear press release
With rainy weather putting a gloom over BMX racing this winter, Factory Hyper / No Fear still holds on to first place in both sanctions after ABA Phoenix and NBL Morristown. With some key performances by Mike Lundy, Chad Kerley, Anthony DeRosa, Justin Posey, Doug Hayes, Alise Post, and Jacob Abbe, the team showed why they are #1 in the nation.
The big news was the debut of Hyper's new Assault frame line at the ABA's Winternationals. Off the track, the new bikes showed up with rave reviews and, despite receiving the frames less than a week prior, the number one team had an easy adjustment on the track and were stoked enough to score 25 wins on the new bikes. The team opted out of Saturday's rain soaked competition but gave it their all on Sunday under more favorable conditions. Open Mains were a Hyper dominated affair with NAG #2 Jacob Abbe getting things started with a win in 7-8 Open aboard his brand new Assault Junior. NAG #2 Chad Kerley followed him in 11-12 open and, despite just turning 11 a few weeks prior, came up huge with a win against the big boys. New kid, Ben Kubalak rocked 13-14 Open with a big first then Mike Lundy snapped out of the gate and SMOKED 17-24 Open. "Miss Automatic" Alise Post, the 2004 ABA National #1 Girl and Girl Cruiser, once again ruled 14 girls with a huge win and came back in 14-16 Girls Cruiser and dominated there as well aboard her Assault Pro Lite. Chalk up yet another double for "The Beast". Tory Nyhaug battled with Elliott McGrath but had to settle for second in 12 Cruiser. In class action, Jacob Abbe had to settle for second in 8 Expert as did Chad Kerley in 11 Expert. Nyhaug and Connor Fields finished 3rd and 4th in 12 Expert while Warren McDow, Ben Kubalak, and Lahsaan Kobza all crashed in their mains while leading the pack. NAG #1 TJ Johnson nabbed a second in 28-35 Expert. Mike Lundy, flying on his new Assault Pro XL, brought it home for the team with a huge win in 17-18 Expert, good enough for a double for the day.
Two weeks later, the team traveled to Morristown, Tennessee for the NBL's Spring National. The NBL debut of the Assault frame line went off without a hitch with the 2 time back-to-back NBL National #1 team winning handily both days and bringing home 20 individual wins. National #1 Anthony Derosa, on his Assault Mini Cruiser, doubled in 10 cruiser and won 10 Expert on Saturday. National #1 Justin Posey pulled down a couple of firsts in 11 Expert and 11 Cruiser aboard the new Assault Expert Cruiser. Doug Hayes sporting a new Assault Junior Pro, scored a double double in 13 Expert and 13 Cruiser for the weekend. National #1 Mike Lundy was just as dominant as ever with a double in 18-21 Expert. World #2 Mike McGonigle rocked the house on his Assault Pro XXL with a double in 22-29 Expert. National #1 10 Girl and 10 Girl Cruiser Krista Fournier doubled in class and won Saturday's cruiser main. Sinead Miller dominated 14 Girls on Saturday. Diego Alejandre doubled on Sunday in 15 Expert and 15 Cruiser. Jud Ciancio rocked 35-39 Cruiser with a win on Sunday.
Three Hyper riders found their way to Pasco Washington for the Great Northwest Nationals. Ben Kubalak, Tory Nyhaug and Connor Fields traveld to the northwest and came home with a couple wins.
All in all a great effort by the #1 team in BMX to put a cap on the 2005 BMX Winter. Next up is the Florida NBL swing in Orlando and Tampa. With an arsenal of great new frames, look for the NBL National Champs to continue the domination in 2005!
Check out Hyper's new frame line and be on the lookout for Hyper's new complete bikes at www.hyperbicycles.com. Get a look at all the top notch No Fear racing gear at www.nofearcycling.com. See the best BMX components on the market at www.tangentproducts.com.
Factory Hyper is proudly supported by: ESPN's X-Games (www.expn.com); Shimano (www.shimano.com); 661 shoes (www.sixsixone.com); ACS (www.acsbmx.com); Answer Products (www.answerproducts.com); FSA (www.fullspeedahead.com) ; Thomson Seat Posts (www.lhthomson.com).
31/03 Bombshell Takes Top Honours at National Titles in Cairns, Australia.
Bombshell/ECI press release
Luke Madill (GT) and Leigh Darrell (Crupi) both doubled in their respective classes taking their Bombshell Carbon Forks to 1st place in both 20" and 24" in Elite Men and Junior Elite Men.
We would like to congratulate Luke Madill on becoming 3 Time Elite Mens 20" Australian Champion and 4 time Elite Mens 24" Australian Champion.

Other Elite Men Finalists on Bombshell forks included; Tony Harvey, Scott Taylor, Julian Lim, Kamakazi and Glenn Codega
Bombshell Products are distributed throughout Australia by ECI.
31/03 Victorian State Titles 2005
BMXVictoria press release
Portland Update #1
After some delays with Native Title issues all relevant permits have now been issued and the reconstruction of the Portland BMX Track is under way. The excavators have moved in expecting to have the basic design of the track roughed out by next week. The bobcat will then move in to do the final shaping. The track is expected be ready to ride for the Portland round of the Western Region Series in May.
People who have not been to Portland will be pleasantly surprised by the parkland setting, shady trees and ample space surrounding the track. Portland itself has plenty of accommodation with 4 Caravan Parks, 8 Motels and 5 Holiday Apartments plus numerous B & B s. There is a good variety of food outlets with Pubs, Restaurants and take away food outlets. The food and accommodation as well as fuel are all reasonably priced (Fuel over the Easter break was the same price as Melbourne).
A full accommodation guide will be available very soon
The Portland BMX Club has strong support from the local shire as well as the local community. Family orientated activities are being planned for the Saturday evening on the football oval adjacent to the track. With this, the track upgrades and your support this should make one of the best State Titles in recent times.
If you have any questions just email the State Titles promotion group (Graeme Anderson, Greg & Denise Siinmaa) at gsiinmaa@datacodsl.com
31/03 Aussies Results
By BMXUltra.com
Thanks everyone who emailed with the results.
Click here for the results for top 8 riders for each class at the Australian Championships at Cairns this past weekend.
30/03 Sirius Sports crew clean up
Sirius Sports press release
This past weekend at the NZ Nationals & Australian titles truly was a big weekend one for Sirius Sports Racing. Below are the results for our team riders:
Al Maisey (ONE Bicycles) NZ 9 Junior Elite (crashed in semi)
Cameron Cole* (ONE Bicycles) NZ 2 Junior Elite
Chelsea King (Staats Bicycles) NZ 3 11 Girls
Dean Phillips (Hyper Bicycles) AUS 4 Junior Elite CR
Dirk Winter (Staats Bicycles) AUS 1 15 Boys / AUS 1 15-16 CR
Haden de Boer* (ONE Bicycles) NZ 4 Elite Men
Justin King (ONE Bicycles) NZ 4 13 Boys
Nikki Harper (Staats Bicycles) AUS 4 Junior Elite Women
Rhys Telford* (Hyper Bicycles) NZ 3 Junior Elite
Richard Stratford* (Intense BMX) NZ 3 Elite Men / NZ 1 Elite CR
Robert Blackham (Staats Bicycles) NZ 4 Junior Elite
Scott Hosking* (Staats Bicycles) NZ 1 16 Boys / NZ 1 15-16 CR
Stevie Winder (Intense BMX) NZ 2 13 Boys
Tim Ferguson* (Staats Bicycles) NZ 8 Elite Men / NZ 3 Elite CR
Wayne Pottow (Staats Bicycles) NZ 6 15 Boys
Wyatt Clinch (Staats Bicycles) NZ 3 14 Boys / NZ 1 13-14 CR
*Drafted into the BMX NZ High Performance program.
Good luck to those riders travelling to Tamworth & to the Worlds with the BMX NZ team.
30/03 BOOTES WINS UCI World Ranking Series
Wade Bootes press release
Round #8 in Cairns, Australia March 23rd-27th
Cairns BMX club was the host of round 7 and 8 of the UCI Oceania World Ranking Series and the Australian National Championships this past weekend. With official practice starting on Wednesday, two rounds of the UCI series run on Saturday, Sunday and the finals for the National Championships Sunday afternoon, made for a long week in the hot and humid conditions in the tropical area of Northern Queensland, Australia. The track was physically demanding with 2 concrete berms and a long last sweeping dirt corner with a numerous amount of jumps on the 410m track. With over 1700 entries for the weekend of racing, this clearly shows that BMX in Australia is coming back strong not only in numbers but also with stronger and higher levels of competition. This weekend was also the official launch for Percentage Designs which seen Wade Bootes race on the new prototype BMX frame and in TeamWBR/Percentage race gear. The launch was very successful as there were a lot of interest towards the new Australian bike company and the TeamWBR race program. Here is how the main events unfolded during the weekend.
UCI Round 7 started off with a perfect score for Bootes by wining all motos and qualifying through the quarter finals and making it into the semi final. The Semi finals seen some upsets by some top rides not making it into the main event. Series leader, Luke Madill unclipped out of the start and was not able to pull back into the top 4 positions to transfer in the main event. Semi number 2 seen Bootes bobble on the short jumps in the second straight which found himself back in 5th. Down the last straight Bootes was boxed in by the riders in 3rd and 4th position, which then seen Tiger Robinson come from behind and go by all 3 riders down the last straight to qualify for the final. Kamakazi had the holeshot in the main event with Fenwick close behind. Robinson again came from behind in 3rd place in the last corner where he had a super smooth last straight to take them both on the line for the win.
Elite Men Results
1st Robinson, 2nd Kamakazi, 3rd Fenwick, 4th Turesson, 5th Johnston, 6th Harvey, 7th Codega, 8th Wallin.
UCI Round 8 finished off a lot better for Bootes as he made his way into the main event by qualifying through his motos, quarter and semi final. This would see the toughest final for the weekend due to all the top Elite men made it through to the final. Kamakazi again took the holeshot with Bootes holding his ground on top of the first berm from lane 8. Robinson then made up some ground and was trying to pass Kama on the outside of berm 2, Kama then rode high to protect his lead, but this then seen Bootes dive towards the inside to take the lead from both riders. Fenwick then gained some ground and made his way up to second with Kama, Codega and Madill in toe. Madill made a big charge down the last straight to get by Codega and Kamakazi for 3rd while Bootes was able to hold off Fenwick to see him take out one of the most exciting races for the weekend.
Elite Men Results
1st Bootes (TeamWBR), 2nd Fenwick, 3rd Madill, 4th Codega, 5th Kamakazi, 6th Limm, 7th Taylor, 8th Robinson
National Championships were decided by the combination of the motos in both UCI rounds which then seen the top 16 riders go straight into a semi to qualify for the Nationals Championship final. Both semi finals seen some great racing which left a super line up in the Elite men's final for the National Championship crown. Bootes had a shocking start from lane 1 which seen Madill take advantage of the inside of the first corner from lane 2. Fenwick was then sitting in 2nd coming out of the first corner with Kama and Bootes close behind. Turesson and Codega were also closing in by the second corner which seen some rubbing of tires. Bootes seen a big gap and was going for a move from 4th to 2nd place. In mid move, Turesson's front tire connected with Bootes' rear tire making Bootes go into a flat "belly flap" spin on the concrete berm. Codega also went down hard and Kama was interfered with Bootes' bike while sliding across the track. Madill was then on his way to another National Title with Fenwick behind. Robinson took advantage of the crash and made his way up to 3rd position leaving defending Champion Kamakazi in 4th.
Elite Men Results
1st Madill, 2nd Fenwick, 3rd Robinson, 4th Kamakazi, 5th Ryan J, 6th Turesson, 7th Bootes (TeamWBR), 8th Codega
TeamWBR is proudly supported by: Percentage Designs, One Ring, Volkswagen Australia, Hogs Breath Cafe, Velocity Wheels, Investco Merchant Bankers, ATI, Hayes Brakes, Fox Shox, IRC, Cane Creek, BSC, QuikShade, Nike Cycling, Shimano and www.TeamWBR.com.
30/03 Does anyone have the full Aussie titles results?
By BMXUltra.com
We have received a bunch of emails, it seems that people are hunting high and low for the results. If you have access to them email them through or let us know where they are and we will post them (or a link) as soon as they are available.
28/03 Backyard BMX
By BMXUltra.com
While most of Australia's riders were fighting it out for a title in the tropical heat in Cairns, we were using the Easter long weekend to get started on the backyard BMX track. With help from 30+ class riders Dangerous Derek Harris and Slamin' Glenn Suridge on Saturday we got the basis of the first corner sorted out. On Monday Craig Merritt from Dirt Designs fame gave me a hand to build up the corner some more and give it a better shape.
Ok there are still no jumps, but any track builder will know, we have to get this corner right before worrying about jumps.
I had put up some signs around the area to call for clean fill on Saturday and received my first call on Sunday evening from a guy who has a heap of dirt that he wants to get rid of. (He has a bobcat so he can load us up at his end, but we will have to unload at the property by hand.) So on Sunday, this coming weekend, there'll be a whole lot more work. If any of the Victorian riders know where I can get hold of a small truck, or even if they are willing to move dirt with a trailer, they should email me at the above address.
Getting the dirt brought in will make it a whole lot easier to build the track than digging huge holes.
Another thing we are excited about is we managed to score a metal frame that will be the basis of a 4 man starting gate, all we need to do is put some stretched metal on top and a gate and we have a start hill. Depending on cost the starting ramp may also be stretched metal, we're looking into that at the moment.
If you think you can help out on Sunday in Kinglake at about 11am don't forget to drop us an email.
27/03 Madill wins Aussie titles
By BMXUltra.com
FreeAgent's Shannon Rademaker called to give us update on the results from the Australian Championships in Cairns. Luke Madill is the 2005 Australian Elite Champion, Mike Fenwick finished second. Wade Bootes and Glenn Cadega crashed together in the final. Leigh Darrell followed up his cruiser win on Friday to make it a double in Junior Elite and Junior Elite cruiser. Shannon Rademaker finished 6th in the 17 & Over men's class, a bad start kept him off the podium.
25/03 Aussie Senior Elite Cruiser finals
By BMXUltra.com
Word just in that Luke Madill has beaten out the 2004 Australian champion Kamakazi and the rest of the field for the 2005 cruiser crown. Billy Joliffe was a close third and BMXUltra.com's Levi Collins finished with a strong fourth place in a world class field.
Senior Elite Men's Cruiser Results
1. Luke Madill (GT/Fox)
2. Kamakazi (Intense/ECI)
3. Billy Joliffe
4. Levi Collins (BMXUltra.com)
6. Mike Fenwick (Specialized/Fox)
25/03 Australian Championships this weekend
By BMXUltra.com
The Australian Championships start today in Cains in far North Queensland. We chose to stay home this time around, but we received a call last night from FreeAgent's Shannon Rademaker, who has our video equipment, he said the track was nice and so was the weather. That is until you put on your race gear and started pedalling, that's when you instantly break out in sweat.
I have spoken to some industry types about who was their favourite pro this year. The same 3 names came up. Michael Robinson, if he can keep the bike upright and his head together. Kamakazi, who has spent a lot of time off his bike with injuries and illness, but as we all know you can never write off the two time and current Australian champion. Luke Madill is a favourite where ever he goes, also a two times Australian Champion, he will be wanting the number 1 for 2005.
My favourite is Mike Fenwick, he's the current World #1 Junior Elite, but has made a big impact since stepping into the Senior Elite class, and pulled some big wins. Friday is cruiser day, we hope for a call tonight with an update. Don't forget the very experienced and consistant Wade Bootes, he's been making podiums lately, we just haven't seen him on top at a UCI round since he's been back on the circuit. One of my favourite Aussie pros is the very approachable John Johnston (Felt). He has been concentrating more on building up his own business than racing BMX, but if he can get his head together for this event he could be a dark horse. Travis Truesson is back on Australian soil competing at his first Australian Championships since Nerang in 1996 where he won but was disqualified for taking out Darren Hawkins on what was a controversial call. Needless to say he'll have something to prove.
In Australia the senior elite class, just like the other pro classes, are becomming more competitive by the day, don't be surprised if some of the riders we mentioned are watching the mains from the sidelines and there are a bunch of new names in the final. Mistakes are costly, even the smallest ones, it will be the rider who does the perfect lap in the final who wins the crown, if I was a betting man, I think it would be safer to keep my money in my wallet.
25/03 Dirk Winter's no cheat
By BMXUltra.com
At the start of the month we asked the question was Dirk Winter (Staats/Sirius) World #2 in the 14 Boys class breaking the rules. It used to be that if you were 14 or older in Australia and you held a World title you were automatically AA Pro (That's still printed in my Pro money log book and I wasn't told of any change).
We were waiting to hear from official sources, but I guess they have more important things to do than answer the questions that we ask. We did hear from two very separate individuals who said the rule was changed some time ago.
One email thought we should apologise to Dirk, well sorry but we simply asked a question if he was breaking the rules as we knew them, and as they were printed in black and white, there were no false accusations, no one was calling him a cheat, so that's a "no" to the apology.
Dirk Winter has now reached his money limit and graduated to AA Pro, it will be great to see the youngster in the growing and highly competitive field, expect to see his name in the results amongst Australia's top dogs.
24/03 ISportsTV announces plans for live Audio Webcast of the NBL Spring Break Nationals
ISportsTV press release
Phoenix, Arizona - IsportsTV (ISTV.com) announced today it will deliver a worldwide, real-time AUDIO broadcast over the Internet for the NBL's upcoming Easter Classic Event, held in Orlando, FL on March 26th-27th. This is the first-ever live audio broadcast for an NBL event, and IsportsTV expects thousands of participants from all over the world to log on to the audiocast via their own computers. In addition, IsportsTV will also provide a similar webcast for the Gator National in Tampa, FL on April 1st-2nd. Racers, families and fans can simply go to the home page of the NBL site and click on the ISTV.com banner during the event to hear all the exciting action LIVE and in real-time. With ISTV's broadcast there are no delays, no waiting for race results, AND participants get to hear the play by play race action from the beginning of the first moto to the end of the very last main event.
IsportsTV is dedicated to full-scale coverage of BMX racing, as well as other action sports. The company plans to have live audio webcasts, as well as high-quality video coverage at all major BMX events, including NBL and ABA races. For more information about IsportsTV, visit the website at www.istv.com.
24/03 Gavin D needs help
By BMXUltra.com
All jokes aside, freelance photographer Gavin D, who brought us the 2004 and 2005 BMX racing calendars, is looking for one person in each state of Australia to help with the sales and marketing of his 2006 BMX Calendar. It is a commission based position. Anyone interested in this position should email Gavin at mrg@gavind.com.au.
23/03 Preview: Top Dog ST Gauge Deluxe floor pump
By BMXUltra.com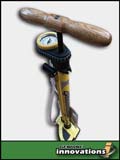 Are you still using your old basic 5 buck hand pump? Can't get enough air pressure in your tires? Too exhausted to ride from all the pumping, just to get enough air in your tire to ride to the local service station to get some real pressure?
With thanks to GKA Sports Distribution, the Australian distributor for American company Genuine Innovations, we have been given a top of the range Top Dog ST Gauge Deluxe floor pump to play with. Genuine Innovations are well known for their CO2 inflation kits.
The Top Dog floor pump features;
Steel construction with oak wood handle
Extra-long 900mm durable, clear nylon braided hose
Dual head with locking lever instantly connects to both Presta and Schrader valves
Pumps to 160 PSI
After just a couple of uses I don't know how I have gone all these years without it, this high pressure pump does it all with ease.
For more information about Genuine Innovations pumps check out www.innovationsaz.com.
22/03 "On the Grass" bike show
By BMXUltra.com


The East Side Bike Club ran their annual "On the Grass" bike show on the grass by St Kilda beach on Sunday. It was a beautiful day. The sun was out attracting hundreds of beach goers, many of them stopped to check out the bikes on show.
Naturally our interest was in the Old School race bikes and, even though there weren't a great deal of BMX bikes there, we weren't disappointed. On display was a restored JMC and an OM Flyer, other bikes on display were the CW phaze 1 (Lightning bolt) with Vector handlebars, a range of Mongoose bikes including a two-four and the moosegoose. The Australian made SLA race bike brough back some real memories and even sparked1 the old school collector in me. You can bet your a%% the next time there's a bike show on I'll be there with a camera in one hand and a prize winning contender in another.
Click here to check out the photos.
22/03 BMXPros.com Race Report: DC Sprint Trails Race - Sanger, CA
BMXPros.com press release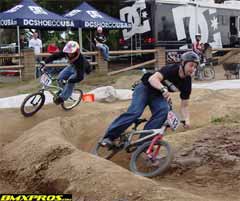 Randy Stumpfhauser has been a big fan of the 2 Man race format that has been raced in the past, so much so that he went out and built a complete 2 man race course at his home, along with his highly technical jump park. When Randy's buddy Dwayne Taylor came up to ride one day a year or so ago, he was so excited about the trails, he brain stormed the idea of holding a Pro invitational race. Flash forward to a year later, and Dwayne put the idea to his boss at DC shoes and the guys idea became reality. DC put together on of the best one day events, with all the Professionalism and fun that may be missing from some of the regular National events, and had a larger Pro turnout than some nationals. The format of he race was simple, each rider would ride the course by themselves to post a qualifying time, then they would be bracket up and race against each other in races of 2 riders at a time, doing two heats, with the rider with the best combined times transferring on.
The entire event took about 3 hours and even with rain in the forecast, the race went off in the dry, with the only rain falling was just as the 2 riders Randy and Mike Day, loaded up in the gate for the first run of the final.

Randy Stumpfhauser has been lucky enough to have had a track at his house for quite some time, and have some friendly races here and there with his 2 man race track, but this was the first time that he went out and raced for $1500 in prize money in his own yard. Thinking Randy had a home track advantage may have been a thought to some, but since he has been working on the trails solid for a week and helping getting things ready, made for one worn out racer. Randy seemed to be the guy who had the most fun once the race started. Randy had the course dialed, and made his way into the finals, against the days fastest qualifier, Mike Day. In the first round, both Randy and Mike made small bobbles, making it the most exciting race of the day, with Mike just edging Randy out by the absolute smallest of margins. In the 2nd run, Randy gave it all he had and pulled away from Mike down the last strait, but just before the last jump, Randy slipped a pedal, and hit the last jump at full speed. Some, while doing a front flip over the last jump, Randy held onto his bike and hit the timing stripe at the finish line. His lead had shrunk due to his crash, but after review, Randy was awarded the win and had beat the margin Mike had after the first race, giving Randy the overall win for the day. You have to watch this race on www.BMXnews.com to see how crazy it just was. Randy's sponsors include GT Bicycles, Hyundai, ODI, Kenda Tires, Tangent, Sun Rims, Bombshell Forks, AC, Fly Racing, Thomson, Powerbar, CTI Knee Braces, Tool Shed, SDG, S & M, Fox Riders Co Clothing, Cyto Sport/Cyto Max, and BMXpros.com

Brandon Meadows riding skills come out when he is having a lot of fun riding, and it was evident at the DC race, as Brandon was one of the fastest and smoothest riders to hit the trails. As the qualifying rounds dwindled down, Brandon was up against Mike day in the Semi Final. In the first round, it was a super close race, with Brandon just missing out losing by the smallest of margins. In the 2nd round, Brandon knew he had to dig down deep, to take the win and transfer to the final, but going faster than he had before down the first strait, Brandon crashed just after the 1st jump. To make up for his small bobble, Brandon would go on to race in the small final and finish 3rd for the day, beating John Purse in that race. Brandon's sponsors include Specialized, Fly Racing, Tangent, Cyto Sport/Cyto Max, Shimano, Sun Ringle, Powerbar, and BMXpros.com.

For Video footage and Photos of the race, check out www.BMXnews.com .
Big thanks goes out to DC shoes and Dwayne for getting behind such and event, Shimano for helping add money into the Pro Purse, all the riders who came out to race and have a blast, and Randy and his entire group of friends and family, who put together one of the best days of BMX racing in a long time. DC looks to be standing behind BMX racing with talks of holding future BMX race events, so please support DC shoes.

DC Sprit Trails Race - Race Results
1. Randy Stumpfhauser (GT/Hyundai)
2. Mike Day - (Staats/Red Bull)
3. Brandon Meadows - (Specialized)
4. John Purse - (Mongoose/Hyundai)
BMXPros proudly represents Kyle Bennett, Cristian Becerine, Wade Bootes, Dale Holmes, Christophe Leveque, Brandon Meadows, John Parker, and Randy Stumpfhauser. For more information on any of the riders, or questions abut sponsorship of any of the athletes, please visit www.BMXpros.com.
21/03 Review: New Aluminium Staats frame
By BMXUltra.com
With thanks to Sirius Sports, the Staats distributor for Australia and New Zealand, we have set AA Pro Levi Collins loose on one of the new Staats alloy race frames. Click here to find out his initial thoughts of the frame.
21/03 Blackman Cycles receives stock of new Staats frames
Staats press release
Blackman Bicycles (Parramatta, NSW) has just received stock of the "05 Staats alloy frames. Since 1995, Staats has been synonymous with BMX racing and has cultivated a reputation for its quality, rider-designed, race-proven frames. And during the last 10 years, Staats has strived to grow with the sport and the riders' needs. Being a rider-owned and operated company, Staats know first hand what those needs are and the two "Golden Crank Awards" received, which is voted on by the riders, serve notice of that.

The new product offering for 2005 includes the highly anticipated aluminum frame line up of the ultra-light Micro Mini, Mini 20, Pro 20, Pro XL 20 and Pro XXL 20. Robert "Afro Bob" deWilde, who has played a key role in the development of the new aluminum frame, just piloted his Pro XXL 20 AL to the top of the podium at the recent ABA Winter Nationals!
Be sure to keep an eye out for Ben Clarke (Blackman Bicycles) & Levi Collins (BMXUltra.com) at the Aussies, as both riders are now riding new Staats bikes.

For more information go see "Doug-o" at Blackman Bicycles, 382 Church Street, Parramatta, or phone 02-9683-6555. If you live outside of NSW but would like some information on Staats Bicycles email Sirius Sports (NZ/AUS Distributor) at info@siriussports.co.nz.
18/03 2005 ACT Titles wrap up
ACTBMX Press release
The 2005 ACT State Championships, were once again one of the most successful events on the Australian BMX calendar, attracting riders from all over Australia, New Zealand, and China. We had a top weekend of racing and our UCI, incorporated with challenge race meeting, went really well again this year so we are looking forward to next year's big race meeting.
We would like to thank all the riders and parents for coming and entering our event.
Our officials that worked all weekend, our commentators, Chester, the ACT and Tuggeranong committee and especially our president Linda Terry who did not stop from about 6 weeks prior to the race and 1 week after. It would not have happened if not for her major part.
We look forward to seeing you all next year, for a bigger and better event.
We would also like to thank our sponsors.
RIV-OLAND TILES
QUICK FIT TYRES
BIKE SUPER STORE
ALIED TECHNOLOGIES GROUP
FYSHWICK POULTRY AND GAME
CAPITAL TROPHIES & SPORTSWEAR
BRIAN KELLY BODYWORKS
GERALD SLAVEN
METRO SERVICE STATION
QUEANBEYAN CARPETS
FROZPAC
VALLEY SCREEN DOORS
LOWES
COATES PRESTIGE HIRE
COCA-COLA
FIRST AID SERVICES
NSW BMX
17/03 Photos: Eastfield Supernationals
by BMXUltra.com
Victorian riders had their last opportunity to fine tune their skills at the last race meeting in Victoria before the Australian Championships later this month. Lance Mahuika caught a nice photo of Andrew "Carps" Dennis attempting a back flip, that looked more like he just looped out down the first straight in practice.
Click here to check out the photos from Eastfield.
17/03 Body science sport nutrition discounts
TeamWBR press release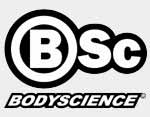 TeamWBR has just made a deal with BSc Body Science-Sports & Lifestyle Supplements, to give out a discount to all their grass root TeamWBR members. BSC has also agreed to give out this discount to all readers of BMX Internet sites.

"I use these supplements myself and find they are better than any U.S based supplements I have previously used".

You can check out www.bodyscience.com.au for information on all their products.

So depending on what you want to achieve with your training, i.e.: Gain weight, Lose weight, Recover more efficiently, Pre-hydration/Re-hydration, Strength, Stamina or Endurance and many more, Body Science have the supplements that can help you achieve the absolute best results.

All you need to do is Email teamwbr@discountnutrition.com.au with your details or questions and you will receive the BMX Team WBR Discount Price's on BSc's Broad Range of Sports & Lifestyle Products.
16/03 Victoria's Metro Plate 2005
Eastern Region press release
The Metro Plate series is on again for 2005. The first of seven rounds will be held at the Eastfield BMX track on Sunday 17th April.
There have been some changes to the traditional format of Metro Plate.
14+ Money 20" class (Pro Open): $5 of the entry fee for each will roll over and jackpot into a prize pool, which the series top eight riders will race for at the final round.
Bruiser Cruiser will be run as a normal class, with three motos and final at each round (BC riders will not be forced to do their age class cruiser in addition to Bruiser, as they have at Metro Plate previously). Hope that some of the 30+ Hotshots will support this.
Age classes: All normal age classes up to 18 years in both 20" & Cruiser. However the only age classes for older riders will be 19+ 20", 19-29 Cruiser and 30+ Cruiser.The aim of this is to get away from classes of three or so riders, going round in a procession (This will help with rider development and put some excitement back into the racing in the less supported classes).
Check out the racing calendar to download an entry form.
15/03 Preview: GEAX tyres
By BMXUltra.com


Mountain bike tyre manufacturer GEAX have developed a new BMX race tyre called Poison. At this stage the tyre is available in two sizes, 20X1.75 and 20X2.00. At 600 grams for the 1.75 tyre they are a little heavy for the serious BMXer, but a great price for someone who's budget conscious or just getting started. The tread should rival the likes of Tioga's Comp X or Maxxis' Max Daddy's. Click the image to the right for a closer look.

For those of you into freestyle/street GEAX also have a tyre for you, called the Tattoo. It's also available in two sizes, 20X2.00 and 20X2.30. The Tattoo features a very grippy tread pattern and high pressure tyre ratings. Again it's a little heavy, but this is their first dab into the BMX market, and there is room for refinement.
GEAX is distributed in Australia by GKA Sports Distribution. For more information check out www.geax.com.
14/03 TeamWBR news
TeamWBR press release
Round 5 UCI WORLD RANKING SERIES Auckland, New Zealand March 12th-13th

East Side BMX club in New Zealand was the host of round 5 of the UCI Oceania World Ranking Series and also a round of the New Zealand Super Class Series. With a quick 3-4 hour international flight from most major cities in Australia, a bunch of Australian riders were there to represent. The weather was fantastic for the 2 days of racing and the club provided a smooth running event and a superb track for the riders to compete on. The track had 3 concrete corners and had plenty of fun jumps which made for some exciting racing. New Zealand is surely stepping up to the plate in regards to competition and has a well organized high performance program set in place which has definatly been the key factor for the New Zealand team riders.

The UCI World Ranking series main event went down like this. The current leader of the series Luke Madill and Wade Bootes went into the first corner side by side, Bootes had the inside and held the lead down the second straight. After coming up short on one of the doubles, Bootes unclipped out of his pedal which allowed Madill and Willers to sneak pass both sides going into the second corner. Bootes was not able to clip back in until the third straight which then seen Robinson fly by the outside. Madill held the lead to the finish which seen a close race between Willers and Robinson on the line for 2nd and 3rd. Bootes manage to hold on to fourth place by the time he regained pedal power down the 3rd straight.

1st Luke Madill (Aust)
2nd Mark Willers (NZ)
3rd Tiger Robinson (Aust)
4th Wade Bootes (Aust) TeamWBR

The New Zealand Super Class Series seen some fast and exciting racing with both Junior and Senor elite competing together. Bootes cruised through the motos and meet up with an even split of riders from Australia (4) and New Zealand (4) in the final. With a 3 final final, this would make for the most consistent rider to take out the overall win for the day. In the first main Bootes unfortunately unclipped out from the start which left him behind to fight back from last position. Madill, Robinson and Willers had a close race but ended up finishing in that order. Bootes only manage to come back to a disappointing 7th place. 2nd main seen Robinson take the holeshot with Madill on his heals. Willers and Bootes were fighting it out for 3rd place in the last corner were they made contact, Bootes took over 3rd place by the use of many years of racing experience. 3rd main there was even more action. Bootes, Robinson and Madill were all together in the first corner. Madill had the inside and rode both high to allow Willers to high low into 3rd position. Madill came up short on a double down the 2nd straight which seen Robinson pull up beside him, Madill was stuck in a manual while Robinson made the move into first place, Madill ended up high siding on Robinson rear tire which seen him hit the second concrete corner hard. Robinson then had an easy win to the line with Willers and Bootes in tow. After calculating up the points, the overall top 4 finished like this.

1st Tiger Robinson (Aust)
2nd Mark Willers (NZ)
3rd Luke Madill (Aust)
4th Wade Bootes (Aust) TeamWBR

In 2 weeks time will see all the Australian Elite riders meet up in Cairns, Queensland for the 6th and 7th round of the UCI World Ranking Series and the Australian National Championships for BMX. Bootes hopes to improve on his results in Cairns by fixing and working on his unclipping problem he had this past weekend in New Zealand.

TeamWBR is proudly supported by: Percentage Designs, One Ring, Volkswagen Australia, Hogs Breath Cafe, Velocity Wheels, ATI, Hayes Brakes, Fox Shox, IRC, Cane Creek, BSC, QuikShade, Nike Cycling, Shimano and TeamWBR.com.
14/03 One Bicycles news
One Bicycles Press release
Ecuadorian Championships
ONE's Emillo Falla, representing his country of Ecuador, perfected the 1st round of the Ecuadorian Championships on both Cruiser and 20".
Emillo has been invited to travel to Switzerland for a three month training course at the UCI Center there. He will be there from May until July. Part of the course will take him to different races in Europe so he will be joining the ONE Team in Europe as they compete.
Rockmore
ONE'S Lanell Rockmore (14 BMX Expert) will start this Sunday Bike Line Criterium Training Series. (Road Racing) April will be starting Track racing at the Lehigh Valley Trexler Town Velodrome. Lanell will be leaving for Houston, Texas, April 7,8,9 and returning Sunday the 10th. We wish Lanell the best of Luck BMX/Velo racing.
Spring Nationals: Thunder Production Report
One Bicycles' Elite Women Pack A - "One-Two" Punch at Morristown
The 2005 NBL Spring Nationals (www.nbl.org) are now in the record books and provided some of this year's most exciting amateur and professional competition. Matt Pohlkamp and Diamondback's Travis Turesson won the men's Elite Opens Saturday and Sunday respectively. Meanwhile, the One Bicycles (www.onebicycles.com) Elite Women duo of Rachel "Thunder" Smith and Jessica Moore thrilled the crowd with memorable one-two main finishes. Three racks of talented Elite women gave chase but it was a two-rider race with very close finishes in the mains both days.
Elite Men Open Saturday
1 Matt Pohlkamp, 2 Lance McGuire, 3 Cam Musil, 4 Travis Turesson, 5 Harley Kelley, 6 Carlos Clark, 7 Alex Gore, 8 Carlos Pierson
Elite Men Open Sunday
1 Travis Turesson, 2 Ernest Minor, 3 Jason Bennett, 4 Lance McGuire, 5 Matt Pohlkamp, 6 Bryan Edwards, 7 Timothy Dinger, 8 Tim Sonner
Elite Women Saturday
1 Rachel "Thunder" Smith, 2 Jessica Moore, 3 Jill Botchler, 4 Samantha Allen, 5 Ashley Ross, 6 Sierra Siebenlist, 7 Melissa Gremal, 8 Samantha Storey
Elite Women Sunday
1 Rachel "Thunder" Smith, 2 Jessica Moore, 3 Melissa Gremal, 4 Amanda Gremal, 5 Samantha Allen, 6 Sierra Siebenlist, 7 Vannessa Pearce, 8 Jill Botchler
A strong HBR team finished second to Hyper in the National Team Competition Saturday and on Sunday Hyper again came out on top with One Bicycles Team taking second. Hyper's 15X Diego Alejandre, aka "Mr. Smoothie", was exactly that in both class and cruiser. Sun's Jeffery Upshaw put on a skills demonstration on the third straight, and Dan's Tim Sonner is ready to make tire recommendations if you are interested. Just kidding, Tim blew a tire at speed Saturday and his exceptional bike control prevented any serious carnage…glad you were not hurt! Everyone's friend, 50+ cruiser, Larry "Red" Bivens, took a bad spill on Saturday but was up and about Sunday to cheer for his friends.
There were a number of fast amateur ladies at Morristown including Junior Elite Katie Shedivy who was looking good at the front of the pack in her new Dan's colors (new uniforms look great Teri!) Ohioans Jessie Bercik, Bethany Kludt and Jessica Patton did the Buckeye State proud with strong finishes in their respective classes. One of the most impressive ladies was 15-year-old Madison Pitts who was quick, powerful, and skilful around the big-M track.
Tom Ritz and crew provided a competitive track and the NBL staff and local volunteers kept the event flowing and fun. Morristown is consistently a high point on the Big-A schedule. Hotel accommodations are plentiful, good eateries are nearby, the facility is first rate, the dirt packs great for building, the countryside is beautiful, and highways intersect from several directions to provide easy travel. Plus, with over 160 motos the racing was great!
ONE Bicycles' BMX team is sponsored by: TROY LEE DESIGNS, SHIMANO, BOMBSHELL, BOLLE, WLM DESIGN, BOMBA, THOMSON, FIZIK, ODI, ZITOUN, KENDA, NIKE 6.0, NIKE Cycling, NIKE Timing, COOL SHIRT and BMXPIX
14/03 DK West Coast Nationals news
Hills BMX club press release
Hills BMX club welcome on board DK bicycles as our naming rights sponsor for the "DK" West Coast Nationals. All is set for what is the biggest weekend of racing in Western Australia outside of our State Championships. Fenwick, Harvey, Madill, Johnstone and Mankowski are already signed up and leading the charge for the east coast riders, however they won't have it all their own way with Khalen Young and the Taylor brothers all set to fire on their home turf.
Hills BMX club can hook up riders wanting to come over with pickups and a billet for the weekend just contact Mark on 0407 635 218.
Check the BMXUltra.com race calendar for entry form and flyer.
11/03 Fork shoot out
By BMXUltra.com
It seems there are a whole bunch of after market BMX race forks available these days. It can be very difficult to know where to start looking and what to choose. What's important to you? What your favourite pro rides? Weight? Price? Strength? Looks? We decided to compare 4 of the leaders in the market and found something very interesting.
(All information is based on 1 1/8" threadless 20 inch pro size forks)
Supercross
Race Forks
Answer
Scythe
Odyssey 41
Thermal Race
Bombshell
Pro Carbon
Materials
Cromo Heat treated
Carbon/Alloy
Cromo
Carbon/Alloy
Weight
27 ounces
950 grams
26 ounces
920 grams
36 ounces
1200 grams
26 ounces
920 grams
Colours
Gloss Black or
Triple Show Chrome
Carbon/Black
Chrome
Carbon/Red, blue, black
Price
US$94.95
AU$185.00
US$229.99
AU$489.00
US$94.99
AU$156.75
US$239.00
AU$459.90
Website
supercrossbmx.com
answerbmx.com
odysseybmx.com
bombshellparts.com
Aust.
Distributor
Rider Essentials /Freak
Answer Manitou Australia
BMX International
Elite Cycles Imports
The cromo Odyssey Termals and the Supercross race fork were the cheapest of the forks that we looked at. As you can see the Carbon forks by Answer and Bombshell are the lightest, by 1 ounce or 30 grams, if you compare them with the Supercross race fork, is 1 ounce worth US$130 or AU$300? If money isn't an issue and you are trying to shave weight off your bike where ever you can, the carbon composite forks will do the trick.
When it comes to it, people went to carbon because it was lighter than existing forks but still strong, but carbon legs and an alloy steerer are no match for the all rounder Supercross' full cromo heat treated fork on the race track. The Supercross forks have the added bonus that you won't have to change your forks to hit up the local dirt jumps. We found the Supercross race fork the best value for money BMX race fork on the market, winning the weight/strength Vs cost battle with ease.
11/03 Supercross Blue Streak tires
By BMXUltra.com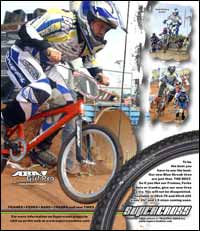 Supercross have added tires to their product range which already consists of frames, forks, handlebars, hubs and cranks.
Bill Ryan at Supercross is so proud of the new tire he sent us a preview of the new ad which features super chick Samantha Cools as well as Vet Pro Todd Parry and AA Pro Jarrett Kolich.
Stats
Weight: 375 grams or 460 grams
Sizes: 20x2.125, 20x1.75 and 24x1.75, with more coming
Pressure rating: 120psi rear (sidewall says 80 for saftey factor) and 80psi front ( sidewall says 60 )
Additional information: Non directional tread pattern. 66tpi thread count in the sidewalls for durabilty and flexabilty. Brand new tread design and casing that Supercross have developed specifically. Manufactured by MAXXIS for Supercross.
For more information about Supercross check out www.supercrossbmx.com.
10/03 Photos: ACT Titles
By BMXUltra.com
While at Canberra on the weekend we managed to get out with the camera and get a few happy snaps of the action packed racing.
Click here to check out the photos.
09/03 Percentage Prototype frame and fork
By BMXUltra.com
Wade Bootes has been busy these past few months, he's been working with Sydney company Percentage to put together new frames for BMX (20" and cruiser) and 4X MTB racing (hard tail). They are also doing a carbon/alloy fork, and cnc'd alloy stem.
Wade says that Percentage were around 20 years ago and cranked out a few BMX race frames, they now have new backing, so it's full steam ahead.
The photos below are of the prototype fresh off the jig. The production model will come with removable brake mounts for V-brakes.
When the frames go into production they will be a part of a WBR grass roots program that Wade has put together, the official announcements will be in Cairns at the Australia Championships over Easter. For more information check out wadebootes.com.







08/03 ACT Titles Race report Day 2
By BMXUltra.com
Canberra's weather improved overnight, the sky was blue, the sun was out and the track looked faster.
A Men
44 Entries in the A Pro men made this one of the biggest A Pro fields in Australia for a long time, when the dust settled from qualifying only 8 riders would face off for the money.
It was Josh Kane with an awesome first straight that jumped to the early lead in the main, the rest of the field were close by until they hit the second corner when he pulled away. Miller tried to go with him, and even pulled up beside the leader on the fourth straight, but went wild and allowed Vockenson and Brunjes to catch up. Miller lined up the last corner and took the second place from Miller, the rest of the riders settled into a single file to the line.
1. Joshua Kane
2. Michael Vockenson
3. Ashley Miller
4. Neil Brunjes
5. Neil Gourlay
6. Dane Booker
7. Shaun Craven
8. Thomas Twentyman
Pro Women
With 2 tough gates of Pro Women it was nice to see former world champ Rachael Sheridan (formerly Marshall) at it again and getting amongst it. She's obviously been training since we last saw here at the Track Attack series in Melbourne. She beat out some big names from both Australia and New Zealand for a finals birth.
When the gate dropped in the main New Zealand's wonder woman Sarah Walker put the power down and lead the way to the first corner. Crystal Cranfield and Nicole Callisto were battling for second until local girl Caroline Buchanan moved up in between them relegating Callisto to fourth. Sheridan and Junga were fighting for the 5 spot, until Sheridan pulled ahead which is pretty much the way they finished.
1. Sarah Walker
2. Krystal Cranfield (DK)
3. Caroline Buchanan
4. Nicole Callisto (Crupi)
5. Rachael Sheridan
6. Renee Junga (Cassap)
7. Grace Ireland (Crupi)
8. Theresa Bates
AA Men
With 40 riders this was one of the biggest AA Pro fields I have seen, Pro racing is very healthy in Australia. When it came down to the main only the best 8 on the day were there. It's no surprise that 3 of the biggest names in Aussie BMX were there, Madill, Fenwick and Bootes. But they don't get it all their own way.
In the main the start was very even, Madill coming out of lane 1 and Willers out of lane 8 pulled out to the front by the first jump, as Robinson and Johnstone went down at terminal velocity. Fenwick slotted into third and Bootes in fourth, until Lim powered past Bootes in the second straight. As Madill started to pull away on the fourth straight Bootes stepped it up a gear and powered past Lim. Fenwick was trying to pass Willers through the rhythm section in the second last straight but came unstuck on the step down. He looked like he was going to hold it together but fell just as Lim was going around him and they both went down. Bootes had a good run around the last corner and took Willers just before the line.
1. Luke Madill (GT)
2. Wade Bootes (WBR/WadeBootes.com)
3. Marc Willers (Specialized)
4. Billy Jolliffe
5. Julian Lim (Intense/Phirebird)
6. Michael Fenwick (Specialized/Fox)
7. Daniel Johnstone (DK)
8. Michael Robinson
If the ACT titles are going to produce this sort of racing every year I'll be back in 2006. Some other highlights from the event was seeing Warwick Wheeler from BMXPress back on the bike and 40Kgs lighter. We checked out Wade Bootes' new bike by Percentage Designs, we have some photos of the prototype and will try to post them tomorrow. With over 615 riders and around 100 of Australia and New Zealand's best pros in attendance is BMX getting stronger? I hope so.
08/03 Bootes on podium
TeamWBR Press release
UCI world ranking series and ACT championships March 5th-6th

Tuggeranong BMX club in Canberra was the host of round 4 of the BMX UCI World Ranking series and the ACT State Championships. Day one had some bad weather but the track held up very well in the rain and Day 2 was a perfect sunny day. The track was super fast and quite long with 6 fun straight aways. The starting hill was huge and made for a quick top end speed by the first jump which made us all fly into the first corner. Racing is getting more and more competitive in Australia within the Junior and Senior Elite Categories as the National Championships are just around the corner. This weekend also seen the National New Zealand and Chinese team competing for those most important UCI Oceania points for 2005.

The UCI World Ranking series round went down like this. 2004 Junior Elite World Champion Mike Fenwick (now Senior Elite) got off to the early lead with Wade Bootes in tow. Fenwick looked to pull away while Bootes seemed to lose some ground after over jumping the second jump into the first corner, while Robinson went around the top and Johnstone went underneath. By the second corner Bootes worked his way back to third relegating Johnstone with Madill close behind. Robinson went for a last ditched effort to swoop under Fenwick on the last corner and nearly pulled it off but Fenwick was too strong. It looked like Bootes had passed Robinson on the line but the judges saw it another way. Madill finished in fourth then Willers, Johnstone, Wilcock and Gavin J in eight.

The ACT Championships seen some fast and exciting racing as there were 43 AA pro riders signed up. Bootes cruised through the motos and semi finals to meet up with a world class final. With all the top heavy hitters all line up side by side made for some contact racing down the first straight. Robinson went down hard with Johnstone, which tangled with Fenwich and Bootes. Madill had a clean shot to the first corner from lane 1 which left all the racing action behind him. Bootes worked his way back up to mid pack behind Willers and Fenwick in 4th. Going into the last corner Fenwich was setting up Willers while Bootes was trying to set both riders up for a super high low in the last corner. Fenwick lost control in the last few jumps in the rhythm section just before the corner which allowed Bootes to just squeeze by the outside and still able to make the high low move on Willers to come back to solid and an outstanding 2nd place.

TeamWBR is proudly supported by: Percentage Designs, One Ring, Volkswagen Australia, Hogs Breath Cafe, Velocity Wheels, ATI, Hayes Brakes, Fox Shox, IRC, Cane Creek, BSC, QuikShade, Nike Cycling, Shimano and TeamWBR.com.
08/03 BMXPros.com Race Report
BMXPros.com press release
ABA Gator National Oldsmar, Florida
Round 5 of the 2005 ABA Pro Series ventured over to the East Coast to Oldsmar, Florida. Oldsmar, located just outside of Tampa Bay, has hosted the Gator Nationals for the past few seasons, and each year it seems that the track and the surrounding park that it is located in are just keep getting enhanced, making it a great spot for a ABA National event. This week, Kyle Bennett was the lone Double A Marketing Pro to make the trip to the sunshine state and try to continue his winning way in AA Pro. Here is how Kyle finished up this weekend.
Kyle Bennetts last ABA national that he raced was Guthrie, OK and he wound up winning both days in AA Pro. Kyle tried to keep his momentum rolling in Oldsmar, and just about owned the Pro Class once again. On Saturday, Kyle just missed out on taking the win home in AA Pro, finishing 2nd overall. On Sunday, Kyle went one spot better, and finished up with another win in AA Pro. Kyle has yet to win a ABA #1 Pro title, but with 3 wins already in just 2 races, Kyle looks to be on his way. Kyle's sponsors include Free Agent, KHS, Answer, Sun Ringle, UGP, Truvativ, Velo, Vans, S&M bars, ATI, Shimano, Profile, Powerbar, Kenda, Cyto Sport/Cyto Max, and BMXpros.com.
ABA Oldsmar AA Pro Results-
Day 1-
1st- Bubba Harris
2nd- Kyle Bennett - Free Agent
3rd- Warwick Stevenson
4th- Mickael Prokop
5th- John Purse
6th- Augusto Castro
7th- Jothan Suarez
8th- Jason Rodgers
Day 2-
1st- Kyle Bennett - Free Agent
2nd- Warwick Stevenson
3rd- Bubba Harris
4th- John Purse
5th- Mickael Prokop
6th- Jothan Suarez
7th- Augusto Castro
8th- Jason Rodgers
BMXPros proudly represents Kyle Bennett, Cristian Becerine, Wade Bootes, Dale Holmes, Christophe Leveque, Brandon Meadows, and Randy Stumpfhauser. For more information on any of the riders, or questions abut sponsorship of any of the athletes, please visit www.BMXpros.com
07/03 ACT Titles Race report Day 1
By BMXUltra.com
The Tuggerernong track was fast long and quite demanding of the rider. It's not the most technical track, especially the first straight drag strip, you could pretty much manual every jump on the track, but at full speed it was important to make the most out of the down ramps of the jumps and to maintain rhythm and speed.
The weather wasn't kind, cold winds and heavy rain fall on and off, slowed the track a little but it held up very well in the wet.
Pro Open
There were a bunch of riders in the Pro Open, a class that was put on for those A/AA Pros that were up for some racing but not up for chasing UCI points or too young.
Some of the favourites like Dirk Winter (Sirius Sports/Staats) and Brett Scruse (Standard) crashed out of the semis. Since the racing was so close it wasn't unusual to see half the field laying on the track after the race for a finals birth was over.
BMXUltra.com's Levi Collins was putting the new Staats Aluminium frame through it's paces, he looked very comfortable in the motos pulling off a couple of firsts. Jonathan "Jon Jon" Hoare (BMXUltra.com/One Bicycles) also did well and looked like he could be in for a real chance at taking the big share of the prize pool.
When the gate dropped in the final Jon Jon jumped out to the early lead with the ever green Craig Fisher hot on his tail. After a bad start Collins was fighting his way through the rear of the field. Luke Pretlove finished second, and third was Michael Vockenson, fifth Levi Collins, seventh Craig Fisher. We'll have to wait for the official results to fill in the blanks.
Junior Elite Men
I'm sure a lot of people expected the Junior Elite men's class to be a one horse race with local rider Leigh Darrell (Crupi) being the favourite. When it came to the main he was off to a great start but as the race progressed he seemed to run out of legs. First Alex Cameron (Intense) passed him and had pulled away by the last corner, then James Dixon (Staats) came home strong and looked like he passed Darrell on the line but had to settle for third, Ben Hatten finished fourth.
Elite Women
In the main Crystal Cranfield (DK) got to an early start with Nicole Callisto (Crupi) in tow, but once New Zealand's Sarah Walker wound it up she took the lead and pulled away from the rest of the field like they were standing still. Callisto moved up into second and tried to chase Walker, she finished close to he back wheel but had to settle in second. Renee Junga (Cassap) was racing despite breaking a toe earlier in the week, she did well to finish fourth, New Zealand's Lisa Horlor finished fifth.
Senior Elite Men
The senior elite mens class was a who's who of Australia's elite, names like Madill, Fenwick, Robinson, Lim, Bootes, Johnstone, Johnson, Taylor, McCulloch, Harvey, Price and so on. But it wasn't just the Australians, there was a strong New Zealand contingency and the Chinese riders, currently being trained under Wade Bootes, were chasing valuable race experience.
While the Chinese didn't make an impact this early in their development, it will be interesting to watch them as the Olympics approach. Who know's how these guys will improve once they have a local track, local racing infrastructure, and some serious rider development.
When it came to the main Mike Fenwick (Specialized/Fox) got off to the early lead with Wade Bootes (WBR/WadeBootes.com) in tow, exiting the first corner, Fenwick looked to pull away while Bootes seemed to lose some ground Robinson went around the top of him and Johnstone went underneath, but by the second corner Bootes worked his way back to third relegating Johnstone with Madill (GT) close behind. He was being followed by the 2 New Zealanders Marc Willers and Tony Wilcock. Robinson went for a last ditched effort to swoop under Fenwick on the last corner and nearly pulled it off but Fenwick was too strong. It looked like Bootes had passed Robinson on the line but the judges saw it another way. Madill finished in fourth then Willers (Specialized), Johnstone (DK), Wilcock (Haro), and Gavin J in eight.
04/03 Redman Bikes lets fly the 2005 Tomahawk
Redman Bikes Press release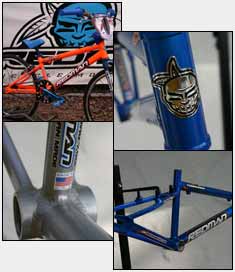 Camarillo, California — The Redman Moto Group LLC—home to Redman Bikes and Redman/Yamaha Factory Racing, is pleased to announce the release of the 2005 Tomahawk. After 25+ years on the BMX circuit—constantly testing what works through one of the most competitive race programs the sport today—Redman finally picks up where his incredibly successful Warrior frame left off—with the all-new Tomahawk! Currently available in mini, junior and expert sizes, this 100% American made race frame is meticulously hand crafted from the finest 6061 Aluminum alloy, tig-welded and THEN heat-treated (unlike most of those 7000 series alloy frames) to create one of the lightest and strongest BMX race frames on the market today. A proven BMX design in a world of "high-tech" extrusions and gimmick tube sets, the Tomahawk looks to continue the tradition of the classic American alloy race frame in a market that has few if any still competing. Incorporating a machined head-tube and bottom bracket shell (both faced and chased) as well as Redman's proprietary drops-outs, the factory-issue Tomahawk will also boast a three-stage powder-coat finish (in your choice of Bonfire Orange, Agave Blue or Silverhawk), interchangeable frame graphics and a polished aluminum head badge to really hit the mark! Additional sizes in the Redman Junior Series, as well as Redman Pro and Cruiser series frames are in production with an expected release date of Late Spring/Early Summer 2005. Frames are available factory direct. For more detailed specifications and pricing, please visit us on the web at www.redmanbikes.com or call us at 805.233-1838. Want to see and hold a Tomahawk for yourself, check out the Redman/Yamaha BMX team schedule for a team race near you! The all-new Redman Tomahawk— A Fierce American Original!
04/03 Is Dirk Winter breaking rules?
By BMXUltra.com
In 2004 Aussie rider Dirk Winter (Sirius Sports/Staats) finished 2nd in the 14 Boys class at the UCI world championships in Holland.
Printed on page 4 of the BMXAustralia pro prizemoney log book it says "A 14-24 year old competitor with a current top 8 world ranking in any 20" class or who has won a total of $1500 in prizemoney in A and/or AA events must compete in the AA Open class." Given that Dirk raced A Pro at Toowoomba on the weekend and is entered for A Pro this weekend at the ACT titles you would have to assume that there is no one regulating the Pro classes.
Have the rules changed?
Dirk has beaten some of the best AA Pro riders in Australia already this year, it will be nice to see him at it again.
04/03 Staats Prototype Undergoes Rigorous Testing
Sirius Sports/Staats press release


Staats test pilots, Adam Campbell (left) & Wyatt Clinch (right), are seen here putting the newest design through its paces at Paeroa (New Zealand) last weekend. Paeroa is of course the home of the world famous (in New Zealand) soft drink Lemon & Paeroa, or L&P as it is more commonly referred to. Therefore it seemed only fitting that we should test this new kiwi-inspired bike at the home of a NZ icon. There are still plenty of kinks to be ironed out with this design, like how to successfully negotiate a six-pack without bottoming out but we're hopeful that we can have these minor problems sorted out & these bikes in store in time for Christmas.
04/03 Jill Kitner in Aus
By BMXUltra.com
American BMX/MTB pro Jill Kitner was spotted in Newcastle NSW on the weekend at a 4X race. She was taking on the Elite Mens class and doing well, apparently finishing mid field. By all accounts she's fast, highly competitve and very physical...pretty much all those things we heard about her when she's on the BMX track. The storey goes, that she's in Australia with her Aussie MTB boyfriend getting some races in.
03/03 East Side Bike Club presents "ON THE GRASS"
From VintageBMX.com
Here's something for the old school fans out there.
The East Side Bike Club presents the 5th annual bike show known as "ON THE GRASS"
DATE: Sunday 20th March 2005.
TIME: from 11am, judging at 2pm.
WHERE: St Kilda beach (Melbourne) on the grass next to St Kilda Sea Baths. MEL REF 57 K 10.
CATEGORIES: Top restored BMX, Top original BMX, Top restored dragster, Top original dragster, open class, and best display.
It is $5 to enter a bike. Last year there was 100+ bikes.
03/03 UCI BMX News
UCI Press release
2008 BMX Olympic selection criteria's
The UCI Management Committee recently approved the BMX Olympic selection criteria's, which will be included in part 11 of the UCI rule book.
The Olympic selection criteria's determines the qualified Nations, while the individual athletes will be selected by each country's National Olympic Committee.
Nations will qualify on the basis of the UCI Nations rankings and the 2008 UCI World Championships, where a total of 48 athletes (32 Men & 16 Women) will qualify to the XXIX Olympic Games in Beijing, China 8th-24th August 2008
To view the detailed criteria's and quotas, please visit;
http://www.uci.ch/modello2.asp?1stlevelid=C&level1=5&level2=7&idnews=3335
UCI BMX Supercross World Cup
The 1st round of the UCI BMX Supercross will be held 18-19th June, 2005 in Aigle, Switzerland. The event will be held at the UCI headquarters, the World Cycling Centre. For the first time the UCI BMX Supercross will be featured on a traditional flat-surface BMX track, although the track is a purpose build track for elite riders, promising exciting and spectacular racing by the best BMX athletes in the world.
As previously announced, the 2nd round of the UCI BMX Supercross will be featured in the 4th stop of the Dew Action Sports Tour, 9-10 September 2005 in San José CA, USA. The UCI BMX Supercross event will be held in conjunction with other disciplines, such as BMX dirt jumping and Freestyle Motocross, outside the HP Pavilion stadium in San José, California.
The UCI website will soon be updated on event details and registration procedure; www.uci.ch
UCI BMX High-level training
Being an Olympic discipline, BMX has become a part of the UCI high-level training program at the World Cycling Centre in Aigle, Switzerland. 12 athletes, from 16 to 22 years old, will under 3 months follow the training program of Michel Lalande (former French National Coach). The course will begin in May leading up to the UCI BMX World Championships in the end of July. During this period, the athletes will also have the possibility to participate in various European BMX Championships rounds and the UCI BMX Supercross World Cup.
UCI BMX Development
UCI track builder, Tom Ritzenthaler recently visited the Republic of Moldova in Eastern Europe, in UCI's effort to develop BMX and help constructing their first BMX track of international standard. Mr. Ritzenthaler was quoted saying "the Moldovan Cycling Federation is showing great interest and support for BMX and the site is excellent for a high level BMX track". Track construction is planned for June 2005.
03/03 Toowoomba Open day an outstanding success
Toowoomba BMX Club press release
Only in it's Second Year, this event has grown way huge!!! Almost THREE times as big as previous with a record 408 RIDERS competing for fame, ca$h, media spotlight, and glory, not to mention overseas riders & dignitaries, the Entire Board of BMXQ present, BMX Australia's President & VP on deck plus many more MP's, Councillors, Entrepreneurs, etc. Pressure!!!! Enough to give a bloke an ulcer or a divorce!!!
Enough with the saga, to say the least, this day was a HUGE SUCCESS, and we believe a milestone in modern BMX History, especially since we (Toowoomba) only have a very small (but proud) club membership and limited supply of helpers(& money), yet we managed to pull it off, but not without the help of many other wonderful people who through there collective hats in the ring to assist us, from many other clubs, to which we are extremely grateful. It's amazing what can be achieved when a single Common Goal is Paramount to all else "RIDERS FIRST".
We promised Big Bucks, we delivered. We promised excitement, we delivered. We promised to give ALL riders an equal footing - Including the AAA-Sprockets, we delivered. We promised to bring the sport of BMX to a new standard of entertainment, we delivered, even in the face of some established silver spoon sets who challenged, how dare you!!! To the 99.999 percent of supporter THANKYOU, to the others, well, why bother, but to say, if you think this year was big, Just wait to you see what's on the planning table for Next Year!!!
A Very big thanks to our major sponsors, Clive Berghofer - CLIVE BERGHOFER GROUP (please Clive don't schedule the Bronco's Vs Canterbury at your stadium in Toowoomba on the same night next year), TELSTRA COUNTRY WIDE (Nigel Beaman and Team), and the Toowoomba City Council - Dept Of Youth Development, who truly made our Sprockets feel like real AAA's.
You can read more about this event on www.cyclesportnews.com or by going to Toowoomba BMX Club site http://toowoomba.bmxa.com.au and clicking on button "TOOWOOMBA OPEN-DAY 26th FEB. 2005" for extended write-up and heaps of pictures that are be added progressively.
A Pro Men's Final
1. Damien Rosenthal (RL)
2. Michael Vockenson (RL)
3. Steven Jensen
4. Dirk Winter (Sirius Sports/Staats)
5. James Connell
6. Neil Brunjes
7. Alex Cossell
8. Joshua Kane (DK)
AA Pro Men's Final
1. Wade Bootes (WBR)
2. Jarred Graves (YETI)
3. Sam Baber (MIKES-BIKES)
4. Billy Jolliffe
5. Peter Cowper
6. Glen Codega (PhireBird / Intense)
7. Ben Hatten
8. Joel Clark
14+ Ladies Final
1. Krystal Cranfield (DK)
2. Renee Junga
3. Ashleigh Weier
TELSTRA 10's FEATURE
1. ALEX SMITH (Toowoomba)
2. SCOTT McGETRICK (Sunshine Coast)
3. STUART ALLEN (Sunshine Coast)
4. Jamie Blackburn (Bundaberg)
5. Chris Harvey (Caboolture)
6. Maddison Jansenn (Nerang)
7. Hayden Potter (Caboolture)
8. Andrew Rushworth (Pine Rivers)
SEDL EARTHMOVING BRUISER CRUISER FEATURE
1 SCOTTY LYNCH (Nerang)
2 PAUL CONNORS (Nerang)
3 DEAN BINNEY (S/Coast Hinterland)
02/03 Levi's first assignment
By BMXUltra.com
Earlier this year we signed AA Pro Levi Collins to ride for BMXUltra.com. Levi had a good 2004 season, his highlights were finishing second in the elite class at the Victorian State Championships behind Tony Harvey, and #1 Australia in the Expert class at the 4X mountain bike nationals, in what was his first outing ever on a mountain bike. Levi also joined us to help test out new products. His first assignment, thanks to Sirius Sports, is to put the new Staats Aluminium frame though it's paces. New Zealand based importer, Sirius Sports, are the Australian and New Zealand distributors for Staats Bicycles, and have just received a large shipment of Staats gear.
If you haven't heard about the new Staats Aluminium frame, it's modelled after the cromoly frame, with a classic look and all the regular Staats features like the ovalised chainstays and the destinctive junction that joins the top of the seat tube to the rear of the frame.
Levi has put the bike together, made some adjustments to his regular set up and now he's ready for the ACT titles this weekend. We will be putting together a review of the frame next week from Levi's initial feeback. That way you can find out more about the frame while it's still hot out of the factory. We plan to revisit the the review after a while to see how the frame holds up and add any additional comments.
02/03 BMXUltra.com Knox Dome DVD
By BMXUltra.com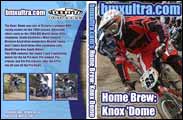 In December 2001 we released an interactive CD ROM called Offline Volume 1 which had racing clips, interviews and other bits and pieces on it. It was more or less what you would expect to see in a bonuses menu from a DVD. We got a few copies out there, but thought we'd get better distribution if we went to video.
In October 2002 we released Home Brew on video tape, this time we had interviews with Khalen Young and Luke Madill and racing from NSW and Victoria, again we had some success and got a few copies out to people.
Now we have a new DVD, it's made up of our own personal racing footage from the Knox Dome, held in November last year. There are 2 rounds of qualifying motos, round 3 and round 5, for Pro Women, Pro Cruiser, AA Pro and the Vet Pro classes plus the A Pro run off and all the pro finals. The Knox Dome put up a lot of money and pulled top Australian AA Pros like Luke Madill, Khalen Young and Mike Fenwick.
The DVD is selling for $15 + Postage and also plays on PS2. If you want to get your hands on a copy email webmaster@bmxultra.com, they will only be available through BMXUltra.com.
02/03 Clean fill wanted
By Shane Jenkins
It's only a week an a half until moving into my new house on an acre in the Kinglake area, about 45 minute drive north of Melbourne's CDB. A large proportion of that land is set aside for a 4 man BMX track, but it's not going to be much fun unless I source some clean dirt. By clean I mean no rock! If you know where I can find some dirt or know anyone who would be willing to help out with a bobcat email webmaster@bmxultra.com.
Thanks to everyone who offered to help build the backyard track. I'm not going to the Australian Championships this year so I am hoping to get something happening over the Easter weekend. If you are up for it email me. For the interstate riders who offered there is plenty of room to crash (and sleep) and quite a few race tracks within 45 minutes drive.
02/03 Responses to Woman gets $1.4m over teen (BMX) accident
By BMXUltra.com
We ran an article last week about a woman from NSW who was awarded $1.4 for permanent brain damage that she received as the result of a crash 10 years ago at the South Lake BMX track.
It's an article that caused quite a discussion on the Vintage BMX forums.
Here's some of our readers responses;
By James Downing
You might or might not be aware that the person didn't actually ride a BMX bike down the start hill.
It was a road bike (27" wheels).
The start hill would be similar to Lilydale (I have ridden both)
By David Elms
It is an unfortunate accident but an accident never the less. Not even foolhardy or reckless just a horrid twist of fate.
Keep up the good work.
Have FUN!!!
By Karl Mustchin
On the matter of the payout to that woman for her crash.
This is yet another disappointing and ridiculous decision by the judiciary in Australia, they say we are not turning into the US but unfortunately this looks very much like it.
What people seem to forget very quickly is that children are inquistive and like to push the boundaries of what they can and cannot do. That is why parents are in control of there childs up bringing.
Although not written, parents are responsible for the actions of there children.
Further to this you could without question state that this woman was FULLY aware of the dangers of what she was doing. She had been told by her parents not to go to the track because it was dangerous and that her friend wouldn't do it.
We are all ultimately responsible for our own actions.
You could keep going on about who was more responsible but as stated above she knew she shouldn't be there.
Unfortunately she made a grab 4 money and she succeeded. As stated above yet another failing of the judiciary.
P.S - It's great to see what you are doing for BMX dude keep up the good work
By Derek Harris
An interesting article on the site.
Does a judge seriously expect clubs to fence off their starting ramps/gates?
Like they are supposed to do with pools?
I'm guessing she didn't just roll down and was most likely trying to emulate others and jump? Surely rolling down a start ramp couldn't do that much, although it's all in the landing I suppose.
How can a club pay? Insurance?
Wouldn't that scare the insurance companies into higher rates?
What about private backyard tracks?
Do we just fence off the whole track with barbed wire, between meetings?
01/03 Mike Fenwick signature t-shirts
By BMXUltra.com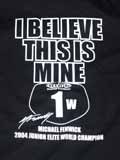 After a serious broken collar bone injury put Dirt Designs head honcho, Craig Merritt, out of racing for the past few months he has put his injury time to good use and designed a new "Michael Fenwick" signature shirt to celebrate Mike's 2004 UCI world championship win.
The design on the photo to the right is the back (click the pic for a closer look), on the front is the Dirt devil logo.
If you are heading to Canberra for the ACT titles this weekend see Michael or BMXUltra.com's Shane Jenkins, they will be able to tell you how you can pick up a T-shirt. At $20 each there will be limited stock of children's size 14 and adult size XS in red, black and blue. If you are after other sizes contact Craig through the Dirt Designs website at www.bmxultra.com/dirt and place your order via email.
Craig tells us there are other designs that could be available soon.
01/03 Bootes wins Toowoomba Telstra 10000
WadeBootes.com press release


Toowoomba BMX club was the host of the Telstra 10000 which seen a record number of riders attending this annual race meeting. The president and Vice president of both BMXA and BMXQ were also in attendance a long with the visiting Team riders of China who are preparing them selves for the 2008 Olympic games. The evening started off with an opening ceremony and a presentation to Toowoomba born Wade Bootes, for a Honorary Life Member to the Toowoomba BMX Club for services to the sport of BMX and the Toowoomba BMX Club. Toowoomba was the first BMX club that Wade started racing at back in 1981. With the set up of the TeamWBR rig and the debut of the new uniforms, it was a great way to announce the start of a new race program by winning the Telstra 10000.

Wade has focused the last few years with Mountain Bike racing and with the new support of Percentage Designs and TeamWBR, Wade will be racing more BMX events this year a long with a selected few overseas Mountain Bike races. With the high demand of coaching in Australia, Wade has also been busy this past month conducting training sessions and camps and is currently coaching the Team China riders while they are here in Australia for 1 month. With the form Wade is currently showing he hopes to carry on for the Australian race season and head towards another top World UCI BMX ranking in 2005. The last season Wade competed in a full season of BMX, he was rank 5th in the World in 2003.

Katrina Miller (Jamis Mountain bike Star) will be racing a selected few BMX races for TeamWBR in 2005 to help with her training for her overseas Mountain bike race season. Katrina finished a strong 5th this weekend and hopes to gain a few spots better at the BMX Nationals in 4 weeks time. Katrina will be training a long side Wade for the next few months as she prepares herself for the World Championship title for Mountain Cross in Europe later this year. It is exciting to see a former BMX World Champion came back to BMX after so many year. Katrina and Wade were team mates 21 years ago when they first started out in BMX.

TeamWBR is proudly supported by: Percentage Designs, One Ring, Volkswagen Australia, Hogs Breath Cafe, Velocity Wheels, ATI, Hayes Brakes, Fox Shox, IRC, Cane Creek, BSC, QuikShade, Nike Cycling, Shimano and TeamWBR.com.
AA Pro Men's Final
1. Wade Bootes (WBR)
2. Jarred Graves (YETI)
3. Sam Baber (MIKE-BIKES)
4. Billy Jolliffe
5. Peter Cowper
6. Glen Codega (PHIREBIRD)
7. Ben Hatten
8. Joel Clark
A Pro Men's Final
1. Damien "DAMO" Rosenthal (RL)
2. Michael Vockenson (RL)
3. Steven "STIFFMAN" Jensen
4. Dirk Winter (Sirius Sports/Staats)
5. James Connell
6. Neil Brunjes
7. Alex Cossell
8. Joshua Kane (DK)
01/03 Photos from Park Orchards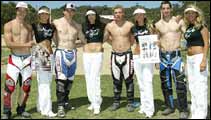 I spent the weekend preparing to move house so couldn't get down to Park Orchards on Sunday to what promised to be a race with a difference, so Gavin D sent in some photos for you all to enjoy.
The one that makes me feel sorry for the 4 pro boys is where they lost their jerseys, but luckily the Naughty Girls were there consoling them. If you have seen their jerseys please return them.
Click here to see the rest of the photos.



Last updated: Thursday, 2 April, 2009 7:33 AM