Review: VholdR ContourHD Helmet Camera
Do you believe in love at first sight? Have you ever set your sites on something and thought "I have to have that"? Come on we are all BMXers, we all do it, don't be shy. Maybe it was that shiny new helmet you have tucked away securely in it's protective bag? Or the latest model bike you have proudly on display in the pool room. Or, of course, it could even be your partner who waits patiently for you while you meticulously polish your bike and helmet after every riding session. Come on, surely it's not just me? Ok, fine then, maybe it is. Well...anyway...my point is the VholdR ContourHD was one of those things for me, it's a high definition helmet camera that continues to blow me away months after first getting it out of it's packaging.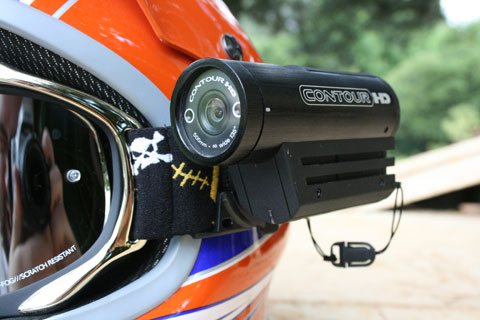 There are a lot of helmet cameras on the market but it's the ContourHD by VholdR that really stands out for putting high quality video on the web.
It offers;
affordable 720p High Definition digital recording
a rotating lense that allows you to adjust the horizon to the mount angle
simple operation
flexible mounting options
USB charging straight from your computer
4 hours of record time per battery
uses MicroSD cards (takes up to a 16GB Memory Card)
a safety leash incase your camera should come off the mount
2 recording options

HD: 1280 x 720px at 30 frames per second
SD: 848 x 480px at 60 frames per second

135 degree wide angle lens
a massive community where you can share your videos with your friends and like minded action sports enthusiasts
weighing in at 123 grams and fitting in the palm of your hand, VholdR claim the ContourHD is the smallest and lightest HD wearable camcorder in the world
water-resistant for all seasons, its anodized aluminum body withstands dust, dirt, mud, and snow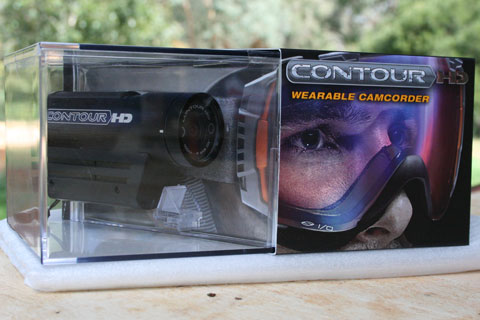 The ContourHD is impressive all the way down to the packaging. In the box comes the camera with a rechargeable battery and 2GB memory card, a USB cable for charging the battery and transferring the videos to the computer, two mounts; one goggle strap mount and a flat surface mount so you can attach the camera straight to your helmet if you are that way inclined. Oh and the simple instruction booklet too. There's no software, when you first connect the ContourHD to your computer via the USB cable it loads up the Easy Edit software for you.
The Easy Edit software is perfect for someone who just wants to put their videos up on the web and share them. It gives you the options to import your videos, clip them (trim off the leading and trailing footage you don't need) and then share. The process is simple but it's not instant, it can take a little bit of time because the HD video files can be quite large.
The VholdR Video Community is a great place to share your videos. They are hosted for free, the videos are categorised and tagged making them easy to find using the search functionality. Once you have found a video you like you can view it, you can also give it a thumbs up and/or leave comments, and people can do that with yours too. There are also ties in with Twitter and Facebook so you can let all your friends and followers know you have posted a new video.
Of course you can use other video editing software adding special effects, mixing various footage, adding titles, etc and still upload the final masterpiece to the Video Community. And as a bonus VholdR are continually running competitions for various themes with some seriously cool prizes to give away.
When I started using the ContourHD I decided to go for the goggle strap option for mounting the camera. Once I worked out how to use and adjust the camera I thought of using the flat surface mount instead. Each of the two mounts has it's advantages. The main reason I stuck with the goggle strap mount was if I was to crash it would have more give, allowing the camera to move on impact and giving it a great chance of survival. But there's no set rule that it has to be mounted to a goggle strap. I have seen people use velcro straps and fit the goggle strap to their bike frames and other places, you are really only restricted by your imagination. As far as getting the best footage, fitting the camera to your head would provide smoother footage on the bike and a true riders point of view. If you were to use the flat surface mount on your helmet you pretty much set angles once and you can be sure to get the same angle from then on instead of continuously checking and adjusting as you have to with the goggle strap mount.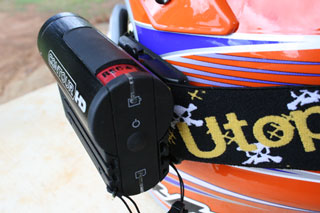 Once set up the ContourHD is extremely simple to use. It has a power button on the back of it, you simply push and hold the power button for 1 second to turn the unit on, the camera will beep so you don't have to be looking at it to know what's going on, you will also see the lasers come on, so make sure you aren't looking directly at anyone, they should go off quickly as well. To record you just push the slide switch (on top) forward, you will hear a beep, that's it, you are recording. To stop recording you just push the slide backwards and it will double beep. It will also put the camera in a power saving mode, after 15 minutes of inactivity the unit will shutdown again. To power the camera off manually just push and hold the power button on the back for 3 seconds, you will hear a double beep.
To align the lense, with the camera switched on, press the power button and the two lasers will come on, it's best to find a wall and aim the camera at it to get the best alignment adjusting the lense to get a true horizontal. You get 180° of rotation so no matter how you fit the camera you should always be able to find horizontal. I found for best picture you should aim the lasers slightly above where you actually look because you will find you look down a lot more than you think while you are racing.
Some tips;
A second battery can be handy, but I have had one since I first got my camera and have never needed to use it. You would need to be a heavy user to justify it, otherwise just keep your battery charged and you should be set.
The 2GB memory card that comes with the camera sounds small in comparison to the largest compatible size of 16GB however I have never filled the 2GB card, I guess that's the beauty of 40 second BMX races versus hours on the mountain bike. As a guide though, the technical specifications show that the ContourHD can record 30-60 minutes of footage per GB.
When switching the record mode off be careful you do it from the front of the slide switch, I have pulled the back cover off a couple of times by accident, not that it's a big problem just a pain.
I always use HD mode and never use SD, if it uses too much memory get a bigger card. Once you have captured your ride in SD you can't really increase to larger dimensions without losing quality but you can make HD smaller. This is especially important if you plan to use the footage in a DVD.
If you hear a ticking in your videos it's probably the plastic connectors on the safety leash hitting your helmet, the microphone really is that sensitive. You could try covering it with something or shortening the length of the leash.
There is always dust at BMX tracks, keep the ContourHD clean to stop dust from getting under the slide switch.
Keep your lense clean for the best possible recording.
Here's some videos I have created using the ContourHD: vholdr.com/user/14705
Let me tell you that the ContourHD has almost every angle covered for all you techno-weenies out there. While it's water-resistant, it's not waterproof, but there is an after market water proof case available for it should you choose to take it lake jumping. There are a whole lot of other accessories including various AC and car battery chargers, various mounts, carry cases, lense kits, tools and batteries. You can check them out at vholdr.com/contourhd/accessories.
If you want to take it that one step further VholdR have released the ContourHD 1080p which is full HD. It requires a more powerful computer to cope with editing, and if you are looking to use the footage in making your own DVD's then you should definitely check it out. For now I am happy to settle for the ContourHD, I love it.
Expect to see a whole lot more webcam videos from bmxultra.com's ContourHD.

Rating 20/20: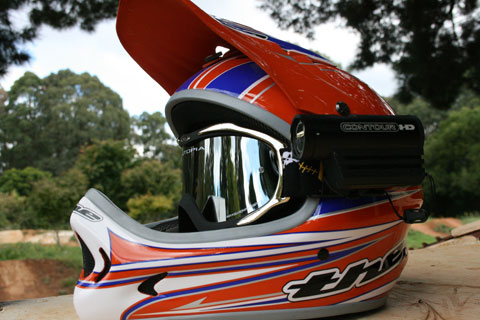 | | |
| --- | --- |
| Value for money: | 5/5 |
| Weight: | 5/5 |
| Functionality: | 5/5 |
| Looks/Finish: | 5/5 |
Comments:
a HD helmet cam quality at an affordable price and made to last
at 123 Grams it's easy to forget that the camera is there
simple to use and awesome high quality footage to show your friends
I love the fact that the camera is small and simple, and black. It's design not only allows for unlimited mounting options and water resistance but also makes the alloy shelled unit quite durable
For more information about the ContourHD by VholdR check out vholdr.com/contourhd/helmetcam.
ContourHD is distributed in Australia by www.blackphoenixfilms.com.au.
review by Shane Jenkins/31 March 2010
Last updated: Thursday, 2 April, 2009 7:33 AM