2017 World Championships at Rock Hill USA This Week
The 2017 UCI World BMX Championships are on this week at Rock Hill, South Carolina, USA.
We've pieced together some useful links, a basic schedule with multiple time zones and other information.
Make sure you check it out and be ready for some of the best racing action this year.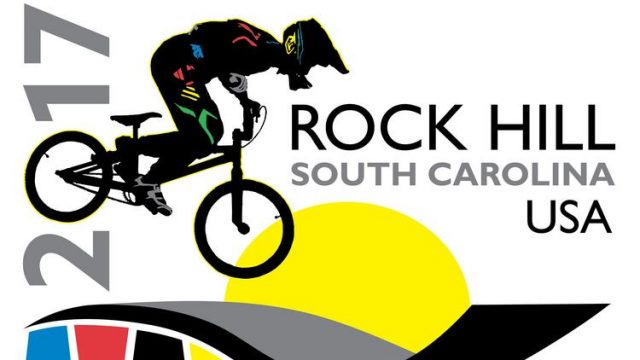 Where
Novant Health BMX Supercross Track
1307 Riverwalk Parkway
Rock Hill, South Carolina, USA
When
July 25-29, 2017
Racing Schedule
Tuesday 25 July
South Carolina
USA
Melbourne
AUS
London
UK
Los Angeles
USA
Auckland
NZ
8:00 am
10:00 pm
1:00 pm
5:00 am
12:00 am Wed 26
All cruiser classes
Wednesday 26 July
South Carolina
USA
Melbourne
AUS
London
UK
Los Angeles
USA
Auckland
NZ
8:00 am
10:00 pm
1:00 pm
5:00 am
12:00 am Thu 27
5-11 Boys & 5-12 Girls
Thursday 27 July
South Carolina
USA
Melbourne
AUS
London
UK
Los Angeles
USA
Auckland
NZ
8:00 am
10:00 pm
1:00 pm
5:00 am
12:00 am Fri 28
12-16 Boys & 13-16 Girls
Friday 28 July
South Carolina
USA
Melbourne
AUS
London
UK
Los Angeles
USA
Auckland
NZ
8:00 am
10:00 pm
1:00 pm
5:00 am
12:00 am Sat 29
17 & Over men and women plus Masters
Saturday 29 July
South Carolina
USA
Melbourne
AUS
London
UK
Los Angeles
USA
Auckland
NZ
3:30 pm
5:30 am Sun 30
8:30 pm
12:30 pm
7:30 am Sun 30
Elite Classes
Links
Posted in: News