Go BMXing Day 2017 – Melbourne & Sydney This Weekend, Brisbane Cancelled
Go BMXing Day is on in Melbourne and Sydney this weekend and is shaping up to another fun day out!
Go BMXing Day is an event to celebrate BMX, plain and simple. It has no official ties to any BMXing body, just a bunch of people who share a common interest.
Bruce Morris (Brisbane) and Shane Jenkins (Melbourne) are long time BMXers who live and breath BMX. In 2015, when the two of them had a discussion about the world of BMX, life and just about everything else, somewhere amongst finding a cure for cancer and how to navigate a Supercross track while registering a blood alcohol level of .20 Go BMXing Day was born.
We are sorry to let our Brisbane GBD fans that we have had to cancel the Brisbane ride, the size of the event there has snowballed well beyond expectations over the past couple of years and it's difficult for organisers to ensure a safe ride for all involved. Bruce promises we should be back on track in Brisbane for 2018 though.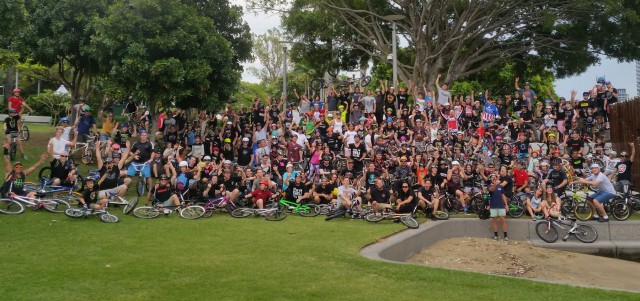 Melbourne's events have been more intimate but for 2017 we plan to ramp things up a little.
Sydney's first event was in 2016 and was a big hit we are very happy the guys are up for another big one this year.
The 2017 events are rapidly approaching we have a lock for Melbourne and Sydney.
Locations/Dates
Melbourne (Facebook Event)
11 November 2017
10:30 AM – 1:30 PM
Meeting Point: Life Saving Victoria 200 The Boulevard, Port Melbourne, Victoria 3207
Sydney (Facebook Event)
12 November 2017
10 AM – 4 PM
Meeting Point: Jacaranda park near the train station at Olympic Park
Sydney Olympic Park Sydney Olympic Park, Sydney, Australia 2127
Brisbane
Cancelled – Sorry
If you want to get involved in the event, start a ride up in your local area or just generally talk BMX check out the website at gobmxingday.com or the Facebook page at www.facebook.com/gobmxingday
While you are at the website don't forget to check out the riding spot locator, it's a work in progress but is building up to be a great resource for riders looking for a place to ride.
Posted in: News