Introducing Legend Bike Co
It's early days for Legend Bike Company who on their website claim "Building modern versions of your favourite BMX bikes from your past with the Legends that rode them." With a facebook page that started back in mid 2016 you could say they have been on a slow burn.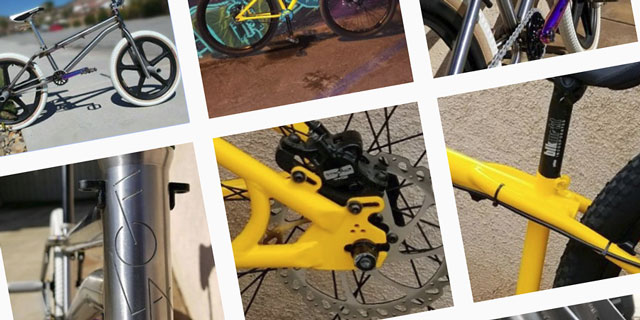 I'd like to think I have my finger on the pulse and there seemed to be an increased heart rate on their social media channels recently with photos of possibly their first offering the Eddie Fiola 26″ Former Pro, an MTB dirt jumper twist on the GT Performer that Eddie made so popular in his prime.
It's not exactly the best climate for another "me too" BMX brand and it's a little too late to the party for a BMX company to produce retro reproduction bikes. So it was time to dive in and find out what Legend Bike Company is all about and what we should expect from them.
bmxultra.com: I've just noticed you have started to make a push at Legend Bike Company, what should we expect out of LBC?
Legend Bike Co: Yes, (Eddie) Fiola just left with 3 sample frames. LBC is a team effort that includes Eddie Fiola, Pete Loncaravich, Byron Friday, Bill Ryan and Melissa Hammonds.
bmxultra: That sounds like a fun company to be involved with and plenty of history.
Legend Bike Co:  It is a fun project, definitely a lot of history!
bmxultra: When do you expect to go into production?
Legend Bike Co:  They are in production now.
bmxultra: What will be the first products released?
Legend Bike Co:  We are planning a May 15th delivery. Over 50 of them are already on Eddies Pre-order board.
bmxultra: Where will people be able to purchase them?
Legend Bike Co:  Website is https://legendbikeco.com
bmxultra: It sounds a bit bigger than just frames and forks?
Legend Bike Co: What is on the board for this year is as follows:
Eddie Fiola Signature collection –
20" Former Pro Frame
20" Former Pro Fork
20" Former Pro Bar
26" Former Pro D/J frame
20" Former Pro Complete
Eddie Fiola T-shirts, Hats, Stickers, Posters.
Pete Loncaravich Signature Collection –
20" Retro LRP Frame Set
20" Modern LRP Frame Set
26" Modern BMX LRP Frame Set
Pete Loncaravich T-Shirts, Hats, Stickers, Posters ….
Byron Friday Signature Collection –
20" Retro California Special Frame Set
20" Modern California Special Frame Set
26" Modern BMX California Special Frame Set
27.5 California Special Mtb Bike
Byron Friday T-Shirts, Hats, Stickers, Posters ….
So it is going to be a busy year.
More to come. Lots of other old Pro's wanting to sign up.
We are going to be using some fo the profits to run the BMXracinghistory.com website to keep the story of BMX in front of everyone.
bmxultra: Will it all be limited edition?
Legend Bike Co: Yes, and we will do some stock items too to help keep the site moving along. We are working on expanding the range as well.
bmxultra: What should people expect from the bmx racing history website?
Legend Bike Co: Our main vision is to tell the story of BMX, we are losing pioneers in the sport and losing the history, we are going to try to make it where it starts with a story of the start and hyperlinks to the tracks and riders and bikes, and then those pages tell a story and hyper link out, I have it figured that it will take longer to write , edit, interview set up than the history of the sport itself.
bmxultra: What would it do that the USABMX hall of fame doesn't?
Legend Bike Co: The USABMX hall of fame is awesome, nothing against it at all. But we are wanting to tell the story from the riders perspectives and the company owners perspectives and get all sides of the sport covered and documented.
That's all we have for now, but I'm sure we will be revisiting these guys closer to the release date. If you want to find out more about LBC check out
Posted in: News