LUXBMX: Backing Redline, Stocking Carbon
I've been around BMX for a long time, but not as long as Redline. Though long enough to have raced at the Windsor BMX track in its heyday here in Brisbane, and as a 13/14 novice in the very early 80s, I watched mesmerised as Redline Team riders Bruce Skardon, Nick Linthorne and Terry Glen raced the Pro class on their factory rides. When you had a factory ride BITD, you looked factory and while I was in the Mongoose camp (think Ford Vs Holden), I still ran Redline MkII forks, because back in the day it was all about flat landing big jumps and those Redline forks could sure take a beating! I ran Redline V-bars too for a while and can still remember the buzz as a kid picking these up from the shop. Such was the hype around Redline's products. Flight Cranks? Forget about it. Way too exotic for this novice racer, just keep snapping those one piece CrMo cranks son and slicing your leg open. Stitches were obviously more affordable than those Flights for my folks.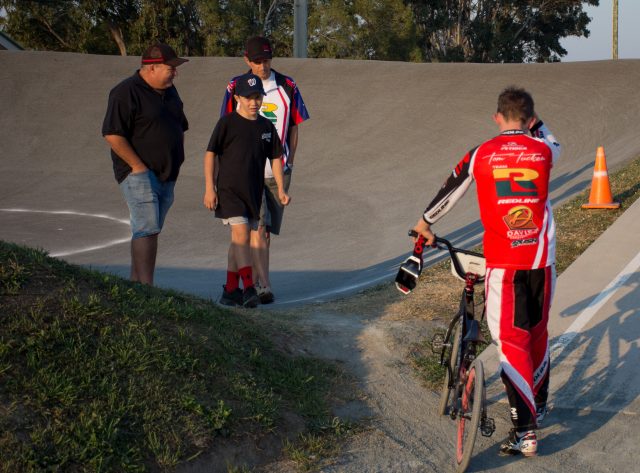 At LUXBMX we are massive fans of the brand and although Redline are going through a transitional period currently, the rumours of their death are somewhat premature. How do I know? Well the other day I picked up a 2017 Flight Carbon from perineal Australian BMX supporters, BMX International, and I nearly "changed teams" the thing looked that good! And though only a small run for 2017, there are 2018 carbon frames designated for manufacture and planned for import to Australia through the official distributor. For race fans out there, I can confidently say that at LUXBMX, we would trust less than a handful of manufactures with a tricky composite like this, and Redline is one of those companies. In a market flooded with frames, we'll stick to the big guys on this stuff.
Something else the LUXBMX crew admire is loyalty which is why we are great fans of young Brisbane racer Tommy Tucker. He's won all of his 6 World BMX Titles (think about that for a moment. SIX!) onboard a Redline and I watched him from track side in the US recently take two of those with the kind of coolness and calm that I've never seen in nearly 40 years of racing BMX. And he's just turned 12! Ironically his smooth style reminds me of Mike King who oversees the operation of the Rock Hill Novant Health BMX track where the recent World Championships were held. There's also a touch of Bruce Skardon's DNA in there too I reckon, both smooth as butter.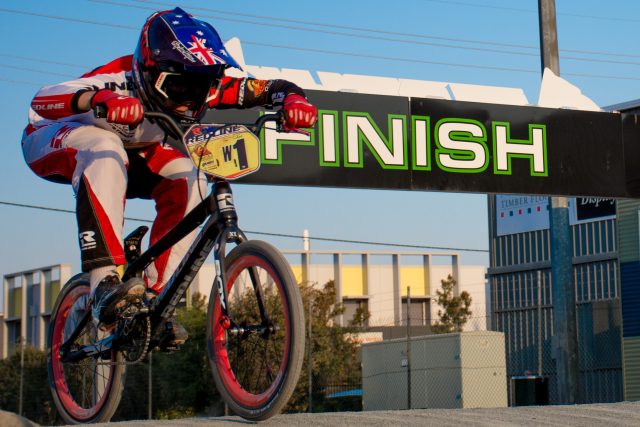 I caught up with Tom recently at his local track to grab a few shots and chat about his recent transition to a 2017 Flight Carbon Pro XL. Not only did he go up in frame size, carbon rides very differently to even alloy, let alone the 4130 steed I race, and I was keen to see how's he adapted in the couple of weeks he's been on it. Again, one thing you notice straight away is how beautiful the frame design is, and how light the build is. We weighed the frame at the shop and it was 1.31kg which is nearly less than the box it comes in. No design gimmicks to try to be different, just beautiful simplicity. I showed the frame to the crew at Ellaspede where I spend some of my days working in the custom motorcycle world and the echoed the same sentiments. These guys are all industrial designers and it was interesting to get their take on it as well, getting a thumbs up from both an aesthetic perspective, and engineering view.
So Redline can still knock out a killer product! They have the kind of BMX heritage that any modern BMX company would give a Kastan Fork leg for, yet will this be enough to save them from sliding into history? At LUXBMX, we feel that they (as a company) don't embrace their history enough, it's what happens when a company is bought and sold a couple of times. What Redline needs is a "Todd Lyons" (SE Bikes product/brand manager) to move it forward leveraging on the name, history and heroes of the past, whilst still innovating in the race market with carbon frames. It's a tall ask to find that special person, and a buyer that would take a punt on this pathway in the current environment.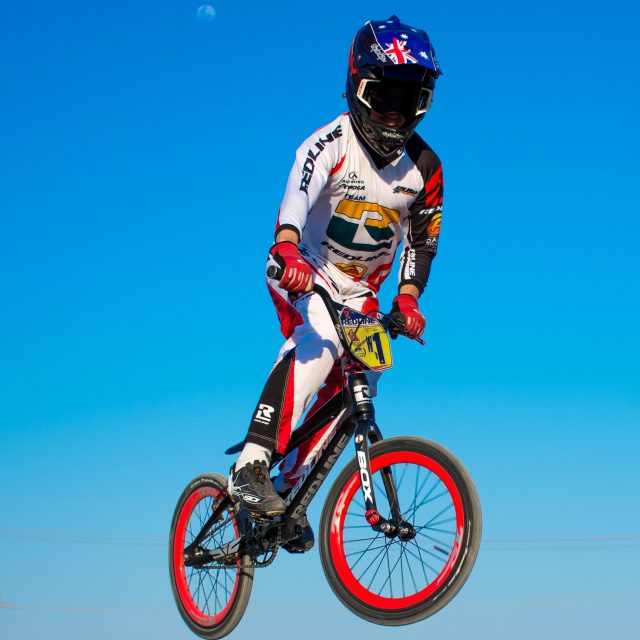 But watching Tom ride on this late Sunday afternoon and giving him a few directions on how to look smooth while I try to get that perfect shot (he graciously nods… he doesn't need my direction), I look across and see BMX International's BMX guy, Bill DeMaid chatting to Tom's dad. I know they're talking Redline and I know that the Australian distributor sells a few thousand freestyle bikes to one Redline, but the passion is there! A passion for a brand that now is a little lost at the top, but will bounce back because of people like this. It's a Sunday and Bill probably has a road bike to fettle before his week starts, yet here he is down at the track 35+ years on talking Redline and racing.
I imagine Tom has probably had a dozen offers to ride for other brands, but has stuck with Redline because of the support from the Australian distributor and at LUXBMX, we love both this loyalty, and the supply commitment from BMX International. It keeps the local BMX industry alive in a time where we compete against direct individual imports. It keeps the scene alive and more importantly, produces racers like Tommy. Come on Redline, we're all behind you.
Want to find out more about LUXBMX and how they can help you with Redline and carbon products? Hit us up at www.luxbmx.com/race or email bruce@luxbmx.com.
Posted in: News