Maris Strombergs is on Supercross BMX
You may have seen the teaser shots of Maris and his Matte'd out ENVY BLK start circulating the Internet on May 1st. At that time there was a lot of speculation on what was going on with the 2 time Olympic Gold Medalist and the leader in Carbon Fiber BMX frames, but neither offered a comment or clue, until today.
It's official, Supercross BMX is proud to announce Maris Strombergs is joining the Supercross BMX Family.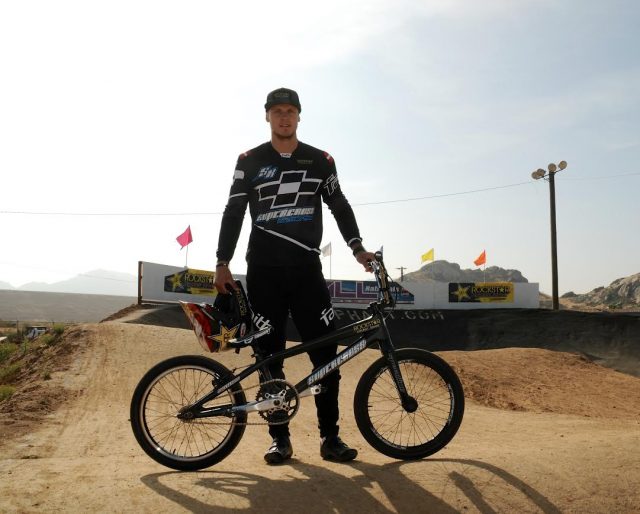 Maris and Supercross have a relationship that goes back years, Supercross BMX founder / owner Bill Ryan said "We have known Maris for years and he has always been a great friend, I am glad to get him onto a Supercross in his pursuit of another USA BMX #1 Pro Title and World Championship . "
Maris said "I'm very excited to join Supercross BMX Family.  I feel their carbon bikes fit my riding style. Not only does it look great but its strong and rides fast! "
With Maris joining Anthony Dean on the Supercross BMX team, there are now 2 Olympians putting their Supercross ENVY BLK's on the podium for what we feel is the ultimate One /Two punch in the Mens Elite class.
Although Maris is an official part of the Supercross BMX team, Maris will carry on with his own personal co-sponsors of Rockstar Energy, Faith Racewear, Bell Helmets, Tangent, Ride 100% and Supercross Team Co-sponsors of Speedline Parts, ODI Grips and KMC Chains.
For more information about Maris, please visit his personal instagram at http:www.instagram.com/MarisStrombergs , and to find out more about Supercross BMX and the all carbon Supercross ENVY BLK that Maris rides, please visit your local Supercross BMX dealer or our website at http://www.supercrossbmx.com
Posted in: News