New Alienation BMX Products Coming Soon
I'm a big fan of what Alienation BMX have done with their product range everything has a purpose and is of the highest quality. It always helps that they are always moving forward and always thinking outside the box.
I checked in with Alienation recently and was surprised they have so much on the go right now. It looks like 2017 is shaping up to be another big year for them.
The TCS tubeless tires have been on the cards for about 3 years now, so I was happy to hear they are not far away.
TCS tires are in production now with the 1.6 rear and 1.95 front.
They are currently designing the 1.75 now that will be a cross between the two existing treads with focus on less resistance and faster roll.
While Alienation have alloy rims that are equally as light as the lightest carbon rims at a fraction of the price they will soon have their own carbon rim.
Carbon rims will be 20" (Tubeless TCS) and Hookless.
Looks a lot like the Mischief (Alienation's TCS front specific rim).
250 to 260 grams and dropping at Interbike.
What was a real surprise to me was the Carbon fork! Alienation are a rim specialist but I've found they always do a great job no matter what they produce.
Two 20" carbon forks (tapered and non-tapered) with a 10/20mm covertable dropout
These will drop at Interbike too.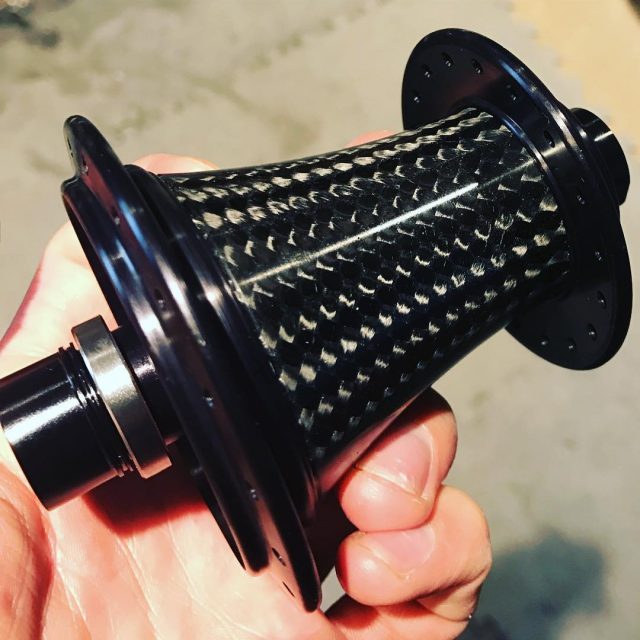 We've already seen the new carbon Zenith Hub that Alienation are very proud of, and so they should be, for starters it's about 200 grams lighter than the most popular hubs on the market right now. Alienation have created some awesome hubs that slipped under the radar for whatever reason, but it looks like this hub is destined to make an impact and take a big market share.
Engagement every 1.5 degrees

ratchet mechanism set up
uses 240 points 360 / 60 points in the ratchet / 4 pawls (2 series of 4 for a total of 8 pawls) = 1.5 degrees

300 grams
12k carbon weave
USA Made and bad ass!
The new hubs will drop at Interbike
A PRO Shannon Taylor is testing them now and shortly A PRO Alec Bob
Find out more about Alienation BMX at www.alienationbmx.com
Posted in: News