Product Spotlight: Supercross ENVY BLK V2 Carbon Frame
In August last year we did a full blown product review of the Supercross ENVY BLK carbon frame and the matching Supercross ENVY BLK V2 carbon forks. One of the most advanced and "ENVY'd" frames on the market, it really was a dreamy ride, a real head turner with amazing stiffness, responsiveness and sex appeal.
I can't help but remembering asking if they were considering a V2 of the frame. here's the question and the answer:
bmxultra.com: When Maris Strombergs stepped on his plain skin Supercross there were rumours that it was a new model envy blk. Do you have any plans to go to a v2 ENVY BLK any time soon?
Bill Ryan: Those were just rumors, and people talking. With tooling costs as high as they are, we made sure we had the ENVY BLK perfect before we launched it so we don't have to spend another $100+ grand on tools.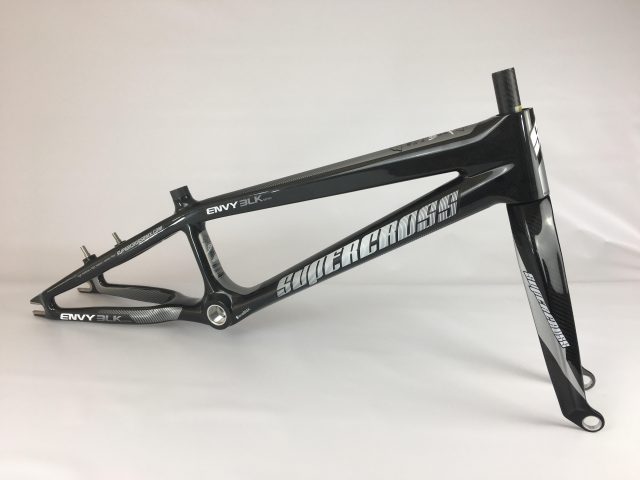 Well just over 6 months have passed and we have a brand spanking new ENVY BLK V2 frame. Supercross appear to have stuck to their word, they've managed to pull off the next step in the evolution of the frame without having to change the tooling. While it may look different because of the artwork the frame uses the same race proven molds. It still uses the Euro BB, tapered 1 1/8″ – 1.5″ steerer tube for pro sized frames and 1 1/8″ for smaller frames, 15mm dropouts for pro sized frames and 10mm for smaller frames, so nothing has changed there. The frame sizes will include Junior, Expert, Expert XL, Expert XXL, Pro, Pro Plus, Pro XL, Pro XXL and the new Pro XXXL.

Essentially there are two major changes.
The first is the material that was used for the original ENVY BLK was Torray T700s. For the V2 this has been replaced by the new Torray T1100-KS which is apparently 6% lighter but still stiffer and stronger than T700s.
The other major change is how the frame is presented. The artwork is very different and is customisable at the time of purchase. Instead of the frames being painted, you select a gloss or a matte finished frame and then select your decal colours.
The price tag is a little higher with the V2 as well, but you are getting more bang for buck.
We believe that the frame is available for pre-order with the first batch shipping in approximately 30 days (mid to late April).
We have plans to find out a little more about this gem from Supercross BMX, so make sure you keep your eyes peeled.
Gallery
Manufacturers Description
In 2014 when we introduced the ENVY BLK Carbon Fiber BMX race Frame, we changed the game for carbon fiber BMX race frame construction. By utilizing more advanced materials and molding processes.
Now for 2018, with the ENVY BLK 2, it's time to change the game again. And as with our ENVY RS7, it's evolutionary, not revolutionary.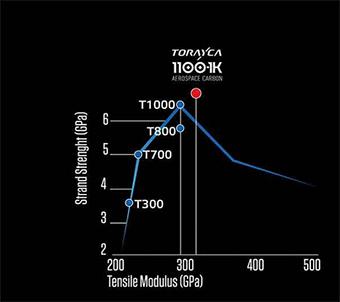 Utilizing the same World Championship winning geometry of all the Supercross BMX race frames, the ENVY BLK 2, is an evolutionary change by keeping the same mold and technique of the original ENVY BLK but utilizing a new carbon pre-preg material from Torray the new T1100-KS. With the new Torray T1100-KS we are able to reduce the weight of the frame another 6% while increasing the frames strength and power transfer. ( Chart to the left is Torray's testing. Not ours. This stuff is sick. The kind of material used for fighter jets, formula 1 cars, and you get to ride it. ) So what are you getting then? The lightest, Fastest, Strongest BMX racing frame on the planet, and the same comfortable , confident feel of your current ENVY BLK. Isn't that what you have always wanted anyways.
Some of you have been screaming as well for custom paint jobs. And while we would love to offer you custom paint jobs, it just isn't affordable to do customs with the ENVY BLK paint jobs, but with the new ENVY BLK 2, every frame is a bespoke custom. You select your frame size, ( and we have a lot of them, Junior, Expert, Expert XL, Expert XXL, Pro, Pro Plus, Pro XL, Pro XXL and new Pro XXXL ) select your color choice, Matte Carbon, Gloss Carbon, Matte White, Gloss White, Matte Hi Vis, Gloss Hi Vis, and then select your decal color from our wide range of colors, Gloss Silver, Cyan, Hi Vis Yellow, Matte Black, Gloss Black, Red, Fire Orange, and even a Digital Camo option. Then once your order is placed, we go ahead and start finishing up your new ENVY BLK 2, right here in Apple Valley, California. It uses a traditional threaded Euro BB Shell on all models as it has proven itself to be the most dependable BB interface. All dropouts are solid Torray Carbon fiber with Titanium inserts that are molded directly into the frame. The Junior thru Expert XXL use a 10mm ( 3/8″ ) rear axle size and the Pro size and larger use a 15mm rear dropout and is available with a 10mm axle adapter until you are ready to upgrade to the 15mm size. The headtubes use full molded Carbon Fiber bearing races that are a solid part of the headtube to provide the strongest headtube on the market. The Junior thru Expert XXL use a Campy Std. Size that lets you use either the 1″ or the 1 1/8″ steertube forks depending upon which bearing kit you use, and the Pro and Larger have the Tapered Integrated headtube to allow you to use the 1 1/8″ – 1.5″ steertube forks, and still accepts the traditional 1 1/8″ straight steertube.
All Supercross BMX ENVY BLK 2 Frames, like our traditional ENVY BLK accept a traditional V Brake system. Light weight, Easily adjustable and no need for a special hubset.
For now you can get more information from www.supercrossbmx.com.
Supercross BMX is distributed in Australia by www.bmxcompound.com.au
Posted in: News