Zelvy 36 Hole 20″ BMX Carbon Race Rims Available Now
It's been some time since Zelvy first mentioned their carbon BMX race rim, but they are finally in production and available to the public.
These aren't just another carbon rim, at closer inspection you will see they are a high end carbon rim that doesn't have the deep profile you see in other carbon rims, on top of that it's significantly lighter than your standard carbon BMX rim. The price tag on these isn't bad either, currently at $375 per rim.
At the time of this article they are only available to Australia and New Zealand but will roll out to the rest of the world in just a matter of days.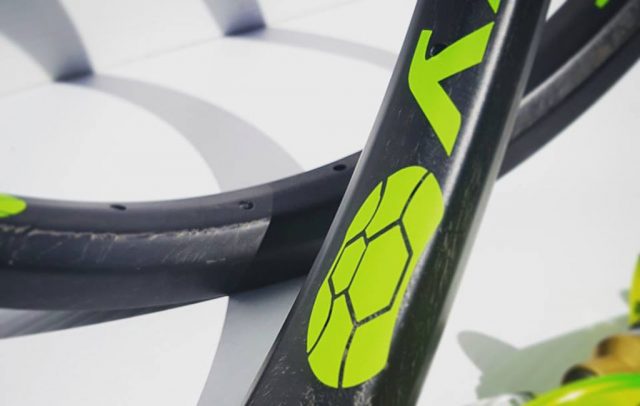 Want more details? Check this out.
Manufacter's Description
The requirement we set for our BMX rim was  pretty simple…
Make you faster. In all conditions.
This requirement strait away eliminates a "traditional" high profile carbon rim like we currently have on the market. Terrible in cross winds. Really, really stiff! But not in a good way.
We took what we have learnt from our years of developing MTB rims and started seeing what features we could apply to our new BMX rim. We then took our ideas to some of the fastest BMX Olympic racers in the world and got their input. The result is one of the lightest. And we believe from all feedback and testing the most precise and responsive race rim on the market. change direction in an instant. Snap out of the gate with zero flex. Yet compliant and strong enough to smooth out the odd badly judged jump.
Race proven this season by Tyler Brown and Quentin Caleyron.
Key features:
Hookless design. Extremely high rim wall strength as a result.
Tubeless Ready. It is here. We worked with one of the biggest tyre manufacturers to develop our rim well that inflates easily on tubeless, but can also be run with traditional tyres and tubes.
Low Profile design for optimum stiffness and damping. Don't be afraid of cross winds at the track anymore!
This rims brake track is designed for BMX race and street use with our specific brake pads. PADS Shipped with rims.
26.5mm Internal width, gives a slightly larger volume to the tyre, meaning you can run less air pressure for a better ride, while still maintaining rolling speed.
265 grams! (+-15g)
The only low profile carbon BMX rim on the market.
Gallery
Head on over to www.zelvycarbon.com for more information
Posted in: News