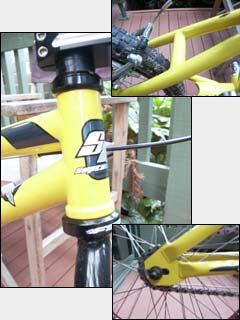 You may have read our review on the previous Supercross UL model from last year, we were very happy with the frame and how it rode. It seems we weren't the only ones, the UL is still getting rave reviews internationally from Transworld BMX magazine and the likes. Like everything at SX there is an evolution process that isn't governed by year, but to reduce confusion we will call the new model the '04 and previous model '03.
The '04 UL comes with the same features of the '03 model, including triple butted air hardened post weld heat treated 4130 cromo, it comes stock with a euro bottom bracket, built in seat clamp and removable cromo canti mounts. The frame is still strong but lighter weighing in at 4.2lbs for a Pro XL.
The UL frame went through only minor changes from '03 to the '04 model.
The modifications include;
Round tube seat stay brace rather than the plate. The reason for this was to reduce weight and increase stiffness in the rear of the frame.
New smaller dropouts. This gives the frame cleaner looks and reduces material weight.
Butted seat mast. This keeps the seat mast thick enough at the BB shell area for the proper strength, but thins it out at the top to use a more common 26.8 seat post rather than the 26.6 of the '03 models. It retains strength, is more user friendly and it's lighter. Which Bill Ryan, head honcho at Supercross, says "seems like three big pluses to us".
CNC machined head tube adds extra "meat" at the bottom of the head tube to eliminate any chance of head tube flaring, ever!
How did it ride in comparison to the previous model?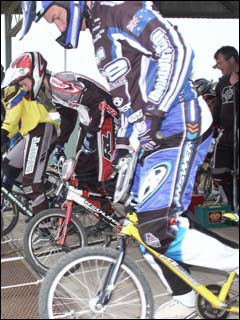 Although the geometry hasn't changed, it felt a little different to start off with. It could have been contributed to the fact that I changed from Answer Battleaxe forks to the Supercross Pro Fork and from Pazzaz handlebars to the Supercross bars. I also think the shorter drop out meant that I was running my back wheel a little further forward than I normally would. It took a couple of minutes to fell like I was riding the '03 UL again.
The differences in weight and stiffness were barely noticeable over the '03 model. I am sure someone stepping off a frame that's less stiff and a little heavier would benefit more and it will come in handy when racing; doing gates, jumping and accelerating out of corners.
The UL is a great all rounder, it's perfectly balanced for gates, jumping, manuals, it hugs corners and it very controlled in a sprint. On top of all this it's suitable to take to the dirt jumps as well, the best thing about it is that it's designed for racing so is far lighter than regular dirt jumping frames.
Rating
20/20:
| | |
| --- | --- |
| Value for money: | 5/5 |
| Weight: | 5/5 |
| Functionality: | 5/5 |
| Looks/Finish: | 5/5 |
Comments:
The UL frame is a top end USA made cro-mo race frame. It may be a little expensive for some, but when you consider the benefits and the fact that you don't need to change bikes to hit the dirt jumps it's exceptional value for money
Supercross have done an exceptional job of reducing the weight of a cromo frame while maintaining all important strength and stiffness. I think you'd be struggling to find a cromo frame that can match it with the UL in the strength or weight.
Zero flex on a frame that handles exceptionally well, the only question was how would you fit chain tensioners on the small drop outs? Some will fit, but you will have to look around, alternatively you could ride without them, I do, just do the wheel nuts up nice and tight.
The paint work is awesome and the welds are very neat. It's a classic looking frame with no gussets and no gimmicks. As per usual the decals are very slick.
Available in Xpert, Pro, XL, XXL, 24″ Pro and junior sizes. Colour choices are Black, Blue, Yellow or you can pay extra for custom colours. The US retail is $399.95.
For more information check out www.supercrossbmx.com.