bmxultra.com Hall of Fame
Hall of Fame | Inductees | Nominees
The bmxultra.com Hall of Fame honors the legendary BMX racers and industry personalities who have made BMX racing what it is in Australia today. The bmxultra.com Hall of Fame officially began in 2006 with the first annual induction ceremony in May 2007 at the Warragul BMX track in Victoria.
We would like to congratulate Steve Cassap, Pat Dillon, Jamie Hales and Leigh Egan for being the first inductees to the bmxultra.com Hall of Fame.
Steve is pictured below with his award and others that were in attendance for the presentation.
(Left to right: Ian "Mr SE" McLean, "Thunder" Danny Galea, Paul Fletcher, Steve Cassap, Robbie Moreton, Martin "Mr BMX" Winchester)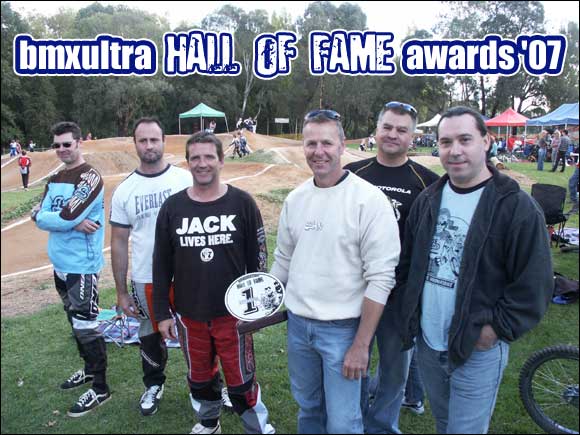 At this point in time the 2008 bmxultra.com Hall of Fame induction ceremony will be hosted by the Northern Park BMX Club (in Mill Park, Victoria) on Sunday November 16th. There are a bunch of ideas bouncing around at the moment to celebrate the event in true style like an old school bike display and a 30+ Open Wheel BS Stops style event, along with the normal day of racing.
Last updated: Thursday, 2 April, 2009 7:33 AM