March news
BMXUltra.com is aiming at bringing you the most up to date BMX news from around the world, if you have anything that might be of interest feel free to e-mail us at webmaster@bmxultra.com
Don't forget to press the refresh button on your browser when you're looking for the latest news.
31/03 Echuca race report
On Sunday the Northern Rivers Region held the second round of their regional championships at Echuca, about a 2 hour drive north of Melbourne (Australia).
The track was dry and a little slippery due to Echuca's current water restrictions, but after a bit of a sweeping it was fine. Many of the riders were having fun on the Echuca track, there were a lot of small jumps for the juniors to jump and the big doubles at the end of the first straight for the older riders.
There were 3 gates of the 14 & Over (Pro Open) class, the series end prize pool incentive seems to be working well. Amongst the entries were AA Pros Levi Collins, Brock Tuckerman and Adam Robb. The hot A Pros were Shane Jenkins, Robert and Brian Slatter, Nathan May and Western Australia's Jade McPherson who is making progess in his comeback to the sport after beeing off his bike for some time.
In the motos there were no real surprises, Collins, Robert Slatter, Tuckerman and Robb qualified in the top 4. Also qualifying comfortably was McPherson, who was gaining momentum through his motos and Jenkins who was drag racing with young guns Collins and Tuckerman in his motos. When it came to the cut for the final though there were 3 riders on equal points for the last two positions. Jarred Kahl should also get a mention just missing the cut for the run off, but riding well, also the oldest rider in the field, Darren May (Nathan's father) was giving it a shot after making the semi at the last round in Sunbury. When the gate dropped in the run off Nathan May took the early lead and Brian Slatter fell in behind him with Matthew Kelly hot on his tail until the third straight where Kelly got a better run in the corner and eliminated Slatter.
In the main Collins and Slatter got the snap out of the gate, Jenkins and McPherson were close behind. After the big doubles at the end of the next straight, Tuckerman and Robb slip under Jenkins, then Robb goes safari as there was only room exiting the corner for one rider. By the next straight Tuckerman had moved up into third ahead of McPherson.
In the 19 & over womens 20 inch class Kate Elliott, riding a new DK with a new sponsorship deal she had landed recently, took the win. She didn't have it all her way though, Marree Kenyon, who has only been riding for about 6 months and has been improving with every race, finished a close second.
Once again the Northern Rivers Region did a fine job of running this event and getting us home early.
The next round of the Northern Rivers Regional championships will be at Wodonga on the 4th of May. Entry forms available here soon.
Pro Open Results
1. Levi Collins (Team Sinister)
2. Robert Slatter (Profile/ECI)
3. Brock Tuckerman (Team Sinister)
4. Jade McPherson (BB Cycles WA)
5. Shane Jenkins (bmxultra.com/Supercross/Answer)
6. Adam Robb (Redline/TotalBMX)
7. Matthew Kelly (Team Sinister)
8. Nathan May (Team Sinister)
28/03 Survey results
A couple of weeks back we ran a survey about the UCI world championships and womens classes. And as responses seemed to have slowed we have finally compiled the results. Click here to see what the BMXUltra.com readers have to say.
28/03 Jason Richardson on MCS and MCS Team news
MCS Bicycles is pleased to announce the addition of Jason Richardson to the factory team. Jasons main sponsored will still be "B-52" components. Jason will ride the MCS Speed Freak. With the addition of Jason to the MCS Brand it will give MCS more west coast exposure, as well as, overseas in Europe. We are very excited to have him aboard! His first race will be NBL Tampa.
MCS Bicycles is gaining momentum. The number one team in Florida is still in the points lead after winning both days at Qualifier Rounds 5 & 6. The race was held March 14-16, in Coral Springs, Florida. With around 160 moto's each day, it was a good size race. Everyone pitched in to help out after a tornado blew through the track on thursday night. The Coral Springs crew did a great job getting the track ready before the storm. Special thanks to the Profile team for handling it on Friday. I know everyone appreciated it.
After the SSA Qualifier, we made a stop at Oldsmar, Florida for an ABA National. The moto count wasn't as high but, Kalin Hall and Amanda Geving both pulled off double triples, that would be winning class, cruiser and open both days. Not too shaby.
27/03 Team Profile Racing @ ABA Gator Nationals
TEAM PROFILE RACING HITS THEIR FIRST ABA SEASON RACE
Team Profile Racing attended its' first ABA race this past weekend (3/22-23) in Oldsmar, Florida. Oldsmar BMX was the host track for the ABA Gator National. Over 100 motos and temperatures that felt that high. Heavy rainfall the day before the race made for high humidity and lots of complaints. We won't even go into Sunday's weather, but it was typical Florida liquid sunshine all day long.
Team Profile's newest member, 7X Caleb Minthorn was the star racer for the weekend with a second place finish on Saturday and first on Sunday. Right behind him was 14X Harry Britt with a 7th place finish on Saturday and a 5th on Sunday. AA-Pro, Percy Owens made his Semi Saturday but not Sunday and A-Pro, Chris Fernandez crashed twice, in the first turn while in the lead, in successive motos on Saturday. He finished the third moto in first but it was not enough to transfer. He made his Semi on Sunday but did not transfer.
Profile Racing congratulates these Profile Racing co-sponsored racers at the ABA's Gator National for their Main finishes:
SATURDAY
19-20X Nick Stambaugh - 4th
17-20 Cruiser Nick Stambaugh - 4th
SUNDAY
AA-PRO Domingos Lammoglia - 2nd
PRO GIRL Michele Peters - 8th
19-20X Nick Stambaugh - 2nd
17 – 20 Cruiser Nick Stambaugh - 3rd

A big "THANK YOU" to our Team Profile Racing sponsor MAXXIS and our other co-sponsors, Answer, Cane Creek, Hot Shoppe, Marwi USA, Spy, Sun Ringlé, Thomson, Troy Lee Designs, UGP and Vans.
27/03 BMXDude.com's new forums
This is Troy over at www.BmxDude.com, I just wanted to announce to everyone that BmxDude.com has Message Boards. They have been created with the intention that people can post messages asking for rides to races or contests or if you are just looking to find someone to go ride with in your area. They also are great for getting any of your BMX questions answered.
Thanks, Troy
www.BmxDude.com
27/03 Food restrictions lifted - the official word
This is the official statement in relation to food and beverages at the Adelaide Entertainment Centre for the Australian national championships.

This is the ruling:
General Public: the General Public cannot bring eskies into the general admission seated areas.
Food & Beverage outlets: Food and beverages that are purchased at the venue outlets are allowed to be taken into the general admission seated areas.
Riders: All food and beverage items that competitors require can be taken into the competitors backstage area open space & be consumed in this area only.
Darrilyn Wood
Adelaide Liaison for BMX Australia
General Manager Life Leisure Events Management Inc
26/03 BMXBits Norco 2003 frame deals
It's not uncommon for BMXBits to pump out some crazy prices on current stock, and with these prices it makes you wonder how they can keep doing it, but they do.
Norco 2003 Norco Madill Frame $219.00
Norco 2003 Speed Metal Pro Frame $189.00
Norco 2003 Speed Metal Cruiser Frame $219.00
Norco 2003 Speed Metal Junior Cruiser Frame $149.00
If you want to see what these frames look like check out the Norco BMX website at www.NorcoBMX.com.
Head Honcho, David Comport, tells us "Hurry, at these prices they will not last long."
www.bmxbits.com.au
Call 1 800 632 157 today.
218 Nepean Highway, Edithvale Vic 3196, Australia
26/03 Donny Robinson announces Next Level training clinics
San Diego, California - Ever wonder what has made Donny Robinson one of the most successful BMX racers in the world? Now's your chance to find out! DR has just announced that he is launching the Next Level BMX Training Clinics and will be conducting clinics at a track near you very soon. Along with A-Pro Robert Pierce, the Next Level training program promises to deliver where other so-called clinics fall short. Features include limited class size to 20 riders per clinic for more personalized attention, giveaways and prizes for each attendee, and separate novice/intermediate and expert clinics as well as personalized, private sessions for individual riders, groups and/or teams. The Next Level BMX Training Clinics promise a professional training environment for not just the kids but for the parents as well. Parents will receive information and instruction on how to keep their kids motivated and training properly. For more info on clinic dates and locations please contact nextlevelclinics@aol.com.
Next Level Clinics are proudly sponsored by: Fly Racing, Phantom Racing, Adidas Cycling Shoes, Adidas Eyewear, Answer Products, Spy, FSA, United Brands Co. proud makers of US Energy Drink and Synergy Sports Drink, Kovachi Wheels, Marwi USA, ODI Grips, Tangent Products, Velocity Wheels. Please support the companies that support BMX!
26/03 Racegirl Report~ABA Gator National
Saturday's racing was clear and sunny for the109 motos. Eleven Pro Girls showed up for the races. Both Racegirl TM's Alice Jung and Kim Hayashi battled it for the 1st and 2nd!! with Pro Girls Michelle Cairns, Jamie Lilly, Angelica Alexander, Kelly Hutto, Chantel Blanchet and Gabiela Diaz following close behind. But on Sunday Jamie Lilly won and Michelle Cairns took home the second. In 7-8 mixed open Krista Fournier takes the 1st and Racegirl/Answer Mollie Crohan pulls up the rear but takes home a 1st in 7 Girls. In 9-10 open Racegirl/Answer Julia Buck brings in a 4th. Florida's super fast Amanda Geving doubles in the 13-14 open and 14 girls class! Megan Unverdorben comes all the way from California to take the 1st in 9 Girls and Racegirl/Answer Teammate Bethany Kludt holds on for 6th. Both 9 &10 girls had 10 riders. The 10 Girls class gets tougher every race with Destiny Bunch taking the 1st and Racegirl/Answer Julia Buck placed 3rd. Brittany Bates doubles in 11 Girls and 11-13 Girl cruiser. The other Brittany, Brittany Brame, took 1st in 13 Girls. The first time racing for Racegirl/Answer Cassie Watts places 2nd right behind her friend Amanda Geving in the 14 girl class. In the very fast class of 15 girls Lilly Cook takes the 1st but Racegirl/Answer Courtney Bell hung on with the 4th place.
In the 17-27 Girls class Amber French wins the 1st. Next the 5 and under girl cruisers had a big rider count of 9 and Marissa Martin earns the 1st. In the 17-20 girl class Afton Schrimpf was the very happy winner! Local girl Patricia Gonzales wins the 35 girls cruiser. Not forgetting Cindy Heller who takes home a 1st in the 41-45 girls. Over all it was great day for the girls! The Pro Girl's first autograph session sponsored by the Racegirl BMX League was a huge hit. Check www.racegirlbmx.com for more race photos.
25/03 Scott Lacey on Felt
We hear a lot of rumours here at BMXUltra.com, the latest is that 15 year old A Pro Scott Lacey, of the South Eastern club in Melbourne Australia, has defected from KHS and will be joining John Johnston on the Australian Felt team.
25/03 BMXPros.com Report - ABA Gator Nationals, Oldsmar, Florida
Huntington Beach, CA USA - Round #6 of the 2003 ABA National series was held on the East Coast this past weekend in Sunny Florida. Well, it's usually a sunny place but on Sunday it rained all day making for one of the worst mud races in a long time. BMX racing in the rain isn't one bit of fun, and really is kind of dangerous, and wrecks your bike, but with the ABA, the "show"must go on. Here is how the Double A Marketing riders finished up at the event.
Dale Holmes is used to racing in the rain, as Europe always has rain show up just in time for the racing. Dale showed his consistency in the dry and wet with a 4th in AA Pro both days and a 3rd in Pro Open both days. Dale is once again having a great season, as he sits in the top 10 in both ABA and NBL pro standings. Dale's sponsors include Free Agent, O'Neal, Smith Eyewear, Kenda Tires, Bombshell Forks, Sun Ringle, UGP, Profile, ODI Grips, Vans, Shimano, BMXpros.com, and Daleholmes.com.
Randy Stumpfhauser has been racing a bit more in 2003 with hitting more and more ABA races. Oldsmar was a new race for Stumpy and a 5th in AA as well as a 5th and 6th in Pro Open was his finishes. Stumpy doesn't like the rain, but he loves to race and is always happy to be at the track, no matter what. Randy's sponsors include Huffy Bicycles, Fox Racing, AC Components, IRC Tires, Smith Eyewear, Alex Rims, S & M Forks and Bars, ODI, BMXpros.com, Champion Nutrition, Shimano, Vans, and CTI Knee Braces.
24/03 ABA/Supercross Supercamp news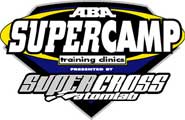 Santa Clarita, CA - The ABA/Supercross Supercamp rolled into NBL country and had a great showing in Orlando Florida!! After Bubba, Burlin, Stan and the Gang did a 2 hour free clinic for Race Girl BMX and immediately turned around and did a 4 hour clinic for 52 of Orlando's finest. Burlin said that the people are great, the track is great and he is looking forward to a beautiful weekend of ABA racing in lovely Orlando Florida.

24/03 Review: Answer Alumilite Sprocket
To read the Alumilite sprocket review click here.
21/03 Food restrictions lifted
In our Australian titles gossip article on 19/03 we mentioned a food restriction at the Australian titles venue. Apparently the Adelaide Entertainment Center are a bid fed up with all the strife the restrictions have caused and so have waved the ban on bringing food and drink into the venue for everyone. This is yet to be announced by BMX Australia.
21/03 Pro Girl Autograph session at the Gator Nationals!
The Pro Girls attending the Gator Nationals want to step up their efforts a bit by attending a first ever autograph session in the traveling Racegirl Pit area. The Racegirl BMX League is sponsoring this effort by supplying Racegirl BMX water bottles free to the first 100 fans, T-shirts and stickers will be given away too! This get to know you session will be the first of what we hope will be many more to come! COME OUT TO MEET THE LADY PROS OF BMX BEFORE THE SATURDAY PRO PRACTICE!
Look for the Racegirl banner and e-z up and the following Pro Girls to be there ready to meet and interact with all the fans of BMX.
Alice Jung, Racegirl Team manager, Kim Hayashi, Racegirl Team Manager, Jamie Lilly, Angelica Alexander, and Chantel Blanchet will be excited to meet the Gator National racing fans.
A huge thanks goes out to Oldsmar BMX who has graciously supported the Racegirl BMX League.
Racegirl BMX League extends a gracious thank you to their sponsors, Racegirl International, Answer BMX, Lizard Skins, Sharp BMX products and Systems Web. Without their help, our continuing efforts to promote, support and encourage girls in BMX would not be possible.
Visit WWW.RACEGIRLBMX.COM for more information.
20/03 South Australia V's Victoria
We hear that Mt Gambier's SA vs VIC race meeting, held over the June long weekend, is looking pretty good this year. It is one of the last big races before the world championships for many riders. Although it hasn't been finalised, we hear there will be quite a bit of prize money, the figures being thrown around at the moment are $500+ payback for the 14+ Money class and $300+ payback 30 & over cruiser on the Saturday. $2000 for the 14+ on Sunday and $2000 14+ on Monday. There will also be a winner take all fastest lap time for $500 for guys and $250 for girls. A $5 entry, and all riders can enter on the day (probably on Sunday) for that one. "This is all about 95% certain" says Nick Brookes from www.DaktariSport.com.au. Entry forms should be available at the Aussies.
We went to Mt Gambier last year, it was a very well supported race, both the track and the racing were top knotch, it's well worth the trip. We also hear that the last half of the track may have some changes.
19/03 Australian Titles gossip
We heard yesterday that there was a late announcement that there will be no food or drink allowed to be brought into in to the Adelaide Entertainment Center for the Australian Championships unless it's "Special Package dietary or sealed bottles of special drinks" for the riders. However if you were to contact the venue they say that "riders can take their own food and drink into the venue and people with special dietry requirements, and enquiries should be directed to BMXA." If you are on a tight budget, like many of us after paying entry fees, accomodation, etc and you want to save money, there's nothing to stop you from keeping food in your car.
Were you aware that there is a $5 a day parking fee to park at the venue?
South Australian, Peter Trenwith (Cassap), the 1997 Australian Pro champion will be competing this year as a challenge class rider in the 19-29 class.
New South Wales AA Pro, Brett Scruse (Standard AUS), currently ranked #3 Australia in the Senior Elite mens class will be riding this year in the 30-34 men and cruiser challenge classes.
The Senior Elite class this year will be tougher than ever, Luke Madill and Kamakazi will have their usual battle but Wade Bootes will be in the mix this year, and let's not forget the likes of John Johnson, Tony Harvey, "Tiger" Robinson and Darren Hawkins. Last years Junior Elite champion, Khalen Young, has also graduated into the Senior Elite class this year and can't be written off.
For the first time we will see Mike Fenwick compete in an Elite class, now that he's old enough. By the way he's been riding lately he'd be a good chance in the Senior Elite class.
18/03 Lilydale photos posted
We had a lot of photos to sort through from Lilydale that's why they weren't posted yesterday. Some were taken by us and a lot were taken by Tracey Coles. You'll find them in the photos section of the site.
17/03 Lilydale race report
The Lilydale BMX club hosted the first round of the Metro Plate series on Sunday. The weather was perfect for racing a little overcast at first, which cleared early, and warm. With a bit of a late start, due to a problem with the mail, it wasn't a bad turn out. The track was very different to last time I raced there, the club has put in some good work, but still need to do something with the last corner.
With 5 gates of Pro Open class racing was going to be tough. AA Pros Tony Harvey, Luke Pretlove, Adam Robb, Simon Anderson, Levi Collins, Brock Tuckerman, Johnathan Hoare, Ken Babington, Simon Grigg and Glenn Porter were fighting off an onslaught of A Pros like Scott Lacey, David Page, Shane Jenkins, Nathan May, Robb Slater, Bendon Rhys, Dean Miller, Wayne Flint, Nathan Evans, Matthew White, Charles Nelson and others.
Racing was so tight in the motos that a 4 man run-off was required to sort out the final spot for the semis. Miller got a quick snap and sorted out Jenkins, Page and Evans down the first straight, they would have to watch the semis from the sidelines.
The semis proved to be more exciting than the main. Semi #1, Tuckerman was leading, Pretlove in second and Babington in third into the first corner, Babington hits Pretlove and hits the deck bringing 5 other riders down with him including Pretlove, Miller slips underneath the carnage, Pretlove and Robb pull their bikes out of the pile and qualify for the main. Semi #2, Harvey has a clear lead in the first corner, Collins and Anderson clash elbows but stay upright, cranking out of the corner Hoare loses a pedal and loses the bike allowing Lacey to take the final spot for the main.
When the gate dropped in the main Harvey jumped to the lead with Pretlove and Anderson leading the rest of the pack in hot pursuit. Robb forced his way in front of Anderson in the first corner with a clean move. Tuckerman also pulled a good move getting him from 8th to 5th in one foul swoop and back into the race, but he came unstuck in the second corner. Harvey took it to the line.
Emma Franklin, one of Victoria's big chances for a national # 1, was racing against the 16 year old boys and finished 3rd in a tough field, watch out for her come Easter weekend.
Pro Open Results
1. Tony Harvey (S&M/ECI)
2. Luke Pretlove (Redline/TotalBMX)
3. Adam Robb (Redline/TotalBMX)
4. Simon Anderson (GT AUS)
5. Dean Miller (GT AUS)
6. Robb Slatter (Profile/ECI)
7. Scott Lacey (KHS)
8. Brock Tuckerman (Team Sinister)
17/03 Clayborn Press release
Clayborn Bicycles AA Pro Travis Turesson was looking good in Las Vegas on beautiful track at Nellis BMX. After a week of hard rains the great crew at Nellis had the track as smooth as Clayborns new ALX race frames. Travis after coming off winning both days in Morristown came to Vegas with one thing on his mind and that was making the mains and doing it on flats and he did it. Travis took his Clayborn Bike to the mains and finished 7th on Saturday and 6th on Sunday. Will his main streak continue? Youo can bet it will. John Andrews was hotter then the girls on the strip. John was perfect in class both days riding as smooth as the Nellis track looked! John is one perfect from capping and you can bet he will be going all out at Sandy Ridge BMX in Georgia for that perfect. As for Barry "Noodle Boy" Nobles, the track wasn't as kind to him, but making 4 mains in the weekend is not to bad, but just not what Barry wanted, winning them was his goal. Bad gates and getting boxed out kept him in check. Barry was capped going into the weekend, but his main plan was to keep others from getting a perfect which he did on saturday. But Barry's weekend was a total lost as he got to ride at T.J. Lavin's and going to some local trails and riding as BMX guru Steve Budendeck was doing a photo shoot. The next stop for Clayborn is Sandy Ridge BMX for the Peach State National March 29-30. For up to date new and schedule for Clayborn go to www.Claybornbicycleproducts.com
Clayborn would like to thank all their sponsors: Pro Link Chain Lube, FLY, SPY, UGP, Kovachi Wheels, ODI, Cane Creek, Profile, SDG, Sun Ringle' and Hot Shoppe!!
17/03 PHANTOM / FLY RACING / ADIDAS WINTERNATIONAL AMATEUR TEAM REPORT
Phoenix, Arizona - Nearly all the Phantom amateur team assembled at Black Mountain BMX for the ABA's Winter Nationals last weekend. With the big guys on the team sportin their Adidas Hematoma racing shoes, the little guys on their Answer Speeder racing shoes, and the entire team rockin' their new ADIDAS Yodai Goggles, MARWI Ti Spokes and Answer Carbo Forks - the best, lightest BMX forks on the market - the ams were in full effect and ready to rock the house.
Highlights include 6x World Champ Jacob Abbe, utilizing a new pair of Answer Scythe carbo forks, overcoming the NASCAR-style bump and grind to take a couple of impressive wins in class and open. These little guys are just learning how to move over on each other and it gets really wild! "Don't call it a comeback," but 13x Nic Long looked to be back in top form taking wins in class and cruiser. Also back on track was 11x Dennis Enarson taking a win in 11-12 open and 4th in class both days. Also, taking wins were 11g Shelbi Long and 9g Tiffany Ford as well as the "E-Dub," Eric Elliott, in 26-30 cruiser. 16x Superstar, Mike Lundy, who lightened up his ride with a pair of Answer Battle-Axe Carbo forks, had some bad luck and worse crashes over the weekend and could only muster a win in the tough 16 Cruiser class on Sunday.
Overall the team pulled a third in Factory competition on Saturday and, after some bad crashes on the team sheet, a fifth on Sunday. This moves the Phantom crew into third place in the Factory Team standings behind powerhouses Answer/Pro Concept and Redman-Yamaha Waverunner. Look for a small contingent of Phantom riders at the nect ABA national at Oldsmar, Florida.
RESULTS - Boys: Jacob Abbe (6x) - 2nd & 1st class, 1st and 2nd open; Sean Gaian (7x) - 7th class (sunday); Chad Kerley (9x) - 6th & 8th class, 6th open (sunday); Brandon Schreuder (11x) - 6th cruiser (sunday), 5th class (sunday); Dennis Enarson (11x) - two 4ths class, 1st & 6th open; Aaron Petrille (12x) - 7th class (sunday), 8th & 6th cruiser; Nic Long (13x) - 3rd & 1st class, 1st & 3rd cruiser; Dustin Black (15x) - 2nd & 6th class, 5th open (saturday); Chris Raza (15x) - 7th open (saturday); Mike Lundy (16x) - 5th & 6th class, 7th & 1st cruiser; Scott Smith (20x) - 5th class (saturday), 7th & 5th open; Eric Elliott (30x) - 8th & 2nd class, 1st cruiser (saturday). Girls: Tiffany Ford (9g) - 1st & 3rd class, 6th & 9th open; Shelbi Long (11g) - 1st & 3rd class, 4th & 3rd open; Rakay Robinson (17g) - 6th class (saturday), 4th & 3rd cruiser. Team: 3rd Saturday, 5th Sunday.
Factory Phantom Racing proudly represents the following companies: Fly Racing, Adidas Footwear, Adidas Eyewear, Answer Products, Tangent Products, MarwiUSA Titanium Spokes, ODI Grips, United Brands Co. proud makers of US Energy Drink and Synergy Sports Drink, EVS Safety Gear, and Velocity Wheels. Don't forget to support the companies that support BMX.
14/03 RaceGirlBMX.com at the Winternationals
The Racegirl /Answer BMX Team had a great weekend at the Winternationals. All the girls who made the trip were excited and glad to be away from colder parts of the country. Black Mountain BMX and Debbie Kelly's staff did an excellent job with the track and once again the ABA staff pulled off an incredible Winternational. Racegirl/Answer BMX Team members would like to give a special thanks to Joey Licata for all his help and support this weekend. Racegirl/Answer sponsors include: Racegirl International, Answer BMX, Lizard Skins, Sharp BMX products.
A special thanks to AA pro and Winternational Champion Warwick Stevenson for his generous donation from the sales of the Warlock Wear t-shirts. It's the vision,support and faith in BMX like his that will guarantee the success of the Racegirl BMX League. Warlock Wear t-shirts were seen everywhere around the track and the time Warwick took to interact with the kids and sign
autographs was very special to all.
The winners of the first Racegirl BMX League raffle in Celebration of the National Girls and Women in Sport Day were announced at the Winternationals.
FIRST PLACE: ENIGMA FRAME goes to Tomas Forak- Heber Arizona
SECOND PLACE: PROFILE CRANK SET goes to Douglas Flack- Peoria Arizona
THIRD PLACE: CHRIS KING HEADSET goes to Helen Brown-Valp, Indiana
We will contact the winners who were not present to arrange shipping of the prizes.
Congratulations and Thanks to everyone who purchased a raffle ticket.
Special thanks goes out to Oreganos Pizza Bistros and Julio's Mexican
Restaurants for their participation and discounts/free offers during this raffle. Check www.racegirlbmx.com for a full Racegirl Report!!
13/03 Profile Racing press release: New factory team member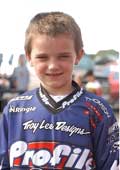 St. Petersburg, FL - Six-year-old, Caleb Minthorn of North Port, Florida was tapped at the last Florida State Qualifier (2/15/03) in Jacksonville, Florida to race Profile colors. Minthorn was a former team member of Sarasota Schwinn which is managed and run by Rolf Bostrom of Sarasota. Caleb currently holds the number three Florida BMX state plate number for his Novice season but is now in the 6-Expert class. When asked if he was happy about joining the Profile Racing team Caleb said, "(shaking head vigorously and affirmatively)." Profile's Team Manager (and A-Pro), Termite Hudson said, "We needed a young rider for our factory team and were really impressed with Caleb's speed and bike handling. He'll make a good addition to our BMX race team." Current Profile Racing BMX race team members are AA-Pro, Percy "O-Show" Owens, A-Pro, Chris Fernandez, 15X, Will Greathouse and 14X, Harry Britt. Minthorn will be showcasing Profile Racing's new Junior race frame and mini-bmx bike parts. You can see Caleb at the next Florida state qualifier in Coral Springs, Florida this weekend (3/15-16) or at his local, home track, Sarasota BMX in Sarasota, Florida. 2003 BMX Profile Racing sponsors are Answer, Cane Creek, Hot Shoppe, Marwi USA, Maxxis, Spy, Sun Ringlé, Thomson, Troy Lee Designs, UGP and Vans.
13/03 BMXPros.com Race Report: NBL Silver State Nationals Nellis BMX Las Vegas, NV
Round 2 of the NBL 2003 Pro series will go down in history as a change in Pro BMX racing as we know it in 2003. First off, it was a one day, Pro race, with double payout. 2nd, it was a flat pedal race only, as all the Pro riders agreed to use flat pedals, no SPD type, and go back to racing as it was. From now on, certain NBL races will have a pro format, where the pros will be showcased and be racing after the amateurs are done for the day. In addition, the Pro have agreed to race flat pedals only for the rest of the year. Does it make much of a difference? Who knows, but the guys who seem to go fast clipped in, did well here too. Clips or no Clips, the Nellis race was a great weekend for Randy Stumpfhauser, as he once again dominated at the Pro level in BMX.
Randy Stumpfhauser takes NBL racing very seriously and you can tell by his list of results this weekend, a 1st on Sunday and 2nd on Saturday, that he wants to better his NBL #2 Pro plate from 2002. Randy doesn't care what he has on his feet or crank arms, he just loves to race and rider BMX! Long live Stump Dog! Randy's sponsors include Huffy Bicycles, Fox Racing, AC Components, IRC Tires, Smith Eyewear, Marwi Spokes, Alex Rims, S & M Forks and Bars, ODI, BMXpros.com, Champion Nutrition, Shimano, Vans, and CTI Knee Braces.
Double A Marketing proudly represents Wade Bootes, Dale Holmes, Christophe Leveque, John Parker, Stephane Roncada, Jamie Staff, and Randy Stumpfhauser. For more information please visit Bmxpros.com or e mail PeteD@BMXpros.com

12/03 FACTORY PHANTOM RACING'S PRO TEAM ROCKS ABA WINTERNATIONALS -
Phoenix, Arizona - Factory Phantom / Avent Cycles / Fly Racing / Adidas traveled to Phoenix for the ABA's fifth stop on the national tour, the Winter Nationals. The early threat of rain proved to be not a threat at all with warm weather and clear skies setting the tone for a hot weekend of racing. The Phantom pro team was in the house and ready to do some damage.
AA Pro Donny Robinson was fired-up on his new Avent bikes and looking to make his sponsors proud. DR was as fast as ever and made it through motos easily only to suffer crashes in semis both Saturday and Sunday in class. DR was dominating once again in Pro Cruiser and looked to take the win on Saturday but crashed in Black Mountain's tricky first turn. In Sunday's Pro Cruiser action, DR got chopped off in the first turn by Free Agent and Bombshell rider Dale Holmes and settled into second with Crupi's Ian Stoffel in pursuit. It stayed that way until the fourth turn when Stoffel dove under DR to move into second. That didn't last long. In the next corner DR pulled a picture-perfect carving high-low maneuver on Stoffel then proceeded to shut the door through the eight-pack on the second to last straight. That's how they finished - Holmes, Robinson, and Stoffel - one, two, three.
Phantom's A-Pro Robert Pierce was looking to redeem himself for some sub-par performances at his last two nationals. Installing a pair of Bombshell Shrike Carbon-Fiber Pro forks knocked 2 1/2 lbs off his Avent ride and took a little getting used to. Looks like whatever he did worked. On Saturday, "Fierce" Pierce powered his way to a second place finish. On Sunday, the 2002 ROC champ rocked the house, won the third go-around in the A-Pro main event and nabbed himself his first win of the 2003 season. Robert Pierce is a man on a mission with a new-found motivation for racing.
Vet-Pro Charles Townsend proved he still has it and kicked some major butt this weekend. In a true Vet-Pro class with the likes of Harry Leary, Eric Rupe, Turnell Henry, Eric Dyer, and Mark Melton, "The Amtrak" turned it up with a third-place finish Saturday and a well-deserved second-place on Sunday. Look for the former ABA National #1 pro to be at the top of the podium very soon.
The ABA's youngest Girl Pro, Stephanie Barragan, came out firing on all cylinders, ready to take on BMX's toughest women's class. On Saturday, Steph powered to her first podium finish with a third right behind Enigma's Alice Jung and Free Agent's Jamie Lilly. On Sunday, Barragan just missed the pro-podium with a fourth place finish. At fifteen, Stephanie has a lot of years left to work on that world-domination thing.
The entire Phantom Pro team signed autographs for the fans at the Avent/Bombshell pit area. At least a hundred lucky race fans got signatures on Bombshell and Avent t-shirts, banners, and hats from the likes of DR, Charles Townsend, Robert Pierce, Kevin Jones and Dale Holmes. Don't forget to drop by the newly revamped, user-friendly Bombshell and Avent pit area at an ABA national near you. You can check out the newest Bombshell Forks, Wheel Sets, Seats and the same quality Avent racing frames that Phantom's Donny Robinson rides. For more information check out www.bombshellparts.com.
Factory Phantom Racing proudly represents the following companies: Avent Cycles, Fly Racing, Adidas Footwear, Adidas Eyewear, Answer Products, Tangent Products, MarwiUSA Titanium Spokes, ODI Grips, United Brands Co. proud makers of US Energy Drink and Synergy Sports Drink, EVS Safety Gear, Velocity Wheels, and Bombshell Products. Don't forget to support the companies that support BMX.
12/03 BMXPros.com Race Report: ABA Winter Nationals Phoenix, Arizona
Round 5 of the ABA 2003 National Pro series rolled into the Arizona Desert this past weekend for one of the greatest ABA races of the tour, at the beautiful Black Mountain BMX track in Phoenix, AZ. With temperature in the mid 80's and a packed house of riders and fans, it was a great BMX weekend for all. This was also the first weekend the ABA debuted it sponsorship with Hyundai USA, announcing they would be giving away a 2003 Hyundai Santa Fe SUV to the 2003 ABA #1 Pro. GT and Mongoose also had there team cars from Hyundai on Display in the pits and on the track for all to see. This is what a BMX weekend is all about, good racing, great weather, and an even better show on the track. Here is how the Double A Marketing riders who attended finished up.
Dale Holmes was once again looking to be a top contender when it came time for the mains, as he was one of the fastest riders in practice. In his first AA moto of the weekend, he was in 2nd, until an out of control rider crashed into him, taking them both down in the first turn, and Dale wound up re injuring himself from his bad crash in Tennessee. Dale was able to still race, and chose to race cruiser only, as he finished up with a 1st and 2nd for the weekend, giving him the lead in the Pro cruiser points chase. Dale's sponsors include Free Agent, O' Neal, Smith Eyewear, Kenda Tires, Bombshell Forks, Sun Ringle, UGP, Profile Cranks, ODI Grips, Vans, Shimano, BMXpros.com, & Daleholmes.com
Jamie Staff made his GT / Hyundai Team debut in Phoenix. With the Pro action getting faster and faster, it was great to see Jamie in the Pro main on Saturday, after a short lay off of his BMX, while getting ready for the 2004 Olympics on his track bike. Jamie looked as fast as ever, but a slam from another rider held him back to 6th overall on Saturday. Jamie looks to better his National ranking of #5 that he earned in 2002, aboard the GT Hyundai team in 2003. Jamie's sponsors include GT Bicycles, Hyundai Motors USA, Oakley, Alpine Stars, Answer Forks, Adidas, Troy Lee Designs, Thompson Seat Posts, Sun Ringle, Tioga Tires, Profile Hubs and Cranks, ODI, Tangent Plates and Pads, Shimano, BMXcoaching.com, and BMXPros.com.
Christophe Leveque was in attendance, but did not compete this weekend. Christophe will be racing at the next big ABA National in California next month, as his road to recovery from his injury is over and he is in the middle of training to gain back his ABA #1 Title. Christophe Sponsors include GT Bicycles, Hyundai Motors USA, Fox Racing, Sinister Steering Systems, Tangent Plates and Pads, ODI, Tioga Tires, Shimano, S & M Slam Bars, King Hubs, Easton Seatposts, Profile Cranks and Sprockets, and BMXPros.com.
Double A Marketing proudly represents Wade Bootes, Dale Holmes, Christophe Leveque, John Parker, Stephane Roncada, Jamie Staff, and Randy Stumpfhauser. For more information please visit Bmxpros.com or e mail PeteD@BMXpros.com
11/03 ACT Titles Results
Don't forget to check out the photos taken by Tracey Coles.
A Women
1. Shannon Jobson
2. Angela Wooding
3. Susan Kirkham
4. Heidi Rauchenberger
5. Victoria Dunkley
AA Women
1. Emma Franklin
2. Kara Buckley
3. Makara Martin
4. Kerrie-lee Lucas
5. Ziggy Callan
6. Kylie Webb
7. Renee Junga
8. Kate Elliott
A Men
1. Leigh Darrell
2. Peter Trenwith
3. Aaron Lumsden
4. Billy Jolliffe
5. Charles Nelson
6. Colin Malcolm
7. Fraser Emery
8. Scott Lacey
AA Men
1. Luke Madill
2. John Johnson
3. Michael Fenwick
4. Michael Robinson
5. Simon Anderson
6. Gavin Jedrzejczyk
7. Tim Lupton
8. Wade Bootes
10/03 Team Greed Press release
For the first time in Tasmania, a all Tasmanian based BMX race team has been formed with two of Tasmania's two fastest riders. They are James Vincent Tas #1 16 Boys, and Josh Oxley Tas #5 16 Boys. Josh Isaac (Bmxmania.com Factory rider) is the man behind the scenes making it happen for these two riders who are both heading to the aussie titles next month in Adelaide.
This team is virtually a grass roots program, with the idea behind it that the two rider's will get a bit more recognised in the sport as it lacks in Tasmania.
'Team Greed' Has a website at www.teamgreed.cjb.net and it is slowly getting up and running. Both guys can been seen at the website where there results and bike checks can also be seen. BMXUltra.com will be bringing more news from Team Greed to you as soon as it comes in! Team Greed Sponsors include: www.bmxmania.com, www.bmxultra.com, www.bmxbits.com.au,
www.tassportvideo.com, www.xtremebmxing.cjb.net and are also welcoming others to join the team.
07/03 We need your help
We have put together a form which has questions about the 2003 UCI world championships. They are about qualifying, the differences between the male and female classes, and a few other things. We'd like you to take 2 minutes to complete it. In about a weeks time we'll tally up all the responses and present them here.
It is important that you get involved in this sport and voice your opinions, while some people aren't listening there are many out there who are.
Click here to jump to the form
06/03 UCI BMX NEWS
UCI BMX Supercross
The UCI Office has received great response from the BMX community after the announcement of the new UCI BMX Supercross event and series. (see http://www.uci.ch/english/news/news_2002/index.htm ). The National Bicycle League (NBL) has also announced that they will host an additional National BMX event the same weekend, on a separate BMX track at Camp Woodward. The new NBL track will be built in May together with the rebuilding of the Supercross track. There's no doubt that the UCI BMX Supercross weekend of 19-21 September 2003 at Camp Woodward will be one of the biggest BMX events this year. Look for more information soon on the UCI website; www.uci.ch
2003 BMX World Championships, Perth Australia
The upcoming 2003 UCI BMX World Championships in Perth, Australia is getting closer, and you can find useful information such as schedule, track layout and accommodation information on the following link: http://www.uci.ch/english/bmx/worlds_mondiale/worlds_2003/index.htm
With additional event such as the Pacific Oceania International (19-20 July), the Red Bull 2003 King of Dirt Championships and the innovative Red Bull Elite Shootout on Wednesday 23rd July 2003, the World Championships week will be busy at the Burswood Dome. For the latest news, go to the official website: http://www.bmxaustralia.com.au/2003worlds/main.html
During the last UCI BMX Commission meeting, it was decided to adjust the challenge class Men 19 & over to Men 17 & Over for the specific procedure for this years World Championships in Perth, Australia. This will allow 17-18 Years old men, to choose between the Junior Men class and a Challenge class (which have not been possible before).
Continental Ranking
The Continental rankings have kicked off on several continents. The Oceanic Continent has been very busy with 2 rounds in January and another 4 rounds in the upcoming months. Wade Bootes (AUS) opted to stay on home turf this winter and have racked up the points and will definitely be in the chase for the overall UCI points standing at the World Championships. Tanya Bailey (AUS) leads the women's Oceanic points standing.
In the North American Ranking, the Christmas Classic in Ohio started off the 2003 NBL season and the UCI rankings. John Purse (USA) leads the strong field of US top riders, whilst Kimberly Hayashi (USA) leads the women's division.
In the Latin American ranking, Fernando Silveira (BRA) and Joyce Moretti (BRA) are in the lead after 3 rounds. The European ranking will start off with the first event of the European Championships series, 26-27 April 2003 in Winterthur, Switzerland.
For rankings, results, calendar - go to; http://www.uci.ch/english/bmx/rankings/2002/indexV.htm
Brasilian rider suspended for 1 year
During the Antidoping test at the UCI BMX World Championships in Paulinia, Brazil, the Brazilian rider Elton Ghigiarelli was tested positive for banned substances (see http://www.uci.ch/english/health_sante/index.htm for complete list). The Brazilian BMX Federation, Confederçao Brasileira de Bicicross, has therefore decided to suspend Elton Ghigiarelli from all competition for the period of 1 year, effective from 1st August, 2002.
05/03 Pazzaz Carbon Fiber fork review
The Pazzaz Carbon Fiber fork, the PZ-F07, is probably the first pure BMX race product that has come out of Pazzaz, and I have not doubt it's not the last. With many years experience with generic BMX products for both aftermarket and OEM, it's no surprise that they have come up with the perfect entry level Aluminium/Carbon fiber fork. Click here to read the full review
04/03 Lilydale entry form
The Lilydale BMX track, located 3/4 hour drive east of the Melbourne CBD, will be host for the first round of the Eastern Regions "Metro Plate" regional championships. When the Track Attack series opened at Lilydale there were a few problems with the track, they have mostly been ironed out now. Entry form with full details available from our 2003 calendar.
03/03 Lalor "War of the Stars" round 1 results


At 5pm on the Saturday the commencement of the first round of the War of the Stars series looked doubtful. The heavy rain on the first day of Autumn looked like the middle of winter. But there were those with a little faith and some tools who cleared the puddles and with a break in the rain got the meeting going. By this stage a couple of riders had packed their bikes and headed home, but most of the riders stayed on to take their chances. I must admit the track held up well in the rain, the surface was still quite firm and grippy.
There were three gates of riders in the 14 & Over Open (Pro open) class, this meant that riders would need to be consistantly placing in the top three to make it through to the main. Harvey looked comfortable, his main threat would be Pretlove, but track locals Robb, Babington and Weber weren't going to make it easy for them. Page did well in qualifying taking out a win in his first moto, Jenkins and Walczuk also qualified comfortably. There were those who did well, but not enough to make the cut. Redline Victoria's youngster Shaun Craven found it tough at what was to be his first pro class event. KHS rider, Jonathan Hoare, sat out the first moto expecting more rain but joined in from the second round to get amongst it.
When the gate dropped in the main, the field was even. Harvey, Pretlove and Babington started to break away down the first straight with the rest of the riders in hot pursuit. Robb worked his way into fourth, Weber and Jenkins were battling it out for fifth. In the second corner Robb got under Babington, Jenkins was trying a similar move on Weber, while Walczuk tried it under both of them but lost traction in the tight turn. In the last turn Pretlove's back wheel seemed to wash out a bit, enough to allow Robb to slip into second. Weber was in fifth and Jenkins was trying to hold down sixth when Page slipped by him. Knotch up another win for Harvey.
In the 19&over expert class Shannon Rademaker (Bayswater Cycles), who has been testing the Pazzaz carbon fibre forks for us, won each of his motos and the final with ease.
Results
1. Tony Harvey (S&M/ECI)
2. Adam Robb (Redline/TotalBMX)
3. Luke Pretlove (Redline/TotalBMX)
4. Ken Babington
5. David Page
6. Leigh Weber
7. Shane Jenkins (BMXUltra.com)
8. Craig Walczuk (Redline/TotalBMX)

Last updated: Thursday, 2 April, 2009 7:33 AM