April news
BMXUltra.com is aiming at bringing you the most up to date BMX news from around the world, if you have anything that might be of interest feel free to e-mail us at webmaster@bmxultra.com
Don't forget to press the refresh button on your browser when you're looking for the latest news.
30/04 BMXUltra.com news
Over the Easter weekend Shane Jenkins was the sole representative of the two man BMXUltra.com team at the Australian National Championships, held indoors in Adelaide. Team mate Luke Chmielewski opted to stay home and concentrate on his studies.
Jenkins is a veteran of 22 years of racing and Adelaide would be his 18th National Championship, after some good results throughout the year he was a good chance for a podium finish.
After a failed attempt, in practice, at jumping the step-up that claimed many broken bones Shane, not willing to put himself in hospital, opted to race a safe race.
On Friday in the 30-34 cruiser class (35 riders) Shane did what it took to make it through the 1/4, and 1/2 finals and into the finals along the way riders like David Cleary (2002 25-29 cruiser champion) and Trevor Weber (2002 30-34 cruiser champion) were being eliminated. Once in the final Shane had a good start and got to the end of the first straight fighting it out for third behind Brett Scruse and Craig Fisher, but had some trouble maintaining speed in the first corner and dropped back in the field finishing 6th and qualifying easily for the UCI world championships.
In the 30-34 mens class (13 riders) on Saturday and Sunday Shane, on board his new Supercross UL frame, qualified easily for the final but again would have to face Scruse and Fisher. But this was no 3 horse race, David Wollard was the 1999 25-29 Mens champion, Trevor Weber was in there as well as the current Victorian 30-34 mens State Champion Wayne Flint. The field also included Victorian riders Dean Coles and Jamie Bullows. When the gate dropped in the main Jenkins, still on his outdoor gearing, got a slower start and tucked into 4th behind Scruse, Fisher and Wollard, where he stayed to the line, beating his fellow Victorians home.
Shane will soon be riding his XXL Supercross cruiser a longer frame that should suit him better for the upcoming World Championships.
Shane's sponsors include Answer, Supercross, Pazzaz, BMXBits.com.au, Dirt Designs, Troy Lee Designs, ATi and Tektro
30/04 BMXPros.com race report - ABA US Nationals Hanford, CA
Round 9 of the 2003 ABA BMX National race series was held this past weekend in Central California. The Hanford BMX track was a great facility, as the track matched speed and skills in its layout and made for some great Pro racing. With the season in full swing with back to back weekends of racing, its time to see what pros are in the best shape and conditioning. Randy Stumpfhauser has been going extremely fast for the entire season, but the past few weekends, Randy has really come on strong. Currently leading the NBL Pro points chase, Randy took his speed and skill to the ABA this weekend. Here is how Randy finished up.
Randy Stumpfhauser lives 30 minutes from the Hanford track, and had told us to expect some great racing when the national rolled into Hanford. What he didn't mention to us was that he was going to supply all the excitement, as Randy was unstoppable in Hanford with 3 impressive wins in the Pro Class. Randy started off his outstanding weekend, with a 1st in AA Pro on Saturday, and backed it up with a win in Pro Cruiser. On Sunday, Stumpy one again impressed the fans with a win in Pro Cruiser and a 3rd in AA Pro. Stumpy is looking to better his 2002 season, which was quite impressive, with a World Championship, a national title, and a slew of wins, but Stumpy wont slow down till he wins it all. 2003 looks like that time, and even then, he wont slow down.
Randy's sponsors include Huffy Bicycles, Fox Racing, AC Components, IRC Tires, Smith Eyewear, Alex Rims, S & M Forks and Handle Bars, ODI Grips, BMXpros.com, Champion Nutrition, Shimano, Powerbar, Vans, and CTI Knee Braces.
Double A Marketing proudly represents Wade Bootes, Dale Holmes, Christophe Leveque, John Parker, Stephane Roncada, Jamie Staff, and Randy Stumpfhauser. For more information please visit Bmxpros.com or e mail PeteD@BMXpros.com
30/04 GT Australia team news - Australian BMX Titles, Adelaide 18-20 April 2003 results
Friday
Racing kicked off on Friday with all cruiser classes 24", competing in the Junior Elite cruiser class was Dean Miller, he was all fired up to show the other 20 rider's how it is done. He placed in the top 2 in his moto's and looked a good chance for the final, only to be crashed out, whilst sitting second in the semi-final.
Simon Anderson only had 13 rider's in the Elite cruiser class, and there where a couple of people missing due to some nasty falls on the practice days. Simon placed 2nd,4th&3rd in his moto's, which secured him a place in the final.Simon was lucky in the final to draw an inside lane and was sitting in second untill the second straight where he hit a jump too low and lost all of his speed. Over the line Simon placed 4th.
Saturday
With all of the cruiser classes over it was time to get out the 20" bikes, in the Junior Elite & Elite classes there were 3 race meeting's in one weekend ( UCI day 1, UCI day 2 & the National title race)
Michael "Tiger" Robinson showed all 36 Elite rider's how it is done by winning all his moto's, quarter-finals & semi-finals on the Saturday. He was lucky to draw lane 1 (inside lane) for the final and let the other seven eat his dust to take 1st place in the final.
Simon Anderson placed 2nd, and had a hugh crash into the wall in his second moto putting him in 8th and a 3rd place in the final moto, which just got him into the quarter-finals but failed to make the top 4 by finishing 5th.
Dean Miller in Junior Elite (45 riders) placed well in his moto's also 2nd,3rd&1st which got him into the quarter-finals, he placed 3rd . In the semi-finals he had a good start but only to be crashed again in the second turn.
Chloe Macpherson made it look easy in her 3 moto's against the other 9 riders in the 16 year old girls class, winning every race.
Sunday
Michael "Tiger" Robinson made it look simple in his moto's again, transferring to the quarter-finals where he won the quater's, also in his semi-final too. In the final he had lane 3 and into the last turn where he was placed 3rd and going for the move only to slide out and crash, placing him 8th. In the National title race where the top sixteen Elite rider's from the two day's go into a semi-final. this is where Tiger place 1st transferring him to the National Elite final.
In the final he had lane 4 and with a bit of a slow start Tiger worked his way up to 3rd over the line.
Simon Anderson stayed on his bike in the moto's finishing 2nd,4th&2nd transferring him to the quarter-finals where he finished 4th and 4th in the semi-final, in the final Simon had a poor start out of lane 2 and finished 6th over the line. In the National title race Simon placed 7th in his semi-final placing him 14th over all.
Dean Miller transferred from his moto's only to crash again in the semi-final in second turn. In the Junior Elite National title race Dean had the same bad luck crashing whilst in 3rd ,in the second corner.
Chloe Macpherson didn't have it easy in her final with two other girls right on her tail, but over the finish line it was GT all the way, with Chloe 1st.

Thanks to our official Team GT Aus co-sponsors Troy Lee Designs, Profile racing, ACS, Odi and Dirt designs
28/04 UCI World Championships schedule updated
There have been a number of changes regarding the UCI World Championships. Check our UCI Worlds page for the latest schedule.
27/04 Review: The Used self-titled CD
With thanks to Warner Brothers Records BMXUltra.com has kick started a new sub section of the website called lifestyle reviews.
We have been wanting to get into lifestyle reviews for some time, reviewing music, games, and movies because we don't all think about BMX 24-7.
Our first review is the debut self-titled CD from American pop punk band "The Used", along with the reviews will come give-aways. The first give-away will be at Wodonga (Victoria, AUS) this Sunday.
Check out The Used review and feel free to let us know what you think of it.
27/04 Frankston Metro Plate entry form
Frankston will be hosting the 3rd round of the Victorian Metro Plate series on May 18th. If you like more information you can download the entry form from our 2003 race calendar.
27/04 Australian national pro series
Warwick Wheeler from BMXPress wrote us to share some good news for the pros about next years national pro series. This is what he had to say.
"As of 2004 all the BMXPRESS / DK TV races will be a national series for the pro's.
It will have seven rounds starting in QLD in January 2004, then onto NSW, VIC, SA and then back to Vic for the Grands.
BMXA and BMXPRESS have come to an agreement that these races will be a cat 4 event and all rounds will count for national pro points.
This is taking the BMXPRESS TV races to that next level. BMXPRESS retain ownership of this series as we instigated that entire series and TV. They will also run the way that they have been for the last two years.
In 2004 the Australian titles will award rankings to the Elite class and the BMXPRESS TV series will have national pro rankings.
Therefore 2004 will have 2 x national champions. 1 x Elite and the other 1 x pro.
The pro series will carry more prize money etc then anything that has been done in the past.
We will have a minimum of $8000 per round with entries sunstantially less then the australian titles. 2002 / 2003 have been run as experiment series for what is to become a full blown national series in 2004. There will be prizes for the overall winners.
At our recent DK Masters at Liverpool, we proved once and for all that this will work with 118 pro entries for the one day event. Nearly 500 riders in total.
In 2005 the series will not recognise Australian Elite plates, just the pro plates / rankings from the previous years pro series. Similiar to NBL and ABA.
We are also looking at special prizes that will be aimed at the Amateurs."
27/04 SA Vs Vic Update
It appears that things have been finalised for the SA vs VIC weekend in June. The Mt Gambier clubhad to compromise with SA BMX and change the format from last year's meeting. Saturday will have $300 plus payback bruiser cruiser and $500 plus payback 14+. Sunday will be run as the UCI points round - Junior/Senior Elite, etc. Monday will be back to 14+ with $3400 prize money. There will also be a $500 fastest lap for guys and a $250 fastest lap for girls, probably held on Sunday. Sounds a bit confusing, but should be a good meeting all the same. Entry forms are available and if you didn't get one at the Aussies, they should be available from club secretaries.
27/04 Racegirlbmx launches online store
Racegirlbmx.com's online store is now one more feature to help us with our mission and goals!!
Our store is live! Please visit our store for memberships, clinic registration, and our Racegirl product line in our online store. We will add new styles and products so please check back with us regularly. Seasonal items will be featured!
Check it out at www.racegirlbmx.com.
25/04 Australian titles report
Over Easter Australia's best riders gathered together to battle it out for Australia's most prestigious event, the National Championships. This year it wasn't just the titles motivating riders, but the opportunity to represent Australia at the UCI world championships was also on the line. Only the top 32 in each of the UCI classes would make the cut.
There has been a lot said about this year's titles event before it even began, discussions about costs, venues and so forth. Regardless of what has been said and done, BMX Australia has given it's riders the best preparation possible for the upcoming UCI world championships.
The 2003 Australian championships had the ingredience of a great race meeting:
Indoor stadium
1400+ entries
A tight and technical track with a hard and fast racing surface
The latest high-tech NBL start gate mechanism complete with hydraulic ram
Elbow-to-elbow berm-banging do-or-die UCI elimination, state-on-state, mate-on-mate action packed racing
The huge advantage of the inside lane (over the outside) on the gate to spice things up a little
World class riders such as Wade Bootes, Kamakazi, Luke Madill, John Johnson, Michael Robinson, Sean Dwight, Darren Hawkins, Tanya Bailey, Kerrie-Lee Lucas, Emma Franklin, Khalen Young and so on.
Racing under the same conditions as the world championships is what was lacking in 1998, when the worlds were last in Australia, and it was obvious as we watched many Australian riders pay the price. At least this time around there wont be so much confusion about the rules and riders will know what to expect of the track, the rules and each other. I hope our track builders have learned from recent experiences, and we don't have a repeat of the controversial 1998 track.
Sure there were problems in Adelaide, the track was taking it's toll on the riders, and a constant stream of Ambulances were carting riders off to hospital, rumours suggested around 15 broken bones per day. And the Adelaide hospital weren't even told of the event which meant riders had a long wait before they were attended to.
There is no such thing as the sprocket rocket program under UCI rules, however riders under the age of 8 weren't scored in Adelaide. When it comes to July time I think it would be difficult to explain to them that they will actually be racing for a title that they wont be able to use.
For the first time we saw AA Pros riders like Brett Scruse (who finished 3rd at last years nationals in the elite class), Craig Fisher, and former Australian pro champion Peter Trenwith drop back into their prospective amature age classes. While some people were upset with the idea, there was nothing in the rulebook to stop it. I personally believe it should raise the level of competition in their classes, but I think this would only happen if we had more than one national event. Australia's first National Championships was run as a national series. I'm not saying we should just go out an change the titles to a series, but create a seperate national series, give it some prestige, maybe call it the Australian Cup, and test the waters. The current UCI pro series backpacking on already established events is not enough.
The controversial move to charge for parking, spectators seating and increase entry fees was to help pay for the indoor event, the big question is "was it worth it?". There is no doubt the event could have been run outdoors, it would have been cheaper and there may have been less injuries, maybe even more riders and far more spectators, but I think come July Australian riders will be better for it.
I can't help but thinking if Australian BMX events were run under the UCI rules every weekend, instead of changing the rules every second weekend people would have a better understanding, racing will be more exciting. The thing I like most about UCI rules is the way the elimination is set up, you may not get all 8 of the top riders in the final which mixes up the field a little. Riders know that all they have to do is finish top 4 in their heat and then top 4 in elimination finals to make the main. Now that riders understand that maybe they will race a little more conservatively rather than trying to take each other out when they are already in the top 4 and we will have more Australians win world titles.
I think in July you will see that BMX Australia have done the best job they could to prepare our riders for the UCI world championships. In the process they have upset a lot of people and Australian BMX will see the result of that next Easter.
24/04 Australian titles photos and video
We took a bunch of photos and video footage at the Australian championships, the photos didn't turn out as well as we had hoped because spectators weren't allowed to get to ground level, but we found some good ones. You can see them in the photos section of BMXUltra.com. Also get an idea of the track and the quality of Australian elite racing by checking out the video of the Elite Mens final (more finals to come).
23/04 Australian Championships Elite Class results
These are the "over all" results from the national championships.
Senior Elite Men
1. Jamie Gray
2. John Johnson
3. Michael Robinson
4. Darren Hawkins
5. Daniel Johnstone
6. Khalen Young
7. Sean Dwight
8. Luke Madill
Senior Elite Women
1. Tanya Bailey
2. Kerrie-Lee Lucas
3. Kylie Patroni
4. Ricki Barnes
5. Julie-Anne Codega
6. Sharon Watson
7. Rochelle Luke
8. Kylie Webb
Junior Elite Men
1. Michael Fenwick
2. Brian Kirkham
3. David Philips
4. Ryan Jedrzejczyk
5. Todd Williams
6. James Hollings
7. Dean Beerens
8. Daniel Wallace
Junior Elite Women
1. Emma Franklin
2. Renee Junga
3. Kara Buckley
4. Melissa Jolliffe
5. Tanya Thiele
6. Heidi Rauchenberger
7. Amie Greenwood
8. Kendall Harvey
23/04 J&C Racing news
SUPERCROSS HEADS EAST via J&C Racing
Team NBL J&C racing is proud to have Supercross as a new co-sponsor for their team. All of our riders are very excited to be in association with one of the top race frame manufacturers. Soon, most of them will be sporting the new Supercross UL frame. Quote from TM John Glannan; "We are very happy to make this connection with Supercross, they are a great company with awesome products and we feel that we can do a great job representing them on the "other" side of the country in the "other" BMX sanction." Not only that, but we'll be getting the toughest damn bars, stems and forks on the planet from S & M Bikes.
Come on by our tent this summer and check our rider's bikes.
We will see you in E. Moline.
P.S. check out our new web site at www.jandcracing.com
23/04 RaceGirlBMX.com clinic
All Girls Clinic sponsored by Racegirl BMX League
Come out and join Pro Tim Kneip, Breanna Brand with Terra Nichols ~Sunday April 27th Austin TX
Capitol City BMX
15500 RR 620
Austin, TX 78628
Rick and Linda Graves
(512) 930-4191
Instructors:
Tim Kneip
Breanna Brand
Terra Nichols
April 27th~Sunday
10:00-12:00
sign ups for races that afternoon are 12:00-1:30
Cost: $10.00 all Racegirl BMX League members and $20 fee for non-members includes automatic sponsored annual membership in the League. Must show membership card for discount..
All participants have a chance to win FREE prizes! Please confirm attendance via email arizonaracegirl@aol.com Check www.racegirlbmx.com for membership info.
22/04 Linder/Supercross factory team news
Santa Clarita, CA - Linder/Supercross Factory Team sitting number 2 in ABA Factory team Points after Pasco, WA.
It has been a busy month for the Linder/Supercross team as they headed down to Oldsmar for March 21-23rd And proceded to take their first Factory Team win of the year.
And just missed repeating the win on Sunday by 2 points! With help from riders from all around the nation, BRITTANY BATES (11G) out of Washington State, doubles on Saturday and Sunday, Jennifer Shrum (15G) out of Oregon State takes home a 3rd class and a 4th in cruiser both days, Zack Humble (9X) out of Texas finishes 1st in class and 2nd in crusier on Saturday with a 1st in class again on Sunday. Jason Jewell (14X) from Ohio, doubles on Saturday and takes a 1st in cruiser with a 4th in Cruiser on Sunday after falling in the first corner leading (due to the wet track). Colton Kelly (14X) takes home a 2nd on Saturday in Cruiser. Linder Racing was standing in 6th place heading into the Gator Nationals and with top finishes in the factory division will move up into the top four in the Nation.
Stop seven on the ABA National Schedule LINDER/SUPERCROSS debuts their new factory and bike shop team jerseys in the Flag Lap at Pasco, Washington. LINDER/SUPERCROSS girls hit Washington on fire. Brittany Bates (11G & 11-13 Cruiser) doubles on Saturday and doubles again on Sunday making that four straight doubles in a row! Stephanie Higgins (14G & 14-16 Cruiser) doubles both Saturday and Sunday making that her third double a row! Jennifer Shrum (15G) had to race one class up in the 16 girls class and took 2nd on Saturday, Sunday she had her own class and took home the 1st! She finished with 3rd¹s for both days in her cruiser class. Dustin McFall (12X) started off on Saturday with a 3rd in the 11-12 Open and after a crash in the second corner in class could only muster a 8th for the day. On Sunday it was a different story, he would finish 2nd in both Open and class for the day ­ way to go Dustin. Justin Sullivan had a tough time in 17-20 cruiser this weekend after coming down with the flu and was only able to finish with two 4th¹s, and it looked like he was set to win the 18X class, but came away with a 2nd. Next stop for the factory team is Hanford, California April 25, 26 & 27th.
Stop eight was a little national known as the Supers!! Desoto Tx, Linder/Supercross did not have a full team there to compete, but the Linder/Supercross team was still in effect with the Pena/Moeller show wowing the crowds and Little Garret James proved us proud by pulling off a pair of seconds while debuting his new

SUPERCROSS UL series Mini!! Please visit the Supercross Website at www.supercrossbmx.com for more info on the new UL series of Micro, Mini and Jr. frames.
Also be looking for LINDER RACING/SUPERCROSS Bike shop team to start making some ground up on the competition. Riders like Nick Brown (36X), Connor Price (12X), Brandon Wiscarson (8X), Bryan Gamble (15X), Lisa Grossman (31-35 Cruiser), Jordon Brown (9X), Jake Morgon (12X), Cameron McKinley (13X), Ryan Wentland (16X), Cody Linder (9X) and Kaylie Linder (10G). Be looking for some big wins from these Northwest Riders in the upcoming Nationals!
22/04 BMXPros.com Race Report
British BMX National Burnham, England - Dale Holmes reports in from England with his race report of his BMX adventure from the 1st British BMX National weekend.
"Over the weekend I competed in the first British National of the year here in the UK. The track down in Burnham was a much improved track to the one I raced at a few years ago, with a super long first straight followed by 3 more long straights with tarmac turns and good technical jumps.
The race stared out with a Saturday night No-Clips National, loud music, good announcing and big crowds with back to back exciting racing. National TV, Dirt Magazine and BMX Rider Magazine were present also, which added flavor to the event.
There were over 50 riders signed up and by the main we were feeling it."
Dale seemed to really like the event, as he cleaned up, winning both race. Dale even found time to donate a Free Agent race bike, decked out with all of his sponsors parts on it, to help pump up the crowd with a crazy Pro Bike giveaway! Leave it to Dale to make the crowds go crazy.
Saturday Day 1 No Clips Race Results
1st Dale Holmes Free Agent
2nd Kelvin Batey One Bicycles
3rd Alex Dick Dirt Magazine
Sunday Day 2 results
1st Dale Holmes Free Agent
2nd Kelvin Batey One Bicycles
3rd Bruce Wilkins Free Agent
Dale Currently sits in 4th overall in the ABA Pro title chase for 2003. To keep up to date with Dales adventures this week in England, Check out www.DaleHolmes.com or keep reading the www.BMXpros.com website.
Dale's sponsors include Free Agent, O' Neal Racewear, Smith Eyewear, Kenda Tires, Bombshell Forks, UGP, Sun Ringle, Profile Cranks, Gears, and Hubs, ODI Grips, Vans, Shimano, Champion Nutrition, S & M Slam Bars, Powerbar, BMXpros.com, & Daleholmes.com
Double A Marketing proudly represents Wade Bootes, Dale Holmes, Christophe Leveque, John Parker, Stephane Roncada, Jamie Staff, and Randy Stumpfhauser. For more information please visit Bmxpros.com or e mail PeteD@BMXpros.com
22/04 tarshasbmxworld.com updated
Super girl Natarsha Williams has added a new page to her web site Tarsha's BMX World.com. The page is called BMX Girls and contains interviews from the females of the sport that Natarsha has raced against over the years. The first interviews containing some interesting facts from Alice Jung ABA Super Girl #1, Arielle Martin Super girl and dirt jumper, Joey Gough Pro girl from England and Leonie Watson webmaster from the Australian SicChics website. Other interviews coming soon are Jamie Lilly Super girl and Karine Chambonneau Pro Girl fom France. So stay tuned for many more to come at www.tarshasbmxworld.com
21/04 Jamie Gray wins the Australian Championships
Just some quick news until we get every thing together. Jamie Gray (Haro) won the elite mens final at the Australian Championships in Adelaide yesterday. Luke Madill (Norco) went down hard and it's suspected he has reinjured his wrists. Kamakazi (Redline) and Wade Bootes (Trek/VW) both missed out on the over all title final, but received points for the UCI rankings.
In Elite Women it looked like Tanya Bailey (Cassap) was going to have to give up her crown, but in the final the race seemed to go her way. Kylie Patroni, looked like she would become the new senior elite champion, but had to settle for third behind Kerri-Lee Lucas.
In junior elite men it was no surprise that Mike Fenwick (Specialized) took the win, but it wasn't the walkover everyone expected.
In junior elite women, Emma Franklin (ONeal) took the win narrowly over a very skilled Renee Junga (Cassap).
Results
Elite Day 1 - top 8/full
Elite Day 2 - top 8/full
Cruiser - top 8/full
Challenge - top 8/full
Overall elite results still to come
15/04 Off to the Australian Titles
Just like nearly every other BMXer in Australia, the BMXUltra.com crew is off to Adelaide for the weekend. While most of the riders there will be motivated to qualify for the UCI World championships, to be held in Perth in July. Our's is because it's the single National we have in Australia all year, the one time Australia's best gather. Wouldn't it be so much better if this happend more often...just think, a national series for all riders. For me personally I can't remember how many nationals I have attended, I think it's either 17 or 18 since my first at Ashmore, Queensland, in 1982 (or was that 1983, nevermind).
In the past I've forgotten things like all my race gear, clothes, helmet and shoes, that only happened once...all at once. But hey, I did remember my bike...kids, this is an easy way to get new clothes, well it worked for me. However I did have to borrow someone elses helmet who was also using it for racing, second hand sweat sucks. Last year I forgot my race licence, and even though BMXAustralia had me on their database I had to pay $10 for a replacement licence. I later found the original licence, I had been using it to mark a page in my Melbourne street directory.
This year I'm pretty sure I'll remember everything, it's all surrounding my desk ready for packing into the car, and things shouldn't be such a rush.
Danny Galea is coming out of retirement for the nationals and will be joining me on the road trip, David Comport of Pedalinn.com bicycles was supposed to join us, but unfortunatly couldn't leave the shop, it would have been interesting to see how he would go at the worlds, I don't supposed he'll qualify now. Mountain biker Jane Ollerenshaw will be flying over on Wednesday to also join us.
Anyway if we can find somewhere to update BMXUltra.com you will see some news coming out of the Nationals, otherwise you should get the dump of photos, maybe video, and results early next week.
15/04 Women's bruiser cruiser
The Bruiser Cruiser class, a money class for riders 30 and over, has been quite a successful and well supported class. I think it's nearly time that the clubs consider doing it for the women as well as the men. I'm not talking about a combined class, but rather a seperate class for the women. Now wouldn't that be novel, creating a new class for the women. If you are organising a big event it just might be worth considering.
14/04 Happy Easter
Our favourite BMX cartoonist, frenchman, Christophe Boul has been at it again. In Australia Easter time is when the nations best riders gather for the Australian Championships. So it's happy Easter from Boul and BMXUltra.com and good luck to those competing at the nationals.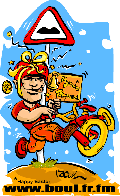 You can see more of Christophes work at www.boul.fr.fm
14/04 Dave Cleary turns 30
Long time friend of ours Dave Cleary, from Glenroy cycles, is a two times 25-29 Cruiser Australian Champion (he won in '98 and '02). This year he will be joining the 30-34 class which is hotting up to be won of the must see classes.
We knocked up a little homage for him, happy birthday Dave.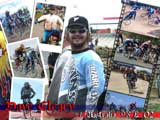 14/04 One Bicycles in the UK
The Source are pleased to announce that they are now the sole distributor of ONE Bicycles in the UK. ONE make high-end race bikes and components and were the biggest selling race bike in Europe in 2002 but they haven't been easily available in England, until now...
The ONE Europe team has expanded it's roster in 2003 to include Kelvin Batey who has been training hard in a bid to regain his pro title after 2 years of serious injuries. Kelvin is riding a ONE aluminium Pro XL as well as a Pro XL cruiser and is currently coaching Blue Peter presenter Simon Thomas to race at Harworth National on May 3rd. Simon is also riding a complete ONE Bicycle - the program will be aired on May 7th on BBC1 at 5.10 p.m.
The full range of Alu and CrMo products will be available through 'The Source' direct and through traders at all BMX national events.
Copyright-free photographs of Kelvin and ONE products are available on request and a partial retail price list is attached (probably the best value frames, frame kits and complete bikes in England!?).
Contact Rich Moore for details :
The Source
Tel. 01424 810447
Mob. 07876 342421
one@sourcebmx.com
www.sourcebmx.com
14/04 PHANTOM PICKS UP NEW RIDERS
San Diego, California - Factory Phantom Racing / Avent Cycles / Fly Racing / adidas has placed 15X standout Shawn Regalia from Napa, Ca and 16X superstud Kyle Biagi on its factory team roster. "These two outstanding riders will complement our team sheets very effectively," stated team manager Will Rells. "I've been talking with Biagi for over a year and Regalia since the Silver Dollars in January." Regalia is the current NAG #4 in 15X and NAG #3 in 15 Cruiser while Biagi is the current NAG #5 in 16X. "I expect great things from these guys," added Rells, "I've already got them their new Avent racing frames, Fly uniforms, Answer carbon forks and adidas Hematoma clip shoes and the new adidas Yodai goggles and they're ready to rock." Phantom's Factory team roster stacks up like this:
BOYS
Jacob Abbe - 6X - NAG #5, State Champ, Redline Cup Champ, ROC Champ, World Champion
Sean Gaian - 7X - NAG #6
Chad Kerley - 9X - NAG #8, State Champ
Brandon Schreuder - 11X, NAG # 15 class, NAG # 13 cruiser, State Champ
Dennis Enarson - 12X - NAG #6
Aaron Petrille - 13X - NAG #11 class, NAG #8 cruiser
Nic Long - 13X - NAG #6 class, NAG #5 cruiser, State Champ, ROC Champ
Shawn Regalia - 15X - NAG#4 class, NAG #3 cruiser
Dustin Black - 15X - NAG #2 class
Christopher Raza - 16X - NAG #10 class
Kyle Biagi - 16X - NAG #5
Mike Lundy - 17X - NAG#2 class, NAG #1 cruiser
Scott Smith - 20X - NAG#3
Eric Elliott - 30X - NAG#3 class, NAG #3 cruiser
Will Rells - 33X - Team Manager - NAG #8 cruiser
Steve Stewart - 38X - NAG #5 class, NAG #3 cruiser
GIRLS
Meagan Unverdorben - NAG #10
Tiffany Ford - 9G - NAG #9
Shelbi Long - 11G - NAG #2 class, NAG #4 Cruiser, State Champ, World Champ
Rachael Blackwell - 16G - NAG #9 class, NAG#8 cruiser
Rakay Robinson - NAG #7 class, NAG #2 cruiser
PROS
Stephanie Barragan - Womens Pro
Charles Townsend - Vet Pro
Robert "Cookie Monster" Pierce - A Pro
Donny Robinson - AA Pro
Team Sponsors: Avent Cycles (aventcycles.com), Fly Racing (flyracing.com), adidas Cycling and Eyewear (adidas-usa.com), Answer Products (answerproducts.com), ODI Grips (odigrips.com), Tangent Products (tangentproducts.com), EVS Speed Equipment (evs-sports.com), MarwiUSA Ti Spokes (marwiusa.com), Velocity Wheels (velocityusa.com), United Brands Co. proud makers of US Energy Drink and Synergy Sports Drink (unitedbrandsco.com), Bombshell Racing Systems (bombshellparts.com). Support the companies that support BMX!
12/04 Supercross press release - New SUPERCROSS Jr. Strong Arm Cranks
Santa Clarita, CA - Supercross has been building cranks since 1989 so we have a good idea of what it takes to build a great BMX crank. Our concentration has always been on Pro size cranks in 7075 T-6 and in 4130 cro-mo, well with the introduction of our new 2003 Pro Strong Arm cranks we have decided to build some for the little guys as well.

The new Jr. Strongarms utilize the same bone type shape as our Pro Strongarms but utilize 7075 T-6 instead of 4130 cro-mo and with the cool CNC machining that go into these the weight of a 165mm arm is down to 200 grams while still keeping them super stiff.
They accept any standard tapered spindle BB so you do not have to buy a new BB set, they are threaded to accept a one key release and have a removable 110 bolt circle aluminum spider.
Sizes are 140mm, 145mm, 150mm, 155mm, 160mm, 165mm, and 170mm. Finishes are Polished or Polished Black.
MSRP is $149.95 Available now at your finer BMX shops or Mailorders.
For more information call Supercross at 661-250-1032 or visit us on the web at www.supercrossbmx.com
11/04 Product review: Supercross UL frame
Supercross is not new to BMX, they have been manufacturing frame, forks, cranks and handlebars for more than 10 years now. Although, for many people, it may have taken two times UCI Elite World Champion Dale Holmes to bring them back into the lime light (through the 2002 race season, until he was picked up by Free Agent)...click here to read our full review of the Supercross UL frame
10/04 Glenn Rawson is a father
Glenn Rawson is a former Australian champion (many times over) and the youngest pro to ever have won one of Australia's most prestigous event the Cash Dash, at only 14 years old, back in the early 80's. He's considered a legend of BMX to many old schoolers.
Glenn and his wife of three years, Kathleen, have just had a baby girl Tahnee Ella Rawson. Weighing in at 7.6 pounds and 47cm's short!
Congratulations from BMXUltra.com and all the BMX community.
10/04 PHANTOM MOVES BACK INTO FIRST PLACE IN ABA FACTORY STANDINGS
Factory Phantom Racing / Avent Cycles / Fly Racing / adidas moved back atop the ABA's Factory Team points race with two second place finishes at the Great Northwest Nationals held in Pasco,
Washington last weekend. "It just feels great and is an honor to be mentioned among the most elite BMX teams in the world," stated team manager Will Rells.
"I don't know how long we can stay in front, but we'll give it our best shot." Fueled by wins from 11X Dennis Enarson, 19-27X Scott Smith, 15X Dustin Black, 13X Nic Long, and 11 Girl Shelbi Long, the Phantom team scored two big scores to help move the team back into first.
Factory Phantom Racing proudly represents the following companies: Avent Cycles, Fly Racing, adidas Cycling and Eyewear, Answer Products, MarwiUSA Ti Spokes, Velocity Wheels, Tangent Products, ODI Grips, EVS Speed Protection, United Brands Co. - proud makers of US Energy Drink and Synergy Sports Drink - and Bombshell Products.
Don't forget to support the companies that support BMX!
09/04 Gear Chart updated
We have had some feedback on our gear calculator which was created using flash. Some people couldn't get it to work so we have put a chart on the page now as well so you can use the chart or the calculator. Click here to try the new chart. Let us know if you have any problems. And thanks everyone for their feedback.
09/04 Park Orchards photos
Once again we'd like to thank Tracey Coles for taking photos for us. Click here if you'd like to check them out.
08/04 BMXUltra.com social night
BMXUltra.com announces it's first ever social night, a night where the BMXers, including family and friends, can let their hair down. Their will be no bikes, no dust and nothing but pure family fun.
This time the riders can be the spectators to one of the worlds most exciting sports, a game of Ice Hockey.
You will see Melbourne Ice face Adelaide in their first game of the Australian Ice Hockey League season on the 10th May. The game will be played at 5:30pm at Olympic Ice Skating Centre which is located in Centre Rd, Oakleigh South, Victoria.
Ok, so it's not going to be a stadium full of 18,000+ fans watching NHL's best players who get paid millions of dollars a season, but it should be a lot of fun, particularly for those who have never seen a game of Ice Hockey before. This is a full body contact sport, and the riders might even learn something as the players throw some big hits at each other into the sideboards.
The normal admission price is $10, but we will get a 20% discount for a group of 10 or more. So that is $8 each.
If you are interested email us at webmaster@bmxultra.com so we can get an idea of how many people are coming. We'll be sending out reminders and making another announcement in a couple of weeks. Remember everyone is welcome.
For more information check the Melbourne Ice website at www.melbourneice.com.au.
08/04 Kelvin Batey (ONE Bicycles) on BBC television
The BBC in England will broadcast a film featuring ONE Bicycles' Kelvin Batey, coaching TV presenter Simon Thomas, in the art of BMX racing and guiding him to competition standard.
After that, Simon Thomas will compete alongside Kelvin at the Harworth National on Saturday May 3rd.
The film will broadcast on May 7th as part of a special Bikeathon programme which shows viewers and presenters on a UK wide charity sponsored cycle raising money for Leukaemia Research.
08/04 Happy Valley gate practice
For those who are going to Adelaide for the Nationals this Easter. On Tuesday 15th April Happy Valley BMX Club, host track of the 2001 Australian championships, will be running gate starts from 6.00 pm 'til around 8.30 pm for those who are looking to put in a bit of practice while the Entertainment Centre track is being readied. The track is located not far from the city on Taylors Road West, Aberfoyle Park, South Australia.
08/04 BMXPros.com Race Report ABA Great Northwest Nationals Pasco, WA
Round 7 of the 2003 ABA Hyundai BMX race series took place this past weekend in the great northwest. Ever since Gary Ellis retired, a trip to the Washington isn't the same, but the ABA did their best with a great indoor track for the Pro riders to race it out on. With 16 of the top AA pro's in attendance, it made for some tough racing and a few fast guys didn't make the main events. It seem like the smaller races, are harder in AA pro, as there are only the really fast AA's in attendance and every race counts and means a lot towards the days overall events. Here is how Dale Holmes and Randy Stumpfhauser finished up for the weekend.
Dale Holmes once again showed how good he really is with making all 4 mains in Washington. Dales best finishes came in Pro Open with a 2nd and 3rd, backed up with a 6th and 5th in AA Pro. Dale is more than likely the most consistent Pro in BMX, making all his mains, and that's why he sits in the top of the ABA overall points standings. Look for Dale to be in DeSoto, Texas next weekend for the next round of the ABA Pro tour. Dale's sponsors include Free Agent, O' Neal Pants, Gloves, and Helmets, Smith Eyewear, Kenda Tires, Bombshell Forks, UGP, Sun Ringle Rims, Profile Cranks and Hubs, ODI Grips, Shimano, Powerbar, Champion Nutrition, BMXpros.com, & DALEHOLMES.COM
Randy Stumpfhauser made the trip up to Washington and made it count as he took home 5th place points and money on Saturday in AA Pro. Randy is having a phenomenal season on the Pro Circuit, as he is currently leading the NBL Pro Points chase for 2003. Look for stumpy to be in Tampa, Florida next week for the next round of the NBL Pro Race Series. Randy's sponsors include Huffy Bicycles, Fox Racing, AC Components, IRC Tires, Smith Eyewear, S & M Forks and Bars, ODI Grips, Champion Nutrition, Shimano, Powerbar, Vans, BMXpros.com, and CTI Knee Braces.
AA Pro Saturday
1 Warwick Stevenson
2 Bubba Harris
3 Robert Dewilde
4 Michal Prokop
5 Randy Stumpfhauser - Huffy
6 Dale Holmes - Free Agent
7 Donny Robinson
8 Danny Nelson
AA Pro Sunday
1 Warwick Stevenson
2 Donny Robinson
3 Danny Nelson
4 Nate Berkheimer
5 Dale Holmes - Free Agent
6 Bubba Harris
7 Michal Prokop
8 Robert Dewilde
Hyundai/ABA Pro Overall Standings
1. Warwick Stevenson
2. Danny Nelson
3. Kyle Bennett
4. Bubba Harris
5. John Purse
6. Robert Dewilde
7. Dale Holmes
8. Mike Day
9. Thomas Allier
10. Danny Robinson
07/04 Park Orchards race report
The Park Orchards "Clash of the Titans" event has the potential to be one of the biggest events in Victoria, their is certainly no shortage of prize money.
The track came up pretty well for the event, riders were seen having plenty of fun on the second straight jumps in practice. The club plans to continue changing their track, when they can get their hands on more dirt, and talking to a lot of riders for input.
The sun was out and there was no sign of the wind that normally whistles through the valley the track is built in, so the conditions were perfect for racing.
In A pro the racing was tough, Scott Lacey was unbeatable in the motos, David Page and Trevor "The Blackpool Bullet" Stamford also had their share of wins. The cut off for the main was high, Wayne Flint and Nathan Barker were in a run off for the final spot on the gate. There wasn't much in it, Flint just beating Barker to the line. When the gate dropped in the main, Lacey got the snap with Stamford and Page right in there. By the first corner Jenkins got himself into third, but that didn't last long as Nelson passed him getting a better run out of the corner. The guys pretty much filed into their final positions down the second straight.
In the AA Womens class Emma Franklin won every moto, Ziggy Callan got second and Elisa Foley third.
In the AA Mens Tony Harvey was looking very confident in the motos, but a handful of other riders were looking to challenge the former Australian champion. Probably the biggest challengers would have been Luke Pretlove and Dean Beerens. The racing was very tight in the motos and the main was no different. Harvey got the snap, and Pretlove tried to go with him, followed closely by the rest of the field. When it came to the second straight Pretlove looked in trouble as Beerens and James Hollings charged through and also made room for Levi Collins to slip through relegating Prelove back to 6th until Jonathan Hoare tried to pull a move in the last corner but washed out.
Pretlove would have to settle for cleaning up the cruiser class.
In the amature classes all riders received a t-shirt by sponsors Ooga Booga (don't ask me I didn't name the company), there were some riders who found other uses for the t-shirt, here's how Luke Pretlove prepared for his AA Pro main.



Results
A Pro
1. Scott Lacey (Felt/BMXBits.com.au)
2. David Page
3. Trevor "The Blackpool Bullet" Stamford
4. Charles Nelson
5. Shane Jenkins (BMXUltra.com/Supercross/Answer)
6. Craig Walczuk (Redline/TotalBMX)
7. Wayne Flint
8. James Walsh
AA Women
1. Emma Franklin (O'neal)
2. Ziggy Callan
3. Elisa Foley (XBMX/One)
4. Lynette Page
5. Lauren Beaten
AA Men
1. Tony Harvey (ECI/S&M)
2. Dean Beerens (Top Gear cycles/GT)
3. James Hollings (Top Gear cycles/GT)
4. Levi Collins (Team Sinister)
5. Luke Pretlove (Redline/TotalBMX)
6. Adam Robb (Redline/TotalBMX)
7. Dean Miller (GT AUS)
8. Jonathan Hoare (KHS/Fox)
Click here for the full results.
07/04 William Babington injury update
Up and coming rider William Babington from Melbourne (Australia) fell heavily at the Liverpool Masters 2 weeks ago and broke his ankle in 7 places. He finally went into surgery last night to have his pins and plates inserted, and although it would be a long road to recovery he's planning to return to BMX. He will miss both the national and world championships this year, which is unfortunate as Will has shown great potential leading up to his fall.
We at BMXUltra.com wish him a quick recovery and look forward to his return to the track.
05/04 Dirt Designs news
News just in from the Dirt Designs camp. Head honcho Craig Merritt, and wife Nat, are now the proud parents of Tahlia Jade born just last night.
05/04 Team Profile Has A Peachy NBL National in Georgia
O-Show Wins Sunday's Pro Open Main
The NBL's Peach State National (3/29-30) in McDonough, GA was very good to Team Profile Racing. Cool weather and then rain on Sunday set the stage for Profile Racing Main action. Over a

hundred motos ran both days with an abbreviated moto schedule run on Sunday. AA-Pro, Percy "O-Show" Owens won Sunday's Pro Open Main, in the mud, after coming in 6th place in Saturday's Pro Main action. A-Pro, Chris Fernandez was right behind him (literally) with an 8th place finish in the Pro Open Main on Saturday and a 5th in Sunday's Pro Main event. Will Greathouse joined Team Profile flying in from Pennsylvania. Blame Will for the weather. We think he brought it with him. Will made both his 15X Mains on Saturday and Sunday with a 6th and 8th place finish, respectively. Harry Britt raced both 20-inch and Cruiser and made all his Mains. Saturday's results had Harry finishing 3rd in his 14X Main and 3rd for 14 Cruiser. On Sunday, Harry finished 6th in 14X and 2nd in Cruiser. Little Caleb Minthorn (7X) did not attend.
A big Profile Racing THANKS to our team sponsors: Maxxis, Answer, Cane Creek, Hot Shoppe, Marwi USA, Spy, Sun Ringlé, Thomson, Troy Lee Designs, UGP and Vans.
Question: If you have a blow out while traveling home from the land of the famous Georgia Pines, who gets to change the tire?



Answer: The racer who wins the Pro Open Main on Sunday. Congratulations, Percy!
05/04 Clayborn Bicycles news
Clayborn Bicycles takes a bite out of the Peach State National!! 21-24 Cruiser John Andrews had a perfect on the big bike, with that it caps him out on cruiser. John was making moves on his 20 as well showing that he can work the rhythm section at an awesome Sandy Springs BMX track. Barry "Noodle Boy" Nobles was flying this weekend, making the mains in both class and open. Barry came here to stop anyone else for getting perfects and again Barry did his job. Samantha Storey was looking good on and off her bike, Samantha is making mains and taking names as she is in the hunt for the 15 Girls title. Samantha, Barry and Clayborns newest team member, Vanessa Peace, 18-24 Ladies cruiser rider will be in Perth, Australia for the UCI World Championships, the "REAL" Worlds!! Nessa comes to Clayborn Factory Racing from South Park Cycles, she is the current #2 cruiser in 18-24. Nessa will be making her Clayborn debut at the NBL Easter Classic in beautiful Orlando, Florida. The Clayborn Factory Racing team lead by AA pro Travis Turreson will be in Orlando to take in the sun, have some fun and make their mains. So, stop by the Clayborn team tent and check out the latest from Clayborn.
Clayborn would like to thank all their sponsors: Pro Link Chain Lube, FLY, SPY, UGP, Kovachi Wheels, ODI, Cane Creek, Profile, SDG, Sun Ringle' and Hot Shoppe!!
For up to date news and schedule for Clayborn go to www.Claybornbicycleproducts.com
04/04 Qualifying for the worlds - The Wade Bootes theory
Are you worried about making the top 32 at the Australian championships and qualifying for the World Championships? We believe there is another way you could attend the worlds if you don't qualify in Australia.
In 1997 at the World Titles in Canada, Wade Bootes (Australian AA Pro rider), competed as an American, wearing the NBL/USA colours. Since then he has also competed as an Australian.
So what's my point? Apparently you don't have to qualify or ride for your own country, there has been a precedence set. Thing is you will need to be a member of another association that is also under UCI and have qualified according to their qualifying process.
04/04 SE Racing news
You should all have heard of the return of SE Racing (www.bmxinnovations.com) by now, and all the news about the new team that includes Todd Lyons.
For those Australians that are interested in the 2003 SE range, there is a shipment of the new SE's heading towards Australia. I'm guessing you should start to see them in good bike shops some time over the next two months.
Also in SE news we hear from a good source that there will be a range of "Wildman" signature bikes in the 2004 range. SE are planning on making some freeride/4X type of Mountain bikes eventually as well.
And while talking about Todd Lyons, he's hooked up with Robbie Miranda (the AA Pro web king), and reworked his website check it out at www.toddlyons.com. We also hear that Todd won't be heading for the world titles in Perth Australia this year due to a clash with an MTB event in his schedule.
03/04 Interview with Supercross' Bill Ryan
Find out about American manufacturer Supercross, past, present and future as Bill Ryan, owner of SX, takes us through how SX started, meet the team, get to know about the products and their plans to grow into countries like Australia. Click here to read the interview.
02/04 Darren Hawkins off Cassap
Darren Hawkins is undoubtedly one of the greatest pro riders Australia has ever produced, with more pro number 1 national titles than Luke Madill and Kamakazi put together. At the Liverpool DK Masters recently, Darren was spotted without his Cassap jersey.
Darren and Cassap have had a long standing deal for what must be the good part of 10 years, it's unusual to see him wearing anything else.
Who is Darren riding for now? We haven't been able to find out, but believe he's gone independant.
02/04 BMX Freestyle World's 2003 in Portugal
Radical Skate Club, a Portuguese association dedicated to the development of BMX Freestyle and Skate, is going to organize the BMX Freestyle World's of this year.
The contest will be in June, 26th, 27th, 28th and 29th, in Beja, Portugal.
Check everything in www.2003bmxworlds.com
01/04 NBA BMX Association comes to life
Have you been wondering what has happened with NBA? Australia's newest BMX association that has promised an alternative to BMXAustralia and caused such a stir in the Australian BMX community over the past 6 month. So did we until we received and email telling us the website has been registered, and work has already started on it. Although there is only a place holder there for now, you can email them any comments or queries.
Apparently other things are well under way like the constitution, insurance, and rules, but we'll let you know more about that as we are told.
The url for the NBA website is www.nbabmx.com.
01/04 Wodonga entry form
The Wodonga BMX track has been around for many years and has been the host of many great battles. In May it will be hosting the third round of the Northern Rivers Regional championships. We hear that the track has changed slightly, making it that little bit more technical. If you are interested in checking it out, click here to download the entry form.
Last updated: Thursday, 2 April, 2009 7:33 AM