BMX news for July
BMXUltra.com is aiming at bringing you the most up to date BMX news from around the world, if you have anything that might be of interest feel free to e-mail us at webmaster@bmxultra.com
Don't forget to press the refresh button on your browser when you're looking for the latest news.
31/07 Clayborn Bicycles news
Clayborn Bicycles made the trip to the 2003 UCI BMX World Championships in Perth, Western Austraila and showed the worlds Clayborn is alive and well.
16X Barry Nobles, who raced the 17&over Challenge Class came back to the U.S.A. with the big W1 on his number plate. Barry worked his way through the class over 110 riders and his lowest finish was a 2nd in the semi. The main was one to go down to the wire as he came from behind and put the pressure on the leader forcing him to panic as Barry came past him to take the win and the title. Now Barry has his sights on the NBL #1 plate as he is capped out and ready to continue his winning ways.
Samantha Storey came to the Worlds with the confidence and skills to know she would make the mains. Samantha rode some of her finest races of the year in Perth, being relaxed and making moves took her to the mains. With the gate loaded and Samantha ready for action she was looking to make the top 5, but due to some banging in the front of the pack and Samantha being blocked from making her move she had to settle for the W8. Samantha is one fast girl and all her hard work is paying off, keep your eyes peeled for the 15 girls class at the Grand Nationals in Louisville, KY as she will be out in front.
19 Girl Cruiser Vanessa Pearce made the trip and rode very hard in her races, with strong finishes in her motos, but was edged out in the qualifiers but inches. Nessa will be at Louisville looking to make the mains and showing that she is a force to be reckoned with.
Clayborns AA Pro Travis Turesson is training hard to show his winning ways at the X Games, August 8-10. Travis has been working his skills at his top secret training track in Ohio and is ready to prove he is the king of downhill. Travis is going to be aboard his brand new signature frame, the "Turesson". Make sure to stop by the NBL Grand Nationals to get a first hand look at the new chromoly frame.
Clayborn Bicycles is happy to announce the addition of MAXXIS Tires as a co-sponsor to the team. MAXXIS Tires are the best tires in the worlds, just ask Barry Nobles as he rode his Clayborn Bicycle with MAXXIS Tires to world #1.
Clayborn would like to thank all their sponsors:
FLY, SPY, UGP, ODI, Kovachi Wheels, Cane Creek, SDG, ProLink Chain Lube, Profile, Sun Ringle', Hot Shoppe, and Maxxis Tires
31/07 World Championships photos - elite classes
We have got our first page of World Championships photos finished now, for starters it's the elite classes, more to come. Click here to check'em out.
30/07 Racegirl BMX League Race Results ~ 2003 UCI BMX World Championships~ Elite Women and Junior Women
Elite Women ~34 Riders
1. Elodie Ajinca FRA
2. Willy Kanis NED
3. Tatjana Schocher SUI
4. Natarsha Williams AUS Racegirl Ambassador
5. Tanya Bailey AUS
6. Alice Jung USA Racegirl Ambassador
7. Kate Elliot AUS
8. GabrielaMaria Diaz ARG
Junior Women ~20 Riders
1.Samantha Cools CAN Racegirl Ambassador
2.Kimberly Hayashi USA Racegirl Ambassador
3.Cyrielle Convert FRA
4.Blandine Cottereau FRA
5.Emma Franklin AUS
6.Renee Junga AUS
7.Krystal Cranfield AUS
8.Laetitia Le Corguille FRA
With the record number of close to 60 Elite and Junior Women ..this year's race was fierce!! Elodie Ajinca from France takes the #1 Elite Women World Title, and Racegirl Ambassador Alice Jung places 6th. Racegirl Ambassador Samantha Cools from Canada won all her motos to take the #1 World Titles in Junior Women as well as 18 & under Women Cruiser. Kim Hayashi also a Racegirl Ambassador was right there with her all the way..took home the #2 Plate. Both of them will be in Reno this weekend for the ABA Worlds. Racegirl/Answer BMX Team members Heather Hellwinkle and Christine Miller did well this weekend as well. Heather took home the #6 World Plate in 15 Girls this year. Unfortunately Christine Miller was slightly injured and placed 5 in her tough semi for the main. The training/racing never stops ..it will that much harder in 2004 for the UCI Worlds in Holland !! This year's event included close to 200 girls and women, recording the biggest classes in the Women 19 & over Cruiser = 36 riders and then Elite Women = 34 and right behind them the 15 Girls Class which had 24 riders!! Way to Go Racegirls.. Check out the Photo Gallery as well as the International Section in the Forum to read comments and view pictures on this year's event www.racegirlbmx.com Look for daily updates from the ABA Worlds in Reno this weekend!!
As always, we thank our Team Sponsors: Racegirl BMX League, Racegirl International, Answer BMX, Lizard Skins, Sharp Products, and Mercury Sport Drink for all their continued support!!! "We are all connected"
30/07 BMXPros.com report: 2003 UCI Worlds Championships Perth, Australia
The Worlds best BMX riders all gathered for a week down under in Perth, Australia for the UCI BMX World Championships. Perth, on the West Coast of Australia, was one of the best venues and tracks that has been seen on the World Circuit in some time. The track was built inside of the Burswood Dome, and housed one of the biggest and best BMX tracks ever built to truly help decide who today's best BMX riders would be. With 8 World Championship classes to be decided, Jr. Elite and Sr Elite both men and women, as well as Cruiser for each, riders from over 30 different countries lined up on the gate to see if they had what it took to become a world champion.
3 of the Double A Marketing riders, Wade Bootes, Christophe Leveque, and Randy Stumpfhauser made the long trip to compete and go for the gold. Each one of these riders has been a past World Champion, and knew what it would take to repeat such an accomplishment.
The Worlds also held a new event for the UCI, an event to put the best 4 riders from 4 different continents against each other, to decide who was the top World Ranked rider for the year. Wade Bootes and Randy Stumpfhauser were both invited to compete in the event, where the riders would ride a bit different format. A total of 16 riders were invited to compete in the event, and 4 riders lined up on the gate for 4 different moto's, where the last place rider would be eliminated. The next round would take 3 riders per race, then just 2, always dropping 1 rider, leaving just 4 riders for the shootout final.
Randy Stumpfhauser was looking great all night, up to the semi finial round, were he slid just so slightly in one of the turns and was passed to end his nights quest to the A finial. Randy would compete in the B final, and place 2nd, and 6th overall for the night. Randy would how ever grab enough points to become the North American #1 Rider for 2003, and after the Worlds main event, would have enough points to also be crowned the 2003 UCI World Ranked #1 rider.
Wade Bootes was looking as fast as ever, as he won all of his events up to the finials. The Main event was Wade, Robert De Wilde, Kyle Bennett, and Medhi Remili. The four riders each had a shot of winning the event. Wade would give a good effort, and 4th place was his result. Pretty incredible for a guy who hasn't raced his BMX bike for some time and had just fully recovered from a brutally broken collar bone.
The next event to be held was the Cruiser race day on Friday and Randy Stumpfhauser was looking to repeat his 2002 World Title. For the past 3 years, Randy has been the best Pro rider aboard a Cruiser, taking the ABA and NBL titles, as well as last Years UCI World Title. Randy easily made it through the moto's and 1/4's. In the 1/2, Randy had his only bad start of the weekend, putting him in the back of the pack for the start of the race. Randy, cool and calm, would of course navigate his way back up to the front of the pack before the last turn, advancing his way into the main event. As the riders lined up for the main event, it was looking as it wouldn't be as easy for Randy as it had been all night, as the worlds best Cruiser riders were ready to do battle for the Gold Medal and UCI rainbow stripes, As the gate fell, Stumpy took immediate charge of the race with the holeshot, and just checked out, as he pulled away from all other riders. His silky smooth style and incredible acceleration took him all the way to the finish line for his 2nd UCI World Title in as many years. Randy was ecstatic, and was looking forwards to Sunday finial race, for the Elite Men's Title.
On Sunday, the Elite 20' Worlds Race day came up and over 200 Elite riders were on hand to go got the World Title. With 3 moto's, 1/8th finals, 1/4 finals, 1/2 finials, and all the way to the main event, each of the Double A Marketing riders proved there skills and power, as each of them transferred to what has been said as the most talented Elite Men's main event at the World Championships in its entirety. Here is how each of the riders would fair out.
Randy Stumpfhauser continued his fast ways around the Perth track, once again winning all the events leading up to one of the most anticipated main events. In the past few months, Randy has been winning a lot of races and one that he looked forward to winning was the UCI Worlds. Winning the Cruiser title was sweet, but Stumpy wanted to back it up with a top result in the Elite Class as well. Well, as the gate dropped, Randy was once again out in the front of the pack, but just behind Kyle Bennett. Randy rode a solid lap, on his way to 2nd place and a silver medal. With the 2nd overall for the day, Randy wrapped up the UCI Worlds ranking, taking home first overall and 8000 Swiss franks. Randy now is ready to win is first AA pro 20" title, as he is going into the NBL Grands leading the pro points chase. Randy's sponsors include Huffy Bicycles, Fox Racing, AC Components, IRC Tires, Smith Eyewear, Alex Rims, Thomson Seatposts, S & M Forks and Bars, ODI Grips, BMXpros.com, Champion Nutrition, Shimano, Vans, and CTI Knee Braces.
Christophe Leveque is a plain amazing. After a year long recovery from 3 major back surgeries, he has come back to the top level of BMX in just a few short months, and the Worlds showcased his skill and determination. Have won the World Title 9 times in the past, Leveque knows what it take to get the pressure of the one day event out of your head and just ride strong in each moto and qualifier, just taking each race one at a time. Leveque's true determination showed in his 1/4 final the most, as a first turn crash with 2 other riders almost ended his quest for world title #10. Leveque proved just how head strong he was, as well as physically strong, as he jumped up, and battled it out, passing a rider, to transfer on to the semi final. Leveque also transferred out of the semi with style and was ready for the big race win. All rides and spectators on hand thought making the main alone was a major accomplishment. As the gate dropped, Christophe took a huge chance at getting the ultimate gate start, but just barley tapped the gate, throwing off his start just the slightest bit, but in AA pro that is the difference from winning. Leveque rode a strong lap, and placed 5th for the day, but more importantly, he showed the BMX world he is back on track and is ready to be the dominant rider that he has been in the past. Christophe's sponsors include GT Bicycles, Hyundai Motors USA, Fox Racing, Marazochi Forks, Tangent, Smith Eyewear, Tioga, BMXpros.com, ODI, Profile, Thomson, Easton, Champion Nutrition, and Powerbar.
Wade Bootes has had quite a season so far. BMX racing was atop his list of priorities when the UCI announced the world rankings system. Wade was able to do a minimum amount of BMX races needed to be selected into the Worlds shootout, and with such great scores at each of the races he attended, Wade finished the season ranked 5th in the world. Wade had to overcome a few bad situations in the past few months, as first he broke his collar bone while attempting to qualify for the Australian track cycling team, with aspirations to be involved with the Olympic Program for 2004. After successfully recovering from that injury and being competitive on the World Cup Mountain Bike circuit, Wade recently had another tragedy in his life. Last week, After a long battle of sickness, Wade mother, Patricia, lost her battle and was laid to rest. Wade knew his mother would want nothing else than to continue on with his dreams and racing, and he did just that, by attending the 2003 World Championships. With his mothers thoughts in his head all week, Wade took to the track and was once again in the main event at the World Championships. The main event didn't go as well planned, as Wade placed 7th for the day, but to overcome such adversity and drama, Wade defiantly proved himself and put smiles on the faces of all his fans! Wade sponsors include Trek/Volkswagen, Azonic, O'Neal, Oakley, IRC, AC Components, ATI, THE, ToolShed, Powerbar, Thomson, Bombshell, WadeBootes.com, and BMXpros.com.
UCI Worlds Elite Men's Results
1st- Kyle Bennett
2nd- Randy Stumpfhauser- Huffy Bikes
3rd- Robert De Wilde
4th- Jason Richardson
5th- Christophe Leveque- Hyundai/GT Bicycles
6th- Brandon Meadows
7th- Wade Bootes- Trek/VW
8th- Thomas Allier
UCI Worlds Elite Men's Cruiser Results
1st- Randy Stumpfhauser- Huffy Bikes
2nd- Michal Prokop
3rd- Luke Madill
2003 UCI World Rankings
1st- Randy Stumpfhauser
2nd Kyle Bennett
3rd- Ivo Luckas
4th- Robert De Wilde
5th- Wade Bootes
Double A Marketing proudly represents Wade Bootes, Dale Holmes, Christophe Leveque, John Parker, Stephane Roncada, Jamie Staff, and Randy Stumpfhauser. For more information please visit Bmxpros.com or e mail PeteD@BMXpros.com
30/07 Chloe MacPherson wins 2003 UCI World BMX Championships.
Chloe MacPherson rode her 2003 GT Ultrabox to her 6th World #1 title in a row, in the 16 year old girls class. Chloe was too strong and skillful on a very demanding world titles track. GT Australia would like to congratulate her on a great win.
Chloe MacPherson & GT Australia is proud to have the support of Troy Lee Designs, Profile Racing, ACS, Odi & Dirt Designs
30/07 Jay Miron Coming to Oz
Four time World Champion BMX rider Jay Miron will be in Australia for the first time ever when he appears at the Bicycling Australia Show on 6 & 7 September this year.
Jay Miron has been prominent in the sport for over 20 years. In this time he has invented over 30 tricks, including his signature trick, the tail-whip 540. Miron has also launched MacNeil Bikes, and is part of the MacNeil SoBe BMX Team.
Miron won his world titles in 1998 & 1999, where he picked up gold in both the mini and vert categories in both years.
Miron will be demonstrating the fluent style and tricks that made him famous at the Bicycling Australia Show. He will be accompanied by fellow MacNeil teammate Dave Freimuth, described as one of BMX's most technical riders.
Don't miss this opportunity to catch this freestyle BMX superstar. Be at the Bicycling Australia Show on September 6 & 7 2003.
What
The 2003 Bicycling Australia Show
Where
Rosehill Racecourse, James Ruse Drive, Rosehill, NSW. (Just north of the M4 Motorway, 2km east of Parramatta)
When
10 am to 4 pm, Saturday 6th September; 10 am to 5 pm, Sunday 7th September.
How Much
Adults $15, Concession $10, Family (up to two adults and unlimited children) $30
Further Information
www.bicyclingaustralia.com (including discount advance purchase tickets) or phone Bicycling Australia (02) 4225 9111
30/07 The Bicycling Australia Show: See the Latest Bikes and Gear!
The Bicycling Australia Show is fast approaching and it's your chance to see all the latest parts and accessories before they reach your local bike shop. Indulge your senses with a smorgasbord of new gear to touch and try out. This is your chance to check out the revolutionary new Shimano groupset, the 2004 Dura-Ace 10-speed.
Expand your knowledge with seminars on topics which include correct positioning, cycling holidays, cycling for women and training advice.
Watch the professionals as they demonstrate BMX jumping, MTB observed trials and track roller racing. Freestyle BMX superstar Jay Miron from Canada will show why he has a swag of World Champion titles under his belt.
One lucky visitor will win a Trek Fuel full suspension mountain bike valued at $3000, and it could be you. All you have to do is fill out a visitor survey at the Show.
See you at the Show. Enjoy the Ride.
Bicycling Australia Show
Saturday 6 September, 10am-4pm
Sunday 7 September, 10am-5pm
Rosehill Racecourse, James Ruse Drive, Rosehill, NSW
Tickets $15 adults, $10 concession, $30 family (up to 2 adults and unlimited children)
29/07 ONE Bicycles scores again
After a succesfull year in Europe and 6 titles, the results at the Worlds were awesome.
Jana Horakova (CZ) won 19+ Women cruiser class, with Vilma Rimsaite (LT) in 3rd spot.
In 20 inch Jana crashed in her semi and couldn't make it into the main.
Vilma Rimsaite was dominating Elite Women.
She won her motos and won the 1/4, beating 2002 World Champion Gabriella Diaz (ARG)and 2003 World Champion Elody Ajinca (F). In the semis she crashed when Lydia Faure's (F) bike came under her.
European Champion Magalie Pottier (F) got 3rd in 14 yo. girls.
Arturs Matisons (LV) showed he was the guy to beat this year.
Just back from the NASS race in England where he got 2nd behind Brandon Meadows (USA), who got 6th at the Worlds in Elite Men, he won the Junior Men cruiser class on friday.
David Gibert (F) got 4th.
In Junior Men class Matisons did what he does best....winning.
2 World titles in 1 weekend for Arturs!
David Gibert who has been consistent all year got 6th.
29/07 Full UCI world titles challenge class results
Click here for the full 2003 UCI world titles challenge class results.
We still have a whole lot more news, photos and videos from the world championships which we'll try to put up over the next few days.
27/07 Bennett wins the UCI worlds again
The senior elite class at the 2003 UCI worlds in Perth, Australia was eventful to say the least. There were so many riders, from Australia and international, that deserved to make the final. But as we all know in UCI only 4 transfer through each round. The quick wrap up is Kyle Bennett won and Randy Stumpfhauser got second for the second year running.
There were some outstanding performances from the Australian riders. Darren Hawkins has put himself back in to the spotlight after putting in some very strong races throughout the whole of last week. He looked a very good chance for the worlds finals in both 20 inch and cruiser. He was unfortunate to have crashed out of both semis, expect to see more of Darren in the future.
Jamie Gray was one of those riders who has been on the Australian pro scene for a long time, he made finals at the '98 worlds in Melbourne as a junior elite, but on an international scale he's new to a lot of people. He had a great race on the cruiser and was looking to back it up with another good result in the 20 inch class, but unfortunatly a crash in the first corner of his semi kept him out of the main.
Luke Madill was looking good all week, it was surprising that he was riding so well considering his wrist injuries over easter. He was awesome in cruiser and right up to the crash in his semi he was looking good for the main.
Khalen Young was a real surprise package. He was kicking some serious international butt on a track that seemed perfect for him. He looked like he was going all the way to the main, there was a small problem though...in the quarter final, when Khalen gave the field a head start it looked all over for him, but being one for his "homies" he gave it all he had and rode like a man possesed passing Michael Robinson and moving on to the semi. But he finished fifth in the semi, then it wasn't quite over for him, keeping the crowd on the edge of their seats he returned to the track and the crowd knew he was up to something. He finished his day of racing with a back flip over the second double in the pro section.
Glenn Codega put in some great races, he also looked like a good chance for the final. A crash in his quarter final ended his day early.
In Junior elite men a lot was expected of Aussie Mike Fenwick and even though he didn't make it out of the semis he rode brilliantly. A couple of small mistakes were costly for Mike, but he's young and extremely talented there will be many more world title opportunities throughout his racing career.
In the womens elite class it was no surprise that Natarsha Williams and Tanya Bailey made it through to the main, however Tanya did look like she was struggling a little with the competition. Kate Elliot did a great job to make it into the final, she did very well in a more experienced field.
That's it for the Aussie riders...more later.
Here's the results.
Junior Elite Women
1. Samantha Cools CAN
2. Kim Hayashi USA
3. Cyrielle Convert FRA
4. Blandine Cottereau FRA
5. Emma Franklin AUS
6. Renee Junga AUS
7. Krystal Cranfield AUS
8. Laetitia Le Corguille FRA
Junior Elite Men
1. Arturs Matisons LAT
2. Manuel Lopez ARG
3. Sander Bisseling NED
4. Thomas Hamon FRA
5. Augusto Castro COL
6. David Gibert FRA
7. Ivo Van Der Putten NED
8. Kyle Weisenberger USA
Senior Elite Women
1. Elodie Ajinca FRA
2. Willy Kanis NED
3. Tatjana Schocher SUI
4. Natarsha Williams AUS
5. Tanya Bailey AUS
6. Alice Jung USA
7. Kate Elliot AUS
8. Gabriela Diaz ARG
Senior Elite Men
1. Kyle Bennett USA
2. Randy Stumpfhauser USA
3. Robert De Wilde NED
4. Jason Richardson USA
5. Christophe Leveque FRA
6. Brandon Meadows USA
7. Wade Bootes AUS
8. Thomas Allier FRA
26/07 Some more worlds news
Trying to keep up with the worlds is one of the hardest things to do...getting results is even harder...but when we get them you will see them here at BMXUltra.com.
In the meantime the oldest age 20 inch mens amature class, 17 & Over, was won by 16 year old Barry Nobles (Clayborn) - he turns 17 at the end of the year. He was up against some former Australian Elite champions with the likes of Brett Scruse (Standard Australia) who finished 4th, Peter Trenwith (Cassap) who finished 7th, and one of Australia's most respected riders "Thunder" Danny Galea (BMXUltra.com) who finished 6th. There was also a real fast rider from Japan who was on the gas Susumi Miura, he finished 4th. Chris Cabassi from Western Australia was actually winning the main by about two lengths when he went down on the last jump on the track. We should expect to hear a lot more about him in the future, I believe he's picked up a sponsorship deal with Redline Australia.
Chloe McPherson (GT Australia) repeated her performance at Brasil last year and took out the 16 girls class, the oldest 20 inch challenge class for women.
26/07 RaceGirlBMX Press release: Women Cruiser Worlds Results
In the First set of results from the Worlds in Perth, Australia.
The Women Crusier Classes.
18 & under Women Cruiser:
1.Samantha Cools CAN Racegirl Ambassador
2.Kimberly Hayashi USA Racegirl Ambassador
3.Mellissa Mankowski AUS
4.Sarah Walker NZL Racegirl Ambassador
5.Alice Rika NZL
6.Melissa Hartley USA Racegirl Member
7.Nikki Harper AUS
8.Renee Junga AUS
19 & over Women Cruiser:
1.Jana Horakova CZE Racegirl Member
2.Ellen Bollansee BEl
3.Vilma Rimsaite LTU Racegirl Member
4.Rebecca Wichman NED
5.Tatjanan Schocher SUI
6.Malene Madsen DEN
7.Aneta Hladikova CZE Racegirl Member
8.Tanya Bailey AUS
Racegirl Ambassador Amanda Geving and Racegirl Ambassador Katie Shevidey both crashed in their semi...but both will be back tomorrow for the rest of the races. Great Job to all the Racegirls!!! Check out the website's photo gallery for daily pics from the races www.racegirlbmx.com
25/07 2003 World Elite cruiser champions
There were some big upsets today. In Junior Elite Cruiser, Australian Mike Fenwick had to watch from the side lines, after failing to qualify out of his semi.
In the Senior Elite cruiser Jason Richardson and Darren Hawkins both crashed out of their semis, Jason is a regular in the cruiser final at UCI events it was odd not to see him in the field. Hawkins has been flying this last week, it was a pity he couldn't finish off a great run in the semi which saw him qualifying for the final easily until he did a flat spin in the second last corner.
Elite Mens Cruiser
1. Randy Stumpfhauser
2. Michal Prokop
3. Luke Madill
4. Jamie Gray
Junior Elite Cruiser
1. Arturs Matisons
2. Manuel Lopez
3. Thomas Hamon
23/07 2003 Intercontinental Pro Shootout
Tonight UCI's top 4 ranked riders from the Pacific Oceana, North America, Latin America and Europe regions competed for a share of $10,000.
Round 1 there were 4 gates of 4 riders, 1 rider from each region in each gate. In the first round it was the first time riders like Wade Bootes, Robert De Wilde, John Purse, Ivo Lakucs, and Kyle Bennett would ride the track under race conditions, but it was all of the Latin American riders that were eliminated (Fernando Silviera, Gonzalo Ureta, Rodrigo Ureta and Christian Gaete).
Round 2, 4 gates of 3 riders, only the top 2 progress to the next round. This is how they finished.
Gate 1.
1. Darren Hawkins (AUS)
2. Wade Bootes (AUS)
3. Michael Robinson (AUS)
Gate 2.
1. Kyle Bennett (USA)
2. Lukas Tamme (CZE)
3. Medhi Remili (FRA)
Gate 3. - John crashed hard in the final straight after leading the race convincingly from the start. Madill was lucky to survive elimination.
1. Robert De Wilde (NED)
2. Luke Madill (AUS)
3. John Purse (USA)
Gate 4.
1. Randy Stumpfhauser (USA)
2. Joost Wichman (NED)
3. Ivo Lakucs (LAT)
Round 3, 4 gates of 2 riders, winner to the main, loser to the conso final.
Gate 1.
1. Medhi Remili
2. Darren Hawkins
Gate 2.
1. Kyle Bennett
2. Luke Madill
Gate 3.
1. Robert De Wilde
2. Randy Stumpfhauser
Gate 4.
1. Wade Bootes
2. Joost Wichman
Finals
Main
1. Kyle Bennett
2. Robert De Wilde
3. Medhi Remili
4. Wade Bootes
Conso
1. Luke Madill
2. Randy Stumpfhauser
3. Joost Wichman
4. Darren Hawkins
22/07 Supercross Pacific Oceania results
Elite rider Henrik Baltzersen is making a big impression in Australia, he made the highly technical worlds track look like a walk in the park. He dominated his motos and was looking pretty good for the main but was only narrowly eliminated in his semi finishing 5th. Canada's Samantha Cools dominated both 18 & Under Cruiser and Junior Elite women, will she be able to get the double this year? Time will tell. Australian Shane Jenkins finished 7th in 30-34 mens cruiser riding his 2004 EVO prototype frame.
On Friday USA's Stan Horton will join the rest of the team as they each will race for cruiser titles.
For more information about Supercross check www.supercrossbmx.com
22/07 Racegirl Results from the Pacific Oceania International
Pacific Oceania International Girls Class Results - July 20,2003 Perth, Australia TOP 8 per CLASS Total Entries = 1176 Total Riders = 972 - Girls results from the Pacific Oceania International race in Perth, the "Pre Race" to the UCI BMX World Championships:
18 & U Women Cruiser (17 Riders)
2W CAN Samantha Cools 1st~ Racegirl Ambassador
116 USA Katie SHEDIVY 4th ~Racegirl Ambassador
12 USA Melissa Hartlen 7th Racegirl Ambassador
19 + Women Cruiser (21 Riders)
23 USA Amy ROSE 6th ~Racegirl Member
88 USA Maggie EDEN 8th ~Racegirl Member
15 Girls (18 Riders)
115 USA Katie SHEDIVY 5th ~Racegirl Ambassador
10 USA Melissa Hartlen 7th ~Racegirl Ambassador
16 Girls (10 Riders)
6W USA Heather HELLWINKEL 7th ~ Racegirl/Answer BMX Team
Junior Women (9 Riders)
1W CAN Samantha Cools 1st ~Racegirl Ambassador
Elite Women (27 Riders)
143 LIT Vilma RIMSAITE 3rd ~Racegirl Member
19 SVK Dagmara POLÁKOVÁ 4th~ Racegirl Member

Racegirl/Answer BMX Team member Christine Miller was slightly injured in the first rounds of the event but will be ready for the World Championships by the end of the week! Great Job to all the Racegirls!!! Check out the Photo Gallery..We will be adding pics daily of the sights and sounds of the Racegirls!
www.racegirlbmx.com
22/07 Pacific Oceana Photos
Click here for images from the Pacific Oceana International, the lead up event to the World Championships in Perth Australia.
21/07 Pacific Oceana International Results
Click here for full results (top 8 for each class)
Junior Elite Women
1. Samantha Cools
2. Emma Franklin
3. Blandine Cottereau
4. Krystal Cranfield
5. Cyrielle Convert
6. Ana Soledad Heredia
7. Renee Junga
Junior Elite Men
1. Manuel Lopez
2. Ivo Van Der Putten
3. Kyle Weisenberger
4. David Gibert
5. Mike Fenwick
6. Arnaud Dubois
7. Daniel Wallace
8. Augusto Castro
Senior Elite Women
1. Elodie Ajinca
2. Gabriela Diaz
3. Vilma Rimsaite
4. Dagmara Polakova
5. Lydia Faure
6. Malene Madsen
7. Rebecca Wichman
8. Laura Richardson
Senior Elite Men
1. Thomas Allier
2. Luke Madill
3. Michal Prokop
4. Jean Tricard
5. Randy Stumphauser
6. Joost Wichman
7. Khalen Young
8. Darren Hawkins
Junior Elite Cruiser
1. Mike Fenwick
2. Manual Lopez
3. Ben Clark
4. James Hollings
5. Brendon Smith
6. Ken Babington
7. Cale McCulloch
8. Andrew Lamb
Senior Elite Cruiser
1. Luke Madill
2. Michael Robinson
3. Luke Pretlove
4. Bill Hobbs
5. Jade McPherson
6. Terry Scarr
7. Ben Bartram
8. Simon Anderson
20/07 Pacific Oceana International Day 1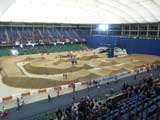 Racing commenced today at Perth for the two day Pacific Oceana International, the lead up event for the UCI world championship where people can test out the track and each other before the main event.
Already the track has taken it's toll on riders of all ages and abilities, and there's even been broken frames already. Rumour has it the track might undergo some small modifications on Sunday evening, which from the sounds of things would go down well amongst the majority of the 1,100 ish riders that have now ridden the track.

There were a bunch of top riders at todays racing including Christophe Leveque, Randy Stumphauser, Jason Richardson, Thomas Allier, Henrik Baltzersen, Mike Day, John Johnston, Darren Hawkins, Jamie Gray, Luke Madill, Khalen Young, Glen Cadega, Michael Robinson, Mike Fenwick and a whole heap of others. Kyle Bennett and John Purse were also seen track side but not racing..
Khalen Young was impressive in practice, he looked right at home on this track that would seem as if it were built for him, big jumps and wide open corners. On the pro section, which was difficult for even some of the worlds best riders, Khalen was seen pulling a back flip.
More on the racing tomorrow.
18/07 Wade Bootes' mother has passed away
This just in from Wade Bootes:
Patricia Ann Bootes of Miami Keys, Qld Born 7-10-44 passed away peacefully on July 17th 2003 at 3pm after a long hard battle with cancer. Beloved wife of Peter and loving mother of Wade, Jeffrey and Steven, and mother in law of Cheri, Grandmother of Mitchell and Makellan.
Service will be held 3pm Monday the 21st of July at Somerville Funerals Nerang Qld, (07) 5596 2233.
Wade has been an inspiration over the past many months. He uprooted his life in America and based himself in Australia to spend time with his mother, Patricia, who has been battling cancer, all the while he has been competing and training for his hectic BMX/MTB/track racing program. Our thoughts go out to Wade and his family.
18/07 Grandaddy prize pack winners announced
Thanks to Grandaddy and V2 music we are please to announce the Grandaddy prize pack winners.
Chris Fleming from Langwarrin, Australia and Ian Wareing from Liverpool, United Kingdom both get a copy of the Sumday CD along with a t-shirt and beanie.
Both Chris and Ian answered our question correctly, the movie soundtrack that Grandaddy appear on was "I Am Sam".
Don't forget to check out www.grandaddylandscape.com
17/07 Supercross "Down Under"
Supercross will be represented by a truly international team at the UCI world championships at Perth, Australia, later this month.
The super fast Henrik Baltzersen of Denmark will be competing in both the elite mens and elite cruiser classes. Samantha Cools, who has been dubbed "the fastest female rider to come from Canada", will competing in the junior elite women and 18 & under cruiser. Stan Horton from the USA will be ripping it up in the 35-39 cruiser class. And to round out the international team Australian Shane Jenkins will be in the 30-34 cruiser and 17 & over mens class.
This will be a good chance to feast your eyes on the American made Supercross frames that most Australian's have only read about.
Get used to seeing the SX frames in Aus, the Australian Supercross Grass Roots team will fire up shortly after the world championships with riders from right across Australia.
For more information about Supercross check the website at www.supercrossbmx.com.
17/07 Review: 2003 Answer Edge clothing
Are you in the market for some new race clothes, check out our latest review of the 2003 Answer Edge pants and jersey.
17/07 RaceGirlBMX.com go to the worlds
We're going to the UCI Worlds! Racegirl BMX League, Inc. will be represented at the Worlds in Perth, Australia by members of our Racegirl/Answer BMX Team, Several Ambassadors and League President, Kim Fisher. Be sure to look for us to say Hi. Kim will be taking pictures and posting them on the Photo Gallery throughout the week. She'll also have lots of stickers and info about the League. We wish good luck to all and hope to see you there!
(Name/Category)
Amanda Geving G14/CR18 - Racegirl Ambassador
Melissa Hartley G15/CR18 - Racegirl Member
Kimberly Hayashi CR18-/JW - Racegirl Ambassador
Heather Hellwinkel G16/CR18 - Racegirl/Answer Team
Vanessa Pearce CR19+
Michele Peters CR19+/EW - Racegirl Ambassador
Amy Rose CR19+
Katie Shedivy G15/CR18 - Racegirl Ambassador
Samantha Storey G15 - Racegirl Member
Amanda Bergeron JW - Racegirl Member
Alice Jung EW - Racegirl Ambassador
Christine Miller G15 - Racegirl/Answer Team
Samantha Cools JW/CR19+ - Racegirl Ambassador
Check out the new Racegirl Ambassador Iron On Patches at www.racegirlbmx.com

16/07 UCI BMX News
UCI World Continental Ranking!
The UCI BMX World Continental Ranking is just about to be finalized, at the World Championships we will find out who will be World Ranked No 1. 30.000 Swiss Franc will be distributed among the top male and female rider on each continent as well as the top 8 world ranked men and the top 5 world ranked women. With the double points for the World Championships, participation in the World's is a must if a rider wants to end up in top World Ranking.
In the North American ranking, Randy Stumphauser (USA) came out on top with the closest of margins over John Purse (USA) where a tie-breaker (most wins, most points in 8 races) was used to split them apart. No matter what, both of these riders together with Kyle Bennett (USA) and Robert de Wilde (NED) will bring their points to the World Championships. On the female side, Kimberely Hayashi (USA) have had a perfect season so far, winning the North American ranking with a set of 5 wins (60 points). Last years World Champion, Gabriella Diaz (ARG) finished second with 52 points.
The European rounds also came to an end at the European Championships in Vallet, France. Ivo Lakucs (LAT) scored the maximum of 60 points with his 5 wins. Behind him were Lukas Tammé (CZE) and Medhi Remili (FRA) both on 47 points. On the female side, Jana Horakova (CZE) showed great consistency and ended up winning the European Continental ranking with 59 points, 4 points in front of Dagmara Polakova (SVK).
In the Oceanic Ranking, Michael Robinson (AUS) won with a slim margin over Luke Madill (AUS), where only a tie breaker separated the riders (most wins, most points in 8 races). Both of these riders will indeed bring their points to Perth and compete for the overall ranking.
With the entries closed for the World Championships, the top 5 ranked riders on each continent is confirmed and the World Championships in Perth, Australia will be a thriller with the riders not only competing for the rainbow jersey but also for the UCI Overall ranking title.
To view the current points standing, please visit www.uci.ch/english/bmx/rankings/2002/indexV.htm
UCI BMX World Championships in Perth
Over 1,600 riders from 27 countries are getting ready for the UCI BMX World Championships in Perth.
Several side events will be organized during the World Championships and participants, media and spectators will have a busy week.
2003 Intercontinental Pro Shootout
A special innovation has been introduced to create additional excitement with 16 of the top Worlds Elite BMX riders being invited to compete in a 2003 Intercontinental Pro Shootout that will be worth an additional AUS$8000.
It is intended that the top 4 UCI ranked Elite riders from each of the continents of North America, South America, Europe and Australasia will take up the invite to run at the World Championships indoor track in a series of Shootouts that will end in the final 4 competing for a balance of $6000. All competitors will take away money for their efforts.
Preliminary riders eligible for the Intercontinental Pro Shootout;
EU 1 Ivo Lakucs (LAT)
EU 2 Lukás Tamme (CZE)
EU 2 Medhi Remili (FRA)
EU 4 Joost Wichman (NED)
NA 1 Randy Stumpfhauser (USA)
NA 2 John Purse (USA)
NA 3 Kyle Bennett (USA)
NA 4 Robert De Wilde (NED)
OC 1 Michael Robinson (AUS)
OC 2 Luke Madill (AUS)
OC 3 Wade Bootes (USA)
OC 4 Darren Hawkins (AUS)
LA 1 Fernando Gomes Silveira (BRA)
LA 2 Gonzalo Ureta (CHI)
LA 3 Rodrigo Ureta (CHI)
LA 4 Cristian Gaete (CHI)
Red Bull King of Dirt
The King of Dirt spectacular is one of the major support events scheduled for Wednesday 23rd July at the Burswood Dome in Perth Australia. The event will feature 32 hard core jumpers competing for $10,000 in prize money. The riders have already been selected for the King of Dirt.
Classes for the World Championships
There will be no combined classes for this year World Championships. As in previous year, Elite Women/Junior Women will have the possibility to enter the Women Cruiser classes (challenge class). As stated earlier, the Challenge class 19 years & over, have been modified to 17 years & older and the Cruiser class 19-29 years has been modified to Cruiser 17-29 years.
For daily World Championships updates with reports and results, please visit www.uci.ch or bmxworlds2003.com
2003 UCI BMX Convention
This years BMX Convention will be held on Tuesday July 22nd, 2003 at the Burswood Hotel & Casino. With the current discussion around the world regarding clipless pedals, Matt Bazzano from Shimano has been invited to present and discuss clipless pedals. Dr Earl Louis (Podiatrist) will also be present, to further discuss BMX related injuries to feet, ankles etc.- Presents the Shimano clipless pedals, the correct use etc. Finally, Mr Ryan Kramer from AMB Timing System will demonstrate the latest timing equipment for BMX, which will be used for the 2003 UCI BMX Supercross.
16/07 Moto One releases new Donny Robinson pro shirt


San Diego, California - Moto One has just released it's new Donny Robinson signature T-shirts. Available in two colors, black and white, the "NASCAR" inspired T-shirts feature a rendering of Donny Robinson kickin' butt on the back and the Moto One logo on front. The shirts retail for $20. This is just the first in a series of popular BMX racer T-shirts. Look for new ones featuring Josh Oie and Mikey Moeller coming soon. Check out Donny's new shirt design at www.moto1designs.com or contact Moto One at info@moto1designs.com.
16/07 Victorian riders contacts for the worlds
BMX Victoria has appointed two rider contacts for the UCI worlds. Any Victorian riders who require assistance should seek out Ray and Judy Hollings. Their position isn't officially recognised, but they will be able to help riders sort through any problems should the arise.
15/07 European Championships Full Results
These are the complete and final results fresh from VALLET, FRANCE.
Thanks to Cyrille Olive. You can check out his site at www.zitoun.nl.
15/07 ONE Bicycles dominates the European Championships with 6 titles
After 8 rounds in Switzerland, Holland, Latvia and England, round 9 and 10 were hosted in Vallet (France) the same track where the 1999 UCI Worlds were held.
The heat this weekend was the major competiton for all riders, who started their competiton on friday with the cruiser.
Arturs Matisons showed he was not only dominating Junior Men class but also the cruiser class, he won all motos and finals...which meant title number 9 for him.
Jana Horakova won the new cruiser class for women in Europe. She was awesome, jumping and blowing away her competitors.
Vilma Rimsaite from Lithuania made it even better by taking the 2nd place for ONE behind Jana.
Kelvin Batey rode his first cruiser race after being 2 years out of competition.
He got a great 4th place behind Roger Rinderknecht (661), Jean Christophe Tricard (DK) and Joost Wichman (KNWU/ONE Bicycles).
On saturday it was Magalie Pottier's (F) turn.
She raced 14 yo girls and after her crash in the French championship, she made up for it by winning another European title, the 3rd for ONE Bicycles. Winning all day and showing who was best all day proved she will be doing well in Australia at the Wolrds.
Saturday was also round 9 for Junior Men/Women and Elite Men/Women.
Arturs only had to win to be sure of his 10th title. And winning was exactly what he did.
For Jana it was an important day.....Dagmara Polakova (Webco) and Jana were so close together that anything could happen.
Jana was doing great all day but in the main event she could take the points she wanted due to a crash. So sunday would be decision day.
Kelvin Batey has been improving all year but couldn't make it into the main event, still he did a great job for the standings, both saturday and sunday.
Sunday was gonna be another great day.
Shanaze Reade from England was the current European Champion. She wanted to go for her 3rd title.
As a 15yo she races Elite Women in England and wins every race, and that was what she in Vallet as well.
There was no competiton for Shanaze. She grabbed her 3rd title and the 5th title for ONE Bicycles in 3 days.
Then there was Maris Strombergs.....16yo and nearly recovered for a broken colorbone.
Before his crash a few weeks ago he was soooo fast.
For a long time it wasn't sure he would race in France, but last week he decided to do it anyway.
It was incredible to see him start and jump as if he was almost as good as before injury.
Maris made it into the main event but had to be satisfied with a 5th place, something we never expected. Maris was disappointed, which showed he was going for 1st.
Arturs seemed to go for another win, but french guy Thomas Hamon (Cycles Fevrier) managed to work Arturs over the last turn and got himself in some trouble this way, which made Arnaud Dubois (Bollé) from Belgium go for the win.
Elite Women was gonna be very exciting since both Jana and Dagmara wer in the main event.
Jana prooved to be the best all year and made up for the bad luck she had in some races this year....she took the lead from start to finish.
Title number 6 for ONE Bicycles.
The Worlds are on their way now and 4 riders of ONE Bicycles will attend the races...Arturs, Jana, Magalie and Vilma.
Good luck !
15/07 Bendigo Results and Northern Rivers news
The 6th round of the Victorian Northern Rivers regional championships were held in Bendigo on Sunday. For some it was the last chance to make up some valuable points leading into the final round which is the weekend after the UCI World Championships for others just another race in the lead up to the worlds.
Click here for the full results from Bendigo.
The final round of the Northern Rivers regional championships will be held at Sunbury on the 3rd of August. There will be 14+ Open money class and the final for the top 8 qualifiers throughout the series which is being called the 14+ EXPERT Money Class. The total pool for the expert class will be $935.

Here's the top 8 riders as they qualified
1. Levi Collins (Sinister Racing)
2. Brock Tuckerman (Sinister Racing)
3. Rob Slatter (Profile/ECI)
4. Nathan May (Sinister Racing)
5. Shane Jenkins (BMXUltra.com/Supercross/Answer)
6. Grant Carra (100% Cycles/Bicycling Direct.com)
7. Adam Robb (Redline/TotalBMX)
8. Adam Carey (Sinister Racing)
15/07 2003 World Championships video pricing
There has been a slight increase of 10% which reflects GST. A 5% charge will also be charged for credit card transactions.
DVD's
We are now able to offer DVD's and we will be offering DVD's at the worlds.
WARNING - Please read the following carefully.
We burn DVD's in the DVD-R format which means not all DVD players may be compatible and as a result may not play 100%. I can't stress enough how important it is that you find out weather or not your DVD plays DVD-R. If it does not either buy a new DVD player ($120 players can play DVD-R) or simply purchase VHS.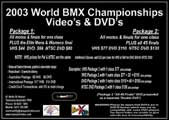 Postage
For the worlds we have chosen to send videos to peoples homes this time round.
Ordering
Look for the Tas Sport Video sign at the merchandise area at Perth, call 03 6231 1566 or email martinduffy@tassportvideo.com
Pricing
For full pricing details, click the icon to the right.
Finally, thanks for your support and we wish everyone all the best in the future.

14/07 Grandaddy CD giveaway - reminder
Thanks to Grandaddy and V2 music we have 2 Grandaddy prize packs to give away. Grandaddy have been getting a lot of air play lately with the recent release of their 4th album Sumday. It's difficult to describe their music, probably the best description I heard of them is "country-fied electro -pop", the music is kinda mellow but we dig it. You can check out their music for yourself while reading the rest of the competition, click here to start the Grandaddy media player.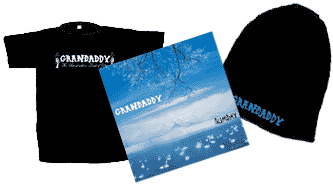 Grandaddy prize packs include:
1 x copy of the latest album Sumday
1 x t-shirt
1 x beanie
To win one of the two prize packs all you have to do is name a movie soundtrack that Grandaddy appear on.
To make it real simple for you the answer is on the Grandaddy website at www.grandaddylandscape.com (Hint: Look at the discography).
Send an email to webmaster@bmxultra.com with "Grandaddy CD giveaway" in the subject line, your answer, t-shirt size and return email address and postal address. (These details will only be used by BMXUltra.com and V2 Records to contact you and deliver prizes, if you win. They are not forwarded to a third party or used for any other reason).
Entries close on July 16th and the winners will be announced here shortly after.
14/07 European Championships Cruiser Results
These results are fresh from VALLET, FRANCE. Thanks to Cyrille Olive you can check out his site at www.zitoun.nl.

Cruiser 12 and under
1. VAN GORKOM Jelle Nederland
2. ROZSCENICH Gabor Hungary
3. BEGUE Ruddy France
4. MANTION Rémi France
5. MARTY Kevin Switzerland
6. MUFF Nicolai Switzerland
7. FANTONI Giacomo Italy
8. VAN DER BIEZEN Jeffrey Nederland
Cruiser 13/14
1. LAPRAZ Yvan Switzerland
2. ABOUDAI Nicolas France
3. VAN GALEN Dailey Nederland
4. GIRARDIN Loïc France
5. CHIRON Emilien France
6. LACOMBE Damien France
7. MYRBERG Simon Sweden
8. JACOBS Noud Nederland
Cruiser 15/16
1. STAM Ewoud Nederland
2. VERRIJT Niels Nederland
3. CHAFFOT Jérémy France
4. BISSELING Edgar Nederland
5. AILLOUD Victor France
6. SCHERPEN Martijn Nederland
7. BORDES Adrien France
8. LE STRAT Alexandre France
Cruiser 17/18
1. GALAN CARRASCO Pablo Spain
2. LANGLAIS Maxime France
3. STYRCZEWSKI Florian France
4. FRANCHETTE Nicolas France
5. JOUENNE Sébastien France
6. OLLIVIER Benjamin France
7. WELTEN John Nederland
8. DELAPORTE Anthony France
Cruiser 19/29
1. BONTEMPS Patrick France
2. PIERRU Martial France
3. PUKITIS Miks Latvia
4. KORSOUN Cyril France
5. LE CORGUILLE Emeric France
6. DE HAAN Gertjan Nederland
7. MAZE Sébastien France
8. KROPF Urs Switzerland
Cruiser 30/39
1. ALAVOINE David France
2. DELMAS Swann France
3. HILL Alan England
4. SZURDOK Szilard Switzerland
5. GIL RILLO Jorge Spain
6. GRIFFOND Anthony France
7. DE WILDE Dirkjan Nederland
8. BONICI Yann France
Cruiser 40 +
1. CALVERT Shaun England
2. STAM Teun Nederland
3. VOLKERS Bert Nederland
4. VAN DEN DIKKENBERG Arie Nederland
5. MERTA Znedek Czech Republic
6. MARILLEAU Joël France
7. LAPLACE Joël France
8. VILLETTE Jean Marc France
Cruiser Women 18 -
1. HODI Haniko Hungary
2. GOLLNER Nadine Germany
3. PHILLIPS Charlie England
4. VAN ECK Marissa Nederland
5. RAMANAUSKAITE Jurgita Lituania
6. CHARPENTIER Gaelle France
7. MEIJER Sanne Nederland
Cruiser Women 19+
1. HORAKOVA Jana Czech Republic
2. RIMSAITE Vilma Lithuania
3. FALLOT Malika France
4. WICHMAN Rebecca Nederland
5. MADSEN Malene Denmark
6. FRITSCHER Kerstin Germany
7. LAUPSIEN Karin Switzerland
8. SCHOCHER Tatjana Switzerland
Junior Cruiser
1. MATISONS Arturs Latvia
2. GIBERT David France
3. HAMON Thomas France
4. DUBOIS Arnaud Belgium
5. MARTINA Norris Nederland
6. SAUVAGE Florian France
7. KLEINHESSELINK Bo Nederland
8. BISSELING Sander Nederland
Elite Cruiser
1. RINDERKNECHT Roger Switzerland
2. TRICARD Jean Christophe France
3. WICHMAN Joost Nederland
4. BATEY Kelvin England
5. REMILI Medhi France
6. MOREIRA Grégory France
7. LABIGANG Denis France
8. HOLMES Dale England
11/07 Spy photos: Dirt Designs pads


You may have seen a while back some photos and a blurb about the Dirt Designs pads, they were the hand made prototypes. Dirt Designs have now gone into full production with their pad sets, and have catered for traditional and monocoques frames. The Dirt Designs pads keep with the traditional Dirt products, great designs at great prices.
About Dirt Designs:
Dirt Designs are Australia's leading manufactures of number plates, numbers, and presentation plates. Dirt also prints decals and t-shirts. Dirt sponsors riders such as Tony Harvey, Michael Fenwick, Adam Robb, Luke Pretlove and many others.
Dirt products are distributed in Australia by Elite Cycle Imports (www.ecibmx.com).
11/07 UCI Worlds: Singapore team
For the first time ever Singapore will be represented at the UCI World BMX Championships, held in Perth, Western Australia later this month.
Entries have been finalised and the team should consist of atleast 4 riders, but who can make the trip exactly will be determined at the last minute.
If you meet a rider from the Singapore crew, be sure to make them feel at home. For the uncultured english is the first language in Singapore.
To find out more about BMX in Singapore check out www.osbmx.com
10/07 UCI Worlds: Controversy in the womens classes
It was brought to our attention that the UCI have made a controversial decision that would support what we have been saying all along, that there simply aren't enough classes for the women at the UCI world champoinships. There are 14 classes for women and 24 for men. It's my understanding that at UCI level you are either challenge class (amature) or elite (pro), until now it was not possible to compete at both levels.
Johan Lindström - UCI - "...UCI rule book does not allow a rider to ride in both a "challenge" and "championships" class, we have made a exception for this year regarding this class.
We have noticed a big interest for female cruiser classes and hopefully by allowing this we will have a great female cruiser class."
I wonder how many women in the 19 & Over cruiser class would have still gone to Perth had they known that the challenge class was going to include elite riders.
Does this open the flood gate for elite men to compete in the challenge classes? Not exactly, the following ruling has been a well kept secret from the riders.
Ray Stanley - UCI/BMX Australia - "The UCI Supplemental Regulations for 2003 World Championships/Challenge will contain the following information:
The Women Cruiser 18 and under, and 19 and over classes will be open to women who have nominated in the Junior Elite and Elite classes and vice versa. This follows the precedent set in Brazil in 2002 and is to remain in place for 2003 in order to gauge the interest and numbers before a rule change is recommended to include separate levels of Women Cruiser classes for future events.
The supplementary regulations will also redress the anomaly of the omission of the change of class from 19-29 Challenge Cruiser Men to include the 17-29 Challenge Cruiser Men as was intended when the rules to have a 17+ Challenge 20" was approved this year.
This will mean that any female rider entered in the Challenge Cruiser will be able to enter the Elite / Junior Elite 20" and be accepted without penalty should they wish to do so by Monday. This has been determined by the UCI."
Does this mean that the 19 & over womens cruiser is actually an unrestricted class that you don't need to qualify for? And the women who competed in the 30 and Over class at the Australian Championships are actually able to compete after all? I don't know, but I think there will be a few phone calls to BMX Australia over the next few days.
I am lead to believe that if you wish to enter 19+ elite women (on 20") at the worlds, you can now do so with no penalty, but it needs to be received by BMXA by Monday. You might want to check if that will lock you into the elite class for the next year of racing before you do enter.
10/07 Aussies videos handed out in Perth
Tas Sport Video has won the contract to video the Worlds in Perth. As the event is very soon, the guys at Tas Sport Video will be handing out videos, to those who ordered them, at the Worlds as opposed to sending them to your club or home as originally planned.

Videos will be handed out on Wednesday July 23rd between 12:00pm and 2:00pm or on the Friday,
Saturday and Sunday throughout the event.

If you do want to pick up your video at the Burswood Dome so that you can view it before the worlds please contact Tas Sport Video on 03 6231 1566 or email martinduffy@tassportvideo.com.
10/07 Supercamp for Cedar Park
Cedar BMX Park has added a Sunday race for the ABA Supercamp, Sept. 6 & 7, 2003.
ABA Supercamp: 10:00-4:00 both days
Saturday Race Reg: 5:30-7:00
Sunday Race Reg: 5:00-6:00
Be sure to put racing in with your plans for the weekend!
Cedar BMX Park Red Barn Village, Clarks Summit, PA, USA PA 01.
(570) 586-1146, cedarbmxpark@aol.com
www.cedarbmx.com
09/07 J&C Racing press release: South Park, PA and Waterford Oaks, MI
At Pittsburgh Ben McIntosh, (25-29 novice) the father of super fast 10 girl Rachelle McIntosh pulled a strong 2nd in Saturday's main. Rachelle had some stiff competition and went 2-1-1 in her motos with 1st in her main! She was saving the perfect for Sunday! Former J & C rider Samantha Allen ended Saturday's Supergirl main in 5th and 6th on Sunday, good job Sammy! 15 novice Ben Bradford went 2-2-2 in his motos and 2nd in his main on Saturday, but had some trouble in his motos on Sunday. Mike Taulbee went 1-1-1 in his motos, but got all bunched up in his semi and didn't transfer. Jason Waryas, Juston Waryas, Brandon Dosch, Adam Raczka, Tyler Beebe, Chase Boothby, Scott Glannan, Joe Waryas and Ryan Glannan all rode well all weekend long and mostly made their mains. The 12 expert class was stacked with all of the big dogs! This was just a preview of the Grands. 18 year old TJ Lowe pulled double perfects on his cruiser! In 12 cruiser Scott Glannan had notable finishes chasing Kalin Hall and RJ Scott to 3rd place finishes. Last but not least from The Stars N' Stripes National, Ashleigh Ybarra made her first Supergirl main HUGE props going out to her!
Moving on to The Great Lakes National from Waterford Oaks, Michigan. This is our home track so as you would expect our team rocked there! 24-seven's Samantha Allen and J &C Racing's Ashleigh Ybarra finished the supergirl's main on Saturday 5th and 6th respectively great job ladies. Ben McIntosh ruled the 25-29 novice class with a perfect on Saturday. 18-20x Jason Waryas took a fall in his semi and was out for the weekend (get well soon J.). Korey Terry 17 expert went on to his first national mains as expert with a pair of 6th place finishes. Ben Bradford went 1-2-1 1 on Sat. and 2-1-1 5 on Sun. Juston Waryas ran a 2nd in his main on Saturday and 4th on Sunday Duane Wurster 7th and 5th in his mains. 14 ex. Brandon Dosch worked his way into 1-2-1 2 and 2-2-1 6 with a fall in his main on Sunday. I think it's time for Caesar to move onto bigger tires so he stops sliding out! Mike Taulbee had good points with 2-2-2 4 and 2-4-2 xx. Scott Glannan and Chase Boothby both showed up to race this weekend Scott went 1-1-1 4 and Chase went 2-2-2 8 on Saturday then backed up Sunday with some disappointing 7th and 8th place mains. Adam Raczka ruled 10 Expert with a perfect on Saturday and a 1-6-1 2 on Sunday, he did great on his cruiser as well. 10 novices Ryan Glannan and Jumpin' Joe Waryas did very well both days. Joe is turning expert this Wednesday, congratulations Joe! Rockin' Rachelle McIntosh (10 girl) capped out Saturday and perfected Sunday just for the fun of it! 9 year old little lady Ariana Quintanilla had her hands full all weekend finishing straight 2s on Saturday and 2-3-2 3 on Sun. 7 year old expert Tyler Beebe also had a great weekend winning his main on Saturday with firsts, seconds and thirds all mixed around between his 20" and cruiser motos. In the big wheeled cruiser action, Dennis Ybarra tagged a 3rd and 2nd in the old guys class. TJ Lowe rolled his 24 to 3rd and 4th. In 12 cruiser , Scott Glannan was on his way to a perfect on Saturday until the gravel gods took him down in the tower turn. He went out on Sunday and got that elusive perfect. 12 year old Chase Boothby pulled a pair of thirds on his cruiser. 7 year old expert Tyler Beebe is doing a great job figuring out the BIG kids in the 9 and under cruiser class. He finished 3rd and 2nd on his cruiser.
Team-wise we received some very good points that will move us into 3rd nationally. On Saturday we finished 2nd behind another locally based team, Team Diamond and Sunday both Diamond and Lansing, Michigan based KCC beat us, Just for fun Racing was in the mix of top teams all weekend too! Congratulations to all of the Michigan based teams for their great performances at The Great Lakes National.
Just a side note: Look at the top 10 Team NBL teams, There are 4 teams from Michigan and 3 of them are currently in the top 10 and with a few more races Team Diamond would be there too!! Michigan racers RULE!!!!
Thanks to all of the volunteers and NBL officials for a great time at the Great Lakes National and also, as usual thanks to all of our sponsors: Supercross, Takata Holdings, Profile, Sun Rims, S & M, Demon Claws, Answer Products and Hot Shoppe.
Check out www.jandcracing.com.
09/07 Bombshell and Avent riders kill it in Rockford
Rockford, Illinois - Once again, the Bombshell and Avent crew staked it's claim and dominated the ABA's yearly trek to the infamous "Rock." Led by Phantom / Avent / Fly / adidas' AA Pro "dR" Donny Robinson, Bombshell forks and Avent race frames were seen out front all weekend.

"dR" absolutely KILLED it on his Avent Pro Cruiser, winning both days. These two wins puts Donny close to the top of the leader board and definitely in the hunt for the Pro Cruiser title.

Free Agent and Bombshell rider Dale Holmes mixed it up with the big boys and came away with a second in Pro Cruiser on Sunday.

Bombshell's Tyler Brown ventured to the "Rock" as an A-Pro and left as a AA. That's right, Tyler earned enough in Rockford to turn AA-Pro. Watch out for Tyler at the ABA World's as he makes his AA-Pro debut.

Redman / Yamaha Waverunner's Jeffery Pease was again unstoppable with his Team Issue Tribal Forks on his way to yet another double -double. Look for Jeff at the end of the season to be holding that #1 cup over his head.

Local boy phenom Mike Lundy was in effect all weekend, trying his hand at class cruiser and open. His first national as a 17 Expert, Mike powered his Avent ride to two wins in Cruiser and a couple of seconds and thirds in class and open.

The "E-Dub," Eric Elliott, out-powered the old guys classes on his Avent frames and Bombshell Forks and came close to the double-double, winning three out of four mains.

Phantom / Avent / Fly Racing / adidas' Shelbi Long also added another double to her long list of wins in 11 girls. These two wins puts Shelbi close to the ABA's coveted National #1 Girl position.

Look for the entire Bombshell and Avent crew at a national near you.

Check out www.bombshellparts.com and www.aventcycles.com for the latest and greatest in BMX technology!
09/07 Factory Phantom / Avent Cycles / FLY Racing / Adidas picks up Clint Albers
San Diego, California - Phantom team manager Will Rells announced that he had signed former Staats Bicycles rider Clint Albers to his Factory team roster. "Clint is a great pick up for us. He's an outstanding athlete and comes from a great, supportive family," stated Rells.

Albers is currently NAG #4 in 14x and NAG #5 in 14 cruiser after winning several nationals this season. Clint is a former State Champion, Redline Cup Champion, and World Champion. Clint's first race for Phantom will be the ABA World's in Reno.
09/07 UCI Worlds jersey exchange - reminder
It has become a tradition for riders to exchange jerseys at the world championships. At BMXUltra.com we aim to make it easier for everyone by setting up an exchange where all you need to do is email us the details and we will try to match it up with someone who might be interested in what you have to offer.
Send an email to webmaster@bmxultra.com with "Worlds Jersey Exchange" as the subject.
Include the following details:
Country of the jersey you have
Size of the jersey you have
Country of the jersey you prefer
Size of the jersey you prefer
If we find a match we'll give you the email address so you can organise the exchange at your own leisure. (Please ensure that your return email address is correct, if it's not then we wont be able to contact you.)
That said I have a 1998 Australian Jersey size XL (in good condition only used once) and I will have a 2003 Australian Jersey size XL. I would like to swap for a Canadian or USA XL or XXL and am open to other countries in XL or XXL.
09/07 What's up with the costs of the Australian jerseys?
Talking about jerseys...What's up with the costs of the Australian jerseys? It was brought to our attention by someone in the BMX industry that BMX Australia are set to make a lot of money out of those Australian riders/parents who are buying additional team jerseys.
Here's what we have been told "BMXA are charging $90 for a jersey, (now my guess is that it's a 3 color print on white) if that's the case they could be buying these jerseys for less than $35.00. Why is there a need to make such a high profit out of these jerseys and races like this years nationals/worlds more out of reach for some riders?"
I don't think we can expect an answer for this one, but if BMXA try the same trick at next years Nationals they can only expect a dramatic reduction in the number of entries...regardless of the recent Olympic announcement.
08/07 Bendigo entry form
Are you racing in Victoria this weekend? Looking for an entry form for Bendigo? Check out our 2003 racing calendar.
Also, for anyone who is interested in having a ride before the Northern Rivers race on Sunday, Bendigo will be having a club race on Saturday afternoon at about 2pm.
08/07 Photos: Park Orchards
We took a couple of photos at Park Orchards on Sunday. Check them out.
08/07 UCI Implements AMB's Activ Automatic Scoring System as Backup
Aigle, Switzerland – June 27th, 2003. UCI's BMX Racing Division has decided to implement AMB's newest cycling timing and scoring system, the AMB Activ system, at the upcoming BMX World Championships in Perth, Australia. The UCI has been utilizing AMB timing equipment for their Road Cycling World Championships for many years, and now UCI BMX plans to implement the latest AMB timing system for its future BMX events.
With the growth of BMX Racing around the world, and BMX's inclusion in the 2008 Beijing Olympic Games, scoring large numbers of competitors accurately is becoming more difficult with current hand scoring methods. UCI BMX will begin implementation of the latest AMB Activ timing system at this year's World Championships, which will aid in scoring accuracy and timeliness of results generation for future events. "AMB is a world leader in timing and scoring systems in the motorsports world, and with their long history in the timing and scoring industry and Olympic Games experience, we feel AMB's latest timing system will help our sport move to the next level," said Johan Lindström, UCI's BMX Coordinator.
To ensure a smooth introduction of the AMB Activ system, scoring results generated by the AMB system at the 2003 BMX World Championships will be unofficial and used for backup purposes only. Official results for the 2003 BMX World Championships will be generated by UCI's current scoring staff. Classes that will be scored by both the UCI's staff and AMB's timing equipment for this year's Worlds include: Junior Men, Junior Women, Junior Cruiser, Elite Cruiser, Elite Men and Elite Women.
Additionally, the AMB Activ system will time and score the Intercontinental Pro BMX Racing Shootout hosted by BMX Australia the Wednesday before the 2003 World Championships. The Shootout will feature the top four UCI-ranked male riders from each of four continents – totaling 16 riders. The final four riders will compete for $6000.
UCI also plans to utilize the AMB Activ timing system at the upcoming 2003 BMX Supercross Event at Woodward BMX Park in Woodward, PA on September 19th and 20th, 2003. The qualifying format of UCI's newest BMX discipline, Supercross, is based on course completion time known as time trials. AMB's timing system determines complete course time from the instant the starting gate is triggered to drop to the instant the rider crosses the finish line. The AMB Activ system accurately scores an unlimited number of racers sprinting through the finish line, which is the racing format of Supercross' quarter, semi and final events.
Ryan Kramer, Marketing Coordinator for AMB, said, "We've worked closely with Cartessa Corporation, the BMX starting gate supplier for UCI, on the integration of our two systems to provide the BMX world with an automatic method of scoring their events. We are excited to see the results of our collaboration be utilized at such a prestigious event."
International Cycling Union (UCI): The International Federation for Cycling. The mission of UCI is to develop and promote all aspects of cycling without discrimination of any kind, in close cooperation with National Federations and major associates.
AMB i.t.: The world's leader in automatic timing and scoring systems, is the company who introduced the world to the first fully automatic timing and scoring system over 20 years ago. Since then, organizations such as IMSA, The 24 hours of Le Mans, NASCAR, IRL, CART, World Series Superbikes, Indianapolis Motor Speedway, MotoGP, Olympic Games, ESPN X-Games, Vuelta a Espana, CIK Championship Karting and many more rely on AMB timing and scoring systems to give them accurate and reliable results.
AMB's mission continues to be the creation of the most advanced automatic timing and scoring systems for all types of sports ranging from Model Car Racing to Professional Auto and Motorcycle Racing.
07/07 BMXUltra.com teams up with ECI/Profile
BMXUltra.com would like to welcome Elite Cycle Imports (ECI)/Profile as our newest website sponsor.
Head honco at BMXUltra.com, Shane Jenkins, had this to say about the deal. "We're very happy with the new deal from ECI/Profile...this means we get to use the best BMX crank/euro bottom bracket combo on the Australian market.."
Profile Racing USA have been manufacturing 3 piece chromoly cranks since 1979. Their product range includes cranks, sprockets, hubs, stems, handlebars, frames, forks and more. For more information about Profile check out there website at www.profileracing.com.
ECI are the selfproclaimed number 1 in BMX imports in Australia, and given they are the distributors for brands such as Profile, Pro Concept, S&M, Sun Ringle, Tuf Neck, Atomic Laboratories, Dirt Designs, and many others, you'd have to say they have the products to back their claim. For more information about ECI check out their website at www.ecibmx.com.
ECI/Profile joins our list of sponsors that includes Answer BMX, Supercross, Pazzaz, BMXBits.com.au, Troy Lee Designs, Dirt Designs, Tektro and ATi.
07/07 Metro Plate report (Eastfield/Park Orchards)
It was a busy weekend in Melbourne for BMX, with the world championships only a couple of weeks away and good weather there were bigger classes than usual for this time of year.
Unfortunatly we couldn't attend Eastfield on Saturday so all we have is results. Sunday was a different story though.
Park Orchards is the kind of track that takes a while for people to get used to, it's fast and very technical with some big jumps that take a lot of skill and precision, something along the lines of Frankston a few years back, and because of this the club has drawn only small attendances. It looks like people are over that now.
In the Mens money class Victoria's AA Pros were out in full force, there was Tony Harvey, James Hollings, Ken Babington, Dean Miller, Jonathan Hoare, Ben Price, Dean Beerens, Adam Robb and Danny Galea. Leading the A Pro charge was David Page, Scott Lacey, Mathew White, Shane Jenkins, Charles Nelson and Ben Carlos.
In the motos Harvey did a clean sweep taking pole position in the final, Lacey and Babington qualified second and third while Hollings, Page, Miller, White, and Hoare all qualified equal 4th. Galea had to pull out for the day after the first moto with equipment failure. Price, Beerens and Jenkins were close but had to settle with watching from the sidelines.
When the gate dropped Harvey didn't have it all his own way. Both Hoare and Hollings were right up there with him, and Page wasn't too far back either. Hoare was still in striking distance in the last corner, but it looked like it was a combination of the track being a little slippery and him trying to take it too fast that caused him to go down, allowing Hollings to take second and Page third.
Eastfield
Open men money class (25 riders)
1. James Hollings (Top Gear/GT)
2. Dean Beerens (Top Gear/GT)
3. Adam Robb (Redline/TotalBMX)
4. Scott Lacey (Felt/BMXBits.com.au)
5. Dean Miller (GT Australia)
6. Robert Slatter (Profile/ECI)
7. Joseph Bujak
8. Simon Anderson (GT Australia)

Open cruiser money class (7 riders)
1. Simon Anderson (GT Australia)
2. James Hollings (Top Gear/GT)
3. Dean Miller (GT Australia)
4. Dean Beerens (Top Gear/GT)
5. Scott Tabe-Lewis (Iron Horse)
6. Glenn Porter (Cassap)
7. Scott Lacey (Felt/BMXBits.com.au)
Park Orchards
Open men money class (21 riders)
1. Tony Harvey (S&M/ECI)
2. James Hollings (Top Gear/GT)
3. David Page
4. Ken Babington
5. Dean Miller (GT Australia)
6. Scott Lacey (Felt/BMXBits.com.au)
7. Matthew White
8. Jonathan Hoare (KHS)

Open cruiser money class (7 riders)
1. James Hollings (Top Gear/GT)
2. Ken Babington
3. Scott Lacey (Felt/BMXBits.com.au)
4. Dean Beerens (Top Gear/GT)
5. Shane Jenkins (BMXUltra.com/Supercross/Answer)
6. Dean Miller (GT Australia)
7. Gary Morgan
Full results and photos expected to come soon. Also check bmxstars.com for photos of both Eastfield and Park Orchards over the next few days.
07/07 RaceGirlBMX.com Race Report: NBL Great Lakes National July 5-6 Michigan
Saturday Results
Super Girls Results ~17 girls
1. Natarsha Williams
2. Gabriela Diaz
3. Rachel Smith,
4. Becky Smith
5. Samantha Allen
6. Ashley Ybarra
7. Arielle Martin
8. Alice Jung
Sunday Results
Super Girls Results~15 girls
1. Arielle Martin
2. Gabriela Diaz
3. Natarsha Williams
4. Rachel Smith
5. Becky Smith
6. Alice Jung
7. Samantha Allen
8. Susan Serstert
Great Job Racegirls!! Lots of Girls Lots of fun, A few Crashes.
At the ABA National in Delaware..Racegirl/Answer Teammates Bethany Kludt and Victoria Johnson both place 1st on Saturday and Sunday!!! Visit www.racegirlbmx.com for new pics!
04/07 Odd spot: Whistler

It was my last day in Whistler, Canada after having spent 10 days over Christmas strapped to a snowboard in some of the deepest snow I have seen in my life. One 36 hour dumping had produced 148 cms of snow.
I had some time to blow while waiting for transport back to Vancouver, so I thought I'd wander around and take some photos, as any tourist would, when I litterally stumbled across the "Whistler BMX track". It's not the same track that hosted the 1985 World Championships (that was purpose built) but from what I could make out under the piles of snow it was more or less a bunch of dirt jumps.
If you think you are having problems getting motivated during winter battling some rain and cold winds to get out a ride, think of our BMX brothers and sisters that have to put up with these conditions during winter.
If you are ever up in Whistler, during the warmer months, check out the BMX track it's right next door to the skate park, just off the main car park.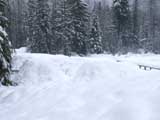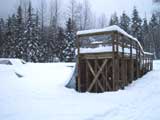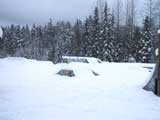 03/07 It's time to meet your maker
We'll it's nearly time. In 1999 we started to interview Scot Breithaupt the undisputed founding father of BMX (that's 33 years in the sport). He was the first to televise BMX, the first to establish a sanctioning body, creator of the pro class, creator of the cruiser class, co-founder of BMX Plus magazine, founder of SE racing, designer and developer of many bicycles, parts and safety gear, he manufactured the first alloy BMX bikes (and did it for 27 years)...the list goes on and on.
It's 4 years later, we had lost contact with Scot for quite some time, however now we are about to finish the interview. There are a few loose ends to tidy up but I can assure you it will be worth the wait. The interview will include a gallery of old school photos, a BMX history lesson, the story of SE racing, and you will find out more about the man himself. This should be posted within the next week, for now you can check out the unfinished interview with Scot Breithaupt as it was left in 1999.
02/07 John Purse on CNN
Rumour has it that John Purse (Mongoose/Hyundai) is going to be CNN today at 11:15 AM USA Est talking about the inclusion of BMX in the Olympics.
02/07 Grandaddy CD giveaway
Thanks to Grandaddy and V2 music we have 2 Grandaddy prize packs to give away. Grandaddy have been getting a lot of air play lately with the recent release of their 4th album Sumday. It's difficult to describe their music, probably the best description I heard of them is "country-fied electro -pop", the music is kinda mellow but we dig it. You can check out their music for yourself while reading the rest of the competition, click here to start the Grandaddy media player.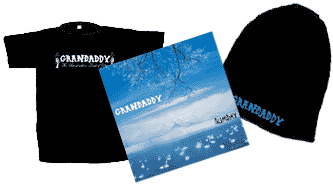 Grandaddy prize packs include:
1 x copy of the latest album Sumday
1 x t-shirt
1 x beanie
To win one of the two prize packs all you have to do is name a movie soundtrack that Grandaddy appear on.
To make it real simple for you the answer is on the Grandaddy website at www.grandaddylandscape.com (Hint: Look at the discography).
Send an email to webmaster@bmxultra.com with "Grandaddy CD giveaway" in the subject line, your answer, t-shirt size and return email address and postal address. (These details will only be used by BMXUltra.com and V2 Records to contact you and deliver prizes, if you win. They are not forwarded to a third party or used for any other reason).
Entries close on July 16th and the winners will be announced here shortly after.
Don't forget to check out the Grandaddy website at www.grandaddylandscape.com.
02/07 GT Australia press release: UCI Pacific Oceanic Champion
Well done to GT's Michael "Tiger" Robinson for becoming UCI Pacific Oceanic Champion. Tiger won 1st place after 8 rounds and travelling over half of Australia, he sealed 1st place after taking the win at the last round of the UCI races at Tarree NSW last weekend. Well done Tiger from GT Bicycles.
Tiger's sponsor's are GT Bicycles, Troy Lee Designs, Profile racing, Acs, Odi & Dirt Designs.
01/07 UCI Press release: BMX will be added to the 2008 Olympics
1 July 2003 - The IOC Executive Committee decided on 29th June 2003, during their meeting in Prague, to include BMX (Bicycle Motocross) in the XXIX Olympics in Beijing, to be held from 8 to 24 August 2008.
IOC President Rogge was pleased to inform UCI President Verbruggen about this decision. President Rogge further stated that "we believe that this introduction will definitely enhance the Olympic program"
One Elite Men (19 Years and older) and one Elite Women (19 Years and older) event will be included in the Olympic program.
The UCI BMX World Ranking will determine the nations ranking and the number of athletes for each country, although the total number of BMX athletes has not yet been decided.
01/07 BMX in the Olympics
It was announced today that BMX has been added to the Olympic program for 2008 which are being held at Beijing, China.
It's funny, I have done a bit of research and found that the IOC are replacing two other cycling events to make room for BMX in the program, but they really don't know what BMX is about. Apparently BMX stands for bikemoto-cross and that races include 4 riders. Let's hope that the announcement will mean greater exposure for BMX (and Bicycle Moto Cross) and the masses will have a better understanding of our great sport.
It will be interesting to watch our sport change to accomodate the Olympics. I think there will be greater emphasis on international events like the UCI world cup and world championships and maybe even the introduction of Olympic qualifying events.
Only a select few will have the opportunity to compete for their country and compete for the first BMX Olympic gold medal at the ultimate in sporting events.
Links:
We'd like to thank Ashley Knight of Queensland, Australia for bringing this to our attention.
01/07 BMXPros.com Race Report
NBL Stars and Stripes National South Park, PA
The NBL held round #6 of its 8 event Pro series this past weekend at one of the nations most loved tracks, South Park. The Pennsylvania track is fast, wide, and hold some of the biggest jumps found on BMX tracks today. With a slimed down Pro schedule compared to the ABA, the NBL title is a tougher chase, as the Pros only have a few chances to get in their points towards the overall title.
Consistency is the key to any title, but this years most consistent AA Pro, Randy Stumpfhauser wants more than consistency, he wants wins. Well, on Saturday, Stumpy did just that all day, by winning all of his motto's, and advancing out of the semi. At the NBL races, its just a one lap main event format, and Randy seems to have it down. As the gate dropped, Randy holeshotted and never looked back. He had a good challenge by Jason Richardson, but Randy was able to hold him off into the first turn and pull away from the pack and take home a huge win. This gives Stumpy some extra points to pad his lead for the overall #1 Pro title chase.
On Sunday, it looked like Randy was going to once again take the top spot in the AA class, but Randy was not able to keep off the hard charge of John Purse, as the met in the first turn. Randy had to settle for a 5th overall for the day in AA, but came back in the Open class to place 2nd and show his skill level is at an all time high right now. Randy will look to extend his lead next week, as he heads off to the final NBL national of the year in Waterford, MI, before the NBL Grands. Randy's sponsors include Huffy Bicycles, Fox Racing, AC Components, IRC Tires, Smith Eyewear, Alex Rims, Thompson Seatposts, S & M Forks and Bars, ODI Grips, BMXpros.com, Champion Nutrition, Shimano, Vans, and CTI Knee Braces.
BMXPros.com proudly represent Wade Bootes, Dale Holmes, Christophe Leveque, John Parker, Stephane Roncada, Jamie Staff, and Randy Stumpfhauser.
For more information on any of the BMXPros Pro riders or inquires about sponsorship, please visit BMXPros.com
01/07 Racegirl Report NBL Stars and Stripes National South Park, Pa
Racegirl/Answer Team Takes 3rd !!!
Super Girls ~ Saturday Total Riders: 17
1 Kim Hayashi
2 Gabriela Diaz
3 Arielle Martin
4 Michelle Peters
5 Samantha Allen
6 Breanna Lane
7 Becky Smith
8 Michele Peters
Super Girls ~ Sunday Total Riders: 14
1 Kim Hayashi
2 Gabriela Diaz
3 Michele Cairns
4 Arielle Martin
5 Breanna Lane
6 Samantha Allen
7 Melanie Cline
8 Ashley Ybarra
With close to 200 motos on Saturday and lots of Girls in attendance the competition was tough! The Racegirl/Answer BMX Team took 3rd with 80 points which put them on the podium for the first time at such a large NBL race. Racegirl/Answer Heather Hellwinkel had perfects both days in Cruiser and placed second Saturday behind new Racegirl Member and Ambassador Kelly Hutto who had perfects both days in 15 girls. Racegirl/Answer Cassie Watts placed 3rd and 6th in the fast 15 class. On Sunday Lilly Cook had the second and Samantha Storey the third..Watch for some of these names as they are the future Super Girls!!!
Racegirl/Answer Team's other finishes were 8 year old Bethany Kludt with perfects both days in Class, 10 Year old Sarah Canning taking a third on Saturday and 12 year old Holly Thompson also placing 2nd on Saturday!!!
At the ABA race in Mass. 9 year old Racegirl Victoria Johnson doubles both days in open and class.
Next stops are July 4th weekend~ ABA First State Nationals,Milford, DE / NBL Great Lakes (Pro, UCI on 1st Dreay) Waterford, Michigan ..Then the Racegirl BMX League will be off to Australia for the UCI World Championships!!! Check out the new photos from this weekend's races on www.racegirlbmx.com.
As always, we thank our Team Sponsors: Racegirl BMX League, Racegirl International, Answer BMX, Lizard Skins, Sharp Products, and Mercury Sport Drink for all their continued support!!! "We are all connected"
01/07 Victoria's weekend of racing roundup
For many a Portland and Warrnambool double header is just too expensive this close to the worlds, which is a pity because those events usually attract a few riders from across the South Australian border. We didn't head down there ourselves but Paul Pretlove, father of one of Australia's fastest pros Luke Pretlove, sent us a short round up.
It was a flat and greasy track at Portland for the War of Stars. Thunder Danny Galea (BMXbits.com.au/BMXUltra.com) taking out the 14+ money class, Luke Pretlove (Redline/TotalBMX) had to settle for third with a fall while in front in the first moto. There was a new emerging 'star', Dean "Colesy" Coles (BMXstars.com) strapped on a borrowed Norco and had a run in the 14+ finishing 2nd.
On Sunday racing moved to Warrnambool. Thunder was a 'no show' but Simon Anderson (GT Australia) turned up to put the pressure on Luke but Luke was too strong on his home track. The man of the moment "Colesy" borrowed a decent bike this time (a REDLINE from Luke) and had another go and did alright.
Race reports and photos should be on bmxstars.com soon.

Last updated: Thursday, 2 April, 2009 7:33 AM