BMX news for August
BMXUltra.com is aiming at bringing you the most up to date BMX news from around the world, if you have anything that might be of interest feel free to e-mail us at webmaster@bmxultra.com
Don't forget to press the refresh button on your browser when you're looking for the latest news.
28/08 Anita Harris Memorial Race Series
Cedar BMX Park, located in the Red Barn Village, Clarks Summit, PA, will be hosting an Anita Harris Memorial Race on Sept. 7, 2003. Race fees will be $5 plus a minimum $5 donation to the American Cancer Society. All participants will receive a certificate. This race will be held after our ABA Supercamp, Sept 6 & 7, 2003.
Anita Harris was Bubba Harris' mother & Burlin Harris' wife. She died of cancer in late July. During her battle, she always insisted that Burlin & Bubba continue racing & running their camp. She died just days before the World Championship. Both Burlin & Bubba attended the race.
For further information email duckiesm@aol.com or call (570) 383-3219
28/08 FACTORY PHANTOM RACING NEWS
San Diego, California - Factory Phantom / Avent Cycles / Fly Racing / Adidas is once again on the move. "We have made a couple of great moves in the past few weeks," stated team manager Will Rells. "I picked up two great riders, Dusty Vogler and Jeff Upshaw." Upshaw, who was sporting the Phantom colors in Reno last month, finished second in 15X at the ABA Worlds and moved into the NAG #3 position and NAG #4 on cruiser. Vogler, who has been a terror on the ABA scene for quite a while, is currently sitting NAG #3 in 13x and NAG#2 in 13 cruiser. "I'm super stoked to have them and I know they will allow us to have a bright future," added Rells.
In other team news, "E-Dub" Eric Elliott moved into the NAG #1 position in 28-35 Expert. Eric would like to thank God, his family, and Geritol for their continued support. E-Dub is on a mission this year and if there's a guy that can do it, it's him. Elliott joins fellow Rockford local, Mike Lundy, in the NAG #1 club for Phantom.
Phantom's 6X phenom, Jacob Abbe, rocking his Avent Micro Mini ride, backed up his 2002 World Championship title by repeating in not just 6X but also 6&under open. Phantom's Clint Albers also destroyed the competition in 13-14 open to claim yet another World title.
Factory Phantom Racing proudly represents the following companies:
Avent Cycles (aventcycles.com), Fly Racing (flyracing.com), adidas Cycling and Eyewear (adidas-usa.com), Answer Products (answerproducts.com), ODI Grips (odigrips.com), Tangent Products (tangentproducts.com), EVS Speed Equipment (evs-sports.com), MarwiUSA Ti Spokes (marwiusa.com), Velocity Wheels (velocityusa.com), United Brands Co. proud makers of US Energy Drink and Synergy Sports Drink (unitedbrandsco.com), Bombshell Racing Systems (bombshellparts.com), FSA (fullspeedahead.com), ACS (acsbmx.com), and SPY Racing (spyoptic.com). Support the companies that support BMX.
28/08 ALL NEW MOTO-ONE WEBSITE UP AND RUNNING
The Moto-One website is completely finished. Check out your favorite riders signature T-shirts like "dR" Donny Robinson, Mike "The Missile" Moeller, and "Slo' Jo" Josh Oie plus many more to come. Ordering online is made simple with the Paypal enabled shopping cart. Check it our at WWW.MOTO1DESIGNS.COM.
27/08 Khalen Young hits the east coast
Khalen Young (Pro Concept), one of the real stars of the recent UCI world championships in Perth, Australia, is going to base himself in Sydney for the rest of the year. We believe he'll be living with his trainer Sean Dwight, if he can keep racing like he did in Perth the guys on the east coast are going to have a hard time with him.
27/08 Victorian 4x MTB championships
One thing that we usually try to avoid on BMXUltra.com is promoting other sports, this site is 100% BMX, so why advertise the Victorian 4x championships? Because this is an event made for BMXers, just ask the likes of Danny Galea, Michael Robinson, John Johnston, Simon Anderson, Luke Madill, Khalen Young, the list goes on.
I checked out the Trafalgar course on Sunday after racing at Warragul, and this is one hell of a wide open and fast track. At the narrowest point the track might get down to about 2.5 to 3 meters wide, there are huge jumps, two big jumps over roads, lots of doubles, a rythm section, this track has everything. If it sounds too burly there will be plenty of room for spectators.
If you are a BMXer with a Mountain Bike, do yourself a favour and check this race out. It's possible there will be an open day held there before the big race, so people can check out the track early. We'll keep you posted as we get any further information.
Click here to check out the flyer on our 2003 race calendar.
25/08 Warragul regional day
Warragul as about an hour drive south east of Melbourne, there hasn't been an open event held there since 1987, and the track remains true to the old-school images in conjures up. A six lane gate with manual pedal start, pretty much flat corners and one jump per straight, it brought back many fond memories for me. I started racing in 1981, back in the day where all the tracks were like this. If you weren't there on Sunday you'd probably be thinking how boring the racing might have been, but everyone who attended got something out of this return to roots BMX race. I know I couldn't stop smiling all day. Something I have been trying to organise is a return to roots/old school track style race, Warragul was the perfect track and location for it. Rumour is that there will be another race there next year, maybe a round of the Metro Plate regional series.
There is nothing like a modern track which is challenging, but it's great to take a step back from that and take a look at what it was all like 15-20 years ago, and see how much our sport has developed over the years. Warragul was a lot of fun, I look forward to racing there again.
There wasn't a huge turnout for the regional event, but there were still two gates of the Open Money Class. Old schoolers Shane Jenkins and Danny Galea (racing in his SE jersey) have over 40 years of racing between them, they took out 5 of the 6 moto wins between them. Younger guys Joseph Bujak and Matt Vickers were riding very well, both these riders are improving and will be names to look out for in the near future. Dean Coles was also riding well in the motos. Geoff Tripovich finished out the gate qualifying for the last spot in the final.
When the gate dropped in the final Danny Galea got the snap. Jenkins, Bujak and Vickers had a drag race to the first corner to sort out the second, third and fourth place, because Warragul was a difficult track to pass on, Coles and Tripovich were not far behind. Galea lead the race start to finish, Jenkins tried a few moves on him but couldn't find an opening. Vickers managed to get in front of Bujak and Coles fell in the last corner allowing Tripovich to get the fifth.
Open Money Class
1. Danny Galea (BMXUltra.com/BMXbits.com.au)
2. Shane Jenkins (BMXUltra.com/Supercross)
3. Matt Vickers
4. Joseph Bujak
5. Geoff Tripovich
6. Dean Coles (BMXStars.com)
Click here to check out the full results.
22/08 BMXers dominate Baccus Marsh 4X
We've been taking a bit of a break from racing BMX lately and on Sunday a few BMXers were headed out to a 4X mountain bike race at Baccus Marsh, Victoria, so I thought I'd go, and check out this whole 4X thing that everyone has been talking so much about. Firstly I'd like to say any BMXer who wants to do the same as me is kidding themselves...there's no need to sus the sport out first...just take a bike and compete, there's nothing a BMXer couldn't handle. The track at Baccus Marsh wasn't that difficult, and once you got in front, the race was yours.
In the A grade long time rivals on the BMX bikes Danny Galea (BMXbits.com.au/ BMXUltra.com) and Simon Anderson (GT) looked like they were quite comfortable on the track, but Danny's day was cut short, when he had to race Jane Ollerenshaw off to hospital with a suspected broken collarbone. Simon went on to win the A grade.
Craig Walczuk (Redline/TotalBMX) was dominant in B grade, blitzing the other riders from the gate to the finsih line. It was a bad gear change in the final the lost him the win for the day, after getting out in front for the first half of the track he had to settle for third.
Stephen Robinson (GT) narrowly missed out on the semi final in a competitive C grade class.
21/08 Metro Plate results
This weekend has marked the end of the regional events for Victoria's Eastern Region. There's only 2 weeks to go until the DK National is on at Eastfield, which kicks off the business end of the season.
The Eastern region have sent through the results for the weekend's racing, and the final series results.
Did you make the list?
Bruiser Cruiser (30+ Over open cruiser class)
20/08 PHANTOM LOSES ONE OF IT'S FAMILY
El Cajon, California On August 9, 2003, Jay Wolfe past away from complications arising from thyroid cancer. She was 42. Jay is survived by son Mikey Wolfe, 10x, and husband Mike Sr.

For those of you who didn't know her, Jay was one of the nicest people in BMX. Always willing to give and help, Jay will always be remembered for her upbeat spirit and kindness. You could always count on Jay for support and care if you needed it and sometimes even if you didn't. Jay will be truly missed.

There will be a benefit race at Cactus Park BMX in Lakeside, CA and at Kearny Moto Park in San Diego, CA coming up. For further information or to make a donation for Mikey's trust, please contact team manager Will Rells - Will@bombshellparts.com or call 619-316-4935.
20/08 Warragul entry form
If you are a member of a club from Victoria's eastern region you are eligible to compete at the regional event this Sunday at the Warragul BMX Track. There hasn't been an open meeting at Warragul since the mid to late 80's, it still has a 6 man gate and I'm pretty sure it will be a fun old-school track and relaxed event. If you are looking for an entry form click here to download it from the race calendar.
19/08 UCI BMX NEWS
UCI World Ranking
The UCI BMX World Continental Ranking was finalized with the UCI BMX World Championships. Randy Stumphauser (USA) was ranked No. 1 after the smoke cleared from the Elite Men event at the World Championships in Perth. Stumphauser collected 6'000 Swiss France for his great performance and consistence in the 2003 season. Stumphauser was closely followed by the 2-time UCI World Champion Kyle Bennett (USA) and ranked 3rd, the European dominant Ivo Lakucs (Latvia)
In the women's world ranking, Willy Kanis (Netherlands) was ranked no. 1, with the closest of margin to runner up Tanya Bailey, ranked in 3rd place is the newly crowned World Champion, Elodie Ajinca (France).
To view the final ranking, please visit: http://www.uci.ch/english/bmx/rankings/2002/indexV.htm
UCI BMX World Championships in Perth
The UCI BMX World Championships was a great success with over 1,600 riders from 27 countries. The excellent track constructed in Burswood Dome created some exiting racing in front of the thousands of spectators present. Make sure to read the reports and results on; http://www.uci.ch/english/bmx/worlds_mondiale/worlds_2003/index.htm
Succesfull test of timing equipment
UCI together with AMB Timing, did some extensive testing of timing equipment and transponders, which is planned to be used in future UCI BMX events, such as the UCI BMX Supercross in Woodward, USA later this year. To view all timed events (elite classes) make sure to visit; www.amb-it.com/marketing/UCITest.htm
UCI BMX Supercross, Woodward (USA)
The preparations are in full swing for one of the most exiting BMX event of the year, the UCI BMX Supercross in Camp Woodward 19-20 September 2003.
The UCI online registration is now open for all UCI federations, with a deadline of 5th September 2003. All riders MUST register through their national federation (US riders must contact National Bicycle League). Online registration: http://www.vitesseonline.it/uci/
Please make sure to visit; http://www.uci.ch/english/bmx/supercross/2003/index.htm for the latest information.
2004 UCI BMX Rules
For 2004, the UCI BMX Rule book has been modified. Namely Section VIII.B.3, Section IX.E, Section X.G.1, Section XI. C.7.c, Section VIII.G and Section X.B.2. All changes marked in red (See; http://www.uci.ch/english/about/rules.htm)
15/08 RaceGirlBMX news


Check out our new Racegirl BMX League Ambassador Polo Shirts!! Blue for the Jr. Ambassadors and Red for our Ambassadors!!
Ambassadors - Age 13 and older
The aim of the ambassador program is to encourage, promote and support Racegirl® BMX League, Inc. In addition, healthy lifestyle initiatives for young racers will be modeled which will promote a healthy future for these young people. If you need a lending hand for new riders regarding track awareness, equipment selection and rider skills, click here to locate an ambassador near you. In addition, feel free to post any comments or questions in the Forum in the Ambassador section.
Junior Ambassadors - Ages 8-12
An opportunity for younger girls, ages 8-12 to represent the League in recruitment and welcoming new riders at BMX events. Look for these girls at your local track and at national BMX events. Again, post any questions or comments in the Forum in the Ambassador section.
Do you have yours???
Many thanks goes out to Vicki Maxwell from Exclusive One http://www.exclusive1.net for providing us with these awesome shirts!!
15/08 The Scot Breithaupt interview: Part 3 - About the OM
Ok, I know if, you have been following our interview series with Scot you will notice that we have missed Part 2 - The History of SE. It's not that I don't know how to count to 4, but it is lucky that the interview doesn't have more than 4 parts, it's just that the SE history isn't finished, we'll get it up on BMXUltra.com as soon as it's ready.
Click here to check out part 3 of the Scot Breithaupt interview
14/08 Specialized 2004 Hemi prototype
I don't know a great deal of detail about the 2004 Hemi that Specialized riders Brandon Meadows and Mike Fenwick were riding at the 2003 World Championships. But I saw Brandon's bike in the spectator area and thought I'd check it out. It looks good and after watching those guys rip it up at the very technical track at Perth it obviously rides well.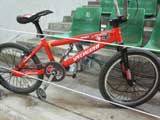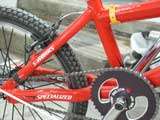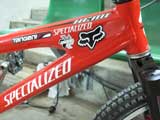 13/08 Victorian 4X championships
It seems that a lot of BMXers are turning to 4X Mountain biking for a bit of fun these days, or at least talking about it. And those riders that have been to Trafalgar, just out of Moe, about an hour and a half drive south east of Melbourne just don't stop talking about it.
This is the closest thing to downhill BMXing that amature BMXers will have the opportunity to ride, with huge jumps and newly widened straights.
There are 3 classes for 18&Over men, A, B and C grade, also 17&Under men and womens classes.
The Victorian 4X championships will be held on October 5th, for photos of the track and full details check out the website at www.vicnet.net.au/~fourx.
13/08 The Scot Breithaupt interview: Part 1 - How did BMX begin
By now you should have seen the teaser (photo gallery) for the interview with Scot Breithaupt, the undisputed founding father of BMX. We have finally finished off the first part about the history of BMX, which sets straight some conflicting reports of what date BMX actually started. The rest of the interview which talks about SE racing and Scot, the man himself, will follow over the next week.
Click here to check out part 1 of the Scot Breithaupt interview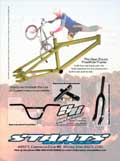 12/08 Staats/Supercross ad preview
Every once in a while we get our hands on some spy shots of new products, previews of up coming ads, that kind of thing.
Instead of leaving them sitting in our email we usually prefer to share them with our readers.
This ad is the new Staats ad for BMX Plus magazine which features Supercross components such as handlebars, forks and cranks.
It's no secret that the Staats team riders are using Supercross components. Staats Pro rider Mike Day placed third on the weekend at the X-Games downhill BMX, running Supercross forks.
For more information check the Staats website at www.staatsbikes.com and Supercross at www.supercrossbmx.com.

12/08 Sharp BMX Industries official press release:
Nor Cal local Brandon Meadows has been on a mission. The X games VII winner backed up his performance with another win at this years X games IX. Debuing his new pimped out signature series six star General 44 tooth sprocket, Brandon showed no signs of slowing down any time soon.Props goes out to the AA pro on his X games Gold medal.
Sharp would like to congradulate Mike Day(Staats) as well as (TL) Todd Lyons (SE) on the main event performances. Sharp Bmx Industries is proud to support some of the fastest riders in the sport of bmx, and will continue to help atheletes achieve their success.
Brandon Meadows and Sharp Bmx Industries are proud to introduce the limited edition
Sinature series Brandon Meadows Six star G. Made from certified 7005 series Aluminum, and are available in two tone red. Sold at finer shops world wide or on the web at www.sharpbmx.com
12/08 GT's Michael "Tiger" Robinson on TV
GT's Michael "Tiger" Robinson will be on a new Australian kids TV show call HOT SOURCE.
Tiger will be having a bit of a chat with the team at HOT SOURCE, which will be shown on Thursday 4th of September at 4pm on channel 9.
11/08 Interview teaser: The Scot Breithaupt Old-School photo gallery
Scot Breithaupt is the undisputed founding father of BMX, we have been promising an interview for a long time, and it's just about here.
As a teaser to the Scot Breithaupt interview, which should be finished some time this week, I have posted the photo gallery which is full of photos and captions supplied by Scot himself.
Click here to check out the Scot Breithaupt Old-School photo gallery

08/08 MCS Press release: Amanda Geving in People Magazine
In the August 11th issue of People Magazine, they did an article about young athletes. MCS Bicycles' Amanda Geving was one of the riders choosen to be apart of the article. It shows that we (BMX) as a sport are getting more recognition as an official sport. Every little bit helps. We congratulate Amanda for everything she has done. We are proud to have her as a part of our program.
08/08 2004 GT Sneak Preview
Here's a little sneak preview from GT's 2004 product range. The Power Series 24 inch (6061-T6 aluminum, Euro Bottom Bracket, 22 inch top tube) is going to retail at AUD RRP $799 complete and the 16 inch Bestwick (3 main tube cr-mo, alloy rims) will be AUD RRP$299.00.
We are told that the complete 2004 range will be on display at the Bicycling Australia Bike Show in Sydney in September.



07/08 DK Spring Nationals entry form
Australia's national pro series, the DK Spring Nationals, presented by BMXCentral/BMXPress, are on at Eastfield again on the 7th of September. If you missed it last year make sure you get along to this one. Click here to check out our 2003 race calendar for details and entry forms.
07/08 SeanDwight.com press release
Congratulations to Kyle Bennett, who has just claimed his second consecutive UCI World Title at the recent UCI World Championships in Perth Australia. Kyle is also sitting at the top of the NBL AA Pro points and is looking forward to defending his number 1 plate at this months NBL Grand nationals.
Kyle has tasted a lot of success over the last 2 short years, here are a list his major career achievements so far.
UCI World Champion 2003
Red Bull One on One Intercontinental Shootout Champion 2003
NBL # 1 ranked Pro 2002
X-Games Silver medalist 2002
UCI Ranking series winner in 2002
UCI World Champion 2002
ABA #4 ranked Pro 2002
Kyle's ongoing success is a direct result of the scientific training programs designed specifically by Sean Dwight Training Systems.
You've got to train hard to get to number one, and the popular belief is that you've got to train TWICE as hard to stay number one. Sean Dwight Training Systems can show you how to train SMARTER and get the edge on your competition!
These training programs are not just for elite in our sport. Careful planning, specific exercises, and a scientifically designed overall program can help all riders become faster, stronger, and more consistent in their performances. Sean Dwight Training Systems are now pleased to offer these training techniques to racers all around the world.
Check www.seandwight.com for further details
06/08 Sunbury Results
The Northern Rivers regional championships series concluded in Sunbury on Sunday. The track was in good shape considering the heavy rain in the week leading up to the event. On the day the weather was great, blue sky, sun...but a freezing cold and quite strong wind, it didn't take long for the crowd to pull down their tents. Entries were down a little on previous rounds of the series, I think it would be safe to say that a lot of riders are taking a break after the worlds.
There were 2 seperate money classes for the day, the top 8 from the series went into a 5 moto final, and the others got to fight it out for a pay back pool.
In the series final racing was close, by the final round only a couple of points seperated the top 3, Collins, Tuckerman and Slatter and any of them could win. But it was Collins who won by 1 point in the end. Tuckerman beat Slatter on count back, Robb finished a comfortable 4th. May, Jenkins, Carey and Carra were battling it out for the last 4 places. Jenkins was looking the goods in the first two rounds but started to fade, just as May seemed to find his groove. Carra and Carey are both improving and had some good rides in a strong field...keep an eye out for those two in the upcoming events.
In the money class for the day Harvey had the win comfortably, Page was riding well but there were a bunch of guys giving him trouble...Slatter and Jeffree are both improving they each beat page in a moto. Merritt was riding well too getting in amongst it after being off the bike for a while.
Money class series final
1. Levi Collins (Sinister Racing)
2. Brock Tuckerman (Sinister Racing)
3. Robert Slatter ( Profile/ECI)
4. Adam Robb (Redline/TotalBMX)
5. Nathan May (Sinister Racing)
6. Shane Jenkins (BMXUltra.com)
7. Adam Carey (Sinister Racing)
8. Grant Carra (100% Cycles/Bicycling Direct.com)
Money class final (for the day)
1. Tony Harvey (S&M/ECI)
2. David Page
3. Brian Slatter (MBC)
4. Brenton Clark
5. Craig Merrit (Dirt Designs)
6. Ahron Jeffree
7. Daniel Stocks
8. Darren May (Sinister Racing)
19&Over womens cruiser
1. Ruth Weber
2. Christine Kelly
3. Karen Turner
4. Petina Pert
5. Catherine Meredith
6. Sue Crawford
05/08 Victorian entry forms for Lalor and the Cash Dash
Are you looking for entry forms for this weekend at Lalor? Want to find out what's going on this year for the Cash Dash? Click here to check out our 2003 race calendar for details and entry forms.
05/08 MCS Press release
NBL Worlds: Richardson Takes 4th, Geving gets 5th!
At this years NBL Worlds in Australia MCS had two riders in attendance, Jason Richardson and Amanda Geving. All did not start off to well for Jason, he crashed pretty bad at the pre-race and tweaked his neck a bit but with a little therapy and some rest J-Rich was back and ready to go. When all was said and done Jason nabbed the 4th place spot with Kyle Bennett taking the win, Stumpy in there for 2nd, Robert DeWilde was 3rd. Behind Jason were Leveque, Meadows, Bootes and Allier. That is one tough main.
Our other world traveler Amanda Geving had some trouble on the cruiser but pulled it together for a 5th in her class main. Not exactly what she wanted to get, but we¹re proud of her none the less. Amanda is also going to be featured in an upcoming issue of "People" magazine. So check it out our blonde speedster is gonna be a celebrity. She rocks!
We would like to thanks our team sponsors: Odyssey, Answer, Profile, Sun rims, ACS, Hammer Bodywear, UGP, Diatech, Hot Shoppe and ATI.
05/08 Bully Press Release
Paul Kitner qualifies for X-Games!!
At this years CFB (Mat Hoffman's Crazy Freakin' Bikers Series) held at Stallion Springs/ Tehachapi, CA. on July 17-20, 2003 qualifing was going on for the 2003 X-Games. With over 40 riders in Dirt it was going to be tough. Also take into consideration that we were just hours away from the mecca of
the dirt jumpnig world, Southern California. Each group seemed like a final at any normal contest. The judging must have been tough, everyone seemed to be bringing their "A" game. From the BULLY bikes camp we had Chris Gerber, Jacob Marks, Paul Kitner and David Healy.
In Pro Dirt after the runs were over and all the scores were totalled. VANS/Bully rider Paul Kitner qualified for the finals, finishing 9th overall. Gerber qualified 16th, just missing the cut. Whitesnake (a former Bully rider) also made the cut to the finals and they both got an invite to the X-Games in August.
In Pro Street, the entire course was made of wood, all the transitions, the flat, the bowls ... Everything! It was something just to check out the course, let alone watch the riders on it. Gerber finished 18th, again just missing the cut, and Jacob Marks got 33 out of 52 riders.
On the Amature side of things, in his last year as an Am, David Healy took home 3rd place in Amature Dirt. In Street David rode very well, coming up with some creative and original lines, he finished 7th out of 42 riders.
As always we would like to thanks our team sponsors: Odyssey, Profile, Sun rims, Hammer Bodywear, Diatech, Answer and ODI.
05/08 Some useless trivia from the UCI worlds
Over the week of racing in Perth I took down a bunch of notes, and thought I may as well share them with you.
When the World's were in Australia last in 1998, the venue, Melbourne's Sports and Entertainment Center, was too small and many found the track not up to scratch for numerous reasons.
This year Perth's Burswood Dome proved more than adequate. The track was a vast improvement on Melbourne. The design was credited to Taylor brothers, Mark and Scott (scotttaylorBMX.com), these guys are known as 50/50 racer/dirt jumpers, and it came across in the design.
There were mixed feelings about the track some comments l overheard included;
"The track is too hard for a world's track"
"The jumps in the first straight are the biggest l have ever seen anywhere"
"The track should have been built by 100% racers"
"It's just a race track with dirt jumps"
Personally I believe the guys did a great job. This was the perfect stage for the world's best professional riders to show off their skills. There were about 750 riders from Australia, and a strong international contingency, made up of around 100 New Zealanders, a large number of riders from various European and Latin American countries. Entries from USA and Canada were down on previous years, but the riders who did compete were very strong.
Khalen Young (Pro Concept), the back-flippin' giant-killer, helped out an Argentinian rider who snapped his frame in practice by giving him a new frame and getting him back out on the track. The Argentinian crew were so appreciative they gave Khalen a national team jersey.
Mike Gul (Enigma) lost a tooth, his wallet and his hair on his way to the World Championships in Perth.
Market trends have changed some what, there seemed to be a move away from larger brand-name bikes, after having a quick look I'd have to say the break down of bikes in order of popularity went something like this;
Redline
Norco
Crupi
One
Specialized
Felt
GT
Mongoose
DK
Freeagent
Supercross
Profile
S&M
Clayborn
Nirve
Staats
SE
MCS
Enigma
Giant
Webco
(there were also a bunch of European and Latin American brands that I couldn't recognise, and probably a couple I have forgotten)
In the carbon/alloy fork market it went a little like this;
Answer
Marzochi
Bombshell
One
Pazzaz
Did you know that BMX Australia are planning to bid for the 2006 World championships, from what we hear there will be some competition from Argentina and the USA.
All the commentators were from Australia, even the Americans needed a translator to understand what they were saying.
05/08 UCI Worlds challenge class photos
We have got our UCI Worlds challenge photos finished now, still more to come. Click here to check'em out.
04/08 UCI Worlds cruiser class photos
We have got our UCI Worlds cruiser class photos finished now, still more to come. Click here to check'em out.
01/08 UCI Pro shootout photos
We have got our UCI Pro shootout photos finished now, still more to come. Click here to check'em out.
Last updated: Thursday, 2 April, 2009 7:33 AM