BMX news for September
BMXUltra.com is aiming at bringing you the most up to date BMX news from around the world, if you have anything that might be of interest feel free to e-mail us at webmaster@bmxultra.com
Don't forget to press the refresh button on your browser when you're looking for the latest news.
30/09 Lilydale results
On Sunday the Lilydale BMX club, in Melbourne's far eastern suburbs, hosted the Smart Start Spring Cup. There was $1,500 in prize money to be divided up over the top 16 riders. Which was enough to attract a very strong field. The track wasn't quite up to standard, there had been a lot of rain over the past couple of weeks and it was patched up, but the surface was very loose, and in particular the corners. While it may have been great for spectators, some of the riders paid dearly.
Racing was very tough, some of the regular finalists who didn't make the top 16 included AA Pro Dean Beerens (Top Gear/GT) and fellow Park Orchards club member A Pro Shane Jenkins (BMXUltra.com/Supercross).
Young Adam Carey and local boy Matt Vickers had a close run off for the last spot in the semis, but Vickers' home track advantage that proved too much for Carey.
The semi finals showed just how cut throat the tight last corner was, taking riders like Jonathan Hoare and Matthew White victim, they had to settle for the consi final.
In the main event Harvey didn't have it all his own way, Galea has found form and was a good chance for the win, but when the gate dropped Harvey got the better start and Galea had to settle for second.
Pro (14& Over) Open final
1. Tony Harvey (S&M/ECI)
2. Danny Galea (BMXBits.com.au/BMXUltra.com)
3. James Hollings (Top Gear/GT)
4. Scott Lacey (Felt/BMXBits.com.au)
5. Trevor Stamford (Dingo)
6. Robert Slatter (Profile/ECI)
7. David Page
8. Levi Collins (Sinister racing)
Pro (14& Over) Consi final
1. Matthew White
2. Jonathan Hoare (KHS/Fox)
3. Aaron Jeffree
4. Nathan Barker (Diamond back)
Sorry I don't know how the rest finished, but included Matt Vickers, Charles Nelson, Nathan May and Jarrod Khal.
For photos from the event check out www.bmxstars.com
30/09 Cash Dash entry forms/information
Melbourne's most prestigious and longest running event, the Cash Dash, is just around the corner. As per usual there's the coaching clinic the Saturday before, with Norco's Luke Madill. And as you have heard there's the "World Sidehack GP" during the lunch break which should be quite a novelty, apparently there are already 6 teams entered for the event. If you are after further information we have it all here, either check out the racing calendar or go directly to the links below.
29/09 Some say go west, Supercross goes east!!!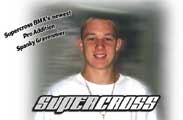 Santa Clarita, CA - Supercross BMX is proud to announce the formation of the Supercross NBL team with the assistance of their new East Coast Distributor Florida's own Performance Bicycle supply!!
The first rider signed to the team is none other than Florida's own Spanky Gravenmier!!
We are proud to welcome Spanky to the team to join the 4 man pro program already in existance. With Spanky and the rest of the NBL team, Supercross BMX will now have more visability on the East Coasts NBL scene and will have 1 or 2 day shipping from the new Distributor Performance Bicycle Supply so the entire country can have immediate supply of Supercross BMX products.
Look for Spanky on the new 04' UL series line of frames and complete Supercross program of Performance Parts by the Albany, GA Fall Classic Oct. 25th!
The 5 Man Supercross Pro Team is Jan Baltzersen AA Pro, Randy Roberts A Pro, Thomas Fernandez A Pro, Henrik Baltzersen Elite and Spanky Gravenmier Elite.
Supercross proudly uses Answer Clothes, Crank Bros. Pedals, Pauls Brakes, Voler Jerseys, Thomsen Posts, SDG Saddles, Lizard Skins Pads and Plates, Moto Mag and IDC Photography
26/09 Women's Sports Foundation sponsored mentoring program~ GoGirlGo
Thanks to all the girls that attended the Arizona chapter of the GoGirlGo Program!! Girl Pros Alice Jung and Kim Hayashi helped lead the GoGirlGo meeting and discussions on "body image" issues:) Like one of the Girls said "it was like a 2002 version of Brownies..but cooler!" another quote" it was nice to see both my track and school friends together" Then the wild group played "who could get the wettest on the bumper boats" and then "slip and slide on miniature golf"..ending with the arcade!! All the all the it was nice to see the support of the parents ..Alice and Kim providing the role models that the sport needs ...and bringing together the girls that race with the girls that haven't started racing yet:) That is the outreach spirit of the Racegirl BMX League.."we are all connected" The GoGirls Guide to Life serves as an educational tool and training diary in which champion female athletes deliver messages on sports, fitness, training, nutrition and stories of the ways in which they have confronted health-risk situations. These stories provide the basis for weekly/monthly discussions during the sport season on risk behavior topics, team building and role modeling activities that encourage personal responsibility to self and teammates. Join us as we become part of the Women's Sports Foundation sponsored mentoring program, for a GoGirlGo group near you: http://www.racegirlbmx.com/Outreach.htm Many thanks again to all our sponsors,Racegirl BMX League, Racegirl International, Answer BMX, Lizard Skins, Sharp Products, and Mercury Sport Drink for all their continued support!!!
26/09 ABA TO COMBINE OLDER EXPERT CLASSES?
Thats right, there's been a rumor floating around the ABA circles that the powers-that-be are considering combining the older expert riders into a 17-24 "Mega-Class." Why you might ask? Well how about this - consider a class with Jason Rogers, Mike Lundy, Mike Hughes, Matt Faulk, Andre Ellison, Sean Storms, Trevor Cummings...you get the idea. Talk about one of the most exciting classes in the sport! Once again an older amateur could be National #1. There would be something "in it" for the older amateurs to race for and not feel like they have to turn pro. Let's face it, we've seen enough amateurs that weren't quite ready for the Pro ranks try to make it in the Pro class. How about giving the younger ams something to look forward to and not be "washed up" at age 13 having won the Amateur #1 title already then having to wait another five years to turn pro. From the business side of things, how about keeping the older guys involved longer and not drop out at age 19 only to come back at 27? There would be more sponsorships available to older amateurs as the 17-24 class would definitely be one of the strongest on the team sheet. That livens up that over-17 and under-26 age group for those of us trying to sell parts to the BMX commmunity. Any way you cut it, it's good for BMX, and if it's good for BMX, I'm all for it. Everyone who has an opinion should send e-mails to Shannon Gillette at the ABA at shannon@ababmx.com, but do it right away! The ABA is meeting next week (30 September 2003) to vote on this!
25/09 Calling all Aussie pros: Manly fund raiser
Manly Warringah BMX Club, in News South Wales, is currently organising a BMX Pro auction where all AA Pro racers and the top A Pro racers are being asked to donate a personal item which has some special significance ( a signed race jersey they may have won an aussie title in for example ). All items will come with a signed verification of authenticity.
They will be auctioned off at an organised dinner two nights before the aussie titles in Adelaide at a venue somewhere near the track, yet to be decided.
The money raised, hopefully $5000 plus, will go towards an open event at the new Manly track later that year. We are also hoping to have a sponsor come on board to match the prize money dollar for dollar to make it a $10,000 prize pool, the biggest in Australia in nearly 20 years [BMXUltra.com note: Logan City, Queensland, in the mid 80's also had $10,000, but no female pro class].
As the auction items are collected they will be put on the Manly Warringah web site for viewing by potential buyers at the auction.
For more information contact Glen Moore at MYXFACTOR@aol.com.
24/09 Avent/Bombshell in Australia
Until now most Australian's have only read about Avent frames and Bombshell parts, soon they will be available at local bike shops. The guys at Elite Cycle Imports have penned a deal with Avent/Bombshell which means they will be sole distributor for Australia. The inside word is they will be in Australia in about a month and at great prices.
For more information about Avent/Bombshell check out www.bombshellparts.com, and for more information about Elite Cycle Imports check out www.ecibmx.com.
24/09 BMXPros.com: UCI BMX Supercross BMX Downhill
Woodward Camp, Woodward, PA September 21, 2003
For 2003, the UCI had planned a new BMX series to showcase the skills of today's top Pro riders, called the Supercross of BMX race series. A downhill format BMX race with huge jumps and fast speeds, made for TV to help further promote BMX all over the world. The Supercross of BMX inaugural race was held this past weekend at the most amazing BMX facilities in the World, Woodward Camp in Pennsylvania. The location of the first 2 X-Games BMX downhill events, had a slight makeover since the last BMX downhill event, and the course was better than ever. As the riders arrived on Wednesday, they could not believe their eyes, as they looked at the Best BMX track ever built. Unfortunately, the rains from Hurricane Isabel set into Pennsylvania on Friday, putting a huge damper on the race, as the track would soak up a lot of water. It took until Sunday afternoon before the track was in racing condition, and then the riders took full advantage of riding on the awesome Woodward track. Once again, the NBL and UCI staff did and unbelievable job of getting a wet track into racing condition. The elimination style BMX race kicked off on Sunday afternoon, and 2 of the BMXPros.com riders were there to try their hand at downhill BMX once again.

Randy Stumpfhauser who was just coming off winning the NBL Grands, as well as the NBL title and just winning the ABA Gold Cup Day 1 race last weekend, was looking forward to the UCI race. Stumpy, who has made the main event at each of the BMX downhill events he has entered, looked flawless around the Woodward track each time he rode. Randy easily transferred his way into the main event and was determined to win this TV event. As the gate dropped, Stumpy had a good start and was battling for the lead going into the first turn. Just before the turn, Stumpy was starting to make his move into the lead, until another rider crossed his line, and Stumpy had nowhere to go but down. To make matters worse, Randy as well as his bike were run over by another rider, and resulting in a sore back and a flat tire. Randy wound up 8th for the day, but more importantly, he will be ready to race again, next weekend at the ABA Gold Cup west race. Randy currently sits 4th overall in the ABA title chase, and is looking to add title #4 for the 2003 season. (NBL #1 Pro, UCI World Ranked #1 AA Pro, and UCI Cruiser World Champion) Randy's sponsors include Huffy Bicycles, Fox Racing, AC Components, IRC Tires, Smith Eyewear, Alex Rims, Thomson Seatposts, S & M Forks and Bars, ODI Grips, BMXpros.com, Champion Nutrition, Alex Rims, Shimano, Vans, and CTI Knee Braces

Wade Bootes made the trip for the UCI race from Australia and was ready to better his 2002 X-Games performance of 4th place on this very track. As Wade rode the track in practice, he looked smoother and faster than ever on his BMX bike as looked to be one of the favorites for the main event. Unfortunately, Wade had a bobble in the first round of competition and just missed out after a miraculous come from behind race, just missing the transfer spot by near inches. Wade looks forward to a few weeks off, after a season filled with injuries but still being able to finish the UCI World Cup 4X series in 4th overall and placing 5th overall in the UCI World BMX Ranking. Wade sponsors include Trek/Volkswagen, Azonic, O'Neal, Oakley, IRC Tires, AC Components, ATI, Toolshed, Powerbar, Thomson, Bombshell, WadeBootes.com, and BMXpros.com.

UCI BMX Downhill event results
1st Robert DeWilde (Ned)
2nd Robbie Miranda (USA)
3rd Michal Prokop (CZE)
4th Roger Rinderknecht (SUI)
5th John Purse (USA)
6th Paul Lange (USA)
7th Tyler Brown (USA)
8th Randy Stumpfhauser (USA) HUffy Bikes
BMXPros.com proudly represent Wade Bootes, Dale Holmes, Christophe Leveque, John Parker, Stephane Roncada, Jamie Staff, and Randy Stumpfhauser.
For more information on any of the BMXPros.com riders or inquires about sponsorship, please visit BMXPros.com.
23/09 World Sidehack Grand Prix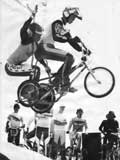 Here's one for all the old schoolers out there. We were asked to help promote "The World Sidehack Grand Prix", an upcoming sidehack event to be hosted by one of Australia's oldest clubs, the South Eastern BMX club in Melbourne's Eastern suburbs. The event will be run in conjunction with one of Melbourne's most prestigious and longest running events, the "Cash Dash". Organisers are confident they can rustle up a few of those old schoolers out there that still have a sidehack outfit and persuade them to drag their units along for a 2 moto shootout, they will have prizes/vouchers etc for place getters. If you are interested in participating you can contact Colin Forster on 0407 518 200, or by email mrmx@bigpond.com
22/09 OP GIRLS LEARN TO RIDE
TO HOST "OP GLTR ALL-FEMALE WEEKEND" AT WOODWARD WEST CAMP IN STALLION SPRINGS, CALIF., OCT. 17-19, 2003

Camp Will Give Females Instruction in Skateboarding, BMX Riding, Mountain Biking, Inline Skating, Gymnastics and More
LAGUNA BEACH, Calif. (Sept. 22, 2003) -- Op Girls Learn To Ride (Op GLTR), the original series of girls-only action sports clinics, today announced it will be host the "Op GLTR All-Female Weekend" at Woodward West Camp in Stallion Springs, Calif., Oct. 17 to 19, 2003.
The Weekend will be the first of many camps Op GLTR will be holding in conjunction with its new partner, Woodward. The Woodward West Camp in California and the Woodward Camp in Pennsylvania are considered the premier action sports and gymnastic facilities in the world. Woodward instructors are some of the best athletes in their respective sports, counting among them Olympic medalists, X Games champions and world champions.
The Op GLTR All-Female Weekend will provide instruction for all skill levels – from beginner to advanced – in skateboarding, BMX riding, mountain biking, inline skating, gymnastics, tumbling and cheer skills. There will also be instructional sessions in flexibility, dance and strength development, as well as cross flip – instruction focused on developing flipping and twisting skills for action sports such as snowboarding and BMX riding. The weekend will include instruction, accommodations and meals, and evening activities including a pizza party, bowling, dancing, tennis, swimming, movies, seminars, a women's social hour and more.
The Op GLTR All-Female Weekend at Woodward West Camp is open to girls and women ages seven and older, with special programs provided for women 18 and up. Registration for the camp includes instruction, accommodations, meals, evening activities, a souvenir T-shirt and a gift bag. The camp will take place from 5 p.m. on Fri., Oct. 17 to 1 p.m. on Sun., Oct. 19. Two all-inclusive packages are available for the camp: $170 for two nights lodging in Woodward Cabins, which is open to all ages, or $210 for two nights lodging with double occupancy at The Lodge at Woodward West, which is open to women ages 18 and over. A portion of each participant's fees will benefit the Boarding for Breast Cancer Foundation, a nonprofit, youth-focused breast cancer education and awareness foundation. The event is sponsored by Op, Woodward West Camp, Gallaz, Cherry Skateboards, "SG: Surf Snow Skate Girl Magazine" and withitgirl.com.
To register for the event, please visit the skate section of www.opgirlslearntoride.com or call (949) 499-4587. Participants should bring their own equipment (e.g., skateboard, BMX bike, mountain bike, inline skates), helmet and knee and elbow pads. A limited amount of equipment will be provided for participants to use for the weekend. Woodward West Camp is located at 28400 Stallion Springs Dr. in Stallion Springs, Calif. The camp may be visited online at www.woodwardwest.com or contacted via telephone at (661) 822-7900.
About Op Girls Learn To Ride™
Op Girls Learn To Ride™ (Op GLTR), the only series of girls-only action sports clinics, is designed to give females of all ages the basic skills and confidence necessary to participate in skateboarding, surfing, motocross, wakeboarding, and snowboarding. In this program, skilled professionals provide hands-on training with an emphasis on safety and skill development. Now in its fourth year, Op GLTR has taught thousands of girls and women a new action sport. The program will host 50 events throughout the United States and Canada in 2003. For more information, please visit the event Web site at www.opgirlslearntoride.com.
About Op
Launched in 1972, Ocean Pacific Apparel Corporation (Op) was the first surfboard manufacturer to create an apparel line to meet the demands of surfers, in and out of the water. The brand was the first action-sports company, the progenitor of "West Coast living," and the originator of what is now known as the "active lifestyle industry."
The Company now stands as the largest privately-held and most recognized action sports apparel brand in the world, and proffers a broad array of product extensions targeted at the youth culture and its attendant preoccupations—surf, skate, snow and style—for both males and females, the young and young-at-heart.
Through manufacture of goods ranging from apparel and footwear to fragrances and accessories, and sponsorship of world-class sporting events and athletes, Op continues to remain true to its mission: to create quality active-lifestyle products with genuine value, authenticity and style.
19/09 Avent Cycles To Debut New 2004 Donny Robinson Signature Series Bikes
Avent Cycles, maker of arguably the best-selling BMX frame on the market for the past two seasons, plans to introduce a new complete-bike line featuring signature models from AA Pro "dR" Donny Robinson. "Donny Robinson has a reputation for quality and high standards that fit the kind of products that we are trying to bring to the market. It is only fitting that a pro of the people represents our new venture into complete bikes," stated Bombshell / Avent Marketing Director Will Rells. Four sizes, Mini, Expert, Pro, and Cruiser, are due out at two different price-points. The $259 models will feature sealed-bearing, three-piece, lightweight chromoly cranks, all-chromoly frame, forks and bars. The $369 version features a sealed, cassette wheelset, internal headset, European bottom bracket, sealed, three-piece chromoly cranks, and a lightweight aluminum frame. All specs and dimensions were personally hand-picked by "dR" himself. Both bikes will feature Maxxis Tires. These bikes will join Avent's "MAC" series of complete dirt jumpers.

Also new for 2004 is the new "Morpheus" frame line. Secretly tested (with great success) by Avent Pros at corporate proving grounds somewhere in the Kalahari desert, this top-of-the line frame series features Avent's exclusive carbon-fiber top and down tube technology. "We tested the crap out of these frames and haven't had any problems. We've had some burly guys on the XXL and the frame lived through everything we threw at them," stated Rells. Built tough with CNC-machined headtubes, seat-stay and chain-stay yokes, integrated chain tensioners, and Euro bottom brackets this is definitely the frame of the future. The "Morpheus" frame line will be offered in the same sizes as the original Avent frames (with all new geometries) including the new Junior size and Pro Cruiser featuring a 21" top tube and shorter chain-stay length

Also new for 2004 is Bombshell's new handlebar line the "Love Handles." So far the aluminum Junior and Expert bars are available with a Mini, Pro, and Pro Cruiser on the way. Bombshell is also pleased to announce the long-awaited debut of the carbon-fiber expert and expert cruiser Tribal series forks. About time you say? You speak, we listen! All forks will be offered in red, blue and black.

What else is new for 2004? How about a new Avent/Bombshell Factory team! That's right, Bombshell has finally decided to step up into the Factory ranks and field it's own team. Headed by AA Pro superstar "dR" Donny Robinson, the roster is TOP SECRET, but the word on the street is that this team is full of ALL-STARS and WORLD CHAMPIONS. When asked about the new team, Rells stated,"NO COMMENT!" With sponsors like Fly Racing, Tangent, adidas Cycling and Eyewear, FSA, and Maxxis Tires just to name a few, this team is ready to rock both ABA and NBL nationals in 2004! Keep your ears and eyes open for the latest developments regarding this super-team!

Check out www.bombshellparts.com for the latest and greatest in BMX technology!
19/09 Review: Crusty Demons 8
Here's something I thought some of you might like to know about, it's the latest video in the Crusty Demons series. It continues along the lines of the lifestyle stuff that we started with the CD reviews a little while back.
Click here to check out the review.
18/09 Khalen Young's new sponsor
It seems that Western Australian AA Pro, Khalen Young, has made his move to Sydney and is already making a big impact. He's no longer racing for Pro Concept/ECI. His major sponsors now are LJS Macarthor bikes and boards (www.ljsmbb.com.au) and Sean Dwight Training Systems (www.seandwight.com).
18/09 BMXTrainer.com clinics @ NSW State Champs track!
Grant White in conjunction with the Lake Macquarie BMX club, is holding two NSW State Championship preparation clinics on Saturday 27th September. Clinic times are 9.00am - 11.00am and 11.00am - 1.00pm.
Check out http://www.bmxtrainer.com/Lake%20Macquarie%20Clinic%2027th%20September.htm for full details.

Positions are limited to 16 athletes per session. Book now to avoid disappointment!!
16/09 Bellarine entry form
The Bellarine spectacular is on this Sunday the 21st. We we have been told that they will accept entries via email and phone right up until Midday Saturday. Email entries to bellbmx@hotmail.com or phone (03) 5248 4776.
To download the entry form check out our race calendar.
16/09 AVENT'S DONNY ROBINSON WINS FIRST ANNUAL 'TANGENT PRO-AM SPECTACULAR' Roseville, California - Amid, blue skies and 90 degree temperatures, BMX'ers found their way out to Oak Creek BMX in Roseville, California just outside of Sacramento for the ABA's Northern California State Championship Final. Also on the agenda was Tangent Products' own Pro-Am Spectacular. Three of the local AA Pros, Paulie Lange, Brandon Meadows, and "dR" Donny Robinson showed up to take on the Nor-Cal amateurs for $1000 in cash, a brand-new snowboard from Ride Snowboards, and a host of other prizes from Fly Racing and Bombshell Products. Michael Hughes, Scott Smith, Josh Oie, Kyle Biagi, Dustin Black, Trevor Cummings, Andrew Mayfield, Rick Lowery, and Joey Bradford were just some of the amateurs looking to take the top prize. With three full racks and so much on the line. this was definitely a race everyone was taking seriously. In the main, "dR" had lane 8 and blew his gate coming out in last. Out of the first turn "dR" had moved up to 5th and was closing in fast. In the third straight, he flew by Mike Hughes into 3rd. Paulie and Meadows were battling for first and B-Med went down in the last turn. "dR" turned it on in the last straight and passed Paulie by an inch at the line! "dR" took hoime the dough and the snowboard and is the first official "Tangent Pro-Am Spectacular" champ!

Donny Robinson proudly represents the following sponsors:
Avent Cycles (aventcycles.com), Fly Racing (flyracing.com), adidas Cycling and Eyewear (adidas-usa.com), Answer Products (answerproducts.com), ODI Grips (odigrips.com), Tangent Products (tangentproducts.com), EVS Speed Equipment (evs-sports.com), MarwiUSA Ti Spokes (marwiusa.com), Velocity Wheels (velocityusa.com), United Brands Co. proud makers of US Energy Drink and Synergy Sports Drink (unitedbrandsco.com), Bombshell Racing Systems (bombshellparts.com), FSA (fullspeedahead.com), ACS (acsbmx.com), and SPY Racing (spyoptic.com). Support the companies that support BMX
15/09 Supercross ships 2004 Pro LT Expert & Mini forks


Santa Clarita, CA - Supercross BMX is now shipping their new 04' Supercross Pro LT/Expert and Jr./Mini forks. Utilizing the same proven technology of the Supercross Pro and Cruiser forks of a full seamless aircraft grade 4130 cro-mo with a post weld heat treat and stress releavement which has proven themselves as super strong and super light (and was given a 10 out of 10 by Transworld in their April 03' issue) just brought down for the littler guys. The Pro LT/Expert fork is a 1 1/8" steer tube with a tapered and butted leg that goes from 1 1/8" at the crown area to a svelte 1" at the dropout weighs in at 24.5 ounces , the Jr./Mini fork is a 1" steer tube with tapered and butted legs that start off at 1" at the crown and taper to 7/8" at the dropouts and weighs in at 19.5 ounces. Testing on these forks has been going on by Staats and Supercross riders for the last year and are now ready for the publics use. Available at all your finer BMX dealers. Available in Gloss Black only with a MSRP of $129.95. For more information please visit your local dealer or on the web at www.supercrossbmx.com
12/09 World BMX Championships on free-to-air TV
Steve Hunter has informed us that Australian national TV channel 10 have announced they will be airing the World BMX Championship on Sunday 16th of November at 2 pm. The program is set to run for an hour. Other countries will have to check their local listings.
11/09 Eastfield DK Nationals report (Part 2)
19 riders contested the pro open at the DK nationals. The field was made up mostly of AA pros with four A pros stepping it up. Racing was so close that even the likes of Michael Robinson missed the cut for the main. Others who joined him as a spectator for the final included Victorian's Simon Anderson, Dean Beerens, James Hollings and Danny Galea.
After a crash in the first moto Luke Madill came back to win the following 2 motos and set himself up as a favourite for the main. Scott Taylor was riding like a man posesed, he was the #1 qualifier for the main and looked the goods for the win, but he was hurting from all the motos of the 2 classes. We spoke to Mike Fenwick earlier in the day and he was very keen to rack up a win at a DK race. Tony Harvey also had a fall in the motos, he looked determined to back up his performance at the same event last year. Darren Hawkins has been impressive lately you could never count him out. Victorian youngster Jonathan Hoare had a lot to smile about this weekend, has been spending the last couple of months following Tony Harvey on the track and each time has been getting that little bit closer, a lot less experience than the others but has the potential to steal a win. Daniel Johnstone was consistant in the motos and was a good chance for a podium finish. Levi Collins proved himself in the motos, he would be an outside chance for a podium finish.
When the gate dropped it was all Madill, Taylor went with him, and very nearly got him down the first straight, but had a lane on the outside of Madill and had to file into second on the first corner with Fenwick all over his tail. Harvey and Hawkins were trying to find a way in to a podium position but couldn't get there. Hoare, Johnstone and Collins had to settle for a respectable 6th to 8th but you can be assured, given time, these guys will have their days.
Chloe Macpherson won the AA Womens class at this race last year. Melissa Mankowski was the only thing that would stop her from doing the back to back wins. In the first of the finals it looked like Chloe was going to have to settle for third but she managed to get the better of Emma Franklin in the second and third finals.
AA Women Results
Final 1: 1. Mankowski 2. Franklin 3. Macpherson 4. Junga 5. Callan 6. Eliott 7. Sabotka 8. Page
Final 2: 1. Mankowski 2. Macpherson 3. Franklin 4. Junga 5. Callan 6. Sabotka 7. Page 8. Eliott
Final 3: 1. Mankowski 2. Macpherson 3. Franklin 4. Junga 5. Callan 6. Eliott 7. Sabotka 8. Page

The AA Mens finals were pretty much made up of the same guys as the Pro open, except Levi Collins was replaced with Michael Robinson, after missing out on the pro open class he looked determined to make up for it. Fenwick was also trying to get amongst it but while Madill and Robinson were battling it out for first in the finals Fenwick was having trouble on some of the slippery corners. The end result was a Madill double.
AA Men Results
Final 1: 1. Robinson 2. Madill 3. Fenwick 4. Taylor 5. Harvey 6. Hawkins 7. Hoare 8. Johnstone
Final 2: 1. Madill 2. Robinson 3. Harvey 4. Hawkins 5. Taylor 6. Johnstone 7. Fenwick 8. Hoare
Final 3: 1. Madill 2. Robinson 3. Harvey 4. Johnstone 5. Hoare 6. Hawkins 7. Taylor 8. Fenwick
Once again it was a great race meeting put on by the BMXPress/BMXCentral crew. This racing format is perfect for show casing Australia's top pros and you could see the crowd were really getting behind their favourite riders. Expect to see the race on FoxSport later this year.
10/09 RacegirlBMX Grass roots program
Racegirl BMX League, Inc is proud to announce a new Grassroots BMX Racing Program sponsored by Racegirl®-Robinson-Answer for the 2004 season. Not only do the racers get a great deal on a Robinson bikes, but also deep discounts on uniforms and helmets from Answer BMX, a Racegirl® jersey, membership in the Racegirl® BMX League, and a chance to win prizes as part of the Racegirl® BMX Grassroots Program.
"We are very happy with the success of the team this year and excited about the possibilities for the future with the grassroots program" said Robert Chestnut of Racegirl® International.
Jay Diaz of Riteway Distributing is "not only interested in supporting athletes or riders on a grassroots level but Riteway places a priority on supporting the cycling industry as a whole and the sport of competitive cycling."
Answer BMX, a supporter of the League from the beginning is "offering deep discounts on a variety of products for girls participating in the grassroots program" according to Joey Licata.
The new structure for teams for 2004 will include:
o Elite Team of Supergirl, Junior Women, Elite Women or Girl Pro level who have proven their support for the League in the previous year, limited to five girls.
o National Trophy Team for girls ages 5-17 throughout the US and Canada limited to 20 girls.
o Grassroots Teams of small, local teams and international teams for girls to be with their friends, to encourage and support each other, and to represent their sponsors on and off the track with the common interest of BMX racing.
Applications for the teams will soon be available on the website, www.racegirlbmx.com and team information will be available for independent bike dealers in the near future. For further information about this new Grassroots program, please email Kim Fisher, President of Racegirl® BMX League, Inc. at racegirlbmx@racegirlbmx.com.
Space is limited, so act fast!
10/09 One Bicycles news: Jana Horakova injured
World and European cruiser champion and European Elite Women champion Jana Horakova is out for this season.
At the Mountain Bike 4X Worlds in Switzerland Jana crashed in the 1/4 final and broke her thumb and some bones in her ankle.
Still the European no. 3 (4X) got 13th overall.
Jana may be in hospital for a few days to be okay for 2004.
She will miss the final round of the Europe Cup and the last round of the Czech National Championship, which means she will probably miss her National title.
09/09 Eastfield DK Nationals report (Part 1)
The Eastfield BMX track hasn't changed at all since the DK National race last year. It still has the typical Victorian style big rolling jumps with hardly any lip and flat landings. Basically nothing too challenging skill wise. Eastfield is pretty much a power track where you have to try to keep your speed up between all the jumps and corners.
The weather wasn't too bad, the day started off quite cloudy, then drizzle, more cloud and then a bit of sun towards the end of the day, even though the "weather man" promised a sunny day for the whole day.
In the pro classes there were 10 AA Women, 19 Pro open, 29 A Men, and 16 AA Men, not a bad turn up for Victoria, although there were some regulars missing.
What was good too see was the number of interstate riders in the A Pro class which included the likes of Leigh Darrell and Ryan Carter from NSW, and Nick Brooks from SA, even former Australian Pro Champion (from back in the 80's) Darren May was there.
The A mens class started to get tougher as the day progressed, riders were doing all they could to make the main. The semi finals were promising to be hot races, and the crowd wasn't let down, there was a lot of pushing and shoving. When it came to the final Leigh Darrell was the favourite, he was one race away from becoming AA Pro, Ryan Carter (pictured right) was a bit of a surprise package, he qualified comfortably and looked the good for a podium finish. The little man with big jumping skills, Victoria's David Page was looking like an outside chance. The youngster Scott Lacey could never be written off, he looked comfortable on the track despite a big crash in the warm up. Matthew White doesn't race all that much but when he does he usually makes the main and gets amongst it. South Australian Nick Brooks has been quite consistant lately however if you asked him he'd probably tell you it's just luck. Then there's the two older riders who you'd probably expect to see racing in the bruiser cruiser (30+ Vet cruiser) class. 35-39 Australian cruiser champion Trevor Stamford was one of the fastest guys out of the gate on the day. Then finally Shane Jenkins, who got a lot of props for being the oldest guy making the A Pro main last year, this year it was Trevor taking those honours, Jenkins was just happy to be there.
This is how the finals went.
A Men Results
Final 1: 1. Darrell 2. Page 3. Carter 4. Jenkins 5. Stamford 6. Brooks 7. White 8. Lacey
Final 2: 1. Darrell 2. Carter 3. Page 4. Stamford 5. White 6. Jenkins 7. Brooks 8. Lacey
Final 3: 1. Darrell 2. Page 3. Stamford 4. White 5. Carter 6. Jenkins 7. Brooks 8. Lacey

Photos thanks to BMXStars.com, for more photos from the Eastfield DK National check www.bmxstars.com
More about the Eastfield Nationals over the next few days.
09/09 Trafalgar 4X open day
Due to popular demand a pre-race Open Day will be held on Sunday 14 September at Delhuntie Park. The track will be open from 9.30am - 3pm and rider entry will be $15. Current MTBA license is neccessary otherwise a $10 day license can be purchased on the day.
For more information check http://home.vicnet.net.au/~fourx/
09/09 BMXTrainer.com Clinic & Seminar Schedule:
Grant White has a number of coaching sessions and training seminars planned for the upcoming period - nation wide.
Check out http://www.bmxtrainer.com/Clinic%20and%20Seminar%20Schedule.htm to see where Grant will be performing BMX Skills Development Sessions, Advanced Rider Development Programs and Level 1 Coaching Accreditation Courses.
Contact Grant at gwhite@bmxtrainer.com if you'd like to arrange a seminar for your club or state association.
08/09 Easfield DK Nationals results
Pro Open
1. Luke Madill (Norco)
2. Scott Taylor (Fit)
3. Mike Fenwick (Specialized/Avanti)
4. Tony Harvey (S&M/ECI)
5. Darren Hawkins
6. Jonathan Hoare (KHS)
7. Daniel Johnstone (DK)
8. Levi Collins (Sinister Racing)
AA Men
1. Luke Madill (Norco)
2. Michael Robinson (GT)
3. Tony Harvey (S&M/ECI)
4. Darren Hawkins
5. Scott Taylor (Fit)
6. Daniel Johnstone (DK)
7. Michael Fenwick (Specialized/Avanti)
8. Jonathan Hoare (KHS)
AA Women
1. Melissa Mankowski (Crupi)
2. Chloe Macpherson (GT)
3. Emma Franklin (O'Neal)
4. Renee Junga (Cassap)
5. Ziggy Callan
6. Kate Eliott (DK)
7. Caroline Sabotka
8. Lynette Page (Chicks on Wheelz)
A Men
1. Leigh Darrell (Crupi)
2. David Page
3. Ryan Carter (Freak/Supercross)
4. Trevor Stamford (Dingo)
5. Matthew White
6. Shane Jenkins (BMXUltra.com/Supercross/Answer)
7. Nick Brooks
8. Scott Lacey (Felt/BMXBits.com.au)
Bruiser Cruiser
1. Craig Walczuk (Redline/TotalBMX)
2. David Comport (BMXBits.com.au/BMXUltra.com)
3. Wayne Flint
4. Glenn Suridge
5. Gary Morgan
6. Colin Forster
7. Damien Callan
8. Brian Kelly (S&M/ECI)
Report and some photos (thanks to BMXStars.com) to come.
05/09 J & C Racing 2003 NBL Grands race report
MUD, MUD, MUD! OK enough about the weather.
We had a very successful year (unofficially 2nd in team NBL).

To start out, I would like to thank our riders and their parents, they are the best bunch of people anyone could want to hang out with rain or shine! You guys are all exceptional riders and exceptional people in general, it is an honor to have you ride for our team.
I would also like to thank our sponsors: Supercross BMX, Answer Products, S & M Bikes, Sun Ringle', Profile Racing, Takata Total Safety Systems, 24-Seven, Demon Claws, Rochester Bike Shop, and Gen-X Productions DJ Service and of course Jack Mac from IDCBMX.com
Starting with Supergirls - Ashleigh Ybarra's 5-3-5 wasn't quite enough to transfer to the ¼ but it was a great effort on her part. Former J & C rider Samantha Allen rode well all weekend with 3-2-2 in her motos through the ¼ and into a very hard semi. She also did very well in the open class too.
In 25-29 novice Ben McIntosh mixed up the points battle with a flat pedal slip-n-slide to 2-4-2 and 2nd in his main. The insanely hard 18-20 expert class took its toll on TJ Lowe, Jason Waryas and Korey Terry with the Rooster transferring to his 1/8. Ben Bradford ran hard in the 15-novice class with a 2-3-2 moto set, busting down the 51-rider class with a 4th in his main. Watch out for him in the expert class soon. Our two 15-year-old rookies (Juston Waryas and Duane Wurster) made a J & C sandwich on the final straight of their main. Brandon Dosch had the most spectacular crash of the race in the 14-expert main. He was awesome all weekend with 4-2-2 in his motos. During the main, he was on his way to the front of the pack and went down hard over the bars into the first turn. We're glad to see you are all right. The 14-novice class was one of the largest with 59 riders and Mike Taulbee was winning the main! Key being "was winning the main" about 20 feet shy of the finish line he bobbled and dropped back to 2nd. Between Brandon, Juston, Duane and Mike, these were just a few of the heartbreaks for the weekend. The Glannan boys both went 1-1-1 in their motos with Scott pulling a pair of 5th place finishes in the 12 cruiser and 12 expert mains. Ryan was bumped out during his semi but hung with the best of them all weekend. Chase Boothby will soon have the experts dialed in and we are sure to see him in next years main. We missed having the DeShais bros in Louisville this year maybe they will make the trek from their new home in Fla. Next year. 10 expert Adam Raczka had a great Grands with 4th on 20" and 3rd on cruiser. Jumpin' Joe Waryas is new to the expert class and I'm sure he will do just fine next year. 10 girl Rachelle McIntosh was the other heartbreak story of the year. She was awesome all weekend, no all season, but the # 1 plate eluded her this year. To quote the announcer "she is the apple of her parents eyes" and ours too! I can't wait to see how that new 2004 hot pink Supercross EVO works for her. 9-year-old girl Ariana Quintanilla was on fire in Louisville but the invisible squirrels on the front straight took her down during the semi. We are all just glad she didn't get hurt cause' that's all that really matters anyway. Somewhat new to the 7 expert class, Tyler Beebe couldn't have asked for a better weekend with 2-2-2 in his motos and 3rd in his main. Great job Tyler! 9 and under cruiser class is hard for a 7 year old. Tyler's reply "wow those 9 year olds are fast !!!" Between school and work, rumor has it that TJ Lowe is going to retire. If this is true it probably won't last long and he'll show up at some track somewhere sometime. We are going to miss you TJ and Mel. Last but not least Dennis Ybarra rode his cruiser well but didn't catch a transfer spot. Better luck next year Yogi!
Other honorable mentions (J & C friends & families) 15 rookie Kevin Einhauser won his main and so did 12-year-old rookie Rusty North.
With 19 riders in attendance 15 riders were in the mains = WOW !!

It has been a great year for J & C Racing. We will send out our final ranking and other placements as soon as they are official. (2nd in title series) with a first place tie at the Grands!
Thanks again to everyone that supported us this year and we'll see you at Woodward.
T.M. John Glannan - J & C / Supercross.
P.S. The un-official team sheets for the NBL Grands were 1 KCC from Lansing,Michigan, 2 J & C Racing from Waterford,Michigan, 3 Team Diamond from Waterford, Michigan and Just For Fun Racing from Lansing, Michigan also turned in some good points. MICHIGAN RIDERS RULE!!!!!! Please note that these results have not been verified by the NBL.
Thanks for a great season,
John Glannan, J & C Racing, 248-366-7467, http://www.leaguelineup.com/jandcracing
05/09 Cockburn Super Series # 9
Matt Butterworth, our good friend from Western Australia sent this report through and wanted to give racebmxwa.cjb.net some credit for it.
A great day's racing was had at the Cockburn Super Series round 9 (31/08/2003). The track has been changed. Some say for better, with an exception of the first jump, which most of the riders were having trouble with. (it's been changed to a 7 and a half metre double.) The weather was very nice, a little windy and it got a bit hot mid afternoon, but good none the less.
The day started off pretty early. It was a bit chilly but a fine day was to be scheduled. Racing got underway at around 10am. The first moto was over by about 11.30 so the day was going pretty quickly. Moto 2 took a while though because there were a few heavy crashes.
Finals got underway at about 2pm and everyone seemed to go that little bit harder.
30-34 Cruiser had a final for the first time in a Super Series round since the State Championships in 2002 with 9 riders. Derek Price (5W) was dominant all day taking wins in all of his heats. Matt Briggs (2WA) and Matt Butterworth (8A) were also looking strong and it would be these riders that
would fill the podium spots. In the final it was Derek Price who got the easy win, with Matt Briggs second and Matt Butterworth (despite spinning on the gate) taking third.
35-39 cruiser was dominated by Tony Hancox (8W). He clean sheeted in the cruiser although had a tough time in A-Pro, failing to progress to the semis.
There was a respectable turn up in the A-money, 25 riders to be exact. This meant that there was a semi finals. (most rounds in 2003 have had semis in A-Pro) The riders who made it through the semis were Tim Rose, Ray Houghton, Kris Mills, Blake Schofield, Glenn Reynolds, Jarryd Smith, Ricky Mitchell and Ben Williams.
The final was a close one with Tim Rose going out and jumping the first double. He was the only one to jump it in the A Pro. Anyway Tim got the holeshot but was closely followed by Ray Houghton. In the end though Tim Rose took it out with Ray Houghton closely in 2nd and from memory I think
Ricky Mitchell or Ben Williams could have taken the 3rd.
In the AA the 3 final races were back. The 8 finalists were Scott and Mark Taylor, Benn Hall, Kane Gill, Rob Whiteman, James Dixon, Cale McCulloch and Ryan Dowling.
In all 3 finals the racing was tight. Scott Taylor and Benn Hall were letting loose on this track and really putting down the power. In 2/3 finals Scott was 1st and Ben 2nd. In the 2nd final Mark Taylor came from 4th to take 2nd. However all the action was a little further back in the pack. Kane
Gill, Ryan Dowling and Mark Taylor were putting in some huge rides. Mark kept on coming from behind to get himself into the top 3/4. Kane Gill was just constantly in the top 3/4 and Ryan Dowling was always up there.
At the end of the day Scott Taylor took it out from Benn Hall in 2nd and Kane Gill 3rd.
One note for the old-school BMXers, those who rode inthe late 80's and early nineties would remember Karl Mustchin who won national age titles (15,16,17yrs from '86-'88). He made a comeback to racing at this round in A-Pro at the age of 32 after being inspired watching the Worlds. Word is he is getting a cruiser and is entered in the State Championships in the 30-34
Masters. He had a hard initiation back into racing, not progressing to the semi finals, but the skills are still there - even after 10+ years away from the sport. He said that fitness is a major factor now in being competitive and was amazed at how long tracks are nowadays.
Finally, Bruiser Cruiser classes have now made their way over to WA. Wanneroo BMX Club ran an Open Day a few weeks back and ran the very first race for Bruiser Cruisers (30+). With a $200 purse it was great to see riders from all the Master Cruiser age groups enter. The was a final and
ended up being one of the best races of the day. Rumours are that this class will be added to the Super Series rounds for 2004.
04/09 Interview: Scot Breithaupt - the history of SE Racing
Sorry about the delays but the final part to the Scot Breithaupt "The OM of BMX" interview - Part 2: the history of SE Racing is now completed.
We hope you enjoy reading the interview as much as we did putting it all together.
Click here for the history of SE Racing.
03/09 PHANTOM'S "dR" DONNY ROBINSON SCORES FIRST AA PRO VICTORY
Reno, Nevada - Factory Phantom Racing / Avent Cycles / Fly Racing / adidas' AA Pro "dR" Donny Robinson proved his skeptics wrong by winning the first AA Pro race of his short career at the ABA's Blackjack Nationals in Reno. "dR" was on fire all weekend and finished first in his first two qualifier motos before taking on the big guns in Saturday's mains. Once again, Donny was up to the task and finished first in his first two mains. The way the points added up, he only need a fifth or better to take the overall win. Right out of the gate, disaster struck as he came unclipped and dropped back to last place. Determined to not let this one slip through his fingers, Donny charged his Avent pro frame into the pack and made pass after pass to move into fourth by the second turn and secure the overall win. Does this kid have a flair for the dramatic or what? Add to that an impressive second place in Pro Cruiser on Saturday and Donny had the makings for a great weekend. Sunday was still a good day as "dR" came back and finished overall fourth after taking a bad spill with Rookie AA Pro Paul Lange in the first go-around. "dR" repeated Saturday's second in Pro Cruiser on Sunday. Overall, with a win in AA Pro, two podiums in Pro Cruiser, and a near-podium finish in AA on Sunday, Donny Robinson is over the hump and on his way to a great career as a BMX Pro. Check out Donny Robinson's signature t-shirts at Moto-One (www.moto1designs.com).

Donny Robinson proudly represents the following companies:
Avent Cycles (aventcycles.com), Fly Racing (flyracing.com), adidas Cycling and Eyewear (adidas-usa.com), MOTO-1 (moto1designs.com), Answer Products (answerproducts.com), ODI Grips (odigrips.com), Tangent Products (tangentproducts.com), EVS Speed Equipment (evs-sports.com), MarwiUSA Ti Spokes (marwiusa.com), Velocity Wheels (velocityusa.com), United Brands Co. proud makers of US Energy Drink and Synergy Sports Drink (unitedbrandsco.com), Bombshell Racing Systems (bombshellparts.com), FSA (fullspeedahead.com), ACS (acsbmx.com), and SPY Racing (spyoptic.com).

Support the companies that support BMX!!!
03/09 Racegirl's BMX 1st NBL Grands...
Wow what a weekend, even with all the rain and mud it was great! 46 Super Girls competed this year .. that was more then the AA or the A pros..They had 8 racks of girls .. For some it was the first time they experienced Quarters and Semis. Even the open class for 14 and over girls had a high moto count of 20 super fast girls. Most of the girls classes had semis..even the 7 year olds:) With 2.8 million girls now playing high school sports, BMX was well represented. Watching the Girls tackle adversity, no race ever goes exactly as planned or expected, and witnessing them having to overcome that every time they went out, reminds me what we learn through sports. All the Racegirls showed confidence, determination, passion or competitive spirit!! The Racegirl BMX League showed their appreciation for the girl's support this year, by donating $500.00 to the Supergirl's Grands podium finishes in the main, and honoring two girls with Limited Edition Racegirl Leather Bomb
er Jackets. The Main finishes on Sunday went to ~1st place Racegirl Ambassador/Team Manager Kim Hayashi, 2nd place Racegirl Ambassador Arielle Martin and 3rd to Jamie Lilly. Amanda Geving received a Jacket for winning the Girl Amateur Title and Racegirl Ambassador Rachel "Thunder" Smith received the second Racegirl Jacket for her outstanding contribution this year as an Ambassador to the League. Kim Fisher the president of the Racegirl BMX League would like to thank all the NBL staff and volunteers for all their support this year and look forward to a great next year. A special thanks to the Racegirl/Answer BMX Team members that dispayed their hard work and discipline, and how to be individually strong and driven, but were also capable of functioning as a member of the team..Thank You!!! Check out the website later this week for more photos and race reports.. www.racegirlbmx.com
Main Finishes - 2003 NBL Grands - Louisville, Kentucky
Super Girls - 1 Kim Hayashi ... 2 Arielle Martin ... 3 Jamie Lilly ... 4 Natarsha Williams ... 5 Ashley Ross ... 6 Krystal Hime ... 7 Liz Stephens ... 8 Rachel Smith
NBL Awards Year End Supergirl Title
1st Racegirl Ambassador Kim Hayashi - $2500
2nd Racegirl Ambassador Arielle Martin - $1500
3rd Racegirl Ambassador Natarsha Williams - $1000
As always, we thank our Team Sponsors: Racegirl BMX League, Racegirl International, Answer BMX, Lizard Skins, Sharp Products, and Mercury Sport Drink for all their goodies for the free raffle and their continued support!!! "We are all connected"
02/09 BMXPros.com Race Report
NBL Grand Nationals Louisville, KY
Randy Stumpfhauser adds the NBL #1 Pro title to his 2003 UCI World Championship Cruiser title.

The 2003 NBL Grands will go down as one of the wettest Grand Nationals in history, but also as the most exciting AA Pro main event and National title chase ever. Randy Stumpfhauser has always been one of the top NBL riders, but the past 2 seasons, with multiple wins and consistency, Stumpy has been the Pro to watch.

Randy Stumpfhauser has been the most consistent rider in the NBL this season. With 12 Pro series race, Randy has been in all of the main events, placing in the top 3 in 8 of the races, with 2 wins. This had put Randy into the NBL points lead for most of the season, and going into the Grands, he was 8 points ahead of Kyle Bennett, the 2002 NBL #1 AA Pro.
As the first day of the NBL Grands started, so did the rain and the wait to race. After 8 hours of rain, it finally stopped, and the racing went under way. The worst storm couldn't rain on Randy's day, as he was just unbeatable and made each race look easier and easier.

As the race continued on day 2, Randy looked superfast and was unbeatable once again. He won each of his motos, as well as the semis for both AA pro and Open. Going into the main, Randy was joined by Kyle and John Purse, who all 3 had a shot of wining the NBL #1 title. They would have to beat Randy by 2 spots in the final to do so, and by the looks of his racing up to that point, it wasn't going to be an easy task. As the Gate dropped, Randy busted down the gate and took an early lead. Kyle was behind Randy and was ready to do battle. Randy saw the challenge and going into the 2nd turn, was ready to turn on the power. As randy exited the turn, he slid just a bit, but his IRC tires caught him, set him straight and he got back on the pedals. Kyle went for an inside move, slid as well, but was unable to recover, and crashed. Randy was already gone, and went onto winning the AA main and the 2003 NBL #1 AA Pro title. This is Randy's first AA Pro title in the 20 inch class, and adds it to his 3 other Pro 24" titles. Randy currently sits #4 overall in the ABA points chase, and with 7 race weekends left, will try to win the ABA title as well.
Randy's sponsors include Huffy Bicycles, Fox Racing, AC Components, IRC Tires, Smith Eyewear, Alex Rims, Thomson Seatposts, S & M Forks and Bars, ODI Grips, BMXpros.com, Powerbar, Shimano, Vans, and CTI Knee Braces.

We here at Double A Marketing would like to thank the NBL for doing an incredible job of getting the track into race shape and making a bad situation a very positive experience.

NBL Grands AA Pro Main Event Results -
1 Randy Stumpfhauser - Huffy
2 John Purse - Mongoose/Hyundai
3 Robert DeWilde
4 Jonathan Suarez
5 Mike Day
6 Jason Richardson
7 Matt Pohlkamp
8 Kyle Bennett

Double A Marketing proudly represent Wade Bootes, Dale Holmes, Christophe Leveque, John Parker, Stephane Roncada, Jamie Staff, and Randy Stumpfhauser.
For more information on any of the BMXPros.com riders or inquires about sponsorship, please visit BMXPros.com.
01/09 Warrnambool Classic entry form
The 5th of October is going to be a big weekend for BMXers, particularly in Victoria. The South Australian state championships are on that weekend, and I believe the event is now open for riders from other states to enter. The Victorian State 4x championships are on, and no doubt there will be a few of the older BMXers heading to that. And there's the Warrnambool Classic.
Warrnambool is a great track, located about a 3 hour drive west of Melbourne along the coast. As for the last couple of years this is the event we'll be attending. The Warrnambool club always put on a good race and good prize money, there's $1000 up for the pro class this year. If you haven't been to Warrnambool before do yourself a favour, this will be a race not to be missed.
Click here for the 2003 race calendar where you will find the entry form with further details.
Last updated: Thursday, 2 April, 2009 7:33 AM