BMX news for October
BMXUltra.com is aiming at bringing you the most up to date BMX news from around the world, if you have anything that might be of interest feel free to e-mail us at webmaster@bmxultra.com
Don't forget to press the refresh button on your browser when you're looking for the latest news.
31/10 Racegirl® BMX League news
NBL War of the Stars National Oct. 24-26
Another NBL War of the Stars National has come to a close. With the Fall Classic behind us, most of the girls are preparing for the ABA Grand Nationals or the NBL US Open/Thanksgiving National. With that in mind, here are the results from this weekends Fall Classic in Albany GA with the result of the Southeast Regional Championship.

Friday night was a race under the lights at The Parks at Chehaw. The Regional event brought out some the best amateurs there are. With over 119 motos the race was on.

Seven Elite Women decided to make an appearance at the show. In the Final it was Ashley Ross, Amanda Perzia, Emily Senkbil, Jessi Sox, and Michele Peters. 15 girls brought out the likes of Racegirl Ambassador Kelly Hutto who just so happened to perfect and win the title in the class. 14 girls was a grueling battle between Madison Pitts and Amanda Geving. Racegirl Ambassador Geving took the win and the title not only in class but 14-17 girls cruiser as well. 12 girls was won by no other than Jessica Cartwright sporting her new Supercross colors. 18-24 Girls cruiser brought out Michele Peters and Crystal La Plant, with each winning a moto Racegirl Ambassador Peters took the victory in the final.

Saturday (140 motos) was the Beginning of new things to come or that had already come. With no bad weather in sight and a change in many girls as well as men classes, everyone was ready.

Nine Elite Women showed up for the race on Saturday. Ashley Ross making it a great weekend start for her, Melissa Gremal two, Amanda Bergeron, Emily Senkbil, Jessi Sox, Brttany Hoover, and Shelby Russ. One thing I learned from Saturdays racing, never use the bathroom between motos and always check the board before second round so you know when to run third round. 15 girls was a battle between Lilly Cook, Kelly Hutto and Racegirl Ambassador Samantha Storey. Cook and Hutto battled in the motos but Cook won the main event with Hutto in the two and Storey in the three. 14 girls was again another battle between Geving and Pitts. Geving won with Pitts in the two. 12 girls was no surprise to the Supercross team as Jessica Cartwright won. 14-17 girls was a show stopper considering almost every girl in that class jumped the double coming out of the first turn. Can you say "Train???" Geving won with Pitts in the two. 18-29 girls. The first time this class has ever been run. Gremal battled with La PLant in motos but got the perfect. Pingol and Peters battled in the motos but Peters got the perfect. Gremal won the main event with Peters two, La Plant three and Pingol four.

Sunday, with bad weather threatening they dropped the 119 moto count to two moto system and let the gate drop as fast as it could.

With Amanda Perzia out with a broken tailbone from Saturday, there were only eight girls. (This time I went to the bathroom before the race started.) Ashley Ors perfected for they weekend, Grumble with the two, Sensible three, Amanda Bergen four, Michele Peters five, and Jessie Sox six. 15 girls was again a battle was the fastest. Cook having problems on the first moto Hutto took the win but in the main event it was Cook, Storey, and Hutto. 14 girls was no contest for Amanda Geving as she wins class and cruiser. 18-29 girls cruiser was all about Michele Peters who took home her first win of the season with Pingol two, and La Plant three.

That's all from the east coast, see you at the ABA Grand Nationals in Tulsa, Oklahoma. Check out the website's Photo Gallery for pics. www.racegirlbmx.com

Reported by: Racegirl Ambassador Michele Peters
More Exposure!!!!
Last week we made the front page of the Arizona Tribune again:)... A copy of the article on the photo gallery page. http://www.theracergirl.com/album/Books,Movies,Vidios/newspaperarticle6.jpg
http://www.theracergirl.com/album/Books,Movies,Vidios/newspaperarticle6.1.jpg
A local TV show here called Sonora Living (ABC15) called us to do a piece on the League next week. They will either come to the GoGirlGo meeting in Scottsdale or come out to the Black Mtn. track. Then Tucson Citizen (Tucson's Local Paper) emailed and called me to do a story on BMX scene and Racegirl Members in Tucson. Hooked them up with the Track director and Racegirl Ambassadors in that area..Then..when it rains it pours..LOL YM Magazine contacted me for a story(Profile) on one of our BMX Girls. They will profile Kim Hayashi in Jan. at the ABA Race in Reno..and then run the story.
The exposure from Women's Sports Foundation Awards Dinner in New York the week before ..Look for pictures of Girl Pro Kim Hayashi with other Champion athlete icons on the Racegirlbmx.com photo gallery and the press from the Girls Learn to Ride Camp..where Arielle and Alice successfully landed back flips back to back - a feat that only two other girls in the world have accomplished! http://www.sgmag.com/skate/woodward/index.html We are getting exposure from coast to coast:) ... Spread the word about the Grassroots program..tell every girl you know to join us in our mission. Deadline for 2004 Applications for the Racegirl BMX Teams is Nov.17th.
30/10 Track Attack 2004
The Eastern Region BMX association is proud to announce that GT Bicycles Australia will be the naming rights sponsor of next years Track Attack series.
The fourth running of the series, to be held in January 2004, will be known as the "GT Bicycles Australia Track Attack 2004".
The Eastern Region is very pleased to align the race series with the reputation and credibility of the GT Bicycles brand name. The six BMX clubs involved in the series are working hard to ensure that the series continues to develope its objective to provide a week of quality racing for all BMX riders, and the support of GT Bicycles Australia is a huge boost.
Brian Lacey. President BMXV Eastern Region
Click here for the entry form, or check out our racing calendar
30/10 Cash Dash correction
When we said that Luke Madill won the Cash Dash 5 times in a row we got about ahead of ourselves. Darren Hawkins won it in 1999, so Luke has won it 4 times straight so I have now adjusted the report. Sorry Darren. Oh, we also forgot to mention that Darren was seen riding a 2004 Supercross Evo.
30/10 Cash Dash photos
Click here to check out the Cash Dash photos
29/10 Knox training sessions
Knox will be running gates on Thurs night (tonight) as per usual (5:30 onwards) but also on Friday night from 5:30 for riders who want some extra practice.
29/10 Cash Dash Report (Part 2)
Pro open consisted of 6 AA Pros and 4 A Pros. It was a chance for the A pros to see if they were ready for the AA class yet, but the AA Pros of Madill, Hawkins, Galea, Collins, Harvey and Hoare were too strong in the motos, only two A pros would make the main; Matthew White and Charles Nelson. In the final Madill got the gate with Hawkins all over him and Galea in tow along with the rest of the field. While Galea was in third pretty much the whole way, Harvey and Hoare were fighting it out with Collins right on them, until Hoare got a little loose on the rhythm section in the last straight taking out Harvey and himself.
22 riders in A Pro at the Cash Dash which saw the return of GT's Dean Miller, who had reverted back to A Pro after his nasty fall at the worlds, but he was still a little off the pace. Regulars to the A Pro ranks, Nathan May and Shane Jenkins both narrowly missed the cut and would have to watch from the sidelines. The final was all Slatter and Lacey who got off to a good start, Stamford and Nelson were following closely. In the last corner Lacey pulled a move that would have put him in front, but since Slatter was that little bit bigger Lacey came off second best. Slatter took the win and fast finishing Nelson and Stamford took second and third. It was good to see some new faces in the mix, Ahron Jeffree and Joseph Bujak both rode well to make a tough final.
Both Slatter and Lacey are now AA Pro, but may choose to wait for their "Official letters" before nominating for the AA class, one of the many stupid loopholes in BMX Australia's rulebook today.
In AA Women there were two gates, which is always good to see. Mankowski and Franklin both won all their motos. Eliott, Callan and Sabotka all looked pretty comfortable on the track. But in the final it was all Mankowski, Eliott seemed to have the upper hand on Franklin, and the two fought for the second place all the way to the line but Franklins strength was too much for the skillful Eliott, Callan took fourth and Sobotka in fifth, Weber returning from injury in sixth.
The AA Men's class has a lot of history, did you know that Luke Madill had won 4 years perviously? The way he was riding in the motos it looked like he was the favourite for a 5th consecutive year.
There were no real surprises in the final. Madill took it from start to finish with Hawkins in second, Hoare managed to lead the Victorian's home just ahead of Galea, Harvey then the rest of the field.
The race meeting was the smoothest run at the South Eastern track in a lot of years, it was unusual getting out of the South Eastern track before 4pm, but the meeting was all over by 2pm. Over all it was a great day of racing with some intersting results. Luke Madill winning his fourth Cash Dash in a row would have to be a highlight.
28/10 Cash Dash Report (Part 1)
The track was is great condition for the 2003 Norco Cash Dash, considering the amount of rain that was dumped over Melbourne on Saturday, the day before the event. Apart from a couple of soft patches the track was very fast. They must have great drainage down there, I expected to turn up to see the track completely under water, and it's surrounds a bog.
I must admit, I thought the numbers of interstate riders would be low because of the Knox DK National next weekend, but I didn't expect it to be this low. In the AA Pro class only Luke Madill and Darren Hawkins crossed the border, in A Pro it was just Chris Evans from NSW and in AA Pro women it was Melissa Mankowski.
In vet pro "bruiser" cruiser, there was some tough racing in the motos, which led to an even tougher final which any one of the 8 riders could have won, in a class like that it comes down to the gate. It was Brian Kelly who got the snap, closely followed by Wayne Flint. David Comport who is very fast down the first straight slipped his pedal on the gate and looked like he was out of the running. Brian Kelly looked like he had it won down the last straight, but Flint was on a mission, he passed Kelly like he was standing still. By that time Comport had moved his way into third leading the rest of the field to the line.
Part 2 coming tomorrow.
28/10 GavinD's 2004 BMX Calendar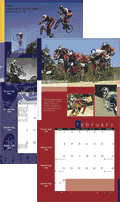 Professional BMX photographer Gavin Andrew (aka GavinD), is putting together a BMX calendar for 2004 which has photos from all levels of racing from right across Australia and New Zealand.
Gavin was the professional photograper who many of you would have seen at the UCI world championships this year.
He tells us the calendar is almost finished, for Australians to buy it riders and parents need to encourage their clubs to go online so they can register to sell it.
You can see a sample of how the calendar will look to the right, and there will be a different month displayed at www.gavind.com.au each week.
When we asked Gavin about his calendar, he told us "The calendar attempts to capture the spirit of BMX in Australia and also provides a comprehensive listing of all major BMX events in Australia, and a couple in NZ."
Clubs should register online at www.gavind.com.au (click on the BMX CALENDAR link). Part of the money earned from the sale of this calendar will go directly back to the clubs.
27/10 Cash Dash Results
Vet Pro "Bruiser" Cruiser
1. Wayne Flint
2. Brian Kelly (S&M/ECI)
3. David Comport (BMXBits.com.au)
4. Jamie Bullows
5. Damien Callan
6. Dean Coles (BMXStars.com)
7. Glenn Suridge
8. Craig Merritt (Dirt Designs)
Pro Open
1. Luke Madill (Norco)
2. Darren Hawkins
3. Daniel Galea
4. Levi Collins (Sinister)
5. Matthew White
6. Charles Nelson
7. Tony Harvey (S&M/ECI)
8. Jonathan Hoare (KHS/Fox)
A Pro
1. Robert Slatter (Profile/ECI)
2. Charles Nelson
3. Trevor Stamford (BMXBits.com.au)
4. Scott Lacey (Felt/BMXBits.com.au)
5. Nathan Barker (Diamond Back)
6. Ahron Jeffree
7. Joseph Bujak
8. Matthew White
AA Pro Women
1. Melissa Mankowski (Standard)
2. Emma Franklin (O'Neal)
3. Kate Eliott
4. Ziggy Callan
5. Caroline Sabotka
6. Ruth Weber
7. Joanne Kelly
8. Sherie Wood
AA Pro Men
1. Luke Madill (Norco)
2. Darren Hawkins
3. Jonathan Hoare (KHS/Fox)
4. Daniel Galea
5. Tony Harvey (S&M/ECI)
6. Brock Tuckerman (Sinister)
7. James Hollings (Top Gear/GT)
8. Levi Collins (Sinister)
23/10 Danny Galea going it alone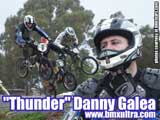 It was this time last year that Australian AA Pro legend Danny Galea was preparing for retirement. After a long and illustrious racing career his swan song was to be the 2002 Victorian state championships. He finished up on a high note, sponsored by Iron Horse at the time, he took the Victorian pro crown for the second time in his career.
There were a few jokes amongst Danny's friends that the retirement would be short lived and they were right. Come Easter time, when Danny would normally travel to the Australian Championships, he was facing staying at home doing nothing. So, now riding for himself with no support from a sponsor, he decided he'd pull the bike out, have a bit of fun in the Pro class and enjoy himself at the after party. Not everything went to plan, a heavy fall in practice ended his fun with a broken collarbone.
With the World Championships in Australia in July, and little time after healing to prepare for them, Danny decided to revert back to the amature class and have a shot at the Am title on a borrowed SE Quadangle complete with an old school SE Racing jersey.
Danny Galea is of the old school of BMX, he's known for his power more than his jumping skills. Just when he looked completely psyched out by the technical worlds track, it all started to come together for him. Race by race he was getting more and more confident and proved himself a chance for the win in the main, unfortunatly he had a bit of trouble at the start of his race and had to settle for 6th place.
Juggling mountain bike racing and BMX, Danny has scored a couple of wins on the BMX since the worlds and been crowned the Victorian 4X champion. (He was only being beaten by GT's Michael Robinson, who couldn't win the title because he's from Queensland.)
What happened to the retirement? Well if you ask Danny he'll probably tell you that he's "only racing the big races". So what are the big races? In the next 2 weeks he'll be taking on the AA class at the Cash Dash and the DK Nationals at Knox and in between he'll be trying to chase up another podium finish in the Australian 4X championships on the mountain bike. Expect to see Danny at a lot more races in the future. He's enjoying himself more than ever, which you can tell both on the track and off. At the moment he's going it alone without a sponsor, but we're sure it won't take long for someone to snap him up.
22/10 AVENT "MORPHEUS" CARBON FRAME LIVES UP TO EXTREME TESTING


San Diego, California - The Avent R&D crew decided it was time for some heavy duty punishment for the new Carbon Fiber "Morpheus" frame. Avent's marketing man Will Rells enlisted the help of IDCBMX.COM's Jack McDaniel for some photo help and So-Cal's newest AA Pro and Bombshell-sponsored rider Tyler Brown to throw some curves at the new frame design.
First stop was San Diego's own Meadowsland. After taking it easy on the first few laps, Tyler deemed the frame solid and threw the wood at it. An hour and a half later, Tyler was ready for some sizable trails and the crew headed over to San Diego's Clairemont trails. Tyler set about showing up the dirt-jumpers with big turndowns and x-ups. Once he was comfortable enough, TB brought down the house by throwing two HUGE backflips over the second set of doubles. All this on a carbon fiber frame.
After a days worth of ABUSE, the new Morpheus frame more than lived up to its billing. Check out the footage at www.idcbmx.com and www.bombshellparts.com.
21/10 Shepparton GV Masters results
With great weather on Saturday you would expect that Sunday would be similar, but what started out a good day for shorts (soon after the first moto) turned out dark, cold and wet.
The Shepparton track was in good condition, a little rough and slippery in some places, but that's BMX.
There were 3 Pro open women and 3 gates of Pro open men.
In the Pro open women Emma Franklin (O'Neal) proved too strong for Kate Eliott (DK) and Karen Turner (Sinister) who finished second and third respectively.
In the Pro open men racing was going to be close. There were 6 AA Pros in the field; Tony Harvey, Danny Galea, Jonathan Hoare, Adam Robb, Brock Tuckerman and local hero Levi Collins. The A Pros were headed up by local riders Nathan May and Nathan Barker, Robert Slatter, Charles Nelson, Shane Jenkins, Brian Slatter, Joseph Bujak, and others. Getting amongst it were 30-34 classed riders Jamie Bullows and Craig Merritt of Dirt Designs fame.
When the motos were over Adam Robb and Charles Nelson were equal for 8th place. In the run off Nelson got off to a handy lead, but in true Robb style, he left it to the last straight to make his move, and very nearly did it too, leveling up with Nelson as they approached the last jump, but then Robb slipped and his day was over.
By the time the final came around the rain had turned the track to a mud bath that Woodstock would have been proud of.
When the gate dropped Galea seemed to have the edge over the rest of the field, Harvey, Hoare and Collins trying to stay with him. Exiting the first corner, Galea seemed to get into a bit of trouble he took the corner too fast which caused him to drift wide. Local boy Collins powered up the inside and took the lead, by the next corner Harvey had also got in front of Galea. Hoare was too far for a podium finish. Collins was only narrowly leading in the last corner when it looked like Harvey would make a move, but he took the safe line and tried to drag Collins to the line missing out by inches.
Click here to check out our photos
Results
Pro Open Women
1. Emma Franklin (O'Neal)
2. Kate Eliott (DK)
3. Karen Turner (Sinister)
Pro Open Men
1. Levi Collins (Sinister)
2. Tony Harvey (S&M/ECI)
3. Danny Galea
4. Jonathan Hoare (KHS/Fox)
5. Charles Nelson
6. Robert Slatter (Profile/ECI)
7. Nathan Barker (Diamond Back)
8. Nathan May (Sinister)
(click here for full pro men results)
20/10 Tony Harvey's new website


Former Australian Pro champion Tony Harvey (S&M/ECI) has a new web address and website which you can check out at www.hrv13.com.
After a few technical problems with the old one, which lost him access, he decided it was time to drop it and start from scratch.
It has the usual features of Tony's journal, sponsor list, training programs, etc. Tony has some funny stuff on there at the moment...however politically incorrect it may be...and look out for Kamakazi and the KY fund, Tony is trying to help raise money for the poor and starving Khalen Young's of the world. Check it all out at www.hrv13.com.
16/10 Something for the girls
Calling all pro women to Shepparton this weekend.
The GV Masters in Shepparton this Sunday should be a great race, and the Shepparton club are trying their hardest to put on a big show for the riders and spectators. While there should be a good turn up for the male pro class, it's not looking great for the female pro class. There is a $250 + payback for the pro womens class, but so far there has been a poor response. If you are keen click here to check out the entry form for contact details, the club will be happy to hear from you.
Meeting for Victorian female cruiser riders
BMX Victoria would like to have a meeting at the interclub coming up at Northern Park, early November, to discuss female cruiser classes. When asked recently what the criteria and age classes are for ladies cruisers they had responded by saying that ladies cruiser is not a recognized class. Ladies cruiser is still a novelty class. They would like to call a meeting at the interclub. It is always good to see that they are wanting to get together and talk with the riders. If you would like any further information email Nic Forster at bmxmum@bigpond.com.
15/10 Luke Pretlove on the mend
We received an email today from Victorian AA Pro, Luke Pretlove (Redline/TotalBMX). If you have been reading BMXUltra.com lately you might have seen that he's broken his foot. He tells us that he I got the plaster off today, this should speed up his recovery now that he can move it a bit. Originally it was doubtful that Luke would return to racing this year. But now it's looking like he will be back on his bike much sooner. He revisits the doctor in 2 weeks.
14/10 BMXers dominate Victorian 4X Championships
I have been waiting for the official results for this event, but it looks like they might be a while. The Victorian 4X Championships were held about a week ago at Trafalgar, about an hour drive south east of Melbourne. The Trafalgar course is very technical, it's loaded with big road crossings, doubles, a rhythm section and it's very fast being downhill with nice big corners. When it comes to 4X racing it's obvious that BMXers would have the right skills for the sport, and the BMXers nearly came home with a clean sweep of this event. Michael Robinson made the trip all the way from Queensland to take out the A Grade. Shannon Rademaker was leading the B Grade final when he crashed with the guy in second, which took them both out. There was no womens class, maybe some female BMXers should check this sport out and cash in.
BMXer Results
A Grade
1. Michael Robinson (GT Aus)
2. Danny Galea (BMXBits.com.au/BMXUltra.com)
3. Jarl Jenson
4. Simon Anderson (GT Aus)
B Grade
4. Shannon Rademaker (Cyclelink.com.au/BMXUltra.com)
C Grade
1. Jarrod Kahl
17 & Under men
1. David Page
13/10 Lalor Results
With the Victorian State Championships being hosted by the Lalor club late next month there was no surprise that Lalor would host one of Victoria's largest meetings for the year. As the night rolled in on the twighlight event the wind seemed to get colder and colder, but at least there was no rain. There were 4 gates of pro, also one of the biggest turnouts for the year, you had the usual suspects from the AA like Tony Harvey, Danny Galea, Adam Robb, Dean Beerens, Jonathan Hoare, and the regular A pros like David Page, Matthew White, Scott Lacey, Robert Slatter, Charles Nelson, Nathan Barker, Shane Jenkins and a bunch of others.
The motos were action packed as per usual. A crash in the second round of motos really mixed things up. Jonathan Hoare jumped the big doubles at the end of the first straight with Jenkins and White hot on his tail. When Hoare was coming in for landing he clipped Whites front wheel with his back wheel and fell, bringing Jenkins down with him and ending his chances of qualifying to the semi.
Points were so close after the third round of motos, there was a three rider run off for the final two spots in the semis which went down to the wire. The semi finals should have been pretty straight forward but some big crashes from the likes of Harvey in one semi and Beerens and Hoare in the other semi meant that there would be some fresh faces in the main.
When the gate dropped in the main, it was all Galea, he was looking a little rough on some of the jumps but he got the job done taking it to the line. The action was all happening back in the fight for second. White seemed to have it all wrapped up in the first half of the track, but youngster David Page came back at him, and while they were fighting it out Adam Robb, who has been off injured for the last couple of weeks, dug deep and really wound the bike up down the last straight and took second just on the line with Page taking third narrowly over White.
If this race meeting was any indication anything can happen at the Victorian Championships this year.
Pro open results
1. Danny Galea (BMXBits.com.au/BMXUltra.com)
2. Adam Robb (Redline/TotalBMX)
3. David Page
4. Matthew White
5. Shaun Day
6. Aaron Jeffree
7. Jarrod Kahl
8. Ben Carlos
13/10 Shepparton entry form
The Shepparton GV Masters are on this weekend. According to the entry form entries are closed, but we've been told there is an extension until last mail Wednesday. Just make sure you send it by Wednesday and you should be safe. Last years GV Masters attracted the likes of Luke Madill and Khalen Young, this year will be a little different, the club have dropped the huge pro prize pool and combined the classes for a $500 + pay back pro (14& Over) open class.
Click here to download the GV Masters entry form.
For other entry forms check out our race calendar.
11/10 Knox DK Grand Nationals/ Thunderdome entry form
Confused? Don't be, there are basically two race meetings being held at Knox on November 1 & 2, there's the Knox Thunderdome which is for the amatures (it runs over both Saturday and Sunday). And then there's the DK Grand Nationals, for the Pro riders, which is the final of the DK Nationals series of events (that's on Sunday only) but there is a little bit of money up for a Pro open on Saturday.
This was a great meeting last year, if you are interested in checking out some action packed racing and you are in the area for this one, don't miss it.
For more information download the Knox DK Grand Nationals/ Thunderdome entry form.
For other entry forms check out our race calendar.
09/10 Alice Jung background image
Enigma's Alice Jung was in Australian for the UCI World BMX Championships, back in July. It was the first time Alice had competed outside of America, and the first time that many international riders would see her in full flight. Her skills and strength blew many people away and showed just why she has won the #1 Pro womens title for the ABA for the last 2 years in a row.
Because of a little bit of bad luck she didn't win the UCI worlds, but she will, you mark my words.
Click the image below to view the full size (600X800) Alice Jung desktop/background image that we put together. Download it to your pc or print it out, it's up to you.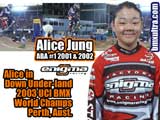 08/10 Warnambool report
It was a busy weekend for BMX right across Australia, which is good for BMX, but someone usually suffers. In this case it was the Warrnambool BMX Club.
Warrnambool is about a 3 hour drive west of Melbourne and about 5 hours east of Adelaide, which would normally put it in a good position to host some great racing, particlarly between the Victorian and South Australian riders. But with the South Australian titles and the Victorian 4X championships on the same day, attendances were a little on the low side. That's not to say the racing wasn't up to scratch but there were only two AA Pro's in attendance, Tony Harvey and Jonathan Hoare. This meant that the A Pros like Scott Lacey, Charles Nelson, Shane Jenkins, Craig Walczuk, Brian Slatter, Connor Hunter and a bunch of others could get a bigger bite of the prize money than maybe they would have otherwise.
The weather was great for racing and the track was in failry good condition with little change since the 2001 Victorian State Championships.
Local AA Pro, Luke Pretlove, was seen watching from the sidelines. He's out for 6 weeks with a broken foot that he got during a trainning session in the week leading up to the meeting. It would have been nice to see him go head to head with Harvey and see if he could repeat his win in front of the home crowd the previous year.
There were no surprises as to who would make the final, however Nelson had to do it the hard way after a heavy collision with Jenkins in the second last corner of the second moto put him on the ground and nearly out of the running for the main. A good finish in his third moto landed him the final birth for the main.
When the gate dropped in the main Harvey and Hoare got the holeshot on the inside and Jenkins seemed to get a good start on the outside and made his way into third by half way down the third straight with Lacey, Walczuk and Nelson looking for a way through. Half way around Harvey still in the lead with Hoare all over him, Jenkins was starting to tire, Lacey was making up ground and ready to pounce, as they exited the last corner Lacey slipped into third, Jenkins had to settle for fourth, Hunter and Walczuk collided in the last corner and Walczuk went down.
It was another win for Tony "Happy Gilmore" Harvey, he got to collect the big share of the money and the novelty cheque.
The guys down at Warrnambool put on a great race as per usual, we look forward to heading down there next year.
07/10 Racegirl BMX League News
The Girls were busy this weekend from State, 5 Star Series, to NBL's Midwest National.
At the New Jersey State final weekend at Central Jersey BMX, 10 year Racegirl/Answer Sarah Canning walked away with the race got a perfect and is now NJ1 as well as NE reg. #1 and Nat. #9. In Florida Racegirl Ambassadors were in Force .. Amanda Geving taking the win in both class and cruiser in 15 girls in the 4th race of the 5 Star Series. In Super Girls Racegirl Ambassador Angelica Alexander took home wins both days with Racegirl Ambassadors Michele Peters and Shelby Russ bringing up the 4th and 5th places.
Michelle Cairns traveled north to the NBL's Midwest National, to join the other Racegirl Ambassador Natarsha Williams. The Supergirls again had a large turn out..with 12 Girls on Sat!! Natarsha wins both days, with Racegirl Ambassador Michelle Cairns 2nd. Natarsha quotes .."Michelle Cairns kept me pretty honest throughout the whole weekend, we had some good and hard races and it was fun racing I really enjoyed the weekend!".
The Racegirl/AnswerTeam was represented with all three girls making the mains!! 8 year old Bethney Kludt coming back after 3 weeks from a broken collar bone~ places 2nd on Sat. ..using her legs more in the gate on Sun. takes home the win. In the tough class of 12 girls Holly Thompson using her new bunny hopping skills showed much improvement making the main both days. Teammate Toni Rude had some tough comp. in 14 girls..but also made the mains!!
Racegirl BMX League Girls and Staff have been busy.. Staff is gearing up for Interbike this weekend and New York the next while the Girls have three Nationals the last weeks of October. Deadline for Racegirl Grassroots Program is NOV. 7th, check out the draft of the new 2004 Racegirl Jersey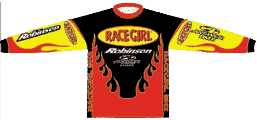 Grassroots Program
Up-to-date info on the Grassroots Program for 2004. Share your questions, ideas, and suggestions with us as we begin this exciting program! The new Robinson Bikes will be on display at the ABA Fall National in Del Mar, check out the official Bike for the 2004 Grassroots Team. As always, we thank our Team Sponsors: Racegirl BMX League, Racegirl International, Answer BMX, Lizard Skins, Sharp Products, and Mercury Sport Drink for all their continued support!!! "We are all connected"
For more RaceGirl information, check out www.racegirlbmx.com
07/10 Northern Park (Lalor) entry form
There's a twilight race on at Lalor this Saturday night. Lalor will be hosting the Victorian state championships at the end of November and the track is really started coming together now. The club approached some riders, which was a good call. The guy who supervised the last lot of changes needs to be shot. The club has finally done away with those bad jumps and made the track fun and fast because it actually flows now.
(I'll never get used to calling the Lalor BMX track "Northern Park", it's been Lalor for as long as I have been racing 20+ years.)
To download the entry form check out our racing calendar.
07/10 South Australian championships results
The SA State Titles were held this weekend at The Cove BMX track. The weather was perfect and the competition intense with the track in perfect condition for the 247 riders.
The Cove club committee and volunteers had done an excellent job in preparing the track and surrounding area.
RESULTS
Male Money class -
1st Michael Wellman,
2nd Michael Fenwick,
3rd Brian Kirkham,
4th Aaron Lumsden,
5th David Phillips,
6th Peter Trenwith,
7th Chad Higgins,
8th Richard Barker.
Female Money class -
1st Renee Junga,
2nd Sally Thomas,
3rd Angela Wooding,
4th Laura Davies,
5th Kendall Harvey.
Click here for the full South Australian championships results.
By Vern Wensley, SABMXA
06/10 Warrnambool results
Report coming soon
Pro results
1. Tony Harvey (S&M/ECI)
2. Jonathan Hoare (KHS/Fox)
3. Scott Lacey (BMXBits.com.au/Felt)
4. Shane Jenkins (BMXUltra.com/Supercross)
5. Charles Nelson
6. Brian Slatter (Melbourne Bicycle Centre)
7. Connor Hunter
8. Craig Walczuk (Redline/TotalBMX)
06/10 Western Australian championships results
It was a busy weekend for BMXers right across the country with Warrnambool, the South Australian Championships, and the Western Australian Championships.
Click here to check out the full results from Western Australia.
04/10 Dirt pad sets available now


It's been a long time coming for the Dirt pad sets but they are finally here. Australia's leading number plate manufacturer Dirt Designs have been spending a lot of time developing prototypes, which you may have seen on a lot of the co-sponsored riders bikes.
They are available in black/red/grey and black/blue/grey combinations.
Dirt products are distributed in Australia by Elite Cycle Imports (www.ecibmx.com) and are available now at all good bike shops.
01/10 Victorian 4X championships news
IMPORTANT NOTICE - Upon advice received from Mountain Bike Australia (MTBA), it will be compulsory for all riders to wear full face helmets at the Championships. This includes practice time, and all other future events held at Delhuntie Park including Open Days. This is to increase the level of rider safety.

Please spread the word around ASAP as there may be riders wishing to race but were planning on wearing a XC helmet or a skull helmet. Riders without a full face helmet will not be allowed on the course.
Friday practice, has been finalised. There will be practice on Friday afternoon from 1pm - 5pm. There is a $10 entry for the day and MTBA license required (if you need a day license it is $10 and will cover you for both Fri and Sun).
For more information about the event check out the website at www.vicnet.net.au/~fourx
Last updated: Thursday, 2 April, 2009 7:33 AM