BSX2013
One on One flat pedal pro BMX challenge - A Royal Children's Hospital fundraiser
bmxultra.com presents BSX2013
Event information
Entry form (Includes directions/map)
Click here to download the BSX2013 entry form for directions and event information.
We take entries at the bmxultra.com tent on the Saturday and Sunday at the Track Attack rounds prior to BSX so don't worry you won't miss the boat. That said we can also take entries on the day of the event. Since we will be using transponders we are encouraging riders to register prior to race day, this will help streamline the process on Monday morning and make it faster and much easier for everyone. Encouragement is in the form of a $5 donation to the Royal Children's Hospital.
If you can't make it to the Track Attack rounds to register early and you would like to avoid the $5 donation please email your details in advance to webmaster@bmxultra.com. We will take the signed registration form and your hard earned cash at the gate and sort out transponders as you enter the venue.
Classes:
Open Men
Open Women
30 & Over Open wheel
Under 12 (non competition class)
Spectator entry fee
We would love to invite everyone to BSX for free but this is a charity event that's expensive to run with public liability insurance, toilet hire and other costs so it's just not possible. That said we have kept the prices the same as they have been since BSX started in 2006.
$10 adult (14 and over)
$5 children (6-13)
free children (under 6)
$25 family (2 adults, 3 children)
Proposed Schedule (subject to change)
Monday January 14, 2013
10:30 Start taking entries at the gate
11:00 Gates open/Under 12's first session
11:30 Practice starts for other classes/Under 12's finished first session
12:30 Entries close
13:00 Time trials commence
13:45 Under 12s ride
14:00 Round 1
14:30 Under 12s ride
14:45 Round 2
15:00 Under 12s ride
15:15 Quarter finals
15:30 Under 12s ride
15:45 Semi Finals
16:00 Under 12s ride
16:15 Finals
16:30 Presentation
16:45 Open ride/Draw Raffles/Auctions

Frequently Asked Questions
Q. What does the weather look like for Monday?
A. Check here for the most up to date forecast: http://www.bom.gov.au/vic/forecasts/yarraglen.shtml
Q. What can I win?
A. Our generous partners have donated many prizes, more than you could imagine.
We will be releasing a list of goodies as they come in so make sure you visit bmxultra.com regularly.
What can you win? There's a pretty damn good chance you could walk away with a whole lot of goodies, but you have to be in it to win it!
Q. How does the track look?
A. The track has been well groomed leading up to the event, with improved drainage the water flows away quickly. That said, a day or two of sun and the track should be perfect for the big day.
Q. Where is BSX?
A. 55 Watsons Rd, Pheasant Creek. Check the entry form for maps and directions. Melways doesn't have detailed maps of the area. If you are relying on GPS, it's best to plan your trip first, GPS has been known to drop out in the area.

Q. What food is there?
A. As per usual the Kinglake West CFA will be providing the most awesome BBQ (and drinks) on the hill for the whole day. Make sure you bring some money along and help the CFA keep the area safe.
Q. Can I bring a tent?
A. Sure, but we cannot reserve spots for you. It's first in best dressed. Sponsor tents will be positioned before the general public is allowed through the gate.
Q. What are the classes?
A. Classes:
Open Men
Open Women
30 & Over Open wheel
Gromits (Under 12 - non-competition class)
Q. How do I enter?
A. Look for any of the bmxultra.com team riders or the bmxultra.com banner at rounds two and three of Track Attack or you can enter on the day at the gate from 10:30 am until 12:30 pm. You must also present your license. Freestyle BMX registered riders are also able to enter the event. It's $30 to enter the competition classes (Open Men, Open Women and 30+ Open Wheel) and $20 for the non-competition class (Gromits) who will receive a number plate to run on their bikes and have signed by their favourite riders.
Q. Does it cost anything to spectate?
A. Since it's a charity event there are numerous costs we need to cover, including insurances, toilet hire, etc there is a spectators fee.
$10 adult (14 and over)
$5 children (6-13)
free children (under 6)
$25 family (2 adults, 3 children)
Q. When does it all start?
A. The gates open and practice starts at 11:00am on Monday January 14.
Q. Will there be a webcam again?
A. Sure will, we expect to sort that out over the weekend and provide the link to it as soon as possible. Watch this space.
Q. Can I pre-order merchandise?
A. Yes you can, we will have a limited range of t-shirts and hoodies available on the day. Providing we have the sizes you are after we can put them on hold for you, but only until 1pm. You can pick them up at the merchandise stand. Please email webmaster@bmxultra.com for further details.
Past BSX events
Click on the following links for race reports and results:
BSX track photos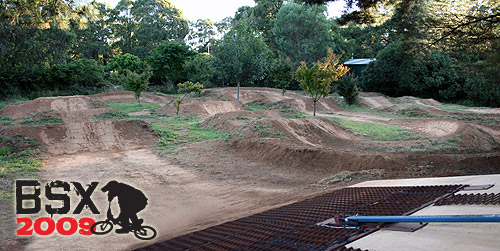 Last updated: Thursday, August 15, 2013 11:04 AM