Tioga's new Spectr Freestyle Tyre
Here's something for those of you interested in more than just BMX racing. Because we know there's more to life than BMX racing.
Tioga aren't settled in dominating the race scene they have come up with a new tyre for freestyle that closely resembles their Fastr race tyre.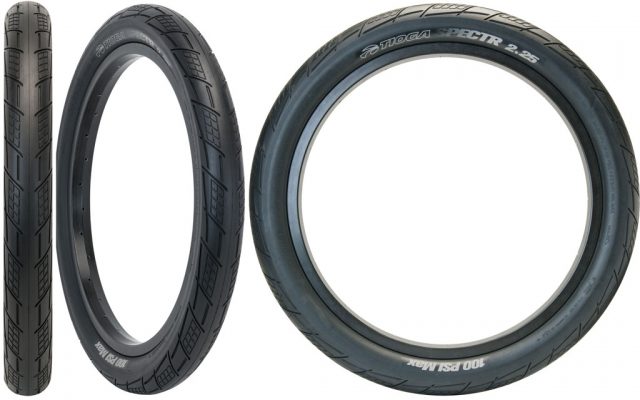 A truly versatile tread designed for modern freestyle. Smooth and rounded tread profile designed to roll more efficiently and precisely in wider range of turning angles. Low profile GripPods, combined with deep tread grooves provide exceptional cornering traction that's not only felt, but heard!
A true freestyle tread offering unprecedented versatility for street, park, skatelite, and dirt.
GripPod traction system activates by weight distribution combined with riding motion for precision gripping.
Wrap around tread for increased leaning angles.
Durable, high friction UTC rubber compound.
PneuMax 100 PSI high-pressure casing.
Available in 20 x 2.25 and 20 x 2.4.
Want more information? Tioga tyres are distributed in Australia by BMX International www.bmxinternational.com.au and are available at all good BMX stores.
Posted in: News