When is BSX2016?
Monday 11 January, 2016.
The Schedule
| | |
| --- | --- |
| 10:00 am | Gates Open & Practice for 12 & Under commences. |
| 11:00 am | Practice for Open Men & Women & 30+ |
| 1:00 pm | 12 & Under time trial |
| 1:30 pm | 12 & Under top 8 eliminations commence |
| 1:45 pm | Open Men & Women & 30+ time trials |
| 2:30 pm | Open Men & Women & 30+ eliminations commence |
Where
55 Watsons Rd, Pheasant Creek, Victoria. There are road signs in the area, that should keep you on the right track.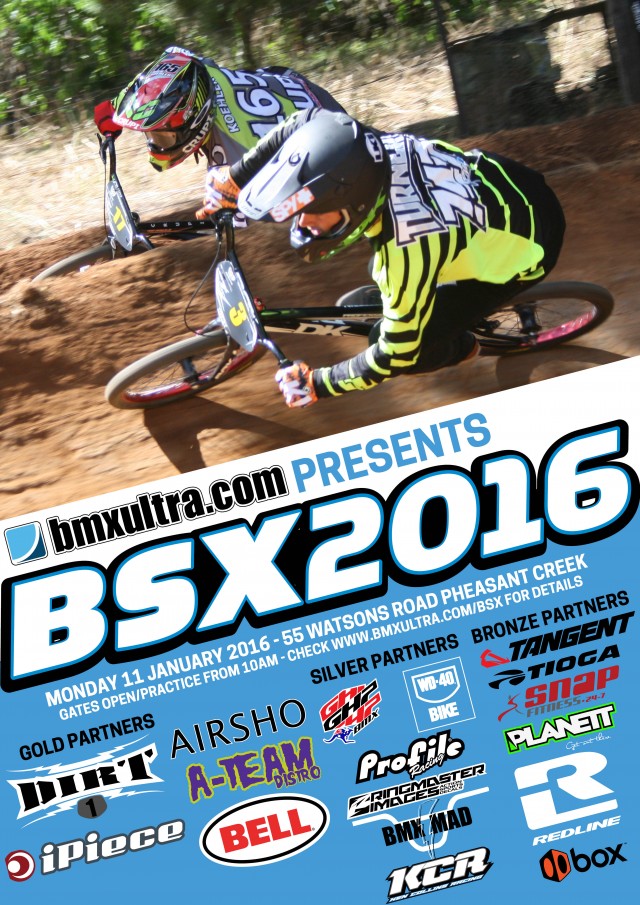 BSX2016 is presented by BSX Inc/bmxultra.com & proudly supported by
Gold Partners
Dirt Designs (www.bmxultra.com/dirt)
Airsho
A-Team Disto (www.ateamdistro.com)
iPiece Productions (www.ipiece.com.au)
Bell Helmets (Monza Imports monzaimports.com.au/cycling/?page_id=4203)
Silver Partners
WD-40 Bike
Phil Kaye Racing (GHP Australia)
Profile Racing (ECI Imports)
BMXMAD
Ringmaster Images – Action Sports Decals
Ken Collins Racing
Bronze Partners
Planett
Box Components
Tangent Products
Tioga
Redline Bicycles
Snap Fitness

Who can compete at BSX?
It's a common misconception that BSX is an invite only event. This is not the case, everyone is welcome to join in on the fun and festivities.
How to Enter for BSX
We have a PDF of the entry form (which includes most of the details for the event) for download, or you can enter online and pay either prior to the event or on the day.
Please note, submitting your entry prior to the event will help our volunteers to keep the event running smoothly and on time. You can enter online and pay on the day so we have all of your details ready to go for when you arrive to register.
Entry forms will also available at Rounds 1 and 2 (Eastfield), look for the bmxultra.com sign.
Shoot us a message via the contact form if you have any further questions.
iPiece Productions Multi Camera Live Webcast
Thanks to iPiece Productions we will be able to present you BSX2016 via a multi-camera live stream of all the action, with audio from the crowd and commentators. Now you will be able to fully emerge yourself in the atmosphere of BSX even if you can't make it to the event on the day.
Streamed live at the bmxultra.com YouTube channel at https://www.youtube.com/user/bmxultradotcom/videos
Parking
Since BSX is located at a private residence parking is tight, but our AWESOME parking staff will look after you, please follow their directions closely as we have restrictions by council to keep everyone happy and safe. Do not park on the road edge we'd rather you donate your money to the Royal Children's Hospital than to the police. Where possible consider car pooling.
What to bring
BSX is a flat pedal race, so bring your flat pedals and appropriate shoes.
ull race gear is required as per normal.
Bring your deck chairs and tent, to keep you comfortable and sheltered.
Bring lots of money for raffles, auctions, and the BBQ.
Be ready for all sorts of weather conditions, you never know how it might end up on the day. (Hat, Sunscreen, umbrella, ski jacket, you name it)
BBQ by Kinglake West CFA
The Kinglake West CFA are supplying a BBQ and drinks. They cook a mean BBQ and have great prices. Buying your food from them also helps the local community.
Want to become a BSX2016 partner?
Email webmaster@bmxultra.com today for details.
BSX has raised over of $40,000 for the Royal Children's Hospital and $1,000's for the Kinglake West CFA
BSX is an annual event held in the Kinglake (Victoria) area during the Track Attack race week in January. Riders from all over the country gather in Melbourne for a week of racing. BSX is a stand alone event that is slotted into the week to give the riders something different to do.

What is BSX?
BSX is short for Bicycle Supercross, it's a stripped back variation of BMX racing. With two separate tracks for riders to compete against each other in a one on one elimination style format. Instead of physical strength riders depend on skills and finesse, on a track like this even the smallest mistakes can be costly. As much as it's challenging and fun for riders, it's also designed for spectators and more particularly to raise money for the Royal Children's Hospital Foundation. All profits raised from gate takings, auctions, raffles and merchandise sales go to the Royal Children's Hospital.
What are the rules?
Platform pedals only, no clip pedals or clip shoes allowed!
This is a BMX event, only BMX bikes are allowed.
Full race gear should be worn, including; full face helmet, full fingered gloves, shoes, long pants and long sleeves.
Riders can choose a side of the track for their timed qualifying lap (no transferring). Riders who fall in their time trial will not get a second chance, they should attempt to complete their timed run.
Only the fastest 32 pro open men, top 8 pro open women (or 16 if numbers allow), top 16 30 & over riders (or 32 if numbers allow) and the top 8 12 & under rider, according to time trial results, will continue to the elimination rounds.
Riders who qualify to the elimination rounds must wear the event number plate as supplied without covering the event sponsors logos. The numbers should not be changed or modified in any way. Once you are eliminated you must sign the plate and return it to the race officials at the finish line.
In the elimination rounds riders must stick to their side of the track without causing interference. The lanes are decided by the rider from each round with the fastest qualifying time from the time trial. The winner of each round is determined by the rider who crosses the finish line first.
Prize money will be payback for open men & women and 30+ class (Max $1000 for pro open, $500 for other classes, remainder will be donated to the RCH). Entry fee is $30 per rider. The breakdown of the money is 1st = 40%, 2nd = 30%, 3rd = 20%, and 4th = 10%. The winner of the semi finals will race for 1st & 2nd and the riders who place second in the semi finals will race for 3rd & 4th.
12 & under class is a mixed class, prizes yet to be announced.
How does the elimination work?
The BSX transfer system was designed to make the racing as close as possible. It's not run like other cycling elimination events.
After a long ride/fun/practice/photo session we start the eliminations
We have a time trial to work out the seeding. This is often done with transponders but has been done with stop watches. When a stop watch is used we use three of them so there's no biased.
Only the fastest 32 pro open men, top 8 pro open women (or 16 if numbers allow), top 16 30 & over riders (or 32 if numbers allow) and top 8 12 & under riders, according to time trial, will continue to the elimination rounds.
If there are 32 riders in the first round:
#1 qualifier will race against #17 qualifier,
#2 qualifier will race against #18 qualifier,
#3 qualifier will race against #19 qualifier
and so on.
If there are 16 riders in the first round:
#1 qualifier will race against #9 qualifier,
#2 qualifier will race against #10 qualifier,
#3 qualifier will race against #11 qualifier,
and so on.
This essentially splits the eliminations into two pools, separating odd and even qualifiers.
During each of the rounds the highest seeded rider gets lane choice.
For each round the first across the line transfers through to the next round, the other rider is eliminated.
We do this until we are down to the final four. The two winners of the semi final race in the A final (first and second), the other two riders race in the B final (third and fourth).
Still don't understand?
There are a bunch of videos from past BSX events on our videos page. If they don't help, it doesn't matter, what matters is you come along and enjoy the atmosphere, get involved, spectate and maybe even win some of the coolest prizes on the planet. It's a charity event and it's awesome!
High jump competition!
We also have a high jump competition to break things up. It's a great way to get the crowd revved up for a big day.
Want to get involved?
Volunteer,  donate, become an event partner, compete, spectate whatever you have in mind, if you have a question for us about the event please shoot us a short message through the contact us page.
BSX is also an official BMX club!
Although we don't hold regular races or gates sessions like normal clubs you can join the BSX club. We signed up as a club primarily to reduce our event over heads, especially insurance, in order to raise even more money for the Royal Children's Hospital. While we don't run regular events like a "normal" BMX club we do have a lot of social rides. Keep an eye out on our Facebook page for updates.