Product Spotlight: Profile Racing Re-Pop Pad Sets
Profile Racing are celebrating 50 years in style, by now you should have seen the 50th Anniversary tees, and the first video installment of From the Dungeon. This time around Profile have put together a limited run reproduction of their popular pad sets. The originals are selling for crazy money among collectors. These things are selling fast, and with 50 sets produced it's only a matter of time before they are all gone. I must be the only BMXer that still runs pads, and these would like great on my bike.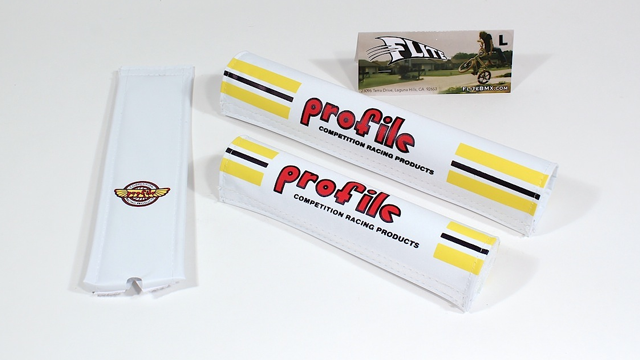 Manufacturers Description
Using their same manufacturing and screen printing processes, thanks to Flite for helping us re-pop 50 SETS of the original Profile Racing frame/bar/stem pads.
Original Profile Racing Gold, White and Navy logo (the Navy on the re-pop pads is darker to differentiate from the originals).
Choose between a Short (11?) or Long (15?) Stem pad.
Includes (1) Cross Bar pad, (1) Top Tube Bar pad, (1) Stem pad.
Flite labels sewn into back side of each pad.
Distributed Across Australia by Elite Cycle Imports
Profile Racing is distributed across Australia by Elite Cycle Imports who are celebrating 20 years of distributing BMX products this year.
ECI work closely with local retail stores to make sure you can get the hubs you want the way you want them and at unbeatable prices.
Posted in: News