BMX racing news February 2009
28/02 the Knox Bushfire Appeal Race – TONIGHT
by Shane Jenkins
The devastation of the Victorian Bush fires has taken 210 lives, left hundreds injured and 7,500 homeless not to mention the millions of animal estimated to have perished in the fire, and still they burn. Those numbers are very difficult to comprehend even for someone who was forced to defend their own home through "Australia's largest natural disaster". There have been many ways that the general public have supported those in need and so far and it's difficult to not get choked up over the generosity. Through the Red Cross over $156 million dollars has been raised so far and with many events still to come that number continues to grow.
BMX Victoria were quick to react to the situation diverting all monies from their Royal Children's Hospital race and the Rider of the Year awards to the Red Cross. The Knox BMX club have always been a helpful bunch of guys and are very supportive of fund raising events, I have had the privilege of their support since the very first BSX four years ago.
The Knox BMX Club has gone to very special lengths to work with BMX Australia and have their Knox Bush fire Appeal club meeting open to everyone who is licensed and includes all rider who have only a club licence.
Now I hear that ugly politics and ego is stopping people from supporting the event, which is quite sad when you consider that fire doesn't discriminate, it just burns everything and anything in it's path. One thing I noticed on the night the fires as they swept through my town is how everyone banded together, people who have never met worked together to put out fires in other neighbours yards despite the obvious dangers. It's an event that has made our community stronger, which is an example that the BMX community in general should follow.
Personally I wasn't able to attend any of the BMX community Bush fire appeals that have been run so far as we have been under tight security in the Kinglake area and, three weeks after the event, are still under threat of fires on a daily basis. I will be at Knox however, although I may not be riding, I will have my camera and supporting the event any way I can.
Don't miss this opportunity to help people who really need it.
Knox BMX Track location: Bunjil Way
Knox, Victoria 3180 [Google Map]
For full details see the press release below.
Knox BMX Club press release
BMX Australia has generously supported the Knox Bushfire appeal event to be held on Saturday Feb 28th.
Their support comes in three ways:
Firstly together with their insurers they have graciously agreed to our request to allow all Victorian Riders with club licenses to participate in this event. Club licensed riders would normally be excluded from an open event.
Next they have also decided to support this worthy cause by donating $800.00 direct to the appeal.
Finally they have also donated a framed 2003 World Championship jersey which has been signed by a number of elite riders such as Luke Madill, Kamikaze and Tanya Bailey. This Jersey will be auctioned on the night and we hope we get just as much frenzied activity as we did at the BMX Victoria Rider of the year awards last Saturday night.
Knox BMX Club thank BMX Australia for their generous and overwhelming support.
So come on everyone in Victoria, get down to Knox on Feb 28 for a fun night for a very worthwhile cause.
Event information
The event is to be conducted on Saturday Feb 28th commencing at 7:00 pm.
Registration from 6:00 to 7:00pm
All riders who participate will be paying a single $10.00 entry fee to ride as many classes as they wish.
All entry fees will be donated to the Red Cross bush fire appeal.
The Knox BMX Club will donate all food for a Barbeque, again with all proceeds to be donated to the Red Cross appeal.
In addition every person will be charged a gold coin admission fee at the gate with all this income being donated to our local CFA brigade.
For any further information please call Graeme Anderson on 0419 569 682 or email to graemeanderson@tpg.com.au
28/02 Alienation BMX Hires New Sales and Marketing Manager
Alienation BMX press release

Alienation BMX is proud to announce we have retained the services of Jerry Landrum to work in the Alienation Sales & Marketing Department.
Landrum, a native of Winona Lake, Indiana brings years of BMX experience to the Alienation offices. Landrum's BMX racing resume includes 13 years running one of the world's leading BMX Racing web sites (BMXmania.com), organizing BMX races at the local, state and national level, having worked for twelve years with BMX promotions for Tektro Brake Systems, working as the official photographer for six years of UCI World BMX races, working on the only BMX racing magazine staff to cover the 08 Beijing Olympic BMX racing event, serving as a BMX racing team manager and continuing to actively race and ride his BMX cruiser regularly.
Working with Alienation, comes naturally for Jerry, as he says, "I have watched Alienation grow from just an idea, nurtured along and come to maturity as a provider of high end BMX products, and I am VERY excited about joining the team."
For more information on Alienation BMX products, please visit, www.alienationbmx.com.
28/02 Carlos Oquendo now on Crupi!

Crupi Parts press release
Arcadia, California – Crupi Parts, Inc is proud to announce the signing of Carlos
Oquendo.  Carlos is Colombia's top Elite rider if it were not for injury, would have
represented Colombia in the Olympics!  South America has such a large and untapped
talent pool and we are really excited to continue building our brand in South America
and riders like Carlos will certainly help Crupi grow!
Carlos will continue living in Colombia and race a full schedule of Latin America
races but there he will visit the states to race at some point this year and of
course attend Super Cross races and the World Championships in Australia.  Please
help us in welcoming Carlos to the Crupi family!
27/02 Review: Tioga D-Spyder seat
by bmxultra.com
It's our favourite day of the week again, time for another product review, Tioga have not only come up with a new tire but a whole bunch of BMX specific goodies that we'll be checking out over the next few weeks. Click here to find out about the Tioga D-Spyder seat.
26/02 One Bicycles Australia update
by Miekel Rose
Our first away event for 2009 was the N.S.W. Southern Region Series at the Southlakes Club near Wollongong. It had been 2 years since we had raced there and were looking forward to it. The day coincided with an Air Show across the road which entertained the BMX Crowds with displays from the RAAF Roulettes and other aircraft, including an FA18. Boy they put on a great event at Southlakes!!!!
Mikayla Rose – Mikayla came out in her first moto and left off where she had in 2008 winning the 9 Girls heat. She also decided to race in the Junior Girls Cruiser division which was 13 and Under and as the only 8 year old girl racing mainly 12 and 13 year old girls kept her own placing 5th. She went on to record 5th places in the remaining motos and final. On her 20" bike she came out firing in the second moto, but ran out of legs in the third straight and was passed by her rival Bianca Robertson from the Liverpool Club. Mikayla realised she needed to watch her lines and put in a bigger effort and pulled another first in the third moto. In the Final she took off and showed why she is currently the top 9 year old rider in the NSW and Victorian regions. A good start to another Southern Region Series of BMX in NSW.
Nikalus Rose – Nik is riding in one of the hardest age groups in Australia in 11 Boys. In the Southern Region we have the National Champion in Andrew Hughes and his partner in crime Patrick O'Connor who is currently ranked 7A. Nik came out all guns blazing in his first moto on his 20" and pulled a close second to Patrick. In his next two motos he had both Andrew and Patrick. Andrew got the holeshot and had a couple of bikes lead in to the second straight where Nik and Patrick were doing battle with Nik getting the edge. As they turned for the last corner and straight Patrick got by Nik and began to challenge for the lead but to no avail. Andrew 1st, Patrick 2nd and Nik a comfortable 3rd. In the 11 to 12 Boys Cruiser, Nik had some tough competition too with Kyle Ionn, Thomas Dallinger, Jackson Frew and Andrew Hughes. Nik had the Cruiser dialled and managed a second and two firsts heading in to the finals. Loaded gate for this one and he drew gate 2 next to Andrew Hughes (who was riding his 4X bike). Gate dropped and it was a drag race. Nik got the holeshot and never let the lead go taking the final on the Cruiser.
Joshua Rose – Like his brother Nik, Josh is racing in what is known as the hardest age group in Australia, the now 14 boys. He came out riding well on the 20" pulling 5ths in each moto, which wasn't enough for a spot in the semis for the round. Josh has been working hard at his fitness and bike skills  in the lead up to the ACT Championships on his home track at Tuggeranong, hoping to better his results. On his Brand New ONE Pro Cruiser he came out on fire in the 13 to 14 Boys Cruiser division racing hard for 4ths in his first 2 motos and then a great ride for a 2nd in the third moto. He made it to the final and had some great competition on the gate with him including the current National Champion Kyle Hughes who was on fire through the day. Josh battled hard to the first corner and had himself sitting in 4th in the pack and then the second straight was out jumped by a number of the  other riders and was left chasing the lead bunch, but managed a sound 6th in the final.
The next big event is the ACT Championships being held at our home track at Tuggeranong. We are looking forward to some exciting racing and great competition.
How to buy One Bicycles products in Australia
If you would like to purchase a One Bicycles frame or accessories in Australia the best way to do so is to head down to your local bike store and place an order. If they don't know what you are talking about tell them to call Elite Cycle Imports while you wait and place your order there and then. After doing some calculations myself I have found the cheapest way to get One Bicycles products in Australia is through a local reseller.
About One Bicycles
For over a decade ONE Bicycles (operating out of Holland), inducted into the European Hall of Fame, has solely focused all their efforts on the sport of BMX. Today they are at the forefront of BMX product design Worldwide. Utilizing advancements in the industry, some of which were conceived in ONE's own engineering department, their products directly reflect the evolution and maturing of proven BMX design. Like a fine wine ONE Bicycles product line has come of age as a result of years of dedication to the sport of BMX.
One Bicycles are a major sponsor of the bmxultra.com team
Over the years One Bicycles have sponsored
Khalen Young
The Phirebird team which includes 2005 & 2006 World Championships finalist Jamie Gray and 2006 NBL Grands (A Pro) champion Glenn Codega
In 2008 Maris Strombergs rode his One Bicycle to victory in the Elite Men's class at the UCI World Championships and followed that up by taking the first ever Men's BMX Gold medal at the Olympics.
For more information about One Bicycles check out www.onebicycles.com
26/02 Morphine Industries ABA Gator National Race Report
Morphine Industries press release
The Morphine Industries' crew rolled into Oldsmar BMX this past weekend for the ABA Gator Nationals and the #3 UCI stop.  The addition of the UCI race to the Gator Nationals brought out all the big guns and set the stag for a great weekend of racing.
It was great to have Factory A Pro rider Gavin Lubbe come in from Cali to join the team as well as Morphine Industries co-sponsored AA Pro rider Barry Nobles riding up with the team and hanging for the weekend. ( road trippin' with 7 in a F250 is always fun)
We set up our trailer and pit area along the first straight next to the starting hill and then got busy checking out the track with the scheduled practice.  The consensus was that the track was totally dialed in, fast and smooth.
A Pros – Tyler Faoro and Gavin Lubbe started the weekend off racing in the Elite Pro UCI race.  With 8 racks of Elite Men the room for error was minimal.  Tyler made it through the motos with ease and was poised to transfer out of his quarter but was pushed off the top of turn one taking out the NBC cameraman.  Little did he know that the cameraman in turn one was motocross superstar James Stewart's dad.
Gavin struggled with coming unclipped in one of his motos and outside gates to narrowly miss transferring to the quarters.
Sunday was a different story for both Riders.  Back to their A Pro racing, Gavin and Tyler both easily transferred out of their motos and their semis to make the Main event.  In the Main, both riders had middle gates forcing them to fight their way through the congestion on the first straight.  Tyler finished with a 5th and Gavin finished with an 8th.
Elite Women / Pro Cruiser – Kyla Reed continues to make her presence known in Elite Women class taking an 8th in the Main on Sunday.  In addition, Kyla set a milestone becoming the first woman to race Pro Cruiser.  She marked the occasion taking a 7th in the main.  YOU GO GIRL.
41+ Inter – Jonathan Reeves had a solid weekend with a 2nd in the Main on Saturday and returning to take a 1st in the Main on Sunday.
31-35 Cr / 28-35 -Doran Bradshaw took on the task of racing both bikes for the weekend.  On Saturday, he took an unfamiliar 5th in his cruiser class, after shutting it down due to a few questionable moves from a fellow racer.  He then took a 3rd on his 20 in the main.  Sunday proved to be a different story with a convincing 1st in the cruiser Main and then a 6th in his 20 main.
15 X – Ace Savarese battledboth daysin the exceptionally tough 15X class narrowly missing the transfer spot to the mains.
12 X / 12 Cr – Noah Reeves put together two great days of racing.  On Saturday, he cruised through both sets of motos to finish with 7ths in both mains.  Sunday was on schedule to be a repeat with a 7th in the cruiser main  but a slipped pedal in the 20 semi keep him out of the main.
10 X  – Richie Dey raced class and open both days making both mains both days.  Saturday ended with a 5th in Open and 7th in Class.  Sunday finished with 5th in Open and 5th in Class.
We had a great weekend of racing and hanging out as a team.  The pit area was rocking as usual spreading the word about Morphine Industries and our Factory Team Sponsors.
The next stop for the Morphine Crew will be the NBL Florida State Qualifier in Punta Gorda, March 13-15 and then DeSoto, TX for the ABA Super Nationals, March 20-22.
Morphine Industries would like to thank its Factory Team Sponsors; Staats Motocross Bicycles (www.staatsbikes.com), Alienation (www.alienationbmx.com), Fly Racing (www.flyracingbmx.com), Lost Energy Drink (www.lostenterprises.com), Sinz Racing (www.sinz-racing.com), Rennen (www.rennendesigngroup.com)
25/02 Australian Elite Development BMX Squad Training Camp
by Caroline Buchanan
The Elite Development training squad consists of Sam Willoughby, Josh Callan, Lauren Reynolds, Rachel Bracken and myself Caroline Buchanan. Brian Kirkham also joined us for a week leading up to Adelaide. The 2 month training camp based on the Gold Coast QLD at the Runaway Bay Sports Super Centre was a huge success. Having Wade Bootes the head coach living with us on campus 24/7 was ideal, he was always pushing, inspiring and opening our eyes to get us to the next level and be the best BMX racers in the world
Racing results:
January 2nd – 3rd Nerang QLD Pro Bikx double round
Result: Sam Willoughby semis + #1st jnr elite, Josh Callan #1st and 3rdjnr elite,
Lauren Reynolds #1 jnr elite women both days, Rachel Bracken #3rd + #2nd jnr elite, Caroline Buchanan #1st elite women both days.
Ashmore QLD Open event
Result: Lauren #1st, Caroline #2nd, Rachel #3rd, Sam #2nd and Josh Callan #3rd
4x Mountain Bike National Championships Stromlo Canberra
Result: Sam #2nd, Josh 8th, Caroline #1st, Lauren #2nd and Rachel #4th
Adelaide SA Pro Bikx round
Result: Josh #2nd, Caroline #2nd, Lauren #1st and Rachel #3rd. (I had a big fall in my 1st race where I knocked the wind out of me and had a mild concussion)
GYM
As a group many of us were reaching our personal bests each gym session. When we are all at home our individual sporting academies QAS, ACTAS, WAIS, SASI and VIS monitor and guide our progress in the gym. It was really good having Wade with us 24/7 at the Sports Super Center gym as we all saw many improvements and were pushed to new levels.
Nutrition/Hydration
Kelly and Mark from the Queensland Academy of Sport helped us out with our nutrition, hydration, cooling and supplements. They really put an emphasis on the importance of eating correctly and hydrating fully. We cooked our lunches and dinners, had a tour of a
shopping center, learnt to read food labels and what to look for, cooking with the bare essentials when traveling, how to make our own sports supplements for half the price from our local supermarket and measured fluid losses during sessions.
Gates and sprints
During our gate start sessions each week we worked as a team by learning off one another to improve our times. Our gate start sessions were short efforts at 100% effort. During the sessions we were focusing on quality, technique and times rather than quantity.
Our sprint sessions varied over the 7 weeks of the camp depending on what phase we were in. We did sprint sessions on clips, flat pedals, rolling starts, standing starts, left and right foot starts, race gearing/ hard gearing and speed sprints behind the motorbike.
Recovery plays a major role in BMX as we need to repeat maximal efforts after one another and back it up again the next day quite often. During the camp we had ice baths, spa baths, monitored our resting heart rates, stretched, had yoga classes and swimming. (Spa) (ICE Bath)
We did many social activities: went and watched the Super Cross racing (motorbikes) talked to Steve Johnson, met Troy Bayliss 3 time World Superbike Champion at the Leatt Brace grand opening, had a tour of Dick Johnson Racing, a tour of Ant Man Helmet designs, cooked lunch and dinners and did lots of cross training like motorbike riding, tubing on the jet ski, mountain bike riding, dirt jumping, Go-Karts with Steven Johnson (Fords v8 supercar driver) and rode some skate parks.
Steve Johnson V8 Supercar driver and team at Go-Karts Dick Johnson Racing and team
Skills
The majority of our skill development during the camp was on our BMX bikes. We focused mainly on our mountain bike skills in the lead up to the Australian Championships where we all competed in the elite 4x category. We tried to spend as much time as we could on our BMX bikes but also incorporating the cross training and had a skill acquisition talk from Megan at the QAS to increase our skill development taking us to the next level.
Media
We were able to get quite a bit of media over the camp with the local Channel 9 News, various news papers around Australia, ABC TV, Cycling Central, Scope and WIN TV. Myself and the rest of the EDS team thoroughly enjoyed the camp, we loved purely being full time athletes and we have all benefited greatly from it in every aspect physical, mental, technical and tactical preparation.
Quotes:
Caroline: "The camp was extremely beneficial for me I was able to learn why and understand the reasoning behind sports science and the training methods and cycles. I love living, breathing and being a full a time athlete."
Lauren: "The past 2 months has been the best opportunity to train in a small group of riders all chasing the one dream, under full guidance of Wade Bootes and support from
Cycling Australia and our state institutes. One step closer every day!"
Rachel: "It's been really useful having our coach around 24/7 to make sure I'm doing all the right things."
Brian: "I only got to ride a part of the camp, but it was great to be in a training environment with 5 other good riders and to have input from Wade with everything we did."
Josh: "I really enjoyed just focusing on my training over the past 2 months, not having to worry about school work and my busy life. So it has been a great opportunity to get some great training in and work hard!"
Sam: "It has been great to be around 5 other athletes who share the same passion, vision and goal as I do. Working with Wade and the team has been another great stepping stone for us all working towards DOMINATING THE WORLD!!!"
THANK YOU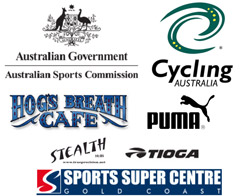 For making the 2009 Elite Development Camp possible and a success.
25/02 Prokop AUTHORized to win in 2009
Prokop press release
Prokop & Author. Author & Prokop. Though to separate those two names. Prague based company and Prague native rider worked together ever since 2003. Six years in a row and the successful story will continue in 2009 race season! You would spend a long time with searching for a better example of loyalty in the field of the Mountain Bike World Cup.
Never change the winning team!
Michal Prokop and Author bikes were always the benchmark for rest of the fourcross scene. Hand in hand, they brought home the rainbow jerseys from the Fourcross World Championships in Lugano 2003 and Rotorua 2006. Put two World Cup overall titles, ten World Cup wins, three Jeep King of the Mountain titles plus two Euro Champ titles on and what you get is the gravity mountain biking history making alliance. Never worse than second in the World Cup 4X overall standing from 2003 to 2007… that's true domination!
Prokop became the face of Author, the leader of Czech cycling industry and top player on the European market. First generation of the Author Prokop 4X signature frame joined the wide range of Author products back in 2005 and still remains to be the first choice of many 4X riders. With unbelievable 19 wins and five titles of seven years of the World's unique Czech 4X Cup history, the quality was approved.
Prokop says… "Even the whole cycling industry gets currently really hard times and many riders had to change team colors, Author was well prepared for that situation and still remains the one of the strongest bicycle producers in Europe. Those guys supported my career a lot for a long time and they also have big plans for the future. They are involved in the mountain bike racing ever since 1994 and understood what a racer needs. I can ride frames made exactly in accordance to what I feel to be the best for me. High-end bikes are available to me no matter what I am going to do, training on road, flying above trails or working hard on a velodrome.
After all that Olympic BMX rush, I am looking forward to be back on a big bike. There are some new but already hell fast kids in the World Cup and it seems that also some more BMXers want to try what is fourcross about. Anyhow, I will play my game and then we'll see if it's enough for rainbow jersey from Canberra or another World Cup trophy. You know me, I am living for winning… I will fight for A gang!"
About Author
1990
The importing company named Universe Agency was established to distribute cycling products on the Czech and Slovakian markets.
1993
Brand of Author was born. First Author mountain bikes produced.
1994
Author goes racing with its own pro cross country MTB team.
1995
Pro team enters the MTB World Cup. ARP introduced as an amateur racing supporting program.
1996
Author shop network founded.
1997
First ever Author full suspension bikes presented.
1998
First Author road bikes, Author Plus parts and collection of cycling wear presented.
1999
Author goes triathlon. Author Credit hire-purchase plan released.
2000
Professional downhill and cyclocross teams established. The club Author Clan founded.
2001
What a year! Gold from downhill and triathlon Europeans, two silver medals from cyclocross worlds.
2002
Best dealers selected to become Author Bike Centre. Dirt Street collection launched.
2003
Prokop joins Author and right brings the rainbow jersey to the Czech Republic for the very first time.
2004
Author Gang loaded with prime only bike riders formed.
Learn more about Author products at www.author.eu
About Michal Prokop
Czech fourcross and BMX pro rider Michal Prokop managed to step out of shadow of sports giants even before the flames went up over the Beijing. With his two World Champion rainbow jerseys, two World Cup titles and 10 World Cup wins in his pocket, Michal Prokop for sure already belongs to prestigious club of real heroes of gravity mountain biking history. The life on pedals is his hobby and livelihood as well. The King of the Czech cycling of 2006 and the Author factory rider acquired all titles on his mountain bike and he even defended them again.
Michal brought himself to the attention of sports public particularly thanks to his dominant position in mountain bike fourcross. This guy belongs among the very few exceptional sportsmen, in the case of whom the one of us may afford to consider any other placing except win in the top world competition as something surprising. Unlike most of his other competitors MP devotes himself equally to two related, but still different disciplines! Moreover, in 2006, just a few months after his severe injury, Prokop initiated the Czech national team of the track world championship on oval…
Learn more about Michal Prokop at www.ProkopRider.net
24/02 Photos: South Australian State Championships
by bmxultra.com
We popped into the South Australian State Championships at The Cove on the weekend and took a few photos. Click here to check them out.
24/02 Do you want the fastest Pro Riders at your Track?
HRVfitness press release
For years clubs have struggled to get the top Pro riders to their events. They are either too busy or it's just not feasible to travel the distance. There for Australia's clubs very rarely get to see what the country has to offer, they never get to see the top athletes face to face, but all that is about to change….
A winning combination
Wouldn't it be great if someone came up with a way that would allow Australia's best riders to come to your track and run a coaching seminar? How about a training seminar that covers all aspects of BMX racing and guaranteed all riders will be better athletes after participating?
That's what Elite Racer can deliver!
What do I get with Elite Racer?
Elite racer is designed to give you maximum results in the shortest time. With over 5 hours of hands on training from Australia's best, this has to be the best value for money training out there. Tony Harvey has been a high quality personal trainer for many years and now focuses his energy into developing a program which allows riders to learn from their heroes.
Here's what Elite Racer can provide your riders.
Elite Pro Riders, Billy Jolliffe, Brian Kirkham, Tony Harvey, Olivier Hoarau
Track skill development,  jumping, manualing and racing techniques
Gate start techniques and fine tuning
Sprint development designed to improve bike speed and strength
Sport specific strength and conditioning exercises
Over 25 years of BMX racing experience
For every 20 riders the club will receive $100 cash back.
Get in now before the 2009 Australian titles!!
Contact tony:  tony@hrvfitness.com
24/02 Rennen G-Cog Certified Coaches
Rennen Design Group Press release
Rennen Design Group, developers of G-Cog, the ultimate BMX training tool, are pleased to announce that "Coach G" Greg Romero is the first BMX coach to pass our certification course and to receive his G-Cog. Since receiving his device he has been busy testing away, validating some of his theories that helped capture an Olympic Silver and Bronze for the Red Bull BMX team in the Summer Games.  In addition, he plans on integrating BMX powermeter testing into his High Performance Camps throughout the year. Look out for these camps at a track near you!
Others who have passed the course and are now awaiting their devices are former NBL National #1 Thomas Allier and Colombian national coach German Medina.
We created a course for coaches to take to ensure that they are familiar with the functions and operation of G-Cog.  Athletes who are considering hiring a trainer/coach and would like to use a G-Cog to help structure their program can be rest assured that all Certified G-Cog Coaches know the device inside and out.  If you think you have what it takes to become a Certified G-Cog Coach send an email and your coaching resume to Info@G-Cog.com
G-Cog is a revolutionary BMX training tool that enables you to measure Power, Torque, Speed, Acceleration, Distance, and Reaction Time (Integrated speaker plays ABA, NBL/UCI cadence).  G-Cog will help you validate your training and give you confidence that you've put the work in.  Now it's time to let your results speak for themselves.
The Future of Training is Here!
20/02 Review: Funn Soljam Viper pedals
by bmxultra.com
We've been checking out the Funn Soljam Viper pedals. We think they provide the best grip of any platform pedal that we have ever used. Click here to find out more.
19/02 Crupi introduces new Handle Bars!

Crupi Parts, Inc press release
Arcadia, California – Crupi Parts, Inc has just received its new line of aluminum race bars!  Same great Crupi bar geometry everyone has come to love but new colors and graphics and a completely new line of butted chromoly bars!  Butted chromoly bars are just as strong as any standard chromoly bar but are much lighter in weight. Crupi is also the first to introduce a butted chromoly cruiser bar!
New Crupi aluminum bars sizes include our Moto 4X (4″ rise), Moto 5X (5″ rise), Moto 5.5 (5.5″ rise) and Moto 6.5 (6.5″ rise).  The new butted chromoly bars feature our 2020 butted Chromoly Pro bar w/8″ rise and our 6″ rise Pro Cruiser bar.   Please visit the Crupi website at www.crupibmx.com to see all our new bars.
19/02 Randy rides Rhythm Wheels!

Crupi Parts, Inc press release
Arcadia, California – Crupi Parts, Inc is happy to welcome Factory GHP's Randy Stumpfhauser to our family of products.  Randy was part of the Crupi family nearly 10 years ago when he was on Huffy and used many of the Crupi products at that time. Randy being one of the top veteran Pros competing in the AA pro ranks can ride any wheels he wants to and Randy has chosen the new Rhythm wheels!
Welcome back to the Crupi family of products Stumpy!
Check out the wheels Randy and many other top riders are riding including Tyler Brown, Jelle Van Gorkom, Mosquito Suarez, John Purse, Scott Erwood, Jason Richardson, Carlos Oquendo and Fede Pollo.  You can see them on Crupi's website at
www.crupibmx.com.
19/02 Mosquito now on Crupi!

Crupi Parts, Inc press release
Arcadia, California – Crupi Parts, Inc is proud to announce the signing of Jonathan "Mosquito" Suarez.  Jonathan has a long list of accomplishments which include most recently a trip to Beijing for the Olympics!  "We have been speaking with Jonathan for years about coming over to Crupi", says Crupi's President, Greg Swingrover.  "Now that the Olympics are over it seems that many other companies out there are letting their team rosters go but we feel this is the time to promote like crazy and adding Mosquito to our family of riders is a great move for Crupi", Swingrover added.
Crupi prides itself with not only the sponsoring the fastest riders on the planet but the best people as well.  Jonathan certainly fits Crupi's mold in both aspects! Mosquito is no stranger to Crupi as he was crowned Elite Men Cruiser World Champion in Canada in 2007 and he won that race on a pink Crupi cruiser!
Jonathan will continue living in his home country of Venezuela and race a full schedule of Latin America races but there will be Mosquito sightings here in the US and around the globe at all Supercross events.  Welcome to the team Jonathan!
19/02 BMX Victoria rider of the year awards
BMX Victoria press release
Saturday the 14th of February saw the awarding of the 2008 BMXV Rider of the Year Awards.
David Lyon won Junior Rider of the Year
Grant Williams won Vet Rider of the Year
Matt Dunsworth won Senior Rider of the Year
Bodi Turner won Rider of the Year
Barb Carey was awarded the John Wakzcuk Memorial award for services to BMX in 2008
Tony Harvey was given Life Membership of BMXV.
$1500 was raised on the night for the bushfire appeal. The mower that was the raffle prize on the night will now be drawn @ Knox on the 28th of February
18/02 BMX Australia supports the Knox Bushfire Appeal Race
Knox BMX Club press release
BMX Australia has generously supported the Knox Bushfire appeal event to be held on Saturday Feb 28th.
Their support comes in three ways:
Firstly together with their insurers they have graciously agreed to our request to allow all Victorian Riders with club licenses to participate in this event. Club licensed riders would normally be excluded from an open event.
Next they have also decided to support this worthy cause by donating $800.00 direct to the appeal.
Finally they have also donated a framed 2003 World Championship jersey which has been signed by a number of elite riders such as Luke Madill, Kamikaze and Tanya Bailey. This Jersey will be auctioned on the night and we hope we get just as much frenzied activity as we did at the BMX Victoria Rider of the year awards last Saturday night.
Knox BMX Club thank BMX Australia for their generous and overwhelming support.
So come on everyone in Victoria, get down to Knox on Feb 28 for a fun night for a very worthwhile cause.
Event information
The event is to be conducted on Saturday Feb 28th commencing at 7:00 pm.
Registration from 6:00 to 7:00pm
All riders who participate will be paying a single $10.00 entry fee to ride as many classes as they wish.
All entry fees will be donated to the Red Cross bush fire appeal.
The Knox BMX Club will donate all food for a Barbeque, again with all proceeds to be donated to the Red Cross appeal.
In addition every person will be charged a gold coin admission fee at the gate with all this income being donated to our local CFA brigade.
For any further information please call Graeme Anderson on 0419 569 682 or email to graemeanderson@tpg.com.au
17/02 Felt Bikes Australia are putting together a race team
Felt Bikes press release
Felt Bikes, is seeking to put together a competitive BMX Race Team to compete at an Elite Level on the National Stage, at National Championships and UCI events.
The team will consist of 5 members, male and female.
TEAM OBJECTIVE – "Promote the sport and the Team Brand within the sport."
SELECTION CRITERIA –
Riders who are aged14 years and over, have a top three result in their state championships are encouraged to apply.
Team members must compete and carry themselves with a high level of professionalism at all times.
Applicants should submit a Resume electronically, consisting of – Name, Competition age/class, Club, State/National/International results for the last 3yrs,
Include a brief statement – Race History, involvement within the sport BMX Racing.
Referee contact details – Club Coach, State Coach.
Contact
Team Manager – Tony Price (tnjp@bigpond.net.au) AH 07 4778 3978
16/02 Back on the air – the bushfire ordeal
by Shane Jenkins
Hi folks, by now you would have noticed that we have been off the air for a week or so. The Australian bush fires that have been the center of attention for our nations media, and I believe international media too, swept through our beautiful part of the world, Pheasant Creek. It was called the biggest natural disaster in Australia's history.
I'm writing this because I only want to say this once, I don't intend to answer any questions about the fire and I don't want to tell my story over and over, so please don't ask me about it.
I'd planned on doing some work around the house on the weekend of the 6th and 7th of February. I'd had Cameron Murray drop the guttering off the house and Matt Dickinson put up some new facers so I could start painting.
On Friday the 5th everything was all set to go, the only problem was the weather forecast. It was going to be around 45°C (115°F) on Saturday, and the media mentioned that the predicted conditions could potentially lead to devastating bush fires. It would then cool to 25°C (80°F) on Sunday. The plan was to paint in the morning on Saturday until it got too hot then spend the remainder of the day preparing for Sunday, when the bulk of the painting would be done.
Saturday came around, it was an early start, we got all the painting done on the roof area that we could until the roof just got too hot at about 11am. I moved on to some scaffolding that I'd hired and was scraping back flaking paint. At around noon I'd noticed a large smoke cloud bellowing over the horizon from around the direction of Kilmore, the smoke was blowing towards Melbourne. I kept working but Tracy was listening to the radio for updates and keeping a close eye on the CFA website. The fire, fueled by strong winds and dry grass, apparently jumped the Hume Hwy and started raging out of control. Tracy was keeping me up to date with the numbers of units that the CFA were throwing at the fires I remember them growing at an alarming rate, but I kept working, the smoke started to fill the skies and getting closer to home. The radio had reported that they were heading towards Whittlesea a small town about 15 minutes away, they were hosting their annual Country Music Festival, and they were shutting down the festival and preparing the town for the fires.
It was some time around 4pm that I had decided to take a break for a while and about the same time one of the neighbours knocked on the door and said that the road to Whittlesea had been cut off by fires. They suggested if I was planning on leaving I should think of another way to get out. The winds appeared to be heading towards Whittlesea so I didn't think much of it and went back to playing Skate IT on my Wii. Pete, another neighbour, dropped over and we sat and talked on the back veranda watching the smoke build up and listening out for any alerts on the radio. Everything was quite surreal, we were admiring the colours that the sun was making from behind the smoke, but soon grew bored with that and I decided I should do some work. I'd been trying to fix Pete's computer for a while and we decided it was time to take it back to his place and set it up. It was about 5:30pm, I had literally just finished installing software to get it back on the internet when the power surged a few times and finally dropped out altogether. I headed back home to check how things were going there. We no longer had internet or power so I pulled the car around so we could keep an ear out on the radio.
At about 6pm the wind had really picked up and was blowing towards us, before we knew it everything went black. I'm not talking about black like the middle of the night, just pitch black with very little visibility. Instantly I sent Tracy inside to pack everything she could, I called Jamie Bullows to let him know what was going on while I pulled my car out to the front of the property so I could bail quickly when it was time. The phone cut out before I could even get to the gate.
Once Tracy had packed anything of value, photos, computers, cameras and minimal clothes I through her road bike on top, with my 20″ already buried underneath everything. We headed next door to tell Pete we were leaving, he had a visitor we found out that there was no way out, fires had started burning all around us blocking the roads off the hill. We headed back to the house, by then the darkness had lifted. We changed into long pants and tops, and neither of us had work boots so I through on my Vans and we started to prepare the property. Tracy ran a 100m power lead to a generator on an adjoining property to power our water pump and we started to hose down the house, fill buckets, I got all the tools out and filled the wheel barrow with dirt. To be honest we would be prepared for ember attack, but beyond that all we could do was hope. I removed the gas bottle from the BBQ and through it in the front yard since the threat seemed to be coming from the rear of our property. I got some help to remove our 300kg gas bottle (we don't have mains gas, or water for that matter) and rolled it to the roads edge, if things got hot I didn't want the house to explode with the gas bottle. We moved the cars to the roads edge too and started clearing what we could from around the house.
From that point on all there was to do was watch the fires and keep an eye on things. We also had the radio running to try and make sense of what had happened and what was still to come. At about 10pm Tracy packed Oscar in the car and headed to a house up the road owned by one of the local SES guys with some of the neighbours, I stayed behind realising that there were no sirens, I could hear voices, yelling in the distance, the remaining locals were fighting for their properties. I could also hear explosions and see flames shooting well above the tree line along the back fence. I had expected the worst. When I noticed there was a small fire starting in the next property I walked towards the fence line to investigate only to hear another explosion, naturally I high tailed it back to a safe distance. The explosions continued for some time and the flames seemed to get higher and spread very quickly. That went on for a couple of hours, until the explosions started to taper off. Tracy returned and tried to convince me to bail. I was sure that half the fires could have been stopped if people had stuck around to fight the embers and that I wasn't prepared to just walk away unless things out of control on our own property, Tracy understood and stayed to help, we had some contact with the outside world, phone wasn't so great but we were able to send messages without too much trouble. I stayed on guard until the immediate fires started to subside it was about 12:30am so I walked to the car and listened to the radio for a while keeping an eye on everything while I just sat there, unscathed, feeling like the luckiest man alive. Exhaustion set in though and I woke up again at 1:30am and just went to bed and collapsed happy that we had seen the worst of the fires.
The after math of the following day was what had shocked the country, the media were in a frenzy reporting that Kinglake, Kinglake West and Pheasant Creek were wiped out. We had no power, no phones, and now we had no mobile reception at all, we had lost all contact to our family and friends. While I continued to paint the house to keep my mind off the ordeal of the night before the people that were closest to us were expecting to never see us again. Neighbours spoke of the devastating horror that the fires had caused, I just couldn't venture out. I had a job to do and I was determined to get it done.
On the Monday Tracy had ventured out looking for phone reception and we were finally able to get in touch with people, for the next 2 days messages were building up on our phones, so we ventured out to check them morning and night and tried to answer all we could. Eventually we were able to organise a generator of our own so we were able to power the essentials, fridge, water pumps and hot water for showers. Mains power was finally reconnected on Friday.
I must thank our immediate neighbours and all those people who have helped fight the fires and make contributions to the bush fire appeal. I especially want to thank everyone who sent an SMS, email or tried to call. And I can't forget Levi and Reg, the G-Media crew and Jamie and Rachel who came up to help clean up over the weekend.
That's all I have time for right now.
16/02 ToddLyons.com website updated
by bmxultra.com
We got a heads up from the "Wildman" Todd Lyons that his website has been reskinned by none other than Robbie Miranda, he says "it's pretty dope", I have to agree it's a good looking site. Check it out for the latest from SE and Todd Lyons at www.toddlyons.com.
16/02 Sinz Stealth Expert 1" & Pro Lite 1" 1/8th Carbon Race Forks
SINZ Racing press release

SINZ Racing is proud to announce the arrival of the all new Stealth Carbon Pro Lite and Expert 20" and 24" BMX Race Forks.
The all newly designed SINZ Stealth Carbon Expert and Pro Lite race forks are available in 4 different sizes, Expert Fork – 20 X 1", 24 x 1" and Pro Lite in 20 x 1 1/8th, and 24 x 1 1/8th. All feature a redesigned fork body utilizing improved carbon technology to help reduce the overall weight of the fork, aluminum steer tube with a chromo plug in the lower steer for added strength.
| Part Number | Fork Model |    Fork Weight | Suggested Weight Limit |
| --- | --- | --- | --- |
| SSF-05 | Expert Carbon 20X 1" | 525 Grams | 145 Pounds |
| SSF-06 | Expert Carbon 24X 1" | 560 Grams | 145 Pounds |
| SSF-07 | Pro Lite Carbon 20X 1 1/8" | 530 Grams | 175 Pounds |
| SSF-08 | Pro Lite Carbon 24X 1 1/8" | 565 Grams | 175 Pounds |
For more information on SINZ racing products, please visit www.SINZ-Racing.com
SINZ Elite is a series of SINZ Products that are used by some of the words best BMX racers. The SINZ Elite Series includes Forks, Handle Bars, Wheels, Stems, Ti Spokes, Ti Bottom Brackets, Chains, and more. SINZ has a full product offering for all types of BMX riders with its affordable line of high quality BMX race products. SINZ offers products in a wide variety of sizes and colors. From inexpensive quality parts to full on Pro race level items, SINZ has something for everyone.
SINZ Racing is a division of VSI Products. For more information on any of the SINZ Racing products or any other item offered from VSI including Intense BMX, Intense Tyre Systems, THE Products, and Vigor Helmets, please visit www.vsiproducts.com
16/02 Energized NBL Competition Congress ushers in a new season
NBL press release
NBL awards more than $60,000 back to tracks and athletes
Hilliard, Ohio – The 2009 NBL Competition Congress was a success in many ways and this year's event drew record attendance. More than 225 NBL track directors, clerks, state commissioners and volunteers, along with the NBL Staff and Board of Directors, came together for a weekend of learning, sharing and networking.
To empower tracks with more knowledge on how to run and promote their own successful local programs, NBL hosted a wide variety of seminars throughout the three-day gathering. Topics included Local Promotions, Track Building and Maintenance, Refereeing, Clerking, and Medical Training. Each volunteer who attended Congress walked away with valuable information to take back to their own local programs. In addition to a learning experience, Congress has a long-standing tradition of recognizing the outstanding efforts of past and present volunteers who have helped build and lead the organization.
During Saturday's congress, long-time NBL board member and past-president Gary Smith of Florida was proudly inducted into the NBL Hall of Fame. In a term that spanned more than 20 years, Gary was first elected to the NBL Board of Directors in 1987 and then served as President from 1990-2004 before retiring due to a bad back.  Though he was unable to attend congress in person, his efforts were recognized during a heart-felt induction.
At the core of every successful program, there are people who go that extra mile to get the job done and this year's 'Volunteer of the Year' award was presented to Kittie Weston-Knauer of Iowa. She is the Iowa State Commissioner and past Track Director of Des Moines Metro BMX. Kittie continues to compete at local and national levels and has been an advocate of expanding the Women's racing programs.
Building on the success of a rise in membership, NBL presented more than $60,000 in grants back to the tracks and athletes this year to further support the grass roots of the sport. They included track awards for highest local attendance, most new riders, and the Bob Warnicke Awards for athletes and their educational pursuits. Weston Pope of Indiana received a $5,000 scholarship to top the list of Warnicke recipients.
On Saturday evening, delegates gathered in the main ballroom to take part in the retirement festivities for Bob and Polly Tedesco.  Hosted by Roger Plaskett of Foothills BMX, the night featured a number of keynote speakers including Louis Vridjag, former President of the UCI BMX Commission from the Netherlands, who gave speeches to recognize their own personal accounts about the Tedesco's and their long history in BMX. Polly then got the chance to play a game of Deal or No Deal which was followed by an evening of socializing, reminiscing and dancing.  BMX has come along ways since those early days when Bob showed up at North Park, PA and it was a fitting transition to usher in a new energy.
Congress doubles as the platform in the voting process for the NBL Board of Directors and this year's ballot was the most active in more than a decade.  As the association makes its final transition to the new leadership, changes at the board level promise to bring a new direction and spirit to the organization. Joining the board this year are Steve Doan of Florida who was appointed as the new Vice-Chair and both James Bagwell of South Carolina and John Pingol of Florida were elected from the floor. "NBL Congress has a long-standing tradition of acting as both a learning experience and a place where new agenda's are established to invigorate the organization. We welcome the newest members and look forward to a successful and prosperous road ahead" said Ken Masters, NBL President. "In many ways, it is the true essence of what the NBL is all about" he added.
NBL would like to thank all of the delegates and volunteers who helped make the 2009 Congress a huge success. Visit the NBL website (www.nbl.org) to learn more about the organization and check out the full report in the April issue of BMX Today Magazine.
16/02 Morphine Industries leaves their mark on the NBL Southern Charm National
Morphine Industries press release
The Morphine Crew gathered in McDonough, Ga. over the weekend at the NBL Southern Charm Nationals.
Risking the chance of freezing cold race weather we headed toward Atlanta.  McDonough had redone their track and the lure of great racing made the trip and the weather a secondary thought.
We rolled into Marietta Thursday night.  It was the longest, shortest trip ever.  You ever feel like you are on a treadmill and going no where – it took for ever.  We crashed a JRev's house – Yo dude thanks for the floor space.
We headed back down south about an hour to McDonough and Sandy Ridge BMX.  We got there and proceed to set up the pit area.  We had to back up the rig through a small gate that a car could barely fit through.  I don't know how it fit but we made it and got the joint set up for the weekend.
The small turn out on Friday made for a lot of practice.  It was open practice all night until the pre-race.  The track was smooth and fast with tight turns.
Super X – Tyler Faoro battled with Logan Collins on Saturday and Sunday taking 2nd in Pro Open mains both days.
Super X – Jason LaRev rode solid both days. However a bobble in the main on Saturday forced Jason to settle for 8th.  Getting pinched on Sunday narrowly put him out of the main.
Elite Women – Kyla Reed hit the track with park style as usual and took home 4th in the main on both days.
41+ N – Jonathan Reeves held his own on Saturday racking up a 1st in the main, but got taken out in the first turn on Sunday and rolled to an 8th in main.
35-39 Cr – Doran Bradshaw put on a riding clinic both days cleaning up his motos. However, an over site on Saturday caused Doran to miss the semi gate drop, ending his day.  Sunday, Doran had similar luck getting hung up on the track and settled for 8th.
17-18 X – Travis Woodruff missed racing on Saturday but joined the crew on Sunday.  Riding cold and no track practice, Travis made it to his main but got pinched out going into first turn and settled for 7th.
15 X – Ace Savarese getting back into the BMX swing after some time off had a good weekend with a 4th on Saturday and a 5th on Sunday.
12 X & 11-12 Cr – Noah Reeves had a busy weekend with solid performances in both bikes, taking 5th in both mains on Saturday.  Riding only the 20" on Sunday repeated with another 5th in the main.
Overall Morphine Industries had a solid weekend with a few mishaps here and there.   Sometimes it's a dog eat dog world and your wearing milk bone underwear.
That's Racing!
Next stop for the team is the ABA Gator Nationals at Oldsmar, Feb 20-22.  We are stoked about this race because we will have the complete team together for the first time.
Morphine Industries would like to thank its Factory Team Sponsors; Staats Motocross Bicycles (www.staatsbikes.com), Alienation (www.alienationbmx.com), Fly Racing (www.flyracingbmx.com), Lost Energy Drink (www.lostenterprises.com), Sinz Racing (www.sinz-racing.com), Rennen (www.rennendesigngroup.com)
06/02 Tioga supports bmxultra.com for 2009
bmxultra.com press release
The legendary BMX tire manufacturer Tioga have committed to supporting bmxultra.com and the bmxultra.com/One bicycles race team for 2009.
bmxultra.com owner and bmxultra.com/One Bicycles team manager Shane Jenkins is very excited about the hook up. "I have personally used Tioga tires for most of my 27 years of racing, Comp III's to be exact, as the tracks have changed over the years so have the rider's needs. Tioga has addressed those needs and the Power Block tire is about to change the way BMXers think about tread patterns, pushing tire technology to a new level, just as the Comp III tread did over 25 years ago." said Jenkins
"Tioga is built on serving dedicated individuals such as Shane and the bmxultra.com squad so the opportunity to work with them is too good to pass up" said Kai Cheng of Tioga USA.  "We will also count on Shane and his crew to provide Tioga with valuable feedback so we may continue to improve on the products." added Cheng.
When asked how Tioga will support the race team Jenkins replied "Many of the riders on our race team have already started using the Power Block tires and they love them, the remainder of the 10 man squad should have them very soon. They will be the ideal tire for the remainder of the 2008-2009 Australian summer season and the upcoming Australian Championships and UCI World Championships to be hosted right here in Australia, both events being held indoor. The team is armed with Tioga Comp X tires for the wetter conditions.  Team member Jamie Bullows and I have already used the Comp X tires before and found them a very reliable all round tire, exactly what our team is after."
"When it comes to the website, it's the support from leading edge companies like Tioga and our other partners that enable us to bring you great news and regular product reviews. We are very proud to have Tioga on board." Jenkins added.
The bmxultra.com/One Bicycles team is proudly supported by One Bicycles, Supercross BMX, Dirt Designs, Tioga, THE, Profile, Sun Ringle, and Tektro Brakes.
More information about the bmxultra.com/One Bicycles team at www.bmxultra.com/team.
About bmxultra.com:
bmxultra.com, started in 1996,  is driven by a life long  passion for the sport by owner Shane Jenkins,  to provide the latest in BMX racing news from around the world. bmxultra.com provides daily news updates, interviews, photos galleries, product reviews and a discussion forum. The website presents an annual charity event BSX, a one on one flat pedal BMX race where 100% of profits raised are donated to the Royal Children's Hospital. www.bmxultra.com.
About Tioga:
A design driven bicycle components company focusing on function with style.  In over 30 years in the cycling industry, Tioga has created numerous industry advancing components from the Comp-III BMX racing tire and the T-Bone stem to the standardization of the 1-1/8" steering system.   Tioga's new generation of components are not only functionally designed to accommodate athletes with serious skills, but also styled to reflect their commitment to the sport. www.tiogausa.com.
05/02 ABA So. Cal Nationals at Lake Perris, CA. to have Olympic Gold!
ABA press release

2008 Olympic BMX Gold Medalist will once again be on hand at the ABA BMX So.Cal Nationals. Free Agent's AA PRO, and Latvia's own MARIS STROMBERGS made his ABA BMX debut in Reno, NV. earlier this season and made a great impression with the fans. MARIS is excited about the ABA BMX SO. CAL. Nationals and will be doing a few autograph sessions through the weekend at the Free Agent Team pit area. MARIS will have his actual 2008 Olympic GOLD medal on hand for the fans to see as well! Be sure to stop by the Free Agent Team pit area to say hello to MARIS. He's a super nice guy, a great rider, and how often do you get to meet an Olympic GOLD Medalist with his medal in hand? This is a great opportunity for the fans and a HUGE thanks goes out to Dale Holmes, Free Agent , and MARIS STROMBERGS for coming out this weekend. We hope to see everyone there!
05/02 Glenn Suridge Training: Advanced Clinic…Road to the Aussies
Glenn Suridge Training press release
Saturday February 7th at Knox Bmx Track
$15 per rider
Clinic will start at 10 am SHARP. Please be there by 9.45 am
The weather for Saturday is meant to be 43 degrees so the clinic start time has changed to 9AM
We will be covering everything from  cornering jumping and sprinting and more
Riders must bring all safety gear .
Spots are filling fast so call me or email to book your spot
AND NO CLIPS

0416 92 7474
glensuridge@optusnet.com.au
04/02 Review: S&M T4 race handlebars
by bmxultra.com
We've had bmxultra.com team member Brandan Bullows out testing the S&M T4 race handlebars, click here to read the review.
03/02 team bmxultra.com January report
bmxultra.com press release
The summer season recommenced with the Track Attack series in Melbourne for most of the bmxultra.com team riders and included the BSX.
Shane Jenkins, now recovered from injuries that plagued him in 2008, hit up the A Pro class to guage his progress at four of the six rounds at Track Attack only to discover he has a lot of work to do to remain competitive in the class that just keeps getting tougher. At BSX, the one on one flat pedal race presented by bmxultra.com in Shane's own backyard he managed a 3rd place in the 30 & Over Open wheel class.
Brandan Bullows had an off week, riding well in the motos but struggled in the semis, you can be sure he'll bounce back and find his way into the finals again very soon. At BSX Brandan seeded 17th after in the time trial and drew Kyle Horton, the number 1 seed, in the first round, although he rode a good lap Kyle was just a little bit stronger eliminating Brandan in the first round.
Jamie Bullows was riding in the 30-44 men's 20 inch class and made the podium in all four races he attended taking a win at Knox. At BSX he qualified 3rd in the 30 & Over Open wheel but drew team mate Jenkins in the first round, the match up was shoulder to shoulder, the two pushed each other to the limits, until Jamie slid out in the last corner and was eliminated.
Chase Collins did well in the A pro for Track Attack making it to the main in two of the five races he competed in, his best finish was a third place at Frankston. A heavy fall at BSX in the timed run saw Chase draw a tough first round where he pushed Shannon Rademaker to the line, but was eliminated by a small margin.
Levi Collins is considered some what a BSX specialist with his aggressive cornering, he qualified 4th in the time trials at BSX and was beaten out by Scott Lacey in the semi, and had to settle for fourth overall after a tight race with Tom Siinmaa.
Adam Carey made the final at all six rounds of Track Attack and finished with fifth overall for the series. At BSX he met Tom Siinmaa in the second round, Tom had the smoother ride knocking Adam out of the event.
Scooby Guyers headed over from South Australia for BSX, but hit up the Park Orchards Track Attack round, after a crash in the motos Scooby had a run off for the semi which he won, but he wasn't able to progress past the semi. At BSX Scooby put in the 9th fastest time for the day in the timed run, but was eliminated by Kyle Horton in the second round.
Mark Dobson did very well in the 30-44 cruiser class at Track Attack, making all the mains and finishing in the 5th spot overall for the series.
The bmxultra.com team is proudly supported by One Bicycles, Supercross BMX, Dirt Designs, Tioga, THE, Profile, Sun Ringle, and Tektro Brakes.
02/02 ABD BSX fundraising
by bmxultra.com
You have probably already read about the racing at this years ABD BSX, while the racing provides a whole lot of fun and entertainment through the day the primary function of the event is to raise money for the Royal Children's Hospital. Having already raised $11,678.45 for the Hospital over the past 3 years the goal was to raise around another $3,500 to push the total over the $15,000. Sounds easy right? Well not quite. We have costs to cover so we rely heavily on our partners to provide cool prizes for raffles and auctions.
One of the most hotly contested, unique and successful fund raising activities each year is to auction off the riders number plates from the event. In the time trial round riders are seeded and are given a number plate with their ranking, as they are elminated from the racing they sign their plate and hand it back for us to auction off. The ABD BSX saw one of the most successful number plate auctions in the history of the event rasing $761. The highest amount paid for any plate was $98 for 3 times winner of the 30 & Over class, Simon Anderson.
Top 10 most expensive plates at Auction:
$98 Simon Anderson
$51 Michael Fenwick
$50 Kyle Horton
$50 Brock Tuckerman
$50 Tom Siinmaa
$50 Scott Lacey
$50 Josh Isaac
$40 Bodi Turner
$30 Levi Collins
$25 Shannon Rademaker
We always have a major auction with very special prizes which usually includes a signed jersey from some of the worlds best riders, this year was no exception. Thanks go out to Gavin D from XBR for organising not only an autographed jersey from Dutch Olympian Robert "Afro Bob" DeWilde but his race pants as well. It was the ABD Pro XL bike auction that stole the show. First ABD went all out and replaced the frame with a Team Issue (with Easton tubing) which would push the value of the bike to around $1,100. They then threw in a jersey to go with the bike, and when things looked to slow down a little in the bidding they also threw in a full face helmet.
As the event organiser I would personally like to thank everyone who supported the ABD BSX and helped to make it a success in it's fourth year. First of all thanks to the generous support of our naming rights partner ABD, they did an amazing job and really didn't stop giving until the event was over. We are very excited about the possibility of working with them again next year. Our Gold Partners Dirt Designs and XBR have supported the event since it's conception, their support for the event and over the years makes it so much easier to run the event year after year. Our silver partners ECI always come through with some great prizes that put big smiles on people's faces when the raffles are drawn and the silent auctions are closed, and thanks to Supercross for their donation. A special thanks to our bronze partners Poison City Records, GT Bicycles, Fox by Monza, Chris Van Winden Paint jobs, BMX MAD and Strictly BMX. A quick thanks also to Trail and Track Cycles for their kind donation.
There are people who take time out of their own lives to put in a lot of time to help BSX happen. Thanks to Dean Coles for helping me rebuild the starting hill, to Levi Collins for building the starting mechanism, Jamie Bullows for pulling the two together and spending days tinkering with everything to make sure it was as close to perfect as possible. One guy who sits behind the scenes, is always cool calm and collected despite how crazy things might get, or how hot it gets is Andrew Hepburn, he does an amazing job with the PA and scaff, but I wish he's stop winning the bikes each year and share the love. All jokes aside I can't think of anyone more deserving.
There are a couple of very generous people on the day who spent a lot of money to help the charity and I would like to mention names except I'm worried I might leave someone out, so to you guys who really opened up your wallets this year, cheers, we really appreciate it, and naturally hope to see you all again next year.
Once again I must thank everyone for supporting the event. The riders were amazing, the fact that we managed to pull together the kinds of numbers that we did surprised me. To the spectators, thanks for coming along and putting up with the heat, I'm sure that sitting at the beach or in an air conditioned room would have seemed far more appealing. The volunteers did such a great job and to each an everyone of them I take my hat off, they go above and beyond each year to help things run smoothly and best of all they all do it with a smile and a lot of pride. I can't forget to thank the BMX racing media, Gavin from XBR and Warwick from BMXPress always support the event and for that I am eternally grateful. I almost forgot those that made very kind donations, thank you from the bottom of my heart.
We still haven't been able to finalise the total to the last cent, as there are still a couple of people to pay up, we may end up with a couple more auction items that will more than likely be auctioned at a local track or on ebay and the council may be able to return the permit fees. But so far it looks like we have raised over $3,600 for the Royal Children's Hospital. If you were a part of it in anyway give yourself a pat on the back for another job well done.
See you all again next year.
ABD BSX is presented by bmxultra.com and proudly supported by
Platinum Partner
ABD (www.avantibikes.com)
Gold Partners
Dirt Designs (www.bmxultra.com/dirt)
XBR (www.xbr.com.au)
Silver Partners
Elite Cycle Imports (www.eciimports.com – S&M, THE Industries, Alienation, Sinz and Profile Racing)
Supercross BMX (www.supercrossbmx.com)
Bronze Partners
Poison City Records (www.poisoncityrecords.com)
GT Bicycles
Fox By Monza
Chris Van Winden Paint-jobs
BMXMAD (www.bmxmad.com.au)
Strictly BMX (www.strictlybmx.com)
Supporting Partners
BMX Australia
BMX Victoria
BMX Press Magazine
For more information see bmxultra.com/bsx
About BSX
BSX (Bicycle Supercross) is one-on-one sprint trails style racing on a backyard track built specifically to test a rider's skills. The short straights, lofty jumps and tight corners are very intense under race conditions but also fun for competitors and create quite a lot of entertainment for spectators. The event provides a unique experience for the local Victorian riders, as well as the interstate and international visitors during an off day of the Track Attack series. The events primary function is to raise money for the Royal Children's Hospital Foundation. In just three years the event has raised $11,678.45 which has provided the hospital with new equipment. Funds have been raised through gate takings, raffles, auctions and donations.
About the Royal Children's Hospital
'The Royal Children's Hospital is the major specialist paediatric hospital in Victoria and provides a full range of clinical services and health promotion and prevention programs for infants through to adolescents. Each year the Royal Children's Hospital treats tens of thousands of children through our Emergency Department, inpatient admissions and outpatient visits. The Royal Children's Hospital Foundation plays a vital role in providing additional funding to support important research projects and purchase state of the art medical equipment to ensure that every child receives the very best treatment now and into the future.
02/02 Glenn Suridge Training: Advanced Clinic…Road to the Aussies
Glenn Suridge Training press release
Saturday February 7th at Knox Bmx Track
$15 per rider
Clinic will start at 10 am SHARP. Please be there by 9.45 am
We will be covering everything from  cornering jumping and sprinting and more
Riders must bring all safety gear .
Spots are filling fast so call me or email to book your spot
AND NO CLIPS

0416 92 7474
glensuridge@optusnet.com.au
Posted in: Archive