BMX racing news October 2011
28/10 Goldcross Cycles BSX: Track updates and new partner
by bmxultra.com
BSX (short for Bicycle Supercross, and is often referred to as Backyard Supercross) is a Royal Children's Hospital fund raiser. It will be on again on Monday January 16, 2012 (during Track Attack). It will be the seventh running of the one on one backyard BMX race. BSX is the longest running event of it's kind in the world and draws a large number of competitors from around Australia. The event has pulled a few international visitors and a number of Olympians.
New partner: A Team Distribution
A Team Distribution were responsible for the Snap product that was auctioned and raffled off at the last BSX. For 2012 they will be stepping up to a gold partnership supplying over $1000 in products from
Snap Bmx Components
Syndicate Cycles
Alius Bmx Components
Folmer BMX
It's with support from the likes of A Team Distribution and our other partners that makes BSX a success each and every year.
Thanks to Scott and A Team Distribution (a_team_distro@yahoo.com.au) for the awesome products.
If you haven't checked them out yet make sure you do at BSX, buy raffle tickets, bid at the auctions and if that fails get down to your local bike shop and make sure you support those who support you and events like the BSX. Buy local!
Track updates
Well it's been a long time coming but we finally have the new dirt for the track changes. Already some of it has been shaped, but there is still a lot more work to go. Take a look at our latest facebook photo album to check on progress so far.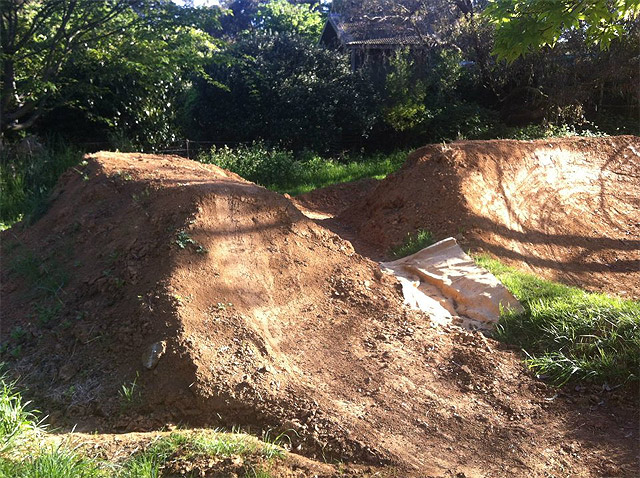 Partnership opportunities
If you would like to be involved in BSX2012 we have partnership packages available now, email webmaster@bmxultra.com for details. Basically we are looking for products or even services for auctions/raffles and it's possible to make cash donations (these are made out directly to the Royal Children's Hospital and tax receipts available). 100% of profits raised will go directly to the Royal Children's Hospital.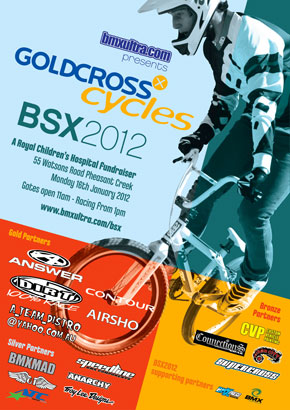 Posters
We have been doing a lot of early planning work this year for BSX, the event is six months away and we plan to have posters out in stores to help plug the event even more. If you would like to get involved with the event as a partner please let us know early so you can have your company represented on the posters. We would like to get the posters circulating around October time, so please get in early.
The Goldcross Cycles BSX is presented by bmxultra.com and proudly supported by 
Platinum Partners
Goldcross Cycles (www.goldcross.com.au)
Gold Partners
Dirt Designs (www.bmxultra.com/dirt)
Airsho
Bronze Partner
Supercross BMX Australia (www.supercrossbmx.com.au)
Custom Vehicle Painting
Connections BMX (Eaglehawk www.connectionsbmx.com)
About BSX
BSX (Bicycle Supercross) is one-on-one sprint trails style racing on a backyard track built specifically to test a rider's skills. The short straights, lofty jumps and tight corners are very intense under race conditions but also fun for competitors and create quite a lot of entertainment for spectators. The event provides a unique experience for the local Victorian riders, as well as the interstate and international visitors during an off day of the Track Attack series. The events primary function is to raise money for the Royal Children's Hospital Foundation. In just five years the event has raised approximately $24,700 which has provided the hospital with new equipment. Funds have been raised through gate takings, raffles, auctions and donations.
About the Royal Children's Hospital
'The Royal Children's Hospital is the major specialist paediatric hospital in Victoria and provides a full range of clinical services and health promotion and prevention programs for infants through to adolescents. Each year the Royal Children's Hospital treats tens of thousands of children through our Emergency Department, inpatient admissions and outpatient visits. The Royal Children's Hospital Foundation plays a vital role in providing additional funding to support important research projects and purchase state of the art medical equipment to ensure that every child receives the very best treatment now and into the future.
27/10 Photos: Shepparton Pre-titles
by bmxultra.com
Some days you get to the track and wonder how you are going to race and take photos. Anthony Hadenfeldt to the rescue. Just when I was starting to think that maybe we'd give the photos a miss for the day Anthony stepped forward and said he'd do them. Click here to check them out.
26/10 BMXMAD Race Report: Shepparton
BMXMAD press release
Thanks to the team members who made the trip to race at the Shepparton Shakedown event on the weekend. The weather held off and the track was smooth and fast.
Results:
Greg 1st 50+ Mens Cruiser
Graeme 3rd 50+ Mens Cruiser
Wade 3rd 14 Boys
Emily 3rd Pro Ladies
Taylor 8th Pro Ladies
David Crashed AA Men
Erin 2nd Pro Ladies
Bodi 4th AA Men
Greg 1st 50+ Men
Graeme 4th 50+ Men
Russell 6th 35-39 Men
Well done everyone. It was good preparation for the State Titles that are fastly approaching. It was great to see the BMXMAD colours doing so well out there! Commiserations to David – broken collar bone, will be missing the titles this year.
26/10 Coaching Clinic at Shepparton 29th October
BK's BMX Coaching and personal training
There are only 2 more chances for Coaching on the State Titles track at Shepparton before the big event.
Take this chance to fine tune those skills and get a fitness boost, ready to smash the track start to finish.
Book in through bryan@arnwod.com.au, and while you're at it put in a specific training request. More than likely I would cover it, but the more I know what about you want to get from a coaching session  the more I can address your needs.
Be there on Saturday October 29 at 9.45 for a 10am start
$15
BK
0418 594 316
bryan@arnwood.com.au
25/10 Knox Thunderdome Coaching Clinic
Knox BMX Club press release
The Knox Thunderdome has grown over the years to become a real festival, the two day racing event kicks off with the show and shine old school display and a coaching clinic.
Coaching is from two of Victoria's top AA Pro's that will cover all aspects of racing. Why not get some last minute tips before the Knox Thunderdome and also the State Titles!
Book your spot by emailing thomas.siinmaa@live.vu.edu.au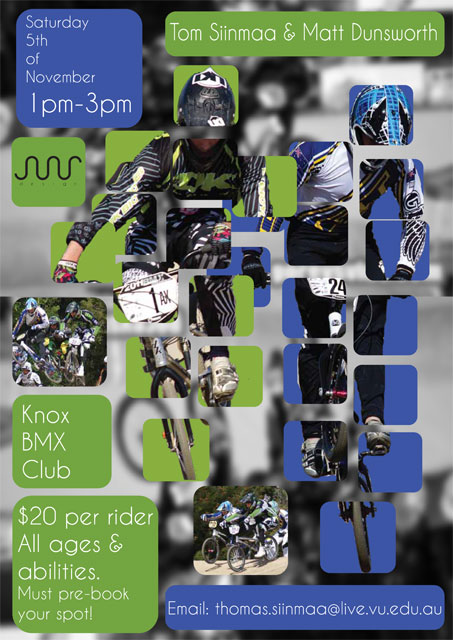 24/10 Joey Bradford the King of Las Vegas
Prophecy BMX press release
After the UCI world cup final at Chula Vista where Joey was frustrated to not be able to race because of a wrist
injury …Joey told us that he will try to be ready for the next ABA Redline cup of Boulder…and he did it!!!
Joey Bradford comment after Chula Vista race:
"I aggravated my hand two weeks ago during one of the last training sessions at Chula Vista and
thought my hand would be ok to race this past weekend. I was able to ride one of my local tracks
just fine without any limitations but it was just too hard to keep my hand on the bars at the bottom
of the hill and the transitions into the corners. Seeing as I wasn't in any contention for the world cup
series this year from missing the early races all the doctors told me to pull out instead of trying to
race. If it was a shoulder, or knee, or any other body part I would have been ok, but with it being my
hand I just couldn't hold on.
I'll be ok to race the ABA/UCI National in Las Vegas next weekend though!"
All the best riders were there at this race at Boulder city trying to collect important points for the ABA/UCI
title … and Joey showed everybody how fast he is on his Prophecy BMX Scud carbon frame and took the win the both days, Saturday and Sunday!!!
During Saturday race Joey did not do any mistake, winning every single race from qualification to the final,
giving any chance to other riders.
At the final it was the domination of the two carbon frames leading the pack…A carbon frame battle between
Sam (Redline) and Joey (Prophecy BMX), side by side on the 3rd straight…with Joey taking more speed on
jump and keeping the first position until the finish line.
First victory for Joey this year at the ABA Redline cup series and first victory for Prophecy BMX in ABA / UCI
race in USA…
For a new brand, as we are, it is unbelievable to be already in front and get a victory in elite in ABA
race…and we want to thank Joey for that!!! And congratulation to him, you are so fast man!!!!
On Sunday race Joey repeated and won again this time Marc Willers…And again two
innovative bikes leading the pack with a 20mm axle alloy frame and a carbon frame….advantage this time
again to the carbon Prophecy Scud frame with a second victory in the weekend! Joey you are definitely the king
of Vegas!
VIDEOS OF THE RACE:
Final Saturday: Joey Bradford 1st place.
http://www.youtube.com/watch?v=CSAJbgK-PNk
Final Sunday: Joey Bradford 1st place.
http://www.youtube.com/watch?v=Bn-yiwAX3e0
SPONSORS: PROPHECY BMX / FLY / THE / SINZ / TIOGA / PROFILE
24/10 Adrenaline Sports Festival Frankston
Braaap press release
The Adrenaline Sports Festival is having a display of pit bikes, scooters and bmx bikes this Saturday October 29.
Frankston BMX club has the use of Travis Popes Holeshot Industries two person start gate and we would love all clubs and riders to come along and wear their race gear and have a practice session on the gate, we've been told bmx will be between 12- 4pm .
See www.adrenalinesportsfestival.com for further details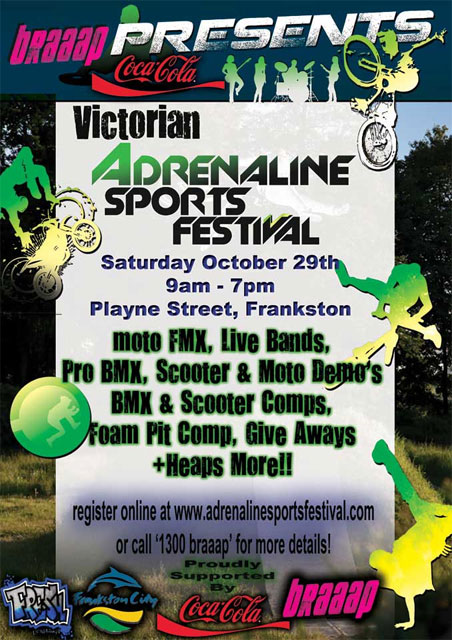 21/10 Review: Prime Aero V2 V brakes
by bmxultra.com
We were introduced to the Prime Aero V2 V brakes by John from Trail and Track. They are a nice long reach brake with 60mm of adjustment and a nice price. Click here to read the full review.
20/10 Test ride a DK for the next 3 years!
DK Bicycles press release
We want you – DK Bicycles are looking for TEST riders for the next 3 years, that's right a new model every year for 3 years.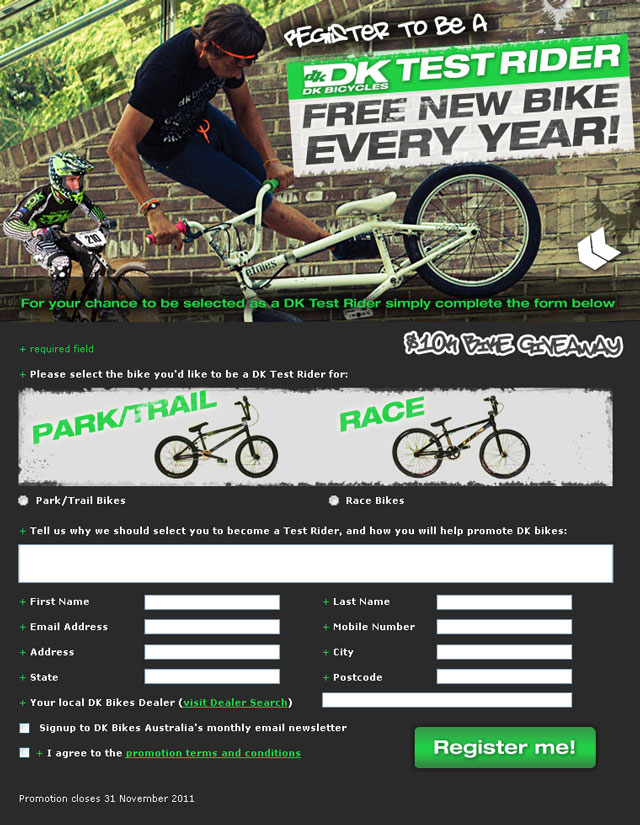 Please go to http://www.facebook.com/dkbicyclesaustralia all you need to do is, like our page, fill in the form..simple.
19/10 Anarchy BMX is back
by bmxultra.com
The Anarchy brand is back, well nearly. The Anarchy BMX frame was on display at Interbike and you should hearing more about them in the coming months.

It's a totally new frame redesigned from the ground up, with a new owner that's poised to make a massive impact.
Riot Race Frames
Expert XL ( for 1 3/8" Wheels )
Expert XL ( For 1.5" Wheels )
Pro
Pro Plus
Pro XL
Pro XXL
Pro 24"
Features
Built from Easton ULR Ultra Light Race 7005 Aluminum and has a two step, T-4 and T-6 Aging process with alignment in between to guarantee a perfectly straight frame.
With it's Wishbone seat stay, and oversized boxed chainstays, the Anarchy Riot is a fast performer out of the gate
Featherly light at 3lbs 1 ounce for the Pro Sized Frame
Features include a CNC'd Campy Integrated Headtube
Pass through Cable Guides
CNC'd Euro BB shell
Multi level stepped dropouts
Available in 7 sizes, and 3 colors.
19/10 New concept BMX starting hill
H1G1 Architecture press release
For the last ten years, and particularly doped by the entrance to the Olympic Games in Beiing in 2008, BMX has developed exceptionally fast. This evolution is translated by headways in several domains of the training and the competition of riders.
The most blatant are doubtlessly the appearance of a real World cup circuit, under a size format adapted to the best world riders, ' BMX supercross '. This representation brought BMX the fresh air it needed : a time trial with elimination to hold only the best riders, a simplified board of race and a competition which takes place within three hours. 
Nevertheless, in this landscape in full transformation, it would seem that we can propose another type of evolution, in term of infrastructure. Indeed, few tracks have buildings, stadiums or bleachers. Furthermore, we can say that the systems of assembly of the starting hill are rather bland, even on permanent tracks.
As BMX creates more and more of a professional image, we have decided to help it by proposing a real building support for the starting hill. Why not replace this precarious scaffold by a truly lived structure ? Does BMX today deserve to receive, on behalf of communities, clubs, associations, federal and Olympic authorities, as much interest as football, track and field, and swimming? 
For us the answer is YES.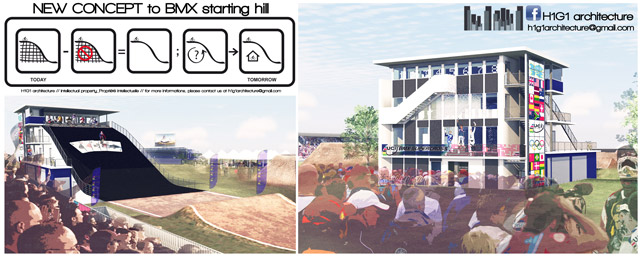 18/10 Bodi Turner Podiums at Boulder City
BMXMAD press release
Congratulation to Bodi Turner. two 3rds in A Men and 1st Junior Elite in Boulder City USA.
Bodi stayed in the US after the SX round in Chula Vista to race in Las Vegas. He raced in both A Men and Junior Elite on the Saturday and found the two classes were too close together making it hard work keeping up the pace all day, but finished the day on the podium in both. On Sunday he sat out the Junior Elite and just concentrated on the A Men class. He finished again on the podium in 3rd. Well done Bodi. Bodi would like to thank the Koehler family for billeting him for the past 3 weeks and cheers to Sam, Khalen, Connor and Sean for all their support and advise. Thanks again to everyone who assisted Bodi on his travels.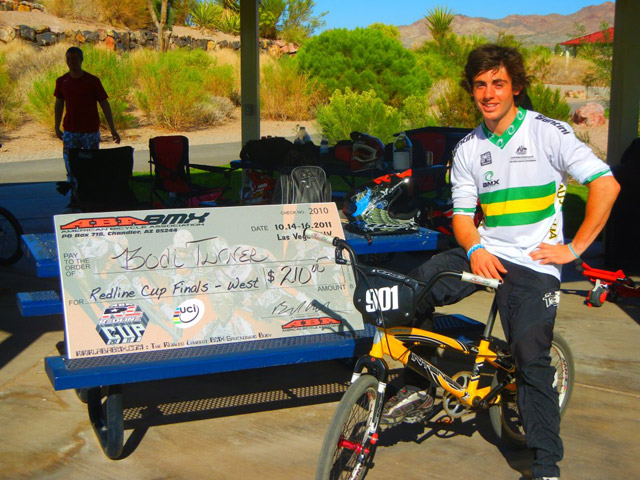 Sponsors: Intense, ECI, BMXMAD
17/10 bmxultra.com's Levi Collins wins Cash Dash/Bullows in USA
bmxultra.com press release
It's catch up time with the bmxultra.com team, a bunch of the team riders were at the Cash Dash a couple of weeks ago. The Cash Dash was once one of the biggest races on the Australia calendar attracting some of the biggest names in Australian BMX and international visitors like Dale Holmes. It still has a lot of meaning for many riders who have been involved in the sport for some time. This year it celebrated the 30th Anniversary of the event. (I think someone forgot it was dropped from the calendar for a year when the club was going through a rough patch). It's certainly still a favourite amongst bmxultra.com team riders.
Levi Collins has been riding very consistantly for the past few events and he's been knocking on the door of the top spot on the podium for a while, it's only fitting that he finally took the win at the Cash Dash. It was a come from behind win that left Matt Dunsworth and Tom Siinmaa scratching their heads. Exiting the first corner Levi was in third place and closing in fast. Levi lined his bike up for the inside of the second corner and gassed it down the second straight to take Dunsworth high and slip into first where he stayed to the line. What next for Levi? Keep your eyes peeled.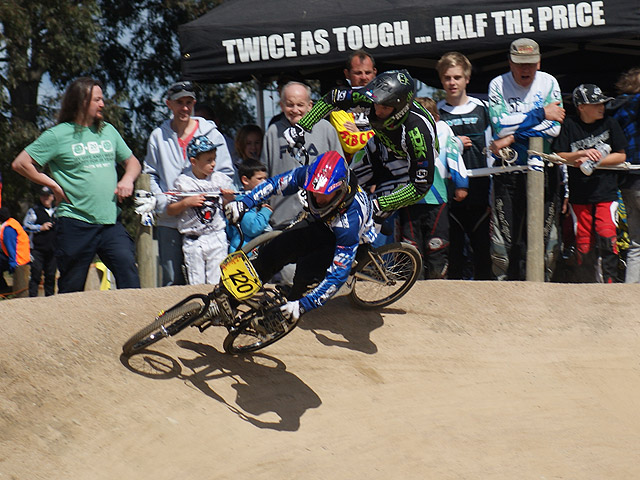 Dane Pangallo was back in the Pro Open mix after his win at Bendigo in A Pro. He was riding extremely well against a field with a large number of AA riders, only narrowly missing out on the main having finished fifth in the semi.
Chase Collins also made it through to the semis in Pro Open. After stringing together some fast laps in qualifying he only managed an eight spot in the semi. It's nice to see Chase back in the pro field.
Aaron Rogers was in the 30-39 class and riding well in the class. When the dust settled Aaron took the fourth place, he's continuing to show improvements in the lead up to the Victoria State Championships.
Jamie Bullows in the USA
Jamie Bullows is living his dream of racing and travelling in America at the moment. He had his first race on US soil this weekend. He picked a big event to do it at too. The Redline Cup West at Boulder City NV. He finished up with a fourth in the 36-40 class on the Friday, took Saturday off to watch the Supercross in Vegas and went back on Sunday to finish with another fourth place. Jamie will be continuing on to the Disney Cup in Florida next weekend.
The next stop for the rest of the team is at the Pre-title event at Shepparton this weekend.
The bmxultra.com team is proudly supported by One Bicycles, Supercross BMX, Dirt Designs, Tioga, Elite Cycle Imports, THE, Profile, Sun Ringle.
14/10 Review: Lezyne Travel Floor Drive Pump
by bmxultra.com
If you are a serious BMXer you are going to be travelling a lot and if you are in the market for a new pump we think we've found just the thing for you. Click here to check out the review.
13/10 ONE Bicycles Australia at the New South Wales BMX Titles at Liverpool
ONE Bicycles Australia/ECI press release
This year saw the State Titles at the Liverpool track, a very technical track with a small start hill, long first straight and bitumen corners. They were trialling a new format this year with Cruisers on Saturday and 20" bikes Sunday. Sprockets rode both days as did the Pros, with scores tallied over the two days, averaged out and a champion decided from the best score. There were some threats of isolated showers for the weekend, but the track has a great finish and a polymer coating which makes it hard even in the wet!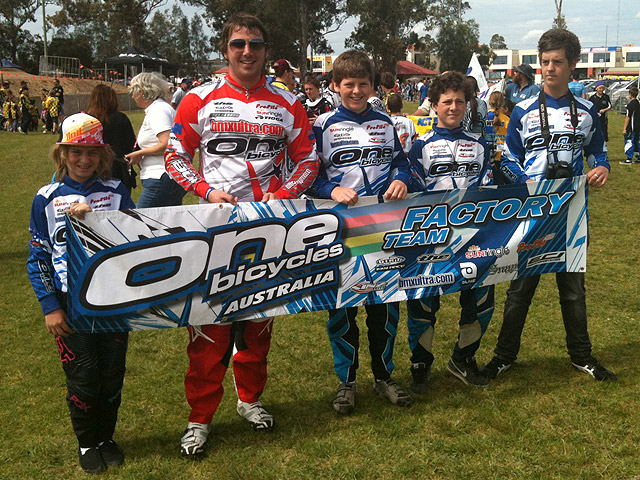 Saturday – Cruisers
Mikayla was racing in the 11-12 Girls Class and keen to start the weekend on a good note. She had limited time on her cruiser in the lead up to the event, but was happy with how the ONE Cruiser felt! In her heats Mikayla was riding strongly and finished with a first and two seconds behind 12 year old Chelsea Boylan. Mikayla's first straight and gate were awesome but the sheer size and strength of Boylan hunted her down by the second corner! Mikayla was in to the finals with ease and sitting in the second spot on points. In the final, Mikayla got an amazing gate and led the girls down the first straight. Chelsea eventually hauled her in and the two battled to the line with Chelsea taking the win and Mikayla finishing 2NSW on her cruiser.
The weather held out during the day with only a light small shower for 10 minutes which watered the track down well!
Nikalus was racing the 13-14 Boys cruiser class and there were some strong riders in the field including local lad Gage Harland. Nik was riding well on the day against the older riders and had some tough competition from riders in his own age group in Dan Morris from Tamworth and Jason Mlinarevic. Nik kept his cool in the heats and managed a place in the final. When the gate dropped, Nik came out well, but being in an outside gate made it tough for him to get across and challenge the leaders. Nik battled hard and when the dust settled he was able to cross the line and secure a 6NSW plate for 2011.
Sunday – 20"
Mikayla was looking to make it three state championship wins in a row on her 20", but the day was to start out badly with wet miserable conditions and then an announcement that they were going to merge her class with the 12 girls, making it super tough when she had competition like W3 Saya Sakakibara from 12 girls, Chelsea Boylan (2010 Mighty 11's rider) and her own age class with Emma O'Hearne, Possum Williams and local rider Bianca Robertson. Not only did that affect Mikayla, but it affected the Corporate Team entry as well. The pressure was on. Mikayla had been having issues with hitting her knees on the bars when coming out of the gate and this happened in her first moto giving the girls a great start ahead of her. To top it off she unclips in the last straight and falls back to fourth spot. The day was getting worse with every minute. In her second heat Mikayla went out and won it which was comforting and in shocking muddy conditions, very impressive considering she was on a hard pack tyre. Nothing was going right for the little champion, when in her third moto, she and Saya were battling at the head of the field when Chelsea Bylan lost control on the doubles in the third straight and hit Mikayla from behind bringing her down and then landing on her. This caused a pile up with another rider landing on both Mikayla and Chelsea. When all the girls got off Mikayla and she got up out of the mud, it was too late and she rolled through for 8th spot, making her miss her second ever final by one point. Mikayla took it well and though disappointed, it was just one of those events! Mikayla stood by the track and supported her age class in the final like a true champion she is. There is always next year….if it doesn't rain!
Nik like Mikayla was set up for dry racing and was struggling to get his power to the ground in horrid conditions in the 13 boys class.  Nik was coming out of the gate well but then struggling to get traction and having to make up the gap to the leaders down the second straight where he was strong all event. Nik managed a fourth in his first race after a hard fought comeback. In his second race he came in with a second. In the third heat he did enough to secure himself a place in the semis. Nik struggled with Lane choice and picked gate one hoping to keep an inside line to the first corner. Problem was it was so wet that lanes one and eight were like a swimming pool and Nik had no way of getting traction and spun the length of the first straight almost coming off the triple at the end of the straight. He raced hard and pushed his way up to fourth as he headed in to the last straight, but got challenged for the last spot in the final by Ryan Williams. The two riders were shoulder to shoulder but Nik got loose again allowing Ryan enough space to beat him for the last spot in the final. Another disappointing result for Nik who deserved better, but the conditions and bike setup were against him. Like his sister, there is always next year.
Josh was looking for his first State Plate in 16 Boys and had been training hard for it with new Coach Adam Carey.  Josh rode well in the heats even though he too was riding a dry set up bike. His gates were great and then it was a matter of holding on to a squirmy bike as he got through the first straight mud puddle. Josh looked comfortable in his races even with some tough competition. In his first heat he had a stacked heat and came out of gate 7 to chase hard for a fifth. In his next heat he drew gate 1 and struggled in the mud to finish a fourth. In his third heat the pressure was on to get a good result, so he pushed hard and finished a strong second, making his way to his first NSW State Titles Final. In the final Josh ended up with gate 1 again and knew he needed a strong start as conditions got worse through the day making the inside line not as friendly as it usually would. Josh was amped for his final and was ready for a good race. He came out strong and was riding in about 6th in to the second straight where he pulled back a spot and in to the last corner, was in a drag race for the fourth spot when the other rider lost control and crashed out! Josh crossed the line in 4th and his first ever State Plate. All his training was finally paying off for him.
Justin Beattie is on FIRE! This kid is a machine and doesn't look like dropping a race lately! In the last few events he has ridden, Justin looks like he is playing with the other riders on the gate with him. The State Titles mean a lot to Justin and he doesn't muck around! This Titles Justin went out early to stamp his authority on the age class with three effortless wins to secure prime lane choice for the semis. Like his heats Justin made short work of the race winning in a comfortable manner. It was now money time and Justin AKA" Lucky Boy" Beattie was ready to make it another number one plate for his ONE bike. Justin didn't disappoint coming out strong from the centre gate. Justin had Jiye Ellis from Southlakes keeping him honest throughout the lap but at no stage a real threat to this amazing young talent. Justin won the 12 boys class by 5 bike lengths in the end and took away another #1 Plate to add to his collection.
The kids would like to thank their parents and families for their ongoing support, along with the never dying support of the Team Manager Shane Jenkins. They would also like to thank ONE Bicycles and ECI for staying true to them and to Scott Hand of A Team Distro for the amazing SNAP and ALIUS gear the kids put faith in with every crank.
This year's event had its highs and lows and was a year to remember for Josh's amazing effort, but a shocker for Mikayla and Nik. As they say there is always next year! The kids are now focussing on the Nerang Nationals in January and a road trip from hell and opportunity to hang out with their mate Craig Fisher on the Gold Coast. Training starts soon to ready them for a more positive year in 2012.
How to buy One Bicycles products in Australia
If you would like to purchase a One Bicycles frame or accessories in Australia the best way to do so is to head down to your local bike store and place an order. If they don't know what you are talking about tell them to call Elite Cycle Imports while you wait and place your order there and then. After doing some calculations ourselves we have found the cheapest way to get One Bicycles products in Australia is through a local reseller.
About One Bicycles
For over a decade ONE Bicycles (operating out of Holland), inducted into the European Hall of Fame, has solely focused all their efforts on the sport of BMX. Today they are at the forefront of BMX product design Worldwide. Utilizing advancements in the industry, some of which were conceived in ONE's own engineering department, their products directly reflect the evolution and maturing of proven BMX design. Like a fine wine ONE Bicycles product line has come of age as a result of years of dedication to the sport of BMX.
One Bicycles are a major sponsor of the bmxultra.com team
Over the years One Bicycles have sponsored
Khalen Young
The Phirebird team which includes 2005 & 2006 World Championships finalist Jamie Gray and 2006 NBL Grands (A Pro) champion Glenn Codega
In 2008 Maris Strombergs rode his One Bicycle to victory in the Elite Men's class at the UCI World Championships and followed that up by taking the first ever Men's BMX Gold medal at the Olympics.
For more information about One Bicycles check out www.onebicycles.com
One Bicycles are distributed in Australia by Elite Cycle Imports (www.eciimports.com)
12/10 Announcing the Speedline/Supercross BMX Australia team
Supercross BMX Australia press release
We are very excited to announce the launch of the Speedline Parts/Supercross BMX Australia team.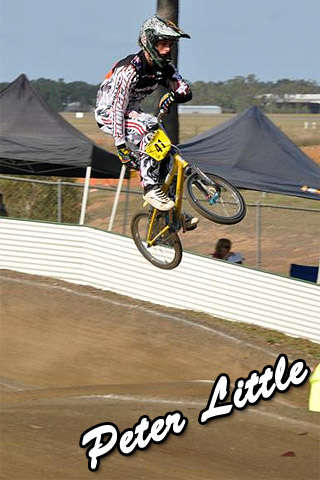 The 12 rider team is made up of riders from around Australia, including some past, present and future champions and just all round great people who love this awesome sport of ours. They are the type of people you could sit and talk BMX with or ride with for hours. We refer to them as "the Dirty Dozen". You will be able to recognise them by the best looking race jersey in BMX racing, designed by Bill Ryan.
Queensland State Championships
The Queensland team were representing the brand new team at the Queensland State Championships in Bundaberg just a couple of weeks ago.
Peter Little kicked off the weekend with a win in 15-16 cruiser class and was one of the favourites for the 15 boys class however the race didn't go his way and Peter settled for a respectable 5th place.
David Elms had a little bad luck in one of the most competitive age brackets at the event, he qualified well for semis but finished 6th in both his 40-44 cruiser and 40-44 mens semi.  
Cash Dash (Victoria)
Craig Penglase was the sole representative at the Cash Dash at the South Eastern BMX Track. He finished up with a 4th place in the 40-44 mens class.
The team roster
David Elms – Qld
Peter Little – Qld
Simon Trewin – Vic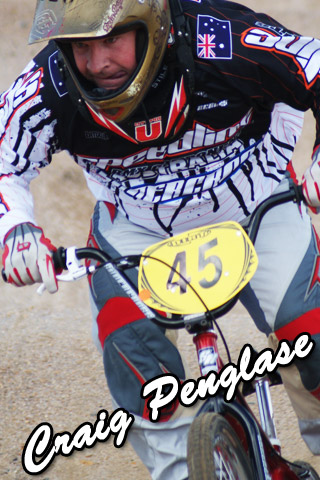 Craig Penglase – Vic
Craig Merritt – Vic
Craig Austin – Vic
Dave Comport – Vic
Danny Galea – Vic
Stewart Kelly – Vic
Paul Tomkinson – SA
Brett Malic – SA
Maddie Guyers – SA
You may not have seen some of them on a race track for a while, but don't worry, you will.
The Speedline Parts/Supercross BMX Australia team is proudly supported by
Speedline Parts, Supercross BMX, Dirt Designs, bmxultra.com and TECH.
Speedline Parts
Speedline Parts is a bicycle parts manufacture located in Southern California. We currently produce cranksets, pedals, chains, headsets, and seatpost clamps. All of our products are tested and used by team riders. Speedline Parts are distributed in Australia by Supercross BMX Australia.
Supercross BMX Australia
Supercross BMX is a leader in BMX by design, innovation and manufacturing. The Supercross ENVY is the lightest production frame, full stop! However there is much more to the brand than the ENVY frame. There is also the alloy BLUR and the cromo BOLT LT, both of which have the same race winning geometry as the ENVY. Supercross BMX currently produces some of the most respected cromo/heat treated handlebars and forks in the business as well as hubs, stems, seats, posts, tires, cranks and a while lot more.
Supercross BMX Australia are the exclusive Australian distributor, keeping prices competitive and in many cases cheaper than the US. On top of that SX Australia put back into Australian BMX sponsoring some of the most talented riders in Australia on the Supercross Australia factory team and supporting the Speedline Parts/Supercross BMX Australia and bmxultra.com teams. Supercross BMX Australia is also a big supporter of the BSX charity event.
12/10 Crupi joins the modern world!  
Crupi Parts press release
Baldwin Park, California – Crupi Parts, Inc has finally finished our new Facebook fan-page, Twitter and YouTube accounts!  We will be putting out new updates on the company, introducing new products and providing team racing reports so that all of you can keep up to date with everything happening at Crupi!  
We will periodically post videos and pictures of our Crupi riders, update you on how they are doing and let you know of any upcoming races the team will attend. We are all very excited about this new media direction for Crupi and hope that you will all follow us and we encourage you to share anything you like by posting it yourself.
Please visit and follow us at:
11/10 Euro BMX Championships 3/4 from Klatovy (Czech Republic)
by Rene Zivny –
www.bikros.cz
Round 3

Junior Women
1. Lightlee Elis – Nederland
2. Christensen Simone – Denmark
3. Vedder Tamar – Nederland
4. Suvorovova Natalia – Russia
5. Dijk Femke – Nederland
6. Lysenko Elisaveta – Russia
7. Van Hees Soraya – Nederland
8. Baaw Judy – Nederland

Junior Men
1. Schmidt Julian – Germany
2. Mir Amidou – France
3. Vinter Kristaps – Latvia
4. Mahieu Romain – France
5. Malyshenkov Pavel – Russia
6. Le Nagard Karl – France
7. Tramier Leopold – France
8. Dumain Antonie – France

Elite Women
1. Rimsaite Vilma – Lithuania
2. Horakova Jana – Czech Republic
3. Ailloud Eva – France
4. Hladikova Aneta – Czech Republic
5. Sprengers Dana – Nederland
6. Hereijgers Maartje – Nederland
7. Klaus Lieke – Nederland
8. Van de Perre Tori – Belgium

Elite Men
1. Treimanis Edzus – Latvia
2. Van der Biezen Raymon – Nederland
3. Janssens Benjamin – France
4. Mankus Toms – Latvia
5. Lejins Kristers – Latvia
6. Goodwin Darryn – Australia
7. Tumpach Stepan – Czech Republic
8. Goux Lilian – France

Round 4

Junior Women
1. Lightlee Elis – Nederland
2. Mikkelsen Andrea – Norway
3. Christensen Simone – Denmark
4. Maire Camille – France
5. Navrestad Elisabeth – Norway
6. Vedder Tamar – Nederland
7. Mohlman Annemarijne – Nederland
8. Dijk Femke – Nederland

Junior Men
1. Schmidt Julian – Germany
2. Mahieu Romain – France
3. Tramier Leopold – France
4. Dumain Antonie – France
5. De Jong Pim – Nederland
6. Link Mark – Nederland
7. Pollestad Kristoffer – Norway
8. Malyshenko Pavel – Russia

Elite Women
1. Ailloud Eva – France
2. Horakova Jana – Czech Republic
3. Rimsaite Vilma – Lithuania
4. Hladikova Aneta – Czech Republic
5. Hereijgers Maartje – Nederland
6. Smulders Laura – Nederland
7. Klaus Lieke – Nederland
8. Runge Regula – Germany

Elite Men
1. Van der Biezen Raymon – Nederland
2. Treimanis Edzus – Latvia
3. Veide Richards – Latvia
4. Goodwin Darryn – Australia
5. Goux Lilian – France
6. Martinez Lorin – France
7. Van Gendt Twan – Nederland
8. Van der Putten Ivo – Nederland
10/10 New SE Retro Pads!
SE press release
SE Retro pads are back in stock! Looking to give your SE bike that last little hint of radness? Well, look no further than SE's two newest retro padset colorways. Black/Gold or the all-new Urban Camo colors are sure to give your bike the radness that it deserves.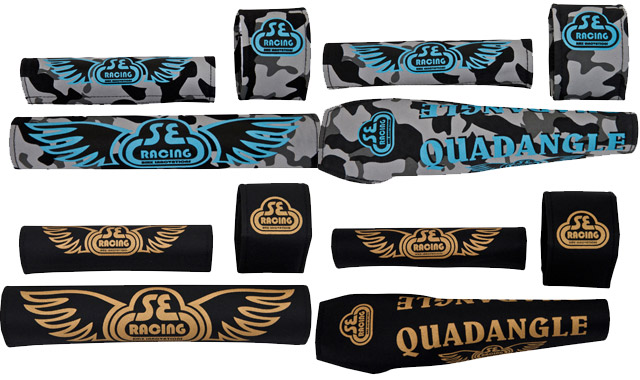 07/10 Review: Skullcandy Team TLD Hesh Headphone
by bmxultra.com
We've been checking out the Skullcandy Team TLD Hesh Headphones lately click here to check out the review.
06/10 TNT Peacemaker Pro Cassette Hub Sets Deal
Elite Racing Supplies press release
Here at Elite Racing Supplies, we really do try to give back to you the racers. Elite Racing Supplies has put together a deal for TNT Peacemaker Pro Cassette Hub sets.
As there is only a limited number for this first production run of these sensational hub sets and the final price is $358.95 landed to your door. At Elite Racing Supplies we know this is a bit of a stretch to come up with.
So within the Next 24 Hours Only, with a cut off at 1.00am on Friday the 7th of October. You pay $200.00 and then through an ELITE RACING SUPPLIES payment plan for the balance, being $158.95. The Payment plan does not cost you any extra.
The $200.00 secures a hub set so the orders can be placed with TNT in the US and Elite Racing Supplies takes care of the rest for you. With the balance payable within a month.
That really isn't a deal you can refuse.
Orders can be made by email to eliteracingsupplies@westnet.com.au
05/10 BMXMAD Cash Dash Team Report
BMXMAD press release
After days of torrential rain the sun came out and we enjoyed a great day at the South Eastern BMX Club for their 30 years of Cash Dash.
Greg Siinmaa 3rd 30 – 39 Mens Cruiser
2nd 50+ Mens 20"
Millie Reed 1st 12 Girls
Erin Anderson 2nd 14+ Open Ladies
Emily Richardson 3rd 14+ Open Ladies
Taylor Bennett 9th 14+ Open Ladies
David Lyon 6th 14+ Men
Wade Turner didn't make final – 14+ Men
Congratulation to the team for their fine efforts. Congratulation to the Blakley family for winning the PK Ripper donated by BMXMAD.
05/10 ESR Number plates and TNT Cassette Hubs
Elite Racing Supplies press release
Pricing for the TNT Pro Racing Cassette Hubs has come in on the 4th of October 2011. With the Recommended Retail Price including GST and Registered and Insured Postage to your door within Australia, they are $358.95 no more to pay.
Overseas shipping available at actual shipping cost, where the price will be modified to reflect the shipping cost.
Final specs so far include:
Black Anodizing or Polished Alloy
36 hole front and back
204 Points of Engagement Rear
16 tooth driver as standard
Final naming for the Cassette Hubs has come in from TNT in the US. Keeping in line with the TNT tradition of the Wild West, think Revolvers and Derringers, the new name for this hub set is the
"Peacemaker Pro Cassette Hubs".
Finally on the Peacemaker Pro's and this is not a sales pitch from Elite Racing Supplies either, there was only a limited production run of these hubs for the end of this year and a large waiting list. Another production run will not be done until after the New Year, in early 2012.
SO YOU REALLY NEED TO GET YOUR ORDERS IN AND PAID FOR at ELITE RACING SUPPLIES ASAP.
Now on to Elite Racing Supplies. ERS now has their own branded number plates, which are $29.99 posted to your door within Australia. Overseas postage will be at actual shipping cost.
These plates come in the following colours which represent all classes of BMX Racing.
Yellow             Male
Red                 Cruiser
Blue                Female
Orange           Sprockets up to 8 years old
Green             Novice
Black              Jnr Elite
White              Elite
Click on the following link to go to view the plates
http://www.facebook.com/media/set/?set=a.171651829582568.43735.139544059460012
So if you want the best Hubs, Plates, T Shirts and Racing Jersey Tops availble, go to www.eliteracingsupplies.com.au
05/10 Psykopath British championship update and results

Psykopath UK press release
The UK Factory Psykopath riders Dan and Andy (THE BASH BROTHERS) our back, here is latest update and results at the British Championships in Cheddar
1st off cruisers took place on Saturdays racing which Dan rode in the 17-29 category, which was stacked with 25 riders consisting with many junior and elite, Dan hit up a 5th, 2nd, and 3rd in his motos which sent him safe through to the semi finals, Dan had a good gate in his semi which lead him out of the 1st turn in 3rd and ended up finishing in that all important 4th position to see him threw into the finals.
Dan ended up in lane 8 but pulled off a great swoop in the 1st corner which put him in 4th place, but took a knock in the last corner which knocked him back to 7th so a good all round day for Dan.
Sunday came and its was raining, so a wet and damp track meant it was going to be very slippery coming in to the the fast downhill 1st turn and with 42 riders in the 17-24 category meant it was going to be a tough day.
Dan got a 3rd, 2nd and 4th in his motos with Andy grabbing 3rd, 1st, and 3rd which put us safe into the quarters finals, so quarters came round and Andy was up 1st and with his great gates and 1st strait it put him into the lead out if the 1st corner which he held and won. Now Dan was up and had a good start and grabbed a 3rd so both guys threw to the semis.
Semi final time and we were both psyked. Dan's semi was up 1st he had a good gate but got held wide in the 1st turn and came out 7th there was a crash in turn 2 so Dan was now 5th, chasing down 4th but just couldn't quite get there.
Andy hit the track and got squeezed in the middle of the 1st straight and came together with another rider and ended up taking eachother out.
But all in all a good result from the UK team and now the season is over its time to hit the training and come back with a new look and a bigger team.
04/10 Profile crank removing tool
by bmxultra.com
Profile crank owners it's time to put your hammers down and rejoice. Someone has created a handy little tool to help removing Profile cranks without the need of a hammer. If you take a look at how simple the tool is you will wonder how it's possible that it's taken about 30 years for someone to come up with it.
Check it out in action in this video: http://vimeo.com/29584019
Do yourself a favour. Don't even look at buying one overseas. Save yourself some time and money and get one right here in Australia, right now and for the right price. $49.99 is on par with the shipped price from the US.
Elite Cycle Imports have them in stock now.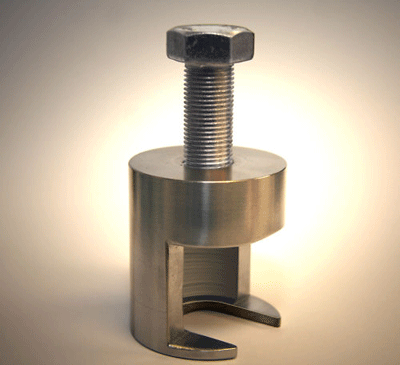 03/10 Another double US Victory as Fields and Martin win UCI BMX Supercross in USA
UCI press release
Chula Vista, California –The best Elite BMX riders of the world battled it out under the blazing Southern Californian sun to determine the winners of the fourth UCI BMX Supercross World Cup series sponsored by Swatch. Connor Fields (USA) was on fire all weekend and claimed victory. Arielle Martin (USA) won the women's final.
Drama in men's final
Conner Fields was the favorite going into the final. He must have felt very confident as he took the lead in the first turn of the final to never look back. That was perfect timing. Because just behind Fields, in that same corner, drama occurred. A big pile up of riders ended the excitement of the final right then and there. Fields stayed ahead on his way to victory and only Raymon van der Biezen (NED) and David Herman (USA) passed the pile of men to claim second and third. With Strombergs (LAT), Van Gorkum (NED), Treimannis (LAT), Long (USA) Barry Nobles (USA) still on the asphalt.
Connor Fields (USA) looked very strong and determined all day and deserved the victory. Yesterday's time trial winner won all three qualifying mottos and only seemed threatened by 2008 Olympic Champion Maris Strombergs (LAT). Strombergs was definitely back after being out most of the year due to injury. But he crashed. Australian Sam Willoughby was also a force to reckon with. But Willoughby crashed in the semi final and the Australian blamed world champion Joris Daudet (FRA) for that, who also went down in the semi together with Khalen Young (AUS).
Fields was excited. "This feels a hundred times better than I could have ever imagined. Winning a big race like this. Especially after what happened at the World Championships last year in Africa."
What happened in the first corner? "For the first turn it was my plan to be on the inside and not to hit the brakes. That is what I did. I was not aware on what happened in the fist turn and was not going to look behind me."
Raymon van der Biezen (NED) had mixed feelings about his silver medal. "After I tough season I am happy to win silver. But it was not as planned. I was in fourth place in that corner. I just missed the crash. I did not know what happened. I thought some guys were still in my back wheel. So kept riding as hard as I could."
"It is importants for the country's Olympic ranking and my own qualification. I am really happy about that, but I rather win silver with the whole group on the bike. But that is BMX racing. Finally some luck for me. Good end to the season."
Arielle Martin fastest in women's main
Arielle Martin was the fastest out of the gate in the final race of the elite women. She took the first straight and went on to win. The American rider was extremely happy to win a Supercross title in her home country.
"Yeah, no words can describe it. I am pretty thrilled. This is a long time coming ever since this race came I wanted to win it. Last year I came unclipped, or the year before I did not go so great. This year it came together for me. In the final I put my head down. I just battled and came across the second jump and no one was in my field of view. I cut inside into the first corner and I just laughed, laughed out loud until the finish."
American Brooke Crain won yesterday's time trials and was second in the finals. "I won silver. I was never was on the podium before. This is really exciting for me. I am really glad that Arielle was the one that beat me. Good to see her do it."
Men Elite
1 Connor Fields USA
2 Raymon van der Biezen NED
3 David Herman USA
Elite women
1 Arielle Martin USA
2 Brooke Crain USA
3 Marianna Pajon COL
Full results click here. Please select 2011 results, click Chula Vista.
03/10 Double US Victory as Connor Fields and Brooke Crain win Time Trials Superfinal
UCI press release
Chula Vista, CA, USA – On the first day of racing at the UCI BMX Supercross World Cup series presented by Swatch, BMX star Connor Fields convincingly won the Elite men's time trials. Brooke Crain outperformed all the more experienced Elite women riders and did the same thing.

After one round of time trials the best 16 men and ladies qualified for the Superfinal Time Trials. Fields, who was fastest in the first run, scored his best ever time (33.886) at the Chula Vista track. With that personal record Fields bumped Tory Nyhaug (CAN) out of the hot seat. Nyhaug (34.191) was only there for a few seconds. Raymond van der Biezen was in third with a time of 34.409.
With this result Fields and Crain secured the best spot going into the finals on October 1st. In total, 64 men will qualify for the 1/8 finals and 32 women for the quarterfinals.
Fast Fields
Fields rode the perfect race twice. "This is my home track. I have done hundreds of time trials here before. That was my fastest one ever. I know what to do and I know my way around this track. It definitely helps having a race at your home track."
In both time trials, Fields went flat out. "You cannot ride scared. That is when you fall. You have to ride as hard as you can, then you are going to be alright. This definitely gives me confidence for tomorrow."
Crain surprise winner
Brooke Crain was the fastest amongst the Elite women. She won her first big price in BMX Supercross and was very happy.
"It was a really good lap, I felt good the whole way. I really had a good first straight and kept that feeling the whole way around. I was trying not to tag anything and keep it going. I feel really good. This is exciting! I never won a time trial or anything. Yes, I did when I was a junior, but that does not count," Crain commented after the race.
Crain outperformed current world champion Mariana Pajon (COL). Pajon who crashed in London finished second this time. Arielle Martin (USA) was third. Pajon is on her way back. "Yeah, I was happy with my time final trial, I did everything I could. I am still recovering from injury. This track is awesome, happy to be here again. Tomorrow I will do my best. In London, I got some broken ribs and I hurt my kidney. But I am feeling good. Tomorrow will be a big day, we will see what happens."
The overall winners of this year's Supercross World Cup in Elite men and Elite women will be decided tomorrow during this fourth stop of the UCI BMX Supercross World Cup, sponsored by Swatch.
Willers pulled out
Marc Willers (NZL), one of the favorites for this World Cup victory, had to pull out of competition today. Willers, who won the Papendal and London Supercross events this year, was one of the only riders able to threaten Joris Daudet (FRA) for the overall World Cup title. However, Willers' injury was too painful to allow him to race.
The New Zealander crashed in yesterday's (29-11-2011) practice. He was patched up but then today he did not start his time trial. "I had to pull out. I can't even get my phone out of pocket," commented the disappointed Willers.
Out of 150 entries, 64 Elite men qualified for the finals. Tomorrow they will race against each other in eight heats of eight riders over three motos. The best four of each heat will qualify for the next round of quarterfinals. The elite women were brought down to 32 advancing to the quarterfinals.
For 2011 Supercross standings, click here Select '2011 results,' Chula Vista.
Posted in: Archive