BMX racing news February 2013
28/02 A Pro Jared Garcia signs with Speedline/Supercross
Speedline Parts press release
In a last minute move right before the USA BMX Pro season starts this weekend, A Pro Jared Garcia joins the Speedline/Supercross Factory Team.
Jared has always been a member of the Supercross group no matter which team he had been riding for, Jared has spent his time in the Supercross White Ghost driving to races, while pulling the Supercross Trailer as well as putting in time behind a shovel in the Supercross Playground, so it was a natural move for Jared to officially join the Speedline/Supercross Family.
Jared has already built up his new 2013 Supercross ENVY v3 equipped with Speedline Parts and has spent some track time on it at the Apple Valley BMX track with his new team mates and Supercross BMX pro's Dani George and Jeremy Rommel and said that "he loves it"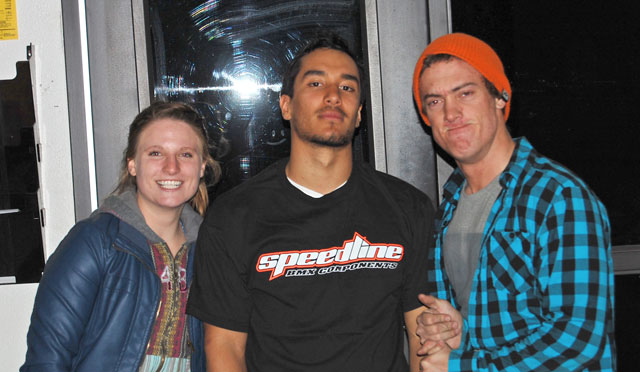 We here at Speedline/Supercross are planning a long career with Jared as he trains with team mates Dani George and Jeremy Rommel on the Supercross Playground as he is strives for his dreams of a USA BMX pro title and getting on an Olympic Gate with his Speedline equipped Supercross.
A few of Jared's new Speedline/Supercross Team mates were heard commenting "Super stoked that this guy has joined the team. Welcome Jared Garcia!!!!" said Speedline's Kim Hayshi, and "Stoked, this is going to be good" said Speedline's 17/27g Brandi Miligan.
The Speedline/Supercross BMX Team is proudly supported by Fly Racing, Powerbar, Maxxis Tires, ODI Grips, Stasis #Plates, Alienation, MJT Designs, and X Brand Goggles for more information please visit www.speedlineparts.com or facebook.com/SpeedlineParts
28/02 Photos: Geelong Spectacular
by bmxultra.com
Our photographer took around 500 photos at the Geelong Spectacular on Sunday. We managed to narrow it down to 375. Click here to check them out.
28/02 SE Bikes Signs Donny Robinson to a Multi-Year Deal!
SE Bikes press release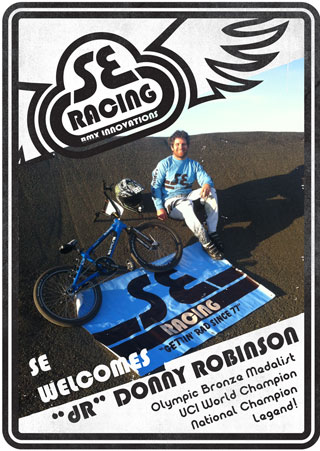 SE Bikes has just signed Elite Pro "dR" Donny Robinson to a multi-year deal. Donny will be racing for SE at all pro series USA BMX nationals, the UCI World Cup series, and the UCI World Championships for years to come.
Donny is a life-long BMXer with an Olympic medal and many National and World titles under his belt. He has been competing as an Elite pro for over ten years and has amassed fans from all over the world. "SE is BMX racing! I'm excited to continue my career with a brand that has been here since BMX's beginnings. I'm hugely grateful to SE for believing in my abilities and signing me to a multi-year deal. I'm stoked to have the backing to be out there for years to come & put on the best show that I can," Donny said
Donny will be racing on the all-new 2013 PK Ripper Elite frame. This frame was completely redesigned for maximum stiffness in 2013 with a new bi-oval downtube and direct-weld ovalized chainstays.  "We really went back to the drawing board with this year's frame design. The tracks have changed dramatically over the past few years with the UCI World Cup series. So we needed a frame that could not only keep up, but one that can win races and be on top of the podium. And Donny's just the right guy for the job. He's been on top of many podiums over the years and he's no stranger to winning," said Todd Lyons, SE Brand Manager.
The USA BMX pro series season kicks off this weekend in Phoenix, AZ. Keep an eye out for Donny winning laps on his PK Ripper Elite.
Keep up to date with everything SE and Donny related at: www.Twitter.com/donnyrobinson , www.Instagram.com/donnyrobinson . http://www.sebikes.com/  , http://instagram.com/sebikes , http://www.facebook.com/sebikes
28/02 Video: New Crupi Edit
Crupi press release
Crupi has finally put together a new video and they're saying "it is our best yet!" They flew team rider Collin Hudson in and hired a videographer/photographer to get the footage and then had their in house artist edit it!
Check it out: http://www.youtube.com/watch?v=QZvKtraCjhc
27/02 Bodi Turner – BMX Victoria 2012 Senior Rider of the Year
BMXMAD press release
Congratulation to Bodi Turner for winning the
BMX Victoria Senior Rider of the Year for 2012.
Bodi was excited to have won this award. He said that 2012
hadn't gone all to plan but was happy to take out the National Junior Elite Series and win the
Junior Elite BMX Cyclist for 2012 at the Australian Cyclist of the Year Awards held at the Sofitel in Sydney.
He also had the chance to race against the worlds best at 2 SX rounds and was pleased with
his results.
He is now training with the Australian High Performance Team in QLD and hopes to represent Australia
in the 2016 Olympics.
Bodi thanked his sponsors Intense BMX, ECI and BMXMAD for all their support.
27/02 New motocross game created by an Olympic athlete coming out soon
Fearless Wheels press release
A new motocross game – Fearless Wheels – has been created to provide an exciting and fun way to experience the glory of becoming a motocross champion. To make it more real for the gamers Fearless Wheels has been created by an Olympic athlete – pro BMX rider Arturs Matisons. In this game he has contributed his passion about BMX and dirt bikes, his experience and true emotions of becoming a professional rider. The new game is coming out on March 12, 2013 and will be available for iPhone & iPad in the App Store.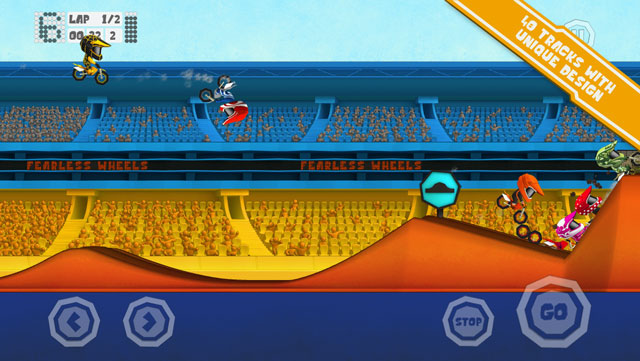 Fearless Wheels is all about the great feeling of riding the dirt bike, overcoming obstacles, never giving up and above all – having fun. The creator is Arturs Matisons, Olympic BMX rider, World and European champion. His achievements in sports are driven by his passion about BMX and dirt bikes. Arturs admits that: "Thanks to my BMX career I have earned some good titles, but one of my dreams has always been to become a pro motocross rider". To fulfill his dream he created motocross game for iPhone & iPad.
The motocross game Fearless Wheels is inspired by professional riders and suited for everyone who likes the feeling of achievement through overcoming obstacles and beating the opponents. Although the game primarily will attract the attention of motocross enthusiasts, the creator of Fearless Wheels promises that everyone will have great fun and emotions when playing this game.
The main character and player of this game is a fearless boy (or girl) who wants to become a motocross superstar. The key features are: racing against 5 opponents, 40 tracks – each with unique design, bike upgrades and 13 hilarious characters! The journey starts somewhere in the countryside in local championship and finished in the in the spotlights of arena.
The game will be available for iPhone and iPad in the Apple App Store from March 12, 2013. The price of Fearless Wheels will be $0.99.
The trailer is available here: www.youtube.com/watch?v=pM1UNcPWM5U
27/02 Victorian PROJAM on Saturday March 9th
PRA press release
As you may have seen Pro Tour is having a PROJAM on Saturday March 9th at Wyndham Bmx
A few of the Best PRO riders in the country have been good enough to confirm they will be doing a coaching clinic.
Dave Habicht and Steve Gedye will be doing a 45min coaching session starting at 9.30am till 10.15am *limited sport available.
There will also be a SPROCKET coaching clinic at 8….30am till 9.15am being done by Amanda Morgan and a few others. 
All of these clinics are limited numbers so if you are interested send us an email and get your name on the list first, don't miss out on this great opportunity to pick up some great coaching in the lead up to the Nationals. At this stage there will be two groups of 15 with the pro guys, and a few groups of 10riders for the sprocket coaching.
Email prabmxprotour@hotmail.com 
Get in fast
After the coaching there is a PRO ONLY Practice session from 10.30 until 12, come and check out some of the best PRO's in the country hitting up the new PRO SECTION. There will be gates for the AMS after that. Also don't forget that MOSSY yes thats right Andrew Moss will be on the microphone doing what he does best. Also a barbs and drinks on too.
If you require any further info contact us via Facebook or email.
23/02 SE Bikes Signs Elite Racer World #3 Moana Moo-Caille!
SE Bikes press release
SE Bikes is proud to announce the sponsorship of Elite French Elite racer Moana Moo-Caille. Twenty-four year old Moana had one of the best seasons of his career last year with a 3rd place in Elite at the UCI World Championships as well as competing in the 2012 Olympic Games. He is a Junior World Champion & is very familiar with sitting at the top of the podium at large international races. His schedule this year will have him hitting all of the French National races, the European BMX rounds, the UCI World Cup Series, the World Championships, as well as select USA BMX races. All in all, Moana will compete in over 10 countries in 2013 with his first race for SE being the USA BMX season opener in Phoenix, AZ March 2-3.
Moana is one of the most stylish racers in the world & is never scared to hit the biggest jumps he can find. He learned backflips this past year so it's just a matter of time until he's following the Wildman's footsteps & flipping pro sections on BMX tracks around the world.
"I'm excited to ride for a brand with so much history as SE Bikes. I mean they've been around for 10 years longer than I've been alive! And I LOVE the new Elite Series BMX race line. The first day I rode the PK Ripper Elite XL, it was like home to me. It's super stiff. I can't wait to hit the races this year on it." Moana said.
SE Brand Manager Todd Lyons goes on to say "This is the first time that SE has sponsored an Elite Pro racer outside of the USA. Out of all of the riders to choose from, Moana was an easy choice. I really like his attitude and style on and off the bike. He's going to be great for the brand not only in Europe, but worldwide. We are also fortunate to work his sponsorship in conjunction with the SE Bikes French distributor, Race Co." (http://www.raceco-bmx.com/)
The SE Bikes racing team has been revamped for 2013 & soon we will announce some other really exciting additions to the factory squad. Stay tuned.
Keep up to date with everything SE and Moana related at: http://instagram.com/moanamoocaille/ , http://www.sebikes.com/  , http://instagram.com/sebikes , http://www.facebook.com/sebikes
21/02 Product review: Alienation Back-n-Black Pivotal Slider seat
by bmxultra.com
We've been using the Alienation Back-n-Black Slider seat the past few months. If you haven't heard about the Alienation Slider seats you especially should check this out. Click here to read the review.
20/02 Supercross going carbon…again?
by bmxultra.com
Carbon isn't new to BMX. Answer have been making carbon forks since…forever. GT had their UB2 available just in time for the BMX debut at the Beijing Olympics 2008. Redline had theirs in time for the 2012 Olympics and now we hear about others like Haro and DK getting on the carbon bandwagon.
What really pricked our ears was when we heard that Supercross were playing with carbon again.
Yeah that's right Supercross. The same company that has won the USA BMX Pull Magazine "bike of the year" award for
the past two years. The same Supercross that makes the ENVY frame, the lightest production model frame on the market since it was introduced late 2008/early 2009. Despite the claims of many others, the alloy Supercross ENVY frame still wins the weight race.
What was so interesting about Supercross joining the carbon ranks is that Supercross have stayed away from carbon for 20 years or so. About 10 years ago we interviewed Bill Ryan from Supercross and asked him about the short lived Supercross Carbon frame that was around in the early 90's
bmxultra.com: You played with Carbon fibre for a while, what lessons did you learn from that?
Bill: What did I learn, hmm don't let a dirt jumper ride a race frame :). No Carbon is fun, and we were the first one to introduce it to the BMX of the 80's. There are still a few people out there riding them, but there are very very few of them that were ever made.
bmxultra.com: Is carbon really suitable for BMX?
Bill: Carbon is a real cool material, and it has it's place in things, the problem is that it does have catostrophic failures, where when it goes it goes, there is no second chance. It is a great material for certain things, but after what we learned we have stayed away.
Ok, so things have really changed in the world of carbon over the years, but I wonder what it really was that sparked this change of heart.
We have all seen that Supercross really are trail blazers when it comes to product development. You can be sure they won't make a carbon BMX frame just to have their own carbon frame. They'll be doing it to make something that's not only different, but they will have better, lighter and stronger on their minds too.
Watch this space things are about to get real, I'd love to see what will end up lighter out of the Supercross Alloy ENVY frame and their carbon offering. But for now, here's a sneak peek photo from Facebook of some carbon forks that Supercross have been working on. It looks like they are going for a 1 1/8" to 1.5"
tapered head tube.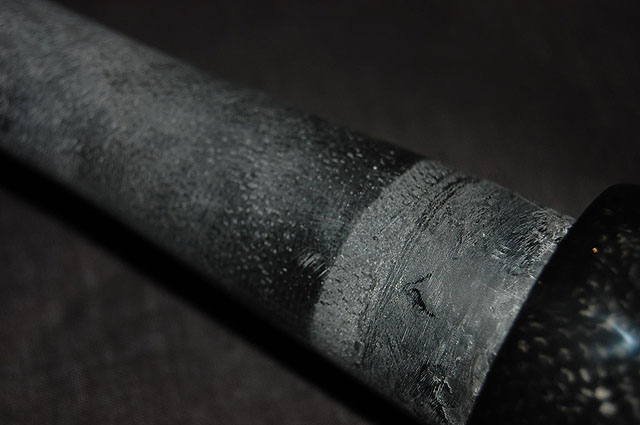 20/02 Anthony Dean leading from the front as racing heads to the Nations Capital
BMX Australia press release
The BMX Australia National Series heads to the nations capital March 1st & 2nd for Rounds 5 & 6 and it's shaping up to be a real battle between Australian and New Zealand riders in the Elite Men's category.
With entries yet to close, the field in the Men Elite is evenly split between the Aussies and visiting Kiwis who are looking to size up the competition ahead of the World Championships later this year in Auckland, NZ. Leading the overall series rankings is South Australia's Anthony Dean who finished the 2012 season on a high by placing fourth at the World Championships in what was his first finals appearance at a World Championship event.
Dean took the lead in the National Series from Joshua Callan of Victoria having won the last 3 out of 4 races. Callan, the winner in the opening round on the Gold Coast hasn't been far off the pace with two second place finishes and a third, keeping him right in contention.
"This year I've been a lot more focused and know where I want to be," Dean said after taking the overall lead in the National Series Probikx Tour.
"Especially after the World Championships last year, my whole mind frame has changed; I want to get the wins, I want to start winning a lot more. My goal is to be world champion.
"Last years worlds was a massive boost to me," the 21 year old said. "I've been struggling for a few years to really break into that top 8 and to do that at the worlds where it was even my first final and to get fourth was a confidence boost for me.
"And then to go to the Olympics as a reserve it's made my mental game a lot more stronger and I'm a lot more focused. Any person that makes the world titles finals becomes one of those riders to look out for.
"I backed it up again in Canada a few months later; I crashed in the final but I made the finals there. That's been my goal to make top 8 in the world cups and be one of those riders that people want to beat."
Leading from the front has ensured he is one of those riders that people have to beat. A small mishap on the gate in Round 1 where Dean clipped out of his pedal as the race began has been the only slip-up of the season so far.
Local Canberra rider Harriet Burbidge-Smith is currently 3rd overall in the Junior Women category, but gained a huge confidence boost finishing second to 2012 Olympian Lauren Reynolds during Round 3 in Perth over the Australia Day long weekend when the classes were merged.
Burbidge-Smith's season has seen her qualify for the finals in all 4 rounds. The results of which have placed her as lows as 6th and as high as second place, and while not her home track, the Canberran will have the local BMX community cheering her on as she strives to get a win in the series.
Racing will be held over 2 days in the BMX Australia National Series and will be contested across 12 categories. The National Champbikx Series is for male and female riders aged 14,15, 16 years; the National Challenge Series is for 17-24 and 30+ Masters; while the Junior Elite and Elite riders will race in the National Probikx Tour.
18/02 Melinda McLeod: Focused on recovery
BMX Australia press release
The 2013 BMX season in Australia has been underway for just 6 weeks but in that time we've seen a familiar face on the track disappear from view. Nerang heralded the new year of racing by hosting Rounds 1 & 2 of the National Series and it drew a huge field of riders eager to impress.
One such rider was Melinda McLeod who was riding in the Elite Women's category in the National Probikx Tour. For McLeod, it was an opportunity to put the disappointment of not being selected for the 2012 London games behind her by focusing on the next 4 year cycle to Rio, but more importantly in the short term, being selected on the National Team for the World Championships in New Zealand later this year.
A dual Junior World Champion in 2011 (Time Trial and Race), McLeod stepped up to the senior ranks in 2012, winning the National Series and National Championships. 2013 had started well for her when she won both Rounds 1 & 2 in Nerang and was eyeing off the same result in Perth 3 weeks later that would see her compete against fellow BMXA HP rider Lauren Reynolds.
Between National Series events an invitational training camp was held for Elite riders at the Sleeman Sports Complex in Queensland where a simulated race day was staged. Riders were tested under race conditions as they look to improve their skills and ability to handle the supercross track and racing on the world stage.
Unfortunately for Melinda, this was where her great start to the season came unstuck. During her lap of the track where she was putting down a time for the trial, McLeod came down in what she describes as a "silly crash". And what seemed a fairly innocuous event, turned out to be something much greater than first realised putting her in hospital for a week and off the bike for six.
"It was just in my time trial – it was a silly crash really," McLeod said recounting what happened.
"I'm not sure why it happened. I don't remember much about it but from what I've seen of the video of the crash I got crossed up a little and came down.
"It wasn't anything spectacular (the crash), I've had way way better looking crashes. The one at the Worlds last year was pretty spectacular, but this one was just a simple text book crash – just wrong place, wrong time."
Initially knocked out from falling from her bike, the concern centered on whether she was concussed, but having been cleared of anything significant Melinda was rested for the remainder of the day.
"Kirsten Dellar and I went out for dinner that night. When we were coming back home I felt pain in my stomach and (I) started to think there's something wrong.
"The pain got worse and worse. My coach Wade Bootes took me to the hospital where they discovered I had been bleeding internally all day since the crash."
Diagnosed with a lacerated liver, McLeod was admitted to hospital where she remained under observation for a week before being released. From there it was a week at home resting, with her mother flying down from Mackay to the Gold Coast to look after her where Melinda has now based herself.
"I didn't have much energy that week, and couldn't do much except just sleep."
Three weeks after the crash Melinda ventured back into the gym under the careful watch of AIS Strength and Conditioner Debbie Savage and BMXA HPP Coach Wade Bootes.
"We've been working with an AIS doctor here on the Gold Coast who has been giving us some guidelines on what we can do. It's a bit hard though because a lacerated liver isn't really a standard injury.
"With BMX being such a unique sport it's not like other everyday activities, it's quite dangerous so they say. They are worried about further impact to the liver; if I was to have another blow or crash it wouldn't be good at all.
"That's the reason why I haven't been able to get back on the bike. I haven't been able to get out on the road with a road bike incase there is a crash, it's just about reducing the chances of a crash.
"I'm at least a week to 2 weeks away before I can get back on a proper bike.
Returning to the gym wasn't as easy as first thought either.
"The first session back in the gym I was on the stationary bike resuming training where we would do a casual roll at 90 rpms. I tried to roll at 90 but my heart rate spiked at 195 bpm  – my heart rate doesn't even get that high when I'm riding in the Probikx races.
"That was a massive sign for us, so we had to back off a bit at training and just use my heart rate as a guide for what intensity we should be training at.
Despite the hurdles put in front of her, the injury has allowed her focus on other areas which may have gone unnoticed in her training regime.
"It's been a blessing in disguise, I've been able to work in the gym on some of my weaknesses which will help my gate starts and jumping.
"Now that we've got some time to work on it, let's actually work on it. I'm in the AIS now more than what I was normally when I was training. I wouldn't be able to get this recovery anywhere else.
And with the recovery well underway it's natural to be looking ahead for a return to the track, however that decision won't be take lightly by the training staff who won't risk further injury or inadequate preparation for racing.
"Hopefully I'll be ready for Manchester for the first World Cup, but Wade has said if I'm not ready to go we're not leaving the country. It's no use going to Manchester if I'm not ready or if I'm half trained – it doesn't benefit anyone.
So with the recovery process well under way Melinda will get her first real indication of how the injury has progressed when she undergoes a CT scan next week. Until then, it's gym work at the AIS and sadly no racing in Canberra at the National Series in March.
15/02 Speedline Parts/Supercross BMX Australia at the Lilydale Cup
Supercross BMX Australia press release (report by Shaun Collins)

The Lilydale Cup and the first round of the Pro Tour was held last Sunday. Danny Galea (A-Pro) and Dave Comport (Vet Pro) were flying the Speedline/Supercross colours.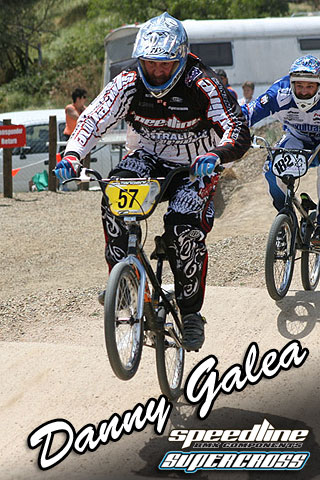 Danny Galea
There were 32 riders in the A pro class, it was jam packed with sum very fast hot shot riders including bmxultra.com/Supercross rider Dane Pangallo
Danny has been back on his bike for a while now and has already started the year off with sum good racing at Track Attack.
Despite a crash in his second moto Danny was in the mix all day and confirmed he was a chance for the podium when he finished up with a strong third in his semi. After the three moto finals Danny placed fourth overall, just one step off the podium.
Dave Comport
Dave comport was in the tough vet pro class which had a healthy 17 riders.
Dave was suffering from a sore back, so with him not 100% it was gunna be a tough day. Despite that he got through to the final and while he looked strong in the first straight for each of the three finals Dave ended up with eighth place overall.
Dave is looking forward in building up his brand new 2013 envy cruiser frame loaded up with Speedline products.
Good luck to all the Speedline/Supercross riders over at Mount Gambier for the South Australian state titles.
Speedline Parts
Speedline Parts is a bicycle parts manufacture located in Southern California. We currently produce cranksets, pedals, chains, headsets, brakes and seatpost clamps. All of our products are tested and used by team riders. Speedline Parts are distributed in Australia by Supercross BMX Australia.
Supercross BMX Australia
Supercross BMX is a leader in BMX by design, innovation and manufacturing. The Supercross ENVY is the lightest production frame, full stop! However there is much more to the brand than the ENVY frame. There is also the alloy BLUR and the cromo BOLT LT, both of which have the same race winning geometry as the ENVY. Supercross BMX currently produces some of the most respected cromo/heat treated handlebars and forks in the business as well as hubs, stems, seats, posts, tires, cranks and a while lot more.
Supercross BMX Australia are the exclusive Australian distributor, keeping prices competitive and in many cases cheaper than the US. On top of that SX Australia put back into Australian BMX sponsoring some of the most talented riders in Australia on the Supercross Australia factory team and supporting the Speedline Parts/Supercross BMX Australia and bmxultra.com teams. Supercross BMX Australia is also a big supporter of the BSX charity event.

14/02 Supercross team update: 2 is the magic number
Supercross BMX Australia press release
Esther Woodward has been tearing up BMX tracks all over the country on board her 2013 Supercross ENVY. Since the Victorian state championships in November she's been to Canberra (ACT), Nerang (Qld), Track Attack and BSX (Vic), West Side (WA). Rather than go back and fill you in, we'll kick off the year with the Lilydale Cup that was held on Sunday.
The Lilydale Cup was the first round of the Victorian Pro Series, and attracted two gates of Pro Women. Esther had a big crash in her second moto to back up her big crash in training the day before, so things didn't exactly go to plan. She still managed to keep it together and make her way into the final where she was consistent and finished up with a second place overall.

Talking about Lilydale, we'd like to shout out to bmxultra.com's A Pro Dane "Daneosaur" Pangallo who continued on his winning ways on board his cromo Bolt LT. He took two wins in the three moto final format, but the sixth place in the other cost him the overall win, he had to settle for second place.
So why is 2 the magic number? Peter Little is back on his bike after a big lay off due to injury. The Supercross BMX Australia factory team is now back to two active riders. The news isn't so great for Jade McPherson, he's still injured and will be off his bike a bit longer than first thought.
The Supercross BMX Australia factory team is co-sponsored by Troy Lee Designs/Steve Cramer Products, Speedline Parts, Dirt Designs, and bmxultra.com.
About Supercross BMX Australia
Supercross BMX Australia are supporters of BSX and the Royal Children's Hospital and while we have our own Supercross and Speedline/Supercross teams we also co-sponsor the bmxultra.com team and the Anarchy Australia team.
To find out more information about Supercross BMX products, Anarchy BMX frames and Speedline Parts check www.supercrossbmx.com.au
If you would like to purchase Supercross BMX products in Australia please have your local bike shop contact us. Please note, we do not sell direct to the public. We support the Australian BMX Industry! Do You?
For more information and dealer enquiries email sxaustralia@supercrossbmx.com.
13/02 One Bicycles 2013 frames available now
by bmxultra.com
For some it's been a long wait for the latest One Bicycles frame. While the new frame is a similar shape to earlier models the rear drop outs have been re-engineered to allow for easy conversion, you can run either 10 or 20mm drop outs. The only frame I have seen with similar drop outs was the latest Staats frame, and that only bares a vague resemblance.
There's also the obvious cosmetic change with an all black paint job and new sticker kit.
The 2013 frame is cheaper than previous years making it a lot more affordable and appealing to some that may not have given it a second look.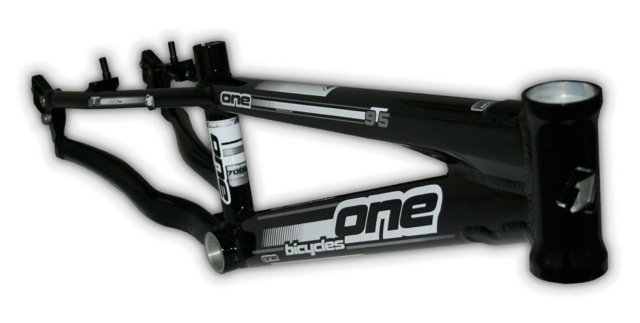 One Bicycles frames are distributed in Australia by Elite Cycle Imports and available through any good BMX dealer.
11/02 The new jersey rule explained
by bmxultra.com
There has been some confusion caused by the new jersey rule that was announced last week. The confusion relates mostly to the race numbers that many riders have printed on their jerseys, it's a little foggy as to who it applies to. So I thought I would get to the bottom of it and email BMX Australia for clarification.
Here's the jersey rule as per the UCI rule book
Jersey
6.1.056 The jersey shall be a loose fitted long-sleeved shirt whose sleeves extend down to the rider's wrists. Lycra is not permitted. The fabric of the jersey must be loose enough to have a minimum of 3 cm doubled up excess material, without stretching the fabric. This shall be measured by pinching the fabric between the index finger and thumb.
The jersey must be tucked into the pants to not cause interference. Each rider that have received a UCI permanent number (as outlined in § 10) and the riders with a world number 1-8, must print their number on the jersey according to the following principles:
A. The colour of the number must be in strong contrast with the colour of the background.
B. The distance between the numbers must be 1.5 cm
C. The minimum height of the number must be 20 centimeters
D. The width of the numbers shall be;
– minimum 10 cm for one digit numbers
– minimum 20 cm for two digit numbers
– minimum 25 cm for three digit numbers
E. There should be a minimum of 5 cm of free space without publicity around the number.
F. As an option, display their last name across the shoulders, above the number.
Only Elite riders who received a permanent career number through the UCI, may print a permanent career number on the back of the jersey. Riders without a permanent career number shall not print a number on the back of their jersey.
According to article 1.3.059 every rider competing in a BMX world championship (Championship, Challenge and Masters level) and at the continental championships (Championship level) must wear a national BMX jersey matching the jerseys of his fellow-countrymen.
The only variation allowed shall be advertising on the jersey. The national jersey must be worn whenever a rider is engaged in activities on the track, prize giving ceremonies, press conferences, television interviews, autograph sessions and other occasions during the event, which require a good presentation to the media and the outside world.
(text modified on 1.07.12).
So what does it mean?
We sent some questions over to BMX Australia and we'd like to thank Andy Mellish (BMXA National Officiating Director) for taking the time to answer them for us.
Q: Does the numbers on the back apply to all classes or just elite/junior elite?
A: Championship classes only (Elites and Juniors) [Editor: We see this as meaning the number on the jersey ruling doesn't apply to Challenge classes]
Q: When will it be enforced?
A: We have already been enforcing this rule at the 4 UCI/Probikx events BMXA have already held in Australia.
Q: What is a cost effective solution? Do you allow tape to cover the numbers? How much of the number has to be covered?
A: BMXA do allow riders to cover up their numbers with tape if they have a number on the back of their race jersey and it is not a UCI permanent number and it must all be covered up.
Hopefully that helps to clear things up. If you have any further questions about the rule feel free to shoot BMX Australia an email.
11/02 Photos: Lilydale Cup
by bmxultra.com
Usually I'm struggling to find time to take photos between motos, things have turned around a little thanks to an injury. On the bright side, we've got a whole lot of photos to share with you, over 200 in fact. The photos were from the Lilydale Cup held on Sunday.
Click here to check them out.
08/02 Jade Parker joins Factory Doublecross Australia
Doublecross Australia press release
Doublecross Bikes and Factory Doublecross Australia would like to announce the signing of Jade Parker for the 2013 season. Jade is a fantastic young rider who has already chalked up some great results. Jade's career highlights include:
1st place in 15yr girls World Titles Copenhagen, Denmark 2011,
1st place in 15yr girls Australian Titles in Cairns 2011
7th place in 16yr girls World Titles Birmingham, UK 2012
1st place in 16yr girls Australian Titles in Mt. Gambier, …South Australia 2012
16 year girls Champbikx series winner 2012 which resulted in NADP squad selection
15 year girls Champbikx series winner 2011 which resulted in NTID squad selection and Australian Test Team captain for New Zealand Tour.
14year girls Champbikx series winner 2010 which resulted in NTID squad selection and Australian Test Team selection for New Zealand Tour
1 QLD, 3AUS, 3World in 2009
We are very excited about the 2013 season for the whole Factory Doublecross Squad and we are very happy to have Jade on board!!
08/02 National Probikx Tour Highlights on Cycling Central this Sunday
BMX Australia press release
Tune in to Cycling Central on SBS ONE this Sunday, Febraury 10 at 5pm (AEDT) for highlights of the National Probikx Tour action from Westside BMX track.
And for all the other races in the National Series they can be viewed on BMXA TV.
08/02 Morphine update
Morphine press release
Morphine Hits First Two Stops of Florida Series.
The mark of a new BMX race season is always the start of the Florida Sunshine State series.  The season started last month with a race at Charlotte BMX in Punta Gorda and continued last week with the second stop at the famed Okeeheelee BMX in West Palm.
The 2013 Florida faction of the Morphine Industries Factory team consists of two top national riders, 10X Dylan Shipley and 16X Noah Reeves.
16X Noah Reeves coming in the 2013 season with a full head of steam and a determination toward Tulsa hit both stops to start the Florida series.  At Charlotte BMX, Noah blasted thru three gates of riders to hit the main both days with and crash on day 1 and a 3rd on day 2. 
The 2nd stop at Okee BMX was just as exciting. In the main day 1, Noah came from lane 8 to shut down the class but had to deal with some dirty riding as he was continually blasted around the track to keep him back.  Sunday brought about a solid 3rd place on the podium.
10X Dylan Shipley The newest member of the Morphine Family needs no introduction.  He is a staple name heard over the speakers at any race.  Dylan started out the season with a perfect weekend at Charlotte BMX  topping the podium with 1st both days.
Dylan came to Morphine Industries' local track Okeeheelee BMX for the 2nd stop of the Florida State series and made a statement again by taking the top of the podium both days.
Next stop for the Morphine Industries crew is to all head to Louisville for the Bluegrass National.  We will be stoked to have almost a complete crew to present the Black, White and Pink.  You won't miss us.
Hey Tulsa, Morphine Industries is Back! 
It didn't take long into the journey to Tulsa to feel like we were having deja vu.  It felt like yesterday that we had just packed up the rig & pulled out of the Expo Center but yet, here were, headed right back out there for round two. This trip felt the same but there were definitely some changes along the way for each rider.
For Brandon McCoy, his change came in the way of a new class. BMC made his Pro debut in Tulsa and started it off with a bang by winning his first Pro moto and his first main event.  When the dust settled, Brandon had finished 3rd both days overall. Not too shabby for a Pro debut! 
Olijuwon Davis rolled into Tulsa determined to change his fortune this time around in Tulsa. While Grands didn't go according to plan for OD, he was clearly on a mission this weekend. Olijuwon won just about every lap all three days, making him king of the Pro podium for the weekend. 
Change was also underway in the amateur ranks as Brandon Elmore made his debut on the Morphine/Haro/Fly factory team.  Elmore made an instant impression by winning the best race of the weekend in 19-27x.  After getting the holeshot, Brandon got an elbow in the first turn, sending him back to 2nd but the favor was returned in the last turn leaving the crowd on their feet and Brandon at the top of the podium on Saturday. 
It was business as usual for Doran Bradshaw, winning every lap on Saturday…until another rider got whisky throttle on the first straight, causing a chain reaction of events that left DB100's hand out of commission.  – But a broken thumb wasn't going to stop Doran from giving it a shot, so he duct tapped his hand to his Morphine Industries Truth bars and still managed to show the guys in his class why he has the #1 plate. A 3rd and two 1st place finishes are a great way to start off the season even with two good hands!
Next stop on the tour – Louisville, Kentucky for the Bluegrass Nationals. We'll be in full force with almost every member of the factory team there showing off their new Fly Racing Evolution pants and Matte Black F2 Carbon Helmets. Be sure to stop by and check them out!
Factory Team Sponsors: HARO BIKES (www.harobikes.com), Fly Racing (www.flyracingbmx.com),  Alienation (www.alienationbmx.com), Hawk Racing (www.hawk-racing.com), Rennen (www.rennendesigngroup.com), DNA Energy (www.dnaenergydrink.com), HRP designs (www.hrpdesigns.com)
07/02 Phoenix frames available in Australia at Oxley Cycles
by bmxultra.com
I got talking to Don from Oxley Cycles (in Brisbane) a few weeks back and he said that he is selling the Phoenix frames, and they are in high demand at the moment. (Not bad for a region that's heavily saturated with Redlines.)
In a highly competitve BMX market it's difficult to survive as a "me too" brand. Phoenix are far from that. Actually they are pretty far from anything. If you are looking for something a little different to the norm, you probably want to look further because the Phoenix is a LOT different to anything available right now.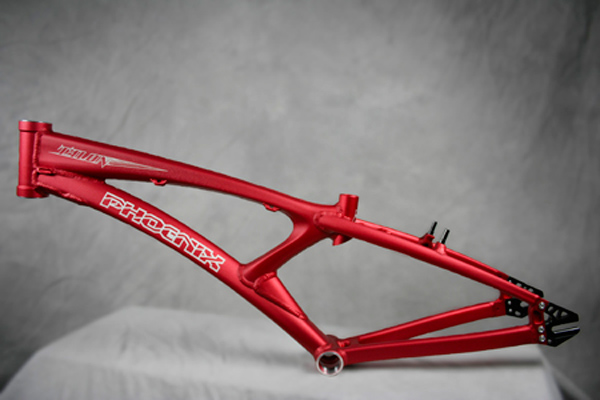 The interupted seat stay is reminiscent to some of the monocoque frames put out by Mountain Cycle, Specialized and Haro from the late 90's but with a new slant.
Want to find out more? Dare to be different, hit up Don at Oxley Cycles.
Check the website for contact details www.oxleycycles.com
06/02 Olympic track builders signed for UCI BMX World Championships in Auckland
UCI BMX World Championships 2013 press release
London Olympic track builders, Clark and Kent Contractors, have been signed to build the track for this year's UCI BMX World Championships in Auckland.
World Championships Event Director, Jane Patterson said the organisation is delighted to have secured the services of the British company who earned such acclaim for the track in London.
The championships on 24-28 July will be held in Vector Arena in downtown Auckland.
"They have an outstanding reputation not only with their efforts with the Olympic BMX track but also another of other high profile projects," Patterson said.
"We are also keen to leave a legacy for BMX in New Zealand with Clark and Kent working closely with our track operations led by Tony Takarua and homegrown staff who have experience with BMX tracks in this country."
The two brothers, who have a keen background in BMX racing and trail riding, worked initially for a British company building tracks until they branched out on their own.
"We built our own local track in 2009 as our first big job and have not looked back since," said Kent Bridgett.
They have been involved in many projects with multiple national tracks in #England, pump tracks and other major projects including Perry Park, used for the UK European Championship round in 2011. They built a pump track and the Supercross straights at the US Olympic Training Centre in Chula Vista as well as remedial work at the World Cycling Centre at Aigle in Switzerland.
It was the Olympic project that won them worldwide acclaim.
"The experience of the Olympics was once in a lifetime. Months of hard graft came together in the end. There were a lot of hurdles along the way and a lot of pressure working to a tight timescale.
"We learnt a lot as a business from London and hopefully the momentum will carry on through the next few years. Certainly 2013 is again a massive year for us with projects in UK and overseas and we are humbled and excited to be involved in the world championships in New Zealand."
The restrictions of space at Victor Arena will provide a challenge.
"In our opinion a track for the worlds need to be safe yet challenging for every level of rider, fast smooth and flowing is key. Variety is also good but we don't feel the need to necessarily try building new things at the world championships.
"More space is better and building indoors presents some challenges but at the same time it will be a unique and exciting venue."
The project will involve moving 4000 cub metres of clay into Vector Arena with six days to complete the track.
For details: www.bmxworldsnewzealand.com
03/02 Review: Madera Mast Stem
by bmxultra.com
We've been checking out another Madera product lately, this time it's the Mast top load stem. Click here to check out the review.
Posted in: Archive