Mac Components G1 Pilot System Lock-On Grip
When Aussie start up Mac Components entered the BMX racing scene they hit the ground running with what would become one of the most popular number plates in Australia and it didn't take long for the rest of the world to get on board.
Mac's latest offering is a brand spanking new lock on grip. It has a lot in common with the One plate. It's proudly designed in Australia. Has a tonne of colour options. And it has an affordable price tag.
Check it out for yourself.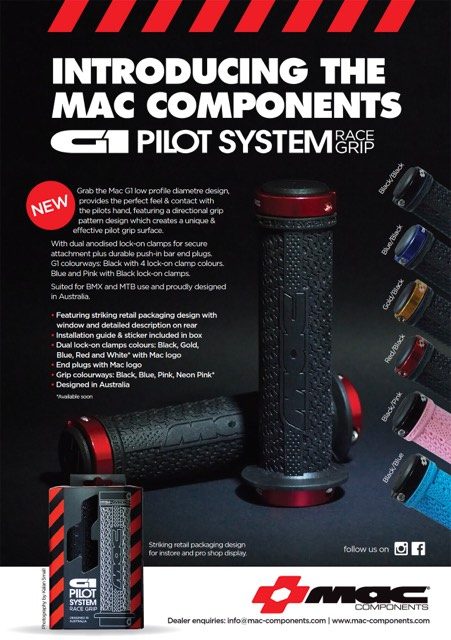 Manufacturer description
Grab the Mac G1 low profile diametre design, provides the perfect feel & contact with the pilots hand. Featuring a directional grip pattern design which creates a unique & effective pilot grip surface.
With dual anodised lock-on clamps for secure attachment plus durable push-in bar end plugs. 
Suited for BMX and MTB use and proudly designed in Australia.
Available in
Black G1 Grip with Black Clamps, Red Clamps, Blue Clamps, Gold Clamps
Blue G1 Grip with Black Clamps
Pink G1 Grip with Black Clamps
To find out more check out www.mac-components.com
Posted in: News