Product Spotlight: Rival Racing Alloy Team Frame
Australia doesn't have a massive BMX race industry, most BMX products that you find in stores are American brands. It's brands like Rival that make you proud to be Australian (even if you don't ride one of their frames). It's a brand that's well and truly embedded itself into Australian BMX culture, and it's not something that's happened over night, these guys have been working hard at it for years and are now reaping the rewards. Rival Racing is an Australian brand that's got a killer team headed up by former Australian Elite Champion Corey Frieswyk, it has a product range that's slowly branching out from frames to now include hub sets, bottom brackets and high end freewheels. It's the true Aussie battler, the underdog, that's poised to take on the world spearheaded with the Rival Racing Alloy Team frame.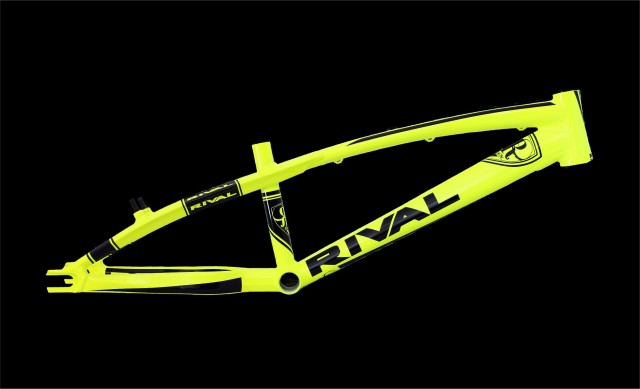 The marketing gumpf
Rival Racing Alloy Team
Rival frames are the most advanced aluminium BMX race frame available to today's BMX racers.
Rival BMX frames are produced using the SPF ( super plastic forming technique ) to produce the triple butted tubing that forms the backbone of Rivals proprietary PSDS System ( Power Stabilising Delivery System ) SPF tubing allows up to 50% more forming of the tubing over hydro forming and offers up 30% weight reduction in the tubing while increasing strength and fatigue life.
Rival Racings proprietary PSDS System (Power Stabilising Delivery System) is the essence of the Rival Alloy Team Frame. Rival utilises PSDS for the junctions of the seat stay and chain stay to the main frame. The 2015 Rival Racing frames utilise a tapered head tube for increased front end lateral stiffness, essential for today's super fast tracks and asphalt corners. Rival Racing frames incorporate adjustable rear 10mm & 20mm dropouts to accommodate today's large range of rear hub options. Blend all this with Rival Racing's proprietary tubing shapes and PSDS offers the stiffest fastest accelerating alloy BMX frame available.
Take a ride on a Rival BMX Race Frame today and you will understand why this is the next evolution in BMX. So if you're looking for the advantage over your competition and want to compete with the world's fastest riders, get your Rival Alloy Team Frame now to help you get across the finish line first.
Winning is addictive!
Geometry

For more information check out www.rival-racing.com
Posted in: News