The Skinny: Profile Hub Upgrade Options
We're continuing our The Skinny: Profile Hubs series with upgrade options, it's just one side of Profile hubs that sets them aside from the others.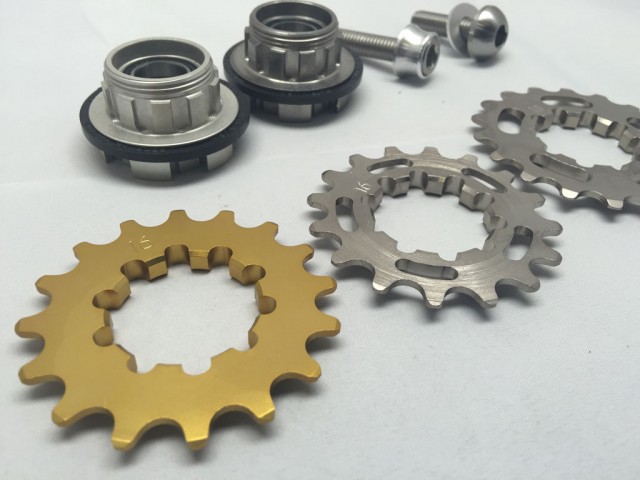 Profile Racing hubs have been the market leader for BMX hubs for decades. Chances are you've seen a number of Profile hubs getting around the tracks, but did you know that the Profile Racing hubs are completely customisable based on your needs, preferences or, of course, budget? We're not just talking about the teeth count on the cog or colour options either.
You can buy Profile Hubs off the shelf with a standard configuration and upgrade later, or you can build the hub just the way you want it at the time of purchase, which works out a little bit cheaper in the long run. No matter which way you choose to go it's comforting to know that the hub parts are always available and as the sport continues to evolve your hubs will always remain relevant.
Bolts
Profile's standard configuration includes cromo bolts with volcano washers, and there's nothing wrong with that, they are tried and true. If you are going for a different look you could consider the button head bolts, or if you can't get enough purchase on your Allen keys when doing up the hub you might want to go for a more traditional hex head bolt option. Each has it's own distinct look and benefits, and there's the Titanium options for weight reduction.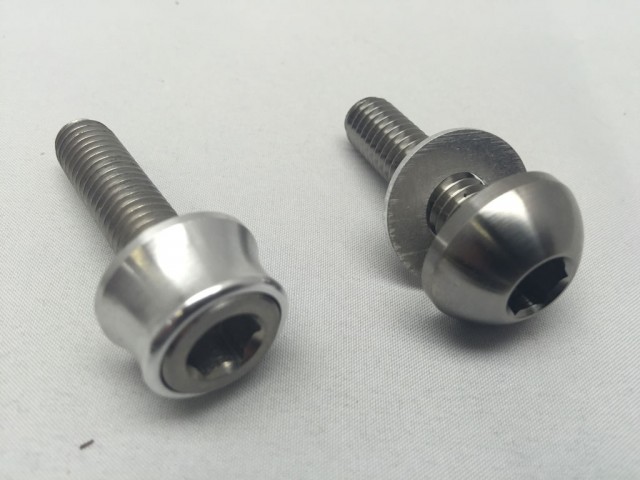 Standard (Volcano washers)
3/8″ (10mm) axle bolts for Profile Elite, Mini, Totem, Elite MTB bolt-on, and True 3/8″ Fixed hubs. These bolts are also compatible with Madera 3/8″ hubs
Take an 8mm Allen key.
Options are Standard cromo or Titanium
Volcano washers are alloy and are available in various colours
Weight for

2 x Cromo: 50g.
2 x Titanium: 26g.

3/8×16 threads.
Button Head
They will fit Profile BMX Mini (3/8) Hubs, Elite Hubs, Madera (3/8) hubs, Totem (3/8) Hubs and Profile True 3/8 Fixed Hub axles.
Take an 8mm Allen key.
Options are Standard cromo or Titanium
Weight

1 x Cromo: 33g/1.15oz
1 x Titanium: 19g/.65oz
17mm Hex Head
17mm HEX BOLTS offer a 3/8 bolt with a 17mm socket and 8mm allen option.
Weight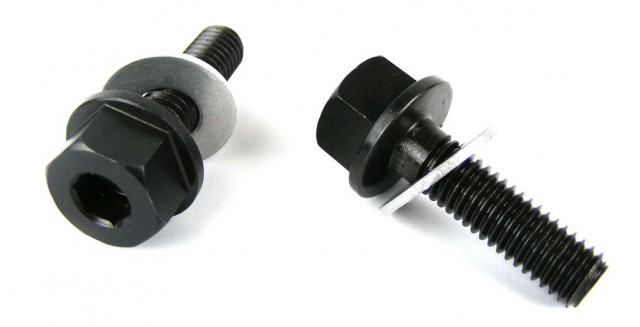 Drivers
Choosing the right driver for you can be a big decision. The Mini hub comes with a cromo driver by default and the Elite hub comes with alloy as standard. Both are up for the job and depending on the type of riding you do you may consider changing your driver, but it could work out to be completely unnecessary. The drivers themselves may display very little wear over the period of a season provided they are well maintained.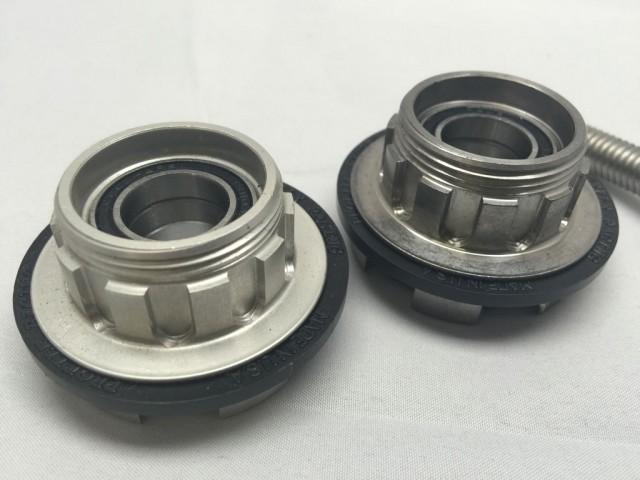 Mini
Options are Standard cromo or Titanium
Cassette (For Profile 12-18 Cogs)
(Compatible with Profile Mini, Totem, and Classic 1-Speed MTB Rear Hubs as well as Madera V-2 Rear Hubs).
Weight (without springs and pawls)

cromo: 136g/4.75oz
Titanium: 3oz (82g)
Elite
Options are Standard Alloy or Titanium
Cassette Driver (12-18t cogs)
Weights

Alloy: 2.7oz / 76g
Titanium: 3.6oz / 104g
Cogs
Profile Racing's hubs are exclusively made to fit the Profile Racing Cassette Hub. Most other hubs conform to the Shimano standard, which in some cases can be a problem with availability, but since Profile hubs have been around for some time and own a lions share of the hub market the Profile cogs are readily available at all good resellers.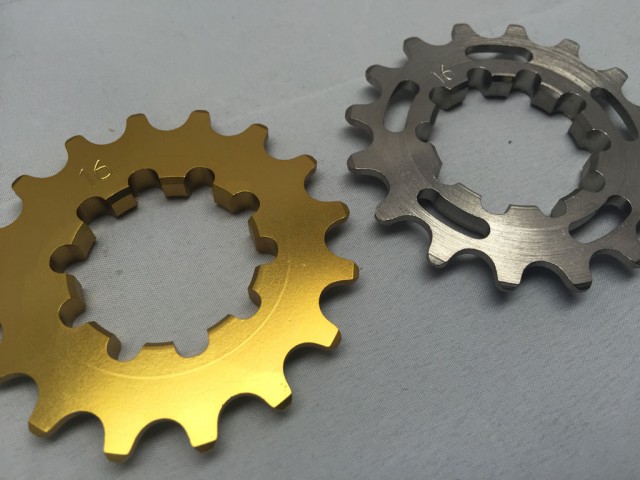 Cog options are Standard, Elite or Alloy.
Standard
CNC machined from heat-treated 4340 aircraft alloy steel for strength and durability.
Made in USA.
Available in 12T to 18T
Weight: 16t= 54g
Elite
CNC machined from heat-treated 4340 aircraft alloy steel for strength and durability.
Made in USA.
Available in 16T to 18T
Weight: 16t= 44g
Alloy
Machined from 7075 Aluminum.
Made in USA.
Available in 13T to 18T
Weight: 16t= 22g
Aluminum Cogs are intended for race day use only. They will wear out much faster than CrMo cogs.
15 & 20 mm axles
We mentioned earlier that you can keep your Profile hubs relevant as the sport evolves, Profile have done that in two ways since the introduction of the new 15 and 20 mm axle options. Firstly with adapters and then with a specific elite hubset. We won't get into too much detail with that just yet, but it's important that you know the options are out there. The adapters give you a chance to ride with your older hubs without having to fork out the big bucks up front.
Adapters
The adapters are the cheaper option to allow you to get your current wheel set into newer frames with 20 & 15mm drop outs, although theoretically it doesn't allow you to tap into the full potential of the 15 or 20mm axle it will allow you to get on your bike right away.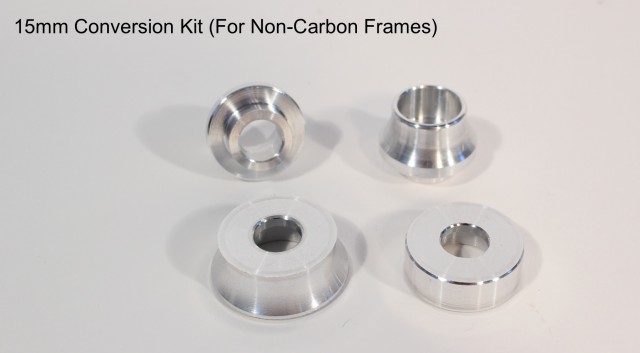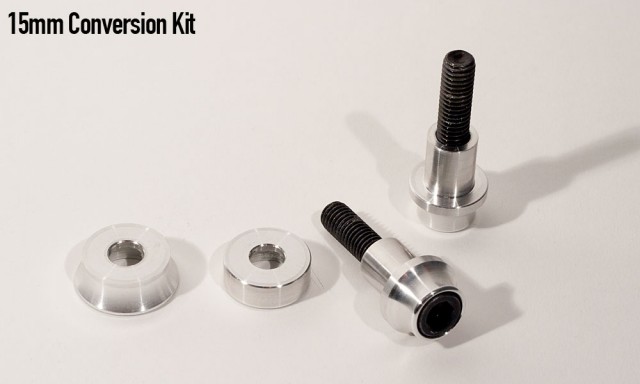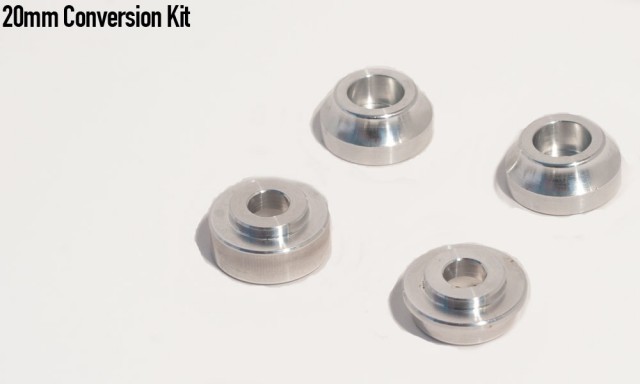 15 & 20mm Elite Hubset
The standard 20mm bolts can be switched out for the 15mm axle kit in the one hub shell and you can mix and match your front and rear hub to fit the popular 20mm front/15mm rear combination.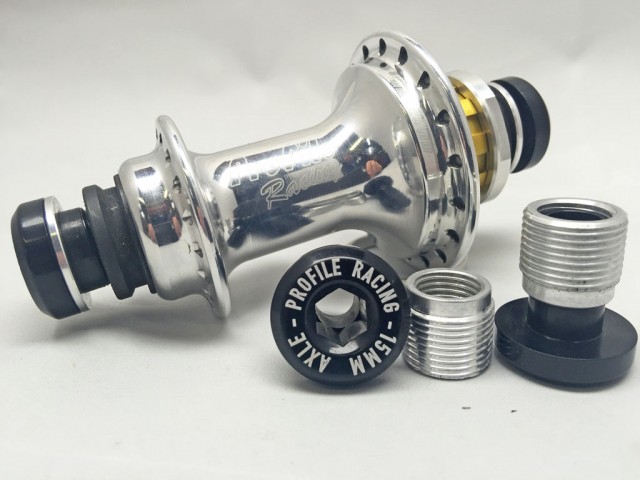 Distributed in Australia by Elite Cycle Imports
Profile Racing is distributed across Australia by Elite Cycle Imports, we'd like to thank them for their help with The Skinny: Profile Hub series.
While visiting at ECI we noticed racks and racks of hubs in various colours, hole drillings, a massive variety of upgrade options and a large amount of hub service products like pawls, springs, and bearings all ready to keep you rolling. The photos in the article were all taken at ECI HQ, they've got the stock.
ECI work closely with retail stores to make sure you can get the hubs you want and at unbeatable prices.
Find out more about Profile Racing hubs
Posted in: News