Ciari Crossbow Handlebars
It's funny when you hear people say that a BMX bike is a BMX bike, and that parts are much of the same from brand to brand. That can't be further from the truth. Sure there are those who just set out to make "me too" products but there are also those that set out to put their own spin on things. A few years ago I would have put Ciari in the "me too" category, no wait, hear me out. It seems that about 2 or so years ago this had changed for Ciari. There was a rebranding, a total overhaul of the products, which has lead to Ciari being a real contender in BMX race parts.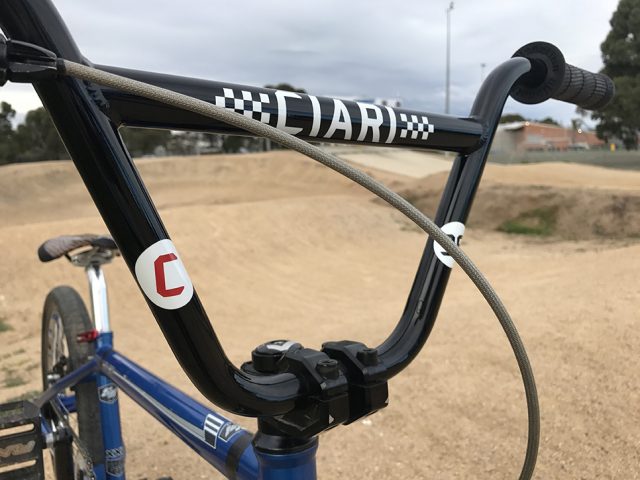 And just when I started to think that BMX handlebars were getting a little bland, I came across the Ciari Crossbow handlebars. They appear to have a nice retro/moto look about them, which helps them stand out from the crowd. It also helps that they are well presented on a very slick website. The only problem with the website, that I found, was I had to go hunting to find all the tech specifications. The geometry was the hardest, so I've thrown it in this review with all the other features to save you the leg work.
I've spent a few months now with the Ciari CR850 (8.5″ tall by 28″ wide) on the test rig and have been surprised. These are the largest bars that Ciari offer in the Crossbow range. I'm very particular about my handlebars, the back sweep and up sweep alone can make or break a bar for me, also the width and height need to be very specific. That said though I am always open to trying new handlebars.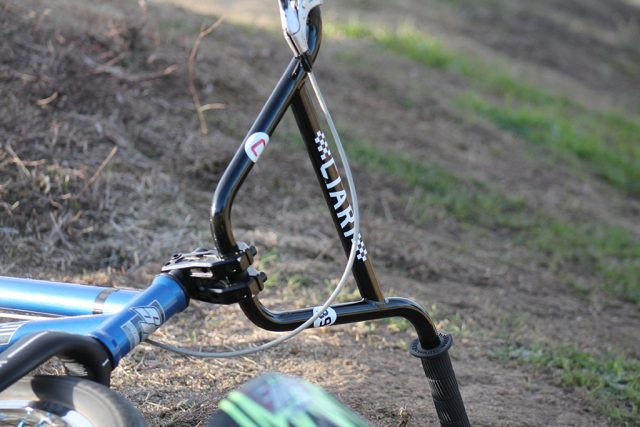 The back sweep of  10° was what I have found to be the sweet spot for me, so there was a big tick in that check box. The up sweep of 2° is just 1° out of the 3° up sweep that I'd become accustomed to. For comparisons sake there are bars on the market like the Race XLT from S&M bikes which have just 1° of up sweep and are still very popular. It took a little adjustment for me, because even though it's "only" 1° it's absolutely noticeable, but that said I'd still found it comfortable, so we get another tick there. It was nice that Ciari has a bar option that's 8.5″ tall for those who like a little rise on their bars. The only down fall I can think of is that they are only 28″ wide. Normally where a taller bar is required a little more width is needed too. I would have preferred 29″ wide. While it's not a deal breaker for everyone, if I was to buy a new set of handlebars I wouldn't look at something under 29″ wide. If they were 29″ wide riders could have the option to customise them, cutting them down to length if needed. Finding a clean solution to make them wider, well, that's a lot more difficult.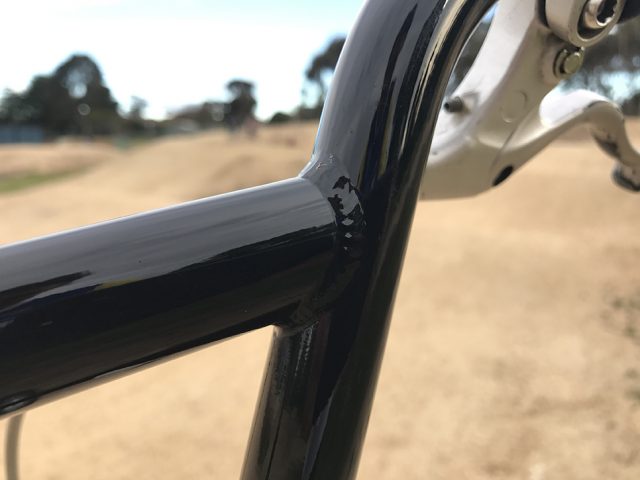 The ovalised cross bar on the Ciari Crossbow bars isn't a new idea, I first saw it in the early 80's on the JMC bars, but it's been a while since I have seen it on a serious race bar. While some may say gimmick, the bars do feel particularly stiff, which could well be because of the cross bar. Even though the crossbar is bigger the bars are still quite light weight and compare nicely against other bars with the same height.
We touched on the looks of the bars a little earlier but forgot to mention the amazing colour range available and the paint and the welds are just as slick as they come. Oh and I have to mention the nice little details like the reminder on the bars to "love your bike". Wise words. Also there's gnarled area for the stem to really bight into and ensure there's no slippage.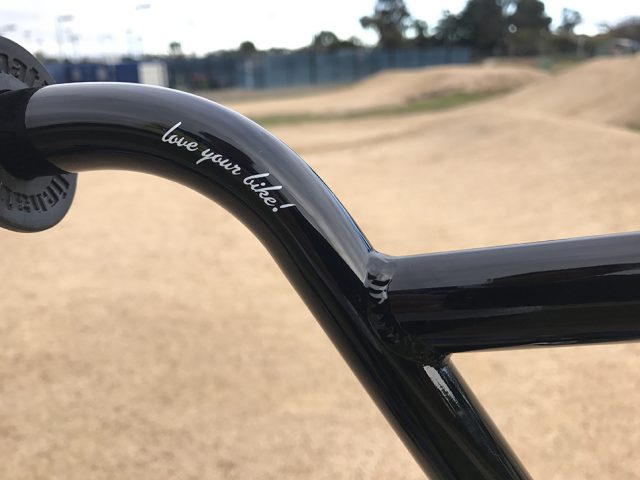 So how do they feel to ride? After a little adjustment time they were great, very comfortable and natural, they feel very stiff and strong. As I mentioned earlier I'd like to see a wider option.

Manufacturers Description
Like the famous genoese crossbowmen whose accuracy and force were feared throughout the land, you will always be ready to fire with this incredibly light and ultra- stiff handlebar.  Take aim with the responsive crossbow and let your bike fly!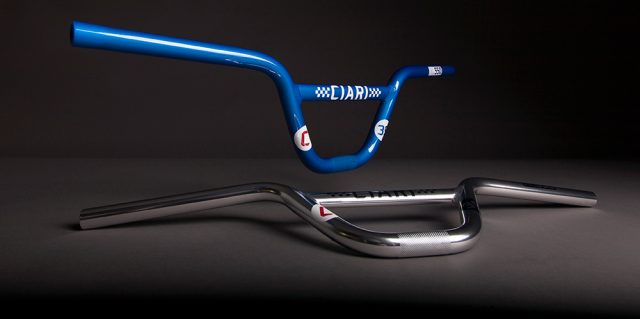 Features
Made from 4130 seamless and fully heat-treated chromoly tubing

Multiple butted design for maximum strength to weight ratio
Oval crossbar for added stiffness and responsiveness
Colours:

Black
White
Red
Blue
Green
Chrome

Sizes:

CR650 (Expert XL) 6.5"
CR775 (Pro Junior) 7.75"
CR800 (Pro) 8"
CR850 (Pro XL) 8.50"
CR575 (Pro Cruiser) 5.75"
Geometry
| | | | | |
| --- | --- | --- | --- | --- |
| Height | Width | Back sweep | Up sweep | Weight |
| 5.50″ | 26″ | 9° | 2° | 669 g |
| 5.75″ | 28.3″ | 10° | 3.5° | 687 g |
| 6.50″ | 26″ | 9° | 2° | 649 g |
| 7.75″ | 28″ | 11° | 4° | 719 g |
| 8″ | 28″ | 10° | 2° | 720 g |
| 8.5″ | 28″ | 10° | 2° | 730 g |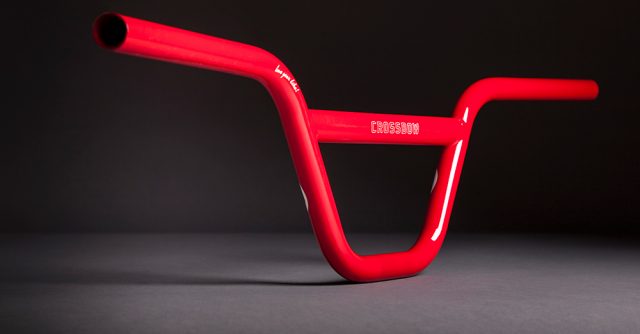 Final Words
The Ciari Crossbow is a real contender when it comes to BMX race bars, I'd highly recommend them. Not only do they look great, they feel great too.
Gallery
Rating 19/20
| | |
| --- | --- |
| Value for money: | 4.5/5 |
| Weight: | 5/5 |
| Functionality: | 4.5/5 |
| Looks/Finish: | 5/5 |
COMMENTS
The Ciari Crossbow has an amazing price tag, compared to other high end bars on the market they provide great value for money. However, they don't appear to offer a life time warranty like some of the other brands
The Ciari Crossbow handlebars are great in the weight department will still providing great stiffness and strength
The Crossbow is a great BMX bar with a nice range of colours and sizes, I'd just like to see the 8.5″ high bar come with a 29″ width
It would take quite an effort to beat the finish of the Ciari Crossbow bar for looks and finish.
Ciari is distributed across Australia by BMXEDGE, see their website at bmxedge.com.au/ciari_parts.php for more details.
Reviewed by Shane Jenkins/bmxultra.com June 26, 2017
Posted in: Handlebars