CCH continue to impress me with their products that are designed with function in mind, over fashion. Companies like CCH that think outside the box are going to make a much bigger impact on our sport than the "me too" companies that just continue to play follow the leader.
While the CCH brand isn't the most popular on the track, yet, there seems to be an under current of people willing to take advantage of the high quality CCH products, all designed to make the most of the power generated by the rider.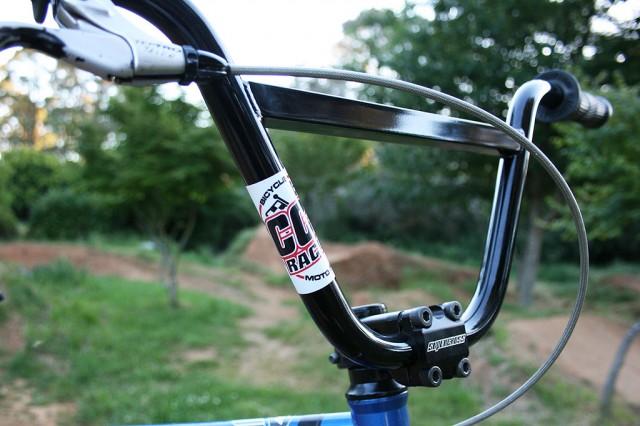 CCH Power Bar features
The following is taken from the CCH website
Serious BMX racers demand serious performance. CCH Power Bars deliver in spades. We're not here to make the lightest set of BMX handlebars, just the best. Unlike many other bars, these won't flex, robbing you of all your power.
Our unique design features a square crossbar, partly for looks, but also for strength.
Next, the outer bar is butted in 8 places, just the right amount to produce the optimum strength to weight ratio. Thicker where you need it, thinner where you don't.
Full on seamless 4130 aircraft chromolly, Tig welded, then heat treated after welding, checked for alignment.
Standard CCH Power Bar specs are:

6 degrees back,
2 degrees up,
28″ wide,
8″ rise.

Available black, white, or chrome.
Weight
As with the CCH SuperCup frames, the CCH Power Bar is made to be stiff strong and reliable. Weight is a little lower down the priority list, although this doesn't mean they are the heaviest bars on the market, not by far.
Here's a comparison against some of the more popular bars available.
| | Ounces | Grams |
| --- | --- | --- |
| Supercross Flatline | 26.7oz | 758g |
| CCH Power Bars | 31.25oz | 886g |
| S&M Slam Bar | 33.2oz | 941g |

Stiffness
How stiff are they? I weigh a lot for a BMXer. I'm one of the heavier guys on the track without a doubt,  and tend to put a lot of force on my bars, especially out of the gate. For comfort I usually run FIT bars, but they are big (29″ wide), so there's more leverage and they do seem to flex a little out of the gate.
Being tall, I found it difficult to quickly adapt to dropping back to a 28″ wide bar and still get the same feel from the bike and the same power out of it so I bought some bar extenders, taking the width to my preferred width of 29″. I was a little concerned that it might mean more flex but found it still didn't make any difference.
I thought it interesting that the CCH bars do exactly what the new BOX bars say they do "Designed to stiffen bike to improve handling and power to drive train." But the CCH bars are significantly cheaper and you wouldn't have to buy a special stem in addition to get the advantage.
The CCH bars are rock solid! To me that makes the extra weight a worth while investment, after all it's strength and skill that will get you across the line in front, not a bigger credit card limit.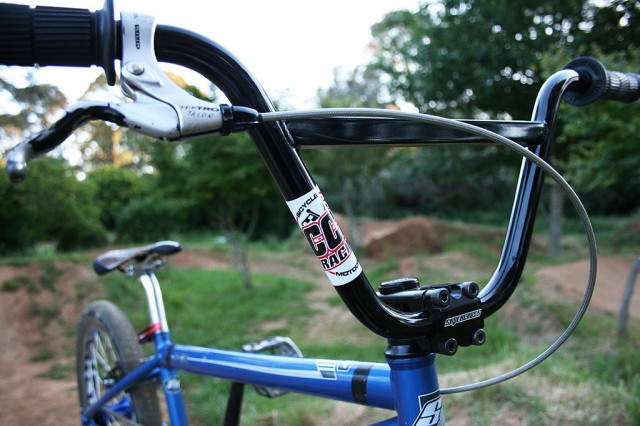 How do they ride?
I've avoided running the flat style bars, until now. I've got used to an 11 degree back sweep and didn't think I would find 6 degrees too comfortable. I was right, at first, it did take a while to get used to and I still say it's not a natural feeling. I've heard it said that the flatter bar gives you better power. I'd like to see someone find a way to test and prove that statement. To me it's just nice to know that there's another option and we aren't all stuck with the S&M standard sweep that was created forever ago.
Gallery
Last words
If CCH made a 29″ wide bar I'd be keen to fit them to my race bike for sure. Even the 28″ bars with the bar extenders don't feel too  bad, the only let down is the extender doesn't sit flush with bars, it has a slightly smaller outer diameter, and since I don't run lock on grips it means water could get under the grip a lot easier.
The CCH Power Bars are stiff, they are strong, they look great and a great option for someone looking for function over fashion.
Rating 20/20
| | |
| --- | --- |
| Value for money: | 5/5 |
| Weight: | 5/5 |
| Functionality: | 5/5 |
| Looks/Finish: | 5/5 |
Comments
 If you are looking for  a true stiff and strong handlebar make sure you check out the CCH Power Bar, a little bonus is these bars are not going to lighten up your wallet.
As far as weight goes CCH could make these bars lighter, but that could compromise the strength and stiffness. Sure, they aren't the lightest, but they still compete well in the weight race.
As a handlebar the CCH Power Bar is right up there with all of the other high end bars we've reviewed over the years. They are stiff, strong, and the gnarling around the stem clamp area means there's plenty for your stem to really bite into.
In Cruisen Chris's own words "they speak for themselves… immediately distinctive with the square crossbar!". Great paint job, nice welds and nice bends. The square cross bar makes these bars the toughest looking bars in BMX today!
To find out more about CCH check out cchbicycles.com
Posted in: Handlebars · News · Reviews