Dirt Designs New Pro sized number plate
Dirt Designs is one of my favourite brands for many reasons. The local Melbourne manufacturer has been making number plates since 1996, each plate is hand made, that's right ol' school screen printing using high quality ink on high quality plastic and fitted out with high quality velcro straps that just seem to last forever.
Dirt Designs have toyed with some plate design changes in the past, the new Pro sized plate is probably the most popular so far.
The new Pro sized plate is sometimes referred to as Mid Pro plate, it gets it's name because it's smaller than the well known Pro plate, in fact it's about Mid way between the size of the older style Pro sized plate and the Mini.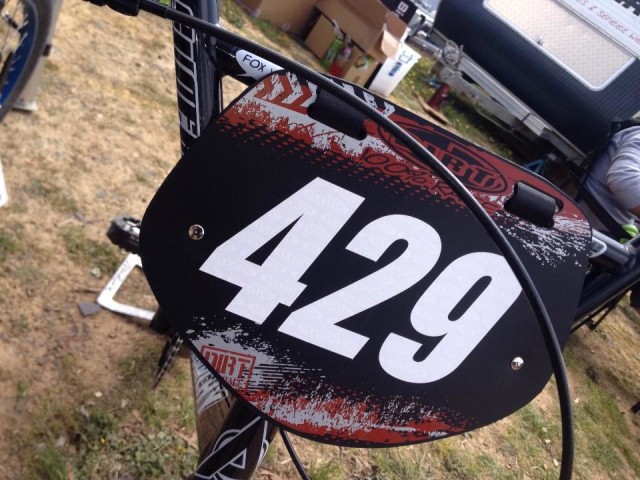 Now while the new Pro plate is smaller than the older Pro plate it still fits every pro sized and even oversized handlebar that we've tried them with, we went all the way up to Alienation's NYC bar which are 29″ wide and 8.75″ tall. Not only does it fit well, it fits better, with a slightly more sleek look about it.
Dirt Designs supports a number of Australian teams including the Kuwahara team which have their very own custom plate. Also the bmxultra.com, Supercross Australia and Speedline teams. Dirt Designs have also been a big supporter of the BSX charity event since it began in 2006.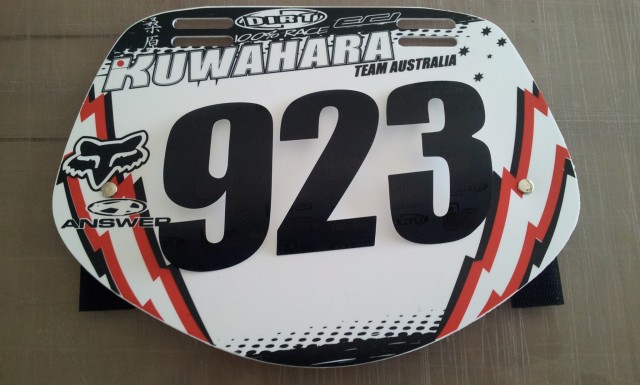 Features
Available in all UCI compliant background colours including
Each background colour comes with a variety of colour combinations to better match your number plate with your bike
High quality velcro straps for easy adjustment and to make it easy to fit and remove your plate
Plenty of surface area for your numbers and stickers
Readily available at all good bike shops around the country
Lightweight
New WMD Numbers
Along with the Mid Pro plate Dirt Designs have come up with some new numbers, known as WMD (Water Mark Design or Weapon of Mass Destruction, you decide). They listened to feedback from riders and reduced the size of the numbers so you can fit more numbers to your plate and still have room for extra stickers. Not only that the water mark really pops on the plate as you will see from some of the photos.
Gallery
Rating 20/20
| | |
| --- | --- |
| Value for money: | 5/5 |
| Weight: | 5/5 |
| Functionality: | 5/5 |
| Looks/Finish: | 5/5 |
Comments
Awesome value for money, one of the cheapest number plates on the market and still one of the best looking in my book
One of the lightest mass production plates available, in fact a whole lot lighter than the 3D injection molded plates, and it will still fit UCI number required measurements
There's plenty of room for numbers and stickers, you will easily fit up to four digits using the Dirt WMD numbers
The Dirt Designs Mid Pro is one of the best fitting number plates we've seen, it has a clean look and is well finished.
Dirt Designs products are distributed in Australia by Elite Cycle Imports (ECI) www.eciimports.com and available through all good local bike shops.
Review by Shane Jenkins/20 July 2014