Kool-Stop Vans brake shoes
Having good brake pads on your bike is vital. Whether it's to get you out of trouble to avoid other riders or a crash, feathering your speed over jumps or though corners, or simply pulling up at the end of the race. Anything sub standard could get messy. Having cool brake pads is maybe a little less important, but damn these Kool-Stop Vans brake shoes look awesome!
When I first started racing over 30 years ago I had a few sets of Kool-Stop brake pads, my favourite, until the Vans brake shoes came along, were the Air Cooled Safety Brake Shoes. They also looked great and worked pretty well for brake shoes in the early days. USA manufacturer Kool-Stop have been churning out brakes pads since 1978.
I remember having used the Vans Brake pads for quite some time from the mid to late 80's. They were some of the coolest products to come out of that period, but were killed off by V-brakes.

I'm a Vans fan from way back, I've been wearing them as long as I have been racing BMX, so a little while ago someone emailed me a photo of some, and I got all excited thinking they have been re-released for V-brakes. I asked Kool-Stop about them and they still make them so they sent a few sets for me to check out. It wasn't until they arrived I realised they were just as I had remembered them from the old days and probably weren't going to fit to V-brakes easily. But I thought I'd give it a go anyway. It turns out all I needed to do was remove my old pads, take all the spacers and the nut and use them instead of the hardware that came with the Vans pads.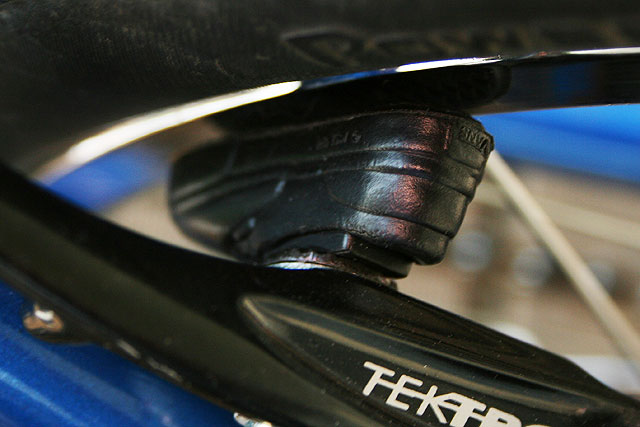 I have Sun Ringle ENVY rims on the bike I fitted them to. The Vans Brake Pads are wider than the rim sidewall. So while they don't suit an ENVY rim particularly well they would be fine on a rim with a deeper side wall like the Alienation Runaway or any of the 20+ year old rims they were designed for.
Despite the rim being chrome, the pad being wider than the rim wall and shorter than the original brake pads I had replaced, they had just as much stopping power as what I had replaced…come to think of it probably more. This just goes to show that Kool-Stop's compound that was developed nearly 30 years ago was a long way ahead of it's time.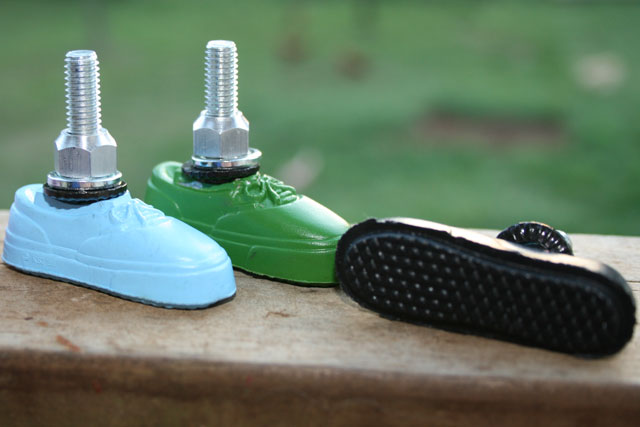 I'm not about to tell you that you need to replace your current V-brake pads with these Vans Brake Shoes, but it is possible. What I will suggest though is anyone out there building up a 20+ year old bike should consider putting these on for a finishing touch. They are still available and unlike other products of the same vintage they are quite reasonably priced.
Available in the following colours:
Black / Part Number KS-VBLK
Green / Part Number KS-VGRN
Blue / Part Number KS-KS-VSB
Pink / Part Number KS-VPINK
Yellow / Part Number KS-VY
Orange / Part Number KS-VO
White / Part Number KS-VW
Lavender / Part Number KS-VLVD
Swirl / Part Number KS-VSWL
If you are looking for new brake pads and the Vans Brake Shoes aren't going to do the trick, check out the other pads that Kool-Stop have to offer at www.koolstop.com.
According to the Australian Kool-Stop distributor the only Aussie bike shop that has them in stock is Glenroy Cycles in Victoria.
Rating 20/20:
| | |
| --- | --- |
| Value for money: | 5/5 |
| Weight: | 5/5 |
| Functionality: | 5/5 |
| Looks/Finish: | 5/5 |
Comments:
A great price for a product that dates back to BMX's ice age
Weight isn't really a consideration for running these brake pads, despite that, there's not much to them
I still can't get over how well these pads work
Let me just say it now, there isn't a cooler looking brake pad. FULL STOP!
Reviewed by Shane Jenkins/bmxultra.com March 9 2012