The Australian BMX industry is going through a growth spurt right now and MudX are one of the new brands emerging. Mudx is the brain child Jason Ham (Founder and Managing Director of www.uniforms.com.au) and Derryn Simmons (Former Junior & Senior Australian Motocross Champion and former Superbike & Supersport Formula X-Treme Champion). This partnership looks set to combine the apparel experience and extreme sports experience into a brand serious about making a impact into the sport of BMX. Having looked at www.uniforms.com.au, they have a lot of experience and going by their website, a massive range of products. Including jerseys, race pants, gloves and casual wear.
You may have already seen some of their work getting around the Aussie tracks at the moment. There's the MudX standard designed jerseys but there's also the custom jerseys from more recognisable brands such as S&M, Chase, Speedline and Supercross, and we hear there are more teams getting on board the MudX train shortly.
Next time you are looking for race or casual gear for yourself, your team, or your club make sure you check out www.mudxracing.com.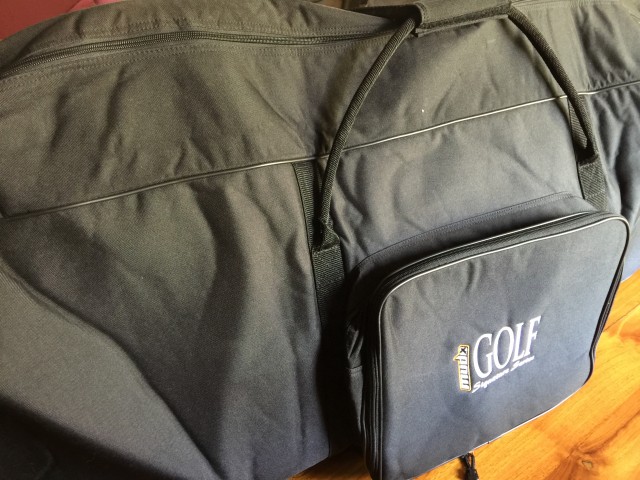 MudX "Golf" Bike Bag Features

600D Polyester with padded foam backing
Large zipper compartment
Double reinforced carry handles
Top moulded carry handle and wheels
Used as a golf bag cover or to hold team sporting equipment
124w x 25d x 43h cm
134 Litres
MudX Logo embroidered on front pocket
$AUD99.95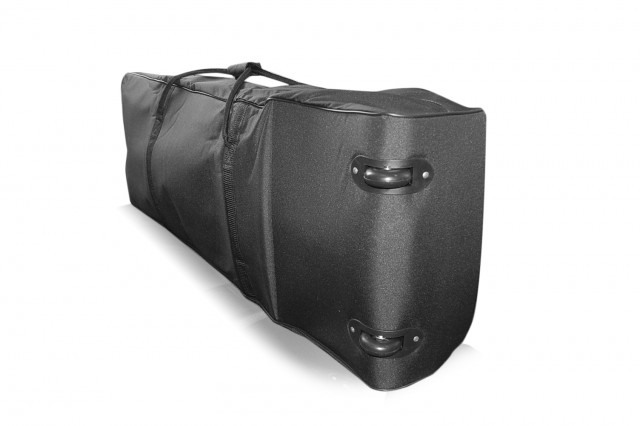 Will it fit a cruiser?
It's clear that the bag would easily fit a 20″ bike, but how big is the bag? One of the biggest questions is will it fit a cruiser?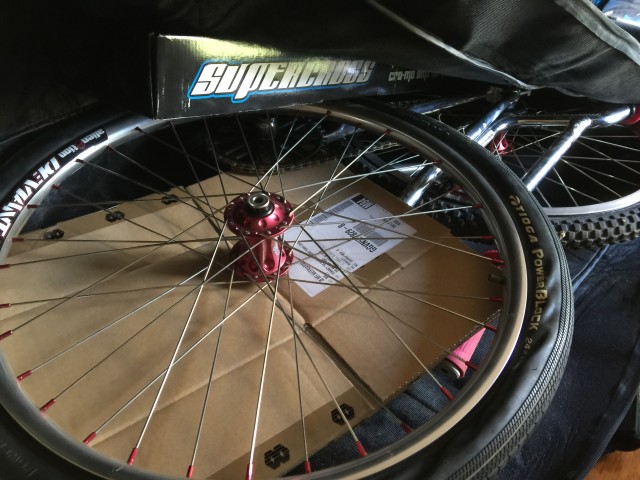 Wow. I found it pretty impressive that it fit a Supercross ENVY 24" Pro XL frame which has a 22" top tube.  I did have to take the forks off for the cruiser frame to fit, but that wouldn't be necessary for most 20" bikes.
The only problem is you would need to be extra careful of the head tube on your frame. Work out a way to leave a headset in, even if you have to zip tie it in place. The bearings will give your head tube a little extra strength if the bag gets thrown around which tends to happen with most airlines.
One thing I would like to see is an additional strap that goes around the bag just in case the zipper gets damaged because that's all that's holding the contents in.
When packing you bag make sure you use cardboard and or padding to keep everything safe from damage. It might even be worthwhile zip tying everything in place to keep the parts from moving around too much.
Gallery
Rating 19.5/20
| | |
| --- | --- |
| Value for money: | 5/5 |
| Weight: | 5/5 |
| Functionality: | 4.5/5 |
| Looks/Finish: | 5/5 |
A bike bag is must have if you fly with your bike, at just $99.95 the MudX bag would have to be the most affordable of its kind on the market
The MudX golf bag is very light, I weighed it at 2.6kg, and won't add much to your overall luggage weight
The only thing missing is a luggage strap or two for a bit of extra security but you could pick up the parts you would need from a camping store and still come out with plenty of extra spending money
The bag is well put together, looks great and appears as if it would do the job just nicely.
For more information check out www.mudxracing.com