After having reviewed the cromo One Bicycles frame last year, and seeing the preview photos of the 2006 One alloy frame, the temptation was too much to not do this review myself. It was the comfortable ride of the cromo, the comments of others who ride alloy One's, and the paint job of the new frame that pushed me over the edge.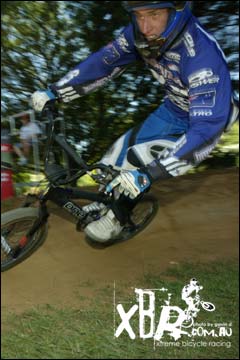 There looked to be little difference with the new frame over the previous model, initially it looked as simple as a new, and even cooler, finish and a new CNC'd rear drop out. But it wasn't until I had a closer look when I noticed the top tube had changed shape, it was no longer round, it's more of a hexagonal shape. The ride of the Alloy frame was very different to what I was now used to in the cromo frame. I was surprised to find that the bottom bracket height was around 2cms higher than the cromo. I have been riding frames with a low bottom bracket for years, so this took a bit of getting used to. I had to make adjustments to my start style and my positioning over the bike when racing and cornering. This isn't a big deal if you are stepping off a frame that already had a high bottom bracket. Aside from that it rides very well when it comes to gates and manualling and it's very comfortable with both jumping and cornering.
I asked Christian van de Groenendaal from One Bicycles why they had changed the frames. "We changed the frames for more stiffness and for the looks" a simple response that any BMXer would like to hear about their frame. The new frame is stiff. It feels more rigid and stable than any other alloy frame I had ridden. There's no noticeable flex from the frame on the gate or anywhere else on the track for that matter. "The geometry was perfect, so there was no reason to change that." is what Chris told us when we asked if it should feel different to the previous alloy model. Are there any other changes that aren't noticeable? "We did change the tubing of the expert frames into triple butted for less weight." but you and be sure that this is already a light frame, I was testing the XXL. At 4lb 1oz it's a real lightweight for the bigger riders in the sport.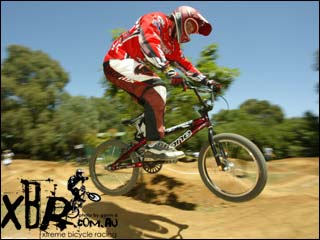 Rating 20/20:
| | |
| --- | --- |
| Value for money: | 5/5 |
| Weight: | 5/5 |
| Functionality: | 5/5 |
| Looks/Finish: | 5/5 |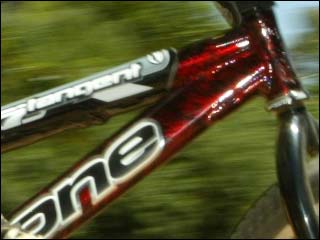 Comments:
One Bicycles products are highly competitive in quality and price, I would even go as far as saying that they set standards in paint jobs and innovative ideas.
This is one very light piece of racing machinery.
No problems with this frame, you would have trouble finding anything stiffer on the market.
I have said this before, but nothing seems to change. The One frames are really a one of a kind, there is nothing else on the market that looks quite like One frames do.
The 2006 frames are available in Red, Blue and Silver, also polished alloy.
Check www.OneBicycles.com for more information about the One product range or to locate your local distributor.
One Bicycles are distributed throughout Australia by ECI (www.eciimports.com).
by Shane Jenkins/bmxultra.com