BMX racing news April 2009
30/04 European Championship round 3 and 4 – ONE/Kenda
ONE KENDA press release
Round 3 and 4 of the European Championship series for Junior and Elite Men and women in Klatovy, Czech Republic were held on a new track and for once there was no rain.
ONE/Kenda's Arturs Matisons was not permitted to race yet by his doctor. If all goes well, we will see Arturs next week in Italy for round 5 and 6 of the European Championship.
European Champion Tommaso Giustacchini from Italy was doing great all weekend but didn't get further then a 6th place in round 3.
Toms Skujins from Latvia is improving every race in his 1st year in Elite Men. In round 4 he just missed the main with a 5th place in the semi.
Aneta Hladikova from Czech Republic is doing very well after she got back from the US. Aneta missed the podium by 1 spot and got 4th in round 3. In round 4 she hit the gate but still managed to move up to a 5th. Aneta is now in 3rd place in the general ranking.
Results:
Saturday round 3:
6th Tommaso Giustacchini, Boys 14
4th Aneta Hladikova, Elite Women
Sunday round 4:
5th Aneta Hladikova, Elite Women
Check for the videos here: BMX-VIDEOS.COM
Next rounds of the European Championship in Italy on May 2 and 3.
ONE KENDA is sponsored by:
KENDA, PINCH GEAR, KMC, SHIMANO, BOLLÉ, THE Industries, SINZ, WLM DESIGN, UFO, THOMSON, ODI, NIKE, PRO GOLD
30/04 2009 NBL Elite Series Checkpoint – Home Track Advantage For Stumpfhauser In Fresno, CA
NBL press release
After another wild weekend of racing at the Easter Classic, the 2009 NBL Elite Series is headed to the West and the chase for the coveted NBL National Title is more exciting and entertaining than ever. Next up on the stage, the highly anticipated, All-American National, held at FBX in Fresno, California and it promises to set the stage for the 2nd half of the series.
Free Agent's Maris Strombergs, the Olympic and World Champion, continued his winning ways at the Easter Classic winning Elite men both days. His team mate and 3-time NBL Elite Champion, Kyle Bennett, made his first NBL appearance of the year and ended up scoring a pair of 2nd's, making matters worse for GHP's Randy Stumpfhauser. Stumpy, who is still ranked 2nd on the year, was kept off the podium both days and will now have to use home track advantage in Fresno to narrow the gap from Strombergs. Clayborn's Barry Nobles is becoming a regular on the podium and his 3rd on Saturday earned him enough points to move up in the standings just behind Free Agent's Cristian Becerine. A mere 9 points now separate 2nd from 4th and this should change after the All-American Nationals for sure.
In Elite Women's action, current leader Dominique Daniels (Formula) rode to victory on Day 1 and looked poised for the double-win until a case of heatstroke sidelined her the rest of the weekend. A handful of valuable series points were up for grabs on Sunday and it was AFH's Mariana Pajon who collected the pay dirt. She beat out Redline's Alise Post and BMXTruth/Fly's Madison Pitts for top spot on the podium.  Race Place BMX's Stephanie Barragan had an off weekend, dropping to 3rd overall on the season and now has her sights set on Fresno for redemption. Daniels continues to lead the series but Pitts and Barragan are close and Post has two races in hand.
Six different riders have won a Super-Ex main this year but only one rider, Excalibur/TLD's Josh Meyers, has been able to do it more than once. Meyer's doubled at the Gator Nationals and came into the Easter Classic with intentions to do the same. And as luck would have it, Meyers would be denied both days – His only trip to the podium, a 3rd on Saturday. Dan's Weston Pope captured Day 1 beating out Free Agent's Fausto Endara and Meyers but on Sunday, the tables were turned once again. In a crash-filled final, Morphine's Tyler Faoro rode his best lap of the year and took home an emotional win for his home state beating out Geico Powersport's Matt Kelty and Pope – The highlight race of the Classic for sure. Meyers has the series lead but Kelty, Pope and Endara are too close for comfort.
In Master's action, Free Agent's Dale Holmes, who is 4-for-4 on the season, was back in Britain and this left the door wide open for the challengers. Intense Dyna-Pep's Tommy Opincar took home the big win on Saturday ahead of Formula's Tim Dinger and Profile's Percy Owens. With Holmes away, Opincar has assumed the series lead but Free Agent's TM has a couple of races in hand. On Sunday, Owen's took matters into his own hands and won the main, his first of the year, beating out Crupi's Domingos Lammoglia and Rennen/Intense's Will Murray. The win catapulted Owens into third overall in what could be his best season in recent years. Holmes will be back in action in Fresno looking to regain the lead.
This marks the first time that FBX has hosted a National event and their track has already generated a good buzz. The track, with downhill straights, is similar to the famous South Park track in Pennsylvania and features pro sections on both the 2nd and 3rd straights and newly paved turns. The talent-laden Free Agent team will host a pre-race clinic on Friday from 11am-2pm and all participants will get a chance to meet Olympic Gold Medalist, Maris Strombergs, and learn new skills. UGP Opens are in full effect and the winners of each class will get cool UGP gear.
Visit the NBL website www.nbl.org to see full results and standings and check out the FBX website at:www.fresnobicyclecross.com.
The 2009 NBL National Series is brought to you by BAWLS Guarana (www.bawls.com), Intense BMX (www.intensebmx.com), Kenda Tires (www.kendausa.com), UGP (www.undergroundproducts.com) Sinz Racing (www.sinz-racing.com), THE Industries (www.bmxthe.com), in association with GO211 (www.go211.com) and Camp Woodward (www.campwoodward.com).
ELITE MEN                                                             
Maris Strombergs               LAT      143-6
Randy Stumpfhauser          CA        85-6
Cristian Becerine                CA        79-6
Barry Nobles                      AL        76-6
Robert De Wilde                 NED     66-4
Javier Colombo                   CA        55-6
Sam Willoughby                 AUS     46-4
Kyle Bennett                      TX         44-2
Augusto Castro                  COL      42-4
Steven Cisar                      CA        41-4
ELITE WOMEN                                                                 
Dominique Daniels              AZ        120-5
Madison Pitts                     FL        107-6
Stephanie Barragan            CA        106-6
Alise Post                          MN       89-4
Ashley Verhagen                CA        82-4
Rachel Smith                     OH       63-4
Amanda Geving                  FL        50-3
Mariana Pajon                    COL      47-2
Carley Young                     PA        36-4
Ashley Kneram                  FL        30-2
MASTERS                                                                       
Tommy Opincar                  TN        123-6
Dale Holmes                      CA        100-4
Percy Owens                     FL        95-4
David Bittner                      CA        84-4
Tim Dinger                         NC        81-4
Eric Rupe                          CA        76-4
Adri Patrico Koolman          AB        74-6
Bryan Elisabeth                  AA        70-4
Domingos Lammoglia         FL        70-4
Philip Potosnak                  PA        59-4
SUPER-EX                                                                       
Joshua Meyers                   FL        155-8
Weston Pope                     IN         136-8
Matthew Kelty                    DE        125-6
Fausto Endara                   ECU     117-6
Logan Collins                     TN        104-6
Tyler Faoro                        FL        100-6
Gavin Lubbe                       CA        73-6
Kristaps Konrads                LAT      63-6
Randall Neave                    FL        50-4
Julian Martinez                   FL        43-3
30/04 Nicole Callisto on Western Australian TV
by bmxultra.com
Home town hero and Olympian, Nicole Callisto, featured along side fellow Western Australian Lauren Reynolds in local TV coverage as she prepares for the Australian Championships this weekend in Western Australia.
Link:
http://www.westtv.com.au/?vxSiteId=43c6a3c7-abf1-4c32-b98d-c27f8fa83360&vxChannel=Breaking%20News&vxClipId=1416_WAU2462&vxBitrate=300
30/04 ABA BMX updates ABABMXPhotos.com through Cajun Nationals- online race image archive
ABA press release
The American Bicycle Association has been in the business of BMX racing since 1977. That's 32 years of BMX history in the making. We've decided to make all the years of ABA BMX race photos available online through www.ababmxphotos.com. This is a very long work in progress and the older archives take a lot more time to work on. Basically if we were to have every single photo uploaded on the site we would have over 400,000 photos to look at. So as you can see, we have our work cut out for us for sure. As of now we have every photo uploaded on our www.ababmxphoos.com through the 2004 – 2009 seasons, with some older events sprinkled for some added ABA BMX history. Our goal is to have every picture from every ABA BMX National Series event uploaded on this site.
ABA CEO, BA Anderson stated "Many of the photos we shoot at each national event are never used in publication or seen by the public. To say that we have an abundance of photos is an understatement.  From a historical perspective, the amount of photos and slides in the archives is priceless.".
Editor/Photographer Dan Mooney stated " If you have never seen your picture in the BMXer magazine, you should be able to find yourself on www.ababmxphotos.com. I do my best to try and capture everybody at the events.". Dan shoots between 400 and 1500 shots per event!
We are hosting the web site with the existing archival images already in a digital format, shot by BMXer editor/photographer Dan Mooney and past ABA photographers, and we will work from there. Once a month or so we will be adding vintage photos, so check back often. www.ababmxphotos.com was created for your enjoyment and all the images you see on this site are now available for purchase.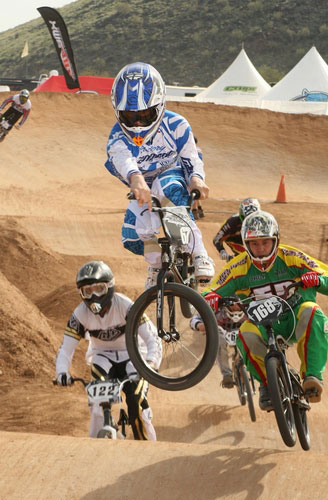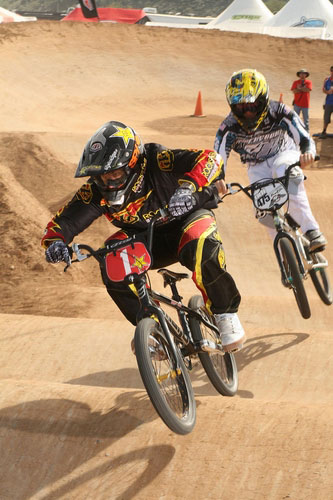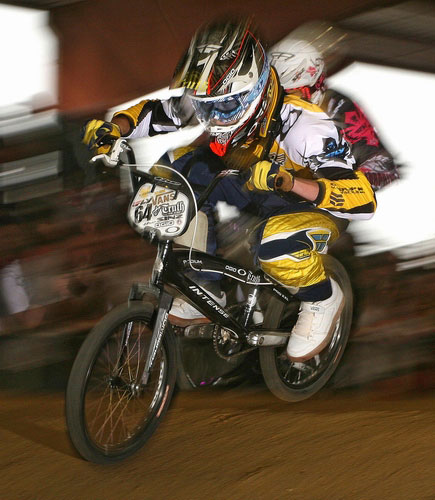 28/04 Tioga joins Cycling Australia Elite Development Squad
Cycling Australia press release
Cycling Australia is pleased to announce Tioga is the official tyre and saddle supplier to the Cycling Australia BMX Elite Development squad (EDS) for 2009-2010 BMX season.
"With the Elite Development Squad riders raving about the fast rolling Tioga PowerBlock tyres and superior grip in corners, it was imperative that we have Tioga as an Official Supplier to the program," said Wade Bootes, Cycling Australia BMX Head Coach. "It is important the riders use products they know will work and that help produce results for themselves and the program."
Tioga will also support the EDS program with the Tioga D – Spyder seat and Tioga Comp III tyres for wetter conditions.
"Tioga is pleased to be supporting the number one junior program in the world as they won 50% of the World Junior medals in 2008," said Kai Cheng, Tioga Marketing Manager.
The program is focussed on developing depth in the elite ranks heading towards 2012 and the support of Tioga will benefit current and future Cycling Australia High Performance BMX Elite Development Squad members where it counts, on the track.
The High Performance BMX Development Squad will be using the new PowerBlock 'S-Spec' Kevlar bead at the BMX National Championships being staged in Perth from 29 April to 3 May and and upcoming Supercross events and the World Championships.
The Cycling Australia BMX Elite Development Squad acknowledges the support of the following sponsors for the BMX High Performance program:
Australian Sports Commission
BMXA
Tioga tires and seats
Stealth hubs
Thomson stems and post
Alienation rims
Hogs Breath Café
Santini
Skins
27/04 Review: Kuwahara Pro 24
by bmxultra.com
We spent some time checking out the current Kuwahara Pro 24 and found it a pleasure to ride, click here to read the full review.
25/04 BMXPRESS issue #50 coming soon
BMXPRESS press release
From now on BMXPRESS Magazine is a BMX race only magazine…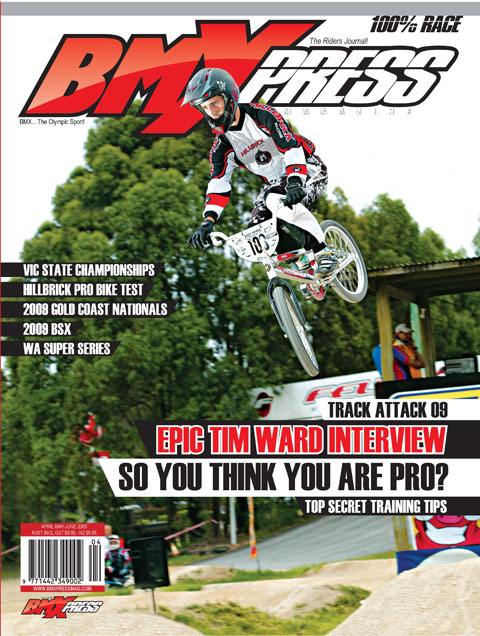 No freestyle,
no dirt jumping, no street, no park, just exclusive content written by BMXPRESS for BMXPRESS readers in 100% full colour, full gloss, 100 pages of mainstream full tilt
racing.
NOW CELEBRATING 10 YEARS AND 50 ISSUES.
BMXPRESS issue #50 will hit the stands in Australia and New Zealand just after the Aussies.
In case you were wondering all the BMX Freestyle
is going into a new magazine called BMXLIFE.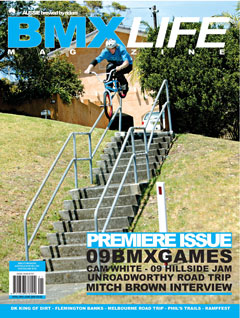 BMXPRESS Magazine, the riders journal…
[editor: I got my hands on an advanced copy of issue #50 of BMXPRESS. I didn't think it would be possible to fill 100 pages with pure 100% racing but Warwick and the guys over at BMXPRESS have done it. There is an absolute tonne of racing coverage from all over the country. The photos are awesome, the range and the depth of the articles will keep reading front to back. It really is a pleasure to read, and I'm not just saying that because there's a 5 page BSX spread. Keep an eye out for this one.]
25/04 Flick Trix Finger Bikes Are Back!
SE Racing press release
Remember the Flick Trix Finger Bikes from about 10 years ago? Well they're baaaaaack! But this time they have a lot more style & design specific to each brand. Check out the PK Ripper Looptail frame design & Landing Gear forks! And you'll be happy to know that they're launching both current AND retro models. SE Bikes will have 2 colorways of the PK Ripper Looptail that will drop this summer in Toys-R-Us, Wal-Mart, Target, & toy stores nationwide. They'll be available in the USA, Canada, France, Australia & the UK.
Flick Trix plans to run full page ads in magazines and run TV commercials. The marketing behind this round of Flick Trix bikes will be huge.
Pricing will be under $US10 for the bike & about $US15 for the Bike Shop. It won't be surprising if the old-school BMX collectors clean the shelves of every PK Ripper in stores city wide. So when they become available, you better act fast.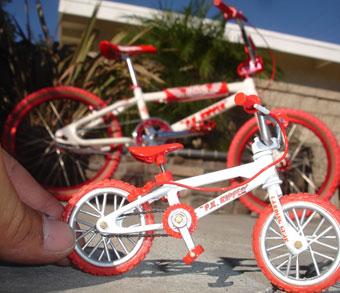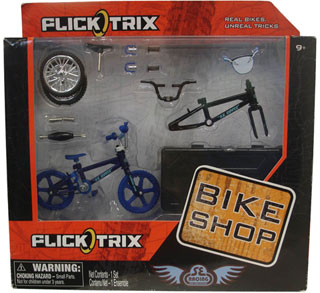 24/04 team bmxultra.com report
bmxultra.com press release
Most of the bmxultra.com team raced at Park Orchards on the weekend for the last big hit out before the Australian Championships. The conditions were perfect for racing, it was warm, with only a sight breeze and the track was in tip top shape.
Current 35-39 Mens Australian Champion, Jamie Bullows, had to watch from the sidelines after injuring his knee after training at Park Orchards earlier in the week, he should be good to go at the Australian Championships next week though.
Mark Dobson and Shane Jenkins were amongst the four racks of 30-44 cruiser class. Both riders made it through to the semi, Jenkins placed third and made the main while Dobson just missed out, but went on to win the B final. Jenkins missed the gate and couldn't break into the pack and had to settle for seventh.
Jenkins was also in the 30-44 20″ class which had 2 nearly full gates, when the dust settled in the main he finished up with a second.
Brothers Levi and Chase Collins were joined by team mate Brandan Bullows in the three gates of pro, all three riders made it through to the semis but none of them were able to make it into the main. They are a determined bunch though, expect to see them getting amongst the action in the pro field in the near future.
The bmxultra.com team is proudly supported by One Bicycles, Supercross BMX, Dirt Designs, Tioga, THE, Profile, Sun Ringle, and Tektro Brakes.
23/04 BMX Supercross World Cup: Copenhagen welcomes the world's best BMX-riders
sporteventdenmark.com press release
World Champions and Olympic Games medal winners are among the prominent participants when the international BMX Supercross World Cup season starts 8-9 May in Copenhagen. The day of finals offers the spectators exciting BMX top sport, rock concert with some of Denmark's best rock names, dj, competitions and "have-a-try" for the youngsters. Entrance for both days DKK 75, children under 12 years free.
The Olympic Games gold medal winner (men), Maris Strombergs, from Latvia and the World Champion 2008 (women), Shanaze Reade from Great Britain, are among the favourites to go all the way at the BMX-track in Copenhagen. A track, which is regarded as one of the best in the world.
More than 120 riders are on the starting list in Copenhagen, all fighting for World Cup points within this spectacular upcoming sport, full of action, endurance and technique. Among these, five Danish riders, who must perform to their limit to qualify for the final heats.
"Two out of three of our riders have the potential to go far in Copenhagen, even all the way to the final. However, both their mental and physical capacity must be top-tuned. We are training intensively these days and, no doubt, the World Cup is an important step on our way to our ultimate aim; the Olympic Games 2012 in London. We trust that the spectators, as in 2008, will give us their full support", says Christian Poulsen, the national BMX team manager.
Lately and in no time, BMX Supercross has become popular all over the world, and especially the Beijing Olympic Games 2008 enhanced the interest for and number of members within the sport. This is also what Københavns BMX Klub has experienced.
"After the BMX Supercross World Cup 2008, we have been welcoming a lot of new members in all age groups to our club; many of whom were spectators at last year's World Cup! Our members not only practise BMX, the majority of them also do voluntary work, and a handful of them have been working tirelessly to stage this year's World Cup", says Nils Stærk, President of Københavns BMX Klub.
Rockkoncert with well-known names and "have-a-try" for the youngsters
To add to this spectacular BMX-event, a concert with the rock band BeMyeX is scheduled at the day of finals, 9 May. The band will be composed for this special occasion and consists of some of Denmark's best rock musicians: Jacob Binzer (guitar), Jesper Elnegaard (drums), Rune Funch (guitar), Assi Roar (bass) and Jacob Illeborg (vocal).  The band is scheduled to play four times during the afternoon of 9 May. Prepare yourselves for a spectacular display of both music and BMX!
The Swedish dj Uncle R adds to the amusement and, furthermore, a lot of exciting happenings will carry you through the day. A particular BMX-track and gear for free will be at children's disposal during the day, supervised by competent members of BMX-clubs from all over the country. Please see www.bmxcopenhagen.com as the programme is constantly updated.
Bike City Copenhagen
The UCI BMX Supercross World Cup is part of Bike City Copenhagen (BCC), which HRH Crown Prince Frederik is protector for. Copenhagen is the only city in the world, which has been appointed as Bike City by the UCI by now and between 2008 and 2011 Copenhagen is host of 6 major international cycling events.
Beyond the UCI BMX Supercross World Cup it is among others the prestigious World Road Championship 2011.  Behind BCC (Bike City Copenhagen) stand as strong partners as the Danish Motor Sport Union, the Danish Cycling Federation, Sport Event Denmark, The City of Copenhagen and Wonderful Copenhagen. For more information please visit www.bikecitycopenhagen.com.
In continuation of BCC, efforts are made to win the hosting of the World BMX Championships 2012 to Copenhagen. Five cities have announced their bid, and UCI is taking their decision in June 2009.
Danish riders and information
The Danish team in Copenhagen includes: Amanda Sørensen, Mike Kaltoft, Morten Therkildsen, Klaus Bøgh Andresen, Henrik Baltzersen og Niklas Laustsen (junior).
? Finals Saturday on 9 May between 12 and 17 hours. Qualification on 8 May between 9 and 15:30 (Common Prayer Day).  Ticket prices: adults 75 DKK for both days, children < 12 years free. Copenhagen's BMX-track (Københavns BMX-bane), Ved Slusen 2, 2450 Copenhagen SV. See www.bmxcopenhagen.com.
For more information, kindly contact Martin S. Persson, Wonderful Copenhagen, msp@woco.dk, mobile no. 20 53 77 15
The Danish Year of Sport 2009
The UCI BMX Supercross World Cup is part of the Danish Year of Sport 2009. More than 50 international sporting events and congresses will be staged all year round in many parts of the country with the IOC Session and Congress in Copenhagen in October as the crown jewel. The events will all together brand Denmark nationally and internationally as a strong sports event nation under the slogan of "Inviting the World of Sport".
For information about the Year of Sport and the many events during the year please contact Project manager Christian Ankerstjerne, ca@sporteventdenmark.com or +45 3051 0096. For more information please visit www.sporteventdenmark.com.
22/04 NBL Launches 2009 Bring-A-Buddy Program to Increase Participation in BMX Racing
NBL press release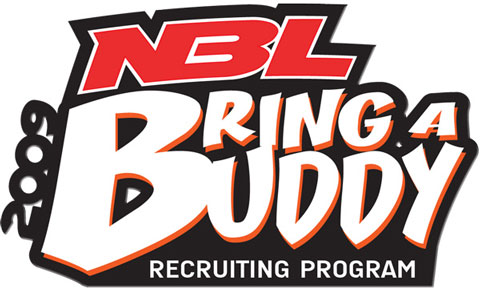 – More than $40,000 in prizes available to be won –
Hilliard, Ohio – April 21, 2009: Imagine if every NBL member recruited just one new rider this year – Local programs would get a huge boost and thousands of new riders would be hitting the track, raising the level of competition across the country. The 2009 NBL Bring-A-Buddy Program has been designed to do just that and with more than $40,000 in prizes to be won, recruiters and NBL tracks will have plenty of incentives to keep them busy.  Bring-A-Buddy played a key role in boosting membership during the Olympic year and this year's program will run for 3 ½ months to allow everyone a chance to get involved.  It's starts as a challenge to members and then ends up being a fun and easy contest where everyone wins!
The program is simple and offers an exciting, points-driven, incentive platform that rewards NBL members for their efforts. In the April and May issues of BMX Today magazine, members receive a full sheet of 'Buddy' cards and are tasked to distribute them to any 'buddies' who might be interested in trying BMX for the first time. When a 'Buddy' redeems a card at any local NBL track, both the recruiter and the 'Buddy' win a free limited-edition NBL sticker kit. The 'Buddy' then gets a chance to win random prizes and the recruiter receives 100 points. In fact, each time a new 'Buddy' redeems a card, the recruiter earns 100 points and when the 'Buddy' joins as a full NBL member, the recruiter pockets an additional 300 bonus points. It all adds up quickly!  To support the super-active recruiters, additional cards and supplies are available at all local NBL tracks.
Best of all, recruiters get to choose their own rewards based on their individual effort. NBL is serving up more than $40,000 in prizes and recruiters can redeem them for several major prizes including the popular Intense Podium Frame, a sweet new Supercross R-CR frame, THE Helmets and much more.  Supercross BMX has joined the list of sponsors for the program and there are several new prizes in the rewards catalog this year.  Riders can now redeem their points for a limited number of custom, autographed pro jerseys from riders like Randy Stumpfhauser, Stephanie Barragan, Maris Strombergs, Kris Fox and other top riders.  A new 'NBL Grands Package' and 'UGP Combo pack' have also been added to the mix.
NBL tracks will see immediate benefits from the program and the top performing tracks will also win valuable prizes including complete Intense and Supercross BMX bikes, helmets and other sponsor products. The Bring-A-Buddy program is easy to run and many of the tracks have already fully embraced it. We'd like to recognize the top recruiting tracks from 2008 and wish everyone a great season of recruiting.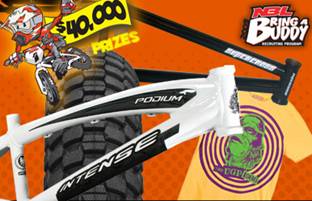 Top Track by Region in 2008:
·         Midwest – GTC BMX, MI
·         Northeast – Trilogy Park, PA
·         Southeast – Cape Coral BMX, FL
·         West – Santa Maria BMX, CA
"NBL tracks are promoting the benefits directly to their members and in turn get a much-needed boost on the grassroots level", said Justin Travis, NBL Field Director. "They can see an immediate return on their investment and that definitely helps boost local participation". Tracks and members can view monthly prizing, recruiting statistics, and other exciting news through the dedicated Bring-A-Buddy section on the NBL website at http://www.nbl.org/bring-buddy.asp.
"The program provides our sponsors with a vital link to the grassroots level and further connects their brand directly to the end consumer – The NBL member", says Ken Masters, NBL President. "It's a great compliment to their ongoing efforts to promote the sport locally".  The program runs from April 15 through to July 31. Visit the NBL website at www.nbl.org for more details.
The 2009 NBL Bring-A-Buddy Program is proudly sponsored by Intense BMX (www.intensebmx.com), Supercross BMX (www.supercrossbmx.com), Kenda Tires (www.kendausa.com), UGP (www.undergroundproducts.com) Sinz Racing (www.sinz-racing.com), THE Industries (www.bmxthe.com), and Camp Woodward (www.campwoodward.com) in association with BMXWORLD, BMX Plus! and BMX Today magazines.
22/04 NBL Future Stars Clinic – Freedom Nationals
NBL press release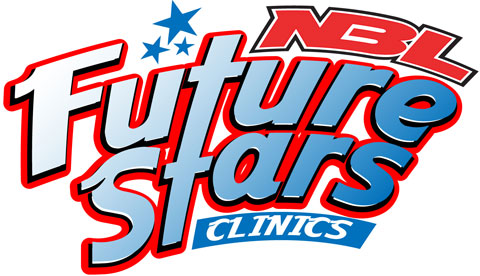 NBL Pre National Future Stars Clinic – Freedom Nationals
The NBL is headed to our Nations Capital.  NOVA BMX, located in Woodbridge, Virginia, just south of Washington D.C.  The NBL Freedom Nationals will feature more than just racing. On Friday, NBL will host a Pre-National clinic with NBL head instructor Justin Travis and Elite star, Matt Kelty.
The Pre-National clinic will help riders develop their current skills so they can achieve the best possible results for the weekend.This is a great chance for extra track time on one of the Northeast's premier BMX tracks.
Along with the Clinic riders will receive a goody bag full of values including discounts on/from:

$5 off your next Future Stars Clinic
$50 off a week at the Ohio Dreams Action Sports camp
TB Trophies and Awards
Chip N' Dale Shop
Powers Bike Shop
Coastal Bike Supply
Kovachi Wheels
Stickers and swag from our sponsors!

Over a $60 Value!

Date: Friday, April, 24thTimes:

11:00 – 11:30am…..Registration and warm up

11:30 – 1:45pm……Clinic

1:45 – 2:00pm……..Question and Answer with Matt Kelty

Cost: $30 – Includes professional instruction and goodie bag from sponsors.

Visit www.nbl.org for more information about the weekend.

The NBL Freedom National is proudly sponsored by BAWLS Guarana (www.bawls.com), Intense BMX (www.intensebmx.com), Kenda Tires (www.kendausa.com), UGP (www.undergroundproducts.com), Sinz Racing (www.sinz-racing.com), THE Industries (www.bmxthe.com) and Hotshoppe Designs (www.hotshoppedesign.com) in association with GO211 (www.go211.com) and Camp Woodward (www.campwoodward.com).
21/04 HRVFitness.com Super Clinic this Sunday at Park Orchards
HRVFitness.com press release
Here we go guys, last hit out before the Nationals!!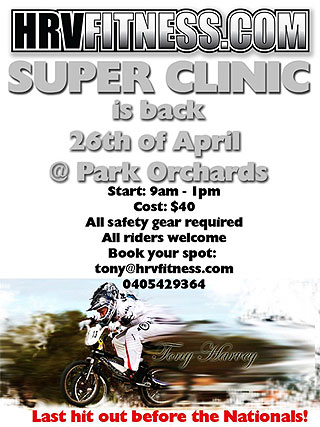 This Sunday the 26th of April at Park Orchards 9am start until 1pm,
$40 per rider, all riders are welcome.
Should be a great days guys, get some last minute polish on those skills before you head over the Nationals.
Book your spots: tony@hrvfitness.com
20/04 Results: Park Orchards – Clash of the Titans
by bmxultra.com
Park Orchards Clash of the Titans was on yesterday, we were too busy racing to get any photos, but there are plenty on the forum already. Click fere for the full results.
18/04 Khalen Young is the Vans Warner poster boy
by Shane Jenkins/bmxultra.com
I received this Vans ad via email, it appears that Aussie AA Pro and #1 in the ABA, Khalen Young, is the new poster boy for the Vans Warner SPD compatible shoes.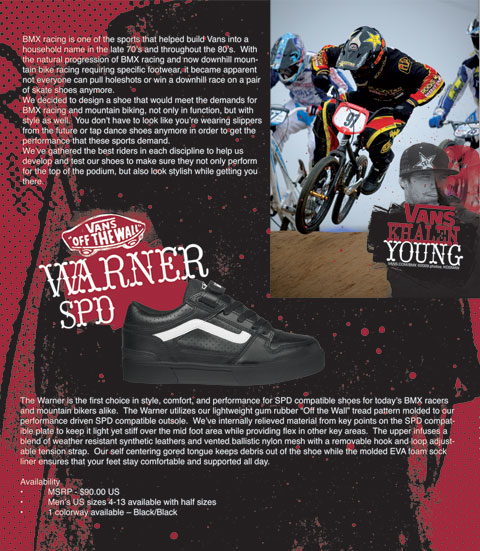 Apparently the Warner SPD shoes were out a while ago, but it seems that Vans have revived them. Having done a google search to find out more information about them I'm interested in giving them a try myself. I don't run clipless pedals but the shoes have a thicker sole than the classic style Vans but have retained the waffle style pattern, so would work on platforms too.
I did read that they were available only from the Vans online store and are in limited supply, so if you are in the market for some new shoes, and the Vans Warners take your fancy, you better get in quick.
Oh and the big problem is the Vans online store doesn't allow international orders. If you want to try your luck check out shop.vans.com
18/04 2009 BMXA National Championship Schedule
BMX Australia press release
2009 BMXA National Championship updated schedule is out on the BMXA website. Go to www.bmxaustralia.com.au and view the front news page.
If you require any additional information please contact Grace Ireland on 02 9738 2512
17/04 Review: Tioga Comp X tires
by bmxultra.com
The days are getting wetter here in Australia so it's time to move to a tire with more grip in the looser track conditions, we checked out the Tioga Comp X. Click here to read the review.
17/04 UGP Opens are $10.00 at Woodbridge
NBL press release
You heard it right.  NBL is offering a great chance to get qualified for the UGP Open Championship for a great price. PLUS, if you register for an Open both days, UGP will serve up a free T-shirt too!  Register at the race starting on Friday, April 24 and make sure you get qualified to race the UGP Open Championship, held at the NBL Grands this year.
Full Deal ->> Register for two UGP Opens and you get a free UGP T-shirt. 
Make 3 UGP Open mains and you are qualified to race the UGP Open Championship at the Grands
Make 6 UGP Open mains and we'll pay your entry fees for the UGP Open Championship at the Grand
Visit UGP to see their full product line and the visit www.novabmx.org to learn more about the NBL Freedom Nationals, April 24-26. Check out who's racing opens below.
UGP Open Series – Qualification Standings
Classes:  7 & Under, 8-9 Open, 10-11 Open, 12-13 Open, 14-15 Open, 16-29 Open, 30+
Qualifications: 3 or more qualifies rider / 6 or more and rider is qualified with free entry
7& Under Open                               Mains

Carson Leet – 8
Sean Chester – 4
Johnathan Messing – 4
River Bell – 3
Wyatt Bell – 3
Julian Dittrick – 3
Elissa Jordan – 3
Gabriel Perez – 2
William Seitz – 2
David Foster – 2
Evan Branch – 1
Zachary Jacobs – 1
Zach Umstead – 1
Ronnie Burwan – 1
Cal Bergquist – 1
Ethan Kavanaugh – 1

8-9 Open

Kaiser Kayton – 6
Trevor Butler – 4
Kendal Wong – 4
Chase Corbin – 2
Connor Smith – 2
Jacob Baca – 2
Jake Bryson – 2
Logan Leche – 2
Chase Stehman – 2
Anthony Feinstein – 2
Hunter Fullwood – 2
Rose Ellen Hoke – 2
Trevor Harrison – 1
Tom Kindelspire – 1
Ethan Hazel – 1
Louis Kaminski Iii – 1
Logan Kraft – 1
Cameron Eader – 1
Grant Green – 1
Jarrett Biddle – 1
Tyshawn Carr – 1
Noah Roark – 1
Isabel Diamond – 1

10-11 Open

Luke Reinhart – 8
Gabriel Barwick – 4
Ryan Ellefsen – 4
Richard Dey – 3
Coleman Habib – 3
Michael Bouvette – 2
Andrew Gray – 2
Ty Ladich – 2
Hunter Nabors – 2
Christian Cloutier – 2
Nathan Stymus – 2
Makieva Hopson – 2
Todd Maniscalchi – 2
Colin Severson – 2
Cody Henderson – 1
Spencer Snavely – 1
Wyatt Gratz – 1
Noah Mc Bride – 1
Jason Baird – 1
David Hakes – 1
Tyler Knight – 1
Seth Michalowski – 1
Chrystofer Davis – 1
Donald Sutton – 1

12-13 Open

Brian Manning – 7
Chance Leffew – 4
Walter O'brien – 3
Walter Perez – 3
Gregory Schaaf – 3
Jared Moulton – 2
Sean Petrow – 2
Gihan (Gw) Weerasekara – 2
Nick Dawson – 2
James Haga – 2
Hobie Hoke – 2
Justin Klanderud – 2
Robert Cabral – 2
Caleb Minthorn – 2
Bianca Dean – 2
Dallas Bond – 1
Tommy-Lee Buskey – 1
Jarred Johnson – 1
Santiago Marin – 1

14-15 Open

Dan Tritz – 6
Jeff Mc Cullough – 4
Ryan Deroche – 4
Miguel Hernandez – 4
Ty Robinson – 4
Blake Sawyer – 4
Kody Wong – 4
Amanda Schaaf – 3
Austin Lackey – 2
Austin Johnson – 2
Kevin Bejarano – 2
Blake Rogers – 2
Dalton Simons – 2
Douglas Widdows – 2
Kody Garrett – 1
Thivanka(Tw) Weerasekara – 1
Philip Boyer – 1
Billy Sutton Jr – 1
Cheyenne Noud – 1

16-29 Open

Juan-Camilo Marin – 3
Emmanuel Paulino – 3
Cory Watts – 3
Connor Fields – 2
Bryan Kipp – 2
Nicholas Britt – 2
William Grant – 2
Nathan Miller – 2
Alejandro Monsalve – 2
Cj Bunch – 2
Maurice Horton – 2
William Peters – 2
James Cazares – 1
Andres Arenas Correa – 1
Alex Palmer – 1
Aaron Turner – 1
Erik Olson – 1
Jason Conklin – 1
Alexander Rico – 1

30 & Over Open

Tom Wagner – 5
Randy Davis – 4
Thomas Gonzalez – 4
John Pringle – 3
James Nabors – 2
Michael Stoneking – 2
Greg Boring – 2
Michael Kuzmission – 1
Christopher Barlowe – 1
John Pringle – 1
Jason Rick – 1
Chris Cline – 1
Fred Vielhauer – 1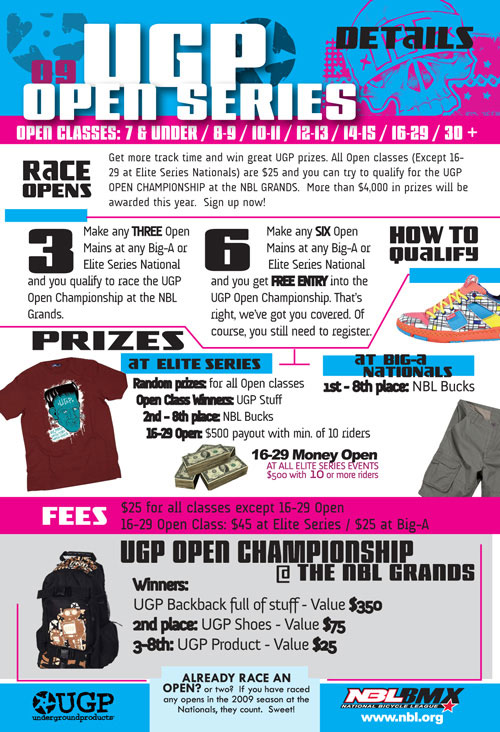 17/04 Emilio Falla now on Crupi!
Crupi Parts, Inc press release
Arcadia, California – Crupi Parts, Inc is proud to announce the signing of Emilio Falla.  Emilio is
Ecuador's top Elite rider and represented Ecuador at the 2008 Olympics in Beijing!  Crupi's Latin
American "Dream Team" is now complete with the signing of Emilio.  Emilio is currently training at
the UCI center in Aigle, Switzerland but will be hitting several of the European rounds and the
Supercross race in Denmark.  Then look for Emilio to be racing in the US later in the year.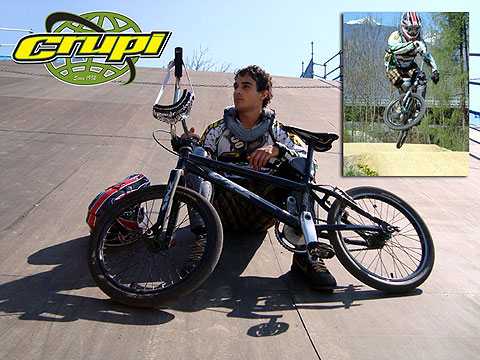 Crupi's Latin America Dream Team now consists of the following riders:
Emilio Falla – Ecuador
Carlos Oquendo – Colombia
Jonathan Suarez – Venezuela
Fede Polo – Argentina
Hernan Godoy – Team Manager from Chile
Crupi is very proud of all it's riders from around the world as they are not only top notch riders
but first class people as well and the type of riders Crupi wants representing its brand.
Congratulations to Emilio and all the Latin American riders.  Look for Crupi domination World Wide!
16/04 American Bicycle Association and USA Cycling Announce UCI BMX Supercross World Cup Event
ABA press release
Gilbert, Arizona — The American Bicycle Association and USA Cycling are proud to announce the North American round of the UCI BMX Supercross World Cup presented by Swatch to be held September 18-20, 2009 at the US Olympic Training Center in Chula Vista, CA. This event will be held in conjunction with the American Bicycle Associations U.S. Open Amateur National event on a newly constructed ABA BMX track on the grounds of the US Olympic Training Center.
"This is a very exciting event for the ABA and the entire BMX industry to be involved with" stated BA Anderson, ABA's Chief Executive Officer. He added that "Holding an Amateur event in conjunction with the UCI BMX Supercross World Cup will only fuel the Olympic dreams of US amateur riders, which will help insure the continued success of future US BMX Olympians."
The ABA is constructing one of the most challenging amateur BMX tracks ever seen on the grounds of the Chula Vista training center to host ABA's US Open National Event. The Amateur facility will remain a permanent ABA sanctioned facility running local BMX events and continuing to grow the sport in the southern California region. This facility will also provide the USOC and USA Cycling with the tools necessary to further develop future Olympians and continued improvement of the junior riders.
Tracy Lamb, USOTC Director stated "When the USOC built the Olympic replica track our goal was to host an International competition, now with the ABA's help we have realized that goal." Tracy went on to add "The function of our facility is to provide athletes with the proper training facilities for their sport. Working with the ABA to develop an amateur component for our facility will allow us to focus development efforts at a much younger age".
The ABA, after hosting several successful UCI Continental events and 2 USAC BMX National Championships, is offering what will become one of the most prestigious Elite and Amateur events to ever be held for the sport of BMX. Elite riders will compete on one of the only permanent Olympic style BMX tracks in the world located at the US Olympic Training Center in Chula Vista, CA. This is the same facility that hosted the 2008 BMX Olympic trials and where Team USA BMX athletes trained for Beijing. The event will feature over 100 of the best male and female Elite riders and past Olympians from all over the world.
USA Cycling's CEO Steve Johnson said "The USOC has been a tremendous partner, helping with much needed infrastructure to continue developing our USA BMX athletes. The addition of this event will give the US riders the home track advantage in earning coveted UCI points." Steve went on to add "the newly developed amateur ABA track will also add a location to host development camps for future junior elite riders."
Johan Lindstrom, UCI BMX Sports Coordinator stated "The UCI is excited to bring the UCI BMX Supercross World Cup to Chula Vista. With the magnificent facility that the US Olympic training centre is offering, the ABA being an experienced event organizer and the support from USA Cycling there's no doubt that the event will be a great success".
"The San Diego Sports Commission is proud to be partnering with UCI, ABA, and the Olympic Training Center to host this event. BMX has a rich history in San Diego and there is no better place to have a world-class BMX event" Alan Kidd- President, San Diego Sports Commission.
"Having the UCI BMX Supercross World Cup in San Diego is exciting to say the least. Having the Hilton San Diego Mission Valley as the host Hotel is an honor. We look forward to all the fun and excitement and success the week has to bring". – Gordon Luster, General Manager, Hilton San Diego Mission Valley
About the American Bicycle Association
ABA (American Bicycle Association), formed in 1977 and headquartered in Chandler, Arizona is "The Sanctioning Body of BMX"©. The ABA organizes BMX racing for boys, girls and adults, nationwide and Canada. With 60,000 active members, 274 racing facilities and a 27 event-national race schedule; ABA is the largest promoter of action sports. For additional press information about ABA, the sport of BMX, ABA events Professional racers, call Shannon Gillette at  (480) 961-1903  . To find races in your area or view the national event schedule, visit www.ababmx.com .
15/04 Morphine Industries' NBL Easter Classic Race Report
Morphine Industries' press release
Tyler Faoro Takes Top Spot on Podium on Day 2
Great weather, great track and great racing – exactly what was expected of the Easter Classic in St. Cloud, Florida this past weekend.
Super Xs – Tyler Faoro and Gavin Lubbe were not going to disappoint.  On Saturday both riders blasted through the motos and semis to make it to the Main with Tyler taking a 4th and Gavin a 6th.
On Sunday, both riders started off the day in similar style with Tyler Faoro making it through to the Main and taking the top spot on the podium with a 1st place finish.
Elite Woman – Kyla Reed had two full racks of women to contend with both days. She battled with the best that the NBL had to offer narrowly missing the Main both days.
41+ N – Jonathan Reeves racked up a perfect day on Day 1 finishing with a 1st in the Main and took a day off on Day 2.
17-18 X – Travis Woodruff and Talbott Cross had the only class with quarters both days.  Both riders killed it in the motos but unfortunately came up short to make the main both days.
12 X / 11-12 CR- Noah Reeves was on the sidelines due to a wrist injury.
10 X / 9-10 Cr – Richie Dey had a great weekend – on his 20″ unfortunately crashing on Day 1 due to some questionable riding by a fellow rider but coming back to take a 1st in the main on Day 2 and.  On his Cruiser, Richie took a 2nd on Day 1 and a 3rd on Day 2.
Morphine Industries will be shooting up to Woodbridge, VA in two weeks for the Freedom Nationals.  We hope to have all our riders back health and ready.  Be sure to stop by to check us out and learn more about our outstanding group of sponsors.
Morphine Industries would like to thank its Factory Team Sponsors; Staats Motocross Bicycles (www.staatsbikes.com), Alienation (www.alienationbmx.com), Fly Racing (www.flyracingbmx.com), Lost Energy Drink (www.lostenterprises.com), Tioga (www.tiogausa.com/bmx), Sinz Racing (www.sinz-racing.com), Rennen (www.rennendesigngroup.com)
14/04 One Bicycles Australia update
One Bicycles Australia press release
The Rose Tribe have been ripping it up in NSW to get some preparation for the upcoming Australian Championships.
NSW Southern Region Round 3 at Penrith report by Miekel Rose
It had rained heavily the Friday night before we intended on travelling to Sydney and all Sydney tracks were closed. On Saturday as we pulled up to the Penrith track, the Club was hard at work preparing the track for 400+ riders to compete on the following day. Mikayla had only ridden the track once years ago when she first started racing and was a little excited and nervous. Nik was along for the trip again and still counting the days for the plaster to be removed so he could ride. Nik plans to race the final round to be held at the Liverpool Club in a couple of weeks as his first ride back after the plaster being removed. Josh had ridden the track on a couple of occasions though he broke his arm the first time he raced the track back in 2005. Sunday came and the weather was great and the track turned out a treat.
Mikayla – Mikayla resumed her battle with Bianca Robinson in 9 Girls and managed to keep her at bay for 2 of the 3 heats. Bianca managed a smallest of margins win over Mikayla, when Mikayla slipped on the gate and had a shocker start. All praise to Bianca who held her lines and kept Mikayla out. In the Final Mikayla came out flying and was never headed, keeping up her winning ways on a quest to be the 9 Girls Region Champion for 2009.
In Junior Ladies Cruiser, Mikayla was against the older girls again and managed consistent 5ths all day to hold down 5th overall in the Series.
Joshua – Josh came determined to race this weekend and pulled 4ths and 5ths in 14 Boys and once again missed the final by one point. In 13 – 14 Boys Cruiser, Josh was on fire, riding in the top 3 for two of his heats and winning another. In the Final Josh rode his way to third and went a little high in to the last berm and was pushed back to 4th. Josh came away disappointed in the final but happy in his overall performance on the weekend. He is currently sitting third overall in the Series on Cruiser.
How to buy One Bicycles products in Australia
If you would like to purchase a One Bicycles frame or accessories in Australia the best way to do so is to head down to your local bike store and place an order. If they don't know what you are talking about tell them to call Elite Cycle Imports while you wait and place your order there and then. After doing some calculations myself I have found the cheapest way to get One Bicycles products in Australia is through a local reseller.
About One Bicycles
For over a decade ONE Bicycles (operating out of Holland), inducted into the European Hall of Fame, has solely focused all their efforts on the sport of BMX. Today they are at the forefront of BMX product design Worldwide. Utilizing advancements in the industry, some of which were conceived in ONE's own engineering department, their products directly reflect the evolution and maturing of proven BMX design. Like a fine wine ONE Bicycles product line has come of age as a result of years of dedication to the sport of BMX.
One Bicycles are a major sponsor of the bmxultra.com team
Over the years One Bicycles have sponsored
Khalen Young
The Phirebird team which includes 2005 & 2006 World Championships finalist Jamie Gray and 2006 NBL Grands (A Pro) champion Glenn Codega
In 2008 Maris Strombergs rode his One Bicycle to victory in the Elite Men's class at the UCI World Championships and followed that up by taking the first ever Men's BMX Gold medal at the Olympics.
For more information about One Bicycles check out www.onebicycles.com
14/04 Psykopath Industries update
Psykopath Industries
Team riders were in full force at Redmond Oregon for the ABA Northwest Nationals. The crew was small in number but everyone rode great and made this weekend work well for themselves. The drive from Nor*Cal was a quick little 8 hour trip that had everything from sleet and snow to good old black ice! The crew arrived safely Thursday night and hit the town before settling into the weekends hotel and getting ready for a solid weekend of riding.
Highlights of the trip were our Single A Pros of Jesse Langland and Kyle Zondervan both making the main event on both days of the national. Jesse would even start off Saturday with the low points headed into the third round and was hungry for the overall win! An outside gate and a first turn ball up would keep him from the win but he has served notice that he is a threat in the class and right where he needs to be with a few California races quickly approaching. Along with Jesse our other A pro Kyle Zondervan was right there all weekend and has adjusted well making another 2 mains and helping his own cause in the process. He has shown that the training is really paying off and will definitely keep things going as ABA Bakersfield is in his sights to score up some more results. Kyle has made the transition into A pro nicely and his skills and power are coming together nicely so the future looks good for sure.
Am riders were just as on point as well! Donald Goodwin has come back after taking a short break to work on DG23 things, and looked in fairly good form for not riding as much as usual. He would chalk up a few finishes and scope out the competition in 28-35X and knowing him he will look to make an impact later through the year and take Psykopath to the front of that class. Along with Donald making his first few mains our newest recruit who we spoke of earlier in posts Kevin Zondervan is starting to put it together in both 19-27X and 17-20 Cruiser. He would make several mains through the weekend but was pretty psyked about his 19-27X 5th place finish behind some heavy hitters on Saturday. Kevin has eveolved quickly into a solid all around rider and with steady results he is looking to stay relevant in a very tough class. Even our resident Team Manager Nick Valencia was making moves and pulled down another top 3 in 19-27X on Saturday and then would back it up with another main event on Sunday. An outside lane would be trouble as he hit the first turn on the outside looking to repeat the previous days results but had some trouble as the first turn was eating up riders all day long. Valencia would go down and have to settle for a 7th place finish, but as always 7th in 19-27X is very respectable and were proud of not only his results this weekend but all of our Nor*Cal guys that made the trip to represent all things Psykopath Industries. Keep on the lookout for more and more from the team as Valencia heads to Florida and the local guys get ready for more Cali ABA events!
09/04 SINZ 2 Piece Chromolly Crank
Sinz Racing Components press release
SINZ is proud to announce the arrival of the all new 2 Piece Chromolly Crank.
The 2 piece design makes crank installation very easy as well as cutting down on the weight of the overall crank, making it a great light weight crank for racing, but it is solid enough for street and dirt jumping.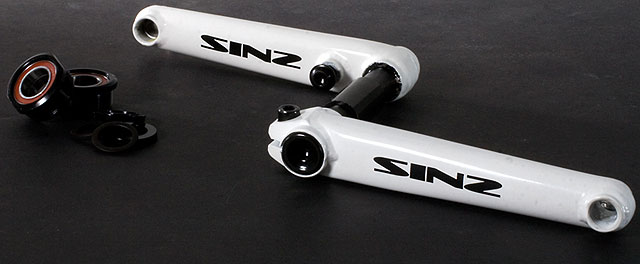 The cranks are offered in sizes 165, 170, 175, and 180 and are available in both black and white finishes. The Cranks feature a 19mm BB spindle and come with a Euro Style Sealed Bottom Bracket.
The SINZ 2 Piece Chromolly cranks are in stock now at VSI Products and can be found at better bike shops world wide.
Weight: Cranks arms (175) 890 Grams Crank arms and BB 1040 Grams
For more information on the full line of SINZ Racing Components, please visit www.SINZ-Racing.com.
SINZ has a full product line of high quality BMX race products. SINZ offers products in a wide variety of sizes and colors as well as having different price levels of components. From inexpensive quality parts to full on Pro race level items, SINZ has something for everyone. SINZ is proud to support the NBL National Series and sponsor Pro Riders Randy Stumpfhauser, Danny Caluag, Joey Bradford, Cristian Becerine, David Herman, Ariel Martin, Jill Kintner, Khalen Young, Mike Day, Donny Robinson, Intense BMX/Bawls Guarana Pro Team, Intense/Phantom/Ontrac Race Team, The Dutch National Team, and many more.
09/04 Australian Olympic BMX Racing Documentary update
by factory47 (aka The Factory)
Just a note to let the racing community know where we are at with production of the look at the lives of 6 Australian Elite riders in their preparation for the 2008 Beijing Olympic Games.  The world got to see the finest BMX racers in the world on the Olympic stage, but with the international selection events and training camps little did even the Australian racing community see of their preparation and behind the scenes that took place. Australian male elite riders went missing on the local scene for a good part of a year and a half, something that we know younger riders and their families really missed in that time.  It was further enhanced by recent retirements in the elite field since the Olympics.  This doco aims to bridge that gap.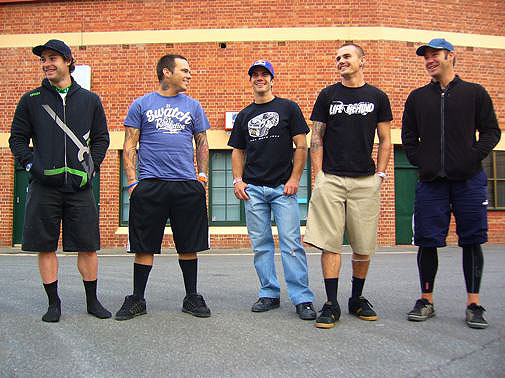 Life Behind Bars (working title only at this stage), once edited, will be the must have dvd for riders aspiring to meet the heights of the athletes featured.  For the public to be entrenched in their stories, in a year and a half so much would evolve in their racing and personal lives.  We all have seen these riders on the track, but the film captures everything that went on behind the scenes of some of the biggest events in the world as well as their lives as they are at home.
What really went down in Adelaide in the week of the 2008 UCI Supercross/Australian Championships on and off the track, who likes who and who doesn't, ride with the Australian team at the 2008 World Championships and see the interview with Glenn Codega minutes before his tragic crash that saw him ambulanced away from the track.  Once you hear Glenn's comments before that event you will agree that this happened to a rider that did not deserve to go down that way.  See why Jared Graves was the number 1 pick for the Australian team, get an insight into a day in the changing life of Khalen Young. Jamie Gray, the retirement interview.  A great talk with Warwick Stevenson in a hotel room in Las Vegas, the Australian racing public will get an idea on what a champion this guy has been for many years and the injuries he has overcome.  One of the toughest Aussies we have ever met.
The film…all we can say "it¹s coming".   As all have been hit in some way by the global financial situation, we too have been affected hard by large companies downsizing. The stories are on tape, tucked away waiting for the financial go ahead.  We will keep everyone updated as we get closer.  Soon we will launch a website detailing the film¹s release as well as a new video service to BMX riders.
In the meantime we have expanded our filming to enter an Australian Doritos television commercial competition.  It features retired Australian rider Kamakazi and his Chevrolet El Camino.  Check it out on doritos.com.au, search for ŒA Game of Chicken¹ and if you like it gives us a vote.  First prize is 20,000, a nice little editing budget…….
factory47 is Ian Maclachlan (Macca), Chantel White.  Life Behind Bars – Jared Graves, Khalen Young, Luke Madill, Jamie Gray, Glenn Codega and featuring Kamakazi.
08/04
Maliek Byndloss doubles for ONE/Kenda
ONE KENDA press release
After a long winter the season finally opened with round 1 and 2 of the European Championship series for Junior and Elite Men and women in Zwolle, Netherlands.
Unfortunately the track wasn't in it's best shape and didn't bring the spectators the speed we were used to seeing. In the Elite classes some riders skipped round 1 for the unpredictable track.
Round 2 was a little better, but we look forward to the outdoor races.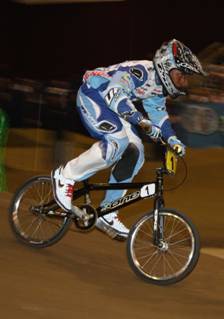 ONE/Kenda's 2009 US Cycling Champion Maliek Byndloss from Cape Coral, Florida, USA made the flight over to the Netherlands to compete against the best riders in Europe.
Maliek arrived onThursday, which was a bit late to get used to the time diffence and be in shape for the race, but Maliek showed his speed and style. Although he was exhausted from travelling and his victories on saturday, Maliek still took 3rd place on Sunday.
European Champion in his class, Tommaso Giustacchini from Italy is new in the team and joined Maliek in Boys 14 yo.
Tommaso didn't make it to the main in round 1 due to mechanical problems, but easily took that main in round 2. In the main he got caught up in the pack and took an 8th place.
In Elite Women, Aneta Hladikova from Czech Republic came back from her 3 weeks training camp in Florida. It was also hard for Aneta to get used to the European time again. Moving up from Junior to Elite Men, Toms Skujins arrived with the Latvian team from their training camp in Italy, where his ONE/Kenda teammate Arturs Matisons crashed hard and was taken to hospital.
If all goes well, we will see Arturs again in round 3 and 4 of the European Championship. 
Results:
Saturday round 1:
1st. Maliek Byndloss, Cruiser 13/14
1st. Maliek Byndloss, Boys 14 
Sunday round 2:
1st. Maliek Byndloss, Cruiser 13/14
3rd. Maliek Byndloss, Boys 14
8th. Tommaso Giustacchini, Boys 14
7th. Aneta Hladikova, Elite Women 
Check for the videos here: BMX-VIDEOS.COM
Next race for Maliek will be the Easter Classic in Florida and for the other riders round 3 and 4 of the European Championship in Klatovy, Czech Republic on April 25 and 26. 
ONE KENDA is sponsored by:
KENDA, PINCH GEAR, KMC, SHIMANO, BOLLÉ, THE Industries, SINZ, WLM DESIGN, UFO, THOMSON, ODI, NIKE, PRO GOLD
08/04 Watch the NBL Easter Classic 'live' on GO211
NBL press release
GO211.com, the premier action sports social networking and online video share site, will webcast the NBL Easter Classic 'live' from St. Cloud BMX in Florida, April 11 & 12. The format will feature a pre-race show, athlete interviews, industry buzz, and tons of great racing action. Coverage will begin on Saturday at 10am EST – Tune into http://www.go211.com/u/easterclassic2009 for the pre-race show and watch the NBL Elite Series unfold in front of your eyes.
What to watch for?
1.       Elite Series Action – Olympic Gold Medalist, Maris Strombergs vs. NBL's National Champion, Randy Stumpfhauser.  Dominique Daniels vs. NBL's National Champion, Stephanie Barragan.
2.       National Team Competition – AFH took the win both days in High Springs – Watch for Jesters to give them a run for their eggs at Easter. Factory Felt/SC Action Sports and Excalibur BMX are separated by a mere point at the top of the standings but things will tighten up by the Grands.
3.       Team NBL Competition – Can Intense/Dyna-Pep win both days and sweep NBL Spring Break? HBR/SE Racing holds the current lead in points but that could change soon.
4.       The HUGE Easter Egg Hunt put on by St. Cloud BMX.
5.       UGP Open Classes – Are you qualified to race the Championship at the NBL Grands?  All Open class winners at Easter get FREE UGP products both days.
GO211 WEBCAST SCHEDULE – http://www.go211.com/u/easterclassic2009
Saturday, April 11 EST
10:00am – Pre-Race show
11:00am – NBL Easter Classic/Day 1 – Rounds 1, 2 & 3, Quarters, Semis, Mains
Sunday, April 12 EST
8:00am – NBL Easter Classic/Day 2 – Rounds 1, 2 & 3, Quarters, Semis, Mains
The 2009 NBL Easter Classic is brought to you by BAWLS Guarana (www.bawls.com), Intense BMX (www.intensebmx.com), Kenda Tires (www.kendausa.com), UGP (www.undergroundproducts.com) Sinz Racing (www.sinz-racing.com), THE Industries (www.bmxthe.com), in association with GO211 (www.go211.com) and Camp Woodward (www.campwoodward.com).
For more information and to view the full NBL National Schedule, visit the NBL website at www.nbl.org.
About GO211.com
GO211.com is the leading community and video site for lifestyle sports created by and for action sports athletes and enthusiasts. It's the place to hang with the Pros and friends to get behind-the-scenes video, blogs, photos, webcasts and podcasts from featured contributors along with other action sports fans. GO211.com offers a broad range of exclusive content submitted directly from the athletes. The current Go211 Pro Team roster includes Danny Kass, Jeremy Jones, Christian Hosoi, CJ Hobgood, Donny Robinson, Hannah Teter, Danny Davis, Andy Finch, Joey Bradford, Ross Powers, Holly Beck, Alise Post, Clay Marzo, Mary Osborne, Danny Caluag, Mike Losness, Seth Wescott, and Kelly Clark, among others.
08/04 Morphine Industries' NBL Gator National Race Report
Morphine Industries press release
The Morphine Crew came from all four corners of the country to converge on High Springs for the Gator National.  We rolled into town with the Factory Rig Thursday night with light rain and the chance of hail and tornados.  What a welcome!
The weather took a positive turn and stayed that way the rest of the weekend to add to the great setting and fast track.
A PROs – Tyler Faoro, Gavin Lubbe and Jason Larev started both days off with great performances in the motos taking most of the holeshots and wins.  With all three making it to the semis both days, Morphine Industries was looking at a triple threat in the mains.  However, stacked semis and poor lane selection made it a tough road.  Unfortunately, only Tyler Faoro made it out both days taking a 4th on Day 1 and a 5th on Day 2.
Elite Woman – Kyla Reed had a full rack of women to contend with both days. She rode with style sneaking in a no-hander on the second straight on Saturday and finishing with a 6th in main on Sunday.
41+ – Jonathan Reeves finished one moto shy of a perfect weekend taking a 1 in the main for both days.
17-18 X – Travis Woodruff and Talbott Cross battled through the only class with quarters both days.  Talbott came up short of the main both days with Travis making the main on Sunday and taking a well earned 5th.
12 X / 11-12 Cr – Noah Reeves continued to put the pieces together as he gains his groove.  Battling Cole Tesar and Preston Wood, Noah took 1?s and 2?s in the motos and settled for 3?s across the board in the Mains both days.
10 X / 9-10 Cr – Richie Dey continued to impress with his flying jumps and speed.  With 1?s and 2?s in his motos on both bikes, Richie slid out in the last turn to settle for an 8th on 20 and came back for a 2 in the cruiser on Saturday.  Sunday was a different story taking a 3 and 2 in the mains.
A big thanks to John and Laura Pringle for their great hospitality over the long weekend.
Morphine Industries will be rollin' into St. Cloud, FL this weekend for the NBL Easter Classic with the same bunch of banditos.  Be sure to stop by to check us out and learn more about our outstanding group of sponsors.
Morphine Industries would like to thank its Factory Team Sponsors; Staats Motocross Bicycles (www.staatsbikes.com), Alienation (www.alienationbmx.com), Fly Racing (www.flyracingbmx.com), Lost Energy Drink (www.lostenterprises.com), Tioga (www.tiogausa.com/bmx), Sinz Racing (www.sinz-racing.com), Rennen (www.rennendesigngroup.com)
07/04 Copenhagen candidate for the 2012 BMX World Championships
by sporteventdenmark.com
Copenhagen, Denmark is bidding to host the 2012 BMX World Championships. The decision to bid comes after the successful hosting of the 2008 BMX World Cup and the awarding of the 2009 BMX World Cup.
With brand new state of the art BMX facilities in the centre of the city, immense event organisation experience and the total commitment from the city and government to organise a spectacular World Championships, Copenhagen wishes to create an unprecedented focus on BMX in the years leading up to 2012.
Lars Vallentin, Senior Consultant, Wonderful Copenhagen, the city's tourism agency says: "As a new member of the Olympic Family we know that BMX must honor the confidence the Olympic Movement has shown the sport and stand out during the 2012 Olympic Games. The 2012 World Championships is crucial in building the right momentum for BMX. Copenhagen is determined to create the best platform for the sport to grow and be promoted in the years leading up to the 2012 Olympics."
Should the World Championships be awarded to Copenhagen, the city will focus on growing and promoting BMX in the forthcoming years. It will use the IOC Session and Olympic Congress, which will take place in Copenhagen in October 2009, as the starting ramp for a major promotion campaign.
Lars Lundov, CEO Sport Event Denmark says: "Hosting the 2012 BMX World Championships in Copenhagen would further strengthen the increased focus on cycling sport and recreational cycling in Denmark. BMX attracts and engages our youth. By hosting the 2012 BMX World Championships we can continue the strong cooperation between Denmark and the International Cycling Federation (UCI) and create even more benefits for the cycling sport. It is for this reason we guarantee strong financial support should the event come to Denmark".
In 2006, Copenhagen was selected as the first UCI Bike City which sealed a strong partnership agreement between the city and the UCI.
The UCI is currently on site inspection in Copenhagen.
06/04 Photos: Geelong Spectacular
by bmxultra.com
We got down to the Geelong Spectacular yesterday. The track modifications worked well, the track was smooth and fast, unfortunatly there was a bit of wind that kept most of the riders staying low on the jumps, but the rain held off and in the end it was a great race meeting. Click here to check out the photos.
03/04 NBL Announces Future Stars Clinic Schedule – Coming to an NBL National near you.
NBL press release
The National Bicycle League (NBL) is adding more value to National race weekends and this is good news for riders of all ages and skill levels. NBL is now offering NBL 'Future Stars Clinics' in conjunction with select National races where riders can learn from current and future stars of the sport. Whether you're looking to learn a new skill, move up to the next proficiency, or even have your sights set on being an Olympic star, NBL Future Stars clinics offer something for everyone.
Each clinic is produced by the NBL as a service to members who are looking to take their BMX experience to a new level. Clinics will offer quality instruction with an emphasis on individual development and all riders will be mentored from the starting gate to the finish line by knowledgeable instructors. Head instructor and NBL clinic coordinator, Justin Travis, brings years of training and clinic experience to the program and looks forward to developing our future stars.  "We've had positive results at the first few clinics and we are looking forward to great season of rider development", said Travis, "We plan to feature a mix of future stars, NBL National Champions, and even some Olympic Stars" which promises to add even more depth to the clinics, he adds.
The clinics are designed to benefit riders from rookie to expert, with a focus on skill sets that enhance the riders overall performance.  Riders will also receive specific coaching relevant to the national track that they are taking the clinic at and this will provide an immediate result for attendees.
Expect to see top talent like NBL #1's Randy Stumpfhauser and Stephanie Barragan, Olympic Gold Medalist and World Champion, Maris Strombergs and even more National and International stars at select clinics across the country. The top names in the sport of BMX will share their techniques and BMX experience with the clinic participants and this will further enhance their experience. This showcase of talent will provide a unique opportunity for riders to share the track with their BMX heroes at each and every one of the NBL clinics.
As an added value to the clinics, the NBL will provide BMX swag to all participants. The NBL has put together a valuable collection of BMX goodies including stickers, vendor and NBL program discount coupons, product brochures, and much more.  Look for an NBL Clinic at a National race near you.  For more details, visit www.nbl.org.  Contact Justin Travis for more details and updates at jtravis@nbl.org.
Current Clinic Schedule:
April 4th – Gator National – High Springs, Fl
April 25th – Freedom National – Woodbridge, VA
May 15th – All-American National  – Fresno, CA
June 5th – Midwest National – Warsaw, IN
June 26th – Stars n' Stripes National – Pittsburgh, PA
July 3rd – Great Lakes National – Waterford, MI
July 10th – Music City National – Nashville, TN
August 14th – Heartland National – Akron, OH
September 4th – NBL Grand National – Louisville, KY
National Bicycle League
3958 Brown Park Drive, Ste. D
Hilliard, OH, 43026
614.777.1625
(f) 614.777.1680
03/04 Go211 now streaming on your MOBILE DEVICE…
by Rich Montalvo (Producer) www.go211.com
Hey Guys,
If you haven't checked out the NEW Go211 Mobile site you are seriously missing out. It's more interactive then before and you can log in and check messages, friend invites, the works.
Oh and the best thing now is the LIVE WEBCAST streaming on your mobile device. OOOOH YES, you read that correctly. If you're missing out on an event and don't have your computer handy you can hit the go211 mobile site and watch the event LIVE on your phone.
So think about it. You're sitting at your hotel just waking up because you know you're moto doesn't start until later in the morning. So you roll over, grab your phone and log on to see what's going on at the track right from your PHONE. That's pretty freaking cool.
Oh, FYI, Iphones are currently not supported. Sorry all you Apple lovers but at the moment it just ain't gonna work. But if you have a black berry, blue berry, black jack, treo, etc… You should be able to access the live content. Keep in mind of course that depending on your cellphone speed you may get the dreaded buffer monster.
Make sure to check out the mobile site at www.go211.mobi
03/04 Geelong Spectacular this weekend
by bmxultra.com
Entries close today for the Geelong Spectacular, if you were planning on entering on Sunday don't. Call the contact number on the entry form in the race calendar by 5pm tonight (Friday) and ask nicely if you can enter over the phone. Some of the organisers of the event are BMX racers too and they have a lot of preparation work to do and they would like to race too.
We have heard that the track has been modified to make it more family friendly but it's still a challenge for the faster and more skilled riders out there. They have also resurfaced and there is a chance that they might have a new Madill gate installed in time for the event. So Victorian's get down and check it out for one of the last big hot outs before the Australian Championships.
Don't forget that daylight savings finishes in the early hours of Sunday morning and racing starts at 11am.
02/04 Calendar update
by bmxultra.com
Well there's no news today so this is just a quick one to tell you that we have updated the calendar with the following;
Bendigo Northern Rivers Round 2 results
Sunbury Northern Rivers Round 3 entry form
Don't forget the Geelong Spectacular is on this Sunday, entries close tomorrow so you better get in real quick.
Click here to check out the calendar.
01/04 ECI now importing Answer BMX into Australia
by bmxultra.com
With Answer BMX changing hands you would expect a few changes. The first one that we have noticed is that Elite Cycle Imports (ECI) will be bringing the Answer BMX range of products into Australia from now on. They should have some stock in soon. If you are looking for anything Answer BMX, head to your local bike shop and let them know they can order it through Elite Cycle Imports.
01/04 Bullseye back with More
by bmxultra.com
We just got news that Bullseye USA, manufacturers of fine BMX racing products since the 70's are ramping things up with some brand new products.
Including;
Euro BB, outboard type for DXR type cranks (releasing this month)
A new "Elite Series Race" platform pedal (for guys that just can't make the move to clips)
Race Specific PRO stem
Cool new chain tensioners
NEW hub (releasing in a few months)
For more information check out www.BULLSEYECYCLEUSA.com
Posted in: Archive