29/05 NBL Pre National Future Stars Clinic – Midwest Nationals
NBL press release
The NBL is going Hoosier. Hire Park BMX, located in Warsaw, Indiana, halfway between South Bend and Fort Wayne, is playing host to the NBL Midwest Nationals. The Midwest Nationals will feature more than just racing. On Friday, the NBL will host a Pre-National clinic with NBL head instructor Justin Travis and two-time UCI World Champion and Super-Ex star, Dan's Comp's Weston Pope.
The Pre-National clinic will help riders develop their current skills so they can achieve the best possible results for the weekend. This is a great chance for extra track time on one of the Midwest's premier BMX tracks.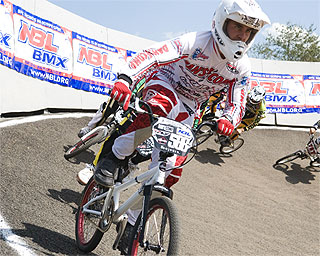 Along with the clinic, riders will receive a goody bag full of values including discounts on/from:
$5 off one UGP open entry fee
$5 off your next Future Stars Clinic
$50 off a week at the Ohio Dreams Action Sports camp
5 J&R Bicycles bucks
Stickers and swag from our sponsors!
Over a $60 Value!
The clinic will focus on first straights, cornering and passing, manualing, pumping, jumping and mental readiness. If you work hard, some of Weston's dedication might even rub off on you!
Date: Friday, June 5th
Times:
11:00 – 11:30am: Registration and warm-up
11:30 – 1:45pm: Clinic
1:45 – 2:00pm: Question and Answer with Weston Pope
Cost: $30 – Includes professional instruction and goodie bag from sponsors.
The NBL Midwest Nationals are proudly sponsored by BAWLS Guarana (www.bawls.com), Intense BMX (www.intensebmx.com), Kenda Tires (www.kendausa.com), UGP (www.undergroundproducts.com), Sinz Racing (www.sinz-racing.com), THE Industries (www.bmxthe.com) and Hotshoppe Designs (www.hotshoppedesign.com) in association with GO211 (www.go211.com) and Camp Woodward (www.campwoodward.com)
28/05 Supercross' new PRO LT Race Bars
Supercross BMX press release
Supercross BMX is proud to announce the release of their new PRO LT Race Bars.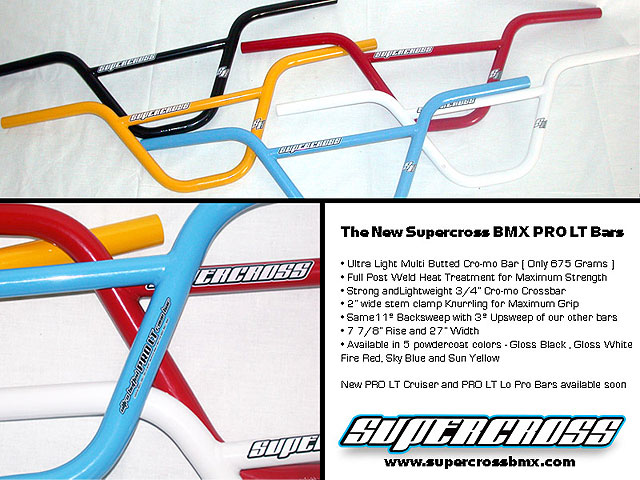 For years, our Butted PRO LT Version of our Heat Treated Cro-mo Race Fork has been our number one seller. It only made sense to do a matching Butted PRO LT Version of our Heat Treated Cro-mo Race Bars.
The new Supercross PRO LT Race Bars use our same popular bend of 11º Back and 3º up that we use on our other race bars, but is now lighter and stronger with the new Multi Butted Profile with full post weld heat treat. At only 675 Grams (24 ounces) it is the perfect match up for our Super Light Weight PRO LT Race Forks to keep the weight down and the strength up. Our AA Pro Kris Fox uses these now on his Race Bike and his Trail Bike.
Available at your local Authorized Supercross BMX Dealer now in Gloss Black, Gloss White, Fire Red, Sky Blue and Sun Yellow.
28/05 Photos: Backyard Bash
by bmxultra.com
We had a little bash in the backyard here at bmxultra.com HQ on the weekend. The weather was perfect considering the time of the year so between rides we decided to get some photos in, enjoy! Click here to view the photos.
27/05 NBL Elite Series Checkpoint
NBL press release
FRESNO TRACK AN INSTANT HIT – STUMPY AND POST ON THE MOVE
At what is now considered one of America's finest and fastest tracks, the NBL All-American Nationals in Fresno, CA may have served as a turning point for Randy Stumpfhauser and Alise Post. Riders were raving about Fresno's downhill course and as the NBL Elite Series now heads East for two events, the chase for the coveted NBL National Title has tightened up even more.
GHP's Randy Stumpfhauser used the energy of home track advantage to claw his way closer to the top.  Stumpy, who is still ranked 2nd in the series, took home a huge win on Saturday in front of his hometown fans and may have set the stage for the ultimate battle come Labor Day weekend.  Olympic Gold Medalist, and World Champion, Maris Strombergs of Latvia (Free Agent), settled for 2nd but then stormed back to claim the win on Sunday flanked by Hyper/AT&T's Donny Robinson and GT's Mike Day – An all-Olympic podium. Redline/TLD's Robert de Wilde had a strong showing and has moved up to 3rd overall on the year.
A small, but fast group of Elite Women delighted fans in Fresno. The FBX track featured pro sections on both the 2nd and 3rd straights and they are normally untouched by the women's class.  Not this time – Fresh off of the UCI Supercross in Denmark, Alise Post was the first female to jump the big 2nd straight followed by Ashley Verhagen and Clayborn's Brooke Crain.  Formula/Fly's Dominque Daniels powered her way to 2nd both days and continues to lead the series but Post is closing the gap fast.  Reigning Elite women's champion, Stephanie Barragan did not compete.
Excalibur/TLD's Josh Meyers, the only Super-Ex rider to win multiple mains this year, continued on his winning path with a big win on Saturday. Clayborn's Logan Collins was 2nd ahead of GEICO Powersport's Matt Kelty in the super-stacked main event.  On Sunday, it was Kelty who took the lead early and was poised for the big win when disaster struck – In the middle of the 3rd straight pro section!  Kelty abandoned ship in the middle of the big doubles, causing everyone to scatter.  The mishap helped earn Collins his first win of the season and once again, turned the tables in the standings.  For Kelty, an injured foot will put him on the sidelines and may jeopardize his chances for the title.  One thing is for sure in Super-Ex these days – nothing is guaranteed and the Grands will be an epic showdown.
In Master's action, Free Agent's Dale Holmes and local, Dave Bittner (SE Racing) staged an intense see-saw battle during qualifying but it was Holmes who stole the win from Bittner on Saturday.  Bittner impressed everyone by taking a run at the 3rd straight pro section but didn't have enough room to pass Holmes in the last turn.  Sunday, like many other Sundays, was a different one and Bittner edged out Holmes after a smooth run through the big pro sets.  The win moved Bittner up in the standings and kept Holmes from earning a perfect 6-for-6 record.  Redline's Shawn O'Gorman was 3rd both days. Holmes still trails Intense/Dyna-pep's Tommy Opincar in the standings but has two races in hand.  Tim Dinger continues to cling to third in the series and will look to South Park and Nashville to move up in the rankings.
Next up – The World famous South Park, PA for the NBL Stars n' Stripes National, June 26-28. NBL will host a Future Stars Rider Clinic on the Friday from 11am-2pm. UGP Opens races are in full effect and the winners of each class will get cool UGP gear.
Visit the NBL website www.nbl.org to see full results and standings.
The 2009 NBL National Series is brought to you by BAWLS Guarana (www.bawls.com), Intense BMX (www.intensebmx.com), Kenda Tires (www.kendausa.com), UGP (www.undergroundproducts.com) Sinz Racing (www.sinz-racing.com), THE Industries (www.bmxthe.com), in association with GO211 (www.go211.com) and Camp Woodward (www.campwoodward.com).
NBL Elite Series Standings (through All-American Nationals)
ELITE MEN                                                             
Maris Strombergs               LAT      190-8
Randy Stumpfhauser          CA        125-8 *2008 NBL Champion
Robert De Wilde                 NED     98-6
Cristian Becerine                CA        85-8
Barry Nobles                      AL        76-6
Kyle Bennett                      TX         75-4
Mike Day                           CA        74-4
Javier Colombo                   CA        61-8
Augusto Castro                  COL      60-6
Sam Willoughby                 AUS     46-4
ELITE WOMEN                                                                 
Dominique Daniels              AZ        164-7
Alise Post                          MN       139-6
Ashley Verhagen                CA        120-6
Madison Pitts                     FL        107-6
Stephanie Barragan            CA        106-6 *2008 NBL Champion
Rachel Smith                     OH       63-4
Amanda Geving                  FL        50-3
Mariana Pajon                    COL      47-2
Allie Dragoo                       MI         40-4
Brooke Crain                      CA        36-2
MASTERS                                                                       
Tommy Opincar                  TN        161-8
Dale Holmes                      CA        147-6
Tim Dinger                         NC        131-6
David Bittner                      CA        124-6
Eric Rupe                          CA        112-6
Domingos Lammoglia         FL        104-6
Percy Owens                     FL        95-4
Philip Potosnak                  PA        82-6
Scott Moreland                   IN         79-6
Adri Patrico Koolman          ARU     74-6
SUPER-EX                                                                       
Joshua Meyers                   FL        187-12
Matthew Kelty                    DE        171-10
Weston Pope                     IN         166-11
Logan Collins                     TN        165-10
Fausto Endara                   ECU     117-6
Tyler Faoro                        FL        100-6
Gavin Lubbe                       CA        94-8
Marty Wisehart                  KY        66-6
Jason Morris                      CA        65-4
Kristaps Konrads                LAT      63-6
26/05 Online Nominations – Country Champs @ Mount Gambier
by Marty Allen,
Blue Lake BMX Club
G'day all,
Online entry is now available for the Country Champs to be held at Blue Lake BMX Club on the June Long weekend.
Enter via our website here www.bluelakebmx.com.
26/05 BMX action on "Behind the News".
by Bike Media
Tune into ABC Television this Tuesday 26 May at 10 am (local time) for some BMX action on "Behind the News".
BTN, an Australian national children's program, will show some BMX footage and interviews.
Programs may also be repeated. Check your local guide for times. The program will also be available after this date on www.abc.net.au/news/btn
Thanks must go to Sam Willoughby, Michael Fenwick and Anthony Deane for making themselves available.
25/05 MCS Factory Team Florida Rap-up!
MCS press release
Well, another State Season is in the books. They seem to go by faster and faster every year. They are fun though and always make for some good times. Our team is awesome and this season everybody pulled through getting their locals in and receiving the ranking that they truly deserve.
The State Championship race was held at Sarasota BMX. The track has a great reputation for being both fast and somewhat technical. Their rep wouldn't let us down, however a lack of air-time was clearly evident. The racing was heated though non the less. Friday's practice was cut in half by the isolated thunderstorms that rolled in sending everyone packing and back to the hotels. The SSA was able to have one more session later that night, but I couldn't tell you how it was, PTP and I were back at the hotel making a banner for the front of the tent. Yeah, last minute stuff is the WORST! We got it done though, along with a trip to the "Flag Man" we were ready to go on Saturday.
Ahhh, Saturday morning… For the record, I hate to get up in the morning and a 6:45 wake up call is never good. Combine that with the fact that someone stole the poles that we spray painted the night before and left to dry in the dumpster and it was a frustrating drive to the track. The only good part was getting to park next to the trailer where team canopies were supposed to go… But that is a whole other topic! The race itself was going to be a big one, after all it was the series finale. Sure enough it was with 196 motos. We were also fortunate enough to have it go out live on go211.com, maybe you saw it? If not look for the re-broadcast or look for it in their archive sections.
As I stated earlier, it's a good feeling knowing that your team has come through with flying colors. When everything was said and done we came home with some serious hardware. CJ McGuire was on fire all day long not losing a lap until the main when carnage occurred in the first turn relegating himself and fellow title contender Tyler Faoro to the pavement. CJ got up, but had to settle for a 6th and Faoro an 8th. Tyler would get the #1 plate and CJ would have to settle for the #3 plate. CJ was able to bring home the big check though winning the money series. Raul Gomez has been on a mission this year. His goal is to regain the titles he vacated a few years ago. Well, his mission is half over. He took home the wins in both 20" and cruiser giving him the #1 plate in both. He is clearly the man to beat in the Sunshine State. Cory Watts and Petey Peters have been the 1-2 punch in 19-25 Expert all year long and Sarasota was no exception. They finished off the season the same way they started going 1-2 in the main. Cory actually got his locals in the year and is rewarded with running that big #1 on his bike next year. Petey on the other hand will add a zero onto his plate. Living in Georgia, it's hard to get your locals in and he will be running the #10 plate. Bryan Kipp had another up and down day in 15 Expert. His gates continued to be his down fall. If he could get a handle on them, nobody could catch him. He finished second on the day and second for the series. Tucker Rice destroyed the 11 Expert class winning everything and completing his perfect season! 11-12 Cruiser wasn't the same story though, Tuck got second for the day, but had to settle for the #4 plate. You can bet your bottom dollar that he will be on the hunt for that #1 again next year. Although Dean and Perry DeVido didn't make their mains, they still had a good time and were able to bring home the #13 and #16 Plate respectively. Jeff DeVido made his main scoring and eighth place giving him the #7 plate for the year.
We would like to thank our sponsors for another great year. Profile Racing (profileracing.com), Odyssey BMX (odysseybmx.com), DNA Energy Drink (dnaenergydrink.com), Powerbar (powerbar.com), Royal (valenciasportgroup.com), UGP (undergroundproducts.com), ODI (odigrips.com), THE Helmets (vsiproducts.com), Intense Tires (vsiproducts.com), Sun Rims (sun-ringle.com), Hammer Bodywear and Hot Shoppe (hotshoppedesign.com)
25/05 BMX Qld adds new Life Member to ranks.
by K Elliott – Vice Pres. BMX-SQ On behalf of the Members of BMX South Qld
BMX-South Qld Would like to Congratulate Mrs Kayelene Domin on becoming a Life Member to BMX Qld.
Kayelene's Life-Membership was recently ratified at the BMX-Qld AGM (24/5/09).
Kayelene now joins esteemed stalwarts and fellow BMX Qld Life Members ( Joe Gaviglio, Anne Codega, Butch Broomfield, and Carmel Muggeridge ), who have all given so much to the sport of BMX, and who have helped shape BMX in Australia to the great position it now enjoys throughout the globe – from grass-roots… to, an Olympics Birth & Final.
Our heartfelt congratulations to Kayelene, who first began her work for BMX way back in 1979. (full report soon).
22/05 Morphine Industries' Rocks the ABA Dixieland National
report by Doran "it's a sure thing" Bradshaw
While most of the team stayed in Florida to win titles in their state series, some of our other riders weathered the storm (literally) at the ABA Dixieland Nationals in Powder Springs, Georgia.  After a rain delay on Saturday,(and alot of LOST Energy drink) the tarps were pulled off the track and the team got down to business.
Jason LaRev set the pace as soon as the first gate dropped by winning A Pro in a one lap for the money round. On Sunday, Jason was out to make sure everyone knew he has been training by taking the win again in A Pro. (Then again, it could have been his new Tioga PowerBlock tires, mounted on Alienation rims and Sinz forks!)
In the always tough 17-18 expert class, Travis Woodruff rode his Staats ProXL hard but in an outside, muddy lane against guys like Zula, Kubalak and Hassan, he was limited to a 6th in the main on Saturday.
Doran Bradshaw brought his bag of Rennen gears and came up with wins in 31-35 cr and in 28-35X on Saturday. On Sunday, he got the win in cruiser but a slight mistake on the last straight cost him the lead and the double-double. But three firsts place finishes and one second ain't too shabby!
Although the weather wasn't the best, the crew at Cobb County BMX put on a great race and the track was the best it has ever been. Kudos to all the volunteers that had the track is pristine condition for our enjoyment!  Look for Morphine Industries to carry the momentum going into Blue Springs, Missouri and Rockford, Illinois over the next few weeks.
Morphine Industries would like to thank its Factory Team Sponsors; Staats Motocross Bicycles (www.staatsbikes.com), Alienation (www.alienationbmx.com), Fly Racing (www.flyracingbmx.com), Lost Energy Drink (www.lostenterprises.com), Tioga (www.tiogausa.com/bmx), Sinz Racing (www.sinz-racing.com), Rennen (www.rennendesigngroup.com)
22/05 Morphine Industries releases the Hollowpoint barends
 Morphine Industries press release

The HollowPoint has taken the barend to a new level.  The new design of the HollowPoint allows the rider to minimize weight and maximize control.
The knurled surface around the outer edge provides important extra grip for those riders looking for ultimate control.
The HollowPoint can be used with any grips. However, they have been designed to be Lock-On grip compatible. The inside of the barend has been machined to snap into place on any lock-on grip.
Made in the USA – These ain't made in China
Weight: .5g each
Colors: Black, Blue, Red, Purple, Gold
Be sure to ask for them at your local BMX retailer
21/05 Photos: ABD BSX 2009
by bmxultra.com
The ABD BSX 2009 photos are finally here. Since the event there have been a number of factors that made it difficult to get these on the site, but they are here now, and who knows, we might even get the video footage up soon too. If you would like to buy an original of any of these photos contact Gavin D at XBR.com.au. Click here to check out the photos.
20/05 Backyard bash this weekend
by bmxultra.com
Melbourne's unusually long spell of dry days, for this time of year, means our backyard track should be nice and dry and ready to ride on the weekend. For anyone interested we will have the track open from 10am until dark on Sunday, and yes it's the track used for BSX. If there are enough people who can't make Sunday but can make Saturday between 11am and 2pm we might consider letting people in on Saturday as well. If you have any old carpets laying around and would like to donate them send us an email to the address below or just bring them along with you.
The track is located at Pheasant Creek which is a short drive from Kinglake. Please email webmaster@bmxultra.com if you are interested in coming for a ride and let us know what day and when you intend on coming up and we will give you the full details.
20/05 Morphine Industries' Tyler Faoro takes the Elite Open Title at Florida State Championships
Morphine Industries press release
Florida State Championship, what else needs to be said.  It is no doubt the premier state series with top national caliber riders as proven year after year at the President's Cup.  The race pulled just under 200 motos and did not disappoint in the excitement category.  We had the added bonus this year of GO211.com bringing the racing to the world.  Hopefully you had a chance to watch.
Morphine Industries showed up to the Championships with 4 riders in tow to do some damage on the Podium.
Super-X Tyler Faoro ended the Florida State Championship Series on top taking the Elite Open Title.  Tyler finished off a dominating season with an impressive run in the motos and a crash in the main to top the final Podium.
12X and 11/12 Cruiser Noah Reeves finished his impressive run on the Florida state title on his 20? dominating the pack all day with a clean sweep of 1?s to take the 12X title.  Noah battled on his cruiser all day to take another impressive 2nd place finish in 11/12 cruiser
41+ Jonathan Reeves crashed hard in moto 2 making a repeat as title holder a little more exciting.  However, he was able to put himself back together to take the top podium spot for the second year in a row.
Morphine Industries had a great Florida State Series and want to thank its Florida factory team riders, factory team sponsors and the SSA for another great series.
With the Florida State series in the books, the Morphine Industries crew will turn its attention to the National series in both NBL and ABA.  IN the next few weeks will be heading up north and west to bring our circus elsewhere.  See you there.
Morphine Industries would like to thank its Factory Team Sponsors; Staats Motocross Bicycles (www.staatsbikes.com), Alienation (www.alienationbmx.com), Fly Racing (www.flyracingbmx.com), Lost Energy Drink (www.lostenterprises.com), Tioga (www.tiogausa.com/bmx), Sinz Racing (www.sinz-racing.com), Rennen (www.rennendesigngroup.com)
19/05 HRVfitness 25+ clinic this Saturday
HRVfitness.com press release
HRVfitness is running a one day training seminar specifically designed to take you old guys to the next level. Open to riders 25 years and over.
Price: $50
9am-1pm Saturday 23rd May
Park Orchards BMX Club
To register contact Tony on : tony@hrvfitness.com
HRVfitness.com. The next level in BMX Training. Get your online program now and make sure you're at your best for the 2009 worlds. Don't get left behind!!
18/05 Supercross BMX releases their new Ultralight Race Frame – The Supercross ENVY
Supercross BMX press release
For the last few years, the lightest and most advanced Race Frame on the market has been the Supercross S7, the Scandium tubed Superframe that Samantha Cools piloted to 3 UCI North American Titles and took to the 2008 Olympics. The only problem with the Supercross S7 was price, Scandium is expensive. So after 2 years working with Easton and their Ultra Lite Race Tubeset, getting rider feedback from the team riders of Samantha, ABA#1 Vet Pro Kenth Fallen and AA Pro Kris Fox, we are proud to introduce the new Supercross ENVY, all the performance features of the S7 and more, for almost half the price. With an MSRP of just $US449 you get the World Championship winning geometry that Supercross Race Frames are known for, a Custom Butted and Shaped Easton Ultra Lite Race Tubeset, Tapered Stays, CNC'd Bottom Bracket Shell and 3D dropouts, topped of with an Integrated Campy Style Headset. All for under 3lbs. (a polished pro frame tipped the UPS scales at 2.75lbs ) What more could you ask for. So whether you are racing the UCI World Circuit like Samantha, Kris and the rest of our Elite Team or Hitting the National ABA or NBL Circuit this race frame has you covered on all types of race tracks world wide.
Currently available in Pro, Pro XL, Pro XXL, 24" Pro and 24" Pro XL sizes with the Expert and smaller sizes now in production. Color options are Gloss Black, Pearl White, Racing Yellow, Limited Edition Neon Green and Polished Aluminum.
Check our website at SupercrossBMX.com for more information or to find a dealer near you.
The Supercross BMX Factory Team is proudly co-sponsored by: Block Alternative Jerseys, No Fear Race Wear, Alienation Rims, Kid Fuel, No Fear Energy, LDC, Camp Cools Training Clinics, and MJT Photos.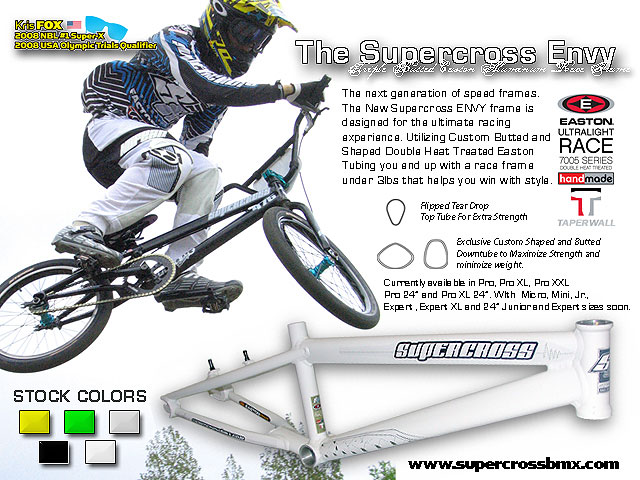 18/05 OnFire Training Podium Results from 2009 National Titles
OnFire Training press release
After the wash up at the 2009 National Titles, Brett Scruse of OnFire Training would like to acknowledge the efforts of all his riders that trained so hard leading into the 2009 National Titles. Many personal best efforts were laid down on a tight and challenging track. Brett would also like to place the spotlight on the following OnFire Training riders that achieved a podium finish:
1st Place Jaclyn Wilson Thompson 17+ Women's 20 " &
35-39 Women's Cruiser
1st Place Andrew Hughes 12 and Under Boys Cruiser
1st Place Petra Brown 17+ Women's Cruiser
1st Place Brett Scruse 35-39 Men's Cruiser
1st Place Tim Ward 40 – 44 Men's Cruiser
2nd Place Petra Brown 17+ Women
2nd Place Alex Lloyd Elite Mens 24" (also 4th Elite Mens 20")
3rd Place Leigh Darrell Elite Mens 24"
OnFire Training riders have consistently produced great results year after year, through the dedicated guidance and 21 years coaching experience Brett Scruse provides.
OnFire Training can show you a direct pathway to better rider performance and achieving your personal best.
Brett Scruse, Owner/Operator of OnFire Training, has 28 years racing experience, multiple state titles, multiple national titles and one world championship under his belt.
Training programs can be supplied via email. Your training can be done anywhere and at anytime, as in the performances of Tim Ward, Jaclyn Wilson Thompson and Thomas Hubert who have all shown that training via correspondence works, if you are willing to do the work and follow the information.
Brett is with you every step of the way, guiding you towards achieving your personal goals.
If you are interested in achieving their goals can contact Brett on 0422 912 112
18/05 SA versus Vic 6th & 7th June
SABMX press release
Blue Lake BMX Club in Mount Gambier, SA, will again be hosting the SA versus Vic event over the June long weekend 6th & 7th June.
Sat 6th June – Blue Lakes ' 2009 Vanilla Bean Country Championships'. $2,000 up for the Pro Classes. $500 up for 30+ Vet Pro Open Wheel. Practice and Registration begins on Friday night with a sit down Pasta tea after practice, please RSVP on the Country Champs entry form.
Entries close Friday 29th May 09.
Nomination Enquires to Marty Allen – bluelakebmx@icisp.net.au
Sun 7th June – SA vs Vic. $1,800 up for Pro Classes. $260 for 30+ Pro Vet Cruisers and voucher classes for the Under 13's. Event will incorporate a State Team Challenge event for SA and Vic to put their best up for great prizemoney.
**** Due to popular demand a 45+ 20" class has been added to the event *******
Nomination Entries close Monday 25th May 09.
Enquiries to Mark Howden – mkhowden@iprimus.com.au
Full canteen facilities will be available all weekend.
Breakfast from 7am each morning and the 'Gate 9' Bar will be open for great priced drinks at the completion of racing each day.
Book now for a great weekend in the Mount.
For more information visit SA vs Vic website – www.bluelakebmx.com/SAVIC_HOME_2009.htm
BMXSA Event Manager – Kim Braybon 0408 097403 kim.braybon@bigpond.com
15/05 Vic Vs SA and Australian Country Championships
by bmxultra.com
The Blue Lake BMX Club Mount Gambier South Australia will be hosting the Australian Country Championships and the Vic Vs SA death match. Well maybe not a death match, more like an interstate championship, but both states take this race meeting very seriously and usually the AA Pro men treat it like a death race it's pretty much the last man standing.
This year it's run over two days of the Queen's birthday long weekend Saturday June 6 for the Country Champs and Sunday June 7 for Vic Vs SA.
Yes it's during winter, and is likely to be wet and or cold, but the Mount Gambier track handles the conditions well and the racing is always top knotch. If you are looking for a big race before the world championships or just a fun weekend away racing make sure you check this one out.
Entries close in 10 days so don't miss out.
Entry forms are available at our racing calendar.
14/05 World BMX Championships page
by bmxultra.com
We have started to put together a page for the 2009 World BMX Championships. The idea is to centralise information that's scattered all over the web and present it all on one page. It's all unofficial of course, just the same way we did it when the World Champs where in Melbourne Australia in 1998 and in Perth Australia in 2003. We have links to more official sites and don't plan to claim any of the information as our own, except for some stuff that's still to come, like suggestions for places/tracks to ride and things to check out.
If there are any specific questions or information that you might need email webmaster@bmxultra.com and we'll put up an FAQs section on the page if it's required, it might even be worth while checking out our forums to ask the locals. We plan to draw on local knowledge from bmxultra.com team riders, Shane Jenkins spends some of his down time in Adelaide and Adelaide local Scooby Guyers.
13/05 Team bmxultra.com report
bmxultra.com press release
Team bmxultra.com headed to Perth for the Australian Championships, each and every team rider has been riding well, making mains and looking good coming into the World Championships qualifying event.
Brandan Bullows put on an awesome display of skill and raw talent and looked finals bound in two very tough classes, the 16 boys and 15-16 cruiser. A couple of small slip ups saw him fall just short of the mark, but you can bet that he will be back for the worlds to prove a point.
Brandan's father Jamie Bullows was out to defend his #1 Australia that he earned the year earlier, but with a serious knee injury and a large field the odds were stacked up against him, he managed to make it through to the qualifying heats without a problem but took a heavy hit in the last corner of his 1/8 final to knock him out of contention. He made up for that with a 5th in the tough 35-39 cruiser final.
Matt Butterworth has improved a great deal over the past 12 months and made it all the way to the semi in the 30 & Over Mens class, he also placed 7th in the 35-39 cruiser class.
After making his first Australian Championships final last year Scooby Guyers was looking to back it up with another finals berth. The 17-24 class was jam packed full of riders who would normally rode AA pro but Scooby held his own in the stacked field through the qualifying heats unfortunatly he only made it as far as the 1/8 final 20 inch, he did bounce back on the cruiser and rode well, making it all the way to the semi final.
Levi Collins has made a slow but steady return to racing to compete at the world championships with a semis berth in both 17-24 men and 17-24 cruiser and the way he is improving he could be a dark horse for the World Championships.
Chase Collins, Shane Jenkins, Mark Dobson and Adam Carey also rode well but had to watch the finals from the side lines.
| RIDERS NAME | CLASS | 20 INCH | CRUISER |
| --- | --- | --- | --- |
| Shane Jenkins | Elite Masters/35-39 cruiser | 20th | Semi |
| Brandan Bullows | 16 Boys/15-16 cruiser | Semi | 1/4 |
| Scooby Guyers | 17-24 Men/17-24 cruiser | 1/8 | Semi |
| Jamie Bullows | 30 & Over Men/35-39 cruiser | 1/8 | 5th |
| Levi Collins | 17-24 Men/17-24 cruiser | Semi | Semi |
| Chase Collins | 17-24 Men | 1/8 | |
| Mark Dobson | 40-44 Cruiser | | 1/4 |
| Matt Butterworth | 30 & Over Men/35-39 cruiser | Semi | 7th |
| Adam Carey | Elite Men | 28th | |
The bmxultra.com team is proudly supported by One Bicycles, Supercross BMX, Dirt Designs, Tioga, THE, Profile, Sun Ringle, and Tektro Brakes.
13/05 SBS to televise 2009 National BMX Championships
BMX Australia press release
BMX Australia are pleased to announce that SBS will be televising the 2009 National BMX Championship this Sunday the 17th May 2009 at 12 noon (EST). Please check television guides for telecast times in your local area or visit www.sbs.com.au for further information.
13/05 BMXMAD team update
BMXMAD press release
Congratulations to the BMXMAD team at the Australian Championships.
20″ Results
Tom – 1st 17+Men
Erin – 4th 17+Women
Jamie – 5th 16 Boys
Ebony – 5th 14 Girls
Greg – 68th 30+ Men
Wade – 12th 12 Boys
Bodi – 2nd 15 Boys
Cruiser Results
Tom – 5th 17-24 Men
Erin – 4th 17-24 Women
Jamie – 16th 15-16 Boys
Greg – 7th 45+Men
Wade – 10th 12&U Boys
Bodi – 14th 15-16 Boys
Karen – 1st 40 – 44 Ladies Cruiser
Well done to all our rider and a special congrats to Tom for winning the 17-24 mens class and Bodi for winning the 15 boys champbikx series for 2009.
12/05 MCS Torque Bars Now Available!
MCS Bicycles press release
MCS Bicycles is pleased and excited to announce the arrival of the MCS "Torque Bar!" These long awaited bars have a 28″ width and an 8″ rise, 11 degrees of back sweep and 1 degree of upsweep and weigh in at 1 lb 13 oz. Constructed of butted tubing they have the strength were you need it and save weight were you don't! Be sure to look for them at better dealers world wide. They come in five color-ways… black, white, red, green and blue. With an MSRP of $US54.99 for black & white and $US69.99 for colors, they are the next bar to have!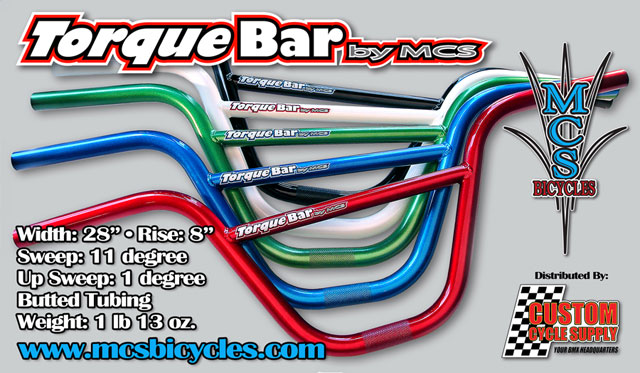 11/05 International Old School BMX Reunion & Show, June 6, 2009
by Sean Ewing
A little less than a month away to the BIGGEST old school BMX event, this side of the Mississippi, maybe the World…
What: International Old School BMX Reunion & Show
When: June 6, 2009
Where: Peck Park, Arcadia California
Time: 8 am to 3:30 pm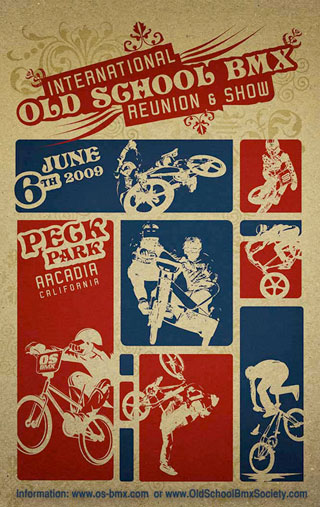 11/05 Redline Aussies Report
Redline Australia press release
The Australian Championships have been done and dusted and all Redline Riders rode extremely well.
Starting off a fantastic week we had all Redline riders invited to a dinner on the Wednesday night at Jimmy Deans.
Before racing started on the Friday all Redline riders walked proudly in the march past where our young riders handed out stickers and cards to the spectators.
The Redline Queensland team which consisted on Tristan Kronk, Mitchell Hoad, Lachlan Harvey and Katie Van Zanden won the Team Trophy. The Redline Australia team placed second and consisted of Karl Mustchin, Kai Sakakibara, Saya Sakakibara and Melinda McLeod.
Finally on the Sunday night some of the Redline team members attended the Awards Dinner, where Redline received Team of the Year and Josh Callan received Junior Rider of the Year.
What a great week of racing.
Redline Team came away with a total of 24 Aussie Plates. Special mention has to be given to the riders who placed in the top three.
The girls showed the way coming away with four 1A plates. Rachelle Smith from WA was the only rider to do the double 1A in her 12yr girls 20″ class and in 12yr & under girls cruisers. It was also Rachelle's fourth time receiving 1A, well done Rachelle. Melinda McLeod from QLD won her fifth Australian Title and placed 3rd in 15-16 yr girls cruisers. Saya Sakakibara from NSW also defended her 1A plate and showed why she is currently ranked number 1 in the world.
Mitchell Hoad from QLD moved up one place from last years result, having a great race and placing second in his final. Karl Mustchin from WA had a strong field for his final and finished a close second.
Katie Van Zanden from QLD road well all weekend and placed third in her final. Tristyn Kronk from QLD made his first Australian final and finished strongly and came away with 3A. The Callan family from VIC, Ziggy in Senior Women and Josh in Junior Men both came away with 3A plates.
Below are the results of the entire Redline Team.
| RIDERS NAME | CLASS | 20 INCH | CRUISER |
| --- | --- | --- | --- |
| Ash Pemberton | Senior Men | 5A | NA |
| Melinda McLeod | 16 Girls | 1A | 3A |
| Adam Hilliam | 15 Boys | Semi | NA |
| Sarah Harvey | 14 Girls | 7A | 7A |
| Tristyn Kronk | 13 Boys | 3A | Semi |
| Liam Hilliam | 13 Boys | Quarters | NA |
| Lachlan Harvey | 12 Boys | 4A | Semi |
| Katie Van Zanden | 10 Girls | 3A | Semi |
| Troy Elliot | 11 Boys | 7A | 6A |
| Mitchell Hoad | 10 Boys | 2A | Quarters |
| Kev Hilliam | 45+ Men | NA | 4A |
| Ziggy Callan | Senior Women | 3A | NA |
| Josh Callan | Junior Men | 3A | NA |
| Luke Pretlove | 25-29 Men | 5A | 4A |
| Damien Callan | 40-44 Men | NA | 6A |
| Luke Tanner | 14 Boys | Semi | Eighths |
| Hannah Throns | 14 Girls | Semi | NA |
| Rachelle Smith | 12 Girls | 1A | 1A |
| Mark Mustchin | 30+ & 35-39 Cruiser | 4A | 2A |
| Paul Throns | 45+ Men | NA | 3A |
| Kai Sakakibara | 13 Boys | Semi | NA |
| Saya Sakakibara | 10 Girls | 1A | NA |
| Justin Braybon | 17-24 Men | Quarters | 8A |
11/05 BMX Supercross in Copenhagen makes a super event
Sportseventdenmark.com press release
3000 spectators had a blast as the world best BMX riders fought their way to the finals in the UCI BMX Supercross World Cup round taking place in Copenhagen on Saturday 9 may 2009.
Copenhagen is bidding to host the 2012 World BMX Championships, and judging by this weekend's event, the city of Copenhagen and its bicycle-crazy inhabitants are really up for it. The beautiful spring weather certainly didn't harm the event either.
Approximately 3000 spectators were there for the event, and apart from the expected world class cycling they we're treated with international djs, live music and spectacular side events. Danish Crown Prince Frederik, an avid sports follower, spent the whole afternoon at the track, obviously enjoying himself all the way through.
– The atmosphere of the event has been just brilliant. Even though the event runs over 5 hours there are no boring moments where you're just standing around waiting for something to happen. Also, having such a large event so close to the city centre, makes it easy for everybody to get here by their own bikes or by public transportation. And easy to get back home again! I'm very happy to have this event happening within the Danish Year of Sport 2009, says Christian Ankerstjerne, Project Manager of the Danish Year of Sport 2009
Olympic Caliber
More than 60 members of the national and international press had been accredited for the event, which was also broadcast live on Eurosport. Already two days before the race began, international media had begun showing up at the track.
– This is one of the best Supercross BMX-events of them all. The riders are basically the same at every event and they bring the same kind of skills to each event, so the key to make an event really stand out is the organisers. And the organisers behind the Copenhagen Supercross event are very good, and this is what makes this event Olympic caliber, says Jerry Landrum, a journalist from BMXmania.com and a long time follower of BMX events all over the world.
In the end British superstar Shanaze Reade took first place in the womans race and Dutchman Stan van der Putten claimed first in the mens.
The Danish Year of Sport 2009
The UCI BMX Supercross World Cup is part of the Danish Year of Sport 2009. More than 50 international sporting events and congresses will be staged all year round in many parts of the country with the IOC Session and Congress in Copenhagen in October as the crown jewel. The events will all together brand Denmark nationally and internationally as a strong sports event nation under the slogan of "Inviting the World of Sport".
For information about the Year of Sport and the many events during the year please contact Project manager Christian Ankerstjerne, ca@sporteventdenmark.com or +45 3051 0096.
For more information please visit www.sporteventdenmark.com.
08/05 One Bicycles Australia update – Australian Championships
One Bicycles Australia press release
The One Bicycles Australia team put in an outstanding effort at the Australian Championships over the weekend. One Bicycles was represented by Kyle Horton, Issy Penglase, Mikayla, Nik and Josh Rose.
Josh was in a loaded 14 boys class, he did well to make it out of the motos but was eliminated in the 1/8 finals. Josh was also eliminated in his 1/8 final in the 13/14 cruiser class. Josh is a determined rider you can bet he will bounce back faster and stronger than ever next time you see him at the track.
Nik finished with a 5th in his 1/8 final in the 12 & Under cruiser and a 5th in his 1/8 final in the 11 boys, not bad for a guy who has spent the last 6 weeks in plaster.
Mikayla looked very comfortable in the motos and her semi of the 9 girls class, a 7th place in the main wasn't a bad effort at all amongst Australia's best riders she also placed 6th in her 1/4 final in 12 & Under girls cruiser.
Kyle did what it took to qualify out of his motos in the Junior elite men, then decided it was time to race, placing 3rd in his semi. He was in the mix in the main but was caught up and had to settle for seventh overall, not bad for a guy who is in his first year as a junior elite rider. Kyle also took the win in the Junior Elite men cruiser. In the motos he did all that was required to make the cut and you wouldn't have picked him for a podium with his placings, but when the gate dropped in the main and he got the snap out of the gate he looked unbeatable leading from start to finish.
Issy had a nice ride in the 11 girls qualifying easily out of the motos and had to put in a gutsy effort to come from behind and steal the last qualifying place in the semi, she went on to finish with 6th place. She didn't qualify for her 1/4 finals in the 12 & Under girls cruiser because of a tough draw in her moto but was still happy with the way she rode.
A big congratulations to all the crew from all of us, win or lose, qualified for the worlds or not, you are all champions.
Isabella's 2009 Australian Championships report – by Issy Penglase
Tuesday
An early start and Mum dropped me to dads, I was a really cold morning but dad told me WA was 28c so I was looking forward to that. Shane arrived and we packed the car full of bags and went to the airport, when we got there we met up with Travis as he had the bikes, we unloaded the car and trailer and there were bike boxes and bags every where, Once checked in we had some lunch and waited and waited and then we were told the plane was delayed. Once we took of it felt like a long flight, we landed, managed to pack all the bikes and boxes into the Ute and car we had hired and headed to the house that was home for the next week. We went to go out for dinner but Josie cooked at BBQ and the guys built bikes up for a early morning start.
Wednesday
Early awake, breakfast and off to the track, as we got there my practice had started so I went out and rode a few laps, I managed four and started to like the track.
I had a bit of a wait until cruiser practice and managed a few more laps and got use to the track. There was a long wait until racing started and I was relieved once it started,
There were three Moto's and I managed a 2 and two 3rds, a good start to the week I was hoping.
Thursday
I had a 45 min practice session in the morning and I spent it trying different lines and ways around the track, I left feeling good and liking the track. We spent the rest of the day down at Fremantle having lunch, shopping and looking around with a group of us.
Friday- Race day
I wasn't nervous but looking forward to the days racing.
Moto time
First Moto -I got a good gate and slipped in behind Kirra I felt comfortable and crossed the line in 2nd
Second Moto- Missed the gate and had to work hard down the first straight I chased the Kirra down but had settle for 2nd again
Third Moto- A lot better gate and first corner and was in front down the second straight I held that to the line, it was nice to win a Moto at the Aussies,
Semi
I felt I got a good gate but got pushed wide in turn one I had to work hard down the second straight but I managed to be in 4th and hold in to the line.
Final
With 7 of Australia's best riders it was going to be a hard race.
The gate dropped and I didn't get a great start and I fell out the back of the pack, turn one I cranked as hard as I could and kept a tight line and made up 2 places. I made some ground on the pack in front down the 3rd and 4th straight but not enough; I was stoked with making the final and getting a plate.
Well done all the girls I raced with all day.
Saturday
Rest day we had a sleep in some breakfast and then down to the track to watch the senior and pro riders. The racing was great and was great to see some of the Victorians do so well and also the bmxultra crew and grass roots One Bicycles team.
Sunday- Cruiser Day
Practice started well and I felt good on the cruiser.
Race Time- Things didn't go to plan and I couldn't get the speed needed to transfer out of the motos.
Well done to all the girls I raced against, it was now time to watch the finals and dad.
A big thanks to Shane, One Grass Roots team, ECI and all the people that I travelled with to WA. Its now time for me to work on my first straight for the Worlds in July
See you all there
How to buy One Bicycles products in Australia
If you would like to purchase a One Bicycles frame or accessories in Australia the best way to do so is to head down to your local bike store and place an order. If they don't know what you are talking about tell them to call Elite Cycle Imports while you wait and place your order there and then. After doing some calculations myself I have found the cheapest way to get One Bicycles products in Australia is through a local reseller.
About One Bicycles
For over a decade ONE Bicycles (operating out of Holland), inducted into the European Hall of Fame, has solely focused all their efforts on the sport of BMX. Today they are at the forefront of BMX product design Worldwide. Utilizing advancements in the industry, some of which were conceived in ONE's own engineering department, their products directly reflect the evolution and maturing of proven BMX design. Like a fine wine ONE Bicycles product line has come of age as a result of years of dedication to the sport of BMX.
One Bicycles are a major sponsor of the bmxultra.com team
Over the years One Bicycles have sponsored
Khalen Young
The Phirebird team which includes 2005 & 2006 World Championships finalist Jamie Gray and 2006 NBL Grands (A Pro) champion Glenn Codega
In 2008 Maris Strombergs rode his One Bicycle to victory in the Elite Men's class at the UCI World Championships and followed that up by taking the first ever Men's BMX Gold medal at the Olympics.
For more information about One Bicycles check out www.onebicycles.com
07/05 More Australian Championships highlights
by Shane Jenkins/bmxultra.com
I love watching the Elite riders at major events like the Australian Championships, so much so I would travel just to watch them, but there are other standout riders and classes.
Some of the old schoolers out there might remember Jaclyn Wilson, she was originally from Bendigo but moved to Queensland to chase more competition and get more racing under her belt. She went on to win Australian and World Championships. Since then she was married and had children and moved back to Bendigo. She appeared at a Track Attack earlier this year, it was her son Aston's first race, with in a couple of weeks she was back on her old bike and quickly upgraded and started to show signs of her former champion self, racing the 30+ men and the Pro women and causing a stir in both classes. When she raced at the Australian Championships in Perth on the weekend you could just tell that something special would happen, and it did. It started when she blew the 17 & Over women out of the water, she got off to a very quick start and left the field in her dust winning from start to finish. She returned on the cruiser in the combined 30-34 and 35-39 womens class and dominated that as well. With only a couple of months of racing under her belt, a lot of determination and natural ability, she has come a long way. Time will tell, but at this stage she looks very good for the world championships, and beyond that who know's we could see her mixing it up with the Elite Women before long.
After watching Tim Ward dominate his class at the Australian Championships last year only to slip up in the final and relegate himself from first to third it was great to see him in action 12 months later. He looked like he had horsepower to spare and was a whole lot more comfortable on his bike and with the jumps this time around. In the 40-44 main Tim got the snap and jumped everything on the track to win from start to finish. Tim Ward is a deserving champion, it would be interesting to see him mix it with the 30 & Over Elite Masters on a 20″.
Kamahl Lord made the podium at World Championships many times up until around the mid 90's where he drifted away from BMX racing. He's made rare appearances over the years but it wasn't until the past six or so months that he started to show up to racing regularly. He spent months working out how to compete in the AA Pro and Senior Elite classes and has shown improvement each time. In the tough Elite Masters main, so tough big names like Brett Scruse and Tony Harvey didn't even make the cut, Kamahl was slotting into first down the end of the second straight and looked to run away with the final until old school pro Daniel Sprague, who spent a few seasons racing Pro in the US back in the mid 90's, tried to dive under Kamahl and cause a massive pile up taking Kamahl with him. Kamahl looked the goods in his 30-34 cruiser final too, but once again was in the lead only to crash. Let's hope his luck is a little better for the world championships.
06/05 European Championship round 5 and 6 – ONE/Kenda
ONE KENDA press release
Round 5 and 6 of the European Championship series for Junior and Elite Men and women in
Creazzo, Italy were held on a technical track under the Italian sun.
With over 1300 riders it was a great event.
ONE/Kenda's European Champion Tommaso Giustacchini from Italy won his first European race in 2009 in round 5.
In round 6 Tommaso took a 4th.
Toms Skujins from Latvia crashed on Saturday.
Like many riders he was unable to race on sunday due to his injury.
Arturs Matisons from Latvia still didn't get approval from the doctor to race.
Aneta Hladikova from Czech Republic got 7th in round 5. In round 6 she couldn't make the move in the first turn that would have put her in a top spot and finished in 6th place.
Results:
Saturday round 3:
1st Tommaso Giustacchini, Boys 14
7th Aneta Hladikova, Elite Women
Sunday round 4:
4rd Tommaso Giustacchini, Boys 14
6th Aneta Hladikova, Elite Women
Check for the videos here: BMX-VIDEOS.COM
Next rounds of the European Championship in Belgium on May 30 and 31.
ONE KENDA is sponsored by:
KENDA, PINCH GEAR, KMC, SHIMANO, BOLLÉ, THE Industries, SINZ, WLM DESIGN, UFO, THOMSON, ODI, NIKE,
PRO GOLD
06/05 NBL Announces the Future Stars Clinic Series
NBL press release
– Coming to a National Race near you! –
Hilliard, Ohio – The National Bicycle League (NBL) is adding more value to National race weekends and this is good news for riders of all ages and skill levels. NBL is now offering NBL 'Future Stars Clinics' in conjunction with select National events where riders can learn from the current and future stars of the sport. Whether you're looking to learn a new skill, move up to the next proficiency, or even have your sights set on being an Olympic star, NBL Future Stars clinics offer something for everyone.
Each clinic is produced by the NBL as a service to members who are looking to take their BMX experience to a new level. Clinics will offer quality instruction with an emphasis on individual development and all riders will be mentored from the starting gate to the finish line by knowledgeable instructors. Head instructor and NBL clinic coordinator, Justin Travis, brings years of training and clinic experience to the program and looks forward to developing our future stars. "We've had positive results at the first few clinics and we are looking forward to great season of rider development", said Travis, "At several of the clinics, we even plan to feature the NBL National Champions and Olympic stars", he adds.
The clinics are designed to benefit riders from rookie to expert, with a focus on skill sets that enhance the riders overall performance. Riders will also receive specific coaching relevant to the national track that they are taking the clinic at and this will provide an immediate result for attendees.
Expect to see names like NBL's National Elite Champions, Randy Stumpfhauser and Stephanie Barragan, Olympic Gold Medalist, Maris Strombergs, and many other top National and International stars at the various clinics across the country. They will all share their techniques and BMX experience with the clinic participants and this will further enhance their learning experience. This showcase of talent will provide a unique opportunity for riders to share the track with their BMX heroes at each and every one of the NBL clinics.
As an added value to the clinics, the NBL will provide BMX swag to all participants. The NBL has put together a valuable collection of BMX goodies including stickers, vendor and NBL program discount coupons, product brochures, and much more. Look for an NBL Future Stars Clinic at a National race near you. Want to be a future star? – Sign up for a clinic and you're on your way. For more details about the National series, click here.
NBL Future Stars Clinic Schedule:
Warsaw, Indiana
June 26th – Stars n' Stripes National – Pittsburgh, Pennsylvania
July 3rd – Great Lakes National – Waterford, Michigan
July 10th – Music City National – Nashville, Tennessee
August 14th – Heartland National – Akron, Ohio
September TBA – NBL Grand National – Louisville, Kentucky
06/05 LIVE UCI BMX Supercross World Cup presented by Swatch
Freecaster.tv press release
To kick off the season in style, UCI BMX Supercross presented by Swatch returns to Denmark's capital city, Copenhagen, at their beautiful world-class BMX Supercross track – An amazing permanent facility near the center of Europe's largest festival city. Copenhagen is also well-known for it's passion for cycling and the UCI BMX Supercross has the honour of being one of only six major events featured in Bike City Copenhagen – a showcase series of major cycling events leading up to the 2012 Olympics. USA's Donny Robinson, who won the event last year, will hope for the same result to kick off his quest for a 2nd Supercross title. Freecaster.tv will broadcast the semi-finals and finals LIVE on Sunday May 9th at 14:45 CEST.
LIVE Page: http://freecaster.tv/bmx/1007435/uci-bmx-supercross-world-cup-by-swatch-copenhagen
LIVE Webcast UCI BMX Supercross World Cup presented by Swatch
09 May – Round 1 – Copenhagen Denmark
22 August – Round 2 – Pietermaritzburg South Africa
20 September – Round 3 – Chula Vista USA
10 October – Finals – Roc d'Azur, Fréjus France
06/05 HRVfitness goes Strictly!
HRVfitness press release
After Team HRVfitness awesome performance at the 2009 Australian Titles, Strictly BMX, the biggest name in Australian BMX has jumped on board as one of the team's major sponsors. HRVfitness is pumped to be working with Strictly BMX, not only do they stock all the major brands but their mail order is second to none. www.strictlybmx.com
Go to www.hrvfitness.com  for all your training needs, worlds are just around the corner. Don't get left behind!
Team HRVfitness: Olivier Hoarau, Madison Denholm, Jaden Rice, Tony Harvey.
Sponsors: Intense Bikes, Skin Industries, Strictly BMX, Altegra, BMX Press, Phirebird design co, Kompressorz Bsc.
05/05 Australian Championships highlights
by Shane Jenkins/bmxultra.com
There has been a lot said about the track at Perth, about whether or not it's in a building that's suitable or even if the track is at a standard worthy of a national championship, whether it would even meet the UCI regulations, and whether it was a fair gate for anyone in an outside lane. When it comes down to it everyone had to ride the same track and we have another championships event in the history books (well not literally since very few people in our sport in Australia seem to even care about our sports rich history, but that's another story altogether).
Rather than give you a blow by blow report on the Australian championships, which isn't my job, here's some of the highlights.
The second and third corner made for many highlights, each of the two corners really only had room for one rider, there were many great moves and a whole lot of desperate moves and deliberate take outs. One thing that many Australian riders seem to do when it comes to qualifying for the worlds, or even racing them, is to take each other out of contention. If you thought it was over just wait until Adelaide in July where the heart break for many Australian riders will continue while the internationals sit back and let them kill each other.
After seeing Luke Madill take his first of many elite titles at Brigadoon in 1999 I was hoping to see him once again crowned the Australian Champion. To me he's the ultimate rider's rider, no matter how bad things get for him through injury he keeps bouncing back and keeps getting stronger. I don't know how he could possibly remain so motivated and dedicated to the sport after such a long time.
There were many potential champions in the elite field, Billy Jolliffe looked hungry for it, so did Michael Fenwick who has returned with great form, let's not forget Brian Kirkham who's been giving the class a real shake up over the past few months and Alex Cameron who's always in the mix. Then there's the legend Sean Dwight who just keeps showing up in the Elite men's class and keeps the much younger guys honest. Sean well and truely classifies as an Elite Masters rider but chooses the much more difficult Elite Mens class and holds his own each and every time. He made the semi at the Aussies this year. There are a whole bunch of other guys in that class who are capable but when it came down to it it was Billy Jolliffe who had a sweet run to the first corner and was about to stay out in front with Matt Willoughby in second. Luke Madill was caught up in traffic but blasted through the field to pull into the three spot. Jolliffe was well clear in first and only a mistake would see him beaten but Madill was able to pull Willoughby in the last straight and steal the second place. Matt Willoughby had to settle for second. It was a real changing of the guard though with names like Alex Lloyd, Ashley Pemberton, Luke Londema and Steve Janssen also in the main.
With the way the blocks were set up the Junior Elite mens final was going to be the only race I would see Sam Willoughby in, I had seen bits and pieces of him riding and he seemed to have the track and his competition all sewn up. Same had to start out of the dreaded lane 8 and when it came to the first corner he found himself with a slight lead but railing along the top of the corner until he ran out of dirt and took out some of the spectators while belly sliding along the top of the berm. I'm sure other spectators were as dissapointed not to see him race to the line as I was, but that's BMX racing and Sam is likely to be around for a long time to come. It was a Victorian trio that took advantage of Willoughby's misfortune. Michael Chasteauneuf took first followed by Matt Dunsworth then Josh Callan.
The Junior and senior elite women were combined so it would be interesting to see who would come out on top. Lauren Reynolds and Nicole Callisto would have been the crowd favourites but there was a whole lot of talent packed into that class. In the main Caroline Buchanan got out to an early lead and it looked like Reynolds was going to take it in the second corner but stayed way too low and washed off her speed which allowed Buchanan to pull away. Reynolds got it back together again but fell victim to the last corner. Buchanan took the win, Melissa Mankowski took second and Ziggy Callan in the three spot.
04/05 SINZ Stealth Limited Edition White Alloy Fork
SINZ press release
SINZ is proud to announce the arrival of the Limited Edition White Alloy Stealth Fork, the most technologically advanced Pro Alloy fork for BMX racing. Our Pro R & D team developed and refined the Stealth Fork from the ground up for over a year to make sure we can bring you the best fork in BMX and it has been a huge success with riders placing 2nd and 3rd at the Olympics and the last ABA and NBL #1 Pro are running SINZ Stealth Forks. The Limited Edition White fork is offered in just 1 size: 20" 1 1/8th". This Fork is constructed with a 4130

Chromolly Steer Tube with custom Alloy legs fitted, Cnc'd drop outs, and fork crown.
The Stealth Aluminum Fork weight for the 20" – 32 oz
The Limited Edition White SINZ Stealth Alloy Pro Forks are in stock now and can be found at better bike shops world wide.
For more information on the full line of SINZ Racing Components, please visit www.SINZ-Racing.com.
SINZ has a full product line for riders of an affordable line of high quality BMX race products. SINZ offers products in a wide variety of sizes and colors. SINZ is proud to support the NBL National Series and sponsor Pro Riders Randy Stumpfhauser, Danny Caluag, David Herman, Khalen Young, Donny Robinson, Mike Day, Jill Kintner, Cristian Becerine, Tyler Brown, Jason Rodgers, Derek Betcher, Todd Perry, The Intense BMX/Bawls Guarana Pro Team, The Intense/Phantom/Ontrac Race Team, and many more.
04/05 Jolliffe and Buchanan win Australian Championships
BMX Australia press release
New National BMX Champions were crowned today in action packed finals in Brigadoon in Perth. Canberra's Caroline Buchanan claimed her first elite national BMX Championship win in a spectacular race. Buchanan started strongly however a passing move by Sunbury's Lauren Reynolds changed the lead mid-race. Reynolds came unstuck and crashed allowing Buchanan to take the title. Second was defending champion, Melissa Mankowski from Queensland while Ziggy Callan from Victoria placed third. Young Perth rider, Kirsten Dellar placed fourth and was the first junior woman while fellow WA rider and BMX Olympian, Nicole Callisto, finished seventh. A disappointed Reynolds walked her bike across the finish line with the disappointment showing on her face.
The elite men's race had some action but the lead was secure for Newcastle's Billy Jolliffe as he lead from start to finish. Just behind him was a tussle for podium spots between BMX Olympian, Luke Madill and Adelaide's Matthew Willoughby. Madill made the move on Willoughby in the final straight to claim second, relegating Willoughby to third. For Willoughby it was a satisfactory result after missing out on the making the elite final on Thursday night in the national series round.
For Matthew's younger brother and World Junior Champion, Sam Willoughby, it was a different story. Willoughby's string of bad luck over the championships continued in the Junior Men's final when he crashed over the top of the first berg landing off the course. Willoughby finished in eighth place and the win was taken by Michael Chasteauneuf from Melbourne.
Tomorrow is the National Championships for Cruiser class riders which conclude the championships.
This Championship acts as a qualifying event for riders to make the Australian team to ride at the 2009 BMX World Championships in Adelaide this July.
04/05 Shepparton to host 2010 Australian Championships
BMX Australia press release
BMX Australia and Greater Shepparton City Council are pleased to announce that Shepparton has been chosen to host the 2010 BMX National Championships.
The announcement today coincides with the 2009 BMX National Championships currently underway in Perth. The event has attracted more than 1700 riders from all states of Australia.
The national championship bid was jointly submitted by Greater Shepparton City Council and the Shepparton BMX Club – a mammoth task that had taken more than two years.
Greater Shepparton Mayor, Cr Geoff Dobson said it was exciting to get this event in Shepparton.
"We expect the event will bring around 5000 people to the area during the seven day competition," Cr Dobson said.
"Having this major sporting event come to Shepparton is exciting for the whole region.
"We will be working with our neighbouring councils as a large event like this will book out accommodation venues across many towns."
BMX Australia President, Barry Knight, said, "Our events committee were very conscious of leaving a legacy to the sport of BMX and the proposal to build a state of the art international facility by Greater Shepparton City Council had helped to secure the bid."
Mr Knight also said that Shepparton already had played a big role in developing various cycle sports within Australia.
Council's Manager Major Events, Mark Francis, said this news was also a boost for the local BMX community with the building of a new permanent track.
"The track will be built to world class standards in a similar vein to the Olympic design and once built it will make claim to being the best track in Australia," Mr Francis said.
"Given that the track will be a permanent feature in Shepparton, it will be a great facility for our local and regional entrants to practice on.
"The location for the track has not yet been confirmed, but it is likely to be built to complement existing cycling facilities.
"The track will look very similar to the track seen my millions of people at the 2008 Beijing Olympics.
"It will be approximately 350 metres long, will have four straights and include an amazing eight metre high start ramp.
"It will have both professional and non-professional sections that will allow all classes of competitors to compete within their appropriate skill level.
"Council will also install lighting at the track for night competitions."
The 2010 BMX National Championships will be the first to be held in Victoria since 1998.
The exact date of the championships will be confirmed in the coming weeks.
For more information on the BMX National Championships visit www.bmxaustralia.com.au.
For more information on the Great Shepparton City Council visit www.greatershepparton.com.au.
04/05 Hog's Breath Café National BMX Series ends
BMX Australia press release
The final round of the Hog's Breath Café National BMX Series in Brigadoon late yesterday saw local favourite, Bunbury's Lauren Reynolds, win the junior women's race claiming the overall series.
The 17 year old had won six of the seven rounds in total and was also expecting to do well in her national title race on Saturday. Second was Townsville's Rachel Bracken.
In the elite women, Perth's BMX Olympian, Nicole Callisto was outclassed by Caroline Buchanan from Canberra with Buchanan also taking the overall series.
Adelaide's Brian Kirkham dominated the elite men's racing all afternoon and won convincingly beating BMX Olympian Luke Madill from Sydney who placed second. Kirkham was elated to finally win his first ever national series title. Newcastle's Billy Jolliffe placed third.
Under 16 and local rider, Darren Goodwin was passed by Mackay's Adam Shields on the second berm. Goodwin however takes the series. In the Under 16 women's race another Mackay rider, Melinda McLeod forced her way to the front and claimed the race plus the overall national series.
The biggest disappointment of the night was for World Junior Champion, Sam Willoughby, who unbalanced in the first straight. The Adelaide youngster finished a disappointing eighth place allowing fellow Adelaide rider, Anthony Dean, to claim the win and the overall series.
Sam's brother, Matthew Willoughby, also had a disappointing night after narrowly missing out on making the elite final.
Elite riders now prepare for their prestigious National Championships race which will be held on Saturday.
Racing continues in the BMX National Championships for the next three days with the official opening held this morning. The location for the 2010 BMX National Championships was made today with Shepparton in Victoria announced as hosts for the event.
Following this weekend's racing several of the elite riders will head overseas to race in the first round of the World Cup Supercross in Denmark.
Australia is now gearing up to host the 2009 UCI World BMX Championships in Adelaide this July.
Posted in: Archive