BMX racing news June 2009
30/06 Morphine Industries signs 19-27X, Olijuwon Davis
Morphine Industries press release
Morphine Industries is stoked to have Olijuwon ?Nugget? Davis as it's newest member to the Factory Team.  O.D. has been on fire this season, racking up 3 wins and 4 second place finishes in his last eight races!   Not only does he tear it up on the track but he's one of BMX's good guys…always helping the little groms and always has a smile on his face.
With his impressive finishes and off track personality, we knew Olijuwon would be a perfect fit on the team and prove to be a great representative for Morphine Industries and our co-sponsors.
Look for O.D. to debut the Morphine colors at the ABA's Land O' Lakes nationals in July, then join the entire factory team in North Carolina at the East Coast Nationals in August.
Morphine Industries would like to thank its Factory Team Sponsors; Staats Motocross Bicycles (www.staatsbikes.com), Alienation (www.alienationbmx.com), Fly Racing (www.flyracingbmx.com), Lost Energy Drink (www.lostenterprises.com), Tioga (www.tiogausa.com/bmx), Sinz Racing (www.sinz-racing.com), Rennen (www.rennendesigngroup.com)
29/06 Skizo (Sifiso) home and talking
by Mark Squire
Wednesday Update
Latest with Sifiso, he cant speak but I just got a message from him on skype saying Im home and over whelmed by all the messages in my inbox and face book please thank everyone for me.
This is what the doc has said about the surgery, "we had to cut an opening like two and half finger wide in his throat to put a spacer between one of the vertebrae. We also had to put a titanium plate with two screws in and had to remove some ligaments that broke. The work was done around the C3 & C4. In six weeks time we will have to see on his improvement and make a decision on a second operation."
Sifiso typed on skype, "im still pretty drugged up i feeling like falling asleep every 5 min but and looking forward to the recovery process. With the help of Marie, Anders and his wonderful family and Andre who have been nothing but family to me while I have been here in Norway and Europe."
he later typed, "its all for a reason but some times it just makes us appreciate the talent you have and know that it can be all over in a split second, but I will be back."
Comment from the Petter the Norwegian National Coach, "It all happened so fast, a little bit of unbalance, and the crash was a fact. Im sure Sifiso is in the best of hands here in Norway, and Anders and his family is doing a fantastic job on following up at the hospital. We are all very proud to have Sifiso here as our training and travel mate. We all pray for him, and we are sure he will be back stronger than ever ! I'm glad we did all the right things when the crash happened, and got the ambulance as quick as we could. I know we all did our very best in the situation, and we hope this will help in the recovery phase. Please bring our regards to Sifisos family, from all around the Norwegian national team."
Thursday Update
Im not sure if it has something to do with a mom's surprise visit but Skizo has improved 200% from yesterday. Thanks to Margot and her team for sending Thoko over, he couldn't believe it when she walked through the door.
The swelling has gone down in his throat and he has been speaking today and is in very high spirits. Our champ is a lot more mobile and can walk slowly to go to the toilet and shower, he just needs someone close by in case he falls over.
Im not surprised on the improvement with all the prayers, well wishes and the love and support he has from so many people around him.
Skizo said to me today, "Last year we had a record year at Worlds with the amount of World Numbers South Africa brought home. Without me being there this year i hope the guys that got World numbers will go one better on them this year, and with me sitting out we need some of the other guys to help with extra World numbers so the tally doesnt drop. Thanks again to everyone for their support and we will see you at home soon."
The updates wont be daily on Skizo anymore but weekly from now on, please go to www.skizo105.com and follow him daily from his website as he updates from Twitter (@sifisonhlapo) quite a bit.
Thanks for all the support once again and please feel free to phone anytime regarding information on Skizo.
29/06 Glenn Suridge Training clinic at Warrnambool
Glenn Suridge Training press release
Glenn Suridge Training will be holding a Coaching Clinic at the warrnambool BMX Club on Saturday the 11 July starting at 2.30pm. Coaches in attendance will be Glenn Suridge and Matt Vickers. This coaching clinic is open to everyone and the cost will be $15.00 per rider. For further information please contact Matt Vickers on 0401 966 130; email: mattv@netspace.net.au or Glenn Suridge on 0416927474; email glensuridge@optusnet.com.au
26/06 Elite Cycle Imports tradeshow
by bmxultra.com
Elite Cycle Imports (ECI) had another tradeshow on Wednesday night. I'm sure they are more frequent than annual, but I'm not complaining, those guys import some of the best racing products into the country. Brands like THE, Kuwahara, Alienation, S&M, Answer, Sinz and Profile were out on display. Only the tip of the iceberg when it comes to their full range of race products. They didn't have any race frames on display but they still had them and many other race products on the shelves spread over the two factory warehouses.
What was new? Well it appears that ECI now have a large supply of Answer Products since taking over distribution of Answer earlier this year. Sinz also have increased their product range with more colour. I'm sure we will see a whole lot more out of ECI over the next few months with the world championships coming up as well as interbike. Rumour is there is a prototype One Bicycles frame that will be on display at the worlds in Adelaide. Only time will tell what else those guys will reveal for us.
We grabbed some photos for you to check out (click for full size).
25/06 Redline sends Josh Callan to the States.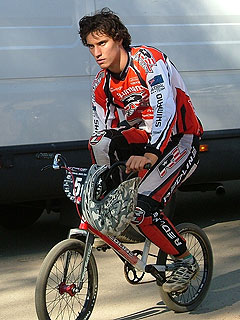 by Damien Callan
Josh Callan will spend a month racing the the USA in the lead up to the 2009 world titles in Adelaide. Josh will race 3 ABA rounds including Rockford, Delaware and Roseville and may race 1 day of South Parks 'Stars and Strips' NBL meeting. He will be travelling around in the Redline rig with Jason Carne$ also helping to do coaching clinics with Jason and Denzel Stein.
He has already competed in the first state nationals where he made the final in junior men but unfortunately crashed in the main finishing 6th. You can watch all the racing action live on www.go211.com. Josh is really looking forward to making the step up to race some of the fastest guys in the world in AA, he sees it as a learning curve on the road to hopefully fulfilling his dream of qualifying and medalling at the 2012 Olympics.
Josh would like to give a hugh thanks to Bill at BMX international and gOrk at SBS for making this happen. He would also like to thank his other sponsors, Profile, THE, Bombshell and FUNN.
25/06 Morphine Industries Hits Rockford For the ABA Midwest Nationals
Morphine Industries press release
After laying down 23+ hours on the road, we rolled into Rockford, IL on Wednesday night to race, represent and have a great weekend at one of the best races in BMX.
The end of the week brought some nasty weather with winds gusting over 70 miles an hour and rain that flooded the track and infield with over 2 feet of water.  However, the Rockford crew got the track up and running for Saturday.
A Pro-Tyler Faoro, started the weekend stepping up to Elite men in UCI.  Holding his own in stacked motos, he missed the main event.  Sunday racing went back to ABA classes and Tyler soared to the main.  Battling with Josh Meyers into turn 2, Josh slide out and took Tyler and the whole main event gate with him to the asphalt.  Unfortunately being in front meant being at the bottom of the pile and a 5th place finish.
A Pro-Jason LaRev, took Saturday off and showed up Sunday with a mission for the main.  He transferred to main with ease and finished with a 3rd place podium spot.  Congrats to JRev for 3 for 3 podiums in his last three national races.  Yeah Boy!
28-35/31-35Cr-Doran Bradshaw, had to deal with some of the biggest classes of the weekend with Quarters on 20".  Saturday brought about some bar banging and turn pimping on both bikes.  He got slammed in turn 1 in his semi to miss the transfer to the main, but came back on his cruiser to battle with "Pedro" for the win.  Making a text book move in turn 3 to take the lead but unable to hold on finishing with a deuce.  Sunday brought about the same exciting racing for Doran and the same results.
41+-Jonathan Reeves, battled with a group of locals for the wins on both days.  Although he transferring out in the first moto both days,  Jonathan settled for 4ths in both the mains.
12X/12Cr-Noah Reeves, killed it all weekend in both classes, banging bars with Alden Volle and Walker Finch.  When the dust cleared Noah settled for deuces on Cruiser and tres on 20 for both days.
10X-Richie Dey, wowed the crowd as usual.  Unfortunately getting sick over the weekend hampered his normally sky high antics.  Richie finished with a 5th and 4th on the weekend in class and 2nd and 3rd in Open.
We rolled into town with 6 riders and we left with 7 riders.  Check out the next press release to fill in the blanks.
Thanks to everyone in Rockford for a great race.  Thanks BMX Billy Maule for hanging with us and being security over the weekend – you the man.
The Morphine Rig is going to chill in south Florida for a bit while a few of us get ready for Adelaide.  However, we have sent our A GAME to the Midwest , Tyler Faoro.  He will be hitting South Park, Pontiac, Nashville, Trumbull, Prunedale and who knows where else over the next few weeks/months – Beware.
Morphine Industries would like to thank its Factory Team Sponsors; Staats Motocross Bicycles (www.staatsbikes.com), Alienation (www.alienationbmx.com), Fly Racing (www.flyracingbmx.com), Lost Energy Drink (www.lostenterprises.com), Tioga (www.tiogausa.com/bmx), Sinz Racing (www.sinz-racing.com), Rennen (www.rennendesigngroup.com)
25/06 NBL Bring-A-Buddy Program on Track for a Record Recruiting Year
NBL press release
– Presque Isle BMX, PA the top recruiting track / Brice Richter of Cleves BMX, OH the top recruiter for April/May –
NBL membership continues grow and the Bring-A-Buddy Program is attracting hundreds of new members each month. With more than $40,000 in prizes to be won, NBL tracks and members have been actively promoting the program and there are many new names, and NBL tracks, at the top of the point standings.  Bring-A-Buddy played a key role in boosting the sport's profile during the Olympic year and the trend continues well into 2009 – That's good news for the sport and ultimately, for local racing programs around the country.
Brice Richter of Cleves BMX, Ohio is the top recruiter for April/May with 1,600 points and if he continues on this pace, he could earn his way to the top of the rewards chart – And a chance to choose between a Supercross Bolt LT frame or an Intense Podium frame, each worth 3,800 pts. Kyle Crawford of CNY BMX in New York is close behind with 1,400 and Jacob Culligan of G. Mason Burdette BMX in Illinois is third with 1,300.
NBL tracks are also a key part of the program and the top recruiting tracks for each reward period win sponsor products. Leading the charge this year is Presque Isle BMX from Erie, PA in the Northeast region who came out on top with the most new 'Buddies' from April 15 to May 31. The top recruiting track from each region receives a free Supercross complete bike and recognition in BMX Today Magazine for their efforts. Presque Isle BMX is in good company – two of the top recruiting tracks from the other three regions are past regional Bring-A-Buddy champions. "We are excited to see the program growing and it's promising to see a few new names in the standings" said Ken Masters, NBL President. "We are proud of their ongoing commitment to grow the sport at the grass roots level". Here are the regional winners:
Top Recruiting Tracks by Region for April/May
Visit the NBL website at www.nbl.org for more details and click on the Bring A Buddy banner to view full standings and the rewards catalog.
The 2009 NBL Bring-A-Buddy Program is proudly sponsored by Intense BMX (www.intensebmx.com), Supercross BMX (www.supercrossbmx.com), Kenda Tires (www.kendausa.com), UGP (www.undergroundproducts.com) Sinz Racing (www.sinz-racing.com), THE Industries (www.bmxthe.com), and Camp Woodward (www.campwoodward.com) in association with BMXWORLD, BMX Plus! and BMX Today magazines.
About NBL Bring-A-Buddy
The program is simple and offers an exciting, points-driven, incentive platform that rewards NBL members for their efforts. In the April and May issues of BMX Today magazine, members received a full sheet of 'Buddy' cards and were tasked to distribute them to any 'buddies' who might be interested in trying BMX for the first time. When any 'Buddy' redeems a card at a local NBL BMX track, both the recruiter and the 'Buddy' win a free 'limited-edition' NBL sticker kit. Recruiters receive 100 points for every 'Buddy' who redeems a card and when the 'Buddy' joins as a full NBL member, the recruiter pockets an additional 300 bonus points. To further support super-active recruiters, additional cards and supplies are available at local NBL tracks.
This year, recruiters can even redeem their points for a limited number of custom, autographed pro jerseys from riders like Randy Stumpfhauser, Stephanie Barragan, Maris Strombergs, Kris Fox and other top riders. A new 'NBL Grands Package' and 'UGP Combo pack' have also been added to the mix.
25/06 BMXVictoria seeks coach
BMX Victoria press release
BMX Victoria invites potential applicants to apply for the position of Victorian State Coach.
Applications must be in writing initially, to be followed by formal interview.
The criteria for the successful applicant will include the following:
An applicant will need a minimum qualification of a BMXA Level 1 Coaching Certificate.
They will report to the State Coaching Director, and will be responsible for the day to day coaching of the State Team and Junior Development Squad.
They will formulate and implement a coaching program for the State Team and Junior Development Squad.
They will travel with the State Team to major meetings such as National Titles, and others where the squad is competing as the State Team. They will provide support and assistance for Team
members at such meetings.
The State Coach will bring together a coaching team including, for example, an Assistant State
Coach to look after the Junior Development Squad.
The State Coach will be part of the State Team and Junior Development Squad selection process.
(The selection of the teams will subject to ratification by the Board of BMXV).
It is planned that the State Team will run coaching clinics for BMXV members. The State Coach
will be expected to coordinate Coaching Clinics throughout the State and accompany the State
Team when they are conducting Coaching clinics.
The position of State Coach is a remunerated one. The appointment will be for 2 years, and it is
intended that the position will commence after the completion of the World Titles.
Written applications must be received by the 27th July. They are to be sent to:
BMX VICTORIA
'State Coach'
PO Box 92
GLEN HUNTLY 3163
Interviews will be conducted on August 8th around 2pm at a venue to be announced.
Any enquiries about the Victorian State Coach position can be made by phoning 0448 400 423 or
email to bmxv@optusnet.com.au
24/06 Sifiso Positive Update
by Mark Squire
Thanks for all the mail and wishes Sifiso has been receiving. He came out of surgery just before 1am this morning and was speaking to the doctor right after he woke up. Skizo was complaining about alot of pain which the doctor has said is normal for this type of surgery. He will be in hospital for another two days and then go to Anders house to start recovery.
The doctor after surgery has said he will make full recovery. So just waiting to see how long before he can come home etc….
BIG thank you to Anders and his family for the care they are taking of Skizo while he is there.
Im sure it wont be long before we will see a chirpy update from Skizo on Twitter.
24/06 ABA gears up for 2009 Canadian National Series
by ABA Staff- Gilbert, Arizona
In just a few short days, the ABA Canadian National Staff will be on their way to beautiful Vernon, British Columbia for the first round of the 2009 ABA Canadian National Series.  Vernon BMX will host the Rattler Nationals, June 26-28th.
Riders will be excited to know that Vernon BMX has stepped up to add $4000 to the Pro Purse for the weekend.  At each event ABA will offer both Men & Women's Pro classes. It will be a great year of exciting racing to see who will hoist the cups and be crowned champions at the 2009 Canadian Grands.
For race schedule and pre-registration info:  www.ababmx.com
For directions and track info:  www.vernonbmx.com
2009 ABA Canadian National Series Schedule
| Date | Race | Location | Venue |
| --- | --- | --- | --- |
| JUN 26-28 | Rattler Nationals | Vernon, BC | Vernon BMX |
| July 24-26 | Black Gold Nationals | Cumberland, BC | Coal Hills BMX |
| AUG 28-30 | Boarderline Nationals | Langley, BC | Langley BMX |
| OCT 10 | CANADIAN NATIONAL EVENT IV | CHILLIWACK, BC | HERITAGE PARK |
| OCT 11 | CANADIAN GRAND NATIONALS | CHILLIWACK, BC | HERITAGE PARK |
The 2009 ABA Canadian Nationals Series is brought to you by:
Fly Racing-(www.flyracingbmx.com)
Intense BMX- (www.intensebmx.com)
Tangent- (www.tangentproducts.com)
Without their help, we couldn't make the 2009 ABA Canadian Nationals Series such a huge success
23/06 Prayers for Sifiso
by Mark Squire
Hitting a training session hard today in Norway Sifiso had some bad luck. At first we thought it would be a repeat of last year where he knocked himself out and came back to a Bronze at Worlds. This time it is a little more serious.
Sifiso was out training with good friend Anders Gronsund in Norway tonight and what started as another day in the office has ended badly. Down the first straight hitting the second jump which is like a table top Sifiso got bounced off and landed on his head. The jaw piece of the fox helmet broke off thats how hard he crashed which left him unconscious.
Sifiso has been rushed to hospital and they have found the following, sorry I just got off the phone to a Norwegian doctor and this is what I could make out….he has fractured his 3rd & 4th cervical vertebrae and done alot of damage to ligaments, they will be operating through the front of his neck. They have not picked up nerve damage yet so no signs of paralysis now. Once the first op is done he will be in a brace for 6 weeks then they will decide what they going to do with the damage ligaments.
Thats all I have for everyone now will keep you posted, will be updating his website www.skizo105.com with the latest on how he is doing.
If you would like to send him a mail you can do so to Sifiso@sifisonhlapo.com
22/06 HRVfitness Rider Development program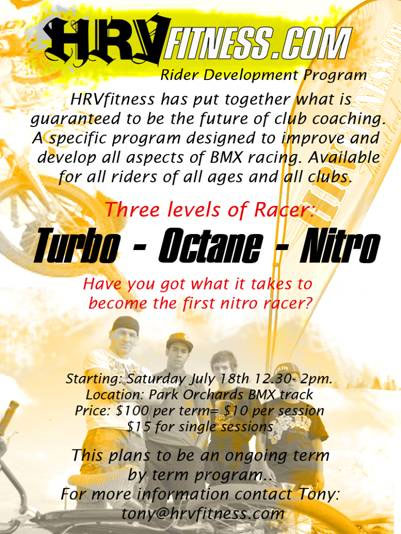 HRVFitness.com press release
Hey guys, it has finally arrived, HRVfitness Rider Development Program is here.
HRVfitness has teamed up with Park Orchards BMX club to take Victorian riders to the next level. This program is structured to run for each school term, riders will sign up at the start and will be locked in for the duration to ensure riders get the results they are after. Of course other riders who missed the sign up date or who wish to participate on a casual basses can also join in at an additional rate.
From the very start riders will be placed into groups depending on their abilities and skills, and will have to complete a check list of skills to get to the next level. Once you have graduated to the next group you will receive a certificate from HRVfitness congratulating and welcoming you to the next level.
Wow! A structured training seminar every week guaranteed to teach you everything you need to know about BMX and a check list of skills you need to learn before you can elevate to the next level. Doesn't that sound like a fantastic idea?
Start date: Saturday July 18th, 12.30-2pm
Price:$100 = 10 sessions.
Register now! tony@hrvfitness.com
This is the next level in BMX coaching, so get in now and don't get left behind.
22/06 Don Ash Bike Hub race specials
Don Ash Bike Hub press release
Don Ash Bike Hub is located in Shepparton, Victoria. Check out our website http://donash.bikehub.com.au and view our online store, or call on 03 5821 3378. We usually have a team member at a race meeting most weekends, so we can bring any product along for you.
We have two 2008 Haro bikes in stock that are on special.

A Junior, black in colour, RRP $735 special $450.
The other is a Expert, black in colour, RRP $735, special $450. Both bikes include a Haro Padset.

Troy Lee Designs GP Pants, red/white/black in colour, size 34. RRP $199, special $139.
Full Face Helmets.

Bell Drop – green/white, Small & Medium. RRP $350, special $169
Giro Remedy – blue, Large. RRP $370, special $180

Giro Remedy – Black/Gold, Medium & Large. RRP $370, special $199
New in stock

Lizard Skins Pads, Plates & Lock on Grips
Maxxis DTH Tyres
Intense Micro Knobbys
Fox & Troy Lee Gloves.

Coming soon

a Shipment of 2010 Haro Race bikes due in July/August. All models will be available.

We also carry Norco, Haro, Mongoose, Redline, Shimano, Fox, Troy Lee Designs, Bell, Giro, Profile, Chris King and much more.
22/06 World Championships heads into the cycling state.
by Bike Media
Thousands of BMX riders from all corners of the globe are making their final efforts to qualify for the 2009 World Championships in Adelaide between 23-­26 July.
This World Championships is the first since the sport made his impressive debut at the 2008 Beijing Olympic Games. Back on the dirt track will be many of the medallists and finalists hoping to claim the prestigious World number one plate.
Top Australian contenders will be Beijing Olympians Nicole Callisto (WA) and Luke Madill (NSW). Even though the famous Kamakazi (QLD) has retired it has been rumoured that he could make a guest appearance as may Tanya Bailey (WA). Jared Graves (QLD) has switched back to his mountain biking career.
Another crowd favourite will be current World Junior Champion, Sam Willoughby (SA). Willoughby will be out to break record books by becoming the first BMX junior to reclaim his title for a second time.
Australia has previously held four World Championships however this one has the extra bit of magnetism following the Olympic Games and just three years until the London 2012 Olympics.
Over the four days, 1500 spectators will witness some of the best racing ever seen in Australia. A total of 2000 riders from forty nations are expected to compete for a total of 52 different world titles.
The warm up event in Adelaide was the World Cup Supercross also held indoors at the showground last April.
Local Adelaide fans will get to cheer their heroes such as Junior World Champion, Sam Willoughby or his brother Matthew. Also hoping to give their fan clubs something to cheer about will be Brian Kirkham, Anthony Dean and former World Junior Champion, Michael Fenwick Australia's final team has just been announced (SEE BELOW) with the international teams to be confirmed on the 30 June.
Tickets go on sale at the Adelaide Showground ticket office on Tuesday 21 July.
The official opening will be on Saturday 25th July along with loads of entertainment and action.
What: 2009 UCI BMX World Championships
When: Racing between 23 ­ 26 July2009
Where: Jubilee Pavilion, Adelaide Showground, Adelaide, South Australia
Supported by: South Australia Tourist Commission
Website: www.bmxworlds2009.com
For the Australian championships class team click on
www.bmxaustralia.com.au/site/cycling/bmx/downloads/championship%2020.pdf
For other Australian team riders go to www.bmxaustralia.com.au
22/06 UK wins UCI BMX World Championships 2012
by Bike Media
BIRMINGHAM TO HOST THE COMPETITION
British Cycling is pleased to announce that Birmingham will host the UCI BMX World Championships in 2012, bringing the most prestigious annual BMX competition to the UK just ahead of the London 2012 Olympic and Paralympic Games.
The UCI BMX World Championships will be held at the National Indoor Arena on 24 – 27 May, one of the busiest, large scale indoor sporting and entertainment venues in the UK, offering BMX enthusiasts the last chance to see the world's best riders in action before they compete in the Olympics in August.
Birmingham has been awarded the competition thanks to its central location, strong infrastructure and first class sport facilities, having fought off stiff competition from Copenhagen (Denmark), Auckland (New Zealand) and Rotterdam (Holland).
The bid to host the event in the UK was also successful due to the combined commitment of British Cycling and Birmingham City Council to use the competition to create a lasting legacy for the BMX discipline in Birmingham and nationwide, inspiring participation in the sport.
Ian Drake, CEO at British Cycling, commented: "This is a fantastic day for the BMX discipline and we are delighted with UCI's decision. Holding the UCI BMX World Championships on UK soil shows how committed we are to growing the BMX discipline in this country. The event will present a great opportunity for people to engage with BMX on their doorstep and will prompt a significant investment into the discipline through the development of world-class facilities. Ultimately, it's about encouraging youngsters to get on their bike and creating a lasting legacy. I am confident the continued success of our athletes will help us do just that by inspiring new generations of BMX riders for many years to come."
UCI President, Pat McQuaid, commented: "We are delighted that the UCI BMX World Championships 2012 has been awarded to Birmingham. Great Britain is one of the leaders in this young spectacular discipline and we are sure that this event, staged in the heart of UK's largest city, will build on this trend. I am confident that, with the expertise and the enthusiasm of British Cycling and all other partners involved in this great project, we will offer a fantastic edition of the Championships to the worldwide BMX community. With the London 2012 Olympic and Paralympic Games taking place just several months later, the Championships will be held in a truly magic atmosphere Well done all and thank you Birmingham!"
Councillor Martin Mullaney, Cabinet Member for Leisure, Sport and Culture, said: "This is fantastic news for the city, we are looking forward to staging such a prestigious event in Birmingham.  Our track record of hosting major events is second to none and we expect this to be another hugely successful event just three months prior to the 2012 London Olympics. The lasting legacy of the Birmingham BMX track being built in Perry Park means that the people of Birmingham will not only get to watch the world's best BMX riders competing in the city but will also have a first class venue to take part in the sport on as well."
UK Sport's Senior Events Consultant, Simon Morton, said: "We are delighted that the UK has won the right to host the UCI BMX World Championships in 2012. This is an important competition in our wider programme of world-class events, which is designed to help prepare the UK for staging a home Olympic and Paralympic Games in 2012. Through our National Lottery funded World Class Events Programme, we have awarded a grant of up to £300,000 towards the staging costs of this event. This is an important qualification event for 2012 which will bring significant benefits to British athletes, in addition to leaving a lasting legacy of permanent BMX facilities."
British Cycling, Birmingham City Council and UK Sport are currently awaiting the result of their bid to host a round of the UEC European BMX Championships in 2011, which would provide a test event for the UCI BMX World Championships in 2012 and create additional opportunities to put BMX firmly on the UK map. For more information please visit www.britishcycling.org.uk
19/06 HRVfitness.com updated
HRVfitness.com press release
Hey guys check out the new and improved www.hrvfitness.com. The website has had a face lift with a few new extra bits. We now have a News section which will keep you up to date with the latest gossip and upcoming HRVfitness activities. We also now have a forum, great place for trading training ideas and finding out all those tips and trick to take your racing to the next level.
www.hrvfitness.com the number one place for all your training needs.
Now available "12 week Indoor Winter Training Programs" only $99.
Supported by: Intense bikes, Altegra, Skin, Strictly BMX, Phirebird design co, BMXPress (Australia's Number 1 Race Magazine),BSC.
19/06 Whittier Narrows BMX reopens
Whittier Narrows BMX press release
We just reopened the track at Whittier Narrows (South El Monte, CA). We are an ABA track, open for practice Tuesday and Thursday nights from 6:00 pm to 9:00 pm. We race on Saturday afternoon. Track opens at 12:00 pm sign ups 1:30 to 2:30 racing ASAP. Check website contact information.
18/06 NBL Future Stars Clinic – Stars and Stripes National
NBL press release
Are you ready for speed? South Park BMX, located in South Park, Pennsylvania, just south of Pittsburgh, is playing host to the annual NBL Stars and Stripes Nationals. The Stars and Stripes Nationals will feature more than just racing and big air. On Friday, the NBL will host a Pre-National clinic with NBL head instructor Justin Travis, Former UCI Supercross Champion Derek Betcher and your current UCI World number two rider Steven Cisar. Derek and Steven both ride for the Haro / Rockstar team and are two of the most stylish riders in the Elite class today. Derek is known for his first straights and Steven for his fearless 'motocross' style. These two riders are sure to be able to help you get down the first straight and handle this famous track with speed and grace.
The Pre-National clinic will help riders develop their current skills so they can achieve the best possible results for the weekend. This is a great chance for extra track tips on one of the NBL's most famous BMX tracks.
The clinic will focus on first straights, cornering and passing, manualing, pumping, jumping, mental readiness and if you're up to it, the famous 'Pro' jump.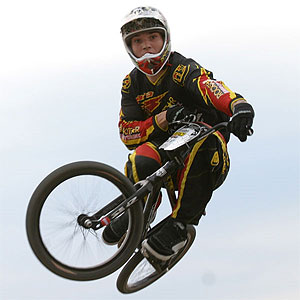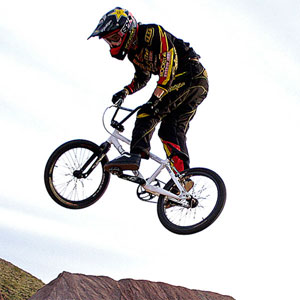 Along with the Clinic riders will receive a goody bag full of values including discounts on/from:
$5 off your next Future Stars Clinic
$50 off a week at the Ohio Dreams Action Sports camp
5 Bike bucks from J&R Bicycles
Stickers and swag from our sponsors!
Over a $60 Value!
Date:
Friday, June 26th
Times:
11:00 – 11:30am: Registration and warm-up
11:30 – 1:45pm: Clinic
1:45 – 2:00pm: Autograph and pictures with Derek and Steven
Cost:
$30 – Includes professional instruction and goodie bag from sponsors.
The NBL Stars and Stripes Nationals are proudly sponsored by BAWLS Guarana (www.bawls.com), Intense BMX (www.intensebmx.com), Kenda Tires (www.kendausa.com), UGP (www.undergroundproducts.com), Sinz Racing (www.sinz-racing.com), THE Industries (www.bmxthe.com) and Hotshoppe Designs (www.hotshoppedesign.com) in association with GO211 (www.go211.com) and Camp Woodward (www.campwoodward.com)
17/06 ABA First State Nationals WEBCAST REPLAY
Go211.com press release
LIVE WEBCAST TODAY AND TOMORROW @ 3:00 pm (est)
(Aussie readers 3:00 pm US est is 5:00 am Australian Eastern Standard time)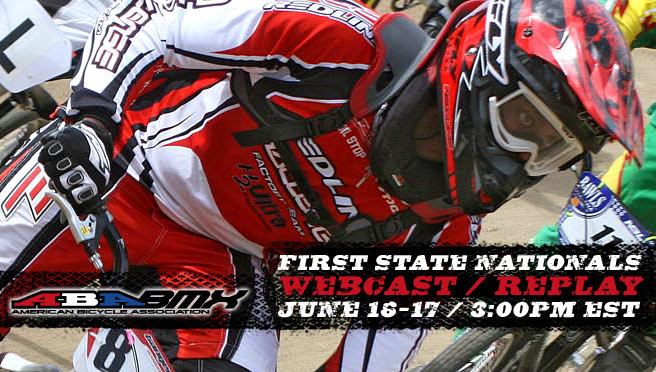 Don't miss the replay of the ABA First State Nationals Today and Wednesday at 3:00 pm (est). The replay will have all the racing from Day 1 and Day 2. So watch all the Motos, Semis and Finals from start to finish.
Last Saturday's UCI racing was some of the best this year. Elite Men winner Kyle Bennet has turned up the heat on the rest of the competition. Go211 team rider Donny Robinson took a hard fall in the finals, which you'll definitely want to check out. Elite Women racing had a big surprise with rookie Alaina Henderson giving the ABA champ Dominique Daniels all she could handle in the last corner.
Watch all the races from the ABA First State Nationals Today and Tomorrow.
www.go211.com/u/firststatenationals2009
16/06 Results: Warragul Open
by bmxultra.com
We have the full results from the Warragul Open in our race calendar. Click here to check them out.
16/06 USA World Championships Team Update
by Brian Fell –
USAC Challenge Team Manager
Hello Everyone!
Many questions are being asked from riders attending this years World Championships in Adalaide, Australia. Riders and parents should know that we have everything you need to know posted on the USAC BMX home page or you can just click the following link: https://www.usacycling.org/news/user/story.php?id=4080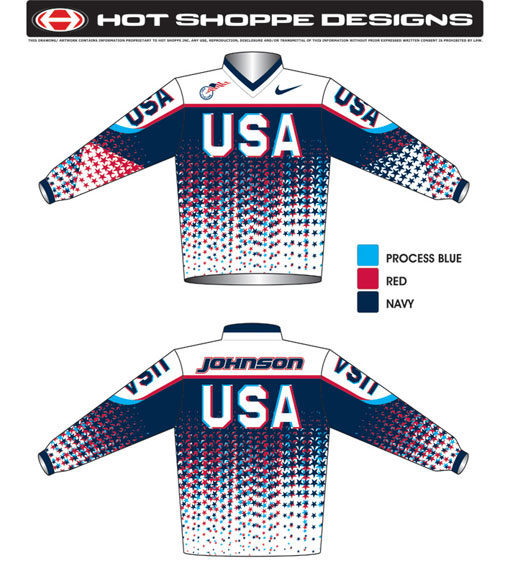 The most common question right now concerns the TravMed Insurance. This is a MUST have insurance that you need to have to participate in this World Championship event. The cost is minimal at $3.00 per day. Please go to this information page to read the explanation for this insurance. Greg Cross from the USAC has posted a letter explaining…
Re: TravMed Insurance Explaination
I know there has been some confusion regarding the forms and insurance requirements for the 2009 BMX World Championships in Adelaide, Australia. I would like to explain in greater detail why USA Cycling is requiring all athletes competing at the Worlds to purchase TravMed Abroad insurance.
The TravMed Abroad insurance is mandatory to ensure a minimal level of coverage for all athletes traveling and racing abroad under the organization of USA Cycling. The policy may fill gaps in an athlete's personal insurance coverage and also covers that individual during competition and or racing (something many other insurance policies exclude.) Additionally, some hospitals require up-front payment of medical expenses for non-residents and visitors. When possible, TravMed Abroad protects the traveler by making direct payments to physicians, hospitals, and the organization handling evacuations. Requiring the purchase of TravMed Abroad is the only way USA Cycling can ensure that an athlete has a certain level of coverage during international competition and it provides excellent benefits with minimal cost.
TravMed Abroad insurance is not purchased through USA Cycling but rather through a company called MEDEX that specializes in worldwide insurance products. They market a range of insurance products but have specially designed one for USA Cycling Athletes that covers accidents that occur during international competition as well as general sickness and injury. A description of the plan created for USA Cycling can be found by clicking here.
In order to get this unique plan, you must call 1-800-732-5309 and specifically mention that you are a USA Cycling BMX Athlete. The coverage is provided at a discounted rate of $3 a day and must begin the day you depart on the trip and end the day you return home. It must cover the entire trip and not just racing days.
Once an athlete has purchased the insurance coverage by calling 1-800-732-5309 and mentioning USA Cycling, MEDEX will email an insurance card to that athlete. Please print that card as proof of insurance and include a copy of it with the forms sent to USA Cycling.
Without TravMed Abroad proof of insurance and the other required USA Cycling forms, you may not be able to compete at the 2009 BMX World Championships. All forms are due by June 20th, 2009 and should be mailed to:
Gregory Cross – BMX Worlds
210 USA Cycling Point, Suite 100
Colorado Springs, CO 80919
If you have additional questions on TravMed Abroad or anything else, feel free to contact me at 719-434-4232 or gcross@usacycling.org.
Sincerely,
Gregory Cross
Director of Logistics and Operations
In addition, the the "Official Team USA Jersey" has been released. Here is what it looks like!
Any other questions please email myself at brianfell@bellsouth.net. We are looking forward to another exciting year at this years World Championships!
Thank you!
15/06 Photos: Warragul Open (Flats n Flannos)
by bmxultra.com
Racing at Warragul's old school track is about as much fun as you can have on a BMX bike, I say it should be world heritage listed, and yes I am serious. Anyway, at least we have a whole bunch of photos from pretty much every major race meeting they have fun down there in the past 5 or so years. Click here to check out the photos from yesterday. Oh, and thanks to Josh Isaac for taking some of the photos for us.
12/06 GREG HILL Speed Seminars BMX training clinics
Flow Distribution press release
Pro Instructor – Randy Stumpfhauser, current USA NBL National Elite Champion
Price includes a goodies bag with a commemorative T-Shirts
– Gate starts
– Jumping
– Turns & Passing
– Fitness Training
– Mental Prep
WHEN: MONDAY 20th JULY
WHERE: THE COVE BMX TRACK. ADELAIDE. AUSTRALIA
PRICE: $95.00
3 X2 HOUR SESSIONS TO CHOOSE FROM. MAX 20 riders per session.
Session 1  –  9am
Session 2  –  11.30am
Session 3  –  2pm
TRAINERS
GHP'S RANDY STUMPFHAUSER
ASSIST TRAINERS:
THE FLOW DISTRIBUTION TEAM (DANIEL JOHNSTONE AND TIM WARD)
ALL BOOKINGS TO : FLOW DISTRIBUTION – PH 02 4384 4128
ACCOUNTS@FLOWDIST.COM
ALL LEVELS:NOVICE-EXPERT-PRO
SPONSORED BY:
GHP – GREG HILL PRODUCTS & BMXPRESS MAGAZING
11/06 World Championships page updated
by bmxultra.com
Since things are quiet on the news front we have taken some time to update our worlds page to provide some information to travellers to Adelaide, offering an independant rider's perspective. The type of information you will find on the page are:
Links to information about Adelaide and the World championships
Track and Venue information
Other places to ride
A link to the Down Under Open event being held the weekend before the championships
Australian Wildlife and links to places to see them
We plan to continue to add to the page, please let us know if there is any specific information you are after and we'll try to add that too. Click here to check it out.
10/06 Warragul this Sunday
by bmxultra.com
Take a journey into BMX past this Sunday at the infamous Warragul BMX Track. A 6 man manual start gate on a flat hill, a track with short straights and very few jumps. Doesn't sound like fun? That's how BMX used to be back in the day, when BMX racing was at it's peak, and it still produces an atmosphere unmatched by any other track in the state (or possibly in Australia) today.
The weather is quite likely to be a little wet and maybe even a little cold but that never dampens the enthusiasm of the riders who regularly make the pilgrimage to Victoria's own BMX time capsule. Even if you are preparing for the world championships where the playing field is totally different do yourself a favour and have some fun with your bike before things get serious.
Download the entry form from our race calendar for more information.
10/06 BMX Jam to fund a BMX park
Psykopath Industries press release
Throw those tricks you trick and get paid $20 per trick…
HELP! BMX JAM at 5pm @ Martin Luther King Park On MLK Blvd and Center St in Berkeley. Meeting @ 7pm North Berkeley Senior Center 1901 Hearst Ave Berkeley Ca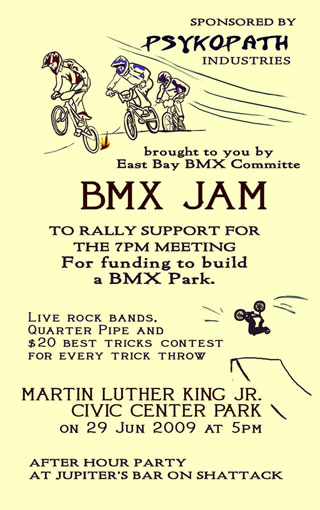 09/06 Morphine Industries releases the Thumbsucker mini stem
Morphine Industries press release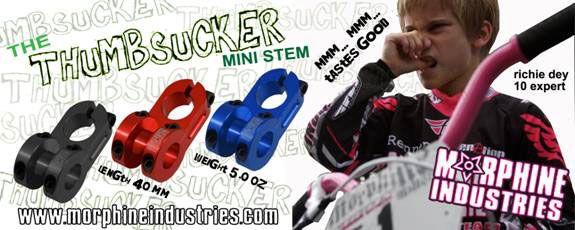 Made with the top GROM racers in mind. The Thumbsucker mini stem design minimizes weight and maximizes performance. Guaranteed to give you the same security and comfort and tastes twice as better… and we know where these have been.
Top load with 2 piece top plate
CNC'd from 6061 T6 heat-treated aluminum
Made for 1" steer tube
Standard 5/16-18 bolts for stem body
Standard 1/4-18 bolts for top plate
Rider Weight Limit: 100 lbs
Reach: 40mm
Weight: 5.0 oz
Colors: Black, Blue, Red
Made in the USA – This ain't made in China
BE SURE TO ASK FOR THEM AT YOUR LOCAL BMX RETAILER
09/06 Morphine Industries' Tyler Faoro Hits the NBL Midwest Nationals
Morphine Industries press release
Super X Tyler Faoro headed to Warsaw, Indiana this past weekend to be the sole Morphine Industries' rider to hit the NBL Midwest National at Hire Park BMX.
The Big A race brought some stiff competition for Tyler to show the Midwest some of what Florida has to offer. Saturday's main started with Tyler getting the holeshot and leading to the third straight. As the track got tight, Tyler over cleared a series of doubles causing him to lose speed going into the third turn. This gave Jeffery Upshaw the ability to rail the turn and catch Tyler, from behind, at the finish on his home track.
Sunday proved to be some of the same with Jeffery leading the way and Tyler coming back on the second half of the track only to come up a little short at the finish.
Tyler will be heading to Rockford, IL to meet up with the rest of the Morphine Crew for the ABA Midwest Nationals June 19-21 and then to Pittsburg for the NBL Stars-n-Stripes National June 27-28.
Morphine Industries would like to thank its Factory Team Sponsors; Staats Motocross Bicycles (www.staatsbikes.com), Alienation (www.alienationbmx.com), Fly Racing (www.flyracingbmx.com), Lost Energy Drink (www.lostenterprises.com), Tioga (www.tiogausa.com/bmx), Sinz Racing (www.sinz-racing.com), Rennen (www.rennendesigngroup.com)
05/06 bmxultra.com on Twitter
by bmxultra.com
Twitter could be just another internet fad, and until recently we didn't see any use for it to aid our readers, that was until now. We will be using it from the race track with updates about the bmxultra.com team and what's going on with racing in general. If you want to follow us check out this link twitter.com/bmxultra, or you could just go to the front page of bmxultra.com and check out the Twitter panel at the bottom of the page.
05/06 BREAKTHROUGH BMX – Copenhagen – Candidate City for the 2012 BMX World Championships
Sport Event Denmark press release
"The permanent track is great. It is really technical in some places. And I think it is what we need moving for the 2012 Olympics. I think it is really good for the stars of 2012." Says Sifiso Nhlapo, South African Supercross Champion and Olympic finalist Beijing 2008 after having competed in BMX Supercross World Cup in Copenhagen. Hear and see the entire interview on Sport Event Denmarks Youtube-channel: http://www.youtube.com/watch?v=ljB_SiZc-30&feature=channel_page
Copenhagen is bidding for the 2012 BMX World Championships. Read more. Newsletter linked
The only UCI Bike City

Great experience gained from great events

World Class facilities

 

 
Stay updated
Sport Event Denmark on Twitter: sporteventDK
Facebook: 

DENMARK: Hosting Winners and WORLD CHAMPIONSHIPS 2012 IN DENMARK/COPENHAGEN
04/06 Supercross Kevlar Blue Streaks
Supercross BMX press release
The Kevlar Craze continues! – Supercross BMX releases full size run of Kevlar Blue Streaks.
4 years ago when Supercross introduced their Blue Streak Tires they became the underground favorite of Racers and Dirt Jumpers. It's low profile non directional tread and special fabric weave that allowed high pressures without sidewall splits or bulging was what the demanding riders were looking for.
Then 2 years ago they stepped it up a notch by introducing a Kevlar Version of the 1.5 size which was ran by Samantha Cools at the 2008 Olympic Games.
Now for 2009 and beyond, Supercross Has released the Kevlar Beaded Blue Streaks in all of their 20″ sizes so regardless of your Racing or Dirt jump riding Style and size, now you can benefit from the ultra light weight of the Kevlar Beaded Versions of the Supercross BlueStreaks. Kris Fox is already shreding the OTC ( Olympic Training Center ) on his new Kevlar Blue Streaks as well as using them to hit the Dirt Jumps and Skatepark.
20×1.5 – 300 Grams
20×1.75 – 355 Grams
20×2.125 = 450 Grams
Look for the new Kevlar Versions of the Blue Streaks on all the team riders bikes and at your local Authorized Supercross BMX Dealer at a $39.95 MSRP.
For more information on the Supercross Kevlar Blue Streaks and all of our BMX products please visit supercrossbmx.com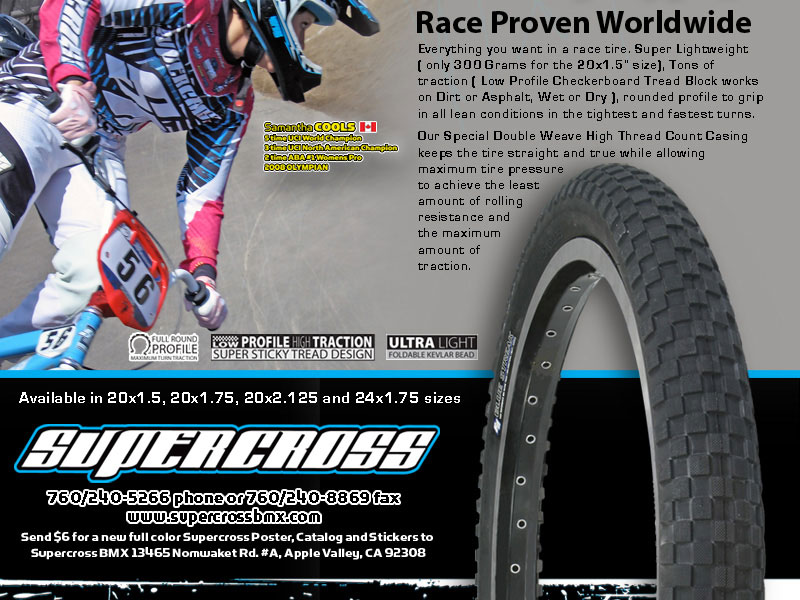 03/06 Morphine Industries' ABA Mid America Nationals Race Report
Morphine Industries press release
While most of the Morphine Industries team stayed home for a weekend off before the busy summer tour starts. Jason LaRev and Doran Bradshaw made the 11 hour trek out to the ABA Mid America Nationals in Blue Springs Missouri. The track was smooth as glass, with a technical rhythm which made for some great racing through out the weekend.
Doran Bradshaw Had a Great weekend throwin Bo's at his competition (as pictured) with the very stacked classes of 31-35 cruiser & 28-35X. Doran killed it by getting two 2nd place finishes in cruiser for the weekend, and his 20 inch class things didn't go as planned thanks to carnage in the turns and technical difficulties but he'll be back for redemption in Rockford in a few weeks.
Jason LaRev came out to Missouri with something to prove.  With a couple bets on the line he showed that he's not playing games. On Saturday Jason Tied for the overall WIN but the third main finish ended up giving him the 2nd place overall for the day. Sunday rolled along and he was still showing the same consistency as the previous day with another 2nd place finish overall.
After a LONG HOT weekend of racing in Blue Springs Missouri we were all ready to Put the Prank Wars behind us and get back home. Of course after we spent an hour driving through St. Louis MO trying to get to the famous ARCH. But all in all the weekend was a great one and Morphine Industries KREW came and did their thing and left their mark on another race. Big props go out to the Blue Springs MO track & the ABA for putting together another great race.
And a Big thanks goes out to our Factory Team Sponsors; Staats Motocross Bicycles (www.staatsbikes.com), Alienation (www.alienationbmx.com), Fly Racing (www.flyracingbmx.com), Lost Energy Drink (www.lostenterprises.com), Tioga (www.tiogausa.com/bmx), Sinz Racing (www.sinz-racing.com), Rennen (www.rennendesigngroup.com)
03/06 LIVE @ GO211: ABA/UCI Continental Series Show 1
go211.com press release
Tune in today at 7:00 PM US EST (9:00 AM AUS EST – Melbourne, Sydney, Brisbane) to watch the ABA/UCI Continental series TV show on Go211.com.
Show 1 brings you all of the Elite Men, Junior Men and Elite Women racing action from Guthrie, OK. The battle that everyone was waiting for between Olympic Silver Medalist Mike Day and 3 time World Champion Kyle Bennett took place in the Elite Men final. In the Junior Men class Denzel Stein who was the heavy favorite to win had a good battle with the up and coming Connor Fields. In Elite Women the rivalry between Alise Post and Dominique Daniels continued as they would battle down every straight with Daniels ending with the win.
Don't miss any of the action, make sure you tune in tonight. The show duration is 22 minutes and it will be played on a continuous loop from 7 – 11 pm EST.
This show has not been broadcast on any TV networks yet so you'll be the first to watch it exclusively on Go211.com.
http://www.go211.com/u/abaucicontinentalseries
02/06 Review: Alienation Ratchet grips
by bmxultra.com
We've been spending some time checking out the Alienation Ratchet grips, the first directional grip of the modern era of BMX. Click here to check them out.
01/06 Old School BMX Reunion & Show June 6th, 2009 Peck Park, Arcadia California
os-bmx.com press release
The time for the site's main annual gathering is almost upon us. We would like to see everyone from near and far roll out to PECK PARK in ARCADIA, CALIFORNIA to be a part of the fun.
If you aren't familiar with our events, basically it will be a gathering of old school BMX connoisseurs, a bike show, swap, prizes, and a Freestyle Demo featuring a crowd of the all time greats and by that I mean true legends of freestyle with vert ramps and Guaranteed Good Times.
This year is shaping up to be the biggest event ever and people from all over the US and world are coming.

The physical address of our event at Peck Park is:
5401 Peck Rd
Arcadia, CA 91006 (Peck Rd Water Conservation Pk)
http://maps.google.com/maps?oe=utf-8&r…12427989189817#
Here's the video invitation and highlight reel for the Old School BMX event, don't miss this one:
Old School BMX Reunion & Show ** Highlights & Invitation **
See you at the gathering!
Posted in: Archive