BMX racing news April 2013
30/04 Shepparton to host the 2014 BMX National Championships
BMX Australia press release
BMX Australia President Mr Barry Knight has today announced Shepparton BMX Club as the successful host of the 2014 BMX National Championships. The announcement comes as the 2013 Subaru BMX National Championships open in Brisbane, attracting over 3,300 entries during the week-long event.
"Shepparton last played host to the National Championships in 2010 and have shown they have the capacity and ability to hold large events," Mr Knight said.
"The track and the facilities in Shepparton are first class and a favourite among riders. BMX Australia believes in leaving a legacy to the sport, that was the case from 2010 and it's great that we can return in 2014 to continue to build that with assistance of the Greater Shepparton City Council.
"The sport of BMX continues to grow each and every year and our National Championships are the premier event on the BMX calendar each year.
"Participation at this year's event has surpassed expectations and I anticipate it will again in Shepparton."
Greater Shepparton Mayor Jenny Houlihan said the city was excited about hosting another major BMX event.
"We have previously hosted the 2010 BMX Nationals, 2011 Victorian BMX Championships and Australasian Schools Cycling Cup. Securing this event is a significant coup for Greater Shepparton and supports the work Council has put into redeveloping BMX facilities," Cr Houlihan said.
"This event will further cement our reputation as a major sporting events destination in regional Australia.
"The event will also have wider benefits for Greater Shepparton, with an expected $5million to be injected into the local economy through accommodation, hospitality and retail spending."
"The last time we hosted this event we experienced a significant increase in participation numbers and membership so we would expect this would happen again which will be great for the club and the sport."
The event will be held from 29 April through to 4 May next year.
29/04 Australian BMX Championships start tomorrow
by bmxultra.com
It's that time of the year again where Australia's best BMX racers go elbow to elbow to see who can take the crown. This year it's at the Sleeman complex in Brisbane, the only full sized Supercross style track in Australia.
It's a big week ahead.
Here's the basic schedule (all the finer details are available here)
Tuesday 30 April
Registration from 9-3
Practice (graded)
Wednesday 1 May
Registration from 7-12
Pre-title practice 7-10:55
Sprocket Clinic 11-12
Mini Wheeler demo 12-12:30
Pre-Titles 1-4
Thursday 2 May
Registration 7-12
Practice from 7-9:30
Sprockets racing 9:45-11:45
Dynamite/National Series/Oceania Champs 11:50-7
Friday 3 May
Warm up 8-9
Racing 9:10 onward
Saturday 4 May
Practice 8:30-10
Opening ceremony 10-11
Elite racing 11-4
Sunday 5 May
Warm up 8-10
Cruiser racing 10:10 onward
As far as we know there is no live video feed, but you can keep track of live results via EZEventing. www.ezeventing.com.au/events.php
28/04 Review: Answer 8″ CRO-Mo Lite Bars
by bmxultra.com
We've been checking out the Answer 8″ CRO-Mo Lite Bars. Answer have an amazing product range that just seems to keep growning. Click here to check out the review.
25/04 bmxultra.com team update
bmxultra.com press release
For Victorian bmxultra.com team riders Levi Collins and Aaron Rogers the final round of the Victorian Pro Series at Wyndham was the last hit out before the national championships next week.
Levi Collins
Levi has had his ups and downs through the series with injuries. Levi made it through to the three moto final easy enough but struggled a little with the smaller start hill and went 7-7-5 in the finals to finish sixth overall.
When all the points were tallied Levi had also finished sixth overall in the series and qualified for the top 8 shoot out. In the shoot out he was off to a slow start and got caught up in a heavy crash half way down the first straight, he finished up with a seventh and is really looking forward to racing the nationals next week.
Aaron Rogers
Aaron didn't have such a great round at Wyndham, missing out on the final, but he finished the series in sixth place overall, which meant that he had fresh legs for the top 8 shoot out. That didn't help however, he missed the gate then fell at the end of the first straight. Aaron isn't heading to the nationals so he'll get to rest for the next few weeks.
Catch up with Matt Butterworth
It's been a while since we caught up with our Western Australian team rider Matt, so he sent in this report. (Thanks Matt)
March and April saw Rounds 3 and 4 of the WA Super Series run and won at Wanneroo and Southside BMX Clubs respectively.
Round three at Wanneroo and Team BMXUltra.com rider Matt Butterworth was competing in Vet Pro Cruiser and 40+ cruiser with enough racers entered to make finals in both classes. In Vet Pro Cruiser Matt qualified out of the motos with a 2-2-3 in 6th position and then in a very competitive final stayed in 6th place behind William Celis, Wes Hill and Brent McDonald. In 40+ cruiser, Matt qualified in fastest with a 1-1-1, but this time got on the top step of the box, winning the final ahead of a fast finishing  Brad Brown and Craig McPhee.
The fourth round of the series held over the past weekend was at the Southside BMX Club. A massive amount of work has been done to the track and surrounds, including a new start hill and Pro Gate which brought nothing but praise from the riders. The committee did a fantastic job in presenting a smooth and fast track. Matt chose this time around to bring out the 20 inch bike and was entered in the 40+ Men as well as Vet Pro Cruiser.  In Vet Pro Cruiser Matt qualified out of the motos with a 2-4-4 in 7th position and then with a sold start out of gate 7, ended up with 4th place behind Malcolm Yeardley, William Celis, and Wes Hill. In 40+ Men, Matt qualified in fastest with a 2-1-1, and had the holeshot into turn one. This was short lived however as a sweet high-low move from Michael Harper slung him past Matt into the lead where Harper held on for the win. Matt was content with 2nd place ahead of Jason May, who was fine tuning his preparation for the Nationals in 2 weeks time with some fast laps of his own.
The bmxultra.com team is proudly supported by One Bicycles, Supercross BMX, Alienation, Dirt Designs, Tioga, Elite Cycle Imports, THE, Profile
Video of 40+ Men 20" at Southside BMX – 21/4/13
http://www.youtube.com/watch?v=L0I_wNB0Qww&list=UU1pC_5M2agxLBr5r4pRGSUA&index=14
Australian Championships
Both Dane Pangallo and Levi Collins will be competing at the Australian Championships in Brisbane next week. We'd like to wish them and all our readers a safe trip and good luck with the racing.
The bmxultra.com team is proudly supported by One Bicycles, Supercross BMX, Alienation, Dirt Designs, Tioga, Elite Cycle Imports, THE, Profile
23/04 Results: UCI Supercross World Cup round 1 Manchester, UK
by bmxultra.com
The dust has settled at the Manchester World Cup and the Brits lived up to their expectations with Both Liam Phillips and Shanaze Reade backing up their Time Trial wins. Both taking the top step on the podium in the finals.
Mens final results
1 PHILLIPS Liam GBR 29.037
2 NYHAUG Tory CAN 29.363
3 WILLOUGHBY Sam AUS 29.739
4 ANDRE Sylvain FRA 29.88
5 FIELDS Connor USA 30.221
6 REZENDE Renato BRA 30.668
7 DAUDET Joris FRA 31.252
8 DEAN Anthony AUS 31.325
Women's final results
1 READE Shanaze GBR 32.094
2 CRAIN Brooke USA 32.935
3 VAN BENTHEM Merle NED 33.675
4 POST Alise USA 33.724
5 REYNOLDS Lauren AUS 34.124
6 MARTIN Arielle USA 34.808
7 VALENTINO Manon FRA 35.09
8 HLADIKOVA Aneta CZE 37.692
More links:
22/04 Photos: Wyndham, Victoria, Australia. Battle of the Warriors
by bmxultra.com
We got a bunch of photos from the final round of the Victorian Pro Series at Wyndham Warriors Track on the weekend. It was the last race in the state before the National Championships that start next week 30 April. Click here to check them out.
20/04 Results: UCI Supercross World Cup round 1 Time trials Manchester, UK
by bmxultra.com
The results are in from the first round of the 2013 UCI Supercross series time trials at Manchester, UK. The Britts have stamped their authority on the Time Trials, but we all know that racing is a totally different beast. Can they take top honours again? We'll have to wait and see who comes out on top when the racing has finished.
Current World Champion Sam Willoughby had a massive crash on the second straight in the Super Final he was very lucky to have walked away and come out of the crash relatively unscathed. Here's the video: http://www.youtube.com/watch?feature=player_embedded&v=CEi7WyPoO70
Super final results
Top 3 women
1. Shanaze Reade GBR
2. Alise Post USA
3. Merle Van Benthem NED
8. Lauren Reynolds AUS
Top 3 men
1. Liam Phillips GBR
2. Tory Nyhaug CAN
3. Connor Fields USA
10. Anthony Dean AUS
16. Sam Willoughby AUS
More links:
18/04 Final call to enter the world's largest action sports photography contest
RedBull press release
Your last chance to enter the world's greatest action and adventure sports photography contest is rapidly approaching – all submissions must be uploaded to redbullillume.com by April 30th. While thousands of images have already been submitted, the dedicated mission of the Red Bull Illume Image Quest is to leave no incredible image behind – so get your submissions in while you can!
Photographers can enter as many as five images in each of the 10 categories so there's no limit to the range of inspirational shots that can be entered, whether they're action, lifestyle or sequence shots. See the full list of categories here:
http://www.redbullillume.com/contest/categories.html
It costs nothing. Anyone can enter. The only qualification? Your images need to be amazing. Whether you're a published pro or an aspiring amateur, now is the time to enter the Red Bull Illume Image Quest.
The images are judged by an international panel of 50 photo editors from prominent publications whose task is to select the 50 best shots, including 10 category winners and one overall winner. The finalist images will then be unveiled in Hong Kong at the end of August before travelling the world as a night-time exhibition that's seen by thousands.
More information, including rules and entry details, can be found online at http://www.redbullillume.com/contest/rules.html. Submissions close April 30th, 2013.
About our Partners:
Leica is the official partner of the Red Bull Illume Image Quest for the second time, following on from the successful 2010 edition. New partners for 2013 are leading flash brand broncolor, and Sun-Sniper, who make innovative camera strap systems.
About Red Bull Illume:
Red Bull Illume is the world?s premier international photography competition dedicated to action and adventure sports. Its purpose is to showcase the most exciting and creative action sports photography on the planet as art to the wider public. The 2013 Red Bull Illume Image Quest will be the third edition of the competition after 2007 and 2010.
The overall winner will receive the new medium format Leica S camera. Category winners receive Leica X2 cameras. Other prizes include broncolor?s new Move portable flash, and the latest strap system from Sun-Sniper.
www.redbullillume.com
Facebook.com/redbullillume
Twitter.com/redbullillume
17/04 Shaving weight: Profile crank upgrades
by bmxultra.com
Last week we talked about shaving weight in general using one of my own bikes as a case study. It made me realise that there are a whole lot of ways to save weight, especially with products like Profile Racing's hubs and cranks. They offer a massive range of upgrades and options for their products. We'll focus on cranks for this article.
I've heard Profile cranks referred to as dated and heavy. Let's hit that on the head right now. Although the 19mm Profile cranks have been around forever they have never dated. They have been able to survive the test of time all the way through to the punishing Supercross mega tracks of today, as others have fallen by the wayside. This is because Profile haven't sat on their laurels, far from it. Profile have done a great job moving with the times, moving from USA bottom brackets with solid spindles to Euro bottom brackets with GDH (Gun Drilled Hollow) spindles and along the way adding titanium options and an external bottom bracket, spline drive spiders and chainwheels. There are Profile cranksets that are configured to be lighter than any alloy alternative on the market, with the added bonus that every part, big and small, is replaceable. If you damage a spider, you can replace it and don't have to replace the crank arm as well. Actually if you damage your cranks or spindle Profile have you covered with a lifetime warranty that protects your investment.
To me Profile cranks are, and always will be, the benchmark to which all other cranks are compared. When the profile cranksets are sold they are usually packed with the crank arms, cromo GDH spindle and cromo crank and boss bolts. It's the basic set up, but everything is upgradeable. Other parts like the bottom bracket and chainwheel are seperate, this gives you the freedom to set it up the way you want. But how many of you know all the options available?
Titanium options
GDH Crank Bolts 24grams a pair compared to 31grams of the cromo
GDH Spindle 155grams compared to the 235grams of the cromo
Even the crank boss (sprocket) bolt is upgradeable to titanium but I was unable to determine the weight
Bottom brackets
Traditional Euro bottom brackets are 155 grams and have 4 sealed bearings
Outboard euro bottom brackets weigh in at 153 grams but provide you with the added benefit of a freer spinning bottom bracket with only two sets of much bigger bearings. When you go to an outboard bottom bracket you need to go to a wider spindle (usually 6″) since the bearings are external to the bottom bracket shell and you have to run a spline drive spider as it brings the chain back into alignment.
Chainwheels and spiders
4 bolt spline drive 74grams
4 bolt 68grams
5 bolt spline drive 84grams
5 bolt 90grams
Elite spline drive chain rings 170grams (44t)
Imperial Chainrings 195grams (44t)
Crank arms for little dudes
The Magnutanium Mini Chromoly Cranks sell with a ti spindle and are available from 145mm to 170mm options with 5mm increments. Weight:533 grams for arms spindle and bolts compared to the 785 grams of the standard Profile cranks with cromo spindle and bolts.
You have all these options at your fingertips and of course you also have a massive range of colours available. So next time someone tries to tell you that Profile are heavy or they are dated it's quite clear that they are more configurable and probably more relevant than any other crank on the market, even if you spec'd out a crank set with all titanium components you won't reach the astronomical prices of some of the alloy options.
Get down to your local bike ship for more information on Profile products.
16/04 BMX Australia announces team for World Cup in Manchester
BMX Australia press release
BMX Australia will go into this weekend's first World Cup event in Manchester, England with high hopes and the weight of expectation after a stellar 2012 season on the international BMX circuit.
Sam Willoughby remains the benchmark of international BMX as the 2012 reigning World Champion, overall World Cup Series Winner and silver medalist at the London games. He will be joined by 5 fellow athletes who are part of the BMX Australia High Performance team that is keen to keep Australia's number 1 ranking firmly intact.
One rider who has continued his rise since placing 4th at last years World Championships is Anthony Dean. Currently leading the domestic series with 5 wins from 6 races, Dean will head to Manchester to yet again prove his ability to the world.
"I'm excited and ready to race," Dean said. "That pretty much explains my feeling right now."
"The work has been done and its time for me to prove myself to the world."
Racing will get under way on Friday with finals on Saturday at the National Cycling Centre in Manchester, a purpose built cycling facility that is home to an indoor BMX Supercross track and is expected to attract over 200 athletes from 26 countries.
BMX Australia General Manager Mark Louis said a lot of preparation and hard work has gone into readying the athletes for both the domestic and international seasons.
"BMX Australia has been working with our athletes to prepare them for this years World Cup's. Our National Coach Wade Bootes has held a number of training camps and coaching sessions on our own supercross track in Brisbane where he's been working closely with our athletes.
"There's high expectations of us having been the number 1 BMX nation for so long and with the World Championships in our region a little later in the year we want to continue to lead the world."
The BMX Australia team for the first of four World Cups is:
Elite Men
Sam Willoughby – Happy Valley BMX Club, SA – #1
Anthony Dean – Cross Keys BMX Club, SA – #21
Josh Callan – Lilydale BMX Club, VIC – #28
Darryn Goodwin – Eastern Goldfields BMX Club, WA – #34
Corey Frieswyk – Walkerston BMX Club, QLD – #14*
Elite Women
Lauren Reynolds – Bunbury BMX Club, WA – #6
* 2012 Junior Ranking
The UCI BMX Supercross World Cup will be webcasted live on www.bmxlive.tv
Once racing wraps up in Manchester the athletes will only have minimal down time before heading back to Australia to compete at the 2013 Subaru BMX National Championships in Brisbane. The championships being held at the Sleeman Sports Complex will see BMX Australia's High Performance team competing on Thursday evening for the Oceania Championships and then again on Saturday in the National Championships.
Over 1,700 individual riders will compete at the championships which will crown National Champions from as young as 8 years old through to 50+ categories along with Elite categories. The event starts on Tuesday April 30 and runs until Sunday May 5.
15/04 Sneak Peek: New gear from Alienation
by bmxultra.com
We were slipped some photos and very basic information for some new products coming out of Alienation. Check these out.
New Hub
The hub is a 6 pawl set-up. 3 on & 3 off. It has a 4 degree engagement. 2 bearing in the shell, 2 in the cog carrier and one huge thrust bearing. This is the 1st generation prototype. The next will have a Shimano style cog with the lock ring vs. the large outside ring. It's as light or lighter than Profile. Should retail for less too. We plan to offer with hybrid ceramic bearings and Ti bolts. We'll have both a 3/8" & 15 mm option.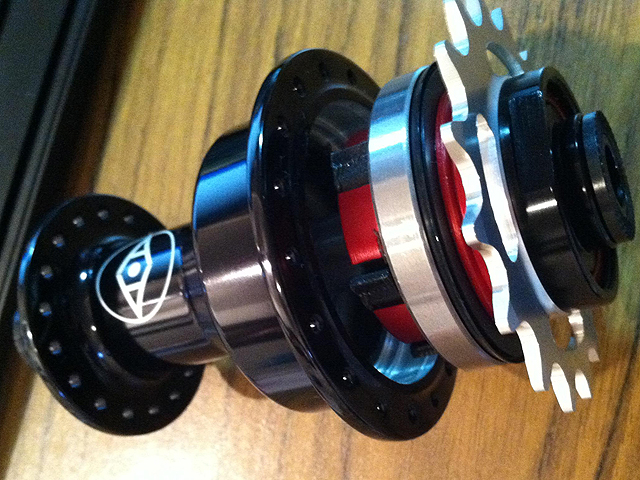 Updated Deviant rim
This is the updated Deviant extrusion. It has a new cup system built into the spoke-face which helps nipple articulation for less spoke stress and it adds critical material so the nipples don't volcano (pull thru). Added nominal amount of weight; 7 grams. This sample weighs 312grams. Effective Rim Diameter remains the same. The Skylark was also updated with this feature.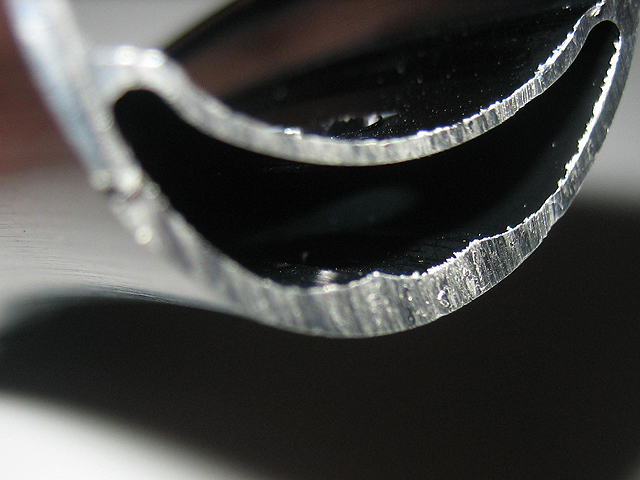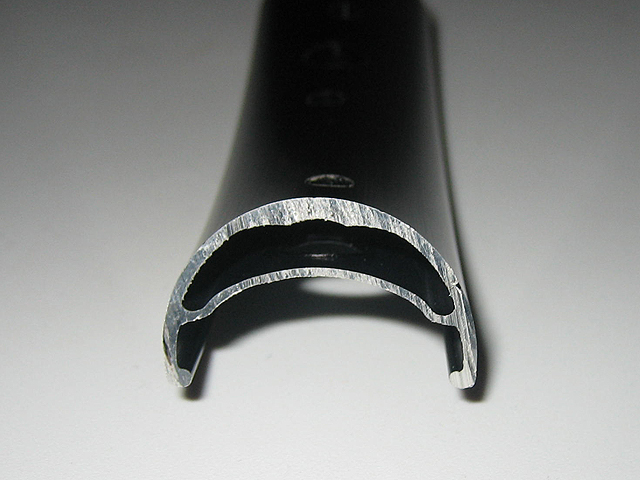 New Stem
All we know on this is it's a 53mm race stem, and by the looks it's going to be super light.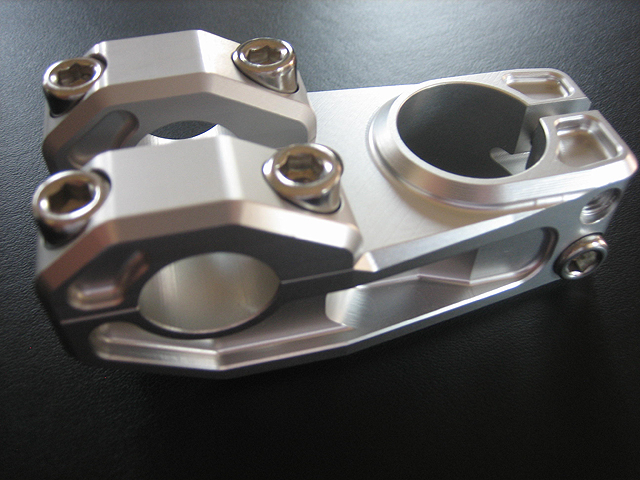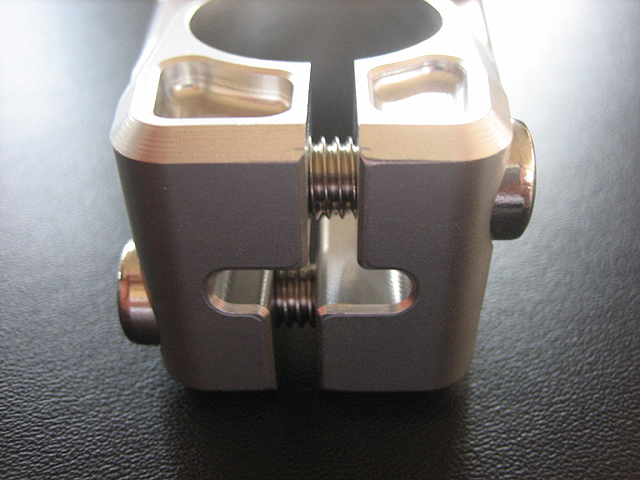 12/04 Morphine Descends on Atlanta for a Little Dixieland Fun
Morphine Industries press release
Almost at full strength, the Morphine crew descended upon Atlanta for a little Dixieland fun at Powder Springs BMX.  With a solid turnout of just under 250 motos the weekend was stacked with great riders and the weather was playing out to be perfect for racing.
A Pro – Olijuwon Davis, in usual fashion started off the weekend racing on Friday night.  Wasting no time to line his pocket and rev his ponies, OD made his way to the top podium spot to start the weekend.
Saturday and Sunday continued to fight his way to the main event and came away with another podium spot on Saturday with a 3rd and a solid 6th on Sunday.
A Pro – Brandon McCoy, continues to impress and we moves his way into the A Pro ranks with a lace on the main gate both days.  Unfortunately, Brandon got tangled up on Saturday to bring up the rear with an 8th.  Sunday was a new day as Brandon narrowly missed the podium with a 4th.
36-40 Cruiser – Doran Bradshaw, decided to kick back and concentrate on one bike for the weekend and it paid off.  Doran command both days defending that N.A.G. #1 and took the top spot on the podium with 1st.
26-30 Girls – Ashlee Hill, made her second national appearance in the Black, Pink and White on her home track doubling on both 20 and cruiser.  Not losing a lap all weekend, Ashlee made a statement with 4 top spots on the podium.
17-18X – Ryan DeRoche, another hometown boy raced hard both days.  Missing the main of Saturday, Ryan came back in a super stacked class to make the main and take a solid 5th.
17-18X Jared Johnson, battled hard all weekend putting in some fast laps.  Jared rode hard but narrowly missed the main both days.
16X – Noah Reeves, racing in the biggest class of the weekend with 35 riders laid down some great laps to make the main event both days.  Losing a battle of the high side of turn one saw Noah cruise to a 8th place spot.  Sunday, Noah returned to the gate and finished a few spots better in 6th.
11X – Dylan Shipley, hit the track with some stlye and speed.  It was obvious who has been doing his sprints since the last race.  Dylan smoked all his motos and took his spot at the main gate for both days.  Saturday, Dylan had some brake issues that caused problems but he was able to turn in a solid 6th.  We has a talk with his mechanic and they assured us that the issue would not happen again!
Sunday, Dylan was determined to make up for Saturday.  When the dust cleared, Dylan took a spot on the podium with a 3rd.
Morphine will be making their way to the Cajun and the Tarheel national for the next spots on the BMX tour.
Be sure to check out our riders at the next few national as they will be sporting some new Morphine Industries parts – The "Pleasure" grip, a new lock-on flangeless grip along with the "Lockdown", an adjustable seatpost clamp.
Factory Team Sponsors: HARO BIKES (www.harobikes.com), Fly Racing (www.flyracingbmx.com),  Alienation (www.alienationbmx.com), Hawk Racing (www.hawk-racing.com), Rennen (www.rennendesigngroup.com), DNA Energy (www.dnaenergydrink.com), HRP designs (www.hrpdesigns.com)
11/04 BMXPress #61 currently on-sale at a newsagent near you
BMXPress press release
BMXPress #61and BMXLife #11 Magazine is currently on-sale nationally at a newsagent near you.
BMXPress has 148 pages of wall-to-wall BMX racing, in full colour, full gloss, oversized format. Another huge coverage of 10 races plus interviews, news, new products, and a mega 14 page coverage of some of the craziest, huge crashes that we have ever shot.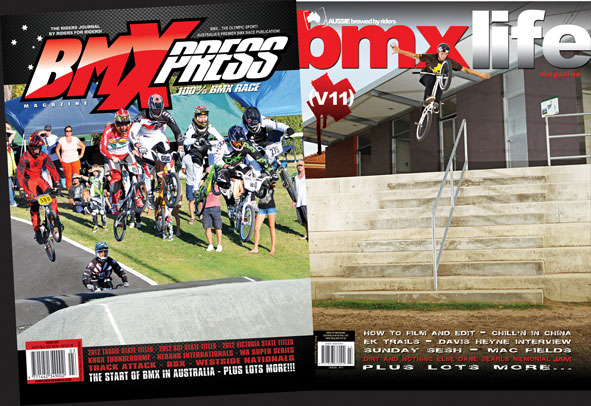 Articles include: 2012 ACT's, USABMX Grands, Tassie Titles, Knox Thunderdome, The start of BMX in Australia, Victoria Titles, Nerang International, WA Super Series Round 1 – Hills, Track Attack, Westside Nats, BSX BACKYARD RACE plus lots more.
Thanks to everyone that supports BMXPress/BMXLife Magazines and the Australian/NZ BMX scene, and the Australian/NZ BMX Industry.
Warwick Wheeler
BMXPress/BMXLife Magazines.
HRVfitness press release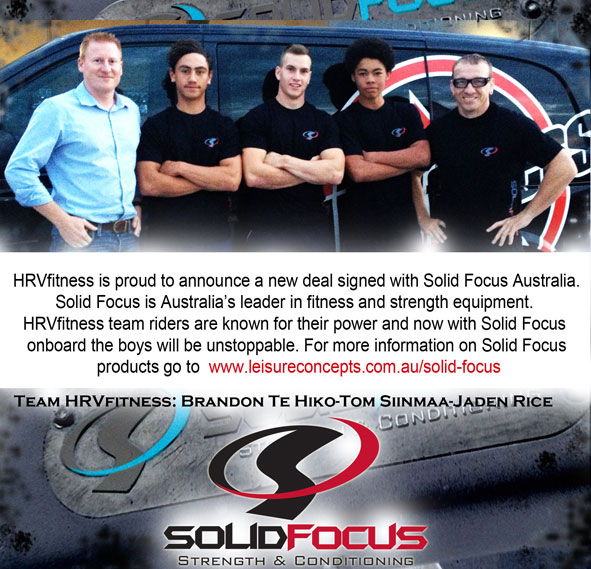 10/04 BMXlive.tv brings you Lane 1 – Abbotsford BC, Canada
GSX Events press release
BMX Live TV is dedicated to bring you the latest and greatest from the world of BMX racing and BMX Supercross in particular. This includes live webcasts from all stops of the 2013 UCI BMX Supercross World Cup and exclusive behind-the-scenes looks in the acclaimed documentary series LANE 1. 
The 4th and last episode of LANE 1 is set in beautiful British Colombia, Canada and Abbotsford.  The tension from the Olympics was long gone, but nevertheless the overall World Cup title was to be awarded and it came down to the wire with some unpredicted results and crashes. Watch it all unfold in LANE 1 – ABBOTSFORD.
How do you get access to all this? It's simple, just sign up and become a member of BMX Live TV! We can promise you hours of entertainment and make sure that you won't miss anything! And what is the best part? It's free!
Upcoming Events
April 19-20,
Round 1
UCI 2013 SX World Cup,
Manchester, GBR
May 10-11,
Round 2
UCI 2013 SX World Cup,
Santiago Del Estero , ARG
Relive Round 4 of the 2012 SX World Cup

Don't miss out, sign up now to get instant access!
09/04 Photos: Shepparton, Victoria, Australia. Central GV Classic
by bmxultra.com
Shepparton hosted the fifth round of the Victorian Pro Series on Sunday. The weather was great and the racing was hot as Victoria's best go head to head in this lead up race to the National Championships. Click here to check out the photos.
08/04 Shaving weight
by bmxultra.com
Weight weanies are everywhere, and there's no denying that BMX is full of them. Personally weight is the last thing on my mind when I'm looking at buying something new for my bike. I don't mean I'm about to weld a boat anchor to the head tube because it looks cool, but strength, reliability and safety are far higher on my check list when it comes to purchasing new products. (Come to think of it the anchor thing could keep me on the ground and off the injured list, I might have to looking into that one further.)
This article came about because I was looking to shave some weight. I'm not talking going crazy and throwing on the lightest parts I can find. I have a budget and I have to consider that I use the bike on the race track, dirt jumping, it's an all rounder.
So I'll paint you the picture. I have a couple of bikes where the frame and forks are exactly the same, but nearly every other part is different. My current race bike (chrome) has the latest gear on it, the older one (black) has parts from around 2007. The bikes feel the same to ride but the black one with the older parts just feels heavier. What I need to do is make the transition from one to the other easier, reducing the need to adjust to each one.
It's easy to think that things haven't change much in the past 6-7 years because really they haven't changed a whole lot when it comes to geometry, but the difference in weight is clear.
The frames are both Supercross Bolt LT 20″ Pro XXL cromo with Supercross Pro forks.
When looking to save any weight on a bike the wheels are always the first thing you look at. Now there's all sorts of theories about rotational weight, we won't get into that (this time). My wheel set that's getting on to about 10 years old will be heavier than the tubeless system that I have on my race bike, but for the point of this exercise I would have been quite happy to leave the wheel set on the bike as is, except for a little discovery that made which me think twice. There is a 320grams weight difference between the hubsets on the two bikes. My old hubs weigh 830 grams for the set and the Alienation Royals, that I'm quite fond of, are only 510 grams. The only problem with that is wheels are probably the most expensive of anything to replace.
I have Profile race cranks on both bikes, however the black bike has a solid spindle. Upgrading to a GDH spindle would be one way to drop weight as would looking at all the titanium upgrade options. GDH will win in this case as it's not my regular racing bike, so Ti options would be over kill, however still very tempting.
S&M Redneck XLT stem and S&M Grand Slam bars are a nice combo and look good on the black bike, but there could be some real weight saved by updating them.
The only other obvious change is going from a railed seat & post combo to a lighter pivotal seat and post.
| Old parts | Upgraded with | Weight savings |
| --- | --- | --- |
| Profile Solid Spindle | Profile GDH Spindle | 90 grams (3.2oz) |
| S&M Redneck XLT stem (320g/11.3oz) | Profile 40 stem (280g/9.9oz) | 40 grams (1.4oz) |
| S&M Grand Slam bars (950g/2.1 lb) | Fit Sky high bars (815g/1.8 lbs) | 135 grams (4.7oz) |
| Sinz railed seat post (325g/11.5oz) | Alienation pivotal post (205g/7.3oz) | 120 grams (4.2oz) |
| Supercross Pro Saddle (260g/9.15oz) | Supercross E-Line Saddle(170g/6oz) | 90 grams (3.2oz) |
| Tektro Alloy Lever (80g/2.8oz) | Tektro DR brake lever (65g/2.3oz) | 15 grams (0.5oz) |
The total weight difference for this exercise is 450grams (15.87 oz or 1 pound) without a great deal of expense around the $AUD300 mark. Which when you look at it would be a noticeable difference in the weight department.
450grams savings isn't bad but when you add the 320 grams savings with the addition of changing the wheels, it would make the total savings 870 grams, just 130 more and you're looking at a whole kilo. Which is still quite achievable when you start looking at the weight of the ITS super light tubes and Tioga S-Spec Powerblock tires.
It's easy to come up with a cost effective way to drop weight on a bike that's a few years old but has still got some life left in it. Exactly where you stop is entirely up to you and your budget.
Going through this process has really got the cogs turning. Keep an eye out for some future articles on shaving weight.
08/04 Psykopath @ UK BMX National Round 1 Manchester Indoor
Psykopath Industries press release
After a good winter season, Psykopath Industries UK race team headed to the 1st round of the national series at the National cycling centre in Manchester.
Saturday
The team were in good spirits, everyone was raring to go and couldn't wait to hit the track. Practice went well for most but unfortunately for Harry Little he broke his wrist during the practice session.
The 1st rider to hit the race track was Neil Hopes in the 40-44 cruiser category. Neil had some solid motos, as always getting the snap out of the gate but just missed out on the A-final, N.Hopes took a great 2nd place in the B final race. So a good result after day one.
Sunday
The 1st rack of motos hit the track and it was Betsy Bax up first for the team in the 7-8 girls. She started as she finished last year, out in front. Big bro Alfie Bax was next up, in the 9 year old boys. He also had a solid lap to pick up a 2nd position. Webber kept the ball rolling in the 9-10girls and was hungry as ever and took 1st. Phillips in the 10 year old boys is getting stronger and more confident every time he rides, took a great 2nd place. Dan leak in the 14s unfortunately crashed out and support rider Alex Kite took 3rd place. In the huge 17-29 category (66 riders) Albie Hopes took 6th getting his 1st race nerves out the way, Waters took 5th and Team manager Hodge took 4th
2nd and 3rd motos took place and there were more moto wins by A.Bax, Webber, and Waters with Phillips taking 2nd, B.Bax and Hodge taking 3rd. This meant Betsy going straight through to the A final.
On the 1/8 in the 17-19 category with Hodge up 1st, he had a solid gate to take 2nd place, Hopes just missed out with 5th and Waters was taken out as he was making moves down the last straight.
1/4 finals and A.Bax takes the win with Phillips taking 4th and Hodge just missing out with 5th.
All important semi final time; A.Bax took another win, Webber makes it 4 of 4 and Phillips taking that all important 4th position to make his 1st ever A Final.
Finals came round with B.Bax up first in the 7-9 girls. They all came down the hill in a line, slight contact was made with the girl next to her which gave Bax a little wobble but Bax found a gap and powered through to take the win. Big bro was after wanting to follow suit, A.Bax had a good gate which put him into 2nd, after exiting the 1st turn, Bax kept on pushing all the way to the line, challenging the front runner, but just ran out of track. So Bax took a well deserved 2nd place. Webber hit up the track next in the 9-10 girls who didn't have the best of gates and got shut off by the favourite to win but Webber never gives up. She was hungry for that win. When it came to the last straight, she kept her head cool and smoothed her way to victory with her 1st ever national win. Phillips was the last of the finalist to snap out of the gate. Being his 1st ever A final he kept calm and challenged the pack all the way round he had a solid lap and finished a well deserved 8th
Great ride from all riders with 2 national wins in the bag! So After the weekends events Psykopath Industries UK have ended up in 3rd place in the national standings.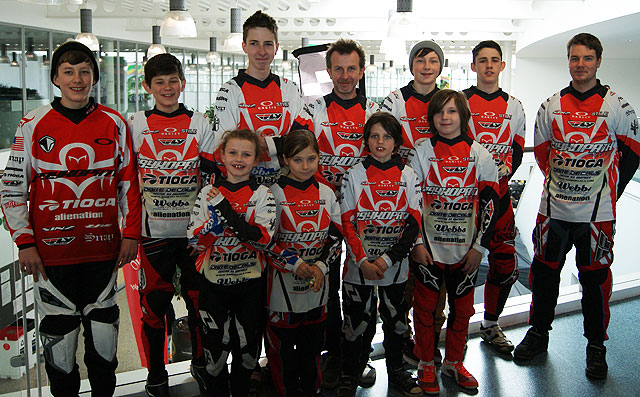 Massive thanks to those who are supporting us this year. Tioga BMX, Webb's of Warmley, Daredecals and the other Co sponsors that support our US team.
05/04 Anarchy Australia now equiped with Madera products
Anarchy Australia press release
We are very excited to announce that the Anarchy BMX Australia team will be running Madera components for the remainder of the 2013 season and beyond!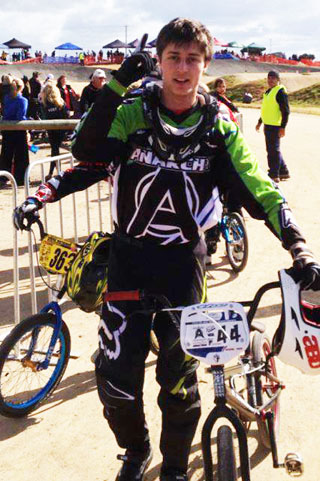 After a big first year for Anarchy Australia, with James winning the Elite Cruiser class and Cat placing #7 in the Elite Women's class at the Australian Championships, both Cat and James have been injured and are just getting back on the track now.  James had damaged his wrist when he crashed in training and spent the past two months in a cast, he has been seen track side coaching and still flying the Anarchy colours. Cat had knee surgery and has been making a slow return to the race track.
Anarchy Australia team manager Shane Jenkins made these comments on the deal. "We are very excited to be working with Madera and their Australian Distributor ECI in promoting the brand at race tracks across Australia.  Madera products have been around for years now, they have race specific ads and there is even an established race team in the US, however they are almost unknown in the race scene here. We plan to change that and prove that the Madera brand will perform regardless of the arena, it doesn't matter if it's the skate park, trails or the race track. The Anarchy team riders are serious about their racing and want to perform at the highest level possible. With high end products like Anarchy and Madera in their arsenal anything is possible. Through reviews I have done on bmxultra.com and the Madera products that I use on my own bikes I rate the products extremely highly and have been surprised that they aren't more common in the race scene."
If you see James or Cat at the track be sure to ask them about their Madera parts.
The Anarchy BMX Australia team is co-sponsored by Madera, Supercross BMX, Speedline Parts, Alienation, bmxultra.com and Dirt Designs.
About Madera
Madera BMX has been around for many years now. The Madera product range includes stems, cranks, pivotal seats and t-shirts/hoodies. Madera products are made in the USA and come out of the same stables as Profile Racing. One of the biggest benefits of the Profile relationship is all crank and hub parts are interchangeable, if you want to run titanium hardware in your Madera hubs or cranks the Profile products are 100% compatible and available at all good bike shops around Australia. You can expect nothing but the best quality from Madera products.
Madera is distributed in Australia by Elite Cycle Imports (ECI).
For more information about Madera and their products visit www.maderabmx.net
About Anarchy BMX Australia
2012 saw the rebirth year for Anarchy, new owner, new identity, new bike, new team.
Starting with the heritage, of the original Anarchy Race Frames, we have gone back to the drawing board and built the best 7005 Race frame we could. We use Easton ULR Ultra Light Race Tubing that features Easton's taper wall technology, we have lowered the profile to be light, stiff and responsive, the seat stays utilize a pierced wishbone design to offer a sleek look and an elongated weld area, not to mention a cool place for the Anarchy A logo at the end.
The CNC'd dropouts are extra thick where your axle bolts on to optimize the stiffness and strength while minimizing weight. Pass through cable guides show the race lineage by making it easy to tear down for travel and allowing the full length housing for optimal braking.
The Australian Anarchy factory team includes Victorian Pro James Lautier and Western Australian Pro Cat Hopkins.
For more information about Anarchy BMX products check out www.anarchybmx.com or visit our Facebook page at www.facebook.com/pages/Anarchy-BMX-Australia/
If you would like to purchase Anarchy BMX products in Australia please have your local bike shop contact us. Please note, we do not sell direct to the public. We support the Australian BMX Industry! Do You?
For more information and dealer enquiries email sxaustralia@supercrossbmx.com.
04/04 Review: Answer Quick Release Seat Post Clamp
by bmxultra.com
Answer BMX have been releasing a whole bunch of new products lately, it's been difficult for us to keep up (it seems even Answer's own website is a little behind). Click here to read the full review.
03/04 Walker, Willers lead NZ team for World Championships in Auckland
Bike NZ press release
Olympic silver medallist Sarah Walker and world No 7 ranked Marc Willers will lead a strong New Zealand team named today for July's UCI BMW World Championships in Auckland.
A 15-strong team has been named today by BikeNZ for elite racing at the championships to be staged at Vector Arena on 24-28 July.
New regulations limiting the qualifying numbers for the New Zealand team resulted in some strong competition for places in the team named at the conclusion of a summer series selection events and the national championships in Cambridge.
The Californian-based Willers is the only rider to gain automatic entry based on his world ranking, while Walker was selected on her 2012 performances that culminated in her silver medal in London. She had recovered from a dislocated shoulder to compete at the Olympics but has since undergone surgery to repair the shoulder, returning to her bike for the first time last week.
BikeNZ coach Ryan Hollows said the selectors were excited by the depth of talent.
"There is good depth in both elite men and junior men, while the team will be well led by the experience of Marc Willers and Sarah Walker," Hollows said. "It will be interesting to watch our younger riders develop through to the championships and over the next couple years."
Hollows said while the championships were the clear focus and an exciting opportunity for the sport in this country, the selectors also took a longer term view with their choices.
"It is the first time that New Zealand has ever hosted the BMX World Championships and that is going to be very exciting for our sport. With it being staged at the Vector Arena it is also a superb opportunity for us to profile the sport at the highest level to New Zealanders.
"At the same time we are looking for riders that have the ability to contribute towards securing Olympic qualifying places for 2016 and the ability to win a medal in Rio. For some of the riders the next 18 months will be spent developing towards that objective."
London Olympian Kurt Pickard (Tauranga) has retained his place in the team along with Matt Cameron (New Plymouth) and Daniel Franks (Christchurch). The newcomers include Kaiapoi's Trent Jones, up from the junior ranks, and Trent Woodcock (Pukekohe), who was a double junior world championship medallist two years ago.
Walker will be joined by New Plymouth's Victoria Hill in the elite women's team, with the Taranaki rider dominating the weekend competition and competed in last year's world championships in Birmingham.
The team members who are part of BikeNZ's High Performance unit will complete a training camp next week with combinations to compete at the Oceania Championships in Brisbane next month and six weeks of racing in the USA in June and early July. That group will complete a final training camp in Brisbane before the world championships.
The Challenge (age group) team will be confirmed later this week.
The BikeNZ elite team for the UCI BMX World Championships in Auckland on 24-28 July is:
Elite men: Marc Willers (Cambridge), Kurt Pickard (Tauranga), Matt Cameron (new Plymouth) Trent Jones (Kaiapoi), Daniel Franks (Christchurch), Trent Woodcock (Pukekohe). Reserves: Cody Stevens (Tauranga), Nick Fox (Gisborne).
Elite women: Sarah Walker (Rotorua), Victoria Hill (New Plymouth). Reserve: Hayley Gedye (New Plymouth).
Junior elite men: Cody Hobbs (Te Awamutu), Ryan Lewis (Te Awamutu), Todd Barry (Cambridge), Jarrod Browning (Cambridge), Donald Ross (Whangarei), Ryan Berney (North Harbour). Reserves: Luke Roguski (Tauranga), Stefan Gabel (Tauranga).
Junior elite women: Hannah Sarten (New Plymouth). Reserve: Monique Smith (Gisborne).
Full details: www.bikenz.org.nz
03/04 Video: On The Level – Martijn Scherpen and crew
by Lloyd Ramsay
On The Level: Martijn Scherpen and crew
[Editor: We often get these super short emails with a link and a couple of words. So there's not much to say except it's a nice edit with Dutch racer Martin Scherpen and some other guys enjoying their riding.]
Link: https://vimeo.com/62930242
Riders are:
Martijn Scherpen
Robin Van Der Kolk
Jordy Agues
Glenn Van Der Wetering
All footage shot by the riders in France
02/04 Results: NZ National Championships
by bmxultra.com
The New Zealand National Championships were on over the weekend, the Pro classes didn't pull big numbers, and with the new UCI ruling for qualifying for the worlds there's no wonder. The amateur classes were massive though.
Elite Men
(9 riders)
Elite Women
(5 riders)
Junior Men
(7 riders)
30+ Masters
(11 riders)
1st Kurt PICKARD
2nd Matt CAMERON
3rd Kurt JAMES
4th Michael BIAS
5th Matthew DAVIES
6th Nick FOX
7th Cody STEVENS
1 Victoria HILL
2 Hayley GEDYE
3 Monique SMITH
4 Nicole EADY
1 Cody HOBBS
2 Ryan LEWIS
3 Jarrod BROWNING
4 Donald ROSS
5 Stefan GABEL
1st Corey STAFFORD
2nd Glen OGLE
3rd Darryl WINSOR
4th Kevin BRINSDEN
5th Bruno PFISTER
6th Carl BERRYMAN
7th Jason TROUP
8th Wayne BIGWOOD
Just who will be representing the host country of the 2013 World Championships is now settled.
Check out the full results here: www.ezeventing.com.au/live.php?key=272
02/04 BMX Social: Dream Sponsor?
BMX Social press release
Brian Fell has started a new side project called BMX SOCIAL.
In his own words "The basic premise of BMX SOCIAL is… I believe that as readily available and "touchable" as our Pros, top Amateurs and Industry people are; nobody really knows that much about what they think or believe. …. Some things might be funny, some things might be a little more serious, but everything will be from an individuals own stand-point."
The following is the first edit from BMX Social, check it out.
Link: http://youtu.be/mKeP6Np-uXg
FACEBOOK _ /BMXSocialNetwork  •  TWITTER _ @BMXSocial  •  INSTAGRAM _ BMXSocial  •  YOUTUBE _ BMXSocial  •  VIMEO _ bmxsocial
02/04 Aussie Big Guns Bound for Brisbane
BMX Australia press release
The 2013 Subaru BMX National Championships will welcome home Olympic silver medalist and current UCI BMX World Champion Sam Willoughby when he lines up on the start gate with fellow Australian High Performance and Olympic riders.
The National Championships are being held at the Sleeman Sports Complex in Brisbane from April 30 to May 5 and will be the first time Sam Willoughby, Brian Kirkham, Caroline Buchanan and Lauren Reynolds have competed together on Australian soil after the London games. Joining them will be fellow BMX Australia High Performance riders Anthony Dean and Melinda McLeod – both of whom were selected as reserves for the Olympic team.
"I am really excited to be heading home," Willoughby said.
"I always enjoy the BMX Australia National Championships and catching up with everyone. I hope to make the quick trip to the Nationals in Brisbane a successful one."
Caroline Buchanan herself a Time Trial World Champion from 2012 and an Olympic finalist echoed those comments saying she was excited about riding in what will be her 10th National Championship event.
"This will be my 10th National Championship I have competed in. Missing the event last year was hard, It's my favorite race on the Australian calendar and this one will be a huge event not to miss," Buchanan said.
"I am looking forward to riding the Sleeman Supercross track again with its modified changes. My last time on the course was in our Olympic preparation for the London 2012 Games.
"I am aiming to redeem the National Title in Elite Women class I won two years ago. It would be amazing to take away the title and wear the Australian National Champion flag sleeve, flying it with pride for the next year."
BMX Australia General Manager Mark Louis said he was excited with the news of Sam Willoughby, Caroline Buchanan and fellow BMXA High Performance riders competing at the National Championships.
"I'm really looking forward to having Sam and Caroline back on home soil competing at the National Championships," Louis said.
"In previous years we haven't been able to have all of our athletes together for the Nationals due to a very demanding international program and of course the Olympics. The 2013 race calendar has allowed this to happen and the result is a huge boost for the National Championships.
"The BMX community is certainly buzzing with the success of the BMX Australia High Performance team internationally and we now have the opportunity for our young up and coming riders to interact with the riders during the championships in Brisbane," Louis said.
The Sleeman Sports Complex boasts Australia's only track of international standards and was modelled off the 2008 Olympic games track from Beijing. It features dual start ramps (5 & 8 metre) with technical straights, jumps and fast turns.
Over 1360 individual riders will compete at the week long championships with total entries nearing 3000, making the 2013 Subaru BMX National Championships one of the biggest in recent years. The championships offer the riders the opportunity to qualify for the World Championships that are being held in Auckland, New Zealand, in July; currently Australia boasts 3 World Champions from the 2012 Championships.
Posted in: Archive