BMX racing news April 2012
30/04 Team bmxultra.com at the Australian Championships
bmxultra.com press release
Team bmxultra.com had good representation at the Australian Championships at Mount Gambier with Dane Pangallo, Shane Jenkins, Aaron Rogers, Levi Collins and Scooby Guyers.
Dane Pangallo
Dane was a good chance in the 30+ Challenge men and 30-34 cruiser and it would have been a good indication of how his training for the world championships is going, but he bowed out early in the week after a heavy crash in practice. He's healing fast and is nearly ready to go back to full training and will be racing this weekend.
Shane Jenkins
Shane was riding in the 40-44 mens class and is usually up amongst the action at the nationals, but appeared to be holding back in the motos, which was costly. Although he got 12 points, which would normally get you through, he qualified fifth in his gate and had to sit out the rest of the day. A lesson well learnt.
Aaron Rogers
Aaron was in the tough 30+ Challenge class and made it to the top 12 to get eliminate in the semi, a respectable result given the strong field.
Levi Collins
Although Levi has had his fair share of injuries over the past few months he's really stepped it up and entered the elite class instead of dropping back to age. Levi raced the final round of the Probikx series on Thursday and made it to the semi finals. Although he didn't make it out of the motos on Saturday at the national titles he can hold his head high after showing he's competitive against the fastest guys in the country.
Scooby Guyers
Scooby was in one of the hardest amateur classes in the nationals. A bunch of guys who race AA Pro through the year dropping back into the 17-24 age group. In 20" Scooby made it through his motos and the quarter final no problems, but was knocked out in the semi final, a great effort in our books. In Cruiser Scooby held his own and finished in 6th place bringing home the teams only national title for the year.
The bmxultra.com team is proudly supported by One Bicycles, Supercross BMX, Dirt Designs, Tioga, Elite Cycle Imports, THE, Profile, Sun Ringle.
28/04 Review: Loose Kid Industries Reflect Zip Up Hoodie
by bmxultra.com
I missed one product review last week with all the excitement leading into the Australia Championships but I didn't want to miss a second. So here I am late on a Saturday at my desk bashing away on the keyboard to give you something cool to check out over the remainder of the weekend. Click here to read the review.
27/04 Speedline Parts/Supercross BMX Australia team update
Supercross BMX Australia press release
The Speedline Parts/Supercross BMX Australia team were well represented at the Australian Championships last week. David Elms, Peter Little, Paul Tomkinson, and Madie Guyers joined team newbie Ethan Zrna in the quest for a title at the Mount Gambier track.
Madie Guyers
Madie is the only female rider on the team, and she's probably the most determined. Although Madie didn't make it out of the motos she is showing great improvement against a tough 14 girls field.
David Elms
David has been a national championships finalist for the past couple of years. He went into Mount Gambier quietly confident the only problem was the classes he was racing were amongst the hardest at the event. In the 40-44 mens class David missed the cut for the semis. In the 40-44 cruiser class David had a much better run, qualifying through the motos and the quarter finals but had to settle for a seventh in the semi.
Ethan Zrna
After finishing second at last year's Australian Championships Ethan Zrna had his eyes firmly set on the number one spot in the 9 Boys class at Mount Gambier. Ethan was well on the way when he did the clean sweep of the motos, but it all went horribly wrong in his quarter final. While out in front and looking to qualify comfortably Ethan went down. A heart breaking end to a nationals campaign, but Ethan has a lot of years in him and is a talented rider, he'll bounce back and be faster than ever.
Paul Tomkinson
Paul was in the 30+ Masters field where he's seen success and made the finals at the national championships before. Paul made the cut for the main. In a small but tough field he held his own. He finished in fifth, not a bad day out for Paul.
Peter Little
Peter took to the Mount Gambier track like a duck to water. He was looking great in the 16 boys 20" class. He made it through to the final effortlessly, winning his motos and quarter final and placing second in the semi. Peter finished up with a third place in the main. And to prove that wasn't a fluke he followed it up with a second in the 15-16 boys cruiser.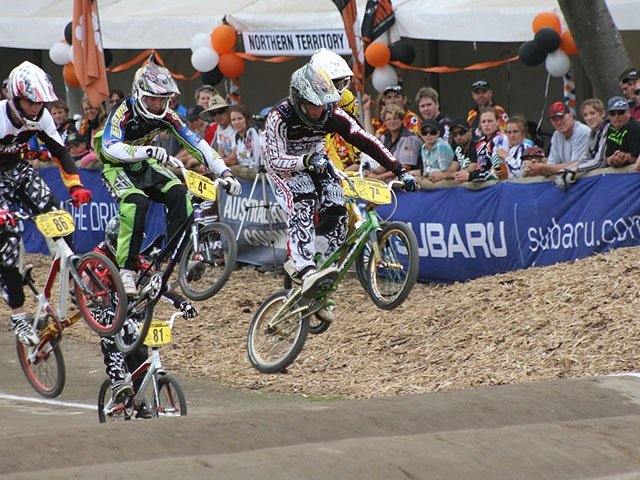 It was an awesome effort by the team. Congratulations to all for doing a great job representing Speedline and Supercross on and off the track.
The Speedline Parts/Supercross BMX Australia team is proudly supported by Speedline Parts, Supercross BMX, Dirt Designs, bmxultra.com and TECH.
Speedline Parts
Speedline Parts is a bicycle parts manufacture located in Southern California. We currently produce cranksets, pedals, chains, headsets, and seatpost clamps. All of our products are tested and used by team riders. Speedline Parts are distributed in Australia by Supercross BMX Australia.
Supercross BMX Australia
Supercross BMX is a leader in BMX by design, innovation and manufacturing. The Supercross ENVY is the lightest production frame, full stop! However there is much more to the brand than the ENVY frame. There is also the alloy BLUR and the cromo BOLT LT, both of which have the same race winning geometry as the ENVY. Supercross BMX currently produces some of the most respected cromo/heat treated handlebars and forks in the business as well as hubs, stems, seats, posts, tires, cranks and a while lot more.
Supercross BMX Australia are the exclusive Australian distributor, keeping prices competitive and in many cases cheaper than the US. On top of that SX Australia put back into Australian BMX sponsoring some of the most talented riders in Australia on the Supercross Australia factory team and supporting the Speedline Parts/Supercross BMX Australia and bmxultra.com teams. Supercross BMX Australia is also a big supporter of the BSX charity event.

27/04 PURE Factory debut at the Australian National Championships

Pure Australia press release
PURE Factory Australia made their team debut at the Australian National Championships in Mt Gambier achieving some excellent results. With an impressive looking team kit these riders couldn't help but be noticed.
Kerrod Connors – 1A Junior Elite Men, 5th Round 7 Probikx, 7th Overall in Probikx Series
Corey Frieswyk – 5A Junior Elite Men, 2nd Round 7 Probikx, 2nd Overall in Probikx Series
Brody Archer – 1st Dynamite 12 Year Boys, 2A 12 Year Boys
Shelby Green – 1st Dynamite 12 Year Girls, 1A 12 Year Girls, 1A 12 & Under Cruiser Girls
Booman McPherson- 4A 8 Year Boys, Officially the youngest rider in the 8-10 Cruiser Class, 6th, 6th & 6th in his Motos
Toddy McPherson Quarter Finals in 11 Year Boys, Quarter Finals in 12 & Under Cruiser Boys
PURE Factory Australia would like to take this opportunity to congratulate our Junior Elite Rider Corey Frieswyk on his selection in the Australian High Performance Team competing at the UCI BMX World Championships in Birmingham.
Our team would like to thank the PURE Bicycle Company, ANSWER, LEATT, Troy Lee Designs, FAITH Racewear, SHOTZ Sports Nutrition & SKINS.
If you would like any further information regarding PURE Bicycles please visit www.thepurebicyclecompany.co.uk
27/04 RUSH – TOYS 'R' US Australian Championships Wrap Up
RUSH – TOYS 'R' US press release
This year was the first year that the newly formed team competed at the Australian National Titles. We had 15 riders competing for a total of 25 National plates.
First was the Pre-Meet which all riders rode extremely well and had the track dialled in.
Next was the Probikx/Champbikx and Dynamites which was held on the Thursday. The team had Aislynn Weber competing in the Champbikx, Emma O'Hearn, Sam Walsh, Maggie Walsh, Chloe Dallinger and Joel Grace all representing their states in the Dynamites.
Thursday also saw our youngest rider Ollie Harvey competing in the 7 year boys class. Ollie rode really well considering it was the first time he had ever rider on such a large start hill.
The Results from our team, racing Friday 20", Saturday 20" and Sunday Cruisers were:
Sam Harvey 9 year boys 3A
Jon Balaam 9 year boys 6th in semi
Max Balaam 10 year boys 7A
Jonti Apps 10 year boys 4A
Tom Drizners 17-24 Men 5th in quarter
George Harvey 11 year boys 7th in semi
Joel Grace 11 year boys 8A
Ronan Weber 12 year boys 5A
Sam Walsh 12 year boys 6th in semi
George Cole 12 year boys 8th in semi
Maggie Walsh 11 year girls 6A
Chloe Dallinger 11 year girls 2A
Emma O'Hearn 12 year girls 7A
Celeste Barr 12 year girls 2A
Aislynn Weber 14 year girls 2A
Sam Harvey 8-10 cruiser boys 5th in semi
Jonti Apps 8-10 cruiser boys 1A
Maggie Walsh 12 & under cruiser girls out in moto's
Celeste Barr 12 & under cruiser girls 2A
Ronan Weber 12 & under cruiser boys 5th in semi
Sam Walsh 12 & under cruiser boys 5A
George Cole 12 & under cruiser boys 6A
George Harvey 12 & under cruiser boys 7th in quarter
Joel Grace 12 & under cruiser boys 6th in quarter
Aislynn Weber 13-14 cruiser girls 2A
With the results above the team came away with 15 Australian Plates out of a possible 25. What a great achievement from a newly formed team. We also entered the team corporate event and the team of Jonti Apps 20", Joel Grace 20", Celeste Barr 20" and Aislynn Weber 20" came 2nd overall , whilst our other team consisting of Sam Harvey 20", Max Balaam 20", Chloe Dallinger 20" and Emma O'Hearn 20" finished in equal 6th.
The team would like to thank all the sponsors who have helped with having them look so good and perform just as well. The teams sponsors are: Rush Industries, Toys 'R' Us, Redline Bicycles, Rock n Roll Lubricants, Smiths Goggles, Troy Lee Design, Axleworxs and KWT Maxxis. We would also like to thank Blue Lake BMX Club for putting on such a great event.
26/04 Redline Riders Dominate Saturday's podium at Randaberg Supercross
Redline press release
Redline riders took three of the six available podium places at Saturday's Supercross event in Randaberg, Norway.
In the women's event, Redline rider Magalie Pottier of France won each of her three heats but in the final was passed at the finish line by Caroline Buchanan to finish in second place. US rider Alise Post qualified as the top rider from her group and finished a strong third in the final and was the top placing US woman rider. Following this second round of the UCI BMX World Cup, Magalie Pottier currently leads the overall standings while Alise Post is ranked fourth overall in the World Cup as well as being the top ranked US woman rider.
In the men's event, Sam Willoughby and Josh Callen from Australia, Tory Nyhaug from Canada, Manuel Devecchi from Italy and Raymon Van der Biezen all rode well through the opening rounds but in the final, it was Sam Willoughby and Tory Nyhaug who would go to battle for a Redline win. For both riders the race came down to the final straight. For Tory Nyhaug, while on his way to a certain third place finish, bad luck struck as Liam Phillips lost control taking down Tory who would get up to finish seventh. For Sam, a poorly landed jump on the first straight put him in the position of having to play catch-up. In the end Sam's hard charge from third place wasn't enough as he came up 2/1000's of a second short to take second place in the most closely contested SX race ever run.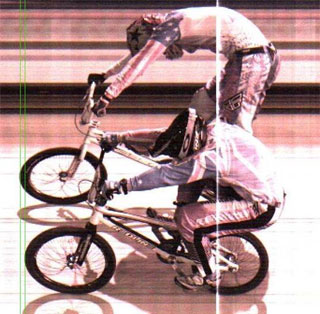 Photo below – Craig Dutton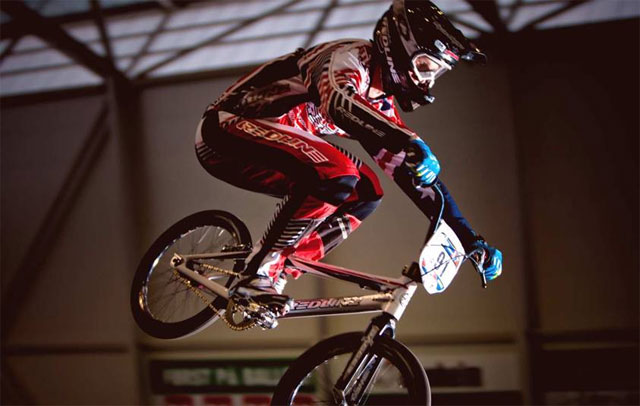 Following the Randaberg, Norway event, Sam Willoughby currently sits in 2nd place in the overall UCI World Cup standings while Canadian Tory Nyhaug is ranked 4th. Dutch riders Raymon Van der Biezen and Twan Van Gent currently sit in 11th and 14th respectively while Josh Callan of Australia is in 23rd, Morten Therkildson of Denmark is in 25th and Manuel DeVecchi of Italy is ranked 27th.
Upcoming events for Redline riders include the Winter Nationals in Phoenix, AZ on April 20th to 22nd and the next UCI World Cup event will be in Papandal, Netherlands on May 12th and 13th.
26/04
ONE Bicycles Australia Factory Team at the 2012 National BMX Championships
ONE Bicycles Australia press release
The One Bicycles team has come a long way since we first set it up. It started as a grass roots team with great riders who enjoyed racing BMX and loved the One products, the line up has barely changed since the beginning. As the team manager it makes me very proud to see how things have changed. The team has become a real force in the Australian BMX scene. Sure, it's been a while since the team has had a pro rider heading it up, but the 'kids' have all grown up and are coming into pro age now, it's only a matter of time before they really unleash in the pro ranks.
Issy Penglase (Vic) and Justin Beattie (NSW) were joined by Mikayla, Josh and Nick Rose (ACT) to make up the squad at Mount Gambier.
Justin had already won three national championships in a row and all eyes were on him to see if he could pull off the four-pete. Although he looked great in the qualifying motos the 13 boys final didn't quite go to plan. Justin is used to dominating the race from start to finish, but he was in unfamiliar territory in the main. When the gate dropped Justin didn't get off to the strongest of starts, when he exited the first corner he was in third place, quite a way back from the leader. To many #3 would be fine, but not Justin. He put the pedal to the metal the rest of the way around the track and his extra effort payed off when he stole the #1 spot on the line. That's now four years in a row, an awesome effort no matter how you look at it.
Issy has been training hard and it paid off when she made it through to the 14 girls class final. When the dust settled Issy finished with a sixth place and was very happy with that.
We'll let Miekel tell you about the Rose crew:
by Miekel Rose
It was a long 12 hour drive to Mount Gambier this year for the 2012 National Championships. The kids had trained well up to the event and were hoping for some good results. The trailer was loaded to the roof and the Cruisers sat on top of the trailer, ready for their time on the track after a long absence. All the sponsors were proudly displayed thanks to new stickers organised by Jim Beattie. We were staying with the Green family from Townsville this year and were looking forward to it. There were a number of ACT families also staying where we were which made for an enjoyable time.
DYNAMITES
Mikayla was riding as the only female in the 12 girl's class from the ACT this year and was hoping for a good result. It seems as though every girl in that class had grown a foot since we last saw them and Mikayla missed the chance to do that growing with them. She is a tough little rider and went out to show then that she can still hold her own against the bigger competition.
Mikayla rode a strong time trial placing 4th in the standings heading in to the motos. She continued a very strong pace and sat in the top 2 in her heats to make it to the final, behind her room mate Shelby Green. In the final Mikayla came out strong and raced hard to the line for a third and a great result first up for her Aussies quest. Podium in Dynamites a great effort!
Probikx and Champbikx
As Josh and Nik had missed the ACT rounds and the WA rounds, it was decided to not run them at the Aussies this year but allow Nik to race cruiser and Josh to rest for the Junior Elite event in the Nationals themselves.
Aussies 20"
Mikayla was up against some bigger and tougher competition this year, however after a strong ride in the Dynamites she had high hopes of another Aussie final. Mikayla rode amazingly in her first two heats placing second behind local rival Emma O'Hearn and posting some good consistent times. In the third heat, the one that matters for your semi placing, Mikayla got an unusually slow gate and got swamped. She fought back hard but only managed a fourth giving her a slow time and poor gate pick for the semi, even though she was sitting second in her block. Come the semi, she came from gate 7 and struggled to get across the track in to a good position for the first corner, allowing the complete field to be ahead of her. She fought all the way to the line, but missed the final spot for the final by 0.02 of a second. She was devastated and shed a tear before composing herself and readied herself to go and support her peers in their final.
Nikalus was struggling with his gearing and we made a change after the Pre-titles to see if it worked. He looked Ok but did not feel comfortable jumping some of the jumps he could in practice, in the races themselves. In saying that he rode very well and muscled up with strong 4th place finishes in every heat to progress through to the Quarters. Nik was in a tough block and rode some quick times which he was happy with. In the quarter Nik came out of gate 6 and had a very hard draw. As they headed in to the first corner, Nik was on the back of Hayden Curd's rear wheel when Hayden came down leaving Nik nowhere to go but straight in to him, finishing his chances in the Aussies for another year in 20". Same happened last year in Cairns, with Nik getting taken out in the quarters. Poor kid has some bad luck at this event. He finished in 6th in the quarter and not enough to continue on.
Joshua was unable to ride the Nationals after a nasty crash in the pre-titles practice. Joshua was following his team mate Leigh Darrell in to the Pro Straight when he jumped the second jump landed on New Zealand Rider Michael Bias. Joshua complained of sore ribs and pain breathing, a typical sign of broken ribs. We said he could sit out the Pre Titles and see how he felt Saturday for his 20", but after testing him on a cruiser in the street Friday night and then again Saturday morning, it was obvious he could not ride, so he sat out of the event and did all the videoing for his family members. Always next year mate. Hope Michael Bias is OK as we didn't see him ride for the rest of the weekend either.
Aussies 24"
Mikayla dusted off her cruiser that she hadn't raced since October last year and aside from upsetting a few redbacks, the bike was in good shape. Mikayla has been dying to race this particular bike at the Aussies as it was sent to her in 2009 by ONE and when it arrived we realised it was too big for her. 3 Years later she got her chance to race her ONE Cruiser and was planning on making the most of it! Mikayla had to race her room mate again in Shelby Green and did a good job of it coming in second in every heat with some very good times. Mikayla made it to the final of her cruiser and had some stiff competition against her. Mikayla was hoping to make up for her disappointment of the 20' and came out hard in the final chasing Shelby and Celeste Barr from QLD. When the dust settled, Mikayla was 3 Australia in a fast race against some good competition. She was very happy with the result. Amazing results for Shelby Green with 1A in the 20" and 24" bikes this year, very well deserved. Well done to all the riders in the class, you all rode well.
Nikalus decided to race his ONE Pro cruiser this year and like Mikayla, had not ridden it since October last year. Nik had some good competition in his class as well and it made for some great racing. In his first heat Nik was on fire with a strong second place until he managed to pull down his pants in the second straight. Nik stopped on the third straight, pulled up his pants and continued to race for a fifth. After a lesson in how to dress by myself at the State Tent, Nik came out and made up for the calamity of the first race by securing two more second places and a spot in the quarter finals. In the Quarter final Nik rode well and made it through to the semis. In his semi he drew a tough bunch and struggled to get in the lead pack by the first corner, fighting hard all the way to the line, Nik finished the semi in 6th and missed his chance to be in the final this year! Nik was happy with his results and said that he achieved his goals for the event. Well done to Matt White for a dual Australian Champions effort this year! Well deserved.
We would love to thank Paul, Gary and Mon at ECI for their undying support and the use of the ECI Tent over the weekend! Also thanks so much for the new ONE Flags, we will fly them proudly at events we compete at. To Shane Jenkins thanks for the fun over the weekend and your constant support of the kids. To Scotty Hand, thanks also for the amazing SNAP products and Alius gear. A massive thanks to Craig Fisher and the Lizard Skins sponsors for the great grips we run on all the bikes, they are the best grips we have ever used. We had many people checking out the bikes over the week at the Aussies and a testament to the quality products on the bikes!
A special thanks to the Green family who bunked with us for the 10 days of the event. It was an absolute pleasure spending quality time with your family. It was very overdue and something we will never forget! A big thanks to Steve Thomas for taking some of the pressure off me over the week with the riders and responsibilities I put my hand up for and struggled with! All in all an OK trip away, but we do hope 2013 at Sleeman will yield better results! See ya all next year!
How to buy One Bicycles products in Australia
If you would like to purchase a One Bicycles frame or accessories in Australia the best way to do so is to head down to your local bike store and place an order. If they don't know what you are talking about tell them to call Elite Cycle Imports while you wait and place your order there and then. After doing some calculations ourselves we have found the cheapest way to get One Bicycles products in Australia is through a local reseller.
About One Bicycles
For over a decade ONE Bicycles (operating out of Holland), inducted into the European Hall of Fame, has solely focused all their efforts on the sport of BMX. Today they are at the forefront of BMX product design Worldwide. Utilizing advancements in the industry, some of which were conceived in ONE's own engineering department, their products directly reflect the evolution and maturing of proven BMX design. Like a fine wine ONE Bicycles product line has come of age as a result of years of dedication to the sport of BMX.
One Bicycles are a major sponsor of the bmxultra.com team
Over the years One Bicycles have sponsored
Khalen Young
The Phirebird team which includes 2005 & 2006 World Championships finalist Jamie Gray and 2006 NBL Grands (A Pro) champion Glenn Codega
In 2008 Maris Strombergs rode his One Bicycle to victory in the Elite Men's class at the UCI World Championships and followed that up by taking the first ever Men's BMX Gold medal at the Olympics.
For more information about One Bicycles check out www.onebicycles.com
One Bicycles are distributed in Australia by Elite Cycle Imports (www.eciimports.com)
26/04
HRVfitness Back on TOP!
HRVfitness press release
What a fantastic weekend of racing, the HRVfitness riders were out in force at this year's BMX Australian Titles.
The newest edition to the team Tom Siinmaa was looking strong Thursday night in the final round of the National Chambikx series. But in the final Tom got tangled up in the first straight crashing and hurting his knee, putting him out for the rest of the weekend.
Jaden Rice was out to prove a point after a dominating 2010 and then losing both his World and Australian number 1 titles in 2011. Jaden has been working exceptionally hard this year to claim his title as the fastest 12 year old on the planet. When the gate dropped in the final Jaden was away and didn't look back, the big fella smashed the competition and came away with his second Australian title in 3 years.
With a nick name like "The Freako" you better have some mad skills! That's exactly what you get when you are talking about Brandon "The Freako" Te Hiko.
Brandon was in fantastic form all day and when the gate hit the floor in the main Brandon turned on the power. The Freako was unstoppable and took out his third Australian number ONE in three years.
Well done to all the HRVfitness crew and the rest of the Victorian state team. A big congratulations goes out to Peter Rice, after a terrible string of bad luck Peter managed to with in both the 50 and over 20 inch and cruiser class. Well done.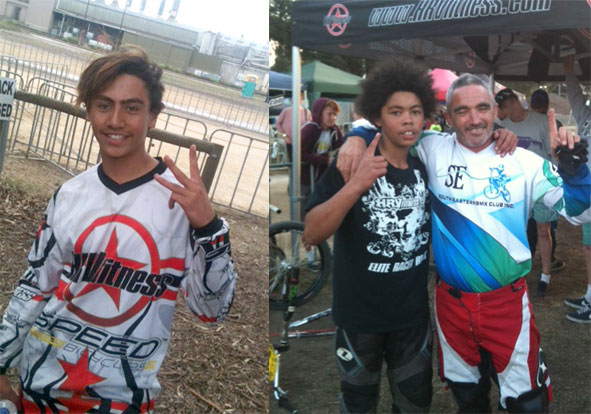 Team HRVfitness: Tom Siinmaa, Brandon Te Hiko, Jaden Rice
Sponsors: HRVfitness, Speedco, Altegra, BMXpress, Max's, Sinz, THE    
25/04 Congratulations Bodi Turner – Probikx Junior Elite Men Winner
BMXMAD press release
Bodi won 6 of the 7 rounds to secure the win with an impressive 348 point lead.
Bodi said the track at Mt Gambier was one of the best tracks around and enjoyed the racing on Thursday.
He was stoked to be the leader for the series and thanked BMXA for organising the events and Mum and Dad for sending him to compete at
each round.
He also thanked all the well wishers for their support after his crash in the semi final for the National Junior Elite Mens Title.
He is now looking forward to competing at the World BMX Championships in London next month and hopes to do well there.
Bodi would like to thank – Intense BMX, VIS, ECI, Liquid Image (Goggle Cam), Profile Racing, THE, and BMXMAD
Well done Bodi and good luck for London!!!
25/04 Anarchy race report: Australian BMX Championships
bmxcompound.com.au press release
The Anarchy BMX Australia team was in full effect at the Australian BMX Championships last weekend. Western Australian Cat Hopkins and Victorian James Lautier debuted the Australian Team Jersey at the Mount Gambier track and with great success.
Cat Hopkins
Cat finished eighth in the elite womens class at the 2011 Australian Championships and, despite carrying a nagging knee injury, was out to prove it was no fluke. Lining up against some of the biggest names in international BMX Cat held her own and once again made the main. When the dust settled in the final Cat had finished in seventh, a very respectable result in a strong field.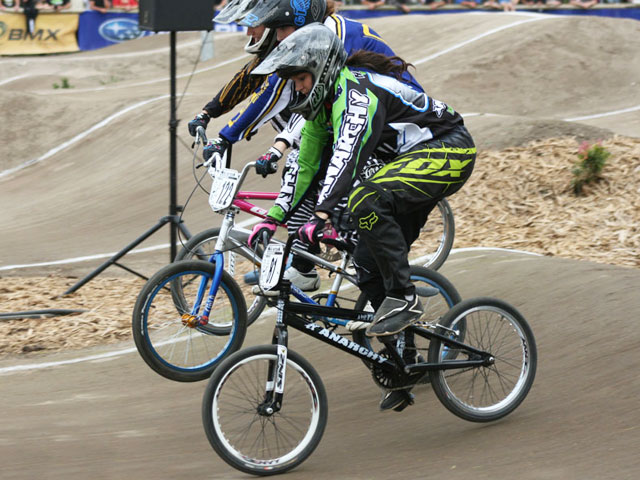 James Lautier
James has been struggling to mix study with riding but in each moto of Junior Elite he proved he had what it takes to make the final. It was just a couple of mistakes that kept him from transferring out of the motos. James however took it in his stride and when he raced the Elite Cruiser class he dominated, and was the only elite cruiser rider jumping the pro section. James went on to take the #1 in Elite Cruiser.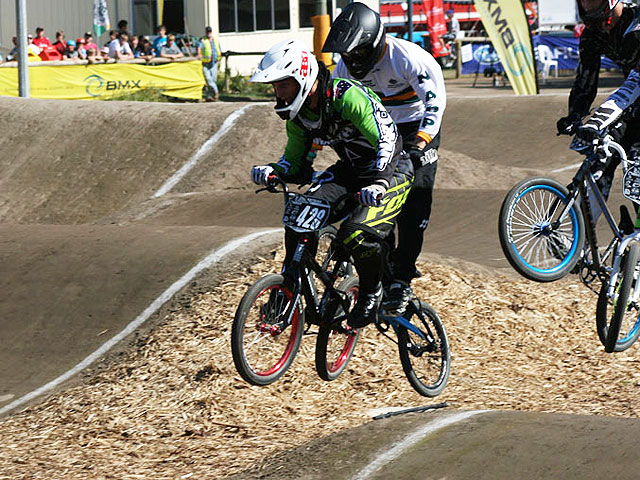 The Anarchy BMX Australia team is co-sponsored by Supercross BMX, Speedline Parts, Profile, Sinz, Alienation, bmxultra.com and Dirt Designs.
About Anarchy BMX
For more information about Anarchy BMX products check out www.anarchybmx.com
If you would like to purchase Anarchy BMX products in Australia please have your local bike shop contact us. Please note, we do not sell direct to the public. We support the Australian BMX Industry! Do You?
For more information and dealer enquiries email sxaustralia@supercrossbmx.com.
25/04 SE Introduces Retro Headset Spacers!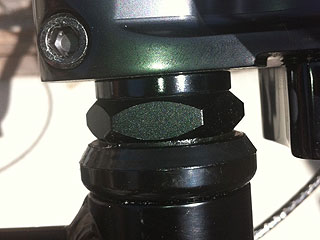 SE Bikes press release
These unique looking headset spacers mimic the look of classic lock nuts from 1" threaded headsets of yesteryear. But take note that these spacers are indeed threadless and made for 1-1/8" threadless steer tubes of today.
These headset spacers can be used to liven up the look of your bike, no matter what style bike you have. New school, retro, race, street, freestyle, you name it, these new & unique spacers will compliment any ride!
-10mm Stack Height
-6061-T6 Alloy
-Available in Black, Silver, Gold, Red, Blue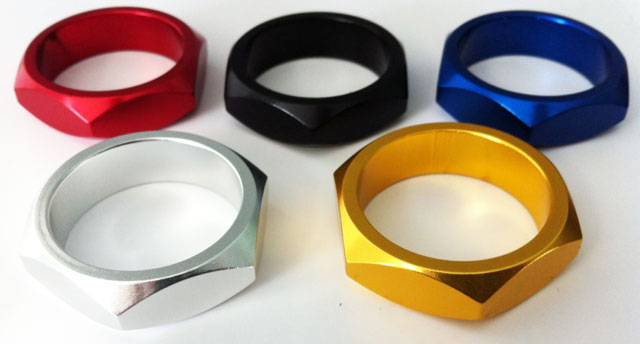 25/04 BMXMAD at the
Australian Championships 2012
BMXMAD press release
Thank you Mount Gambier for putting on an awesome week of racing. The surrounds and the track were in superb condition and somehow the weather knew you had put a massive effort in for this event and looked after you.
The BMXMAD team was also on fire and we are very proud of our team!
Millie – 5th Place in 12 Girls
Hayden – 4th Place in 14 Boys
Wade – 4th, 5th and 3rd in motos
Emily – 6th Place in 15 Girls
David – 14th Place in Junior men
Erin – 10th Place in Elite Women
Greg – 3rd Place in cruiser and 2nd Place in 20"
Graeme – 10th Place in cruiser and 11th in 20"
Russell – 7th, 8th and 8th in motos.
also Millie Placed 6th in the Dynamite final and Hayden Placed 2nd in the champbikx 14 Boys final.
Well done!!!!
24/04 Supercross Australia's Team update
Supercross BMX Australia press release
The Supercross Team were out to make an impact this year at the Australian Championships at Mount Gambier.
Max Cairns
Max Cairns looked very comfortable on his Supercross Blur in the 16 boys class at the final round of the Champbikx series on Thursday. A strong second place moved him up to second overall in the series and in good stead for the Nationals on Saturday.
When Saturday came Max was going even faster and was looking good for the podium. He was off to a great start in the final battling for first when he went down on a roller in the first straight. Max had to settle for seventh place and now has his eyes firmly set on the World Championships.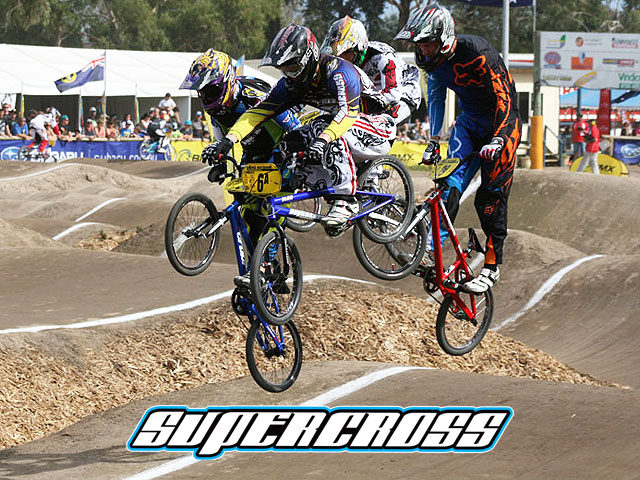 Jade McPherson
Factory Supercross Vet Pro, Jade McPherson, was a little disappointed with the small numbers in the 30+ Masters class but made the most of it. He was sitting in the three spot in the final until the last half of the track where Simon Anderson started to make some uncharacteristic mistakes Jade took advantage and took his Supercross Bolt LT to second place.
Jade was in the 35-39 cruiser class as well and was looking to make another podium. It didn't quite go to plan in the final and Jade had to settle with fourth.
The Supercross Australia team is sponsored by Supercross BMX, Speedline Parts, bmxultra.com and Dirt Designs.
About Supercross BMX Australia
Supercross BMX Australia are supporters of BSX and the Royal Children's Hospital and while we have our own Supercross and Speedline/Supercross teams we also co-sponsor the bmxultra.com team and the Anarchy Australia team.
To find out more information about Supercross BMX products, Anarchy BMX frames and Speedline Parts check www.supercrossbmx.com.au
If you would like to purchase Supercross BMX products in Australia please have your local bike shop contact us. Please note, we do not sell direct to the public. We support the Australian BMX Industry! Do You?
For more information and dealer enquiries email sxaustralia@supercrossbmx.com.
24/04 BMX RACER Magazine ISSUE #4 (May) is out now on iTunes!
BMX RACER press release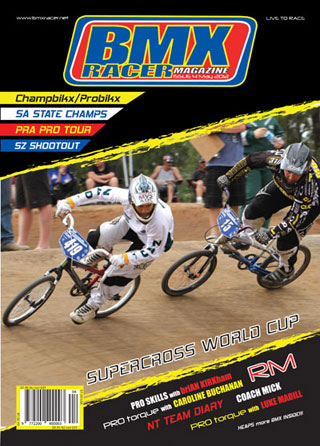 Features
SA State Champs
PRA Pro Tour
SX Chula Vista
SX Randaberg
Burdekin
Harbour City March Madness
SZ Shootout
Pro Torque with Luke Madill and Caroline Buchanan
and so much more BMX!
The Hardcopy of Issue #4 will be available in 2 weeks!

23/04 Photos: Probikx/Champbikx round 7 and Australia Championships
by bmxultra.com
The 2012 Australian Championships are done. Mount Gambier have an awesome venue which created a great atmosphere, they also turned on the weather.
Senior Elite men

Brian Kirkham
Jamie Gray
Anthony Dean
Matt Dunsworth
Josh Callan
Luke Madill
Darryn Goodwin
Tom Hubert

Senior Elite women

Melinda McLeod
Lauren Reynolds
Nicole Callisto
Kirsten Dellar
Rachel Bracken
Gemma Sloane
Cat Hopkins
Lacey Oliver

Junior Elite men

Kerrod Connors
Troy Ewens
Josh Zarb
Joey Graham
Corey Frieswyk
Daniel Willis
Bowen Muncaster
Steven Gedye

Junior Elite women

Madison Janssen
Sarah Harvey
Rachel Jones
Macey Gore
Nicole Docherty
Kishani Green
Jacinta Pink
Erin Rook
For full results check out past events on ezeventing.com.au.
Click here to check out the photos
18/04 On the road for the next couple of days
by bmxultra.com
With the Australian Championships this weekend, we'll be on the road, and trying to enjoy the racing. There won't be any updates for the rest of the week here but you can check out our facebook page where we plan to add some updates while we are away.
Head over to http://www.facebook.com/bmxultra and like it, check it out or you can wait until next week for the updates.
18/04 Bubba Harris and Supercross part ways
by bmxultra.com
It's just been announced on the Supercross BMX website that Supercross and Bubba Harris have parted ways. Bubba has been an integral part of the Supercross family these past few years and is now back at the pointy end of the Elite field where he's looking very comfortable and fast.
This is an extract from the Supercross site: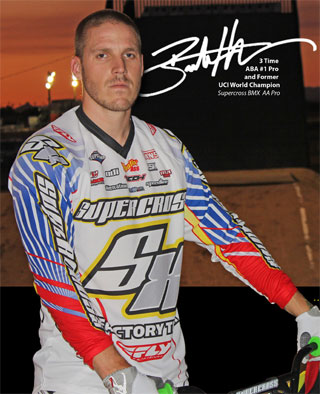 Well, we honestly never thought we would have to write these words, or if we did we thought it would be after he celebrated getting his 5th #1 Pro Title or an Olympic Medal. But today, April 17th, 2012, we Supercross and Bubba Harris, had to come to an agreement that for it to be the most beneficial for his Career and Aspirations that he leave the Supercross BMX Factory team to search for a new Sponsor to support and fund his dream of the 2012 Olympics.
Here is what Bubba wrote for a press release:
"I just wanted to let the BMX community know that Supercross BMX and I have decided to part ways. I would like to extend my gratitude to the Supercross Team and family for giving me a great home for the past few years. Supercross BMX has some of the best and most technologically advanced products out there and being able to race and ride them has been amazing. I have no plans as of yet and have no idea where the future will take me. I do know that I feel better on my bike than I have in years and plan on adding to my list of accomplishments. Again, I would like to thank Bill Ryan and my former teammates for all the support they have shown me. My career is not even close to being finished and I look forward to my next race. See you in Phoenix."
Click here to read the rest of the article
18/04 team bmxultra.com's Dane Pangallo out of the Australian Championships
bmxultra.com press release
As the best of the best Australia's BMXers prepare for their biggest race meeting of the year, the Australian Championships at Mount Gambier South Australia this weekend, Dane Pangallo will have to look further along the calendar. In a training session at Mount Gambier earlier in the week Dane had a crash and has broken a bone in his hand that's expected to take some time to heal. So that's him out of the titles for this year. With the World Championships only a few weeks away Dane will remain focused on his goals.
Dane will be on hand to support his team mates Shane Jenkins, Aaron Rogers, Levi Collins and Scooby Guyers.
The bmxultra.com team is proudly supported by One Bicycles, Supercross BMX, Dirt Designs, Tioga, Elite Cycle Imports, THE, Profile, Sun Ringle.
17/04 CycleCraft Australia new website
by bmxultra.com
It seems that there's new websites popping up all over the place these days, we've just found the new Aussie CycleCraft website at www.cyclecraftaus.com.au
You would have had to have your head in the sand for the past 30 or so years to not have heard of CycleCraft (or possibly be new to BMX). It's an old school brand that's always had a "cult" like following from the very beginnings.
It's a nice clean looking site, but it's got one downfall, it's a full flash site, so its best view on a computer. There is a condensed version for phones and ipads.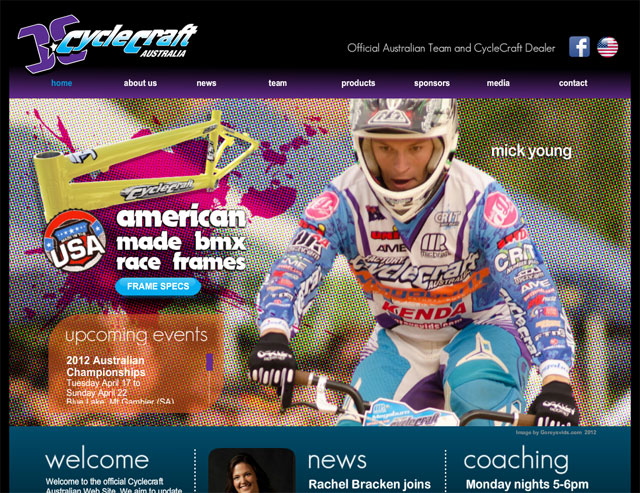 16/04 Buchanan and Fields victorious with extremely close finishes
UCI press release
Randaberg Norway – Connor Fields (USA) won his third UCI BMX Supercross event in a row in the closest photo finish ever in Supercross history. Sam Willoughby (AUS) and the almost 3000 fans in the Randaberg Arena thought Willoughby had pulled it of. Swiss Timing kept everybody in suspense for a few seconds but the photo finish determined Fields was 0.002 seconds clear of his Australian rival.
Fields claims three in a row
Connor Fields won his third UCI BMX Supercross World Cup event in a row. The rider from Las Vegas claimed victory in the last Supercross World Cup of 2011 in Chula Vista, CA. He also claimed the gold in the 2012 opening event also on Chula Vista. Leaving the world to think that he is unstoppable on his home track. But with his win Norway Fields shows he is fast on any track anywhere anytime. Listen to Fields here.
Listen to Sam Willoughby his reaction to losing the gold and winning the silver here
Results Men final
1) Fields C (USA) 32.063
2) Willoughby S (AUS) +0.002
3) Oquendo Zabala CM (COL) +1.419
4) Caleyron Q (FRA) +1.507
5) Kirkham B (AUS) +2.560
6) Phillips L (GBR) +25.227
7) Nyhaug T (CAN) +29.533
8) Young K (AUS) DNF
Buchanan ecstatic
Caroline Buchanan (AUS) beat Magalie Pottier (FRA) on the finish line in the final. Buchanan was still in third position in the second turn. In the last turn she started her turbo engine and stole the overall victory from Pottier.
Caroline Buchanan who has won both 2012 Superfinal time trials said yesterday 13 April, she would be stoked to make top three. But this win was something she dreamed of. Listen to Caroline Buchanan after her win here.
Results Women final
1) Buchanan C (AUS) 36.954
2) Pottier M (FRA) +0.139
3) Post A (USA) +0.801
4) Rimsaite V (LTU) +1.601
5) Martin A (USA) +2.204
6) McLeod M (AUS) +36.326
7) Le Corguille L (FRA) +50.006
8) Walker S (NZL) DNF
Full results see www.bmx-results.com click results 2012 select 'Randaberg'
16/03 Fields & Buchanan both win Superfinal Time Trial twice in a row
UCI press release
Randaberg, Norway – Caroline Buchanan (AUS) and Connor Fields (USA) again claimed victory in the Superfinal Time Trials during the second round of the 2012 UCI BMX Supercross World Cup series in Randaberg, Norway. Less than a month ago this duo did exactly the same in Chula Vista California.
That is remarkable considering this a small, fast, custom-build, indoor track compared to the much bigger, downhill, Beijing Olympic replica track. In other words, these two riders are unstoppable in their current form and can win anywhere.
Tomorrow the racing continues. 64 men have qualified out of 121. 31 women, out of 41, will also forward into the finals in Randaberg Norway. Racing starts 4.00 pm (CEST) You can watch it live from 6.40 pm on www.BMXLive.tv
Connor Fields said that being happy makes the biggest difference.
"What is the secret? ….I go out there and do my best it pays off. Good preparation good coaching…. You know, I am happy right now, I am feeling good and that results in great form and me riding well. Tomorrow I am going to go out there and do my best. I want to win every race I am in."
"I don't think I have a certain kind of track that suits me. A lot of people have been saying that I am only good at Chula Vista. You know I just enjoy riding my bike that is all that counts."
Caroline Buchanan, fastest girl on the track
"I still can't believe I won. I mean Chula Vista was the first time trials I had ever won. I know that Time Trials is one of my specialties. Doing 4-cross and downhill helped me having smooth runs. And I managed to transfer that smoothness to BMX. But I still can't believe I won another one. It is great to win this but I really want to transfer this experience in to racing. This means that you are the fastest girl on the track. But so much can happen in racing you have to put that al together. In Chula (Vista) I finished fifth. If I get top three tomorrow, I am stoked."
Results Men
1 Connor Fields (USA)
2 Liam Phillips (GBR)
3 Joris Daudet (FRA)
4 Sam Willoughby (AUS)
5 Mike Day (USA)
6 Carlos Oquendo Zabala (COL)
7 Tory Nyhaug (CAN)
8 Raymon van der Biezen (NED)
9 Brian Krikham (AUS)
10 Andre Fossa Aguillez (NOR)
Results Women
1 Caroline Buchanan (AUS)
2 Leatitia Le Corguille (FRA)
3 Brooke Crain (USA)
4 Magalie Pottier (FRA)
5 Jana Horakova (CZE)
6 Romana Labounkova (CZE)
7 Sarah Walker (NZL)
8 Eva Allioud (FRA)
9 Alise Post (USA)
10 Abbie Taylor (GBR)
13/04 Review: Profile 40 Stem
by bmxultra.com
Over the past few weeks we've been checking out the Profile 40 Stem, they have been around for a while now, but it's the kind of stem that could be easily overlooked. Click here to check it out.
13/04 Trail and Track new website
by bmxultra.com
Victorian BMX Race specialists, Trail and Track, will be launching a new website this week at the Australian BMX Championships at Mount Gambier.
www.trailandtrack-bmx.com.au will focus on BMX racing exclusively. You can now keep up with the latest news from the T&T crew from new products to team updates.
If you are at Mount Gambier be sure to drop in to the pro shop pick up a bargain and ask for a sticker. The team riders will also have some to giveaway.
The online store will also be BMX race specific and will be launched shortly after the nationals.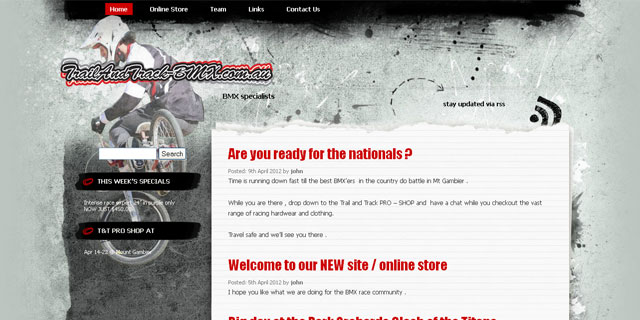 Check it out at www.trailandtrack-bmx.com.au
13/04 Tom Siinmaa joins HRVfitness
HRVfitness press release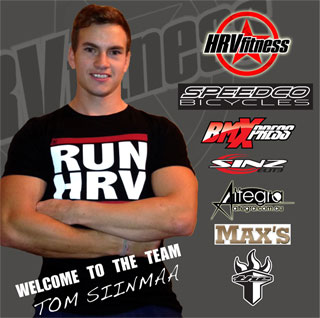 HRVfitness would like to welcome "the Tomahawk" Tom Siinmaa to the team. Tom will be joining two of the quickest juniors in the world Jaden Rice and Brandon TeHiko. 
Tom has been training hard and will be ready for next weekend. Good luck boys, show them who's boss at this years National Titles.
Team HRVfitness Sponsored by: HRVfitness, Speedco, Sinz, THE, Altegra, BMXpress, Max's

12/04 Supercross Australia's Team update
Supercross BMX Australia press release
Jade McPherson at the Western Australian titles
Factory Supercross Vet Pro, Jade McPherson, killed it at the Western Australian State Championships. He won both his 20" and cruiser class. A great confidence boost for Jade leading into the National Championships next week.
Max Cairns at the Geelong Spectacular
Max Cairns is continuing to make an impact in the tough Victorian AA Field. At the Geelong Spectacular there were 16 AA's and after the three motos then three moto finals Max emerged with a respectable sixth place finish. Not bad for the youngest guy in the field. The AA class has been tough but has pushed Max to the next level. Look out Mount Gambier.
The Supercross Australia team is sponsored by Supercross BMX, Speedline Parts, bmxultra.com and Dirt Designs.
About Supercross BMX Australia
Supercross BMX Australia are supporters of BSX and the Royal Children's Hospital and while we have our own Supercross and Speedline/Supercross teams we also co-sponsor the bmxultra.com team and the Anarchy Australia team..
To find out more information about Supercross BMX products and Speedline Parts check www.supercrossbmx.com.au
If you would like to purchase Supercross BMX products in Australia please have your local bike shop contact us. Please note, we do not sell direct to the public. We support the Australian BMX Industry! Do You?
For more information and dealer enquiries email sxaustralia@supercrossbmx.com.
12/04 LooseKid Industries new website
by bmxultra.com
Those cats over at LooseKid Industries (LKI) never sit still, I think they have a serious case of ADD. They seem to be continually releasing new products and new catalogs, well they haven't stopped there. LKI have just made their new website live. Not only does it look slick it's very easy to navigate to find what you are looking for, and even purchase products. There's heaps of other cool features like the wallpaper downloads, athletes information (still needs to be fleshed out) and a new blog.
Make sure you head over to www.loosekid.com and check it out.
12/04 New BMXPress mag out now!
BMXPress Magazine press release
Don't forget to grab your copy of the latest BMXpress Magazine from the newsstands.
We are up to a record breaking issue #58.
Due to the overwhelming response to our last issue which had 132 pages of wall-to-wall BMX racing, we decided to do another huge action packed issue
with another 132 pages of the best, most comprehensive BMX Racing action you can find. This issue covers another 16 races, amateur highlights and much more in full gloss colour and an oversized format with big exciting photos.
BMXpress is a racers magazine by BMX racers for BMX racers.
Warwick "Flex" Wheeler (Editor) raced in the pro class in the 1980's, 1990's and 2000's. He has won many state and national plates and was top 16 in the NBL USA in 1998 and has been the Editor of almost 100 BMX specific magazines, and has been involved in BMX for over 32 years.
Craig "Deuce" Sainsbury, our Co-Editor raced in the 1980's, raced pro in the 1990's and 2000's, won at the ABA USA World Championships Vet Pro World # 5, worked at the ABA USA and has been a Co-Editor in almost 100 BMX specific magazines.
Tony Harvey "HRV" (Modern day BMX Hero, winner of many state and national plates, 2000 Australian Elite Champion, and modern day coach).
Tony Hancox (raced pro back in the 1980's, 1990's, winner of many state and national plates and modern day coach). Blake Schofield is a current day elite rider.
Damon Bevan (BMX Legend and historian, winner of many state and national plates). Tim Ward (living BMX Legend as far back as the 1980's, winner of many titles).
Phil Kaye (Pro racer from the 1980's and modern day racer, and won many state and national plates).
Paull McLaughlin (racer from the 1980's, rode pro in the 1990's and modern day racer who has won many state and national plates).
Michael Robinson (Modern day elite rider, multi award winning rider and winner of many state and national plates).
Kamakazi (BMX legend in his own right and Olympian, winner of many state and national plates and three national Elite Titles, equal second on the all-time winners list).
Chris Evens (Modern day racer and winner of many state and national plates).
They are all part of our team of racers who help bring you BMXpress magazine.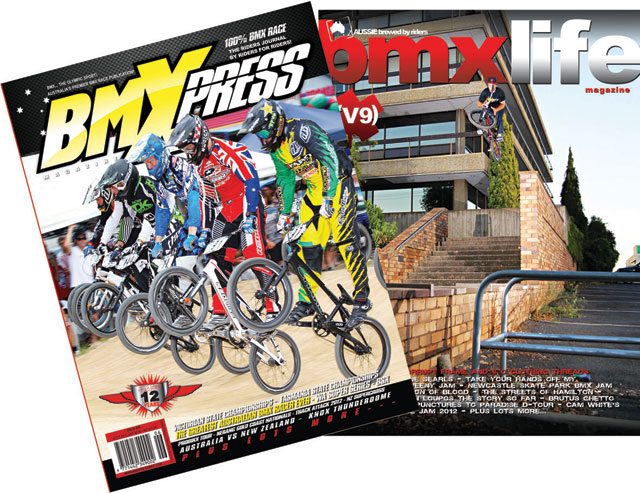 BMXpress Magazine is Australia's longest running, BMX race only magazine, which has been documenting Australian BMX since 1999. BMXpress wish to thank all those who are involved in the "Racers Journal", thank you to all our advertisers and to all our readers.
If you want to be involved in BMXpress or have any ideas for articles etc, please contact the Editor.
11/04 Introducing Detailed Bike Co
Detailed Bike Co press release
The popularity of Old School BMX has boomed over the last five years and now another era of BMX's past is making a comeback as well. Mid School BMX (generally anything 1990's) has been enjoying a resurgence amongst collectors and restorers over the last few years and now Australia has its first web based store specializing in this incredible era of BMX. Detailed Bike Co is the brainchild of former Elite/ AA Pro rider Brett Tyack. Brett has an extensive background in BMX starting out racing in 1988 as a 8 year old through to becoming a competitive Elite/AA Pro in the late 90's. Today Brett is still passionate about Mid School BMX and is one of the country's leading collectors and restorers of 1990's BMX.
We will be stocking many era correct items for Mid School restorers as well as New Old Stock, New and Reproduction parts and accessories. In addition to these we also have Old School enthusiasts covered with an expanding range of products.  Many of our items can also be used on your current New school race bike as well.
We are Australia's largest dealer for Porkchop BMX and have a large selection of their fantastic range available including the popular range of Chop Saw Chain rings and Spiders, Viscount Dominator and Dyna Seats and Duro Comp 3 style tires. In addition to these we also have a selection of TNT Derringer Hubs, Stoke! Seats out of the USA and ODI's range of Longneck Handlegrips will shortly be joining our product line up also. We strive to constantly be adding products to our store to make the task of building or restoring your BMX that much easier.
In addition to our Store our website will also feature a comprehensive reference section of all things Mid School BMX.  If you have anything Mid School related (photos, race results, video etc) that you would like to contribute please feel free to send it through to brett@detailedbikeco.com.au Similarly if you have any Bikes or Parts sitting in your garage from the 1990's we may be interested in purchasing those from you also. If you have anything you'd like to sell please email pictures and a brief description through to us.
You can visit our website at www.detailedbikeco.com.au and also keep up to date with all our latest news on Facebook also www.facebook.com/detailedbikeco
10/04 UCI BMX Supercross World Cup series premieres in Norway
UCI press release
The Randaberg Arena, close to beautiful Stavanger on Norway's scenic southwest coast, has been transformed into a challenging Supercross track complete with the now so familiar jumps and Supercross start hill. This spectacular and spectator friendly BMX-event will be the second stop of the UCI BMX Supercross World Cup series of the 2012 season and will be the first time that the world's best BMX racers will compete on this custom-made Supercross track in Norway.
Over 170 riders from 26 nations are registered for this three-day event; considered to be one of the key events in BMX leading up to the 2012 London Olympic Games. For some nations this event could be a key-qualifier, while for others their focus will be on other events this year.
Elite women: Walker and Reade in and Pajon out
2010 World Champion Shanaze Reade (GBR) will start her Olympic BMX Supercross year in Norway after missing out the stop in the USA. Sarah Walker (NZL) will also start racing again. Walker – 2009 World Champion – although present in America, eventually decided not to race and predicted to be ready for the start in Norway. The current World Champion Mariana Pajon (COL) is out with an injury after crashing in the last Supercross race. Arielle Martin (USA) will be keen to improve her form after her Chula Vista performance. And Magalie Pottier (FRA) will want to prove that her Chula Vista victory will be the first one of many.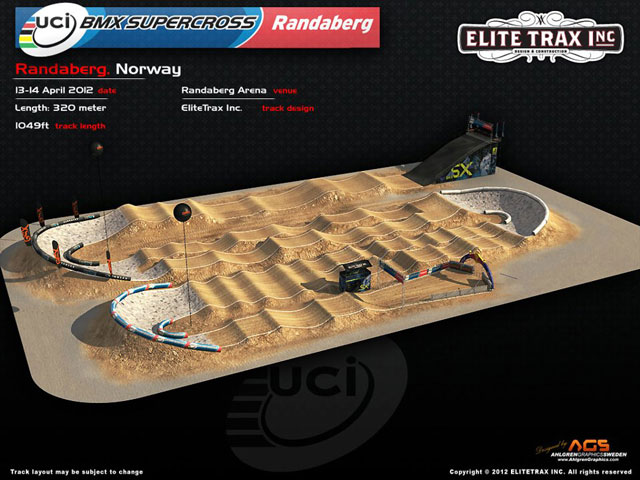 An un-ridden track with tight and hectic brick-turns
Elite men: Can Fields win three in a row?
With the men, the big question is: can Connor Fields (USA) win three Supercross races in a row? It will always be difficult to predict any BMX Supercross World Cup -especially on this un-ridden track with its tight and hectic brick-turns.
But fact remains that Fields was almost unstoppable on the last two stops of 2011 as well as the first stop of 2012 on his 'home' track in Chula Vista. Can he maintain that form on a completely different course, with all riders only having a maximum of two hours practice on it?
Some of the top Elite-men are missing.
Jelle Van Gorkom (NED) is recovering from his crash in Chula Vista. He is expected to make a full recovery, but will not be racing for a while.
Maris Strombergs (LAT), the current Olympic Champion, has not signed up. But Sam Willoughby (AUS), second in Chula Vista just two weeks ago, is ready to race, as is current World Champion Joris Daudet (FRA). Or will local-boy Andre Fossa Aguiluz (NOR) be able to grab a podium place, as he did last year in Denmark, winning the World Championships BMX time trials?
Back to back UCI BMX Supercross events
With only two weeks since the first 2012 Supercross event in Chula Vista, California, the organizers have worked flat-out to create this second stop on the other side of the globe in Norway – a first in its own right!
The organizers are rightly proud to have overcome this logistic challenge, especially during the Easter holiday. Many thanks go out to logistical partner Rock-It-Cargo.
The riders in the meantime have also been busy travelling to Europe and adjusting to the new time zone. Most have been training on the Dutch Papendal track, like Sam Willoughby (AUS) and David Herman (USA) for example. Marc Willers (NZL) reports on twitter that he is well rested after flying Business Class across the Atlantic.
UCI BMX Supercross on Facebook
In less than one year 11.000 likes – #sweet…thx to all our fans and supporters of BMX Supercross. It's you that drive us and keep us psyched to bring you the best possible events and to continue to innovate. Thank you !
Please see the live feed of the event on www.bmxlive.tv
Please see all results, riders bio's and archive on www.bmx-results.com
Please follow UCI BMX SX on http://twitter.com/UCI_BMX_SX
Please follow us on www.facebook.com/UCIBMXSupercross
Official website event: http://www.bmxnorway.com
09/04 Review: Loose Kid Industries Essential Walkshorts
by bmxultra.com
We had a massive ride session on Friday so put the product review off for a couple of days. This week it's the LKI Essential Walkshorts. Click here to check out the review.
09/04 Tom Siinmaa thanks GT Australia for the Good Times
by Tom Siinmaa
It wasn't an easy decision to make, but I have chosen to part ways with GT Australia. I felt it was time to move on and I definitely do so on good terms.  I have had a great time over the past 18 months with the company making many great friends, teammates and plenty of laughs.
Big thanks go out to Dean Dinnadge, Adrian Konings, Daniel Stott and Brock Tuckerman, I really appreciate all of the support and opportunities that were given to me. It was definitely a blast representing the blue and gold and I wish everyone at GT all the best for the future!
05/04 Photos: Good Friday Backyard Bash
by bmxultra.com
Sorry for the late update, we had an all day Backyard Bash here at the bmxultra.com compound and got a long day of riding in. We got a stack of photos of the riders letting their hair down and having a whole lot of fun. Click here to check them out.
If you are looking for a product review from today, we'll get to it some time over the weekend, sorry for the delay.
04/04 Redline 'Girl Power' leads the way in Chula Vista
Redline press release
Well, the guys did pretty well also. But it was Magalie Pottier of France and Alise Post of the US who stood atop the winner's podium for Redline and their respective countries following Saturday and Sunday's main events. Saturdays Supercross event saw nearly 50 of the top women riders from around the world line up for the season opener. Magalie won all of her opening rounds and Alise led most of her early heats as well. But in the final, it was Magalie who fought off multiple charges from the competition to win her first World Cup victory. Alise finished fourth in the final as the second highest placed US rider.
Sunday's racing stayed on the big track for the USA Cycling National Championships. Featuring only the best US riders, it was each Olympic Team prospect's chance to show their stuff in true head to head competition. Like Saturday, reigning 2011 National Champion Alise Post was dominant in the early rounds, but at the end of the day she rode away from the field to win the final in a commanding fashion.
In Friday's time trial event, both girls rode well but just missed the podium. Magalie Pottier missed third place by 4/100th of a second and after qualifying in second, Alise Post finished in 6th place approximately 8/10th of a second off of winner Caroline Buchanan's time.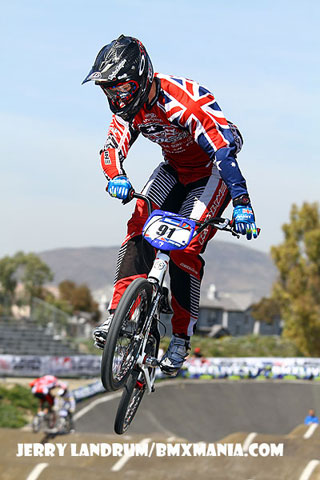 In the men's time trial it was Canada's Tory Nyhaug who led the charge for Redline finishing in fourth place just missing the podium by just over 1/10th of a second. Australian Sam Willoughby finished a strong sixth place just 4/100th of a second behind Tory.
As with the women, Saturday was the main event for the approximately 150 riders who travelled from around the globe to earn World Cup points and spots on their respective Olympic teams. There were no easy groupings or motos all day long. Each heat was raced all the way to the finish line with multiple photo finishes throughout the day. The level of competition is simply through the roof. Despite the fact that Redline stars like Denzel Stein and Ramon Van der Beizen were eliminated in the semi's, Redline had three of its riders in the final including Sam Willoughby, Tory Nyhaug and Hollands Twan Van Gent. The final was a great race with race fans both holding their breath as well as cheering at the top of their lungs. In the end our man Sam took a close 2nd place, Tory Nyhaug took 5th and Twan Van Gent took 6th . A super-fantastic start to a most important Supercross season for our Redline riders.
To round out the weekend, Denzel Stein turned in a rock solid performance in the USA Cycling Championships. Denzel consistently finished in 2nd and 3rd place in the opening rounds and at the end of the day took a well deserved 6th place in the final.
To wrap up the Elite riders, a special shout-out goes out to Redline Rider Jelle Van Gorkam of Holland who went down hard in the Semi's and had to be airlifted to the hospital. Jelle suffered a punctured lung as well as some other internal injuries. All of his Redline family wish him a speedy recovery and hope to see him back on the track soon.
One hundred yards away from the Supercross track, the BMX world was busy and at work with the So Cal Nationals and USA Cycling Collegiate Nationals. As usual, Redline had a strong contingent of riders competing including AM#1 Josh Klatman, A-Pro Elliot McGrath as well as Redline Regional Development Team riders from Florida based Redline/M1, Texas based ORP, and California based Redline/Bike Alley and Redline/Challenge.
Friday's racing got off to a great start with AM#1 Josh Klatman winning the Mens 19-27 Expert race and Stile Industries/Redline rider Elliott McGrath winning the A-Pro race. Zaithyel Soakandar of Redline/M1 also started the weekend off right with a 2nd in class and a 1st in Open in the 14 expert class.
Saturday was USA Cycling BMX Championships where Redline/Bike Alley rider Jordan Nopens took a silver medal in 15 girls while Redline Challenge rider Dahvin Childs took a bronze medal in 11 Expert class.
Sunday was the final day of the So Cal National and saw Zaithyel Soakandar of Redline/M1 win both the class and open events in 14 Expert as well as AJ Saldivar of Redline Challenge winning the 10 Expert class.
And no Redline race report would be complete without at least one paragraph about the 'tip of the Redline spear' Jason Carnes. As always the Redline compound was stocked with food and drinks for the riders, trainers for their warm-ups and all the gear our riders could ever require. Race fans had the chance to see all of the latest Redline race bikes on display and ask questions and get autographs. And in-between Jason keeping all that going, he was out doing us proud on the race track winning yet another USA Cycling National Champions jersey.
Redline riders are now off to their next events – Jason Carnes is in full Redline Flight School mode doing a number of clinics in California and the Western US, our Elite riders are off to Randaberg, Norway, for the next UCI Supercross, and we hope to see many of you at Redmond, Oregon, or Phoenix, Arizona later this month.
04/04 Hayden Fletcher joins BMXMAD
BMXMAD press release
BMXMAD would like to welcome a new member to our team – Hayden Fletcher.
Hayden is a very talented young rider mixing it up with the older boys in the A Men category and showing a lot of promise!
We are excited to have him as part of our team and look forward to helping him acheive his future goals.
03/04 ONE/Kenda race report
ONE KENDA press release
Valkenswaard, hosted the first Top competition in Holland.
With riders from other countries like Belgium and Latvia it turned out to be an exciting competiton.
It was good to see all riders on their new bikes and in their new outfit, although most of them had to race in their club jersey, which made some of them look like soccerplayers, but that's the new Dutch rules for you.
ONE/KENDA was represented by Kevin van de Groenendaal, Robin van de Groenendaal, Makia van de Groenendaal and Denzel Vakkers from Holland.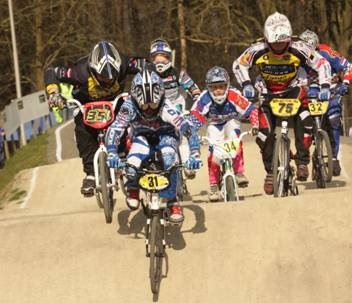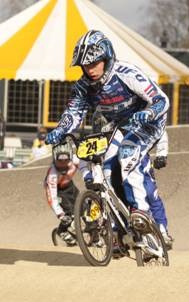 Kevin took 2nd place in the main in 13 Boys, and Denzel grabbed 5th in 14 Boys.
ONE Belgium was represented by Sten Sauvillers, Maarten Verhoeven, Lauren Stevens, Jona Laenen and Matthijs Verhoeven.
Lauren won Junior Men and Jona Laenen got 7th in Boys 15/16.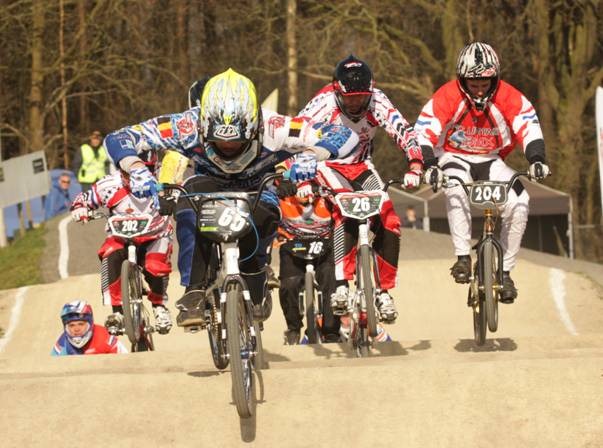 On the other side of the ocean ONE/KENDA was represented by Kristers Lejins from lativa, Gabi Diaz from Argentina and Aneta Hladikova from Czech Republic.
Unfortunately Gabi had to withdraw from the competition due to fever.
Aneta Hladikova made it to the semi in Elite Women.
Congrats to all of you.
On to the next race, the European round in Creazzo, Italy.
Good luck everyone.
Photos: Olaf van der Wijngaard
ONE/Kenda is sponsored by:

03/04 BMX RACER Issue #3 now out!
BMX RACER press release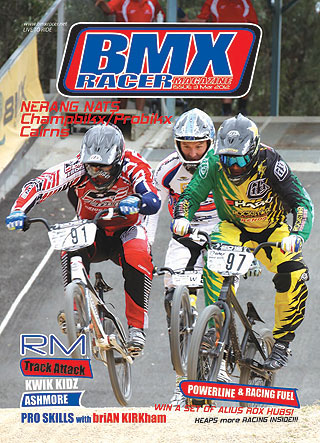 Featuring
Nerang Nats
Probikx/Champbikx
Track Attack
Ashmore
Cairns
Pro Skills with Brian Kirkham
Thomas Hubert's RM
Racing Fuel & Powerline by Mick Waldock
Kwik Kidz
and much much more!
Hit up our stockists page to find your nearest club/shop, or purchase online.
On holidays and bored? Don't forget you can download our FREE BMX RACER Magazine App for iPhone and iPad from the App Store, purchase issues and take your BMX RACER Mag with you to read wherever you are!

02/04 Team bmxultra.com Race Report – Geelong Spectacular
bmxultra.com press release
The Geelong BMX Club hosted The Geelong Spectacular and Round 4 of the Victoria Pro Tour on Sunday. bmxultra.com's Levi Collins, Dane Pangallo, Aaron Rogers, Shane Jenkins and Jamie Bullows were flying the colours. The track was awesome and the weather was perfect for racing.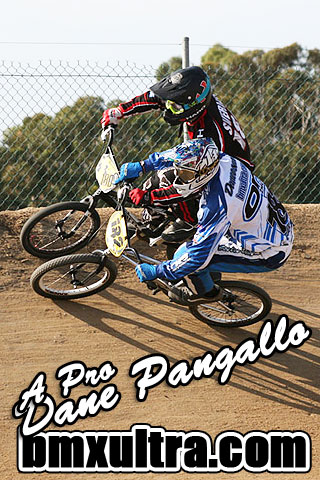 Flat Pedal racer, Dane Pangallo, enjoyed the home track advantage in a highly competitive A Pro class. After a 1-3-1 in the motos and a 2 in the semi final Dane had set himself up as real contender for the win. When the gate dropped in the first main he was on a mission, coming out of lane 8. He came out of the first corner in second place and powered through the second straight and kept on the gas deep into the second corner where he took the leader up high and took the lead to the finish line. In the second round Dane was at the pointy end of the field exiting the second corner but was challenged by the third placed rider in the second corner who took Dane high but he stayed upright for the three spot. In the third final Dane entered the first corner at full noise and got his nose in front where he stayed until the line. It was a big win for the Daneosaur.
Levi Collins was in the mix again with the AA Pro class. He qualified comfortably for the main. In the first main Levi was off to a slow start, but worked his way thought the field to finish 5th. In the second final Levi was once again playing catch up, but had an inside line which he used to his advantage and got into a good position in the first corner. He finished up with a 4th. In the third final Levi's start wasn't so crash hot, he had to make up a lot of ground and went into the first corner with too much speed, he was looking good to take the third position when his wheels washed out from under him. With an 8th place in the last main Levi still managed to take 5th place overall.
Aaron Rogers was in the Vet Pro class. He took the final qualifying spot for the main. A 7-6-6 in the finals he finished up with a 6th overall.
Shane Jenkins and Jamie Bullows were also in the Vet Pro class. Jamie made a return from a long break from racing. Shane was in the running to make the main until he had some problems down the first straight in his third moto. Jamie was struggling with the flat gate but also finished just outside of the final.
The bmxultra.com team is proudly supported by One Bicycles, Supercross BMX, Dirt Designs, Tioga, Elite Cycle Imports, THE, Profile, Sun Ringle.
02/04 Kuwahara's Liam Steel at Geelong
by Liam Steele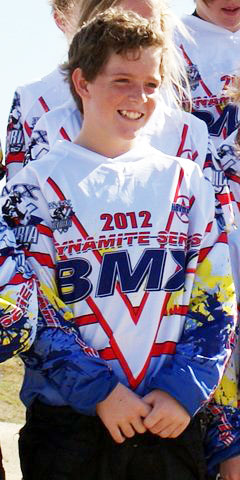 I have been looking forward to the Geelong Spectacular as this track is my
favourite. The weekend started early on Saturday morning with Junior
Development Squad training, where we received our Dynamite Team jerseys,
ready for the National Titles. On race day I competed up a class in 13
boys and continued to compete in the Junior State Series. In 13 boys I
finished 3rd, 2nd and 1st with a very close 5th in the final. In JSS I
finished 2nd, 1st and 1st with a 3rd in the final. The track was in great
condition, smooth and fast. I had loads of fun throwing down different
combinations in the 2nd and 3rd straights. It was a great day of racing.
Training will continue into the final countdown for the Aussies.
Thanks to
Kuwahara and ECI for their continued support.

01/04 Photos: Geelong Spectacular
by bmxultra.com
Here you have it, 305 finals photos from the Geelong Spectacular. We caught some great crash sequences, so look out for those. Click here to check out the photos.
01/04 UCI SX: Fields and Pottier win at Chula Vista
UCI press release
Chula Vista CA – The opening round of the 2012 UCI BMX Supercross World Cup series in Chula Vista, CA. saw the best elite BMX riders in the world battle it in the birthplace of BMX during this Olympic season.
Connor Fields (USA) was on fire all weekend and claimed victory in the elite men's main with Sam Willoughby (AUS) claiming second. David Herman (USA) brought home the bronze for the U.S.
Magalie Pottier (FRA) outperformed all other elite women to claim her first big Supercross victory. Laetitia Le Corguille (FRA) finished second and Amanda Geving (USA) made her first-ever world cup podium appearance finishing third.
BMX SX World Cup – Men's Final
Yesterday's time trial superfinal silver-medalist and 2008 Olympic champion Maris Strombergs (LAT) got the hole shot and was half a bike length ahead, but left the door open on the first turn. Winner of the 2011 Chula Vista World Cup, Fields took the lead and kept a consistent gap ahead of Sam Willoughby (AUS), who grabbed the silver. Herman finished strong moving into third to take the bronze.
Fields "He left the door open"
"In the first turn Maris (Stromberg) left the door open and I just went through," said Fields. "I was leading from that moment and I could not see or hear anything behind. I was concentrating on riding a smooth lap to the finish line. It is a great start to an important season, but there is a long way to go."
Willoughby "I am enjoying the big hill again"
Sam Willoughby finished second. The hard working Australian was satisfied with that result. "That is three out of four times I finished second here in Chula Vista. Three seconds is pretty good I guess. I will take that. It is a great start of the year. It was always going to be tough to beat Conner here. He knows the track like the back of his hand. So I tagged on the back of him and followed him (smile). It is a consistent start. I am happy with that. It's a level playing field, hopefully we will finish on top in two weeks at the next stop."
"The level goes up absolutely. I stepped up my game this year. More focus on these SX races. Now I am enjoying the big hill again. Now I can feel it again, the feeling I had in 2009. I am having that same enjoyment of the big hill. Looking forward to this year."
BMX SX World Cup Women's Final
With last year's Chula Vista World Cup winner Arielle Martin (USA) eliminated in the semi-finals, the door was open for four young Americans to earn the victory in the women's final. But it was the French duo of Pottier and Le Corguille who jumped quickly out of the gate to gain the lead. Geving was able to get the line on the first turn and stay in contention to finish third just behind the Frenchwomen. Pottier's win, her first big victory on the world cup circuit, displayed the strength of the next generation of French talent.
Pottier Champagne shower
Magalie Pottier talked to the media after her Champagne podium shower. The young Frenchwomen was ecstatic. "Two years ago I finished second. Now it is my first victory in the world cup. Last year I finished 4, 4, 4. A lot of fours haha. I am so happy! This Chula Vista track is my favourite. My first victory in the World Cup."
Full results see www.bmx-results.com click results 2012 select 'Chula Vista'
Posted in: Archive