31/05 2013 TLD D3 Helmets
by bmxultra.com
We just got word from Steve Cramer Products, Australia's Troy Lee Designs distributor, that the first shipment of 2013 Troy Lee Designs D3 Helmets are about to arrive in Australia. If you are looking for one of the most advanced and safest helmets available to you, the Troy Lee Designs D3 is for you. 2013 brings some new designs as well as the return of the popular black carbon Pinstripe.
We love them because they have a large range of sizes that would fit even the biggest of heads and they are very comfortable.
TLD D3 helmets are packed full of features: 
Dual Density Shock Pad System™
Removable, Washable MX-style padded liner
Coolmax™ and Dri-Lex™ moisture-wicking materials
Quick-release cheek pads for emergency helmet removal
Purpose-built internal cavities for audio integration
Full incremental sizing based on motorsports provides greater range of fitment
Exceeds bicycle and snow safety certifications: CPSC 1203, CE EN1077, CE EN1078, ASTM F1952, ASTM F2032, ASTM F2040
Check them out.
D3 Helmet Mirage Blue – Composite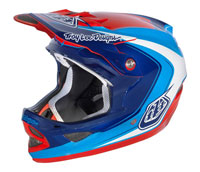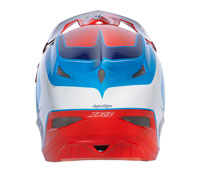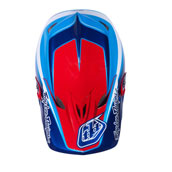 D3 Helmet Mirage Red/Yellow – Carbon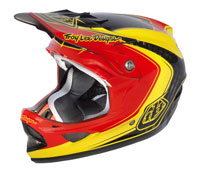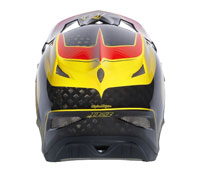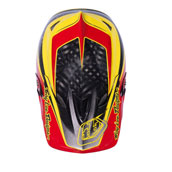 D3 Helmet Palmer Chrome – Composite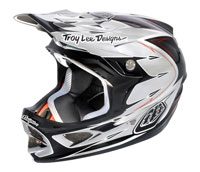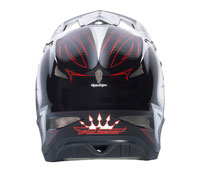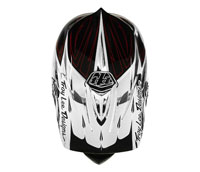 D3 Helmet Pinstripe Black – Carbon
D3 Helmet Zap Orange – Carbon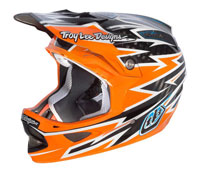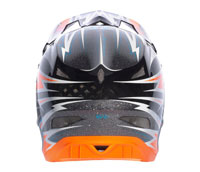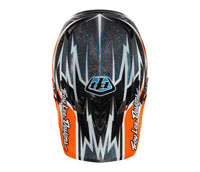 Don't see one you like? Don't worry there will be more colour options released very soon. Stay tuned.
A note to our Aussie readers: Remember to buy local and support the Australian retailers. We do! Thanks to the Australian distributor, Steve Cramer Products, the price of Troy Lee Designs products is very competitive. Support those who support you.
31/05 Redline Riders deliver a double smackdown in Birmingham
Redline press release
Redline riders from around the globe converged on Birmingham England this past week to do battle for the rainbow jersey and secure official placements on their country's Olympic teams. In the end, it was 2011 World Championship bronze medalist Magalie Pottier of France and two time Junior World Champion Sam Willoughby of Australia who were able to power their Redline Flight bicycles to victory in their respective Elite classes.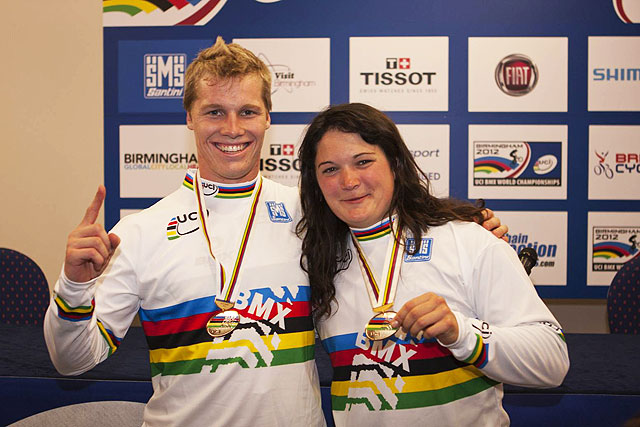 Redline saw its two star women riders 2012 US National Champion Alise Post of the US and Magalie Pottier cruise through the opening rounds with both winning almost every round leading to the finals. With Alise having just won the World Cup round in Papendal Holland and Magalie having won the season's opening round in Chula Vista, Redline had two of the favorites into the main event. With Alise in gate #1 and Magalie in gate #5 the first straight saw both riders surge to an early lead with Alise set up to go low through the first turn and lead into the second straight. But it was not to be as Alise came up short on the final jump of the first straight causing her to hit the deck. This meant that Magalie Pottier who was on the outside had an open track which allowed her to take the lead and power her Redline Flight Pro to the finish line for a commanding win.
In the men's event, even though Connor Fields (who Sam has finished second to in all three of this season's Supercross events) was eliminated by a self-inflicted crash in the Semi's, all was not smooth sailing for Sam. That's because during the week leading up to the championships he had been suffering from a bought with the flu and, in fact, the day of the race he woke up not feeling well at all.  Well, if this wasn't a 100% day for Sam, we can't wait to see him race in London when he will likely be 100%. Sam won all of his opening rounds, minus one, and had gate #1 for the final event. As expected, the opening straight was a drag race with Sam in great position leading into the first turn. But it was the second straight where Sam won the race. Powering his Redline Flight Carbon out of the first turn Sam opened up a commanding lead never to be challenged to the finish.
Having previously won the World Championships twice as a Junior, this is Sam's first opportunity to wear the rainbow jersey as the Senior Elite World Champion. With this World Championship win Sam also moves into the points lead in the UCI BMX Overall standings and officially secured his position on the Australian Olympic team.
For Magalie Pottier, she also moved into the lead of the UCI BMX Overall standings and secured her position on the French Olympic team for the London Games.
The Birmingham World Championships were Alise Posts opportunity to gain the 'automatic qualifier' position for the women's Olympic team through the 'Power Ranking' system established by USAC. But due to Alise's injury last July and her mishap in this race, she will now have to rely on gaining the second spot on the US Olympic Team based on the 'coach's selection' process.
Finally, it was great to see Jelle van Gorkom out racing at the World Championships following his tough crash in Chula Vista. And we all missed seeing Canada's Tory Nyhaug in the final as well. Following his crash at the Papendal World Cup, Tory was finally released from the hospital in Holland on the eve of the World Championships.  Let's hope both of these great Redline riders can be back to 100% in order to compete for a place on the podium at the Olympic Games in London!
Redline riders use Shimano components, Koolstop brake pads, Tioga tires and saddles, Sun Ringle rims, and Answer forks. A tremendous amount of thanks goes out to these great suppliers.
30/05 ONE Bicycles Australia at the Macarthur Open

ONE Bicycles Australia press release
by Miekel Rose
This event is being held at the track the Retro Grands are held on each year! Though it doesn't have the big start hill or the super technical straights or massive jumps, the Macarthur track is fun and challenging for the riders. This was also the rescheduled first round of the ACTBMXA Dynamite Series, after the postponement of the ACT Championships.
After the the Australian Championships, the team wanted to have a solid race meeting and get back in some form for the State Championship events coming up throughout the year.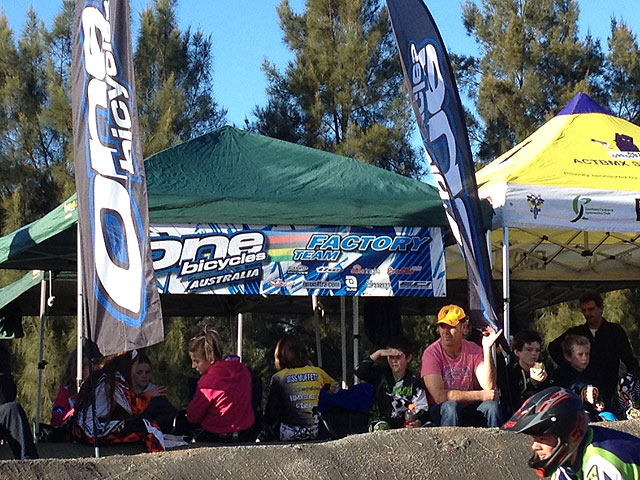 Mikayla Rose had to ride up in the 13 girl's class as a few riders in the 12 girls recently had broken arms and could not attend. This was a good challenge for Mikayla as it meant she was riding against bigger and stronger girls including her rival Emma O'Hearn who is in good form at the moment after a great Aussies! Mikayla was struggling with the gate and small start hill and had to fight her way through the bigger girls. She managed two fourths and a third in the motos and booked herself a spot in the final! After another strong second and third straight, Mikayla managed a third in the final just ahead of Emma O'Hearn and behind two 13 year old girls.
On her cruiser Mikayla was riding in the Junior Ladies Cruiser in a small field with girls younger and older. Mikayla wanted the extra bike time and was just out to have some fun. Fun she did have, with a second and two firsts making the small final of 4 riders. In the final she dropped the hammer and took off wining comfortably and making some pocket money in the process.
Nik Rose had set himself some goals for the event on both his 20" and cruiser. In 14 Boys he had some tough competition as usual and was determined to show that some training and extra skill work he had obtained had paid off! Nik was sitting in the top 3 in his heats and battling with his Team mate Justin Beattie who was racing up an age class for competition. Nik and Justin were riding confidently and racing hard. Both the boys made it to the Finals with Nik qualifying 2nd. Both ONE riders found themselves up against some quick competition including Nik's fellow ACT rider Stephen Henderson. When the gate dropped local lad Ben Bainy took off and hit the first corner literally, coming down causing a small pile up in the process. Andy Hughes, Stephen Henderson, Nik and Justin got through the carnage and took off! The big battle was between Nik and Justin for the third spot with the two lads banging bars all down the third and fourth straight. As Nik and Justin hit the last corner, Justin swooped Nik and it was a drag race to the finish with Justin beating Nik just in to the third spot relegating Nik to fourth, with Stephen in second and Andy taking the win. Great race to watch!
On his cruiser Nik was holding his own, once again sitting in the top three all day! Nik qualified 3rd on his cruiser for the finals and was looking comfortable on the bigger wheel bike! Nik made it through to the final after some great battles with Stephen Henderson, Daniel Morris and Jason Mlinarevic. In the final Nik resumed the battle with the lads mentioned and fought all the way to the line for a third! It was good to see Nik riding well and having fun. He also achieved his goals on the day which made him happier!
Josh Rose was struggling getting out of the smaller start hill and in training was getting smoked by the younger riders stepping up in A Men for the event! That night we discussed dropping his gearing to get a better start and it was agreed that would be the plan! The day of racing and Josh said the gearing felt good for the track. In his first two heats Josh unclipped causing all sorts of drama for him, making him do some chasing! Unfortunately it affected his gate choice for the final and had him coming out of gate 7. He struggled all day with the gate and the small start hill and found himself mid pack coming down the first straight on the outside. To continue his run of bad luck he got tangled up in a second corner accident almost bringing him down. He took off after the pack, but they had too much start on him! When the dust settled he crossed the line in sixth and finished a bad day with an OK result! Josh is still coming back from an injury from the Aussies and has limited training under his belt for the event! He was not happy with the ride but stated he needs to get back in to his training full on to get back the confidence he had leading up to the Aussies.
As always there are many people to thank and none more important than my wife who came along for the trip and helped out as mothers do with the kids as I had to officiate. Big thanks to the Hughes family for their wonderful hospitality and allowing us a place to stay and marking out our tent space!
To Shane Jenkins and ECI thanks heaps for the ongoing support and the amazing new ONE flags which flew loud and proud at the event. Shout out to Scott hand of A Team Distribution for the amazing SNAP products and Alius hubs and to Craig Fisher of Bicorp for the Lizard Skins grips! It is so nice to have the support of such great sponsors, it does make the sport so much easier to manage. Thanks to each of you! Next race is the NSW Pre Titles and Mighty 11's being held at the Southlakes Club in NSW near Wollongong! Mikayla has her chance to race for Australia as part of the Mighty 11 Girls Scholarship Team and is excited and training hard to make her and her country proud! Go girl!
How to buy One Bicycles products in Australia
If you would like to purchase a One Bicycles frame or accessories in Australia the best way to do so is to head down to your local bike store and place an order. If they don't know what you are talking about tell them to call Elite Cycle Imports while you wait and place your order there and then. After doing some calculations ourselves we have found the cheapest way to get One Bicycles products in Australia is through a local reseller.
About One Bicycles
For over a decade ONE Bicycles (operating out of Holland), inducted into the European Hall of Fame, has solely focused all their efforts on the sport of BMX. Today they are at the forefront of BMX product design Worldwide. Utilizing advancements in the industry, some of which were conceived in ONE's own engineering department, their products directly reflect the evolution and maturing of proven BMX design. Like a fine wine ONE Bicycles product line has come of age as a result of years of dedication to the sport of BMX.
One Bicycles are a major sponsor of the bmxultra.com team
Over the years One Bicycles have sponsored
Khalen Young
The Phirebird team which includes 2005 & 2006 World Championships finalist Jamie Gray and 2006 NBL Grands (A Pro) champion Glenn Codega
In 2008 Maris Strombergs rode his One Bicycle to victory in the Elite Men's class at the UCI World Championships and followed that up by taking the first ever Men's BMX Gold medal at the Olympics.
For more information about One Bicycles check out www.onebicycles.com
One Bicycles are distributed in Australia by Elite Cycle Imports (www.eciimports.com)
29/05
Team Identiti bikes Joey Gough 17+ women UCI World Champion
Identiti press release
Joey Gough – World Champion!
Many years of training and racing finally paid off for Identiti's Joey Gough on Friday night at the 2012 BMX World Championships in Birmingham.
Joey clean swept the competition in the 17+ Female category by winning all her motos and blitzing the final to become World Champion, sending the home crowd wild!
Joey now carries the coveted W1 plate for the rest of the year and into 2013.
As well as being an incredible rider, Joey is a very popular competitor on the BMX circuit so her win was universally applauded.   
The Identiti BMX Team is still in their first year of competition so this is a very special moment for all concerned.
We would like to thank all of our Team Sponsors without whom none of this would have been possible:
Identiti, Halo, Gusset, TSG, ODI, Dia Compe, Tioga, Drift Cameras, Shimano (Madison), One Ind, Fox, 365 Skinz, Monster Energy, Answer, and Time.
28/05 World Championships results
by bmxultra.com
The World Championships are now complete and the results were just as we predicted, unpredictable.
A massive congratulations to the new champions, Sam Willoughby and Magalie Pottier, both riders have been riding well this season and have cemented themselves as favourites for the Olympics.
Here are the official results
Elite Men
Elite Women
Junior Elite Men
Junior Elite Women
For the full elite results check out
http://www.uci.ch/templates/BUILTIN-NOFRAMES/Template1/layout.asp?MenuId=MTYxNzU&LangId=1
Check http://www.bmxworldchamps.co.uk/ for results.
We saw cruiser results here http://www.britishcycling.org.uk/zuvvi/media/bc_files/bmx/FINAL_RESULTS_MAY_27TH_2012_-_CRUISER_CLASS.pdf
The racing is all over in Birmingham and riders are already talking about the next World Championships in New Zealand.
28/05 HRVfitness/ Speedco Worlds report
HRVfitness press release
Team HRVfitness put in a fantastic performance at the recent world titles in Birmingham England. With a tight indoor track racing was going to be hard, fast and hectic. Both Jaden and Brandon put in stella performances at this years Australian titles by winning both of their respective classes and both planned on carrying that form into the World Titles. 
Jaden looked strong all day and when the gate dropped in the final he didn't hesitate. Popping out to an early lead Jaden looked great down the first straight but then had some trouble on a jump into the first turn. The pack swarmed on him and he dropped back into the pack and had to settle for #6 World in 12 boys. On Sunday Jaden also raced cruiser class, after being a little disappointed with his 6th on the Thursday he was out to better his performance. The Fro fought his way through qualifying and secured his position into the final. Jaden got out well in the final and sorted out any problems with that jump into the first turn and finished with #3 World in 12 & under Cruiser.
Brandon Te Hiko was excited about going into his first World Title event in 2 years, with some amazing come from behind races he made his way to the final. Starting out wide was going to be tough for him to get a good run into the first turn but with some fantastic manoeuvring he managed to get around the pack and slot into 4th position giving him #4 World in 15 boys. 
Team HRVfitness: Tom Siinmaa, Brandon TeHiko, Jaden Rice
Sponsors: HRVfitness/ Speedco, Altegra, THE, Sinz, BMXpress, Max's, 
25/05 Review: Speedline Parts Linear Brakes
by bmxultra.com
This week's product review is of the Speedline Parts Linear brakes. They offer more colours and are some of the lightest BMX brakes you will find. Click here to check out the review.
25/05 DK's Matt White fourth at the World Titles
DK Australia press release
DK Athlete Matt White has finished 4th in the 2012 World BMX Titles in the 14 boys class, Matt did not have the best of starts in the main but worked his way thru the pack to come home strong.
DK Team manager Corey Stafford said "We are so proud as a sponsor on how well Matt did, we knew he could defiantly be in the mix after winning the Australian Titles earlier in the year so to finish 4th in such a hard class was unbelievable"
Matt will now put his focus on the cruiser class on Sunday, as well as I am sure he will be cheering on his fellow DK team members Anthony Dean, Luke Madill and Daniel Willis in the elite classes.
Thanks to team co-sponsors
Loose Kid Industries – Bioflex Supplements – Skullcandy – Goodlife Gyms
24/05 The World BMX Championships
by bmxultra.com
In 2008 BMX racing made it's Olympic debut. If you rewind a little earlier that year a new Champion emerged at the world BMX Championships, the last major international event before the Olympics, Maris Strombergs. He then went on to win the first Men's Olympic BMX Gold Medal. Could it be that the winner of the World Championships in 2012 could do the same? Only time will tell. One thing is for sure there is going to be some awesome racing this week as riders compete for not only a world championship but for a chance of a lifetime…to represent their country at the Olympics racing their BMX bike.
If the past few months are anything to go by it will be very difficult to predict a winner in either the men's or the women's class, but one thing is for certain, whoever takes line honours will be a worthy champion.
LIVE STREAM
There will be a live stream of the elite day (AUS EST Sunday 27th May from 4:00am to 6:45am)
Competition schedule
(some overlap in the summary below, see full schedule in links for details)
Thursday 24 May 2012
09:30 – 18:00 All classes 14 & Under
Friday 25 May 2012
09:25 – 20:30 Men 17-24, 25-29, 30 and over – women 17 and over
14:45 – 22:00 Jr Women,Jr Men,Elite Women, Elite Men (time trial and super final)
Saturday 26 May 2012
12:30-21:25 Challenge 15,16 and Masters
17:20-21:25 Jr Women,Jr Men,Elite Women, Elite Men
Sunday 27 May 2012
10:00-15:00 All Challenge cruiser classes
Links
Competition schedule
TV Coverage (International)
Results
24/05 Video: REDLINE ROAD TO LONDON: Dutch National Team Part 2
by bmxultra.com
The guys over at Redline sent us this link to part 2 in the ROAD TO LONDON series of interviews with the global Redline team. This features the Dutch National Team discussing what it takes to be an Olympic athlete.
Check it out: http://vimeo.com/42413938
23/05 Morphine Industries Heads Down to The Land of Cotton
Morphine Industries press releas
Rain, rain, go away.  Come again another day… we are trying to freakin race!  So much for the Mother Nature listening….
With the anticipation of the 90 degree turn gone and a new track design, the Morphine Industries crew headed to Atlanta.  Sounds like a roadtrip except half the team live within 15 minutes of Powder Springs.
A few of the crew decided to hit the track Friday night to get the racing started.  A PRO – Olijuwon Davis, set the pace for the weekend with a straight run through the ranks in each moto and the main for a perfect evening.  15X – Noah Reeves, hit the Jr. Devo racks and cruised to the main.  Railing the third turn in 3, Noah's tire slide out on the dirt and he went down hard.  Unsure of a broken thumb and a busted up knee racing was 50/50 for the weekend.
With the arrival of Saturday, the weekend was in full swing and racing was on!
A PRO – Olijuwon Davis, continued his domination from Friday night and as he unleashed the ponies and threw down a perfect day for another win and a hash mark in the right column!
Vet PRO – Tim Dinger, coming off this reign as DNA sponsored Redbull MIniDrome champ (haha), he decided to mix it up in the PRO class.  The day started of with a crash after trying to go over a fellow rider as a speed bump.  With another unfortunate event in second moto,  Dinger hobbled
36-40X – Doran Bradshaw, strolled up to the gate on both bikes for the weekend and repped the colors in prime fashion with a strong 2nd in class and a 2nd in cruiser.
28-35X – Charlie Hunt,  being a local didn't make such difference as Charlie made work of the filed in both classes top the top honors on both bikes with 2 for 20 style.
19-27X – Brandon McCoy, riding in the undisputed toughest class in BMX, lived up to his rep and cruised through his laps taking him to the main.  Getting a late snap from the outside, Brandon laid it down for a solid podium spot at number 3.
17-18X – Ryan DeRoche, looking good with a new set of china whites  powered his way to the main with 5 racks of fellow riders.  When the gate dropped, Ryan powered his way from the outside to get in the mix and fight his way to a 5th at the line.
16X – Jared Johnson, started the day slamming the pedals with a solid top moto finish and a continued his trek to the main gate drop.  Jareed fought down the first straight and pedaled his way to a podium finish with a 3rd.
15X – Noah Reeves, coming off a bad crash on Friday, sucked it up and started the day off with a win on the moto and rolling thru quarters to semi.  Unfortunately a mishap from lane 8 down the first straight ended his day.
13X – Richie Dey, a powerhouse in the land of giants, fought his way to the main event.  In Air Dog style, Richie put the pedals down and rode hard to a 7th place at the white line.
Be sure to stay tuned for the adventure and come check us out in Nashville.
Factory Team Sponsors: HARO BIKES (www.harobikes.com), Fly Racing (www.flyracingbmx.com),  Alienation (www.alienationbmx.com), DK Bicycles (www.dkbicycles.com), Folmer BMX (www.folmer-bmx.com), Hawk Racing (www.hawk-racing.com), Rennen (www.rennendesigngroup.com), Tioga (www.tiogausa.com/bmx), DNA Energy (www.dnaenergydrink.com)
21/05 BMX RACER Magazine ISSUE #4 (May) is out now in full A4 format!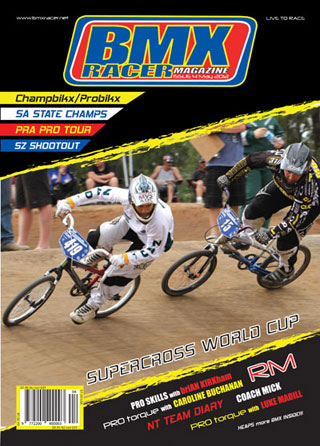 BMX Racer Magazine
Available from your fav PRO Shop, bmxracer.net, iTunes and your local BMX Club.
Features in this issue
SX Chula Vista
SX Randaberg
PRA Pro Tour
SA State Champs
Burdekin
Harbour City March Madness
SZ Shootout
Pro Torque with Luke Madill and Caroline Buchanan
RM with Lauren Reynolds
and so much more BMX!
Only 16% advertising means it's full of BMX!
LIVE TO RACE!

18/05 Review: CVP Paint Job
by bmxultra.com
This product is long overdue, CVP Paint Jobs have been getting around for a while now, but they are still standing up well against the test of time. Click here to check out the full review.
18/05 Sunbury Open scheduled for August 5 has been cancelled
Sunbury BMX Club press release
It is with regret that the Sunbury BMX Club committee has taken a decision to cancel our Open meeting due to be staged on the 5th of August.
The reason for us to cancel the event is due to the condition of the start hill and gate. We have one corner of the start hill that has been sinking considerably and there is now quite a gap under the gate on the inside half of the gate, being worst at lane 1. It has now got to the point where we have hinges continually breaking due to the fact that the gate is no longer mounted on a flat surface.
The Club has been in discussion with the council for some time and we are planning to rebuild the start hill and put in a new start gate. The council has been quite supportive and recognise that repairs need to made, we had been hoping to have this done before our open race meeting, and while we are confident that these works will be done, we are not confident that we can have these works competed by the 5th of August.
The club did discuss conducting temporary repairs so that we could still hold our open race meeting but this would have involved considerable expense. The committee felt it would be better to spend the money on permanent facilities for the club.
The Sunbury Club is quite cognitive that this is a round of the Dynamite series and we do recognise that this does cause problems for the state in conducting the series.
We would like to emphasize that this is a decision that the club does not take lightly and that it does have an impact on the sport when open race meetings are cancelled. We are however confident that we will have a much improved facility in the long term.
We would hope that there might be another club that would consider taking up the date if that was felt appropriate by BMXV and it's committees.
Regards
Bryan Bull
President, Sunbury BMX Club
17/05 Supercross Australia's Max Cairns heads to the World Championships
Supercross BMX Australia press release
Max Cairns in bound for Great Britain today making his way to the World Championships at Birmingham.
Max has been with us for around 18 months now and just keeps getting stronger and faster. At the recent national championships Max was one of the favourites for the win in the 16 boys class but crashed out in the final half way down the first straight. Max is a great competitor though, he just got up, dusted himself off and smiled about it.
The last time Max competed at the world championships he made the main so he knows what it takes to get there.
The team and crew at Supercross wish him luck.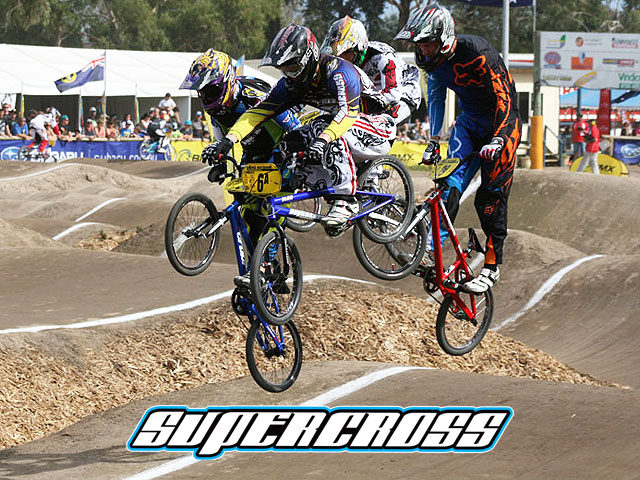 The Supercross Australia team is sponsored by Supercross BMX, Speedline Parts, bmxultra.com and Dirt Designs.
About Supercross BMX Australia
Supercross BMX Australia are supporters of BSX and the Royal Children's Hospital and while we have our own Supercross and Speedline/Supercross teams we also co-sponsor the bmxultra.com team and the Anarchy Australia team.
To find out more information about Supercross BMX products, Anarchy BMX frames and Speedline Parts check www.supercrossbmx.com.au
If you would like to purchase Supercross BMX products in Australia please have your local bike shop contact us. Please note, we do not sell direct to the public. We support the Australian BMX Industry! Do You?
For more information and dealer enquiries email sxaustralia@supercrossbmx.com.
16/05 Dane Pangallo heading to the World Championships
by bmxultra.com
Team bmxultra.com rider, Dane Pangallo, will be heading off to the UK in the early hours of Friday morning with his 20" and cruiser in tow. Dane will be taking on the worlds best 30+ Challenge riders on the 20" and the 30-34 cruiser class.
Dane has been working hard with his coach Tess Anderson from Geelong Health and Fitness in preparation for the event for some time now. Although Dane had a small set back with a huge crash in an early practice session at the Australian Championships he's back on the bike and ready to race possibly the biggest race of his life.
Dane's journey hasn't been on his own, he couldn't have done it without the help of his sponsors, and to thank them he's had a commemorative t-shirt made up. It was only supposed to be a thank you, but after a facebook post a bunch of other people wanted them as well.
The first batch have landed and stocks are limited, but if you still want one and are willing to wait for Dane to return from his trip head on over to danepangallobmx.com/uncategorized/bmxultra-comdaneosaur-world-tour-t-shirt-design/ for details.
The bmxultra.com team is proudly supported by One Bicycles, Alienation Inc, Supercross BMX, Dirt Designs, Tioga, Elite Cycle Imports, THE and Profile.
We all wish Dane the best of luck.
16/05 Website: World Championships UK
by bmxultra.com
In about a week the focus for the BMX racing world will turn to the World BMX Championships at Birmingham, UK. There will be a number of sources where you can get your international BMX fix from. Of course there's www.uci.ch and www.bmxmania.com but the most comprehensive so far leading into the event is this site bmxworldchamps.com.
There are already progressive photos of the track build inside the National Indoor Arena (The NIA).
Rather than ramble on about it we'll let you check it out. If you are looking for the track build photos check this link: bmxworldchamps.com/News
15/05 Anarchy race report: Shepparton GV Classic
bmxcompound.com.au press release
Anarchy BMX Australia team rider James Lautier hit up the Shepparton GV Classic which doubled as the final round of the Victorian Pro Series just over a week ago.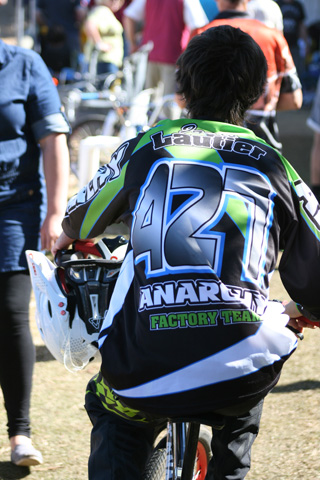 James Lautier
James kicked off the day with a win in his first AA Pro moto, from there he placed a thrid and a fourth and quialified easily for the three moto final.
With a 5-4-6 in the finals he finished a respectable fifth place overall. The fifth put him in to eighth for the series.
The Anarchy BMX Australia team is co-sponsored by Supercross BMX, Speedline Parts, Profile, Sinz, Alienation, bmxultra.com and Dirt Designs.
About Anarchy BMX
2012 is the rebirth year for Anarchy, new owner, new identity, new bike, new team, it is about to get crazy.
Starting with the heritage, of the original Anarchy Race Frames, we have gone back to the drawing board and built the best 7005 Race frame we could. We use Easton ULR Ultra Light Race Tubing that features Easton's taper wall technology, we have lowered the profile to be light, stiff and responsive, the seatstays utilize a pierced wishbone design to offer a sleek look and an elongated weld area, not to mention a cool place for the Anarchy A logo at the end.
The CNC'd dropouts are extra thick where your axle bolts on to optimize the stiffness and strength while minimizing weight. Pass through cable guides show the race lineage by making it easy to tear down for travel and allowing the full length housing for optimal braking.
For more information about Anarchy BMX products check out www.anarchybmx.com
If you would like to purchase Anarchy BMX products in Australia please have your local bike shop contact us. Please note, we do not sell direct to the public. We support the Australian BMX Industry! Do You?
For more information and dealer enquiries email sxaustralia@supercrossbmx.com.
15/05 Crupi factory team hits Bakersfiled

Crupi Parts press release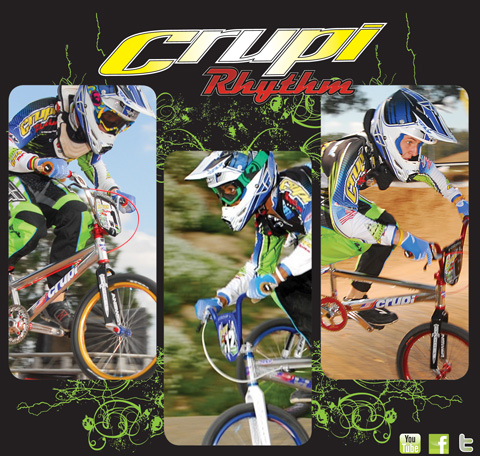 Baldwin Park, CA – Crupi Parts, Inc: USA BMX National #1 Factory Team Crupi had a great weekend of racing in Bakersfield with 2nd place finishes on both days and fantastic efforts from each team member including wins from Myles Wamsley, Collin Hudson and Justin Anderson. However, the most stylish win had to be our own Brandon Elmore with an accidental front flip to nose dive over the finish line jump; for the win! With that finish, Brandon was not able to race on Sunday but at least he went out in style! Get well soon brother.
The best part of the weekend for Factory Crupi; thanks to Mike Redman's announcement that Crupi was shopping for more riders, was that we signed 33 new riders to our Factory Team for the season including several of the Nation's top Novice riders…lol. Not really but what a fun time that was! Team Manager Jesse Vargas kept busy all weekend with that one. Looking forward to seeing you all at the next race!
14/05 Strombergs (LAT)wins UCI BMX Supercross Papendal
UCI press release
Papendal – Olympic Champion and former World Champion Maris Strombergs grabbed the gold at the UCI BMX Supercross World Cup series in Papendal the Netherlands. Remarkable was the fact that the eight riders in the men's main final were all from different countries showing that the level of BMX Racing is rising all over the world.
The rider from Latvia, that some call 'the Machine', has a clear focus in 2012. Today Strombergs proved he is getting ready for London 2012, only stopping in Birmingham for the World Championships on the way.
Elite men Strombergs (LAT), Willoughby (AUS) and Herman (USA)
Sam Willoughby finished second in another photo finish. The Australian rider crashed hard during the time trials on 12 May. He pulled of a small miracle by being on the bike. Let alone racing and finishing second in one of the toughest finals ever on the longest track on the Supercross circuit.
American David Herman finished third. His fellow countryman Connor Fields did not make the finals. Finishing last in the ¼ finals eliminated Fields. The Vegas kid that has won the three previous Supercross World Cup series tried everything but could not find a passing lane anywhere.
Maris Strombergs was happy with the win, but has something else on his mind.
"Being defending champion puts pressure on me"
"I am not focusing on a Supercross title this year. It is no secret that it is all about the Olympics and the Worlds this year. Olympics is a big thing in BMX Me being a defending Olympic champion puts a lot of pressure on me and my expectations are always high. But I get older and wiser and I am confident. So I want to be a 100% by the time the Olympics come."
That was a close finish?
"Yeah maybe I was getting too excited to early. Coming out of the last turn I had nothing left, my legs were burning. I also made some mistakes and Sam nearly got me!"

Alise Post definitely on her way back with this win
Alise Post (USA) was super excited with her first win after coming back from an unfortunate crash last July 2011. Post was the only female rider jumping the triple at the end of the first straight and that gave her the lead she kept until the Papendal finish line. With that magic jump Post held off Caroline Buchanan who is in excellent form at the moment. Buchanan who had won the time trials finished in second place and Laetitia Le Corguille (FRA) grabbed third place.
Alise Post stepped of the podium soaked in Champagne and said:
"It is huge A big win for me. I got hurt last year and I missed Olympic points. It is huge for me going in the worlds, big confidence boost. My first straight in the final was not great. I needed something. I jumped the triple in practice and had not hit it since. It was kind of a split decision moment. I knew I had to do it to get me out in front and I went for it. After that I tried to focus on the moment. Not to make any mistakes. Caroline and the other girls are great riders. I just wanted to cross the line first and I did."
Results Men:
1) Strombergs M (LAT) 38.627
2) Willoughby S (AUS) +0.016
3) Herman D (USA) +0.998
4) Ramirez Yepez CA (COL) +1.880
5) Willers M (NZL) +14.269
6) Van Gendt T (NED) +1:09.274
7) Caleyron Q (FRA) +2:09.999
8) Nyhaug T (CAN) DNF
Results Women
1) Post A (USA) 38.670
2) Buchanan C (AUS) +0.264
3) le Corguille L (FRA) +0.705
4) Geving A (USA) +1.294
5) Pottier M (FRA) +1.864
6) Crain B (USA) +3.059
7) Hladikova A (CZE) +3.534
8) Smulders L (NED) +3.798
14/05 Fields and Buchanan remarkable Superfinal time trials wins
UCI press release
Papendal Netherlands – Caroline Buchanan (AUS) and Connor Fields (USA) once again claimed victory in the Superfinal Time Trials during the third round of the 2012 UCI BMX Supercross World Cup series in Papendal, Netherlands. For Connor Fields this was the fourth consecutive win and it was the third for Buchanan. It was a challenging day for all competitors because of the length of the track and wind gusting at times.
Remarkable repeat wins
These repeat wins are rather remarkable considering the fierce competition only 76 days ahead of the Olympics, but also considering the different types of tracks these wins were established on. Fields and Buchanan are unstoppable at the moment. Who will stop them tomorrow?
Finals Tomorrow 1300 CSET
Tomorrow the racing continues on 13.00 hours (CEST). 64 men have qualified out of 132 and 32 women out of 41. The men will forward into the 1/8 finals and women into the ¼ finals. Weather predictions are looking better than today. Watch the racing live from 15.45 pm on www.BMXLive.tv
Nation ranking for Olympic points
After this stop the UCI BMX Supercross riders are getting ready for the UCI BMX World Championships in Birmingham England. And after that the Nation's ranking for the Olympic games will be established. Based on that ranking the maximum amount of riders per country that can qualify for the Olympic games will be determined.
"Be aggresive"
Connor Fields said it was not an easy win. "They were really windy conditions here today. First time trial run I was 15th and I almost road off the track. I wasn't feeling very good after that. I had a conversation with my coach. He said be aggressive. Everybody has trouble with the track. Do your thing and that is what I did."
Four in a row, how does that feel?
"It feels good, but there is a new day tomorrow and you are only as good as your last race. I definitely enjoy the feeling of winning, the more you get the more you want to win."
Who is your nearest rival? "In BMX there are so many guys that can win. It is a guessing game. But there is Strombergs, Sam (Willoughby), Willers, the Dutchies, they have a special purpose, Daudet, all the Frechmen… I can mention 25 riders that can win. You have to concentrate on yourself you are the only person that you can do anything about."
Buchanan: "Conditions pretty crazy"
Caroline Buchanan was really happy winning her third time trial. "It definitely was not easy. I am glad I am safe. The wind conditions out here are pretty crazy. The winner was going to the one that got most of the backsides clean. I managed to get around. Wind was strong. Happy to get my third time trial win. Feeling strong and fit ready and I am ready for racing. "
"I always seem to do well in time trials. I never won a race but winning Norway definitely helped to boost my confidence. I really like this track, I got third last year. My goal is that `I would obviously like to repeat Norway but definitely better my position than last year. But if the wind dies down tomorrow we will be seeing a lot more close racing."
11/05 Review: Alienation Slider MikRib seat
by bmxultra.com
As we promised in the Alienation sponsorship announcement earlier this week, the deal up would mean more product reviews for you. The Slider MikRib is the first of those. Not only is it an Alienation product, it's a great product and was bound to find it's way to my bike regardless of the Alienation relationship, it was just a matter of time. Click here to check out the review.
10/05 Papendal Preview UCI BMX Supercross
UCI press release
10 May 2012 – Papendal, the Dutch National Sports center near Arnhem, will host the third stop of this year's UCI BMX Supercross World Cup Series on May 12 and 13. After this stop the UCI BMX Nation's ranking for the Olympic games will be established. Based on that ranking the maximum amount of riders per country that can qualify for the Olympic games will be determined.
Dutch army needs to watch its back
Interestingly it is the Dutch that are in the most threatened position in the elite men ranking. Columbia, in sixth place, is allowed to send only two riders. The Dutch, in fifth place, are currently able to send three. But things could change for the Orange riders on their home soil.
Men's nation ranking here
Women's nation ranking here
Olympic replica track
With 78 days to go to the opening ceremony of the Olympic games, the 170 riders from 26 countries will all be very eager to race the recently reconfigured replica of the London Olympic track. This Papendal stop promises once again to be very spectacular. For most nations this event will also be a key-qualifier for the individual riders.
Elite women: Caroline Buchanan and Magalie Pottier are the ones to beat
Caroline Buchanan (AUS) won her first Supercross title in Norway last month. The hard working Australian rider seems to be one of the favorites, together with Magalie Pottier from France. Pottier also secured her first Supercross win at this year's first stop of the UCI BMX Supercross World Cup series in Chula Vista, California. Both riders will be keen to prove that they are capable of winning many more Supercross World Cup Series and become World Champions.
The three most recent UCI World Champions are not going to be present. Shanaze Reade (GBR), the 2010 World Champion, is not racing. Sarah Walker (NZL), who won the rainbow jersey in 2009, is injured, as is the 2011 World Champion Mariana Pajon (COL). All of them are scheduled to return to racing for the Olympic Games.
Elite men: Four in a row for Fields?
With the men the big question remains: can Connor Fields (USA) win four Supercross races in a row? It will always be difficult to predict any BMX Supercross World Cup. Especially on the biggest and longest UCI BMX Supercross track on the circuit in Papendal.
Fact is that Fields won the last stop in 2011 and the first two of 2012. In Randaberg, Norway, the 'Vegas kid' proved that, in his current form, he can win on any track. Question is: can Fields maintain his form once again during this crucial event on a completely different course?
Maris Strombergs (LAT), the current Olympic Champion, has signed up for this event, as did Sam Willoughby (AUS). Willoughby was the runner up in Chula Vista and second to Connor Fields again in Norway, where the Aussie lost by the smallest of margins ever. Willoughby does not want to pull the short straw again and is ready to race. Current World Champion Joris Daudet (FRA) must be looking for a podium finish, as he has not been on the podium yet in 2012.
Last year's winner Marc Willers did announce on his Facebook page that he will not be posting anything before the BMX World Championships in the end of May, showing that all his focus is to get on the podium and show his competitors he is a big threat in 2012.
But also keep an eye out for some of the local favorites from the Dutch Army for a strong finish. Unfortunately, Jelle Van Gorkom (NED) is still recovering from his crash in Chula Vista. He was second in 2011. But then there is still Raymon van der Biezen, Ivo van der Putten and Twan van Gendt, amongst many others.
Please see the live feed of the event on www.bmxlive.tv
Please see all results, riders bio's and archive on www.bmx-results.com
Please follow UCI BMX SX on http://twitter.com/UCI_BMX_SX
Please follow UCI BMX SX on www.facebook.com/UCIBMXSupercross
10/05 Team bmxultra.com at the Shepparton GV Classic
bmxultra.com press release
Team bmxultra.com's Shane Jenkins, Aaron Rogers, Levi Collins, and Chase Collins hit up the Shepparton BMX track on Sunday for the GV Classic and the final round of the Victorian Pro Series.
Shane Jenkins (Vet Pro)
Shane made his first final for the Victorian Pro Series qualifying in sixth place. With a 6-6-7 in the three moto final system Shane finished with sixth place overall.
Aaron Rogers (Vet Pro)
Aaron has had a great series so far and the final round was no different. Aaron qualified in fifth position for the finals. With a 7-8-8 in the main Aaron had to settle for eighth place overall.
Chase Collins (A Pro)

Chase had been off the scene for a while and had reclassified to A Pro. With seconds the whole way through his motos and in the semi he was looking good for the main. However it didn't quite go to plan with a 6-8-7 in the three finals Chase had to settle for the eighth spot overall for the day.
Levi Collins (AA Pro)
Levi has had some great results at Shepparton, it helps with it being his home track, he qualified comfortably in the heats. In the first of the three finals Levi had a heavy fall on the third straight pro section. Although he got up and rode to the line and was determined to race the next round he discovered his helmet was damaged and started to feel ill. Levi was taken to hospital shortly afterwards to check on his injuries. Aside from a compressed spine and a couple of black eyes he's ok. Levi attributes his safety and the ability to walk out of the hospital to a great THE helmet and his neck brace that he swears saves him from serious injury.
It was an outstanding effort to have all four team riders in the pro mains. Well done guys.
The next stop for the Team bmxultra.com Victorian riders is Warragul a week and a half away.
The bmxultra.com team is proudly supported by One Bicycles, Alienation Inc, Supercross BMX, Dirt Designs, Tioga, Elite Cycle Imports, THE and Profile
10/05 Two Weeks to go to the UCI BMX World Championships in Birmingham
Birmingham 2012 press release
TICKETS STILL AVAILABLE
There's just two weeks to go until over 2000 BMX riders descend upon Birmingham to take part in the UCI BMX World Championships at the National Indoor Arena (NIA) from May 24th-27th for what organisers promise will be the biggest and best BMX show in 2012.  The event will showcase four days of exhilarating, adrenaline fuelled BMX Racing, with Olympic GB hopefuls Shanaze Reade and Liam Phillips competing in their last event before the London 2012 Olympics.  Tickets are still available at www.bmxworldchamps.com to watch them in action.
The event has two different standards of rider competing, including an elite racing 'Championships' competition and the amateur 'Challenge' class.  Whilst tickets can be bought across the whole Championships, the organisers have packed most of the finals into two showcase nights of racing and entertainment including music from international DJ Christian Stevenson. 'Challenge' class finals and elite time trials will be the focal point of the Friday evening, whilst Saturday night will see the Elite Championship finals, where the world's best riders will race elbow to elbow for the honour of wearing the rainbow stripes of World Champion for the next 12 months.
A BMX Racing track will be built from scratch in the NIA over just one week leading into the competition, building dirt jumps and trails to replicate an outside BMX track, with capacity to seat an audience of over 4,000 spectators.
Three times winner of the UCI BMX World Championships Shanaze Reade said, "I'm really looking forward to competing in Birmingham in a few weeks. It's fantastic that Birmingham is hosting the World Championships and taking another World Championships title would be great preparation before the Olympics. I'm really excited about competing in my home country at major competitions twice this year."
Steve Hollingworth, Assistant Director of Sport & Events at Birmingham City Council said, "In what is a huge year for the sport of BMX, hosting the BMX World Championships is yet another major event to further enhance Birmingham's reputation as a World Class Sporting City. The sport of BMX is rapidly growing in popularity in the city and the legacy of the BMX World Championships can be appreciated with the newly built Birmingham BMX Track at Perry Park which opened last year."
Jonny Clay, Event Director for the UCI BMX World Championships said, "The 2012 BMX World Championships is the latest in a string of major events that British Cycling has successfully bid for in recent years. We can already see the legacy of the event here in Birmingham with the creation of the new International BMX facility at Perry Park.  It's really exciting that the World Championships are in Birmingham this year, only months before the Olympics."
Almost 3,000 people participate in BMX in the UK, and there are around 70 BMX tracks in use. BMX in Birmingham was put firmly on the map last year, with a new state-of-the-art BMX track built at Perry Park. 
The UCI BMX World Championships is the biggest annual prize in BMX racing with the world's best riders chasing the right to wear the coveted rainbow stripes for the following 12 months. The event is also the last event in which nations can secure valuable qualification points as they strive to earn their place at the London Olympics in 2012. The event takes place in the Birmingham's NIA between 24th and 27th May 2012
To get tickets and for further information go to www.bmxworldchamps.com or follow @BMXWorlds on Twitter.
Family passes (two adults, two children) range from £56-£66 and an adult ticket is priced between £21-£25 for the Friday and Saturday evenings.
10/05 Victorian Pro Tour 2013
by Gary Morgan
The PRA are proud to announce BMX RACER our first sponsor for the PRO TOUR 13, we received great support for TOUR 12 and it's great to have them on board again next year.
At this moment we are looking at a 6 round series from TRACK ATTACK to the New Zealand world championships.
This is to ensure the Victorian riders get the highest quality racing possible, the PRO TOUR will be in partnership with the Junior State Series for all 6 rounds.
09/05 Supercross SLT-i 20mm Fork/Hub kits now in Australia
Supercross BMX Australia press release
A little while ago we took pre-orders for the latest fork to roll out of Supercross, the SLT-i 20mm Fork/Hub kit. They have now arrived and are selling like hot cakes. We have just three 20" sets left in stock and looking at getting more as soon as possible.
They are available in both 20" and 24".
The fork kit includes
SLT-i fork with a built in flush top cap
A 20mm Quick Twitch front hub
Colour options are
Black fork with Black hub
White fork with White hub
Chrome fork with Polished hub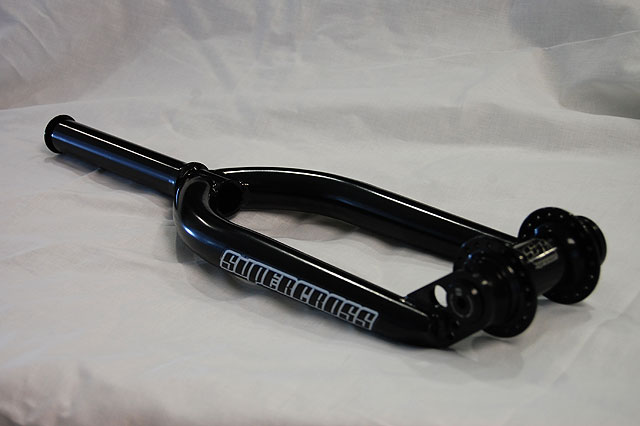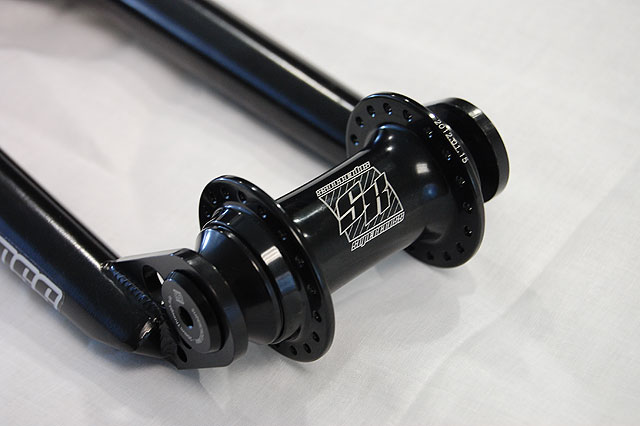 Other coloured hubs are available and can be switched with the standard hub on request (this offer is exclusive to Australia, elsewhere you will need to purchase the additional coloured hub).
The Australian RRP is $259 for the complete kit, another Supercross product that's cheaper to buy local!
Check www.supercrossbmx.com.au/dealers for a dealer near you or ask your local bike shop to contact us.
About Supercross BMX Australia
Supercross BMX Australia are supporters of BSX and the Royal Children's Hospital and while we have our own Supercross and Speedline/Supercross teams we also co-sponsor the bmxultra.com team and the Anarchy BMX Australia team.
To find out more about Supercross BMX products and Speedline Parts check www.supercrossbmx.com.au
If you would like to purchase Supercross BMX products in Australia please have your local bike shop contact us. Please note, we do not sell direct to the public. We support the Australian BMX Industry! Do You?
For more information and dealer enquiries email sxaustralia@supercrossbmx.com.
08/05 Speedline Parts/Supercross BMX Australia Team Update
Supercross BMX Australia press release
The GV Classic was on in Shepparton on Sunday, it was also the final round of the Victorian Pro Series.
Five members of the Speedline Parts/Supercross BMX Australia team members were up for the challenge racing at the home of the 2010 Australian Championships in Shepparton.
The sunshine was shining and so were the team with some great results in some tough competition. With 252 riders and 364 entries, we were in for some exciting racing.
#89 Stewart Kelly is the local rider with good knowledge of the track and knows how to carve the bitumen berms. Racing 30-39 20" men he BOLTed through into the main final. In the main Stew was unlucky and tangled with another rider and finished with a 7th place.
#619 Craig Austin has a PASSION for racing, the pinup boy of the team raced in 30-39 20" men and also made an appearance in the final. Craig has been off the bike since March and to jump back on and take a 6th on the long Shepparton track is a top effort.
#45 Craig Penglase, the Chef, said the burgers are better at Hungry Jacks… No he didn't… The president of BMX Victoria showed what it takes to race in the super competitive 40-49 cruiser class. With a 2nd 3rd and 3rd in moto's he was looking for a podium finish in the final. In the main the gate dropped and he put in the hard yards but with the tough field he rode his ENVY in for a 5th.
#32 Simon Trewin After almost 5 months off the bike with a broken heel receiving 2 titanium screws and only walking for the last 2 months, Simon felt it was time to hit the tracks again riding 30-39 cruiser. Once the gate dropped he didn't look back winning every moto with transponder times to be competitive in Vet pro. He took the big step on the podium which was the ENVY of the class. We will see more of Simon back out on the track and he is looking forward to getting back into Vet pro.
#466 Brandon May the new guy in the Speedline/Supercross team was a BLUR in AA Pro with transponder times only some of us could dream about, even after spending less than a week on the new bike. Also with a local knowledge of the track he transferred easily into the 3 moto final… When the dust settled after the 3 finals he finished with an impressive 4th in a stacked AA field…
Welcome to the Speedline/Supercross Australia Team Brandon.
The next race on the horizon for the Victorian Speedline Parts/Supercross BMX team is Warragul in 2 weeks.
The Speedline Parts/Supercross BMX Australia team is proudly supported by Speedline Parts, Supercross BMX, Dirt Designs, bmxultra.com and TECH.
Speedline Parts
Speedline Parts is a bicycle parts manufacture located in Southern California. We currently produce cranksets, pedals, chains, headsets, brakes and seatpost clamps. All of our products are tested and used by team riders. Speedline Parts are distributed in Australia by Supercross BMX Australia.
Supercross BMX Australia
Supercross BMX is a leader in BMX by design, innovation and manufacturing. The Supercross ENVY is the lightest production frame, full stop! However there is much more to the brand than the ENVY frame. There is also the alloy BLUR and the cromo BOLT LT, both of which have the same race winning geometry as the ENVY. Supercross BMX currently produces some of the most respected cromo/heat treated handlebars and forks in the business as well as hubs, stems, seats, posts, tires, cranks and a while lot more.
Supercross BMX Australia are the exclusive Australian distributor, keeping prices competitive and in many cases cheaper than the US. On top of that SX Australia put back into Australian BMX sponsoring some of the most talented riders in Australia on the Supercross Australia factory team and supporting the Speedline Parts/Supercross BMX Australia and bmxultra.com teams. Supercross BMX Australia is also a big supporter of the BSX charity event.

07/05 bmxultra.com now proudly sponsored by Alienation

bmxultra.com press release
We are pleased to announce Alienation Inc as bmxultra.com's newest website and team sponsor and welcome them to the family.
Established in 2006, Alienation are a relatively new company, but they have already made a massive impact across all aspect of BMX. Alienation specialise in grips, hubs, rims, seats & tires, though their product range is much deeper than that. Their drive, innovation, eye for style and unique approach to all of their products is what keeps them on the bleeding edge of BMX design and development. It allows them to create the best, strongest and lightest BMX products money can buy…and more importantly with an affordable price tag.
"We have worked with Alienation in the past when they were naming rights partner for the Alienation BSX in 2010. They were very generous and supplied thousands of dollars in product to help us raise money for a great charity, the Royal Children's Hospital. Needless to say auctions and raffles were running hot that day and it was a record breaking year for funds raised. We have also teamed up with them for a number of product reviews over the past few years. With each review, as we looked at each product under the microscope (so to speak), we could tell that Alienation weren't just another BMX company. Personally I swear by their hubs and grips and have been running them on my bike for a couple of years now and I'm a new convert to their rims, which I have been using now for over six months. I'm very proud to be able to cement our relationship with Alienation, and look forward to working closely with them." said bmxultra.com head honcho, Shane Jenkins, about the Alienation sponsorship.
As a part of the new partnership we will be rolling out Alienation rims, seats and posts for the bmxultra.com team riders. We have a great bunch of riders on our team, all of which love BMX racing and all highly competitive. If you see any of them at the track make sure you stop them and check out their bikes. Now it's official, Alienation is the bmxultra.com rim of choice.
For our readers this new partnership means more product reviews so you can get a close look at more of the current Alienation product range, and new products as they are released.
About Alienation
Alienation support many of the worlds best BMXers, on the race side of things that includes the likes of Barry Nobles, Joris Daudet, Caroline Buchanan, Mariana Pajon, Shanaze Reade, Supercross BMX Team, GT Team, Haro Team, French National Team, Australian High Performance Team, just to name a few.
Alienation products are distributed in Australia by Elite Cycle Imports (ECI).
For more information about Alienation and their products visit http://www.alienationbmx.com/
About bmxultra.com
Started in 1996, bmxultra.com is the brain child of former AA Pro Shane Jenkins. bmxultra.com is a BMX race specific website that's set out much like a magazine with regular product reviews, new, photos, interviews and more. bmxultra.com boasts daily updates, weekly product reviews, more original content than any other site of it's kind and an independent approach to presenting you with the latest BMX racing news.
Shane opens the bmxultra.com compound to the public for one day in January each year to host the biggest little BMX race in the country, BSX. BSX is a one on one elimination event that attracts riders from all over Australia and internationally. The primary focus of the day is to raise money for the Royal Children's Hospital while providing a relaxed and fun day for riders and spectators.
07/05 2012 SA v's VIC entry forms
BMXSA press release
The annual SA v's VIC Challenge and the Australian Country Championships will be held on the BMX Nationals track at Mount Gambier on Saturday 9th and Sunday 10th June 2012.
Entries are now open on www.ezeventing.com.au and nom forms for postal entries are available at the bmxultra.com calendar, http://bmxa.sabmxa.com.au and http://www.bluelakebmx.com
A Pro prize pool of $4,500 is offered for the weekends racing.
07/05 The Bayside BMX Bash
by bmxultra.com
Those crazy old school cats are having a bash this Saturday at the Bayside BMX Club (Wynnum West) in Brisbane. With a show and shine and old school racing it sounds like those guys are set for a lot of fun.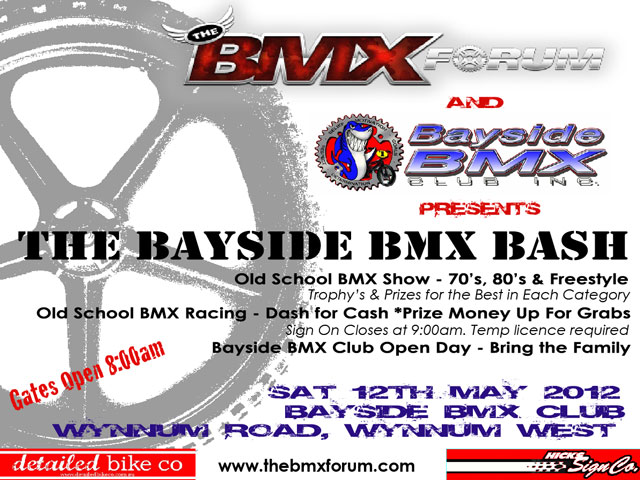 07/05 Anthony DEAN Signature Series T-shirts
Elite Racing Supplies press release 
Anthony Dean Signature Series T shirts now available through Elite Racing Supplies.
All sale proceeds go Directly towards offsetting the costs of racing overseas for Anthony.
Anthony Dean Signature Series is managed by Elite Racing Supplies.
Whilst Anthony is away overseas, all orders, payments, postage and deliveries will be handled by Elite Racing Supplies.
go to the below link to view:
https://www.facebook.com/profile.php?id=100002416776256&ref=ts#!/media/set/?set=a.294827943931622.71026.139544059460012&type=1
Elite Racing Supplies wishes the best of luck to Anthony for his racing and for actually making the decision to "Chase the Dream".
Cost of T shirts is $39.95
Postage within Australia is $7.50
Worldwide Postage available, email for a postage quote.
All orders by email to eliteracingsupplies@westnet.com.au
04/05 Review: Time X-Roc S Pedals
by bmxultra.com
Like we said on Wednesday, it's time to get back into race product reviews, and what better way to kick that off than some Time clip pedals. Click here to check out the review.
04/05 The Dane Pangallo Project
by Dane Pangallo
A few weeks back it occured to me that there are very few BMX pros in Australia that have their own websites to give something back to their sponsors and reach out to friends and family. Sure there's facebook but it's just not the same. So I begged and pleaded with the guru and my oh so wise team manager Shane Jenkins to help me put one together. So the site has been a few weeks in the making (with a break for the nationals, pardon the pun) and still requires a few finishing touches before it's totally complete, but I've been blogging and uploading photos so you will have plenty to look at.
My intention is to update it on a regular basis, especially when I am away competing at the UCI World Championships in Birmingham, UK and other upcoming events.
I believe that being sponsored is more than just getting results, wearing a jersey and putting your hand out for freebies. There's a whole lot more responsibilty involved. You don't get results on your bike unless you train hard, nothing comes for free. Professionalism on and off the track extends beyond race days and training sessions. This is another way for me to help my sponsors with extra exposure 24/7, and have some fun with it along the way.
While at the World Championships I'll be sure to check out the latest gear getting around and post photos and other interesting stuff for you.
Make sure you visit the site and feel free to contact me at any time and leave feedback. I'd love to hear your thoughts.
Check it out at www.danepangallobmx.com.
03/05 New ECI racing specific website
by bmxultra.com
ECI are one of Australia's leading BMX distributors. They carry some of the biggest names in the BMX race scene including Profile, Intense, Speedco, Alienation, Answer, Sinz, Kuwahara, One Bicycles, ACS, Dirt Designs and a whole lot more.
They have had a BMX website that they have been putting rider video edits, product news and random updates on, but it's mostly freestyle and the race stuff was getting a little lost amongst it. So it appears they have decided to put their race news on it's own site.
There's a couple of updates on the fresh new site including a video edit from Australia's fastest Junior Elite rider Bodi Turner. However you can expect to see new product and team announcements as well as some general cool links as they are brought to the ECI crew's attention.
It's still early days yet, but check out www.ecibmxrace.com.au.
02/05 Review: Loose Kid Industries Dimensions Cap
by bmxultra.com
I know what you are thinking, no it's not Friday, our usual day for product reviews. But we still have a lot of reviews to get through and one a week just isn't enough at this stage. Yes it's another LooseKid product, the last for a little while at least. We've got a few things on the go at the moment and it's time to start talking about BMX racing products again. Click here to check out the review.
01/05 Mike Day Athlete Profile Video
GT Bicycles press release
Looking to make a strong return from a season of recovery, GT sat down with Mike Day while he was competing at the UCI BMX Supercross World Cup held in Chula Vista California to get his outlook for the coming season.
Get an insiders view, as Mike talks about his new bike, the challenges, as well the pressure of being a past Olympic Silver medalist, with the London 2012 Summer Olympics months away.
Link: http://www.youtube.com/watch?v=FeRMzSZ3UyY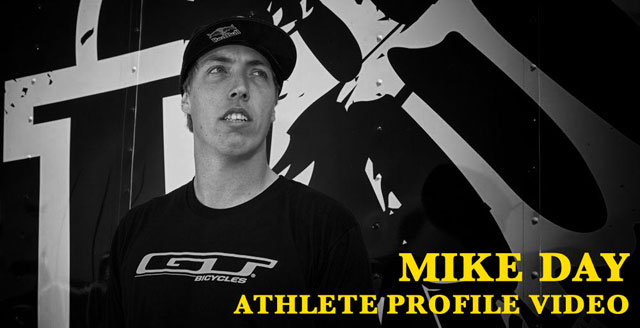 01/05 Team CycleCraft Australia – 2012 National Titles Wrap-up
CycleCraft Australia press release
The 2012 Australian National Titles held in Mt Gambier, South Australia saw Factory Team Cyclecraft Australia riders Rachel Bracken, Kristina Hagberg, Maddie Janssen, Brock Smith and Michael Young, taking home a total of 6 national plates.
Women's Junior Elite rider Maddie Janssen took home top honors with a National #1 plate on her signature pink CycleCraft. Maddie had no trouble in the moto's resulting in two wins and a 2nd. Going into the final, Maddie lead from start to finish taking the National Title for 2012. Maddie also taking the win in Round 7 of the Probikx series on Thursday, while not competing in the series this year, she was the previous series winner for 2010-2011. This being Maddie's last year in Junior Elite, she will leave the class on a high after these titles and we look forward to seeing her join the ranks of the elite class.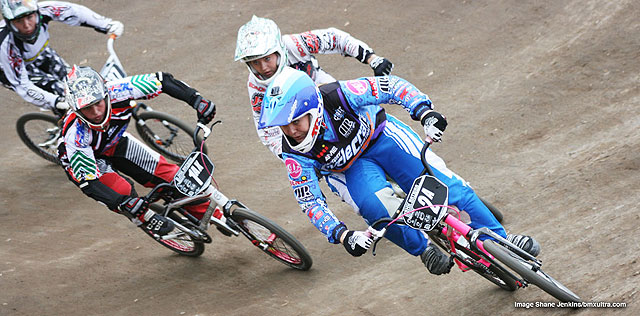 CycleCraft's Elite Women's rider Rachel Bracken had a tough few days of racing. Competing in the last round of the Probikx Series, Rachel set the fastest time in the time trial, after cruising through her moto's she went into the final as the favorite. The final had Rachel and Nicole Callisto coming together in a heavy crash down the first straight, Rachel getting up to cross the line in 6th. Still sore from Thursdays crash, Rachel's National title campaign was right on track, again placing 1st and 2nd's in her moto's and going into the final, Rachel crossing the line in 5th place after getting boxed in down the first straight. Rachel showed she was back in form with her sights already on next years titles in Brisbane.
New South Wales team riders Kristina Hagberg and Michael Young also achieving great results for CycleCraft both riding in the 17-24 class on 20' and Cruiser with Kristina making an appearance on the podium twice over the weekend. Racing in her combined 17+ women's 20' class saw Kristina cross the line in 3rd place and in her Cruiser class taking home a well earned 2nd in the final. Michael Young's 20' class consisted of  56 riders, racing through his moto's, quarters and semi's at the pointy end he took 6th in the final. Cruiser class on the Sunday, Michael scored 2nd's all the way to the semi's, scoring a well deserved 4A plate in the main.
Brock Smith CycleCraft Australia's 15 boys team rider raced in the Champbikx's series on the Thursday. Brock's moto's had him finish in the top 3. Racing in the final was tight, Brock was pushed wide into the first corner which delegated him down the pack finishing in 7th place. His National titles charge hit off great in a large class of  43 riders, winning all his moto's and moving into the quarters his run finished early when he place 5th in his semi.
Congratulations to all team riders for their hard work training, great results and flying the CycleCraft colours! For further information on CycleCraft American Made Race Frames, Team Rider Profiles and News, visit our web site below.
Team CycleCraft Australia is sponsored by 
Megaburn | Double D Motives | Kenda | UNI | A'ME Grips | Mitch Ramm Industries
Crit Plates | FTD | Corsa Racewear | Goreysvids | Rainbow Cycleworx | Nimblewear
Posted in: Archive