BMX racing news June 2012
29/06 Review: VuPlex Plastic Cleaner
by bmxultra.com
Finally a cleaner that will make my helmet and goggle lenses look new again. Click here to check out the review.
28/06 Vote for Supercross BMX
by bmxultra.com
One of our site sponsors, ABA 2011 Bike of the Year and BMX Racing industry leaders, Supercross BMX, need your help.
Chase Bank and Living Social are doing Grants for small businesses. Supercross BMX would like to get involved so they can invest more into research and development and they can keep building the best BMX Bikes and Parts they can. They have to have at least 250 votes to be eligible.
And all you need to do is vote by
clicking the following link:
https://www.missionsmallbusiness.com/pledge/3440775-billryanbmx?utf8=%E2%9C%93&q[business_dba_name_cont]=supercross+&q[state_eq]=0&commit=Search
click "login and support" (you will just need to login as your facebook user)
If it asks for a business name type in Supercross BMX and press "search"
Make sure your vote counts
27/06 Team bmxultra.com at the WA Super Series
bmxultra.com press release
June represents the final month of racing on the 2012 WA calendar and with that Rounds 9 and 10 of the WA Super Series.
Round nine has traditionally been on the June long weekend and in Kalgoorlie. This year was no different however what was different was the almost complete rebuild of the Kalvegas track including a magnificent 5m start hill with full Pro-Gate start ramp and new first and second straights. Team bmxultra.com rider Matt Butterworth was competing in Vet Pro Cruiser and 40+ cruiser with enough racers entered to make finals in both classes. In Vet Pro Cruiser Matt qualified out of the motos in 3rd position and then went one better in the final, placing 2nd behind Brent McDonald. In 40+ cruiser, Matt qualified in 2nd place, but this time got on the top step of the box, winning the final ahead of Frans de Swart and Brad Brown.
The final round of the series held over the past weekend was at the Wanneroo BMX Club. Having a five year lease extension on the land on which the club operates meant a renewed sense of pride and enthusiasm in the club and the committee did a fantastic job in presenting a smooth and fast track. Matt chose this time around to bring out the 20 inch bike and was entered in the 40+ Men. This turned out to be quite a competitive class as riders from the 30+ Men were merged to give the riders a final. Notable entrants were current 40-44 Men 4A plate holder Jason May and ex-Liverpool club rider Peter McCarter, who has recently moved to WA. Matt qualified 3rd out of the motos with a 1-2-2, but came away with the victory after May and McCarter came together (but stayed upright) in turn 2, thus allowing Matt to low-low and hold off McCarter at the stripe by 0.21 of a second.
Wanneroo 40+ Men Final – 24/6/12
http://www.youtube.com/watch?v=ENGgb5KVTPM&list=UU1pC_5M2agxLBr5r4pRGSUA&index=4&feature=plcp
With the season now in hiatus for a few months Matt would like to take this opportunity to thank Shane Jenkins at bmxultra.com for all the support for the 2012 season.
The bmxultra.com team is proudly supported by One Bicycles, Supercross BMX, Alienation, Dirt Designs, Tioga, Elite Cycle Imports, THE, Profile, Sun Ringle
26/06 Anarcy Australia update
bmxcompound.com.au press release
Anarchy Australia Factory Team rider, Kat Hopkins (#7 Australia in the Elite Women's class) has been very busy this month racing the last two rounds of the Western Australia Super Series. She sent us a race report that we thought we'd share with you.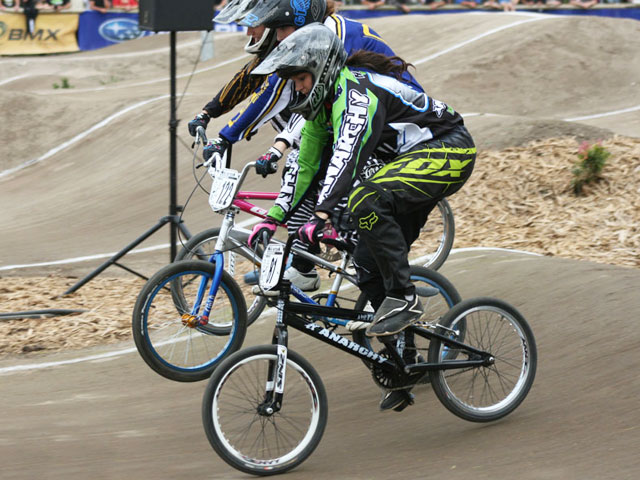 Kalgoorlie
Over the June long weekend (birthday weekend), we travelled to Kalgoorlie for the second last round in the WA Super Series. Excited to travel the 6hrs to see the new upgrades the committee up there has done. Track was awesome, I took a fall (well slide out) in the first corner on the Saturday's practice. With the club putting on a pre event called Kal Vegas the Saturday Night. Was an awesome race atmosphere and came away with 2nd behind Kirsten Dellar. 
Sunday's racing came, racing in the Pro Open Women and I went through the motos clean only dropping a moto when was in the same as Kirsten. Which qualified me 2nd into the main. Throughout our 3 final finals I came 2nd behind Kirsten which gave me second overall. I also won the Open Ladies class.
Wanneroo
Yesterday we had the final round of the Series at Wanneroo. It was a good days racing. I started off a bit offish and 1st moto got 3rd behind Kirsten Dellar and Airlie Gooden. 2nd moto I got back on track and pulled a 1st with Kirsten behind me. and 3rd moto I got a 2nd behind Kirsten. Which qualified me 3rd in the mains because of that 3rd in the first moto. I picked lanes 8,2,4. 1st main I got a bad gate and was 3rd behind Kishani and Kirsten but I went the inside on the last turn to pull 2nd and the last two finals I was right behind Kirsten so I finished the day off 2nd. 
The Anarchy BMX Australia team is co-sponsored by Supercross BMX, Speedline Parts, Profile, Sinz, Alienation, bmxultra.com and Dirt Designs.
About Anarchy BMX
2012 is the rebirth year for Anarchy, new owner, new identity, new bike, new team, it is about to get crazy.
Starting with the heritage, of the original Anarchy Race Frames, we have gone back to the drawing board and built the best 7005 Race frame we could. We use Easton ULR Ultra Light Race Tubing that features Easton's taper wall technology, we have lowered the profile to be light, stiff and responsive, the seatstays utilize a pierced wishbone design to offer a sleek look and an elongated weld area, not to mention a cool place for the Anarchy A logo at the end.
The CNC'd dropouts are extra thick where your axle bolts on to optimize the stiffness and strength while minimizing weight. Pass through cable guides show the race lineage by making it easy to tear down for travel and allowing the full length housing for optimal braking.
For more information about Anarchy BMX products check out www.anarchybmx.com
If you would like to purchase Anarchy BMX products in Australia please have your local bike shop contact us. Please note, we do not sell direct to the public. We support the Australian BMX Industry! Do You?
For more information and dealer enquiries email sxaustralia@supercrossbmx.com.
25/06 BMX Australia Olympic Athletes Named
BMX Australia press release
BMX Australia is pleased to congratulate our five athletes – Sam Willoughby (SA), Brian Kirkham (SA), Khalen Young (WA), Caroline Buchanan (ACT), Lauren Reynolds (WA) – who have been endorsed by the Australian Olympic Committee to represent the sport and Australia at the London Olympic Games.
Expectations are high from the team members who have placed Australia at the top of the nations ranking in the sport by the UCI (Union Cycliste Internationale). It is that ranking that has allowed Australia to send a full squad of 3 male riders and 2 females riders to the 2012 games.
BMXA President, Barry Knight said he is excited for the sport and the prospect of watching the Australian riders podium at the games.
"I'm as excited as the young athletes who have been selected to represent Australia at the Olympics," Mr Knight said.
"We have a talented group of riders who have shown the world just how competitive Australia is in the sport of BMX by holding onto the number one ranked nation in both the male and female categories since 2011.
"BMX in Australia continues to grow and with the pathways provided by the sport for our competitors to ride at what is such an iconic global sporting event I can see BMX going to a whole new level.
Sam Willoughby and Caroline Buchanan are two such riders who performed well at the World Championships in Birmingham last month. Willoughby won the Elite Mens final becoming the World Champion where he kept his opponents at bay with a ride that saw him cross the finish line 3 bike lengths ahead of second place.
Caroline Buchanan claimed the World title in the Time Trial and while not a medal sport at the games, it's an important part of setting up success in the race event. Riders will time trial to determine their place in their motos (heats); a good result will enable a better starting gate position.
Brian Kirkham is the current 2012 Australian National Champion with Lauren Reynolds finishing second at the National Championships that were held in April at the Blue Lake BMX Club in Mount Gambier. Both riders flew back to Australia with just a 5 day turnaround from competing at the second World Cup race in Randaberg, Norway. Khalen Young crashed heavily in the quarter-finals at the World Championships and was unlucky not to have progressed further.
National Team Coach Wade Bootes is pleased with how the lead in to the Olympics has gone. "The team have demonstrated they are capable of medalling in the London by their results so far", Bootes said.
"The years of development and hard work from all the riders and staff involved in the BMX Australia High Performance Program, have placed us in a great position as we head into the games."
BMX Australia on behalf of its membership wishes Sam, Khalen, Brian, Caroline and Lauren every success in London.
25/06 New Products at the World Championships
by bmxultra.com
bmxultra.com team rider, Dane Pangallo, was at the World Championships at Birmingham a few weeks ago and while he was there we asked him to take some photos at the trade booths. He took a bunch and posted them on his site and we forgot about them. (Sorry Dane…but thanks for the pics!)
Click here to check them out.
22/06 Review: Alienation Differential Kevlar folding tire
by bmxultra.com
Alienation have some awesome all rounder tires called Differentials, we got to review the Kevlar versions. Bonus: We've teamed up with the Aussie distributer, Elite Cycle Imports, to bring you an Australian exclusive special price. You will have to read the review for details.
21/06 New Products: THE Cosmo Shorts
by bmxultra.com
It's another quiet day on the news front so we thought we'd show off the new THE Cosmo shorts we'd stumbled across.
The colour options are Black/White, Black/Red or Black/Blue.
They are available in sizes 30-38.
Here's the description:
Designed with racing in mind—whether it's downhill, slalom, four-cross, Super-D or BMX—the new t.h.e. Cosmo Short balances protection and durability with comfort and maneuverability. Tough 600D Cordura Nylon is used where it matters most while flex-ribbing at articulation zones lets you move freely. Silk-screened graphics keep your style fly and a waterproof zipped pocket keeps your stash dry. An adjustable waist ratchet waist, embroidered closure and heavy-duty zipper tie it all together.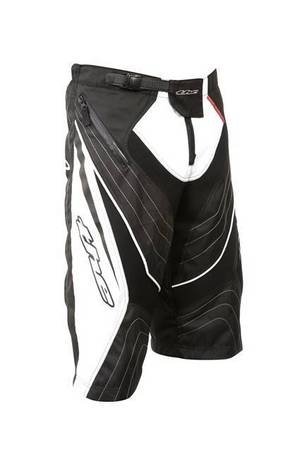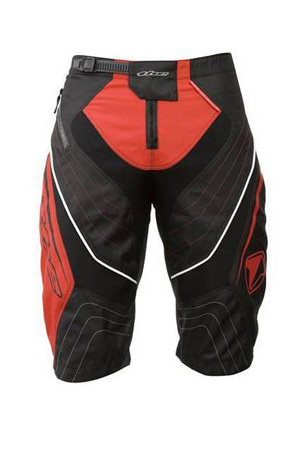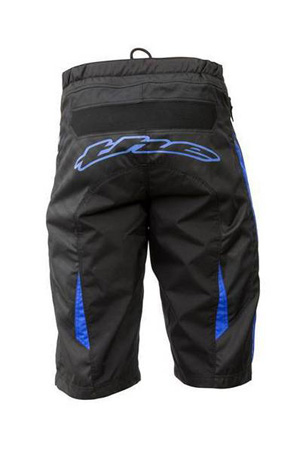 THE products are distributed throughout Australia by Elite Cycle Imports.
Check them out at your favourite local bike shop.
20/06 BMXMAD – Mount Gambier Race Report
BMXMAD press release
Thanks to the team members that participated at Mt Gambier last weekend.
We had a great time and the team came away with some great results:-
Wade – 5th in A Men Semi
Emily – 4th Pro Ladies
Hayden – crashed in A Men semi
Bodi – 1st AA Men
Erin – 1st Pro Ladies
David – 7th AA Men
Greg – 2nd 45+ Cruiser
Russell – 2nd 40-44 Cruiser
Graeme – 6th 45+ Cruiser,
10th 30+ 20"
Thanks again to Mt Gambier for putting on another awesome event, and the weather
wasn't even bad!
20/06 Morphine Industries Rocks out in the Music City
Morphine Industries press release
NashVegas, baby!  Who says what happens in Nashvegas stays in Nashvegas.  Not us, we what to tell all…so here it goes!
Fast track and great race weather made for a great excuse to leave the real world behind and head to Nashville for the Music City Nationals.  The Morphine crew was up for the challenge and gathered for the event.
Here's how it all went down;
A PRO – "Prince" Olijuwon Davis, Dominating in his motos and semis, OD rolled to the main event.  When the gate dropped OD had a bobble with pedal that caused him to get a late start.  He horsed the straights and was able to hold on to a podium spot with a solid 3rd.
Sunday started out as a repeat of Sunday, until it came to semis.  That dang pedal again….coming unclipped from the gate proved to be OD's demise as he couldn't get back in quick enough to get on the gas in a stacked semi to make it to the main.
Vet PRO – Tim Dinger, lined up to the gate Saturday with the newest member of the Vet ranks, Christian Becerine.  Vet Pro has become some of the best racing of the weekend with many new entries into the ranks.  There is no room for error in this class and unfortunately it was not Dingers day has he came unclipped in one moto making his total just outside of a transfer spot main.
Unfortunately on Sunday Dinger went to a pass in the last turn with Joey A. and came up short getting buried in the turn on his shoulder.  When the dust cleared Dinger got up but with a broken collar bone.  Dinger is not one to sit back, he is always pushing himself in races laying it down.  We love ya Dinger, quick and safe recovery bro!
36-40X – Doran Bradshaw, strapped on both Haro whips for the weekend and let it rip.  On Saturday, Doran rode the cruiser to a mid podium spot with a 2nd.  When it came time to the 20" it was game time and Doran again landed himself on the podium in a stack group with a 3rd.
Sunday with an double whip day and doran started on the day with solid riding a finishing with a 4th on the cruiser.  He saddled up the 20" and continued to bang bars and rode to a solid 4th at the white line.
28-35X – Charlie Hunt,  followed in the a double whip day as well.  However, he changed it up from his usual 20" and cruiser and went with Open and 20".  Charlie's race reports are getting boring to write.  Haha!  He again showed his dominance and he punished both classes with top podium finishes!.
On Sunday, Charlie did the 2 for 20.  He rode his 20" for 1st place finishes once again in both 17 & over open and in class.
17-18X – Ryan DeRoche, showed that hard work along with mad skill pays off.   Ryan hit the weekend in both Jr. Men and a super stacked Class.  Ryan started off the weekend on Saturday turning heads in JR men.  Ryan horsed his way to a solid 2nd place on the podium.
Sunday, Ryan was determined to do more of the same in JR men.  He once again displayed is power and skill with a solid 2nd place on the podium.  In Class, he paid down the same with an equally stacked class to take another place on the podium with a 3rd.
16X – Jared Johnson, not to be outshined by his teammates showed his Ohio style with solid motos and a 5th place on Saturday in class.
Sunday, Jared came to race and make the podium.  He continued to make his way through the class to the main.  When the smoke cleared Jared took a 2nd place spot on the podium.
Factory Team Sponsors: HARO BIKES (www.harobikes.com), Fly Racing (www.flyracingbmx.com),  Alienation (www.alienationbmx.com), DK Bicycles (www.dkbicycles.com), Folmer BMX (www.folmer-bmx.com), Hawk Racing (www.hawk-racing.com), Rennen (www.rennendesigngroup.com), Tioga (www.tiogausa.com/bmx), DNA Energy (www.dnaenergydrink.com)
19/06 New Products: Answer Headsets and Spacers
by bmxultra.com
Here's some new photos of the new Answer BMX headsets and headsets spacers. They have Integrated 45/45 Campy compatable internal headsets (weigh 90 grams) and the old style pressed headsets (weigh 116 grams) in both 1 1/8" and 1" as well as matching headset spacers in both sizes.
Check them out.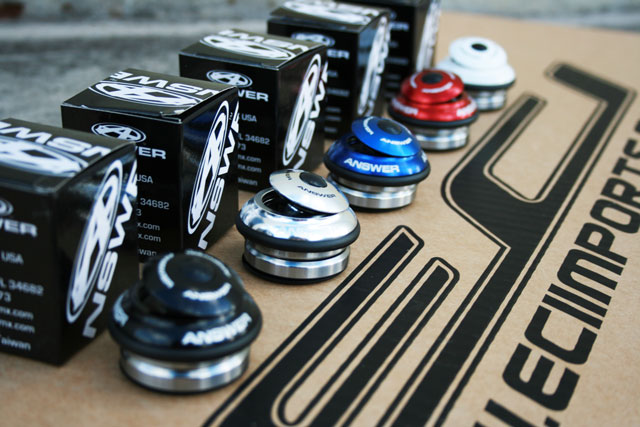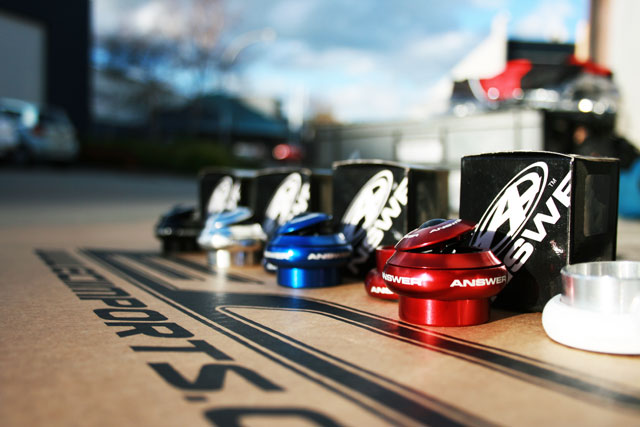 Thanks to ECI, the Australian Answer BMX distributor, for the photos.
18/06 Trail and Track Launch Their Online Store
by bmxultra.com
John Sturzaker and his crew over at Trail and Track Cycles launched their online store yesterday. They say "from little things big things grow" there is a lot of product on the site already but John tells us he has plans to add a whole lot more on an on going basis. If you are looking for something that's not already on the site to give them a call on (03) 9792 4334.
We've known John for over 25 years, ever since he moved over to Victoria from Tasmania and was getting amongst it as a pro racer. He really knows his stuff, he and his crew can help you put together your deam bike on your budget and he builds a mean wheelset. One of the biggest benefits of buying from a local store is the track side support you get at the races.
Trail and Track have access to some of the biggest brands in the business Profile, Kuwahara, Alienation, ACS, SSquared, Speedco, Intense, Answer, Supercross, Speedline, Anarchy, Redline, S&M, O'Neal, Troy Lee Designs, Sinz, THE, Tioga, the list goes on and on.
Get on over to the online store now and check it out.
http://trailandtrack-bmx.com.au/store/
If you prefer the hands on experience you can get down to the Trail and Track store.
Trail and Track Cycles
76 Doveton Avenue
Eumemmerring Victoria  3177
Phone: (03) 9792 4334
Email: tatcycles_sales@hotmail.com
18/06 Video: Corben Sharrah Athlete Profile
GT press release
Coming back from a broken femur, Corben Sharrah is determined to make a strong comeback. GT sat down with Corben to get an insiders look at his recipe to success and his life, current and past.
With the Olympic trials coming up this weekend, in Chula Vista, California, Corben's focus is set on success.
http://www.youtube.com/watch?v=VW0NPu5CafY
18/06 ONE Bicycles Australia Factory Team at the Mighty 11's and NSW Pre Titles 2012
ONE Bicycles Australia press release
This year saw the return of the Mighty 11 Test Team Event being held in conjunction with the NSW Pre Titles event. The event had 4 events being run over the weekend, with the New Zealand Qualifier, The Mighty 11's, The Test Team event and the NSW Pre Titles. We drove down to the Southlakes BMX Club in Albion Park Rail area near Wollongong on the Thursday to prepare for the weekend of racing.
Mikayla was selected to be a part of the 2012 Australian Mighty 11's Test Team and had been training hard in the lead up to the event. After arriving Thursday to meet her team mates, Mikayla was elected as the Australian Captain and was on a high and ready to take on the Kiwis! This event was also a Dynamite Series round for the ACT riders and meant she had to compete in her age class to accrue points to qualify for the 2013 Aussies! Mikayla was asked to roll out of the gate and complete one lap in 12 Girls, who were joined with the 13 Girls, to allow her to qualify for her Dynamite points. Mikayla was asked to focus primarily on the Test Team motos as that was her priority! Mikayla was happy to do this and only rolled around in the Mighty 11 event, saving herself for the Test Team.
The New Zealand Girls Test Team was a well drilled cohesive Team who had a very calculated about their racing and managed to shut the Australian Girls down in every moto over the weekend. Mikayla was riding well and probably the quickest in the Aussie girls Team, but struggled to get through the formation the NZ girls rode in. The Aussie girls rode well, but with limited time together and a lack of team riding, could not manage to penetrate the strong NZ riding, losing considerably in their quest for the Trophy. Mikayla stated she just could not get around or through the NZ girls, but was happy with how she rode and delighted to have the chance to compete for her country and made some amazing friendships over the weekend!
Nik was riding well and trained hard leading up to the Pre Titles, but was not feeling very well and suffered with his result over the Sunday racing format. Nik was competing in the tough 14 Boys class and was up against a few well talented Local riders which would be a test for him. In the heats Nik rode well with top 3 placings and sat in seventh in to the final! In the final Nik drew gate 7 and had a big struggle to get over and make a difference up the front. After a tough ride, he like Mikayla, struggled to get through the wall of riders and finished the final in last place. Nik was happy to make the final and is looking forward to the Titles themselves later this year.
Josh rode Junior Elite over the both days of the event and with 5 riders in total entered, disappointed that there was not more competition and a deadman final system, made his days short. Josh rode well and managed a third at one stage, but with the level of competition over the two days, missed the final both days and was dropped from the final both Saturday and Sunday. Josh is adamant he wasn't riding age and when you look at his best time it was fast enough to take away the win in 17-24 men. I am hoping the new system doesn't impact on rider's choices to race Elite and Junior Elite, but the weekend was evidence that this may already have!
I would like to thank Grant Ginger and the Australian Management Team for their amazing work for the event and their passion for the concept of Mighty 11's. It is an experience Mikayla will never forget. Big thanks to my wife and family for a great little holiday and some fun times and laughs!
Thanks to Shane Jenkins, ECI, Scotty Hand, Craig Fisher, ONE Bicycles, SNAP and Lizard Skins for all your ongoing support for the kids! This support is priceless to the kids and they ride knowing they have people who believe in them.
An amazing weekend of racing thanks to a huge effort by BMXNSW and the Southlakes Club. The track was fast and well presented and the racing hot! Thanks to all the lovely New Zealand riders and families we had the pleasure to meet and to our Aussie Team mates families, thanks for making this a great experience we as a family will never forget.
How to buy One Bicycles products in Australia
If you would like to purchase a One Bicycles frame or accessories in Australia the best way to do so is to head down to your local bike store and place an order. If they don't know what you are talking about tell them to call Elite Cycle Imports while you wait and place your order there and then. After doing some calculations ourselves we have found the cheapest way to get One Bicycles products in Australia is through a local reseller.
About One Bicycles
For over a decade ONE Bicycles (operating out of Holland), inducted into the European Hall of Fame, has solely focused all their efforts on the sport of BMX. Today they are at the forefront of BMX product design Worldwide. Utilizing advancements in the industry, some of which were conceived in ONE's own engineering department, their products directly reflect the evolution and maturing of proven BMX design. Like a fine wine ONE Bicycles product line has come of age as a result of years of dedication to the sport of BMX.
One Bicycles are a major sponsor of the bmxultra.com team
Over the years One Bicycles have sponsored
Khalen Young
The Phirebird team which includes 2005 & 2006 World Championships finalist Jamie Gray and 2006 NBL Grands (A Pro) champion Glenn Codega
In 2008 Maris Strombergs rode his One Bicycle to victory in the Elite Men's class at the UCI World Championships and followed that up by taking the first ever Men's BMX Gold medal at the Olympics.
For more information about One Bicycles check out www.onebicycles.com
One Bicycles are distributed in Australia by Elite Cycle Imports (www.eciimports.com)
15/06 Review: Troy Lee Designs Basic Backpack
by bmxultra.com
It's very difficult to find any faults with great products like the Troy Lee Designs Basic Backpack. We realise you guys are probably sick of us telling you this is a great item, perfect even! But what can we do? This back pack is the shizz! I have a feeling that people are scared to give us second rate products to check out so for now you are going to have to look at A-list gear. Click here to read the full review.
14/06 Video: Redline Road to London featuring Alise Post
Redline press release
This is part 3 in our ROAD TO LONDON series of interviews with the global Redline team. This episode features Alise Post discussing what it takes to be an Olympic athlete and her history with Redline.
13/06 Think before you buy…and SAVE
by bmxultra.com
It's common practice for people to hunt around for the best prices and save a few dollars, it wouldn't matter if you are looking for a slab of your favourite soft drink or the latest and greatest BMX race frame. However if you just shop where everyone else is shopping, just because they say it's cheapest, then this is your wake up call.
The Australian BMX Industry has well and truly caught up with the rest of the world and even surpassed it in most cases, offering you bargains that you probably never knew exist. It's now the case that the consumers need to play catch up.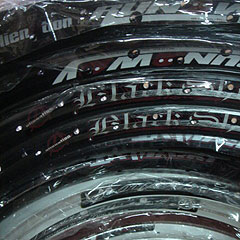 Sure, sometimes the Aussie stores can be a little slack and don't update their retail prices on their websites/online store so they will appear much higher than they really are, and it's understandable that it would be off putting, a quick phone call is all it would take for an update on price.
What am I getting at? If you are looking to save a few dollars you should be looking right under your noses.
We'll take a look at a price comparison between local stores and purchasing overseas and for our example we'll use brands that support bmxultra.com.
Before we do this though we need to clarify that the local price is picked up from the local store and the overseas price includes freight (which people so easily forget about) and foreign transaction fees (approximately 3% of the total purchase). This is the calculation you see in the US price column (item price + shipping cost) and then add the 3% transaction fee.
Product
Local Price
($AUD)
US Price
($USD)
Troy Lee Designs D3 2013 Helmet (carbon)

499.00

(449.95+75)*1.03=540.69

Alienation deviant/runaway rims

119.00

(99.90+45)*1.03=149.25

Tioga Powerblock tires (x2)

50.00

(35.90+35)*1.03=73.03

Profile Crankset – chrome (no bb)

184.95

(149.95+65)*1.03=221.40

Profile Elite Hubset

479.00

(419.95+75)*1.03=509.80

Supercross ENVY frame (Pro XL – Black)

600.00

(499+85)*1.03=601.52

Supercross SLT 20mm kit

285.00

(239.95+65)*1.03=314.10

Supercross Quick Twitch Hubs

385.00

(399.95+65)*1.03=478.90

Answer Dagger forks (20" Pro)

299.00

(249.95+65)*1.03=324.50
Interesting isn't it?
You might notice that I haven't included exchange rates, that's because they are fluctuating all the time, so in displaying the US price you can work out the exact price yourself on your favourite exchange rate calculator. Just a quick check at the time of publication would show that the US prices displayed are just a little less than when converted to Australian dollars. For example the TLD D3 would be $AUD 543.50 and the Answer Dagger forks would be $326.19 making the Aussie prices look even cheaper again.
Buying local can lead to other advantages like the Answer Dagger upgrade offer for example. This was exclusive to people who had purchased their forks from an Australian reseller, we are still yet to hear of it happing elsewhere in the world. There is also the THE point 5 helmet, there are quite tough Australian Standards laws, and the Australian version of the helmet passes them. If you were to purchase the same helmet overseas you will find that it doesn't have the approval sticker and all fingers are pointing towards possible rule changes that could be as simple as no approval sticker, no racing.
What about warranty? If you purchase a product from anyone and you have problems with it, the practice is to return it to place of purchase and then you get looked after. It might be as simple as a blemish in the finish or it could be far more serious. It is quite expensive to send a cracked frame overseas and then have to pay the return freight costs as well in the case where it is replaced. Purchasing it locally is far simpler in a situation like this.
Let's not forget the problem with credit card fraud, it's a much safer make your payment over the shop counter.
Next time you are thinking of a purchase consider buying locally. And then don't forget to thank bmxultra.com for saving you money.
12/06 Video: Stay Strong edit
Stay Strong press release
This edit was made with our Australian Elite rider Darryn Goodwin while he was in the UK before the World Championships. We shot this in a morning riding a couple of local spots. Darryn mixed it up between his race and park bike showing he's an all round rider not just a fast racer. 
08/06 Review: Maxima SC1
by bmxultra.com
We have made one of the greatest discoveries of all times, Maxima SC1. Just check out the product review, you'll understand, we promise.
07/06 Are 15/20mm axles here to stay?
by bmxultra.com
When VSI came out with the 20mm iHub through axle for their Intense and Speedco frames and Sinz Elite wheel sets everyone thought it would be a passing fad, and that the people would speak and the marketing hype would die off.
I'm not 100% sure of the timing but I'm sure it was later that Redline revealed their Project 79 carbon frame with a 15mm through axle and stated that "15mm thru-axle is 20% stiffer than a 3/8" axle, yet much lighter".
DK have been working on a 20mm frame too, you may have seen one of the prototypes that their top riders have been running.
I have also noticed that Profile Racing have started to work on a 20mm BMX hub and True Precision have a conversion axle that would allow some models of Stealth hubs to be compatible with some of the new frames.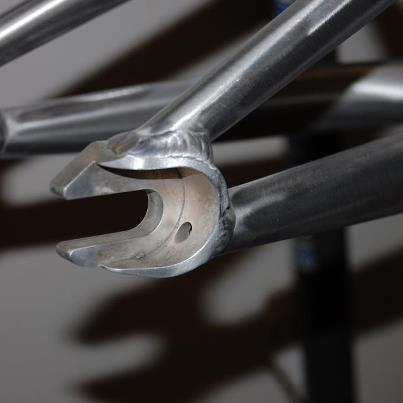 While trawling through Facebook I saw that Supercross were showing off their 15mm dropout on the ENVY frame. Those have been in prototype for a while as well, and have been tested by their team riders along with the now released 20mm cromo fork. They had already announced their 20/15mm Quick Twitch hub set, so that was no surprise that there were going to be frames to fit them eventually.
While other manufacturers sit on the fence there is growing support for the bigger axles. Personally I find myself in that category too. I have a cromo bike that has cromo forks, Alienation Royal hubs with 17mm axles and there is no flex. But it makes you think when the likes of Marc Willers, undisputedly one of the fastest BMXers on the face of the planet, jumps ship from Speedco and joins the DK crew but continued to ride his Speedco frame with some sticker engineering until DK were able to supply a frame with 20mm through axles.
We also dug up the old press release (11/09/2010 Speed M-Series 20 Rolling Chassis Proven to Give Serious Advantage to Racers) where Toby Henderson of VSI paired up with George Costa from Rennen and they did some performance testing with the G-Cog power meter.
Here were the findings when comparing two 20-inch Speed M-Series bikes built identically with the exception of the hub axles. One bike was equipped with standard 3/8-inch axle wheels while the other had the 20-millimeter axles.
"Our tests conclusively demonstrated that the Speed 20-millimeter iHub Rolling Chassis were more efficient and used less rider energy than a traditional BMX race set-up. Test results show that the Speed 20-millimeter iHub bike requires less power to achieve the same velocity as a traditional BMX race setup," George said.
"The Speed bikes with the 20-millimeter set-up efficiently transfers the rider's energy to the ground. Without this technology, energy is being lost in the flexing of the frame and other key components. Today, with such high level talent on the BMX circuit this technology will give riders an advantage," he added.
I haven't seen any tests involving 15mm through axles, but would be very interested in the results and see if they prove Redline's "20% stiffer" statement.
Will the 20/15mm axle survive the test of time? I think so, if there is conclusive support that there is an advantage people will jump all over it. Is it the end of the 3/8" axle? I doubt it, for many of us there are 3/8" set ups that already offer stiffer options to the standard. And it's interesting to note that all of the larger axle options I have seen also offer a 10mm adapter, so they haven't given up on the 3/8" axle completely.
06/06 bmxultra.com gear calculator updated
by bmxultra.com
Over the years we have been developing our own BMX specific gear calculator. It's evolved quite a lot since it's inception. It's far more advanced than your standard gear calculator. It doesn't just give you the roll out you are after based on a generic tire size. We have merged our calculator with a mini chart that also gives the rollout for various gears around it for quick comparison. It doesn't matter if you are at home on your PC or at the track on your Smart Phone the BMX gear calculator is just as an important tool as any other in your toolbox.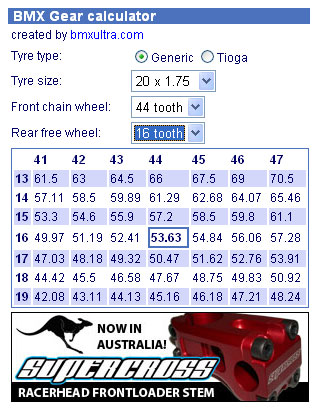 Features:
Generic and Tioga Specific tire sizes
Works on any javascript enabled device (smart phones to PCs) in any browser (yep even ie6)
Interactive chart – NEW
Selectable front gears 22-48 (+/-3) – UPDATED
Selectable rear gears 8-22 (+/-3) – UPDATED
Tire sizes: 16" – 24"
Our latest update includes:
a wider range of gears to select from for the BMX racer who likes to gear up their street bike to a similar roll out.
more information in the chart
the chart has been made interactive
What does the interactive chart mean?
Better usability. Instead of changing the pulldowns (eg the tire size, front chainwheel and rear cog) to change the range of gears displayed on the chart you just need to point and click on the chart and it will update with the selected option displaying up front and centre. This also works on the iphone/ipad, simply tap anywhere on the chart and it will update automatically. We have tested on a bunch of browsers too and it works on anything, even IE6, just make sure you have javascript enabled.
Check out the new changes now at https://bmxultra.com/downloads/flash/gearchart_phone.htm
We welcome your feedback, email webmaster@bmxultra.com if you have any suggestions.
05/06 Dialled Bikes
by bmxultra.com
Here's something for you BMXers out the who are looking for something quite unique or fans of cromo. While bmxultra.com team rider Dane Pangallo was at the World Championships in Birmingham I asked him to grab me a copy of the 2024 magazine. He ended up grabbing me the whole back catalog and something that kept appearing and grabbing my attention was the Dialled Bikes ads.
Features:
top of the line cro-moly race frame made of premium quality Reynolds 853 double butted air hardened cro-moly steel tubing.
A ring reinforced machined cro-moly head tube
Euro BB
v-brake mounts
and 4mm laser cut dropouts round off this modern day classic
Sizes:

Expert (19" Top Tube)
Expert XL (19.75" Top Tube)
Pro (20.5" Top Tube)
Pro XL (21.25" Top Tube)
Pro XXL (22" Top Tube)
Cruiser 21.5" Top Tube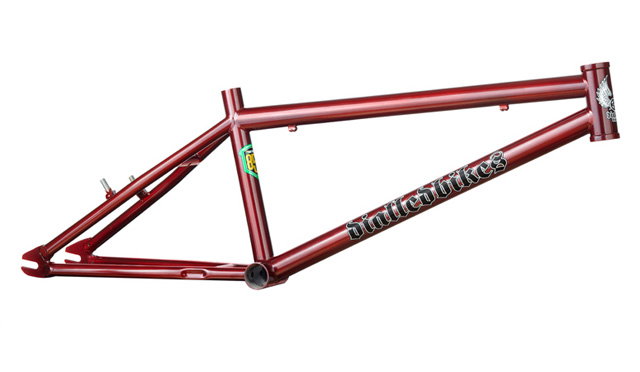 Head on over to www.dialledbikes.com and check them out for yourself.
04/06 Daktari Sport (Mount Gambier) clearance
Daktari Sport press release
We have
quite a bit of gear which we will do great
pricing on for people coming down to Mount Gambier for the Vic Vs SA race for the long weekend.
Redline Carbon XXL $2000.00
Redline Pro XL or Expert $1000.00
Haro Prolite $699.00
Haro junior $399
GT power series expert 2011 $399.00
GT power series expert 2012 $449.00
GT speed series 24 $999.00
Fox Rampage Helmets $150.00
Alpinestars neck braces $265.00
Alpinestars Pants $75.00
Answer Scythe pro forks $250.00
Answer Scythe 1" steerer $199.00
Fox Transition Helmets $35.00
Fox push pants $120.00
Fox push gloves $30.00
Alpinestar gloves $30.00
S&M race forks $199.00
Powerblock wire bead tyres $35.00 pair
Powerblock kevlar bead s-spec tyres $80.00 pair
Fox vapour Jackets $50.00
Alpinestars sirroco jackets $100.00
We have heaps of other gear as well which are priced to clear, people can
give us a call on 08 8724 8013 if they want to pay a deposit on something
and pick it up on the weekend.
Daktari Sport
75 Commercial Street East
Mount Gambier, South Australia
04/06 2012 South Australian State Series
by bmxultra.com
Here are the details for the 2012 South Australian State Series
Round 1 – Mildura (Sun Aug 5)
Round 2 – Tea Tree Gully (Sat Sep 1)
Round 3 – The Cove (Sun Sep 2)
Round 4 – Blue Lake (Sun Oct 7)
Round 5 – Happy Valley (Sat Nov 3)
Round 6 – Cross Keys (Sun Nov 4)
Round 7 – Gawler (Sun Dec 2)
The entry form for Round 1 at Mildura is on our race calendar.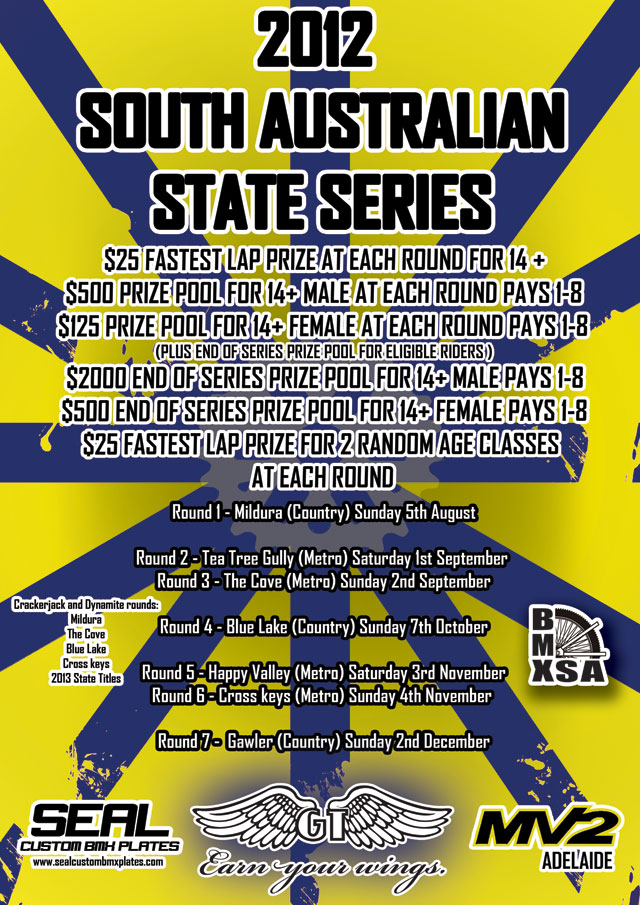 01/06 Review: Mission Adjustable Headset Spacers
by bmxultra.com
Here's a neat idea, adjustable headset spacers made from plastic and weigh next to nothing. What will those crazy freestyle cousins of ours think of next? Click here to read the review.
01/06 SPY Optics to supply DK Race Team
DK BMX press release
The DK BMX Factory Team has announced premium Goggle brand, SPY Optics as a new co-sponsor for the team and official supplier of Goggles and accessories for the 2012/13 season.
The sponsorship is Spy Australia's first with a BMX team and will help team riders, including world number 4 Anthony Dean and former Australian Junior Champion Matt Dunsworth, have crystal clear vision when competing.
DK Factory Team Manager Corey Stafford said SPY Optics experience in action sports in Australia would be of great benefit to the team.
"Spy Optics has long been a strong supporter of BMX in the United States and has a huge presence in everything from snowboarding to motocross, we are looking to emulate the same presence here in Australia" he said.
"We're thrilled to have such an exciting and enthusiastic sponsor behind us and all our riders are very much looking forward to competing in SPY product.
Other athletes currently supported by Spy include US motocross stars Jeremy McGrath and Kevin Windham.
Gas Imports (SPY Australia) Manager Josh McFarlane said the company had been looking to enter the BMX market in Australia for some time and the DK Factory Team presented an ideal opportunity.
"The DK Factory Team is renowned for its professionalism, dedication to the sport and its proven record on track, all key elements that SPY Optics looks for in a partnership."
SPY Optics joins LooseKid Industries, Skullcandy,Goodlife Healthclubs and Bioflex Supplements as co-sponsors of the DK Factory Team.
Spy Optics is sold globally through top retailers and specialty outlets
Posted in: Archive