Troy Lee Designs Basic Backpack
I love Troy Lee Products, and what's not to love? Their products are always of the highest quality, TLD always create a great looking product that's made to last and always has a great price tag. In 2000 I paid a visit to the TLD headquarters in Corona California and I have to say I was weak and I spent up big. But I have a good excuse, it's just so difficult to not hold your wallet open and pour out every last cent on to the counter when you are confronted by all of TLD's products on display in all their glory. One of the items I bought was an SE Gear Bag. It's a massive bag that's perfect for BMX racing, you can put all your gear in it, helmet and all. It was also great for carrying my TLD loot back to Australia. It's hard to believe that 12 years have passed and the bag is still going strong, although after all that time the print has started to flake and it's looking a little worse for wear. That said though, given the investment, I certainly got great value for money and would do it all over again.
I think it speaks volumes of the TLD brand, and the quality of their product, that the SE Gear Bag is still available and that the range has grown considerably since then to include backpacks in the line up.
It seems like it wasn't all that long ago that we reviewed a LooseKid Industries backpack and all of a sudden it's time to review the Troy Lee Designs Basic Backpack. I'm not about to ignore the fact that LKI put together a nice package with their back pack. It certainly set a high benchmark and would be great to compare the TLD Basic Backpack with.
The Troy Lee Designs Basic Backpack features:
Padded air mesh back pads
Separate sunglass pocket with soft sherpa lining
Heavy duty nylon construction with 8 compartments
Water bottle holder
Padded shoulder strap with a streamlined iPod/mobile phone pocket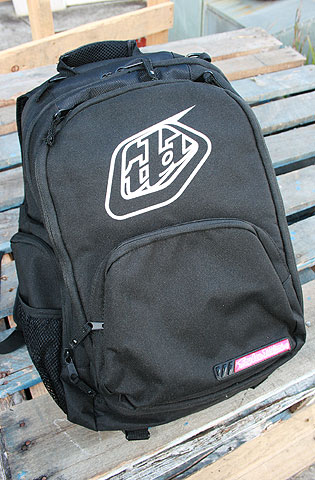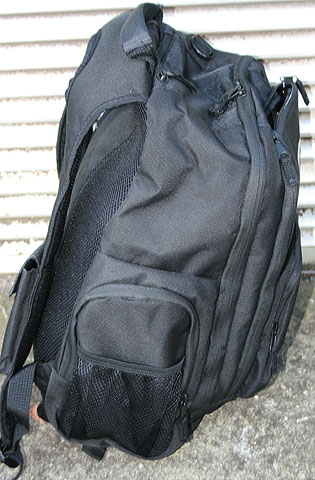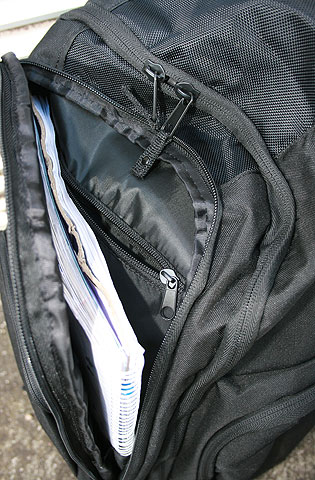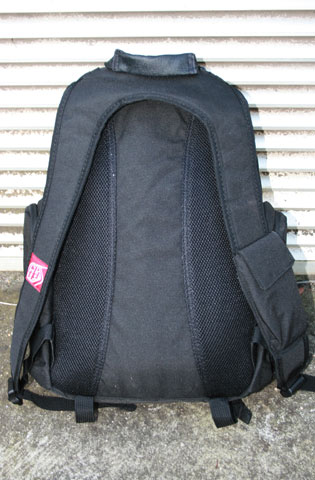 I've been using the TLD Basic Backpack quite a bit lately. I've found it very comfortable to ride with on my back, and it's great that it has plenty of adjustment in the shoulder straps to fit even the biggest of "kids".
There are adjustable straps at the bottom of the back for you to change the size of bag to suit the load. If you have it full you adjust them the whole way out, if you aren't carrying much then you can tighten them the whole way up. But they also have buckles so you can strap addition things to the bottom of your bag, your favourite blankie for example.
What I really love about the backpack is that it's quite plain aside from the large silver TLD logo and smaller Troy Lee Designs logos on the front and strap. I wouldn't look like a school kid if I was to take it along to a business meeting and pull out my trusty notepad and pen or laptop computer. I also like the compartment on the front of the bag which is big enough to stash BMX magazines, not only does it keep them safe from other things in the main compartment but it makes them easy to access.
The phone pocket on the strap is a good size and fits an iPhone 4 perfectly, which is nice for easy access but you also have the option of keeping your phone/ipod in rather large sunglasses pocket if you are looking for a little extra security.
How do the LKI and the TLD backpacks compare?
The TLD is $10 cheaper. Bonus!
The TLD has a padded top handle, no big deal right? Well, if you are carrying a loaded back pack with a padded handle it's noticeably more comfortable and a nice touch
The zipper for the main compartment of the TLD zips the whole way from top to bottom giving you better access to anything you might have stashed away in there. The LKI only zips about two thirds of the way down
The LKI backpack would make a better school bag with a compartment that is organised for a calculator, pens and other gear, while the TLD Basic Backpack is a great all round bag. It still offers pen holders (or tool holders if you prefer), but they are in one of the side pockets rather than in the front where you would expect it
The TLD backpack is still casual but basic enough in design you could use it for work without being frowned upon.
If I had to choose one over the other it would be a tough call, months ago before I knew about LKI I would have said the TLD for sure. Thinking it through, I'd probably go for the TLD because the plain design is more my style, the extra compartments and the extra $10 you end up with in your pocket.
Rating
20/20:
| | |
| --- | --- |
| Value for money: | 5/5 |
| Weight: | 5/5 |
| Functionality: | 5/5 |
| Looks/Finish: | 5/5 |
Comments:
At $59.95 it's great value for money
The TLD Basic Backpack is light but strong enough for you to jam it full of gear
I love a good backpack and the TLD Basic Backpack is great! Eight separate compartments make it much easier to keep all of your gear organised. It's also very comfortable to have on your back for extended periods
I've always been impressed with basic black, it's safe to say black is my favourite colour
Troy Lee Designs is Distributed in Australia by Steve Cramer Products (www.stevecramerproducts.com.au). For more information about Troy Lee Designs check out www.troyleedesigns.com
Reviewed by Shane Jenkins/bmxultra.com June 15, 2012