Alienation Differential Kevlar folding tire
I'm the type of person who finds something that I like and I stick to it, especially when it comes to tires. I ran Tioga Comp IIIs from when they were first released in the early 80's until they were no longer considered the hottest race tire available. I kept using them because I knew exactly what to expect from them and while other tread patterns rapidly rose in popularity they vanished just as quickly, all the while Comp IIIs remained readily available and still are to this day.
There are many tire options available to today's BMX racers. Tioga's PowerBlock/PowerBand combo and Intense Tire System's MicroKnobby tires are probably the two most popular. These are both fantastic options in the dry. I use the Tioga combo myself, but I switch to Tioga Comp X when it gets wet. For some though, having two sets of tires is overkill. There are a bunch of great all rounder tires that don't get much exposure because of all the noise about the more popular tires, the Supercross BlueStreak has always been one of my favourite all round tires and the Alienation Differential now joins it.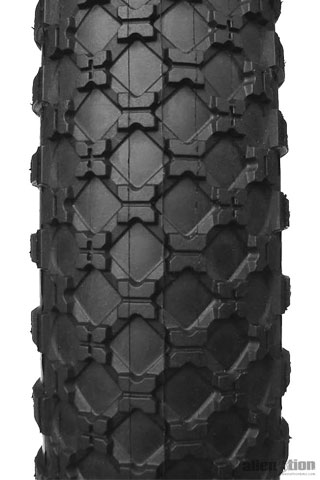 The Australian Alienation distributor, Elite Cycle Imports, asked me to take a close look at the Alienation Differential Kevlar folding tire. Checking out new products is my favourite part of bmxultra.com.
The tread pattern looks to have some influence from the Comp IIIs, the basic shape of each knob has a familiar look but that's about as far as the similarities go. The small low profile knobs are spaced out in a chequered pattern as you can see in the photo to the right.
I feel lucky to be able to set up a couple of very similar bikes for different purposes. I have one that's set up as an all rounder, I ride it mostly in my backyard track and often take it to the race track too. I use it mostly so that I don't get my race bike dirty or muddy, and things are getting quite wet down here in my part of the world. So wet that the state body shut down racing for a few months. Needless to say a slick racing tire isn't going to cut it this time of year when trying to catch a few laps on a local track. It was the perfect bike to put the Differentials on and see how they feel.
I ventured out to a couple of tracks over a few weeks, each time it was with two bikes, one with the Alienation Differentials and another with other tires, just in case I didn't like the Differentials. I'm happy to say I spent the whole time on the Differentials. Even though the tread looks a little chunky it feels great and runs very smooth. It didn't matter if I was hammering through a corner at race speed or accellerating down a concrete start hill it felt just as grippy as any other tire I have used. When I first looked at the tread I thought I would feel some roll under my wheels, but that didn't happen at all.
I found the tread pattern provided great grip on any surface whether it was wet, dry or even a little loose. The Differential really is a great all round tire, it wouldn't matter what your purpose was, the race track, the local dirt jumps and I have even seen video edits where they are used in a skate park.
Differential Kevlar Folding tire features:
Details: Fast and smooth roller with excellent grip, great all around tire
Sizes: 20 x 1.75? or GSM 47/50; 20 x 2.1? or 50/52
Bead: Kevlar folding
TPI: 60
Compound: Dual (Hard Center/Soft Outer)
PSI: 65
Weight: 350g, 390g
Color: Black
Here's some interesting facts for the weight weenies. These tires with tread are very close to the super light PowerBlock S-Spec but as light or lighter than the standard Tioga PowerBlock and ITS Micro Knobby (MK2) tires. Check out these numbers.
| Tire | Front (20×2.1) | Rear (20×1.75) |
| --- | --- | --- |
| Alienation Differential Kevlar | 390g | 350g |
| Tioga PowerBlock | 395g | 350g |
| Tioga PowerBlock S-Spec | 330g | 285g |
| Tioga Comp X | 500g | 450g |
| ITS Micro Knobby (MK2) | 450g (20×2.0) | 365g |
The one thing I noticed was the width of the tire. The rear differential look more like a 20×1.95 than a 20×1.75 and the front looked smaller than a standard 20×2.1. What that means is more tread to the ground for a similar weight, but imagine if Alienation made a smaller rear tire, you would be talking some serious weight savings all round.
Another thing I really like about them is they appear to be self cleaning. I'm sure it's the combination of the shape and spacing of the tread pattern as well as the low profile that the mud just doesn't seem to have anything to stick to. I have used other tires where mud will build up in the tread and when that happens the riding is over until you can clear it out or you may as well be riding on ice.
I'm very impressed with the Alienation Differential tread pattern and I'm concerned for how it's managed to have slipped under my radar all this time. Those tires will be staying on my all rounder bike for sure.
As a special bonus ECI are running an Australia only review special. All you need to do go into a local store and say you saw the tires on bmxultra.com and you can have them for $30.00 each. The usual Australian RRP is $46.50 or $38 in the US.
Rating 20/20:
| | |
| --- | --- |
| Value for money: | 5/5 |
| Weight: | 5/5 |
| Functionality: | 5/5 |
| Looks/Finish: | 5/5 |
Comments:
Normally these tires are a little more expensive than PowerBlock and MK2's but with the review special these are right about the same price and cheaper than buying overseas
For an all round tire the Differentials are some of the lightest tires you can buy and compete well amongst some of the lightest race tires available
Fantastic grip on all surfaces and in all conditions! What more can I say?
While the tread pattern clings to it's BMX roots it can hang with the best of them.
Alienation are distributed in Australia by Elite Cycle Imports.
Review by Shane Jenkins/22 June 2012