Mission Adjustable Headset Spacers
I was visiting ECI (Elite Cycle Imports) a little while ago, they are one of Australia's biggest BMX distributors. They carry some awesome race brands like Profile, Answer, Sinz, SSquared, Kuwahara, Speedco, Alienation, Sun Ringle, THE, ACS, One Bicycles and a whole lot more. We got talking about new products and the topic of adjustable headset spacers came up. It just so happens that they carry Mission Components, a freestyle brand, who have just that…adjustable headset spacers. They were just as excited about the idea as I was, so they showed me how they worked and suggested that bmxultra.com readers might be keen to learn more about them. It just so happens that the Adjustable Headset Spacers was also a product that was requested for review by Shaun Gooden when we put a call out for ideas on Facebook. So here goes.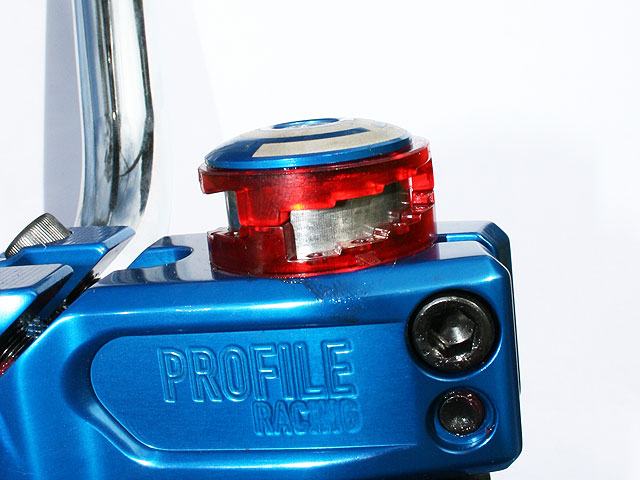 What makes them so interesting to me? First of all the weight, they literally weigh nothing, and second you don't need a heap of different sized spacers laying around, which are never there when you need them anyway.
Specifications
Made from impact resistant PC plastic.
Adjustable to 10mm, 11mm, 12mm, 13mm and 15mm height.
Weight:  0.1oz.
Colours: Purple, Trans Red, Green
The adjustable system is simple really. They start at 10mm and can step up in 1mm increments to 15mm by simply pulling the two pieces apart, rotate them to your preferred height and line up the small pins to the holes and push them back together.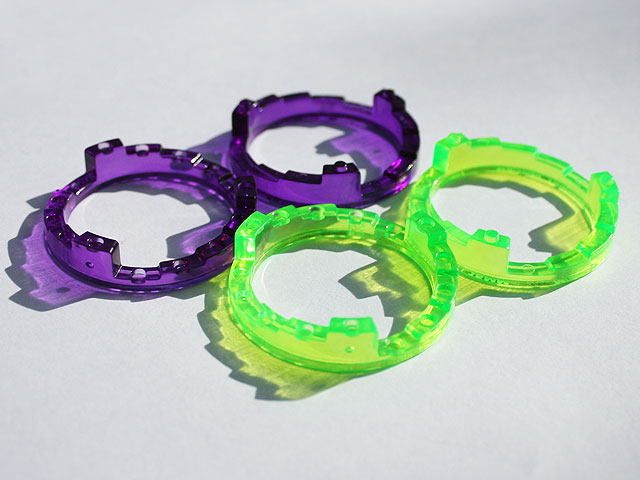 You are probably wondering why plastic? Well that should be all that's required for a headset spacer. It's common for people to try to over tighten their head lock system when tightening their headset. It's just not necessary. The idea is to pull the stem down enough to eliminate movement then you lock the stem into place. Anything more than that and you are pulling your bearings out of shape and potentially putting your head lock system under unnecessary load. That said though the plastic can take the pressure and after fitting the spacers in a couple of different ways I'm yet to see any signs of stress or cracks.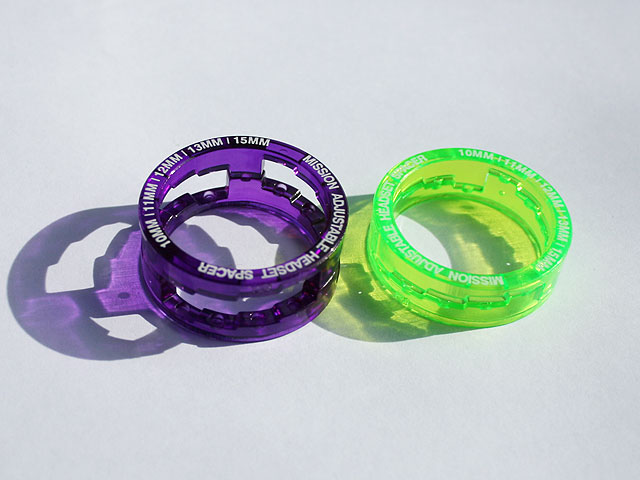 I replaced my alloy spacers and tried the adjustable spacers both above and below the stem I put them under load and the front end of the bike didn't feel any different to when I had the alloy spacers on.
The colours may not suit everyone. But it's also an idea that won't suit everyone, you will either love or hate the idea, there seems to be no in betweens. I still think it's a great idea, it just would have been nice to have more neutral colours that could be used like maybe a clear or even a blue.
Rating 20/20:
| | |
| --- | --- |
| Value for money: | 5/5 |
| Weight: | 5/5 |
| Functionality: | 5/5 |
| Looks/Finish: | 5/5 |
Comments:
I have one word for you and that's cheap! Forget about carbon or alloy headset spacers, bang for buck the adjustable headset spacer stands alone. If anything ever does go wrong with them you can get another with some loose change, try doing that with a carbon spacer
Being impact resistant plastic the headset spacers a feather light
As a headset spacer they work, plain and simple
It would be very difficult to find a headset spacer that looks as good
Mission Components products are distributed in Australia by Elite Cycle Imports (ECI) www.eciimports.com
Reviewed by Shane Jenkins/bmxultra.com June 1, 2012