BMX racing news April 2011
30/04 Team bmxultra.com update – Australian Championships
bmxultra.com press release
The bmxultra.com team was at day 1 of the Australian Championships at Cairns yesterday. Levi Collins, Chase Collins, Scooby Guyers, and Matt Butterworth were flying the flag.
The current 25-29 mens World Champion Levi Collins from Victoria had some tough competition this year at the Australian Championships, he finished with a second place in the final, which for the record is one better than his third place from last year. A great effort from Levi and if history repeats itself he will use this as motivation for training for the upcoming world championships.
Matt Butterworth from Western Australia was racing in the 40-44 mens class. After missing last years national championships he made up for it finishing with a respectable fourth. Well done to Matt after a mixed year with some great results and some nasty injuries.
Scooby Guyers from South Australia was in the 17-24 mens class. He got through his motos comfortably but had to settle for fifth place in the quarter final. Scooby will be riding his cruiser on Sunday and looking to make the final, he's been there before and knows exactly what he needs to do.
Chase Collins has a meeting he'd rather forget after hitting the gate in the first moto and getting hung out to dry in the corners in the rest of them. Chase is very motivated and he'll bounce back faster and more determined to prove himself.
Today Kyle Horton competes in the senior elite mens class. Good luck Kyle.
The bmxultra.com team is proudly supported by One Bicycles, Supercross BMX, Dirt Designs, Tioga, Elite Cycle Imports, THE, Profile, Sun Ringle.
30/04 Washburn and ABA BMX partner for Music City Nationals
ABA press release
Winners of the Saturday Elite Men, Elite Women, A-pro, and Vet Pro classes will receive a guitar courtesy of Washburn Guitars.


The Music City Nationals will take place at Music City BMX, May 20-22.   With seven weekends of pro points on the line leading up to Nashville and seven weeks after Nashville, this marks the half-way point in the pro points chase.
Marc Willers (Speed Bicycles / New Zealand), is currently leading the Elite Men's points chase and defending champion Sam Willoughby (Redline Bicycles / Australia) is sitting in second.  There are past champions, Olympic medalist, and Olympic hopefuls all in the mix for the Elite Men's #1 Title.
On the women's side, three-time defending champion Dominique Daniels (DFR/Grand Canyon University/USA) leads the way with a whole group of up and coming talent trying to unseat the three-time champion.  Brooke
Crain (Haro, Rockstar / USA), is fresh off her Stars and Stripes win in the Junior Elite Women's class; two-time ABA Girl Pro champion Alise Post (Redline / USA) is returning from injury and coming off of a three win weekend in Chula Vista, with more than half of the pro-series races left, it is anybody's race.
With the ABA title up in the air, UCI points on the line, and Olympic qualification reaching the critical mass for each country, Music City BMX will be BMXers version of Ryman Auditorium.  With so much on the line, Saturday's winners will be playing a different tune and doing it courtesy of Washburn Guitars.
"We are pleased that Washburn Guitars has once again stepped up to provide our athletes with a unique award,"  said BA Anderson, ABA CEO.  "This will be the first ABA National at Music City BMX and it is only fitting that Washburn Guitars is partnering with us for the event."
About the American Bicycle Association
ABA (American Bicycle Association), formed in 1977 and headquartered in Chandler, Arizona is "The Sanctioning Body of BMX"©. The ABA organizes BMX racing for boys, girls and adults, in the United States, Canada, and Puerto Rico. With 60,000 active members, over 250 racing facilities and a 27 event national race schedule, ABA is the largest promoter of action sports.
29/04 Supercross Australia Factory Team at Cairns
Supercross BMX Australia press release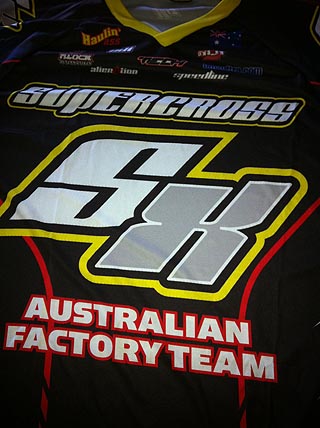 The final round of the Probikx/Champbikx was held in Cairns yesterday and two members of the newly formed Supercross Australia Factory team were mixing it up with the best riders in Australia in wet and muddy conditions.
Max Cairns, on his Supercross Blur, qualified through to the semi finals with 4-3-2 in his motos, he placed a comfortable second in the semi and finished up with 6th place in the 15 boys main. Max is a former Australia #2 and World Championship finalist, keep an eye on him on Saturday in the title hunt.
The current Australian Elite Champion Alex Cameron took his Supercross ENVY to straight wins in his heats, then a second in his quarter final and a 4th in the semi. In a strong field Alex finished with a 6th in the main. If you saw Alex's inspiring come from behind win at Shepparton last year you will know you can never write him off.
Alex and Max will be joined by fellow team member 30+ Elite Masters rider Jade McPherson tomorrow. They will all be haulin' ass in the title chase.
About Supercross BMX Australia
Supercross BMX Australia are supporters of BSX and the Royal Children's Hospital and co-sponsor the bmxultra.com team.
To find out more information about Supercross BMX products check out www.supercrossbmx.com, and for Speedline Parts check www.speedlineparts.com
If you would like to purchase Supercross BMX products in Australia please have your local bike shop contact us. Please note, we do not sell direct to the public. We support the Australian BMX Industry! Do You?
For more information and dealer enquiries email sxaustralia@supercrossbmx.com.
29/04 Team Redline Australia at Cairns
Team Redline press release
DYNAMITES/CHAMPBIKX/PROBIKX
The weather in Cairns today was wet. All three races were run in drizzle with some close racing.
Redline had a total of eleven riders racing with five in the Dynamites, five in Champbikx and Josh Callan in the Probikx.
The younger of the redline riders had their first taste of the Champbikx format racing and handled it extremely well. Jarrad Drizners (12yr Boys) came 4th, 4th and 3rd in his moto races and was very unlucky to not progress to the finals. Saya Sakakibara and Katie VanZanden (12yr Girls) both represented their states well and Saya finishes 2nd, 1st and 2nd in her moto's whilst Katie finished 1st, 2nd and 2nd which saw both of them in the final. Saya finished the race in 3rd whilst Katie finished in 5th. Ben Keogh (13yr Boys) a new rider to the Redline Team finished his moto's in 4th, 4th and 4th which saw him progress through to the Semi final were he finished in 7th and was also unlucky to not progress further. Aislynn Weber the only local Cairns rider in the Redline team was on fire finishing her three moto's in first. This placed her in a good position in the final were she lead from start to finish and is now the number 1 rider in the Dynamite Series in Australia.
The older riders had their final round of the Champbikx Series and double points were up for grabs. Rachelle Smith (14yr Girls) needed a good day racing and she did just that. In her moto's she placed 1st, 2nd and 1st. This saw her straight in to the final were she crossed the finish line in 2nd. Kai Sakakibara, Aaron Nottle and Tristyn Kronk all racing in the 15yr Boys class had a good day on the track. Kai crossed the line in 2nd, 2nd and 3rd for his moto's whilst Aaron finished 1st, 1st and 1st and Tristyn 1st, 2nd and 1st. This saw all three boys through to the Semi Finals. Kai just made the final by placing 4th in his semi whilst Kai and Tristyn both finished 1st in their semis. All three boys made in through to the final and Kai finished 5th, Aaron 2nd and Tristyn 1st. Sarah Harvey the eldest of the Champbikx riders, racing in 16yr Girls, rode well in her moto's finishing 2nd, 1st and 2nd. This placed her straight into the final were she rode well and finished the day's racing in 2nd.
Our one and only Elite rider Josh Callan had good moto's races and finished 2nd, 2nd and 2nd. This took him into the quarters were he crossed the line in 1st and then 3rd in his semi. Josh was very unlucky in the final and seemed to be squeezed out but finished well in 7th place.
After all the racing took place we all meet up at the local eating place "The Cock and Bull" and had a Redline Team dinner. We were lucky enough that both Josh Callan and Sam Willoughby joined us. The complete Redline Team ranging from ages 5 to 16 had team photos with their Redline hero and it was really nice for the riders to spend time with Sam whilst being in Cairns for the Australian Titles.
28/04 BMX EDGE Aussies week GHP and STAATS Sale
BMX Edge press release
Aussies week special now on, GHP Frames $479.00 and STAATS Frames $479.00 this week only. Log onto www.bmxedge.com.au, find us in the Pit area at the Aussies or call us on 0427 779 700 and order your new GHP or STAATS frame this week. This offer will expire this Sunday at 5pm.
28/04 Mike Buff / I Ride For Tyler Blick Benefit Auction
Help 5-year old Tyler Blick fight Leukemia & win some amazing BMX memorabilia.
Five-year old Tyler Blick (son of Steve Blick at Oakley) has just been diagnosed with Leukemia and is beginning 3+ years of Chemotherapy treatment. If you've seen how Leukemia and Chemotherapy affects people, you know it's gut-wrenching to see. For a 5-year old to go through this is absolutely horrible. This is both a great opportunity to help a child just starting his journey in life, and get your hands on some one-of-a-kind BMX history.
BMX Hall of Fame freestyler Mike Buff along with Steve Blackey of the legendary SoCal shop The Bicycle Source are putting on eBay celebrity auctions starting May 27th (open to buyers worldwide) with all proceeds going to help Tyler. Items include a Bob Haro signed print of one of his drawings, signed Bob Osborn photographs from the BMX Action days, Mike Buff's old school jerseys, an SE Quadangle frame signed by Stu Thomson, a limited edition Mongoose KOS Kruiser signed by Jeff Kosmala, California Lite pads, signed Oakley hat and B1B grips, and many other items most of which will be signed by old school riders and industry heroes. There are also limited-edition t-shirts (featuring Mike Buff's famous launch off the Bicycle Source roof) for sale at http://thebicyclesource.com/
If you have kids or have lost friends or family to Leukemia you'll really understand the value of these auctions – but either way, the family of Tyler would greatly appreciate the BMX community rallying together and supporting this cause.
Stay tuned for other items as the auctions list will continue to grow, and please pass this information along and do what you can to help Tyler. Thank you for your support!
Auction items can be viewed here: http://s160.photobucket.com/albums/t189/steveblackey/Mike%20Buff-I%20Ride%20For%20Tyler%20Blick%20Benefit%20Auction/
For more info or to donate please contact:
Mike Buff: mike.buff@sbcglobal.net or Steve Blackey: steveblackey@aol.com
27/04 Supercross Australia News: Take a seat
Supercross BMX Australia press release
The Australian BMX Championships begins in Cairns today with the pre-title event. Titles will be awarded Friday through to Sunday. The Supercross BMX Australia team are ready to go. (The team riders will be announced this week.) So, if you can't make it, it's time to take a seat, sit back and wait for the results to start rolling in. While you take a seat you should check the Supercross signature seats out. Limited stock but great prices!
Just in! – New Bubba Harris and Courtney Tomei seats (in both pivotal and railed models)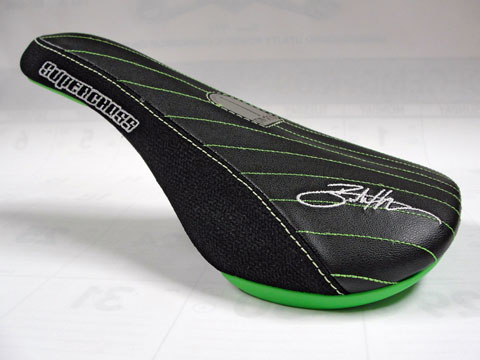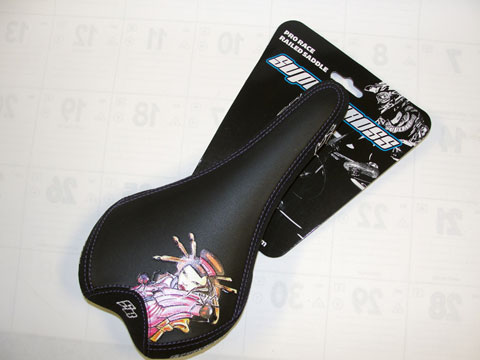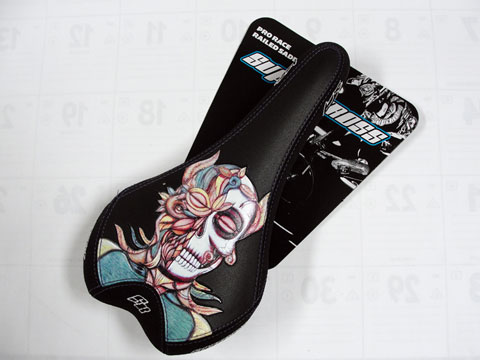 We have a range of other Supercross seats in stock, including the popular E-Line pivotal seat.
Check your favourite Aussie bike shop for details.
About Supercross BMX Australia
Supercross BMX Australia are supporters of BSX and the Royal Children's Hospital and co-sponsor the bmxultra.com team.
We are about to announce the impressive full national team which will be launched this wee, keep your eyes peeled.
To find out more information about Supercross BMX products check out www.supercrossbmx.com, and for Speedline Parts check www.speedlineparts.com
If you would like to purchase Supercross BMX products in Australia please have your local bike shop contact us. Please note, we do not sell direct to the public. We support the Australian BMX Industry! Do You?
For more information and dealer enquiries email sxaustralia@supercrossbmx.com.
27/04 American Bicycle Association to Air on Universal Sports
ABA press release
Gilbert, Arizona – The American Bicycle Association announced today that Universal Sports will air eight shows featuring the ABA BMX National Series. Coverage will feature the UCI Elite classes, including races from Oldsmar, Desoto, Surprise and Chula Vista. Universal Sports will air these races during prime time on both coasts with times at 7 p.m. ET, with a re-air at 10 p.m. ET. Airing of the shows will begin on May 2 and air every Monday night through June 20.
"It is great to be on the network that brings us the Olympics," stated BA Anderson, ABA, CEO.  "This will put our Elite athletes in the spotlight and bring even more attention to our sport.  It is a great opportunity for our sponsors and the sponsors of the athletes.  Producing a television show is an incredible investment; however, as the leader of our sport, the ABA is happy to bring BMX the exposure it deserves."
The American Bicycle Association is working with Echo Entertainment that produced the 2008 USA Olympic BMX Trials.  BMX enthusiast, as well as channel surfers, will be captivated by the high-definition coverage.  From the fastest BMX racers on the planet, the only two permanent Supercross tracks in North America, the first fully covered permanent BMX facility, and the pristine and technical track of Oldsmar, this is coverage you won't want to miss.  From helmet cams, berm cams, overhead angles, and angles you haven't seen in BMX race coverage, you are going to want to tune in!
Coverage will kick-off from the Gator Nationals and the UCI North American Continental Championships, presented by the St. Petersburg / Clearwater Sports Commission.  The show will feature great racing action from each location along with interviews from some of the top Olympic hopefuls.  As riders from around the globe race for the coveted ABA #1 title and the privilege of representing their countries, you can catch all the action on NBC Universal Sports.  Men's Elite riders such as Corben Sharrah (GT/USA), Sam Willoughby (Redline/Australia), Marc Willers (Speed/New Zealand), Kyle Bennett (Free Agent/USA), David Herman (Intense/USA), are just a few of the athletes you will see.  The show will also highlight the women's elite and junior elite classes along with the junior men.  Dominique Daniels (Grand Canyon University/USA), Alise Post (Redline/USA), Mariana Pajon (Columbia), Lauren Reynolds (Australia), and Amanda Carr (Endeavor, Ripxx/USA) are just a handful of elite women's riders that will be showcasing their talents.
Don't miss the action as your favorite riders come to the screen in HD on NBC Universal Sports.  Check your local listings and get ready as BMX racing comes alive in the comfort of your own home.
About the American Bicycle Association
ABA (American Bicycle Association), formed in 1977 and headquartered in Chandler, Arizona is "The Sanctioning Body of BMX"©. The ABA organizes BMX racing for boys, girls and adults, in the United States, Canada, and Puerto Rico. With 60,000 active members, over 250 racing facilities and a 27 event national race schedule, ABA is the largest promoter of action sports.
About Universal Sports
Universal Sports, a partnership between NBC Sports and InterMedia Partners, LP, is the premier multi-platform media destination for Olympic-related sports programming in the United States.  Universal Sports is available in 52 markets nationwide, including all of the nation's top 10 media markets and 20 of the top 25.  Major world championship sports events aired on Universal Sports include track and field, skiing, swimming, gymnastics, marathons, figure skating, cycling and rugby.  The network's website, UniversalSports.com, delivers an immersive user experience via live and on-demand competition coverage, interaction with top athletes through interviews and blogs and in-depth access to Olympic sports news and information year-round.  For more information, please visit UniversalSports.com.
27/04 Toys R Us/ Redline Team @ Australian Championships warm up event
Toys R Us/ Redline Team press release
The Cairns Club held 2 one day carnivals over the Saturday and Sunday's before the big weekend. Toys R Us and Redline were the major sponsors.
The weather was nice and hot and the southern riders and families seemed to struggle whilst the northern riders found the weather to be just perfect.
The weekend saw approximately 750 riders and around 1000 spectators and a lot of riders seemed to have the track sorted.
The Toys R Us/ Redline Team had 7 riders racing on the Saturday and 3 on the Sunday.
The Results from Saturday were:
Ollie Harvey 6Yr Boys 1st in every moto
Sam Harvey 8Yr Boys 4th
Jon Balaam 8Yr Boys 7th
Max Balaam 9Yr Boys 3rd
George Harvey 10Yr Boys 4th
8-10Yr Boys Cruiser 1st
Jarrad Drizners 12Yr Boys 3rd
Tristyn Kronk 15Yr Boys 1st
Sunday's Results:
Ollie Harvey 6Yr Boys 1st in every moto
Sam Harvey 8Yr Boys 3rd
George Harvey 10Yr Boys 7th Semi Final
8-10Yr Boys Cruiser 2nd
26/04 Review: Troy Lee Designs/ODI lock on grips
by bmxultra.com
We've had a chance to put the new Troy Lee Designs/ODI lock on grips through their paces over the past few weeks and weren't surprised with what we discovered. Click here to read the review.
22/04 The Cove BMX Club: Wins the 2011 Australian Masters Games
The Cove BMX Club press release
The Cove BMX Club has once again, scored the Australian Masters Games for 2011.
After the success of the 2008 Masters Games and 2009 Australasian Masters, the Cove will pull out all the stops to make this an event to be at.
The event will run in conjunction with the COVE OPEN on SUNDAY 9th OCTOBER 2011.
Daddies can ride the Masters and kiddies ride the COVE OPEN.
More info will be released soon on the COVE OPEN.
The Cove will have new track upgradeby the Masters Games.
"It will be a huge day of excitement and spills, as the older boys slug it out for those Masters Games medallions."
Masters Events:
20″, 24″ (Men & Women)
Retro (Men's & Women's)
Open Wheel (Mountain Bike, XC, Downhill…dragster)
COVE OPEN,: All classes (Run in conjunction with the Masters Games)
Masters Age Categories
20″ & 24″ (Men & Women):
30-34, 35-39, 40-44, 45-49, 50+
Retro (Men & Women):
Under 40's, Over 40's, Over 45's
30+ Pro Vet
Retro 30+:
30+ (Female Only)
Master Minimum age requirements:
Men & Women: 30
Age guidelines
All competitors must have reached this minimum age by the start of the Games. Other than for the minimum age, a participant's age as at 31 December 2011 will be used for determining age grouping, unless otherwise stated.
Participation fees:
Masters Games entry fee: $110.00 per person (standard fee)
Sport fee: $25.00 AUD per person, per class, (Includes social function at the end)
Registration process:
Registration is now open! To enter log onto  www.australianmastersgames.com
Venue:
Cove BMX Club
Cove Sports Complex
Lonsdale Road
Hallett Cove
Competition Format:
Sunday 9 October:
Time: 12ish
We are having it on Sunday, so competitors can attend the opening ceremony.
Competition rules:
This event will be conducted under the guidelines and regulations of BMXA and Cycling Australia.
Competition results:
Results will become available during the Games.
Social function:
The BMX Social Function is to be held at the Cove Sports and Function Centre, Cove Sports Complex, Oval Road, Hallett Cove.
The cost of this catered social function is included in the sports fee. More information will be available shortly.
Contacts:
Cathy Rosa (SABMXA) MB: 409 566 683 Email: crosa@southernjunction.org.au
Club Organiser: Brett Malic (THE COVE) MB:0412 426 291
21/04 Photos: Track Attack round 5 by Jason Bergstrom
by bmxultra.com
Here's even more photos from bmxultra.com team rider and photographer Jason Bergstrom. These photos are from round 5 of Track Attack at Lilydale.
Track Attack Round 5: Lilydale
Still more to come.
20/04 Photos: Track Attack by Jason Bergstrom
by bmxultra.com
Here's some more photos from bmxultra.com team rider and photographer Jason Bergstrom. These photos are from the first two rounds of Track Attack.
Track Attack Round 1: Eastfield
Track Attack Round 2: South Eastern
Still more to come.
20/04 BSX: Riding session this Saturday
by bmxultra.com
Riding session this Sunday (11am – Late)
There's still no new dirt and the weather has been kind so far, with no racing on this weekend we thought it would be a good time to have a ride and BBQ.
If you are interested in riding Saturday April, 23. 11am – late be sure to send an email to webmaster@bmxultra.com or call ahead to check on the weather/track conditions or directions before you head up to Kinglake.
Are you interested in becoming a BSX2012 partner?
If you are interested in getting involved and becoming a BSX2012 partner email webmaster@bmxultra.com for a partnership package that suits you.
Don't forget you can still purchase BSX t-shirts
We stumbled across a box of 19 Speed Bicycles/Sinz Elite BSX2011 t-shirts and a couple of unclaimed prizes from the event as well as some older t-shirts. We are just about to bank a little over $2,500 for money raised from BSX this year and if we can sell the remaining t-shirts and get some good offers on the left over Kenda tires we should push the total donation to over $3,000. So if you missed out on a t-shirt at BSX or if you want to help a great cause just email webmaster@bmxultra.com and we'll sort you out.
Speed Bicycles/Sinz Elite BSX t-shirts (grey) are $15 each plus postage and we are open to reasonable offers on the left over prizes.
1 x set of Kenda Konversion Tires (a 20 x 1.95 and a 20 x 1.75) Retail value at approx $120.
Alienation BSX2010 t-shirts (red) are $10 each plus postage.
4 x L
2 x M
1 x S
1 x Youth 12
ABD BSX2009 t-shirts (grey) are $10 each plus postage
Buy bulk and save on postage!
Don't forget, 100% of profits from the event go to the Royal Children's Hospital foundation.
BSX is presented by bmxultra.com and proudly supported by
For more information see bmxultra.com/bsx
About BSX
BSX (Bicycle Supercross) is one-on-one sprint trails style racing on a backyard track built specifically to test a rider's skills. The short straights, lofty jumps and tight corners are very intense under race conditions but also fun for competitors and create quite a lot of entertainment for spectators. The event provides a unique experience for the local Victorian riders, as well as the interstate and international visitors during an off day of the Track Attack series. The events primary function is to raise money for the Royal Children's Hospital Foundation. In just five years the event has raised approximately $24,500 which has provided the hospital with new equipment. Funds have been raised through gate takings, raffles, auctions and donations.
About the Royal Children's Hospital
'The Royal Children's Hospital is the major specialist paediatric hospital in Victoria and provides a full range of clinical services and health promotion and prevention programs for infants through to adolescents. Each year the Royal Children's Hospital treats tens of thousands of children through our Emergency Department, inpatient admissions and outpatient visits. The Royal Children's Hospital Foundation plays a vital role in providing additional funding to support important research projects and purchase state of the art medical equipment to ensure that every child receives the very best treatment now and into the future.
19/04 Northern Park club race Thursday night!
Northern Park BMX Club press release
The Northern Park Bmx Club will be holding a club race this Thursday night (April 22). Please note change of night due to Good Friday.
Registration and gate practice from 6:30pm.
Racing starts at 7.30pm
All are welcome.
About Northern Park BMX Club
The Northern Park BMX Club (AKA Lalor Park BMX Club) has one of the richest histories of any BMX club in Australia.
Recognised as the oldest BMX club in Victoria
Host to the NBA Grand Nationals many times
Multiple Australia Vs USA challenges
The 1998 UCI World Cup and Pacific Continental championships
The Northern Park BMX Track is located at Sycamore Reserve, Mill Park, Victoria (AUSTRALIA).
18/04 Photos: Sinz Elite/Speed Bicycles BSX by Jason Bergstrom
by bmxultra.com
bmxultra.com team rider and photographer Jason Bergstrom joined us for some racing in January through to early March this year and he left a whole bunch of photos that we haver finally got to processing. The first batch is from the Sinz Elite/Speed Bicycles BSX. Click here to check them out. There will be more to come.
15/04
ONE/Kenda race report UCI Supercross South Africa
ONE KENDA press release
A great way to start the World Cup season for Gabriela Diaz from Argentina.
ONE/Kenda's Diaz took 2nd place in Elite Women.
With the Olympics just around the corner, riders are now focused on getting points for their country in order to be
send out to the Olympics.
Gabriela finished her 2008 Olympics with a 5th place.
Her 2nd place in South Africa is a confirmation she is on the right track for the 2012 Olympics.
ONE/Kenda's Aneta Hladikovafrom Czech Republic who got 3rd in last years World Cup opening in Copenhagen Denmark, qualified but wasn't able to move on to the next round.
The same thing for Maris Gutmanis from Latvia.
Next round will be Papendal in Holland.
For the first time the World Cup event will be held in Holland.
The track will give spectators on Freecaster TV and at the event the time of their lifes for sure.
See you there !
ONE/Kendais sponsored by:

15/04 Team Trail and Track at the Central G V Classic

Trail and Track press release
What a great weekend for the guys on the Trail and Track team .
Firstly , Ben Ramage won his first moto at an open race meeting , and made his first expert final at an open meeting , well done DAMAGE .
Then the new boy on the team from tassie has a great first day out for the team and on his new STAATS BIKES , welcome Brodie Fitzpatrick.
Watch for our other new signing , Jake Waterfall [also on a new STAATS ] a young Frankston hot shot on his way up .
RESULTS;
Brodie Fitzpatrick   –  18 men – 1st , 19 – 29 cruiser – 2nd
Ben Ramage      – 13 boys – 5th
Ethan Height      –  11 boys  – 2nd
Will Height        –  12 boys   4th
Hayley Sturzaker    –  13 girls  1st
Well done to all who attended, it was a great weekend thanks to the Shepparton crew.
14/04 Morphine Industries Roars into Port Charlotte BMX
Morphine Industries press release
While the rest of the country is just ramping up their state season racing, the sunny state of Florida is full on and coming down the back side. Port Charlotte BMX was the place for the final stop state qualifier before the state championship race next month.
Elite Men- Mike Kapes hit the track Saturday with a stacked class to flex his speed and skill. Starting off the day with a win in the first moto continued his forward progress to the main event. Starting off the Main with a slamming the gate put mike off the pace. He was forced to take the slower Pro side of the second straight and fought for a sixth place at the finish.
Sunday started with Mike airing it out in practice on the second straight with a heroic triple. The landing proved to be too much for the pedal which bent and left Mike with sore ankle. Shaking off the ankle proved to be easy as the competition heated up and Mike went to the main after rolling through motos. Charging the track from lane eight ain't the easy way to the podium, but Mike railed the first turn and pulled riders through the rest of the track to take the second spot at the white line.
14 Expert – Noah Reeves made his appearance at Charlotte after missing quite a bit of the state racing this season. Needing to make up for lost time, Noah rolled through motos and continued straight on through the main with a perfect 1-1-1-1 for the day.
Noah started off Sunday with the same momentum racking up a 1-1-1 in motos. However, he came up short at the finish line by the width of a tire taking a second ending a great weekend of racing.
12 Expert – Richie Dey showed up with the best looking ride in the place, showing off his newly pimped out purple and white HARO. He took command of both Class and Cruiser on Saturday putting on a clinic of domination. Richie smoked both groups with an impressive 1-1-1-1 for a perfect day across the board.
On Sunday Richie, continued on flying through motos and taking his usual place at the main gate. However in class he struggled to keep his bike down out of the gate, riding a wheelie all the way down the starting hill. Richie fought back to take a spot on the podium with a three. Determined to not have the same result in Cruiser, Richie torn out of the gate and lead from wire to wire to take the top spot.
Morphine Industries Riders dominated at two other nationals during the weekend racking up a dominating 11 perfects for the weekend. The crew will continued to be split up as we race and represent around the country. Upcoming races in Sarasota, West Palm and Chula Vista are on the near horizon.
13/04 BMXMAD Race Report: GV Masters at Shepparton
BMXMAD press release
Well done to the BMXMAD team for supporting us at the GV Masters at Shepparton on the weekend.
Results
Millie Reed – 1st 12 Girls
Wade Turner – 4th 14 Boys
David Lyon – 6th A Men
Taylor Bennett – 9th 14+ Women
Jamie Mahuika – 6th AA Men
Erin Anderson – 2nd 14+ Women
Bodi Turner – 2nd AA Men
Greg Siinmaa – 5th 40+ Cr 2nd 40+ 20″
Graeme Anderson – 12th 40+ Cr 9th 40+ 20″
The track was wet and muddy, but the team slugged it out and came through with some awesome results. Well done!
12/04 Supercross Australia Team @ the Shepparton GV Classic
Supercross BMX Australia press release
For a while now we have been saying we are about to announce an impressive National Team, some facebook users may have seen a leak over the weekend. We aren't going to announce the full team right now but we would like to introduce one of the riders as he blitzed the A Pro class at Shepparton on Sunday.
Max Cairns has been riding for us for a few weeks now but after he took a clean sweep in the A Pro class at Shepparton on the weekend we thought it was time to let everyone know.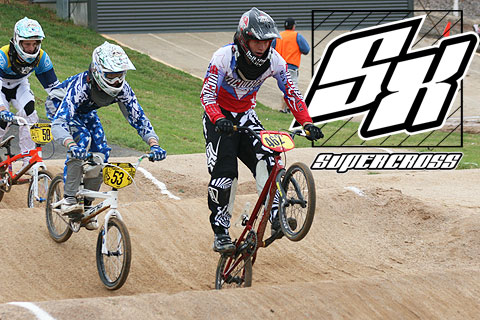 While the conditions weren't ideal with the track being muddy and soft it didn't seem to slow Supercross Australian team rider Max Cairns on his Supercross Blur frame. Max won all three motos then the semi and took the win in the final. With the national championships only weeks away Max is in great form. The former #2 Australia, #6 World and current member of the Victorian State team is a great addition to the team and we look forward to growing the Supercross BMX brand in Australia with Max. Keep an eye out on Max flying the Supercross colours.
More Supercross Australia team announcements coming soon.
About Supercross BMX Australia
Supercross BMX Australia are supporters of BSX and the Royal Children's Hospital and co-sponsor the bmxultra.com team.
We are about to announce the impressive full national team, keep your eyes peeled.
To find out more information about Supercross BMX products check out www.supercrossbmx.com, and for Speedline Parts check www.speedlineparts.com
If you would like to purchase Supercross BMX products in Australia please have your local bike shop contact us. Please note, we do not sell direct to the public. We support the Australian BMX Industry! Do You?
For more information and dealer enquiries email sxaustralia@supercrossbmx.com.
11/04 Photos: Shepparton Central GV Classic
by bmxultra.com
The GV Classic was on at Shepparton yesterday, and while the Shepparton track usually holds up well to rainfall yesterday was an exception. The track was very muddy and slippery to start off with, but then the surface started to pack in and dry to a degree, although still soft. Getting the track ridable wouldn't have been possible without the guys working the shovels to get racing started and scraping the loose stuff away throughout the day.
Click here to check out the photos.
10/04 First Stop UCI Supercross won by Corben Sharrah & Manon Valentino
UCI press release
Pietermaritzburg, South Africa 9 April 2011 – It was a glorious day in Pietermaritzburg. Some 2.000 South African BMX fans were treated to the best of BMX racing worldwide. It was also a great day for the UCI BMX Supercross World Cup series presented by Swatch with an extremely successful first stop of the 2011. But it was especially a glorious day for Corben Sharrah (USA) and Manon Valentino (FRA) who won the first elite BMX Supercross World Cup event of 2011.
Corben Sharrah rose to the occasion to win the grand final of the UCI BMX Supercross at Alexandra park while the young French rider Manon Valentino confirmed her status as one of the hottest properties in female BMX racing by completing a rare double in the women's division, winning the time trials and the main final.
Sharrah "The track suited my style of riding"
The quietly spoken 19 year old from Tucson, Arizona Sharrah timed his charge to perfection, shifting up a gear in the semi-final where he dominated the Frenchman Joris Daudet, who had until that stage, been the men's pacesetter.
In the final Sharrah got the hole shot and as he led into the first berm he looked in total control. While the pack jostled behind him, resulting in classy Kiwi Marc Willers going down, Sharrah never let control of the main final slip, racing home to win from Australian Khalen "Wild Child" Young, with time trial superfinal winner Daudet in third.
"This track really suited my style of riding," said Sharrah as he was mobbed by well wishers from Team USA. "I had a really good gate and won the big battle to get into the first turn first."
"When I realized I was leading it was all about staying calm and focused. That was the critical part for me. It feel fantastic to win the first World Cup of the season," he added.
Valentino "This is totally amazing"!
21 year old French sensation Valentino was ecstatic after completing a totally dominant win in the women's main final. "This is totally amazing! What a comeback for me!" gushed the former junior world champion, whose first year as a senior was troubled by injury.
In truth she had won the final by the time she had turned into the second straight. From her quicksilver reaction off the start gate to her athletic and fluid pace across the demanding 15 meter triple on the first straight, she was peerless, and romped home to win by more than a second from Argentinean Gabriela Diaz, with Kiwi icon Sarah Walker earning the last spot on the podium.
Action packed event
Australian ace Sam Willoughby was the shock omission from the main final line-up. He was one of four riders to crash out of the semi-finals in a pileup on the first berm that also accounted for gutsy Canadian Tory Nyhaug, Dutchman Jelle van Gorkom and Joshua Meyers of the USA.
Two podium contenders fell by the wayside in a drama-laden second men's quarter final, where on-form Frenchman Sylvain Andre and former world champ Donnie Robinson of the USA, who was being cheered on his comeback to the Supercross circuit, were both unseated in spills.
The heady mix of on-track action and music under the blazing sun provided a compelling spectacle for the big crowd that packed into the new BMX venue at Alexandra Park, which will become a permanent BMX facility after the Supercross.
09/04 BMX EDGE INTENSE SALE
BMX Edge press release
BMX EDGE are celebrating the release of the new 2011 Intense Race and Factory Range with an Intense sale.
We have the lowest prices on Intense bikes, if you can find a lower price tell us and we will do you a deal.
Check them out here http://bmxedge.com.au/shop/index.php?manufacturers_id=18
BMX EDGE has also extended our FREE shipping offer to the 30th April 2011, so get in and order your spares for the 2011 National Championships NOW!
BMX EDGE will also have the shop trailer in Cairns with with our two teams, we will have some items so if you get stuck just call us on 0427 779 700 for a realistic price.
09/04 French Riders win first ever the time trials 'Superfinals' at UCI BMX Supercross World Cup
UCI press release
Pietermaritzburg –Frenchmen Joris Daudet and Manon Valentino outperformed all in the Superfinal of the time trials. With this result the French riders, who are known to be time trial experts, get maximum points for the World Cup ranking and advance as top seed into the eight finals (men) and quarter finals (women).
The fastest 64 men of the time trials will advance into the eight finals featured over three rounds. As will the fastest 32 women advance into to the four quarter finals over three rounds. The finals will start tomorrow 14.00 hours local time in Pietermaritzburg South Africa.
In total 103 Elite men and 38 Elite women riders registered from 23 countries for the first leg of the UCI BMX Supercross World Cup in Pietermaritzburg South Africa. Thus the time trials eliminated 47 men and 6 women riders.
First ever Time Trial Superfinal
The best sixteen men and women of the time trials raced again in the Superfinal time trials to determine the final result. The finishing order of this second run determines how many points all riders get for the World Cup ranking.
"It went really well for me today and I'm really happy to have won in the time trial but the big race is tomorrow so we'll just wait and see," said Daudet, who put together a staggering second half of his super-final to rocket from fifth to take the line honours.
"I'm really happy with where my speed is at the moment and it's really awesome for us (France) to have won both the men's and women's time trial," the beaming Frenchman added.
"The track was a little bit soft yesterday but its hardened up today so tomorrow should be good," he said. "We'll just chill out tonight and watch some of the footage from today and then hopefully things go well tomorrow."
2009 Junior Women's World Champ and Daudet's fellow French star Manon Valentino was also cautious not to get too far ahead of her but was clearly satisfied with her time trial success.
"This is my best result in a time trial so far and I'm very happy to have won but tomorrow is the big one, the one that really counts, so there's still lots more work to be done," she said.
Men's title favourite Sam Willoughby of Australia finished sixth, after digging deep to get himself onto the start line after being laid low by a stomach bug. The Australian was happy with his performance on the day, particularly in a discipline that is not his forté.
"I wouldn't exactly call myself a time trial specialist and some of those other guys are really going well at the moment but overall I was happy with today," said Willoughby.
"Racing and time trails are also two very different things because if you can get in front into the first corner of the race its quite tough for the rest of the guys to get past you after that so we'll just have to see how things go tomorrow," he added.
After a week of being frustrated by persistent rain the weather gods co-operated to provide cool overcast, and critically rain-free conditions for the first full days racing.
The second day gets under way at 2pm at Alexandra Park in Pietermaritzburg
More information can be found at www.bmxworldcupsa.co.za
SUMMARY OF RESULTS TIME TRIAL SUPERFINAL
DAY ONE UCI BMX SUPERCROSS PIETERMARITZBURG
MEN
1.Joris Daudet FRA 33.497
2.Raymon van der Biezen NED 33.691
3.Tory Nyhaug CAN 33.805
4.Sylvain Andre FRA 33.9
5.Corben Sharrah USA 33.919
6.Sam Willoughby AUS 33.973
7Nicholas Long USA 34.181
8.Carlos Oquendo Zabala COL 34.223
9.Joshua Meyers USA 34.225
10.Brian Kirkham AUS 34.231
11.Damien Godet FRA 34.296
12. Khalen Young AUS 34. 754
13.Kurt Pickard NZL 34. 848
14.Thomas Hamon FRA 34.859
15.Robert de Wilde NED 35.071
16.Daniel Schlang GER 35.182
WOMEN
1.Manon Valentino FRA 33.541
2.Sarah Walker NZL 33.902
3.Mariana Pajon COL 33.923
4.Caroline Buchanan AUS 34.215
5.Jana Horakova CZE 34.539
6.Magalie Pottier FRA 34.615
7.Joyce Seesing NED 34.629
8.Lauren Reynolds AUS 34.667
9.Eva Ailloud FRA 34.709
10.Samantha Cools CAN 34.818
11.Melinda Mcleod AUS 34.911
12.Rachel Bracken AUS 34.971
13.Amelie Despeaux FRA 35.045
14.Anete Hladikova CZE 35.344
15.Amanda Carr USA 35.571
16.Arielle Martin USA 52.763
09/04 Family Of Three Prepares To "Ride The Nation" Starting April 20th
NBL press release
Warren Family Ready For Cross Country Bike Ride to NBL Tracks And Nationals
GAHANNA, OH — From April 20th to September 4th, the Warren family of Spring Hill, Florida will ride their bicycles over 3000 miles to promote the sport of BMX Racing. The purpose of their trip is multi-faceted. They will be spreading the word about the newest Olympic Sport, promoting biking as a viable alternative to driving, and testing their own will and determination.  
Their trip will begin in Tampa, Florida and will finish in Louisville, Kentucky at the National Bicycle League's Grand National event on Labor Day weekend. The journey will take them to 25 of the NBL's BMX tracks in Florida, South Carolina, North Carolina, Virginia, Pennsylvania, New York, Michigan, Ohio, Indiana and Kentucky.  Parents, Jason and Tammy, will ride with their home-schooled 12-year-old BMX daughter, Neva, the "BMX Diva". Neva has been racing since the age of four. She was the 9 Girls champion at the 2007 USA Championships and competed in the World Championships in Victoria, British Columbia that same year.
On their website (www.ridethenation.org), they refer to themselves as two "fat forty-somethings" and a "moody 12-year-old". They hope their endeavor will inspire others to try cycling, a low-impact exercise suitable for most any age and athletic ability. They will be keeping a blog on their website, so be sure follow their progress throughout the summer.
The Warrens would like to thank those who have donated their time and money to help sponsor their trip: Tampa BMX, Comfort Inns & Suites, J&R Bicycles, Ohio Dreams, Smoothie King of Wesley Chapel, FL, BMXmania.com, Riderz Ready Jerseys, the National Bicycle League and Schwalbe Tires.
08/04 Review: Alienation Backlash grips
by bmxultra.com
Alienation recently released the Backlash grips and since I was in the market for some black grips and liked the feel of the Alienation Ratchet grips I thought I'd check them out. Click here to read the review.
08/04 BMXMAD 20% off Parts SALE
BMXMAD press release
This Sunday at Shepparton BMX Track!!!
Get a great deal and buy up all your parts before the Aussies. Don't leave it to the last minute or wait to purchase parts there and pay exorbitant prices!
Also check out the new Intense BMX bikes….we have the best prices and they are moving fast!
Remember – 20% off parts….forks, pedals, headsets, cables, tyres, etc….be prepared for the Aussies, you never know what might happen!
SEE YOU AT THE PRO SHOP SUNDAY!
08/04 Northern Park club race tonight!
Northern Park BMX Club press release
The Northern Park Bmx Club will be holding a club race tonight.
Registration will close 7:15pm before a 7.30pm start
All are welcome.
About Northern Park BMX Club
The Northern Park BMX Club (AKA Lalor Park BMX Club) has one of the richest histories of any BMX club in Australia.
Recognised as the oldest BMX club in Victoria
Host to the NBA Grand Nationals many times
Multiple Australia Vs USA challenges
The 1998 UCI World Cup and Pacific Continental championships
The Northern Park BMX Track is located at Sycamore Reserve, Mill Park, Victoria (AUSTRALIA).
07/04 Leatt Corporation official partner of UCI Supercross World Cup
UCI press release
Pietermaritzburg RSA – Leatt Corporation signed an agreement with GSX Events to become an official partner of UCI BMX Supercross World Cup presented by Swatch until 2013. Leatt Corporation will be making financial contributions to the BMX Supercross Medical Staff costs to help provide the best medical support for teams and athletes.
Picture Leatt-Brace team rider Sander Bisseling in action during World Championships 2010 in Pietermaritzburg, photographer Craig Dutton, picture rights free for editorial use. Please call for high res version.
Exciting and spectacular UCI BMX Supercross World Cup
The BMX Supercross World Cup is the premiere BMX racing series in the world and serves as main qualification event for the 2012 Olympic Games. When introduced in 2003, the BMX Supercross World Cup did not only introduce a unique racing series but also revitalized the sport with a new exciting and spectacular BMX Supercross format. On Friday 8 April the 2011 World Cup season kicks off in Pietermaritzburg South Africa.
Leatt-Brace® leading neck brace in BMX racing.
With the rapid progression of this action sport, riders go faster every time and the Supercross tracks get more technical and challenging. Neck braces are a natural development of protected gear. The Leatt-Brace® is designed to help prevent neck injuries by working in conjunction with a helmet. Dr. Chris Leatt started designing the Leatt-Brace® in 2003, and when he introduced the Leatt-Brace® into the market many top athletes praised it and it is now the leading neck brace in motocross and BMX racing.
"We are very proud to have LEATT onboard as a partner of the UCI BMX Supercross and our BMX SX Medical Team. With BMX being a high-impact action sport, we encourage riders to wear good protective gear, and this will certainly raise the awareness of the LEATT neck brace," said Johan Lindstrom CEO of GSX Events managing the UCI BMX Supercross World Cup.
"With Leatt financially supporting our Medical Team, we will continue having the best medical support available at the BMX Supercross World Cup, which certainly is welcomed by teams and athletes".
"The Leatt® Lab is excited at the prospect of working closely with the UCI and it's service providers to promote and document the efficacy of the Leatt-Brace® in BMX competition. Leatt® will be conducting an injury assessment process in conjunction with the UCI's service providers, looking at all BMX injuries moving forwards. This allows the designers and engineers at Leatt® to continue to produce relevant, researched and tested protective products moving forwards. I believe that the relationships between governing bodies and manufacturers of safety apparel are important." said Dr. Chris Leatt, the Head of Leatt Lab.
Leatt Corporation: Since 2006, we have produced and sold a line of Neck Brace Systems for adults and children that are designed to help prevent potentially devastating motor sport injuries to the neck among motorcycle, ATV and other motor vehicles worldwide. Our product line is set forth at our sales/product URL: http://www.leatt.com.
Global SX Events Inc, (GSX Events) is poised to be the premier promoter of professional and amateur BMX events internationally. Headquartered in Gahanna, Ohio, USA, GSX Events is a subsidiary of the National Bicycle League, Inc.
Union Cycliste Internationale, founded in 1900, the Union Cycliste Internationale (UCI) is the world governing body of all international cycling. Headquartered in Aigle, Switzerland, the UCI is the International Federation of Cycling and represents the associations of 173 countries and their National Cycling Federations.
The 2011 UCI BMX Supercross World Cup calendar;
8-9 April 2011 Round 1 Pietermaritzburg, South Africa
27-28 May 2011 Round 2 Papendal, Netherlands
19-29 Aug 2011 Round 3 London, Great Britain
16-19 Sep 2011 Round 4 Sarasota Fl, USA
30 Sep-1 Oct 2011 Round 5 Chula Vista CA, USA
07/04 ONE/Kenda race report EC round 1 and 2 – Zolder, Belgium
ONE KENDA press release
After a long winter the European season has been opened with round 1 and 2 of the European Championship for Junior and Elite Men and Women.
This time Zolder was the host on their Racing Circuit. This Belgium city already hosted many cycling events, like the UCI world road championship and UCI world cyclocross championship.
Needless to say the accommodation was perfect.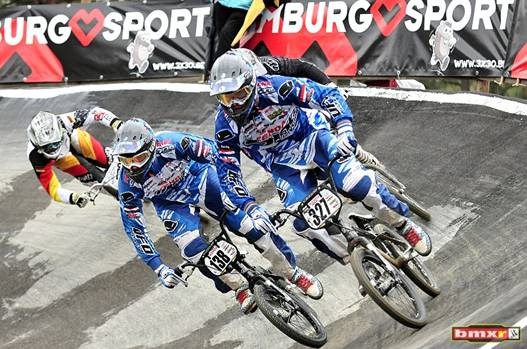 ONE/Kenda's BMX team has been working hard to be prepared for the new season.
New sponsors like HAWK Racing and Dextro Energy joined the team.
Also new riders were welcomed: in Elite Men Kristers Lejins and Maris Gutmanis from Latvia, in Junior Women, Nadja Pries from Germany and in Junior Men, Jasper Peters From Holland.
The Junior ONE team stopped and Dutch National Champions Kevin van de Groenendaal and Denzel Vakkers joined the ONE/Kenda team.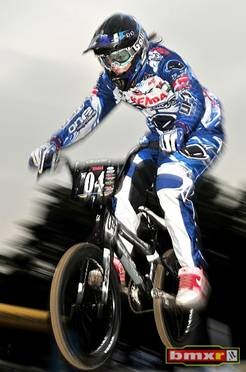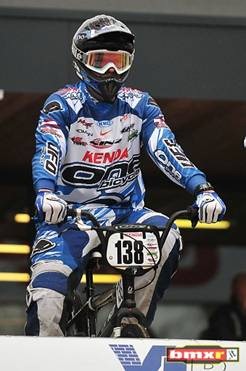 Although some riders didn't have the perfect preparation due to weather in their home Country raceday came anyway. The sun was shining and everyone in a good mood.
In Junior Women Nadja Pries from Germany made it to the main event and took 5th place.
Aneta Hladikova from Czech Republic made it to the main in Elite Women but clipped out in the first turn, dropping her to 7th place.
Round 2 didn't look too good. Rain flushed away the smile on everyones face.
But racing went on.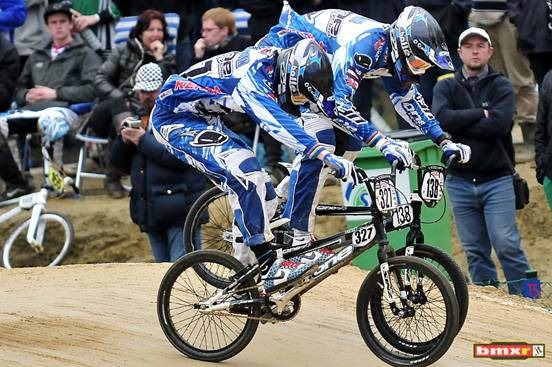 Simone Christensen from Denmark made the main in Junior Women and took a fantastic 3rd place.
In Elite Women Aneta Hladikova made it to 6th position after a messed up first straight.
Elite Men had both ONE/Kenda's Jordy van der Heyden from Holland and Maris Gutmanis from Latvia in the main.
Unfortunately Maris crashed in the first turn, but Jordy made it up with a great 3rd place.
Photo: Bruno Giustacchini
ONE/Kenda is sponsored by:

07/04 Sinz Elite Introduces New Lightweight Pro CFC Fork
Sinz Elite press release
Same Great Ride, Less Weight
New Sinz Elite Carbon Forks Provide Amazing Performance with Less Bulk
The newest addition to the Sinz Elite carbon fiber fork line, the Stealth Pro CFC Carbon, quietly made its debut at the ABA Winter Nationals this past weekend on the front of several Elite Pro bikes. Look for the Pro Plus to be in wider use starting next week in South Africa at Round 1 of the UCI Super Cross World Cup Series.
At around 615 grams, the Pro CFC (Carbon Fiber Crown) is lightweight but with the strength and rigidity of the Sinz Elite Pro forks used by many of the world's fastest BMX racers. We did this by developing a new 4130-chromoly steerer tube and all-carbon fiber crown for the Pro CFC.

 The new Stealth Pro CFC forks weigh more than a half pound less than the Pro forks they replace.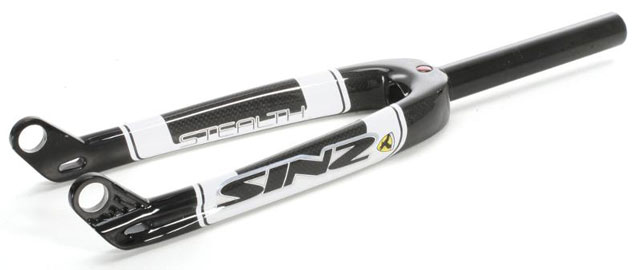 The Pro CFC is available in 20- and 24-icnh sizes for 10- or 20-millimeter axles.
A 20-inch Pro Plus fork weighs approximately 265 grams less than the Pro-that's more than half a pound lighter. They retain the 195-pound recommended weight limit of the heavier model fork they replace.
Want proof that the new fork can handle the needs of BMX racers? Ecuador's Emilio Falla took a brutal header on the first jump at the Winter Nationals. His Pro CFC fork survived the spill unscathed. Emilio, on the other hand, was battered and bruised, but walked away in good shape, thanks, in part, to his THE T2 helmet and THE Storm pads.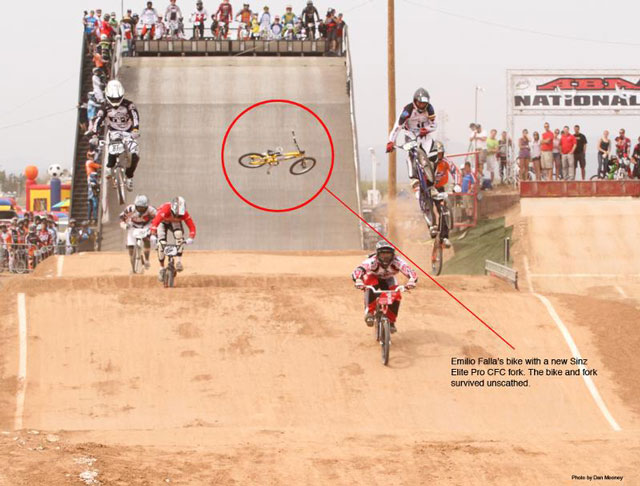 Emilio Falla's bike bounced some 20 feet high and his new Sinz Elite Pro CFC fork survived unscathed
Pro CFC forks are available in 20-inch and 24-inch sizes with 1 1/8″ steerer tubes and 10- or 20-millimeter dropouts. Check them out at your local Sinz and Sinz Elite dealer.
Sinz Elite has discontinued production of the standard Pro forks. The extra heavy-duty Pro Alloy forks, however, remain in the Sinz Elite fork line-up.
| 20″ Model | Pro CFC | Pro Lite | Pro | Pro Alloy |
| --- | --- | --- | --- | --- |
| Steerer Tube | 4130-Chromoly | Aluminum Alloy | 4130-Chromoly | 4130-Chromoly |
| Crown/Legs | Carbon Fiber | Carbon Fiber | Aluminum/Carbon | Aluminum/Aluminum |
| Dropouts | CNC'd Aluminum | CNC'd Aluminum | CNC'd Aluminum | CNC'd Aluminum |
| Weight | Approx. 615 grams | Approx. 460 grams | Approx. 890 grams | Approx. 960 |
| Rider Weight Limit | 195 Pounds | 175 Pounds | 195 Pounds | None |
07/04 Morphine Industries – back to back Georgia Domination
Morphine Industries press release
It seems like just yesterday that we were at a BMX race in Georgia. Oh yeah…its because our last race was in the peach state just two weeks ago! But there is something about Georgia BMX that has been good to us recently, so we figured why not go back to the well and see if we can't reel in a few more wins! Here's how it all went down in the A-Town while the other half was handling business in the sunshine state.
Olijuwon Davis proved that he is a man on a mission in the PRO class with WINS both days. Not only did OD lead every lap from start to finish, both days but he always has a smile on his face and takes time to talk to the little groms that look up to him. He is a Pro's Pro and we are psyched to have him as a part of our family. – Even though he tends to barf as soon as he crosses the finish line! Haha
Jason LaRev had some high expectations for himself after dominating on his home track at the last two nationals held on his turf. This year, he layed down some power and style all the way to the PRO main event both days with 4th and 6h place finishes.
Doran Bradshaw put on a clinic in 36-40x & 36-40 cruiser getting the double-double for the weekend. He gives credit to his rehabilitated knee but we are thinking it was because he was on the ABA Dixieland t-shirt. Either way, it was good to see him back to form!
Charlie Hunt (newest member of the factory team) – Another super nice guy that will do anything for you. Too bad a few of the guys in 28-35x didn't share the same love and decided not to sign his papers to reclass, so Charlie had to sit this one out. But no worries… Charlie will get to gate up soon and get his redemption.
07/04 NBL To Reschedule Virgin Regional BMX Challenger Race
NBL press release
New Date For Doubleheader Race Will Be April 22-23, 2011
GAHANNA, OH — Due to recent inclement weather, conditions at Virgin Regional BMX in Virgin, Utah have made it impossible to prepare the track for the Challenger race originally scheduled for this weekend, April 8-9, 2011. As a result, the race will be rescheduled to the weekend of April 22-23, 2011 in order to maintain the integrity of the Challenger Series. Two Challenger races will be run on Saturday, April 23rd as was previously scheduled at the Virgin track.
About the National Bicycle League, Inc.
The National Bicycle League, Inc. (NBL) manages the best in BMX (Bicycle Motocross) leagues and promotes the international and Olympic sport of BMX racing across the country and abroad. As a public charity in the US, the NBL also focuses on communicating the value of healthy lifestyles for children and families through BMX racing. NBL is BMX! For more information, visit: www.nbl.org.
07/04 2011 DK Bikes Sponsors 2011 Victorian Championships
BMX Victoria press release
BMX Victoria is proud to announce that DK Bicycles will once again be the naming rights sponsor of the DK Bicycles 2011 Victorian Open BMX Championships.
This is the second year in a row that DK Bicycles have been the naming rights sponsor for this event. BMX Victoria is excited once again have DK on board.
The DK Bicycles 2011 Victorian Open BMX Championships will be held at the Shepparton BMX Club on November 18, 19 and 20. This year the countries top pro riders will be competing for over $10 000 in prize money. Entry forms are now available via www.bmxv.com.au
For more Information on DK Bicycles log on to www.dkbmx.com.au
06/04 Video: Yess BMX Promo video
by Yess BMX
The guys at Yess BMX just sent us this awesome promo video of their new frame. Check it out. Not only is the frame worth a look the video is quite slick too.
Yess BMX Promo Video Spring 2011 from Rival Schools on Vimeo.
For more information about Yess BMX check out their website at yessbmx.com
06/04 Vitalah sponsoring pro BMXer Alex Fowler
Vitalah press release
Vitalah is proud to announce we will now be sponsoring professional BMX Racer Alex Fowler. We are excited about forging this new relationship with Alex and eager to see what we will be able to accomplish as a team this 2011 season. Both Vitalah and Alex are dedicated to educating and encouraging a healthier happier life and we believe that Oxylent is a product that can promote those things.
"I drink Oxylent to maintain my health while training, and to gain the edge while racing." -Alex Fowler. This oxygenated multivitamin beverage is sweetened with stevia, not sugar, and has received multiple awards.
Please feel free to stop and ask Alex for samples or to ask any questions at the upcoming National in Chula Vista, CA.
05/04 2011 INTENSE race bikes HAVE ARRIVED ! !
Trail and Track press release
See the new black or purple race level bikes, or the firey new red factory models
in store at Trail and Track at 76 Doveton Ave, Eumemmerring, online at www.trailandtrack-bmx.com.au or
at our Proshop rolling into SHEPPARTON this weekend and Frankston club friday night.
Up grade your bmx racing to INTENSE
05/04 2011 Intense Bikes are now IN STOCK in Australia
ECI press release
2011 Intense Bikes are now IN STOCK in Australia. Check them out at your Intense Dealer now!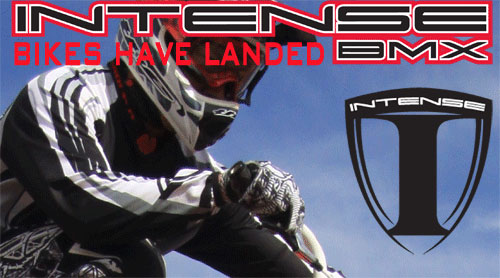 You can view all the models online at  http://issuu.com/elitecycleimports/docs/2011_bike_catalog
04/04 Morphine Industries Hits Hotlanta NBL Georgia Peach Nationals
Morphine Industries press release
The NBL Georgia Peach Nationals signifies the start of spring and the push into the full-on race season.   Morphine Industries sent a crew to the Peach state to shake it up.  Peachtree BMX is a cool tight fast track set in a park just outside Atlanta.  What's with the golf carts everywhere?
Elite Men- Mike Kapes hit the track Saturday with finesse and speed as usually.  Mike roared through motos and saddled up to the gate at the main event.  At the gate drop, Kapes and Kelty battled for the lead with Mike taking the top spot at the white line.
Sunday, Mike was ready to do it again as he once again blasted through motos to line up for the main.  This time his speed got the best of him as he overshot a double and bonked the next double causing him to fall back and take a fourth at the line.
Masters – Tim Dinger, with a freshly arm, hit the track for a one day Masters showdown. ..and show he did.  Dinger flowed through the track and the field racking up hash marks all the way to the end topping the podium.  Unfortunately, Masters did not run on Sunday so, Tim was unable to repeat and line his pockets.
16 Expert – Damian Cherepko came down to join the crew from PA to take his frequent spot on top.  Damian, like his teammates rolled over the field in his motos and took his place at the main.  After the gate dropped it was over as Damian finished his day with a first place.
Sunday started off in the same manner with Damian horsing the field in motos.  However, a close encounter with the asphalt turn stopped Damian short of making his weekend a perfect one.
12 Expert – Richie Dey started off the weekend on Saturday working his way through stacked motos.  However, he feel short in the semi getting caught on the outside and not making the cut.
Sunday Richie was determined to make up for his absence in the main on Saturday.  Once again , he had to bang with the best to get through to the main. This time, he made his way through the pack to take the last spot on the podium , a third place.
Morphine crew will be split this weekend with riders hitting the NBL Florida State Qualifier in Port Charlotte and another group hitting the ABA Dixieland Nationals in Hotlanta, GA.   Check it us out in both spots.
Rumor has it that Dixieland will be experiencing the newest member of the Morphine Industries Factory laying down the hammer.  Enjoy!  Welcome, Charlie.
03/04 Yess! They're Back!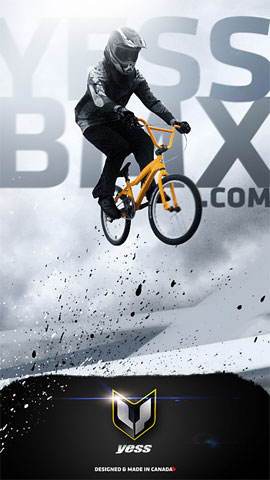 Yess BMX press release
Surrey, Canada – Yess is back and ready for big things in 2011! Yess Products, renowned for manufacturing the finest frames in the industry is now ready to launch their own line, Yess BMX, for 2011. Yess Products has been building frames for other brands for almost two decades and their quality and craftsmanship has been second to none. Several signature manufacturing techniques will contribute to their spawn of the next level in Aluminum BMX frames!
With their original design being used over the last decade, development and design of this frame has continually evolved and now is the time for the new standard in BMX Racing. With the help of New Zealand coach Ken Cools and members of his high performance racing team for testing, feedback and support, this frame will be beyond anything available in today's market.
There will be 10 sizes available (including 3 Cruiser sizes)
For more information and ordering options, check out their website www.yessbmx.com.
5 colors available (Yellow, Black, Red, Green, and White)
01/04 ITS Releases Wire-Bead Hustler Tyres for Smaller Riders
ITS press release
For the past couple of years the ITS Micro Knobby and MK2 have been two of the most successful and popular tyres used in BMX racing. As great as the tyres are, with their 5,000 mini-knobs, low rolling resistance, low weight and high pressure, ITS has another great racing tyre-the Hustler.
Although it was designed for street riding, the Hustler caught the eyes of several pro riders who recognized its potential as a great racing tyre. Sifiso Nhalapo may have been the first to start running it in the front then front and rear. Others soon began giving it a try. Last year at the UCI Supercross race in Chula Vista, the semi-slick Hustler was the hot rear tyre for beating the slippery starting gate.
The Hustler is now part of the rubber arsenal of proven winners like Marc Willers, David Herman, Arielle Martin, Dominique Daniels and dozens of other top pro and amateur racers.
All Hustler tyres, regardless of size or bead type, have a semi-slick profile that is punctuated by a counter-sunk polygonal tread pattern. The result is a long-lasting, lightweight tyre with super-low rolling resistance and excellent traction for maximum acceleration and speed.
Hustlers are available in two wire-bead sizes-20 x 1 1/8″ and 20 x 1 3/8″-and three folding Kevlar-beaded sizes-20 x 1.5″, 20 x 1.75″ and 20 x 1.95″.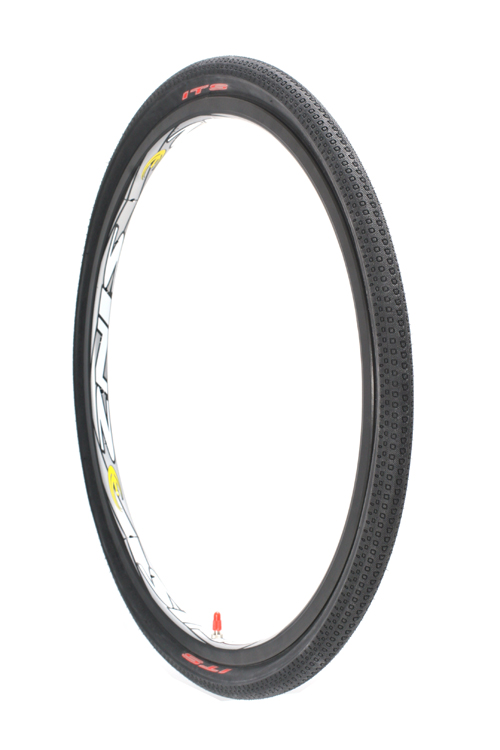 Wire-bead Hustler tyres come in 20 x 1 1/8″ and 1 3/8″ sizes.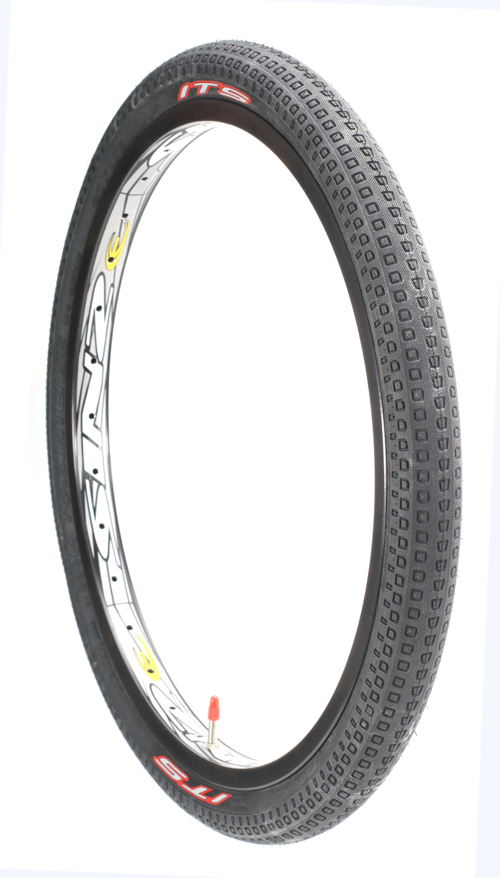 Kevlar-beaded folding Hustlers come in 20 x 1.5, 1.75 and 1.95 sizes.
Wire Bead
20 x 1 1/8″     265 grams     IBMX-20118
20 x 1 3/8″     302 grams     IBMX-20138
Folding
20 x 1.5″        300 grams     IBMX-20150
20 x 1.75″      385 grams     IBMX-08
20 x 1.95″      430 grams     BMX-07
The Australian Distributor ECI tells us small sizes will be available is Australia in around 2 weeks… hopefully sooner. 1.75 & 1.95 in stock now.
01/04 Video: BMX Worlds 2011 Copenhagen
UCI BMX World Championships 2011 Copenhagen press release
Hi there,
We've made this new movie about 40 BMX riders who 'invade' the streets of Copenhagen – It's called: 'BMX Bandits taking over Copenhagen'.
In the movie 40 BMX riders 'bump' in to the everyday life in Copenhagen and all of the riders are fully dressed in BMX Race gear, which create some funny episodes with locals and tourists.  We've made it as a teaser for the UCI BMX World Championships which take place in Copenhagen in July 2011.
You'll find the Youtube link right here:
http://www.youtube.com/watch?v=VRieZNomcLM&feature=channel_video_title
For more info about the BMX Worlds 2011 check out: www.bmxcopenhagen.com and also follow us on Twitter
01/04 UCI BMX Supercross Season opener in Pietermaritzburg RSA
UCI press release
The UCI BMX Supercross World Cup presented by SWATCH is the premiere BMX racing series in the world and serves as main qualification event for the 2012 Olympic Games. First round kicks off in Pietermaritzburg South Africa on 8 and 9 April. 104 Elite men and 38 Elite women are registered from 20 countries.
Permanent BMX track in Pietermaritzburg
On Wednesday 30 March the first truckloads of ochre-red soil for the world class track arrived at Alexandra Park where the city's mayor Mike Tarr was on hand to move the first sods into place. The permanent BMX track will sit alongside the Pietermaritzburg cricket oval and the cycling velodrome, and will provide an eagerly awaited year-round base for the BMX fans in the region.
"It's our plan to take the whole area around Alexandra Park and turn it into a sporting precedent and this BMX track forms a part of that greater plan," said mayor Tarr.
Once the BMX Supercross event is completed the track builders will reshape the course into a less challenging layout, better suited to local emerging and intermediate talent.
Preview Round One 2011
When all the action gets underway at Alexandra Park in Pietermaritzburg on 8 and 9 April all BMX fans will eagerly await who takes first blood of the season. With 485 days to go to the start of the London Olympics this is the time to make your mark and eventually qualify for the pinnacle event in BMX racing, the Olympic Games. See live video on freecaster
The runner up of last year's World Championships, South African favorite Safizo Nhlapo will not compete due to a knee injury.
"It's obviously very disappointing and it's sad to have to go through something as serious as this just a year before the Olympics," said Nhlapo. "I guess this comes with the sport though and it's just part of being a professional."
With the widely feared Latvian Maris Strombergs also being out of the Pietermaritzburg event many of these two Olympic finalists' nearest rivals will be eager to take advantage of this golden opportunity and get their seasons off on a positive note.
Marc Willers (NZL) will definitely be someone to keep en eye on. The flying Kiwi has been on a winning streak ever since his second place finish at the 2010 BMX Supercross finals in Frejus, France.
Sam Willoughby (AUS) is always a strong contender. The Australian was obviously very disappointed not winning the World Cup series last year and is now on a new mission.
Also keep an eye out for the large Dutch and French teams. Big teams which are getting stronger by the day, with several experienced riders on the team, backed up with several young guns. Look out for the return of #666 Dutchmen Ivo van der Putten.
The battle for supremacy amongst Elite Women is going to be wide open this year. Last year's overall World Cup winner Laetitia Le Corguille (France) and 2010 World BMX Champion Shanaze Reade (GBR) are not competing in South Africa, leaving the floor for Sarah Walker (NZL), Alice Post (USA), Mariana Pajon (COL), Eva Ailloud (FRA), Caroline Buchanan (AUS), Arielle Martin (USA) or last year's Junior World Champion Merle van Benthem (NED) to name a few.
New Permanent BMX Supercross track opened in the Netherlands.
On 25th March an impressive crowd assembled in Papendal the Netherlands for the opening of a brand new BMX Supercross track. UCI president Pat McQuaid was present to open the challenging course designed and build by Tom Ritzenthaler.
Bas de Bever Dutch chief BMX coach was very pleased with this track. Other countries are invited to train in Holland too. Evil Ivo van der Putten (#666) considers it the most challenging track in the world.
See video in Dutch with Go pro helmet camera images.
01/04 Jose Yanez from the movie RAD! to Make an Appearance @ the Old
School BMX Reunion this Weekend!
by Todd Lyons
If you're 33yrs+ & one of the fortunate ones to make it out to the Old School BMX Reunion @ Woodward West this weekend, keep an eye of for "D-Cat" Jose Yanez from the movie RAD! If you recall, Josse was the stunt double for Bart Taylor in the most classic BMX movie of all time. Jose will be cruising around on a PK Ripper Looptail & will be looking to set his name in the history books as not only the first guy to EVER do a backflip, but currently one of the oldest as well. Jose is now in his 50's & is amped up to bust some flips for his "Goin' out in a Blaze of Glory" tour.
If you're not able to make it out to the event this weekend, then keep your eyes peeled on the World Wide Web for Jose Yanez & his rad self! 80's BMX at its best!
Jose Yanez website: http://myradself.webs.com
Old School BMX Reunion Website: http://www.osbmxr.com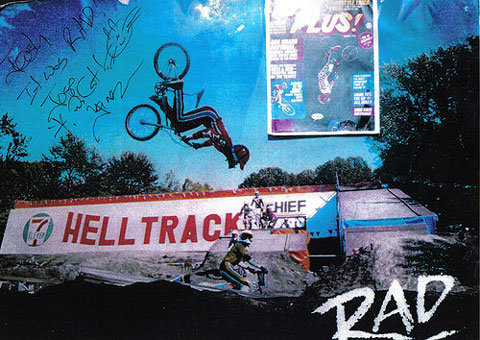 Posted in: Archive