BMX racing news October 2012
31/10 Review: Lazer Krux Helmet
by bmxultra.com
The Lazer Krux helmet is the ugly duckling, but has more features than any other helmet in it's class. Click here to read the full review.
31/10 Finalists announced for the Jayco 2012 Australian Cyclist of the Year Awards
Cycling Australia press release
Cycling Australia is pleased to announce the finalists for the Jayco 2012 Australian Cyclist of the Year Awards. The awards will be presented at a black tie gala being staged at the Sofitel Sydney Wentworth in Sydney on Friday 9 November. The evening will culminate with the presentation of the Sir Hubert 'Oppy' Opperman Medal to the 2012 Australian Cyclist of the Year.
During 2012 in competition at World Championships, Olympic Games and Paralympic Games Australian cyclists claimed 48 wins, placed second 37 times and collected 29 bronze medals across the gamut of track, road, mountain bike and BMX in categories ranging from juniors to masters aged over 60.
Anna Meares was crowned Olympic Champion and eight Australians stood on the podium to receive a gold medal at the Paralympic Games. The sport also celebrated success in other major events including the BMX Supercross World Cup titles won by Sam Willoughby and Caroline Buchanan and three wins by Simon Gerrans in WorldTour events on the road.
The 2012 Australian Cyclist of the Year will be awarded to one of the individual category award winners. The People's Choice Cyclist of the Year winner has been determined by an online public vote with five finalists in the running including previous recipients Cadel Evans and Anna Meares.
Information on how to purchase tickets to the awards night is available on the Cycling Australia website.
Cycling Australia would like to thank the sponsors and supporters of the Cyclist of the Year Awards – Jayco, the Australian Sports Commission, Subaru, SBS Cycling Central, Mavic, Singapore Airlines, Shimano, Jetset Glynde and the Amy Gillett Foundation.
The finalists for the awards are listed below. For detailed citations please go to the Cycling Australia website.
(*** denotes triple 2012 World Champion ** denotes dual 2012 World Champion * denotes 2012 World Champion, OG denotes Olympic Games Champion, PG denotes Paralympic Games Champion)
People's Choice Cyclist of the Year
Cadel Evans
Simon Gerrans
Anna Meares OAM
Rachel Neylan
Sam Willoughby
Mavic Elite Track Cyclists of the Year
Female Elite Track
Nettie Edmondson
Kaarle McCulloch
**/OG Anna Meares OAM
Male Elite Track
(*) Michael Hepburn
(*) Glenn O'Shea
(*) Shane Perkins
Elite Mountain Bike Cyclists of the Year
Female Elite Mountain Bike
(*) Jessica Douglas
Rebecca Henderson
Janine Jungfels
Male Elite Mountain Bike
(*) Jason English
Mick Hannah
Dan McConnell
SBS Cycling Central Elite Road Cyclists of the Year
Female Elite Road
Tiffany Cromwell
Rachel Neylan
Amanda Spratt
Male Elite Road
Luke Durbridge
Simon Gerrans
Michael Rogers
Singapore Airlines Elite BMX Cyclists of the Year
Female Elite BMX
(*) Caroline Buchanan
Melinda McLeod
Lauren Reynolds
Male Elite BMX
Anthony Dean
Brian Kirkham
(*) Sam Willoughby
Elite Para-Cyclists of the Year
Female Elite Para-cycling
(PG) Carol Cooke
( ** / PG) Felicity Johnson & pilot Stephanie Morton
(PG) Sue Powell
Male Elite Para-cycling
(*/PG) Michael Gallagher OAM ?
(PG) Kieran Modra OAM & pilot Scott McPhee
David Nicholas
Shimano Junior Cyclists of the Year
Female Junior BMX
Sarah Harvey
Rachel Jones
Chelsea King
Male Junior BMX
Corey Frieswyk
Luke Hombsch
Bodi Turner
Female Junior Road
Jessica Mundy
Allison Rice
Emily Roper
Male Junior Road
Caleb Ewan
Bradley Linfield
Robert-Jon McCarthy
Female Junior Mountain Bike
Danielle Beecroft
Holly Harris
Emily Parkes
Male Junior Mountain Bike
Ben Bradley
Connor Fearon
Jack Moir
Female Junior Track
(**) Georgia Baker
(***) Taylah Jennings
Caitlin Ward
Male Junior Track
(*) Alex Morgan
(**) Jacob Schmid
(*) Zac Shaw
Jetset Glynde Masters Cyclists of the Year
Female Masters Road
Gaye Lynn
Felicity Wardlaw
Linda White
Male Masters Road
Roy Clark
Richard Spinks
Darrell Wheeler
Female Masters Mountain Bike
Male Masters Mountain Bike
(*) Neil Dall
Garry James
Craig Peacock
Female Masters Track
Michelle Crawford
Cheryl Hulskamp
Rebecca Wheadon
Male Masters Track
(**) Chris Murray
(*) David Stevens
(***) Geoff Stoker
Cycling Australia Coaching Award
Hilton Clarke
Peter Hutchinson
Sian Mulholland
Cycling Australia Coaching Program of the Year
The BMX High Performance Program
The Para-cycling Program
The Track Sprint High Performance Program
The SASI Cycling Program
The following awards & trophies will also be presented on the night.
Australian Sports Commission Volunteers of the Year Awards
Keith Esson Award
Subaru National Road Series Awards
Amy Gillett Foundation NRS Champion (Male & Female)
SBS Television NRS Champion Team (Men's & Women's)
John Craven Shield
Subaru Australian Club Premiership
Norm Gailey Trophy – Champion State
Cycling Australia Media Award
30/10 BMX RACER Magazine welcomes Darryn Goodwin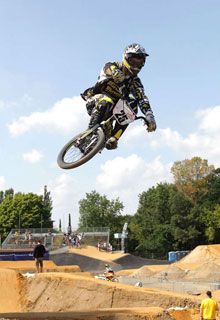 BMX RACER Magazine press release
BMX RACER Magazine would like to give a BIG welcome to Darryn Goodwin from WA and Stay Strong Australia!
Darryn rides for the Stay Strong World Team and is now part of the BMX RACER team also writing National and International race reports.
Darryn brings a unique Pro Racers perspective to his race reports purely by being there and racing at the events!
Check out Darryn's race reports in issue #7 due out NOV 7 in newsagents Australia wide.
Also to celebrate our 1st Birthday, we are giving away a complete GT race bike in issue #7!!!
29/10 Team bmxultra.com at the Frankston Helltrack
bmxultra.com press release
Team bmxultra.com riders hit up the Frankston Helltrack on Saturday evening. The usual suspects were flying the colours; Levi Collins was back in the AA field, Dane Pangallo was in A Pro and Aaron Rogers was in the vet pro class.
Levi Collins was back on the track after a short break to recover from injury. Although he didn't make the cut for the AA final he didn't miss out by much. Keep an eye out for Levi over the coming weeks as he gets back in the mix.
After coming off a win at Lilydale Dane Pangallo qualified comfortably for the semi finals. After a slow start in the semi Dane was left playing catch up but with the tight competition he gave away too much to make to back into the top 4 and to the main.
Aaron Rogers put in an outstanding ride at Frankston, his consistancy got him into the main and a smart lap in the final put him in third place for the day.
The bmxultra.com team is proudly supported by One Bicycles, Supercross BMX, Alienation, Dirt Designs, Tioga, Elite Cycle Imports, THE, Profile
29/10 The local BMX industry strikes back
by bmxultra.com
Below is an email from Matt Holmes from 2020 magazine to Chain Reaction after an enquiry about advertising in 2020. Interesting reading.
Subject: An open letter to Chain Reaction (Re: Marketing partnership/media pack request)
Hey Ged,
thanks for getting in touch with the magazine.
So firstly, I may as well get this out of the way. Chain Reaction will never have a place in 2020, BMX on these shores or (if i have it my way) any Australian cycling media.
To take on advertising from you would signal the death of not only my publications, but the DVD's, TV productions, events I've put years into building up. I'd go as far as to say the industry I know here as a whole would be in jeopardy. How you honestly think you can expect me to work with Chain Reaction is beyond me? Arrogant is the only word that I can think of to describe the way Chain Reaction works.
Chain Reactions presence is one that I've seen begin to destroy the industry I have lived and breathed amongst as a rider and beyond for more than 25 years. Luckily BMX is not yet under your thumb like the road and MTB worlds on these shores and thats something we're working very hard to ensure never changes. At ground zero within the BMX community here and hopefully the larger BMX industry world wide. I can add you to the likes of Dans Comp in the way your business model takes from our scene locally.
Taking dollars and jobs from a scene that is small to start with is something I now have to take personally for my own survival. But to add the real truth, your avoidance of Australian Goods and Services Taxes, import duties and warranty costs by your offshore business model, the industry here is simply unable to compete. So not only do you take dollars from the bike industry on an unfair playing ground, you're taking dollars from our economy at every level. Freeloading on an industry and a country thats been built over years of hard work.
While the big picture paints a grim outlook, on a local scale, it becomes even more apparent. For example. Are Chain Reaction going to be there on a Saturday morning to help a rider with his bike? Are Chain Reaction employing Australian mechanics, sales people, or people to take care of warranty on these shores? Are Chain Reaction going to support grass roots events, large events, sponsor riders or be a part of a scene beyond your massive warehouse? There's no need to add that your one advertisement (should I choose to take it) would not support the publication I've made for 13 years.
All I see is a company with absolutely no interest in anything but taking from the scene I love here. When you've undercut every Australian shop and distributor and all local distributions chains and shops are closed, who will be there to help a rider? Who will be the one to give a rider a chance to possibly work in a shop to chase his dream of travelling with his bike? It ain't Chain Reaction who'll offer support and knowledge on how to build a bike? To be part of a local skatepark event? It goes further, there will be no avenue for photographers and filmers, to no designers and artists, no one having any kind of support, the scene will have nothing left.
And from there, your sales will drop, as will the parent BMX company you bought from in larger numbers than the local distributor could at the time. Just like the mining industry on these shores, you'll take all you can and when nothing is left you'll walk away leaving a shadow of a former scene.
I have to say though, in your defence, I'm impressed with Chain Reactions aggressive move into the United States. To sell there cheaper than the shops can access product from their own country is a brave move. It could just be the impetus the BMX industry as a whole needs to realise the way you do business is leeching the life blood from our scene. And I hope this move is the beginning of not just local distributors and shops in every country that has a small industry being unable to compete against you, but those in the US. The birthplace and core of BMX. As it will be they who make the noise that brings your way of business into the limelight and sees the BMX companies take note. With any luck stopping supply to those that sell beyond geographical boundaries. Your business model in no way supports or grows a brand locally. It's that simple.
While you may have decimated much of the MTB and road distribution chains and shops here in Australia, the BMX industry here on these shores will go head to head with you. Win or lose it's a fight both I and the 20inch industry here is willing to take on, and at present there is no choice, we're in the corner. And I can only hope the world's BMX industry takes our lead.
Lastly, this and all communications between you and I will be printed online, in print and cc'd to all those that need to know as part of a bigger piece and movement that speaks out against the likes of your employer.
Cheers.
Matt Holmes
2020bmxmagazine
www.2020bmxmag.com.au
25/10 Kuwahara (The Legend Continues)
Elite Cycle Imports press release
These will sell out fast Don't be disappointed: PRE-ORDER NOW……Due in January 2013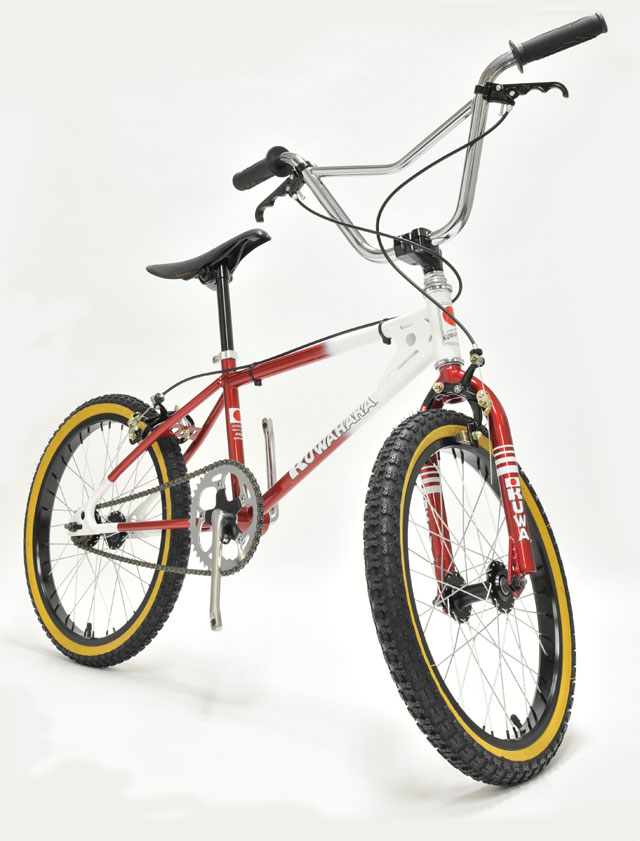 Specification
Handlebars: Original Style V-Bar
Grips: Kuwahara Lightning Grips
Brake Levers: DiaCompe Tech-II (MX-120)
Brake Calliper: DiaCompe MX-1000
Seat: Kuwahara RH
Cranks: 1-Piece CroMo 175mm
Rims: ARAYA TB-507X 36h
Tires: Front 20 x 2.125 / Rear 20 x 1.75
KE-01
Relive the memories of 30 years ago with the Kuwahara KE-01 Legend colorway. The KE-01 has a full CroMo Frame and Fork, featuring the loop-tail design of the original model. With DiaCompe two-finger levers and MX-1000 callipers, Black Anodized ARAYA rims, and the original pattern chrome plated V-Bar, the legend continues. The last time this model was available was 10 years ago….. and won't be available again anytime soon!
Don't miss a chance to own a piece of history – a legend.
Get down to your local bikeshop to pre-order now.
24/10 Review: Alienation BMX Plain Black Rim
by bmxultra.com
We've been checking out the Alienation PBR rims lately. A single wall rim that's lighter and cheaper than a double wall rim but just as strong and a fraction of the price. You need to read this review.
23/10 New product: Maxima Bio Wash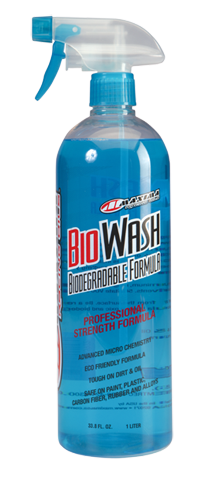 Steve Cramer Products press release
Maxima BIO Wash is a unique, biodegradable all-purpose cleaner.
Fast-acting cleaning agents lift away dirt while scrubbing grime and oil based deposits. Specially engineered surfactants, lower surface tension allowing better penetration and wetting of soils.
Tough on dirt, yet BIO Wash is gentle enough to use on delicate surfaces including paint, plastic, chrome, anodizing, rubber, carbon fiber and almost anything you throw at it. Safely and easily clean your equipment.
Advanced micro chemistry protects aluminum, magnesium and other alloys. Contains no harmful acids, CFC's or solvents. 50 State VOC compliant.
User friendly formula cleanly washes from the surface. Be a responsible downstream user – Eco friendly formula is non-toxic and biodegrabable.
Fully Biodegradable, Eco Friendly Formula
Advanced Micro Chemistry
Powerful Cleaning Action on Dirt & Oil
Special Additives Protect Aluminum, Magnesium and Other Alloys
Professional Strength
Safe on Paint, Plastic, Carbon Fiber, Rubber and Alloys
Gentle Enough for Everyday Use
Available in: 1 Liter Spray Bottle
RRP: $13.50
22/10 Team bmxultra.com at the Lilydale Kuwahara Cup
bmxultra.com press release
Team bmxultra.com riders were shredding the new Lilydale BMX Track on Sunday at the Kuwahara Cup. The usual suspects were flying the colours; Dane Pangallo was in A Pro, Aaron Rogers and Shane Jenkins were in the vet pro class. (Levi Collins was out for the week after injuring his back.)
Dane was looking strong in the early motos and despite missing his last race, due to missing his name being called, he still managed to qualify for the semi finals. He went on to dominate taking the win his semi and the win in the main.
Aaron wasn't having the best of days on the new track. He found himself watching the final from the sideline, which doesn't happen often.
Shane surprised a lot of people qualifying comfortably in third for the final. After a slow start he powered his way back into second by the first corner and hung on to the second place until the last corner where he let his guard down and was swooped by half the field putting him back into sixth place.
The next stop for the team is the 2012 Helltrack event at Frankston this Saturday night.
The bmxultra.com team is proudly supported by One Bicycles, Supercross BMX, Alienation, Dirt Designs, Tioga, Elite Cycle Imports, THE, Profile
19/10 The Supercross Australia Team welcomes Troy Lee Designs/Steve Cramer Products
Supercross BMX Australia press release
The Supercross BMX Australia factory team is proud to announce a new alliance with Troy Lee Designs/Steve Cramer Products.
For us Troy Lee Designs means style, quality and longevity, which is exactly what Supercross BMX is about. TLD continue to push their designs while striving for the ultimate in rider safety.
The Supercross team riders already wear TLD products by choice, the partnership with TLD is one we are all very excited about.
Now the team members will be able to match the distinctive Supercross Team jersey with the best products on the market. The new partnership means our riders will all be wearing Troy Lee Designs gloves and race pants.
The Supercross BMX Australia factory team is co-sponsored by Troy Lee Designs/Steve Cramer Products, Speedline Parts, Dirt Designs, and bmxultra.com. We thank them all for their ongoing support.
About Troy Lee Designs
Troy Lee has taken a hobby, custom painting helmets, and turned it into a full blown international phenomenon. Offering the most innovative and simply the coolest protective gear and casual wear on the planet.
Troy Lee Designs support some of the biggest names in BMX.
Troy Lee Designs products are distributed in Australia by Steve Cramer Products.
For more information about Troy Lee Designs and their products visit www.troyleedesigns.com
About Steve Cramer Products
Steve Cramer Products are the Australian Distributor for Troy Lee Designs, Da Bomb, Maxima, Ohlins, MRP, Shock Doctor, Park Tool, VuPlex and many more. They have supported the BMX race industry for many years and continue to through events like BSX and teams like Supercross BMX Australia.
For more information about Steve Cramer Products visit www.stevecramerproducts.com.au
18/10 Victoria's newest club BSX Inc
by bmxultra.com
Victoria's newest club, BSX Inc, is part of the evolution of BSX the event. BSX has been running for seven years and has raised approximately $30,000 for the Royal Children's Hospital. The BSX track is a private track in the Kinglake hills 60kms North-East of Melbourne. Where other tracks strive to comply with UCI standards BSX is a two man track that mashes racing with dirt jumping. The 20-ish second lap is every bit as intense and physically demanding as any full size track, even more so when riders push each other to their limits (and sometimes beyond) in a head to head race.
Rather than just another race club BSX Inc is more about encouraging the social aspect of the sport. The club's only race event is BSX in January, there are ongoing social days through out the year. Official BSX Inc social ride days will require that riders wear their full race gear and be licensed riders. A list of upcoming BSX Inc social ride days will be available soon.
You can now register as a member of BSX online through the BMX Australia website. If you are re-registering or would like to transfer you will need to complete a transfer form first, you will also find these on the BMX Australia website. Associate memberships and VIP membership upgrades will be available soon.
BSX Inc is proudly supported by bmxultra.com
17/10 New Kuwahara bikes have landed
by bmxultra.com
The new Kuwahara Lachesis and Clotho bikes have landed and have already started to pop up in stores and tracks around the country.
The Lachesis has been completely redesigned from the ground up and is like no other race bike on the market. Available in Expert, Pro, Pro XL, Pro XXL & Pro 24?. It comes standard with Sinz carbon forks, two peice alloy cranks, Sun Ringle Envy rims and sealed bearing cassette hubs, PowerBlock tyres as well as a tonne of other features.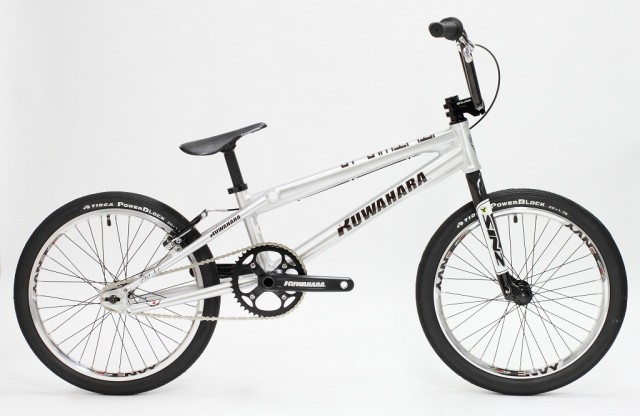 The Clotho is a fantastic economical entry/mid level race bike that's ready to race right out of the box. Available in Mini, Junior, Expert, Pro & Pro 24?.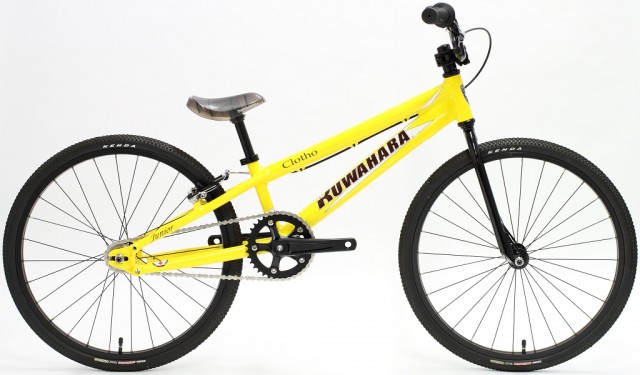 There are also a limited number of the KZ-01 retro replica bikes that will sell out before you could say "Designed in Osaka"..
The new Kuwahara's are selling fast, make sure you get down to your local bike shop and pick yours up today.
16/10 BSX2013 update – new partner Troy Lee Designs/Steve Cramer Products
by bmxultra.com
BSX (short for Bicycle Supercross, and is often referred to as Backyard Supercross) is a Royal Children's Hospital fund raiser. It will be on again on Monday 14 January 2013 (during Track Attack). It will be the eigth running of the one on one backyard BMX race. BSX is the longest running event of it's kind in the world and draws a large number of competitors from around Australia. The event has pulled a large number of international visitors and a many Olympians Olympians.
Bronze Partners Troy Lee Designs/Steve Cramer Products
Australian Troy Lee Designs Distributor, Steve Cramer Products, are joining BSX once again as a Bronze Partner.
The name Troy Lee Designs is synonymous with high quality race wear (helmets, gloves, jerseys, pants, etc). Thanks to Steve Cramer Products there's a pretty big chance you will be able to score TLD gear, but only if you are at BSX2013!
This will be the third time Troy Lee Designs/Steve Cramer Products have been involved in the event, we'd like to thank them for their contribution.
Ride this weekend
With the Kuwahara Cup at Lilydale on Sunday we are planning a ride after racing, the BSX track is 40 minutes away from the Lilydale track. We assume that we'll be getting started roughly around 3pm.
Partnership opportunities
If you would like to be involved in BSX2013 we have partnership packages available now, email webmaster@bmxultra.com for details. Basically we are looking for donations or products or even services for auctions/raffles. 100% of profits raised will go directly to the Royal Children's Hospital.
Naming rights are still up for grabs, contact us for details.
BSX is presented by bmxultra.com and proudly supported by
Gold Partners
Dirt Designs (www.bmxultra.com/dirt)
Airsho
Bronze Partner
Troy Lee Designs by Steve Cramer Products
For more information see bmxultra.com/bsx
About BSX
BSX (Bicycle Supercross) is one-on-one sprint trails style racing on a backyard track built specifically to test a rider's skills. The short straights, lofty jumps and tight corners are very intense under race conditions but also fun for competitors and create quite a lot of entertainment for spectators. The event provides a unique experience for the local Victorian riders, as well as the interstate and international visitors during an off day of the Track Attack series. The events primary function is to raise money for the Royal Children's Hospital Foundation. In just seven years the event has raised approximately $30,000 which has provided the hospital with new equipment. Funds have been raised through gate takings, raffles, auctions and donations.
About the Royal Children's Hospital
'The Royal Children's Hospital is the major specialist paediatric hospital in Victoria and provides a full range of clinical services and health promotion and prevention programs for infants through to adolescents. Each year the Royal Children's Hospital treats tens of thousands of children through our Emergency Department, inpatient admissions and outpatient visits. The Royal Children's Hospital Foundation plays a vital role in providing additional funding to support important research projects and purchase state of the art medical equipment to ensure that every child receives the very best treatment now and into the future.
13/10 Photos: AUSBIKE tradeshow
by bmxultra.com
AUSBIKE is on this weekend at the Exhibition Building in Melbourne. We checked out the show yesterday on the trade day. The show itself is a whole lot smaller than it's been in the past, there was very little BMX race product there at all.
We checked out the Pro-Tec booth that had some new full face helmets and of course street helmets, because BMXers don't only wear race helmets and they had a nice Haro colaboration helmet. We also took a look at a bunch of other helmets from Lazer, and Bern. There were also the new Felt bikes and a nice looking helmet cam by gobandit.com that's waterproof right out of the box. Not only that it displays altitude, speed and a bunch of other cool readings. We also bumped into UCI Supercross racer Josh Callan, and retired racer Josh Issac. We also took some time to check out new products from Strider.
Click here to check out the photos
12/10 Review: Loose Kid Industries Control Gloves
by bmxultra.com
We've been checking out the new Loose Kid Industries Control gloves these past few weeks. Click here to check out the review.
11/10 Profile Elite cranks now available
by bmxultra.com
Profile's brand new Elite cranks are now available in Australia and are about to make a massive impact on the crank market. The Elite cranks will go head to head to head with the alloy two piece cranks that seem to be popular in today's racing scene.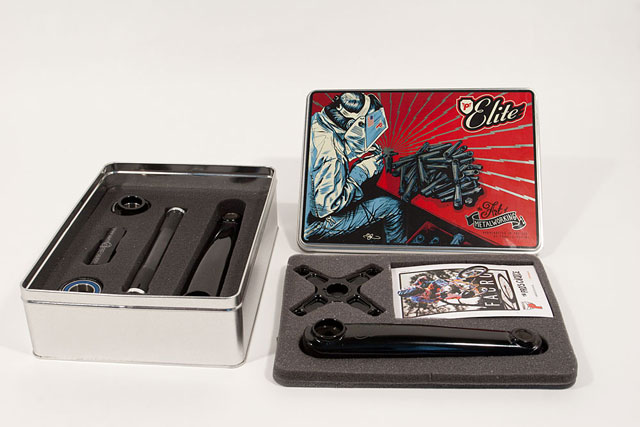 No matter how you look at them they will always come out on top.
Their 4230 cromo construction means they are stiffer and stronger than any two piece cranks you could name
They are lighter than the popular Shimano DXR cranks
They offer more colour combinations than any other cranks in their class
Easier to install with the new internal wedge bolt locking system
The cranks have black arms and are available in 175mm or 180mm crank length.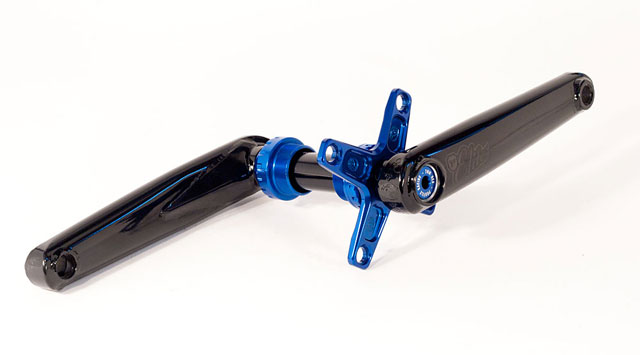 The colour options for the outboard bottom bracket cups, 4 bolt spline drive spider and crank bolt are
Here's the Profile spiel on the Elite cranks:
The Cranks are the stiffest crankset we've ever made, with oversized, gusseted CrMo arms and a 22mm hollow spindle.
The Elite cranks will come with black arms and a 4-bolt spline spider, outboard bottom bracket, and 6mm GDH bolts in your choice of colors (blue, red, gold, black, or polished).
The Elite Cranks will be packaged in a keepsake metal box with original lithograph artwork by Adi Gilbert of Profile's owner Jim Alley welding Elite crankarms.
The Elite crank will introduce an internal wedge bolt locking system that makes crank installation easier than ever before.
Just like all of our cranks, they are made in St. Petersburg, Florida, USA.
To order yours get down to your local Profile dealer today

10/10 Ausbike Bike Expo in Melbourne this weekend
by bmxultra.com
Ausbike Bike Expo pulls together Australia's biggest collection of bicycle distributors. Just a few weeks after interbike there's likely to be a whole bunch of new gear on display.
When it comes to BMX it could be a little light on this year but it's a great event for people who have an interest in all aspects of cycling. One of our favourite stands is Meeco, the Australian distributor for Contour helmet cams, but there are always plenty of cool products to check out.
Where:
Melbourne Royal Exhibition Buildling, Carlton VIC, Australia
When:
Friday October 12 10am – 5pm (Trade only)
Saturday October 13 10am – 5pm (Public day)
Sunday October 14 10am – 5pm (Public day)
Cost:
Adults $10
Concession $5
Children under 5 FREE
For tickets and more information check out the website at www.ausbike.com.au
09/10 Sneak Peek: The Kuwahara freewheel
by bmxultra.com
Just when you thought that freewheels were another dying old school technology there's a massive resurgence. Kuwahara aren't exactly a leader in this field but they do have a new high end freewheel with 108 engagement points. Here's a photo of a sample Kuwahara freewheel. All we know about it is that it will be available in 16T and 18T, they are going to be expensive and for a freewheel they look pretty damn good.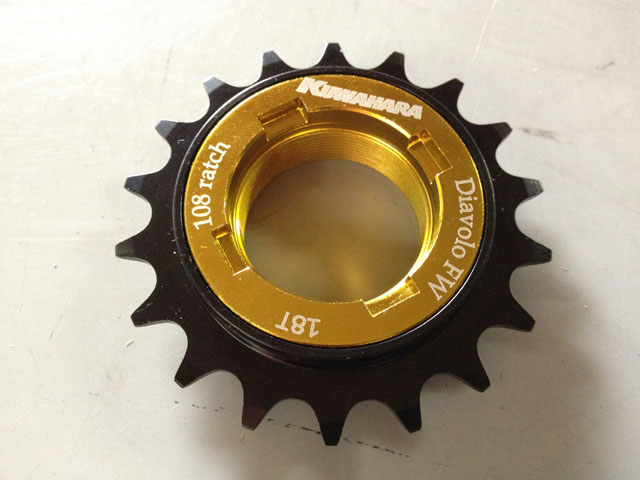 We'll let you know when we have more information.
08/10 Team bmxultra.com at the Knox Pre-Titles
bmxultra.com press release
Team bmxultra.com riders were in preparation for the Victorian State Championships Pre-Titles event on Sunday. The usual suspects were flying the colours; Levi Collins in AA Pro and there was no vet pro class so Aaron Rogers was in the 30-34 men and Shane Jenkins was in 40-44 men.
Levi was looking for an improvement on Eastfield's results where he made the main but was struggling with the gate. With only 8 riders entered in the AA Pro class every moto counted to the overall result, when the racing was done Levi finished in fourth place.
Aaron's consistancy showed through again with another podium finish, a third place in a tough field.
Shane was struggling all day with Knox's gate, he settled for second place.
The bmxultra.com team is proudly supported by One Bicycles, Supercross BMX, Alienation, Dirt Designs, Tioga, Elite Cycle Imports, THE, Profile
06/10 CycleCraft Australia – Qld/NSW State Titles Wrap-up
CycleCraft Australia Press Release
The 2012 Qld and NSW State Titles were held on the same weekend this year with CycleCraft riders representing at both events. The Qld Titles were held in sunny Cairns with CycleCraft Australia riders taking some great podium placings.
Friday saw Kai Angel take to the track in the 10 boys class. Kai winning all his motos and progressing through to the semi with another win. The final saw Kai lead out of the first corner with some tough competition trying everything from behind with Kai crossing the line 1st, making it 3 State Titles in a row.
Saturday saw the Elite Women take to the track with CycleCraft's Maddie Janssen entering her first race in the competitive class with likes of Melinda McLeod starting on the gate. Maddie ran second in the time trial with a 45.164. The moto's not going all Maddie's way but showing her determination and power in the class. The final saw Maddie, Melinda and Kelly Percy getting out of the gate the quickest all fairly equal down the first straight with Melinda leading out of the first corner with Maddie following and a crash invloving 3 riders behind. Maddie crossing the line 2nd and very happy with result. Cheryl Pointon also had an amazing weekend coming into the titles not feeling 100%. Cheryl raced 20′ on Friday placing 1st and 2nds in the motos and just missing out on win to Nicole Orr.
Cruiser on Sunday was the class Cheryl was hoping to take the win in, placing 2nds to Marisa Balaam in all her moto's, Cheryl made the most of the final, racing home to take win. This win in cruiser makes it 17 wins in a row now for Cheryl which is an amazing result for any BMXer.
The NSW Titles, were held at Southlakes. Saturday saw racing cancelled after the first round of motos due to high winds and all racing was rescheduled for Sunday. Michael Young represented CycleCraft taking a comfortable win in Cruiser class. In Elite Men having two finals on the same day saw Michael round out the the field in a respectable 8th overall in points for the weekend from a class of quick riders. Congrats to all team riders for the great results!
For more information on CycleCraft Race Frames: www.cyclecraftaus.com.au • Facebook: CyclecraftBMX
Sponsored by: Megaburn • Kenda • Utopia • CRIT Numberplates • Michramm Industries • FTD • Corsa Racewear • Goreysvids • Rainbow Cycleworx • Nimblewear
05/10 Doublecross Bikes available in Oz
BMX EDGE Press release
Doublecross™ Bikes are built using the absolute highest quality, seamless 6061 Aluminum tubing made right here in the USA.   Each Doublecross™ frame is HAND MANUFACTURED in North America, 1 at a time, to our custom, patent pending designs and specifications.  The next step for a Doublecross frame is heat treating and artificial aging of the metal to create the strongest and hardest alloy possible.
At Doublecross™ frames we developed our own geometry that is based on an extensive 30 years of racing experience.  We have competed at the highest levels of BMX to the ultra high speeds of professional motorcycle road racing.  Everything we have learned over the last 30 years has been put into the update and design of our Doublecross frame.  Further, we were able to use a continuous 30 years of trackside vending experience at National BMX races to make the Doublecross frame a winner for you.
Doublecross™ Bikes believes the most important part of a BMX frame is how the frame will transfer the riders power to the rear wheel.  We feel that our PATENT PENDING design at the bottom bracket gives racers both young and old the very best power transfer to the rear wheel available today.
Our relentless quest for QUALITY has Doublecross™ frames meticulously manufactured with the highest levels of attention to detail.  The attention to detail does not stop there, each Doublecross™ frame ships with the head tube faced and bottom bracket threads chased for an easier building process.
Doublecross™ frames are available in 10 sizes from mini to Pro XL, including 4 cruiser sizes (Junior,Expert, Pro and XL) . YOU will feel the difference when you ride a Doublecross™!
BMX EDGE is the official Australian dealer/importer of Doublecross Bikes. For more information go to http://bmxedge.com.au/new_brand_coming_soon.php or email us at bmxedge@ymail.com
04/10 ONE Bicycles Australia at the NSW BMX Championships
One Bicycles Australia press release
The event was being held at the same track the Mighty 11's were held at in June this year. The ONE Bicycles NSW/ACT riders had some track time prior to the event and were pumped for a good result this year! Once again rain threatened to dampen the event to keep up with tradition, but instead we encountered a new weather issue, gale force winds! Friday was a chance for the riders to site the track and set up their bikes for the event. We were lucky to get the morning session in before the weather turned and the afternoon session was called off.
Come Saturday the kids were ready to do battle on their cruisers and were amped. As stated earlier the weather conditions were not flash with high wind gusts to an already windy day! There was only one moto run on Saturday due to the high winds and in the safety of the riders, the cruiser event was postponed until Sunday morning. The boys rode OK with a second placing for Nik and a Third for Josh in their heats but Mikayla struggled, finishing fifth after a quick gate! It seemed as though she was standing still and riders were passing her easily. We packed up, went back to our cabin and reviewed the video! I did some adjustments to Mikayla's cruiser and checked her tyre pressure only to find her tyres sitting on 30psi. No wonder she went backwards.
On Sunday Mikayla came out in 13-14 cruiser girls and showed them she was capable of taking away the top spot on the podium this year with dominant displays of riding taking out the last two motos. When the final came she had an amazing gate ahead of her State Team companion Felicia Thomas and the two girls battled all the way to the last straight with Mikayla taking the victory from Felicia and last year's champion Chelsea Boylan who finished third!
Nik had a big crash in the morning warm up on Saturday flipping his bike and landing on his back, so he was feeling a little sore for the start of his cruiser event. Nik rode well with a fourth and second place finish in the remaining motos securing a place in the semi-final. In the semi Nik managed another strong second making it to another NSW Titles final! In the final he got an average start but found himself on the high side of the first corner tagging the rear tyre of another rider bringing him down hard where he was then run over by another rider behind him! Nik was hit in the helmet and had made a mess of himself, destroying every part of his race gear! Nik finished with 7 NSW in 13–14 Boys Cruiser and was lucky to be able to finish the race!
Josh was riding 17-24 Men's Cruiser and was riding strongly! He managed a second in the second moto and a first in the third moto, capping it off with a win in the semi. He had two Elite Men riding against him in the cruiser class so the final was due to be a tough one! In the final he came out strong and battled with the two Pro riders to capture second at the line securing the 2 NSW plate in some great racing and riding.
After a short break it was time to swap bikes down to the 20" ONE machines and begin the programmed 20" class for the day.
Mikayla was up against two quick local girls in Emma O'Hearn and Renee "Possum" Williams. Emma dominated on the day with wins in every moto. Mikayla battled with local girl Renee who managed to take second off Mikayla in the first moto but Mikayla clawed her way back to take the following two motos in second place ahead of Renee. In the final the three girls gated side by side and it was going to be a drag race to the first corner. Emma came out strong with Mikayla in hot pursuit and possum not far behind. The girls raced hard and finished with Emma taking the win from Mikayla and Possum in for third. A 2 NSW for Mikayla was a good result after riding cruiser the same day!
Nik was sore and sorry and the 14 Boys class is full of quick riders who show no mercy! Nik did ride well considering there were not too many more areas on his body he had left to damage. In the first moto Nik managed to crash heavily again battling for the second position in the last corner. Why not, he had managed to crash on most of the other areas of the track over the weekend. Nik rolled through in last position. In the second moto he rode strongly finishing in second! In his third moto he finished with a third place, giving him a place in the semi-final. The field was stacked and neither semi was an easy one! When the gate dropped Nik fought hard with local lad Ryan Williams for a fifth place missing the final again this year like last year's event. Nik did well considering how battered and bruised he was! Poor kid needs some good luck soon.
Justin is a class act and did not drop a lap in all of his motos in 13 Boys. Justin rode quite within himself and showed why he has held the #1 A plate for four consecutive years in this class. His effortless riding was a pleasure to watch for the spectators, unfortunately not so for his competitors! When the final came Justin took off as business as usual and powered his way to another NSW Championship victory making that 6 in a row! Not a bad effort from a modest talent!
Josh was competing in the 17-24 Men's class this year and did not know what to expect. He had ridden in the junior Elite and A Pro Men's class at a few Open events throughout the year, but due to lack of bike time due to work, he opted for the competition of the different class. Josh was surprised by his riding and managed to secure 3 wins from 3 starts. In the semi Josh continued to stamp his authority in the class by winning another race. When it came to the final he felt confident of taking away his maiden Championship title! Unfortunately the fairy tale will need to wait as he had a shocker of a start and slipped a pedal finding himself in last heading down the second straight. Josh had amazing track speed all weekend and fought his way back to finish in fourth! 4 NSW is not a shabby result, but Josh was devastated realising his chance to take out the class had slipped through his fingers.
The ONE Team also entered in the Corporate Team Trophy and due to a technical error, the results were not calculated at the presentation so we have to wait to see how we faired against some of the bigger teams in the NSW region!
A huge thanks to ONE Bicycles for providing the Team with the best frames in the sport of BMX. To Shane Jenkins and the family who is ELITE Cycle Imports, ongoing thanks for supporting the Team and allowing us to have the best parts and machinery on the track. To Scott Hand of A Team Distribution, thanks so much for the amazing SNAP Gear! The riders are safe knowing they are holding the best grips in BMX with Lizard Skins locked on to their bars. A thanks goes out to Craig Fisher and Bicorp for the Lizard Skins goodies.
Big thanks to the Thomas family for an amazing night on Friday, they were the best pizzas ever and a great chance for the kids to get in some gate practice assisted by super coach Adam Carey! It is always great to catch up with the Beattie family, it is always fun and family is great to have at these events.
The Team managed two First place plates, two second place plates, a fourth place plate and a seventh place plate! Not a bad effort for a wind affected event! Let's see if we can better that next year!
How to buy One Bicycles products in Australia
If you would like to purchase a One Bicycles frame or accessories in Australia the best way to do so is to head down to your local bike store and place an order. If they don't know what you are talking about tell them to call Elite Cycle Imports while you wait and place your order there and then. After doing some calculations ourselves we have found the cheapest way to get One Bicycles products in Australia is through a local reseller.
About One Bicycles
For over a decade ONE Bicycles (operating out of Holland), inducted into the European Hall of Fame, has solely focused all their efforts on the sport of BMX. Today they are at the forefront of BMX product design Worldwide. Utilizing advancements in the industry, some of which were conceived in ONE's own engineering department, their products directly reflect the evolution and maturing of proven BMX design. Like a fine wine ONE Bicycles product line has come of age as a result of years of dedication to the sport of BMX.
One Bicycles are a major sponsor of the bmxultra.com team
Over the years One Bicycles have sponsored
Khalen Young
The Phirebird team which includes 2005 & 2006 World Championships finalist Jamie Gray and 2006 NBL Grands (A Pro) champion Glenn Codega
In 2008 Maris Strombergs rode his One Bicycle to victory in the Elite Men's class at the UCI World Championships and followed that up by taking the first ever Men's BMX Gold medal at the Olympics.
For more information about One Bicycles check out www.onebicycles.com
One Bicycles are distributed in Australia by Elite Cycle Imports (www.eciimports.com)
04/10 2012 Rush/ToysRUs Queensland State Championships Wrap Up
Rush/ToysRUs press release
First we started with the Pre-Meet which was held on Wednesday 26th September, which saw most of the team riding. All the riders raced well and had the track dialled in and ready for the racing to commence.
For the week we had majority of our Queensland team racing, five Rock'n'Roll team members and thirteen Toys'R'Us team members. A lot of the riders were racing on both their 20" and cruiser, which made the three days of racing really hard and tiring.
The State Championships commenced on Friday the 28th for the younger of our riders racing their 20" bikes. Rush-Toys'R'Us and Rush-Rock'n'Roll had a total of 14 team members racing combined with 9 racing for state plates, the other 5 were sprockets who were racing for fun.
Saturday saw the older Toys'R'Us team members racing their 20" bikes whilst Sunday was Cruiser day, the last day of racing and we had a total of 8 riders racing from the two teams.
The results for our Rush-Rock'n'Roll riders were:
| | | | | | | | | |
| --- | --- | --- | --- | --- | --- | --- | --- | --- |
| NAME | AGE | M1 | M2 | M3 | M4 | QTRS | SEMI | FINAL |
| Elisha Nesbit | 6 Girls | 2 | 2 | 1 | 1 | X | X | For Fun |
| Tasman Petre | 7 Boys | 2 | 3 | 4 | 2 | X | X | For Fun |
| Tyler Andersen | 8 Boys | 3 | 2 | 6 | 3 | 6 | OUT | OUT |
| Kohan Hanby | 8 Boys | 2 | 4 | 1 | 2 | 2 | 4 | 7th |
| Kohan Hanby | 8-10 Cruiser | 4 | 5 | 7 | 5 | X | OUT | OUT |
| Teneille Nesbit | 10 Girls | 4 | 5 | 4 | 3 | X | X | 8th |
| Teneille Nesbit | 8-10 Cruiser | 1 | 3 | 2 | 2 | X | X | 4th |
The results for the Rush-Toys'R'Us riders were:
| | | | | | | | | |
| --- | --- | --- | --- | --- | --- | --- | --- | --- |
| NAME | AGE | M1 | M2 | M3 | M4 | QTRS | SEMI | FINAL |
| Billy Edwards | 6 Boys | 5 | 4 | 5 | 3 | X | X | For Fun |
| Ollie Harvey | 7 Boys | 3 | 2 | 3 | 1 | X | X | For Fun |
| Stephen Whitmore | 7 Boys | 1 | 1 | 2 | 2 | X | X | For Fun |
| Shannon Petre | 9 Girls | 1 | 1 | 2 | 1 | X | 1 | 3rd |
| Shannon Petre | 8-10 Cruiser | 2 | 2 | 1 | 2 | X | X | 3rd |
| Sam Harvey | 8 Boys | 2 | 2 | 3 | 4 | 2 | 7 | OUT |
| Sam Harvey | 8-10 Cruiser | 3 | 2 | 2 | 4 | X | 3 | 4th |
| Joel Grace | 11 Boys | 1 | 1 | 1 | 2 | 1 | 1 | 3rd |
| Joel Grace | 11-12 Cruiser | 5 | OUT | DUE | TO | CRASH | X | X |
| George Harvey | 11 Boys | 2 | 3 | 3 | 1 | 8 | OUT | OUT |
| George Harvey | 11-12 Cruiser | 4 | 2 | 4 | 3 | X | 6 | OUT |
| Celeste Barr | 12 Girls | 2 | 1 | 2 | 1 | X | X | 2nd |
| Celeste Barr | 11-12 Cruiser | 2 | 2 | 2 | 2 | X | X | 2nd |
| Ronan Weber | 12 Boys | 1 | 1 | 1 | 1 | 1 | 4 | 2nd |
| Ronan Weber | 11-12 Cruiser | 7 | 1 | 2 | 2 | X | 3 | 4th |
| Liam Vitale | 13 Boys | 2 | 1 | 1 | X | X | 2 | 4th |
| Aislynn Weber | 14 Girls | 1 | 1 | 1 | X | X | X | 2nd |
| Michael Wallin | 30+ Masters | 1 | 1 | 1 | X | X | X | 1st |
For the riders who were racing on Saturday, 13-14-15-16 age classes, 30+ Masters, Junior Elite and Elite, they also had to compete in a Time Trial. Our riders were Liam Vitale who finished 4th, Aislynn Weber who clocked the fastest time in the 13 year girl class and Michael Wallin who also clocked the fasted time in the 30+ Masters class. Both Aislynn and Michael were crowned Time Trial champions for the Queensland State Titles and received a medallion and a cheque for $50.00.
I would like to thank all our team members and families, as we had numerous remarks on how professional our teams looked both on and off the track in the entire race gear and pit shirts.
The team would like to thank all our sponsors, Rush Industries, Toys'R'Us, Rock'n'Roll, Axleworx, KWT (Maxxis), BMX International (Redline,) Smiths Optics and Troy Lee Design. Without your ongoing support our team would not look so good and also ride with so much pride.
Thanks from the entire team
03/10 Prophecy Rider Nicolo Bonini Wins the Italian National Circuit
Prophecy BMX press release
Last week-end in the main event, in Creazzo – VI , Nicolò Bonini whith his Prophecy carbon Scud expert XL finished at the first position of the italian national circuit .
This young fast rider, only 14 years old is the Regional & National champion of Italy, and now again the winner of the national circuit.
Good results for his future at the international outdoor and indoor races to show how fast his carbon Prophecy machine
Congratulations again to Nicolò Bonini for the great result.
PROPHECY BMX
www.prophecy-bmx.com
02/10 2013 Victorian Pro Tour Dates
by bmxultra.com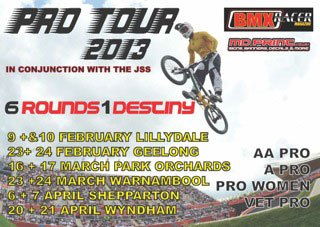 The Victorian Pro Tour will be back for the 2013 season.
The Pro Tour puts focus on the Pro Classes, encouraging good turn outs for each round in the lead up to the National and World Championships.
The brand spanking new Warrnambool track will be a welcomed addition.
Feb 9/10 Lilydale
Feb 23/24 Geelong
Mar 16/17 Park Orchards
Mar 24/24 Warrnambool
Apr 6/7 Shepparton
Apr 20/21 Wyndham
01/10 Back order your Supercross ENVY V3 now!
Supercross BMX Australia press release
The cat is well and truely out of the bag now.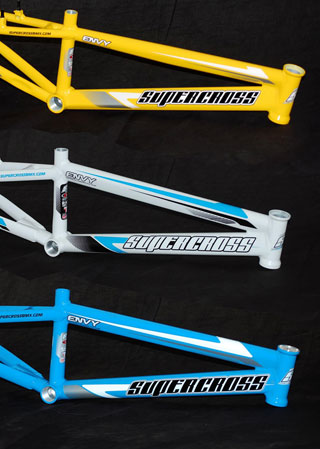 Supercross released their catalog to the wild a week before Interbike and have had photos all over the web of the new look ENVY.
The ENVY V3 (2013) frames are just over a month away but we have been taking backorders since May. We know, it's crazy isn't it? Well not really. New ENVY frames seem to sell out faster than you could ever imagine, it's no wonder Supercross were voted the 2011 Bike of the Year.
Supercross ENVY V3 features
Integrated 45/45 campy compatable headset
New custom shaped, butted and tapered chain and seat stays
New dropouts that accept either 10mm or 15mm rear hub axle
New bulge butted seat mast for greater welding area at the bb for improved bb shell stiffness
New decals
15 Sizes from Micro Mini to 24″ Pro XL
5 Stock colours Gloss Black, Pearl White, Magic Yellow, Cyan Blue, and Mirror Polish (custom powder coat and anodising also available upon request)
If you want to be amongst the first to get your hands on a new Supercross ENVY V3 act now!
Get down to one of our dealers or to your local bike shop to put yours on hold now.
About Supercross BMX Australia
Supercross BMX Australia are supporters of BSX and the Royal Children's Hospital and while we have our own Supercross and Speedline/Supercross teams we also co-sponsor the bmxultra.com team and the Anarchy Australia team.
To find out more information about Supercross BMX products, Anarchy BMX frames and Speedline Parts check www.supercrossbmx.com.au
If you would like to purchase Supercross BMX products in Australia please have your local bike shop contact us. Please note, we do not sell direct to the public. We support the Australian BMX Industry! Do You?
For more information and dealer enquiries email sxaustralia@supercrossbmx.com.
Posted in: Archive