BMX racing news September 2012
29/09 Review: Alienation BMX Insurgent Rims
by bmxultra.com
We had One Bicycles rider Issy Penglase help us with the review of the Alienation BMX Insurgent rims. Click here to check it out.
27/09 Alienation's Tubeless Tire/Rim System
by bmxultra.com
Alienation have always impressed us with their innovation and flair, and not just us, in a very short time have taken over the BMX rim market world wide. The market share they now have is comparable to Araya back in the early days of BMX. Simply put…it's nothing short of total world domination. Instead of sitting around waiting for others to play catch up they keep throwing time and resources at making things better, continuously pushing BMX products to the next level.
I've heard of their Tubeless Tire/Rim System many times. It feels like been in development for quite some time now. Each time it rears it's head there seems to be more information released about it that just makes it more relevant and useful.
As if the weight benefits of not running a tube wasn't enough the system also seals punctures instantly (providing the wheel is spinning), the tyre is also self beading and won't lose air over time like a traditional tube. It's disappointing when you lose a race to a flat tyre or a blow out caused by a tyre that's not sitting evenly on a rim, sure it doesn't happen often, but what it if was to happen while you were leading the race of your life?
Come to think of it, I was having a ride with some mates at the S-Town bash just a couple weeks ago where we had two riders down with flats. If they were running this system they wouldn't have had to drive for 30 minutes to find a shop with tubes and then buy extra so they didn't have to make another trip. Imagine, just smooth sailing. For some the ultimate day is a lazy day on a tropical beach, for me it's uninterupted riding with mates (at least until my body decides to call it quits).
Want to find out more? thecomeup.com sat with Zach Taylor and Rob Morgan from Alienation at interbike and put together a great video that explains everything. I'm sure they won't mind us providing you the links. So check it out.
26/09 2013 Prophecy Scud Carbon frame and fork
Prophecy BMX press release
We are proud to introduce to you for 2013, not only our new Prophecy carbon frame design but as well our new carbon fork especially developed to fit perfectly our Scud carbon frame.

This new 790gr fork named "4RK" gets the characteristic to have an oversize crown diameter of 50mm, bigger and so a lot stiffer than all the other current standard forks on the market. The goal of this fork was not to be the lightest fork of the market but to be efficient that means stiff & strong in jumps and turns and able to ride on UCI world cup track safely. The cutting edge aesthetic design of our new Prophecy fork, introduce for the first time in the BMX market a fork with a perfect connection between the frame and the head tube. This is the ideal fork for your carbon Scud Pro, ProXL, ProXXL and 24″Cruiser frame.
Availabilities:
For the forks: End November for the 20" forks and end December for the 24" forks.
For the frames: End November 2012 for the sizes Pro XL & Pro, end December for the new size 24" Cruiser and March for the ProXXL, Junior and Expert XL.
Prophecy Scud frame:
Europe = 799 Euros* (Junior et Expert XL = 749 Euros*) 
USA = 799USD* (Junior and Expert XL = 749USD*)
Prophecy "4RK" Fork:
Europe = 299 Euros*
USA = 249USD*
Prophecy Kit Cadre + Fork:
Europe = -50 Euros discount!!!
USA = -50 USD discount!!!
* Administration and freight cost excluded
Please note:
That the fork fit as well in term of design and size the 2012 black and white frames.
We still get few frames in stock in black color in size Expert XL and Junior only and very few in White available in all sizes (Excepted in Europe where Junior size sold out).
Order online now:www.prophecy-bmx.com
25/09 Team bmxultra.com at the Intense BMX Eastfield Experience
bmxultra.com press release
Team bmxultra.com riders were in force at The Intense BMX Eastfield Experience on Sunday. The usual suspects were flying the colours; Dane Pangallo in A Pro, Levi Collins in AA Pro and Aaron Rogers in Vet Pro. They were joined by the team manager Shane Jenkins, also in Vet Pro, who came out of winter hibernation for this event.
After a win the weekend prior at Bendigo Levi managed to make the main event at Eastfield. Unfortunatly Levi was off to a slow start with a seventh place in the first of the three finals. He followed that up with a third and fifth to finish in fifth place overall
Despite a bad run in his second moto Dane qualified for the A Pro semi without too much trouble. When the gate dropped in the semi Dane was left playing catchup and was unable to make his way through to the qualifying position, a race he'd probably rather forget, but you can be sure he'll come back strong at his next event.
Aaron has been consistantly making Vet Pro mains all year and Eastfield was no different, after the three finals Aaron finished up with a seventh place.
Shane drew a hard first heat to shake off the cobwebs, but fell heavily in the second moto while in second place. After returning to the line up for the third moto he looked good but just couldn't make up for the crash and had to watch the finals from the side line.
The bmxultra.com team is proudly supported by One Bicycles, Supercross BMX, Alienation, Dirt Designs, Tioga, Elite Cycle Imports, THE, Profile
25/09 Competition: ECI's Alienation/Profile giveaway
by bmxultra.com
We were checking out Facebook and came across this competition.
Win a Alienation/Profile prize pack!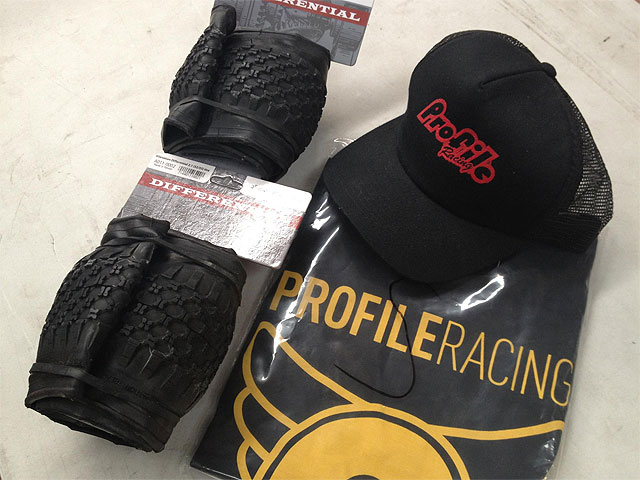 It includes a 20×2.1 and a 20×1.75 Alienation Differential tyres as well as a Profile trucker cap and Profile T-shirt.
We'll be announcing the winner on Friday October 5.
Just share and you can win.(Australia Only)
Head over to the ECI Imports Facebook page to share now. www.facebook.com/eciimports
24/09 Photos: The Intense BMX Eastfield Experience
by bmxultra.com
Missing out on the mains has it's benefits, we were able to get the camera out and get some photos of the finals yesterday. Click here to check them out.
21/09 Team bmxultra.com at the Bendigo Goldrush
bmxultra.com press release
A small crew of Team bmxultra.com riders hit up the Bendigo Goldrush on Sunday. Dane Pangallo won the A Pro class there last year and Levi Collins finished second in AA Pro. This time around they would be in the same class with the A and AA being combined. They were joined by Aaron Rogers who was in the Vet Pro class.
Levi cruised through the motos in Pro Open, he finished comfortably in the semi, finishing in second place and went on to take the win.
Dane's day is probably one he'd prefer to forget. During practice he went over the gate and started to feel a little sore, during qualifying in his moto there was a gate failure. It was his second time over the gate for him for the day. A little beat up he still managed to qualify through to the final where he finished in seventh place.
Aaron had a reasonable day at the office although, with only eight riders in the class and no final, a crash in one of the motos cost him a place. He finished sixth overall.
They'll be joined by Team Manager Shane Jenkins this coming weekend at the Intense Eastfield Experiene.
The bmxultra.com team is proudly supported by One Bicycles, Supercross BMX, Alienation, Dirt Designs, Tioga, Elite Cycle Imports, THE, Profile
20/09 Organisers extend UCI BMX World Championships in Auckland
Auckland 2013 press release
Initial high interest in next year's UCI BMX World Championships in Auckland has led organisers to extend the event for an additional day.
The Championships, which will now run from 24-28 July at Vector Arena in downtown Auckland, will retain the planned four competition days with a separate elite practice day inserted.
The event will begin with the Challenge Class (age group) world titles including the 24" Cruiser division on Wednesday 24 and Thursday 25 July. Practice for elites will be on Friday 26 July which will allow for the overnight change of configuration from the 5m start ramp used for Challenge classes to the 8m ramp and bigger jumps for the elite racing.
There will be further elite practice on Saturday 27 July before the World Championship Time Trials on Saturday which is the qualifying process for the UCI World Championships on Sunday.
"We have had significant initial interest that suggests we may attract more than 2000 riders for the championships," said BMX World Championship 2013 Event Director, Jane Patterson.
"New Zealand seems to be a must-do destination for BMX riders and families. One of the lures is using Vector Arena both because of its location in the heart of the Auckland downtown and waterfront and the quality of the venue.
"We could fit the championships into four days but if the entries reach the level we are anticipating it could present some challenges and force us to compete very late into the night.
"We feel that would take away from the special atmosphere of the event with the Challenge classes involving riders from five years to over 50 years and also place undue pressure on officials and volunteers."
While Vector Arena is a stunning venue, there is insufficient room to build twin five and eight metre start ramps within the circuit. An innovative design will allow for the conversion of the 5m start ramp (for Challenge classes) to 8m (for elites).
"We have programmed this conversion overnight after racing on Thursday to allow time for the elites to practice.
"It also means we can stage the elite world championships during the day which will accommodate the best interests of families which are the foundation of the sport. With the success by the likes of Sarah Walker at the London Olympics, we are confident there will be significant public interest especially from families to come along and enjoy what is going to be an incredible and fun spectacle.
"Adding the day will allow plenty of time to cope with all entries, provide an enjoyable experience for competitors and offer day time viewing of the championship race days which will appeal to the family environment which is a big part of BMX community."
The event schedule will now be:
July 22-23            Practice (Challenge and Cruiser classes)
July 24-25            Challenge Class World Championships
July 26                   Practice Elite Men, Junior Men, Women
July 27                   Practice Elite Men, Junior Men, Women; World championship Time Trials
(qualifying and Super Time Trial finals)
July 28                   UCI BMX Elite World Championships
For details: www.bmxworldsnewzealand.com
19/09 Lilydale BMX Club re-opens Saturday
by bmxultra.com
After many months of dedication and hard work the Lilydale BMX track has been transformed. After heading down to the track last night for gates it's safe to say there is no other track in the state quite like it. There is nothing intimidating regardless of what your age or skill level. There isn't a pro section as such however the jumps are set up so you can link together you own combinations and that's just what the more skilled riders will do.
There is no doubt that the Lilydale track is going to stage some exciting racing.
To the dedicated few who put in the hard work you should give yourselves a pat on the back for a great job, you deserve a holiday.
Here are the details for the opening day celebration
Where: Corner Neison Rd and Anderson St Lilydale
When: Saturday September 22
9:00 am – 11:00 am free coaching clinics (please reserve your place 0447 622 397)
12:30 pm OFFICIAL OPENING
1:00 pm – 1:30 pm Demonstration riding, Pro riders, and Sprockets
2:00 pm – 4:00 pm Open track time
19/09 Congratulation to Bodi Turner
BMXMAD press release
Bodi went over to Canada to race in the final of the SX World Cup.
As a Junior Elite rider he mixed it up with the Elite riders of the world.
Bodi had a fast smooth time trial placing him in 5th after the field had finished.
He qualified to race the Super Time Trial and finished 14th.
Bodi then went on to race the next day having some great battles with some of the biggest names in the sport.
He qualified for the quarter finals but finished 5th so just outside a semi place.
Bodi was extremely happy with his performance and loved the experience.
You can catch up with Bodi at the 'Intense BMX Eastfield Experience' this weekend.
Bodi would like to thank the Australia High Performance Team, Intense BMX, ECI and BMXMAD
18/09 Review: G-Cog Power Meter
by bmxultra.com
The G-Cog power meter is the BMX racers ultimate training tool, there is no other device that can capture this much information for riders and coaches. Click here to find out more.
17/09 Photos: S-Town Bash
by bmxultra.com
The S-Town Bash is a must do event for me, it encapsulates what BMX is really all about, at least for me. S-Town is Sebastian, a small town about 15 minutes out of Bendigo. It provides a fun, relaxed and friendly atmosphere a long way from any politics and it's on a track that's as challenging as you want it to be. It doesn't have a 5 metre starting hill, there's no 8 metre double, but yet no matter how many times you ride it you could always go faster, smoother and in some cases bigger. Especially after some encouragement from everyone else.
Riders travelled as far as Bonnie Doon, Warragul, Ballarat, Melbourne and even Sydney to be a part of a fun filled social day that just can't be emulated at an every day BMX race.
When I went through the photos from the day I was hoping there would be a few more, but it's not such a bad thing that I spent more time riding than I did taking photos, even if my legs punished me for it the next day.
A big thanks to Shaun and Jelly for putting up with everyone taking over the yard for the day. And of course Ash Slattery from Connections BMX for putting up a couple of gift vouchers and ECI for the stickers.
Click here to check out the photos.
17/09 HRVfitness BMX Coach APP now available
HRVfitness.com press release
The wait is over, HRVfitness BMX Coach is now available on the APP store for $0.99.
Find out why HRVfitness has some of the best riders in the world! BMX COACH gives you the tools to be the best BMXer you can be with a weekly structured training program; BMX Coach will revolutionise your training regiment. With over 336 combinations of gym, sprint & track skills you'll always have the motivation in the palm of your hand to sustain and enforce your commitments to your BMX goals.
Improve your:
Start strength
First straight pull
Track speed
Track endurance
Track skills
General strength
Specific BMX strength
Major Features:
50+ unique exercises
Illustrated exercise demonstrations
Gym Session
Track Sessions
Sprint Sessions
Regular updates
Specific BMX exercises to develop strength power and speed.
Tailored sessions to ensure you reach your potential each and every time.
Adjustable training days, change you gym days with your sprints days to suit your life style.
New programs, race day nutrition advice and race day preparation coming soon.
16/09 Double Dutch victory in UCI BMX Supercross World Cup Abbotsford
UCI press release
Double Aussie victory in overall 2012 BMX Supercross World Cup series
Abbotsford Canada 16 September 2012 – 'Dutch army' riders Twan van Gendt and Laura Smulders took top honors at the final stop of the 2012 UCI BMX World Cup series in Abbotsford. Aussies Sam Willoughby and Caroline Buchanan won the overall 2012 UCI BMX Supercross World Cup Series.

Crazy mains men Elite
In a star studded final Van Gendt pulled of his first ever win in a World Cup event. The fast Dutchman had a great start and won the 'holeshot'. Van Gendt seemed unthreatened after most of the favorites crashed in the first turn. It was a big pile up with Tory Nyhaug (CAN) Connor Fields (USA) and Barry Nobles (USA). Sam Willoughby tried to catch up with Van Gendt after that but the Dutchman, who recorded the fastest lap time in the series, rode of to victory unthreatened. With that result Van Gendt also rocketed up to 3rd overall in the 2012 UCI BMX Supercross World Cup series.
Crazy mains women Elite
Laura Smulders on the other hand was in the right place at the right time. The Olympic bronze medalist saw the initial leaders Caroline Buchanan (AUS) and Brooke Crain (USA) go down in the first turn and then Smulders was close behind Lauren Reynolds (AUS) who was chasing Felicia Stancil (USA) who was in the lead to win the race. For some reason the last two riders crashed on the third straight and gave the victory to a jubilant and very surprised Laura Smulders.
Listen to:
Twan van Gendt here
Laura Smulders here
Caroline Buchanan here
Sam Willoughby here
Results Men:
1) Twan van Gendt (NED) 30.181
2) Sam Willoughby (AUS) +0.612
3) Brian Kirkham (AUS) +2.868
4) Tory Nyhaug (CAN) +11.704
5) Barry Nobles (USA) +12.268
6) Connor Fields (USA) DNF
7) Anthony Dean (AUS) DNF
8) Nicholas Fox (NZL) DNF
Results Women:
1) Laura Smulders (NED) 35.197
2) Kirsten Dellar (AUS) +0.976
3) Abby Taylor (GBR) +1.587
4) Merle van Benthem (NED) +1.608
5) Caroline Buchanan (AUS) +32.399
6) Lauren Reynolds (AUS) +38.925
7) Felicia Stancil (USA) +40.814
8) Brooke Crain (USA) +1:04.454
16/09 Aussie double in UCI BMX SX time trials
UCI press release
Abbotsford, BC, Canada, September 15 2012 – Sam Willoughby (AUS) and Caroline Buchanan (AUS) were the fastest time trial riders on 14 September in Abbotsford at the final event of the UCI BMX Supercross World Cup Series of 2012. Canadian Olympian Tory Nyhaug raced his best time trial of the season coming in second only by 0.023 seconds behind the reigning World Champion Willoughby.
Dream come true
Today's race saw some of the best riders in the world compete for the title of the fastest man and woman on one of the fastest tracks in the world for the first time ever in Canada. Cycling BC Chief Executive Officer Keith Ryan said today's race was a dream come true.
"The four-year dream to have a BMX Supercross start hill and track that meets the UCI requirements to host a Supercross World Cup event in BC came true today. The legacy of hosting this BMX Supercross World Cup in Abbotsford will provide Canadian athletes the opportunity to compete on home soil against the best riders around the world. A track that is among the top Supercross tracks in the world."

The Zamboni
To top off the day, riders who made it to the Superfinal had the pleasure of sitting in the hot seat: a Zamboni, which was generously donated by the Abbotsford Heat for today's event. Together with the Zamboni, RCMP Staff Sergeant Bill Laidlaw was on hand to escort riders into the hot seat and onto the podium by while the mayor of Abbotsford Bruce Banman presented the awards to the fastest man Sam Willoughby and fastest woman, Caroline Buchanan of Australia.
Saturday's events start off with an autograph session with some of the top riders and will be followed by the men's 1/8 Finals at 13:10.
Full schedule of events can be found here: http://uciworldcupbmx.com/event-schedule/
RESULTS – TIME TRIALS
MEN
1. WILLOUGHBY, Sam (AUS) 30.373
2. NYHAUG, Tory (CAN) 30.396
3. VAN GENDT, Twan (NED) 30.502
4. FIELDS, Connor (USA) 30.606
WOMEN
1. BUCHANAN, Caroline (AUS) 33.667
2. STANCIL, Felicia (USA) 34.073
3. SMULDERS, Laura (NED) 34.610
4. VAN BENTHEM, Merle (NED) 34.948
Full results can be found at http://bmx-results.com/
14/09 Cenergy Retained to Represent BMX Supercross World Cup
GSX press release
EAST AURORA, NY – Leading BMX racing organizer and producer, Global SX Events, Inc. (GSX Events), has retained sports marketing and activation agency, Cenergy, to represent the International Cycling Union's (UCI) BMX Supercross World Cup Series. Cenergy will also support GSX Events' goal of building the sport of BMX Supercross worldwide.
Leverage growing popularity of BMX, as demonstrated at London 2012
GSX Events has partnered with Cenergy to identify new sponsorship, television and digital opportunities for the BMX Supercross World Cup Series, which features events in Argentina, Canada, the Netherlands, the United Kingdom and the United States in 2013. Cenergy's first goal is to identify a title partner for the World Cup Series and leverage the growing popularity of the sport, as demonstrated at the 2012 London Games. In addition to seeking partners, GSX Events and Cenergy will work to expand the sport's overall presence and competitive appearances for the sport's elite riders.
"We are thrilled to be working with Cenergy. They bring relevant experience to GSX and a true passion and understanding for the potential of BMX in the U.S. and beyond. Cenergy's expertise in action sports and activation will greatly aid our efforts to promote and market the sport," said Johan Lindstrom, founder and CEO of Global SX Events.
The UCI BMX Supercross World Cup showcases the very best riders on the most demanding and spectacular BMX tracks ever developed. Introduced by UCI in 2003, the BMX Supercross World Cup Series has revitalized BMX on an international level and are the main qualification events for the Olympics.
Increasing fan interest and growing visibility from the Olympics
BMX racing is commanding a growing international audience, especially among 14-to-30-year-old males. BMX Supercross World Cup events are broadcast on 69 TV channels around the world and reach a global audience of 4.2 million. GSX Events and Cenergy will capitalize on the increasing fan interest and growing visibility from the Olympics to continue the momentum with added sponsorship support and media coverage throughout Europe, Asia, Latin America, the Middle East and the U.S.
"Cenergy is excited to be working with GSX and this great BMX property. There is tremendous untapped value within the BMX Supercross. Most importantly, GSX has the ability to bundle broadcast, venue, digital and athlete rights into one, integrated offering. It's unique in the business of sports," added John Cimperman, Cenergy's principal.
The 2013 UCI BMX Supercross World Cup Series
The schedule includes the following events:
April 19-20 – Manchester (Great Britain)
May 11-12 – Santiago del Estero (Argentina)
June 14-15 – Papendal (Netherlands)
Sept. 6-7 – Abbotsford, BC (Canada)
Sept. 27-28 – Chula Vista, CA (USA)
ABOUT the Union Cycliste Internationale:
Founded in 1900, the Union Cycliste Internationale (UCI) is the world governing body of cycling. Headquartered in Aigle, Switzerland, the UCI is the International Federation of Cycling uniting the National Cycling Federations of 178 countries. www.uci.ch
ABOUT GSX Events:
Based in Gahanna, OH, Global SX Events (GSX Events) is the premiere promoter of professional BMX events worldwide. GSX oversees the general management of the UCI BMX Supercross World Cup, including the marketing and TV rights related to the UCI BMX SX World Cup. Under GSX management, the 2012 UCI BMX Supercross World Cup has brought in record numbers of participants, spectators and unprecedented media coverage.
ABOUT Cenergy:
Cenergy is a full service sports marketing and brand activation agency that is focused on leveraging the passion and power of sports. Cenergy works with every major professional sports league, as well clients that include ESPN, Turner Cable Networks, Outside Television and MLB Network.
13/09 What's old is new again
by bmxultra.com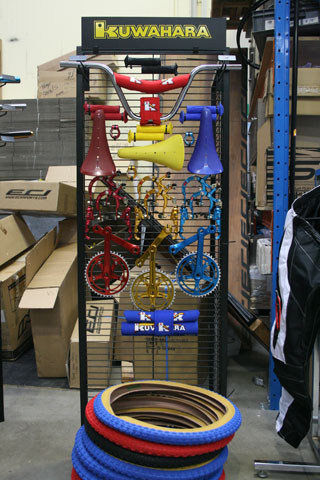 Here's one for the old school fans.
At their recent trade shows Elite Cycle Imports had their KZ-01 range or products on display. The Kuwahara retro reproduction bikes, the KZ-01, has been so popular these past couple of years that ECI decided to expand their range to include retro parts and accessories.
The range features:
Coloured "Comp 3" gum wall tires
Dia comp 2-finger brake levers
Dia comp MX1000 style calipers
Dia comp hinged seat clamps
V-bar handlebars
Kuwahara grips
Aero style seats
CNC'd alloy square taper cranks
Now it can be cheaper and easier building up you old favourite without the crazy ebay prices to put a spanner in the works. Sure it's not original, but it would be difficult to find anything (even NOS) that will put this much colour on your bike without the need to take a second mortgage on your house.
Old school/retro class racers can rejoice and leave their original (and generally super expensive) gear somewhere safe while they bang bars out on the track.
The KZ-01 products will be available soon-ish (I believe late October) through your local ECI dealer.
12/09 UCI BMX Supercross Abbotsford 14 & 15 September
UCI BMX press release
12 September 2012 – A large number of the world's top BMX racers will gather in Abbotsford, BC Canada on 14 and 15 September for the first UCI BMX Supercross World Cup event ever held in Canada, the last event of this year's Supercross World cup series and the first one leading up to Rio 2016, that only starts in 1422 days.
See preview video here.
The two-day event features the Time Trials and seeding runs on Friday the 14th and on Saturday 15th riders and fans will enjoy the action-packed BMX motos. This is the first UCI BMX Supercross World Cup ever held at the newly improved track at the Abbotsford BMX Club in Abbotsford, British Colombia. With significant improvements made by Elite Trax over the summer on the track, riders will face the challenging Supercross track that includes the Supercross start ramp. It is already destined to become a favorite SX track on the circuit.
45 Men and 17 women have signed up for the two-day event. Most of the entries are from the Northern America's but also a large number of regular champions from around the globe will make their appearance. Missing are the Columbians and Latvians who must be enjoying some down time after the Olympics.
Elite men
Local favorite Tory Nyhaug (CAN) has something to prove on his home track. Nyhaug came back from a major surgery that saw his spleen removed a few months ago. He competed at the Olympics far from being in top form and he must now be looking for another podium result after winning the Canadian Nationals on this track recently.
Sam Willoughby (AUS) will also be keen on winning another World Cup event. Willoughby must be confident with winning the silver Olympic medal. American Connor Fields (USA), who leads the 2012 Supercross ranking is also one of the favorites for a podium place. Top 2012 rider Fields also must have something to prove after not ending up on the podium during this year's Olympics. Also keep an eye out for Twan Van Gendt (NED), 8th in the Supercross ranking. Van Gendt is definitely on a roll with his strong performance at the Olympics and his recent win at the Red Bull R.Evolution event.
Elite Women
Caroline Buchanan (AUS) is the obvious favorite for the overall 2012 Supercross title. Buchanan scored an impressive 2-1-2 this year so far and she must be keen to improve her Olympic performance. Magalie Pottier (FRA) is the current World Champ. She is trailing Buchanan with 100 points. She has a theoretical chance of grabbing the overall win. Experts expect Pottier to be on the podium.
Also look out for Felicia Stancil (USA), the current Junior World Champion. Considered by many to be the "next big thing" in women's BMX racing. Felicia has yet to show her potential on the BMX World Cup tour, but this could be her break through. Also expect Olympic Bronze medalist Laura Smulders (NED) to put in a strong performance. She must have had a huge confidence boost with her bronze medal at the Olympics. And last but not least, look out for Shanaze Reade is making a rare appearance on the World Cup again and for sure are looking to show everybody she is still a force to reckon with.
Watch it live
Practice, time trials and main event will all be webcasted live on http://www.bmxlive.tv/
Entires and results www.bmx-results.com
Website event: http://uciworldcupbmx.com/
Twitter event https://twitter.com/worldcupbmxbc
UCI BMX Supercross World Cup Series https://www.facebook.com/UCIBMXSupercross
12/09 Italian Prophecy Rider Gold on the Podium
Prophecy BMX press release
Nicolò Bonini, on PROPHECY CARBON SCUD EXPERT XL first position in the final to the italian bmx race circuit .
Regional champion, national champion and unfortunately fallen to Orleans on the European championship  the Italien Prophecy rider in category 14 years hold, wins the third race of the italian bmx circuit.
First in the general classification, he will try to win the national ciurcuit on the last race to Creazzo the next week end, and then, directly the mental on the international indoor with the own fast carbon machine, PROPHECY SCUD EXPERT XL.
PROPHECY BMX compliments Nicolò Bonini for the good results.
www.prophecy-bmx.com
Facebook : Prophecy Bmx
11/09 2013 Supercross BMX Catalog
by bmxultra.com
It's just about time for Interbike, the biggest bike trade show in North America. It's where manufacturers launch new products and pro riders sign new deals. Every now and then there will be some early leaks. It looks like the guys over at Supercross BMX decided to get in early and have released their 2013 catalog to the wild, sharing it with their Facebook fans.
Supercross BMX not only push the boundaries to create the lightest and strongest high performance BMX racing products, they put together a mean catalog too.
Long time readers of bmxultra.com will have seen us mentioned in past Supercross catalogs. This time SX have taken it that one step further and have included a photo of bmxultra.com team rider Dane Pangallo winning yet another A pro race on board his Supercross Bolt LT (taken by bmxultra.com head honcho Shane Jenkins). Since it's the only race photo on the spread, you could say the Daneosaur is the new poster boy for the Bolt.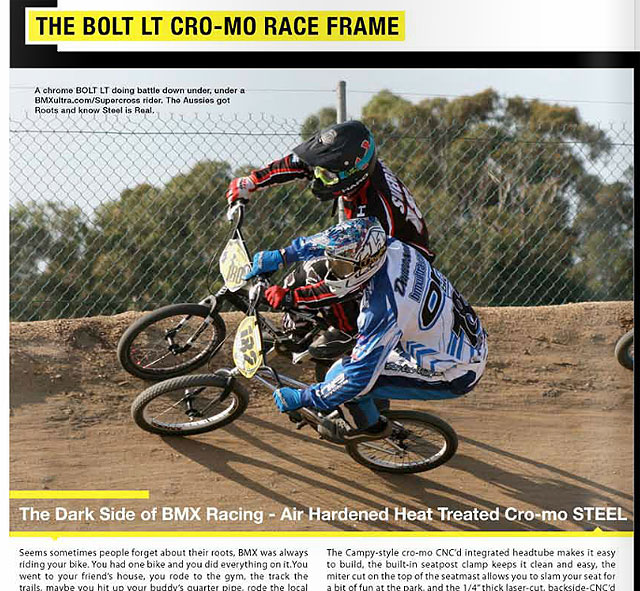 Enough about us, check out the latest offerings to come out of the Supercross camp, the guys behind the 2011 Bike of the Year.
http://issuu.com/billryan/docs/2013supercrossbmxcatalog
Then head out to your local Supercross dealer and backorder your next ride!
10/09 Upcoming events: The Intense Eastfield Experience
by bmxultra.com
It looks like 2012 will be an Intense Experience. The Eastfield Experience continues to grow and has landed sponsorship from Intense BMX this year.
To us the Eastfield Experience marks the start of a new season of racing in Victoria, not to take away from the clubs who have races that lead up to the Experience, but this race seems to really pull riders out of hibernation. And is one of the bigger race meetings on the Victorian race calendar.
When: Sunday September 23
Where: 195 Colchester Road Kilsyth
Enter: Online (Entries close 10pm Thursday)
07/09 Upcoming events: S-Town Bash
by bmxultra.com
Last year, on the eve of the Bendigo Gold Rush, Shaun Collins opened up his backyard track for what I'd say was the social event of the year on the BMX calendar. Chances are you probably saw the photos in coverage it got from BMX Press magazine or even here in our photo gallery
It was a very relaxed day with lots of riding, socialising and a nice BBQ.
The track is a whole lot of fun. It's best described as half way between a pump track and trails and is the perfect set up for honing your fine bike handling skills.
It's on again this year!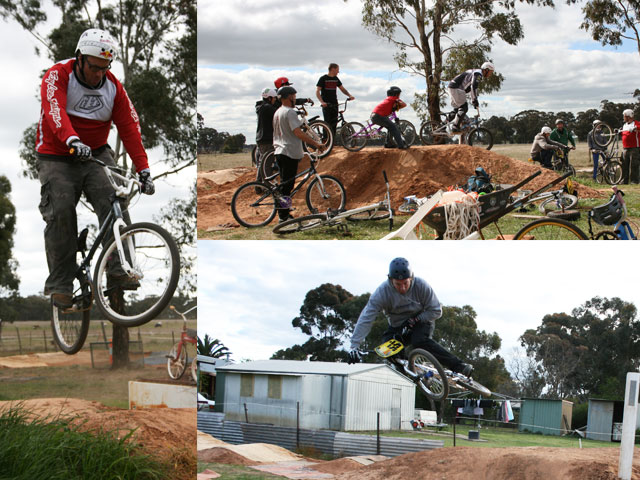 S-Town Bash (S for Sebastian) details
Where: 20 Main Rd Sebastian (just 15 minutes drive outside of Bendigo)
When: Saturday 15th Sept. 10am until we can't ride anymore
What you will need: Bring safety gear, flat pedals and ya smiles and BYO food for the BBQ
You can win Connections BMX Vouchers!
Ash from local BMX shop Connections BMX has thrown in two $50 gift vouchers which can be redeemed instore or via the online store at www.connectionsbmx.com. Support those who support local BMX and check out Connections on your way to the S-Town Bash. It's on the way at 5a High Street,
Eaglehawk  VIC  3556.
07/09 Life Behind Bars Pedal To Medal – US Release
factory47 press release
factory47 are proud to announce that Life Behind Bars Pedal To Medal is now available to American and Canadian audiences.  The two hour feature length documentary that followed Khalen Young, Jared Graves, Luke Madill, Jamie Gray and Glenn Codega leading up to the 2008 Beijing Olympic Games has been an absolute hit in Australia.
Although the film has Australian content, it's a generic look at what it takes to get the highest level in the sport, the Olympic Games.  Inspirational and motivational are the words being used to describe this epic, never before seen project that will no doubt go down as a cult film in BMX racing.  Want to know how to get to the Olympics?  Life Behind Bars Pedal To Medal is a how to and how not to achieve the Olympic dream.  Narrated by Nitro Circus Live Announcer Bruce Robson, Olympic Photography provided by BMX Mania's own Jerry Landrum and sound tracked by over 20 independent music artists.
With the evolution of professional BMX racing, there may not be a film made like this ever again.  Raw, honest, no holds barred the feature riders open up to not only the competitive environment, but their personal lives in this tell all documentary.
We have been unable to secure US distributors so currently the only place to purchase the film is via phirebird.com, shipping from Australia to all US and Canadian postal addresses.  Own a part of history; purchase Life Behind Bars Pedal To Medal, the only film to document the first ever BMX racing teams to compete at the Olympic level.
Check out the official trailer below:
http://www.youtube.com/watch?v=xdBF4Ru5P44&feature=share&list=UUDYKykhhkEDN-pAGK0oHcDg
Like our facebook page factory47 and follow us on twitter @factory47films to receive updates and view our additional scenes videos.
Below are links to our first Australian reviews:
https://www.bmxultra.com/reviews/life_behind_bars_bmx_dvd.htm
http://racebmxwa.net/?p=2379
07/09 Morphine Industries Hits the Bluegrass State for the Eastern Divisional Championships
Morphine Industries press release
Hurricane in Kentucky?  Well, the threat of Issac headed up north from New Orleans to KY wasn't going to scare away a gathering at Tom Sawyer State Park.  A group of the Morphine Crew saddled up and headed to KY for a little racing and maybe alittle muddin'.
This race marked the first east / west coast divisional championship races for the ABA since the merger.  A sister race would be going off at the same time in Reno.  Racing was to start Friday making it a three day national.
19-27X – Brandon McCoy, Friday started out with a 46 rider class and staying close to the same rider count through Sunday.  Evidently the lure of riding Bluegrass BMX was too much as a draw top riders from all corners of the country filled the class.  Brandon made his mark on all three days as he charged his motos and took a spot at the main gate on all three days.
Friday = 6th place          Saturday = 7th place          Sunday = 8th place
17-18X – Ryan DeRoche, stepped up for the weekend and raced both JR. Men and Class.  Ryan has been making a name for himself this year with many podium finished in JR. men and this weekend would prove to continue that streak.  As with 19-27X the east coast competition brought many top riders from the west to see how they match up.  Ryan battled his way through many motos, Qtrs, and semis to make the main gate all weekend.
JR. Men: Friday = 7          Sunday = 3
Class: Friday = 6          Sunday = 8 
16X – Jared Johnson, started the weekend off the same as his teammates in a stack class with top riders coming from all over to country.   With Rider count at 29 on Friday, "Doc" made quick business of his motos and then continued to transferred on to the main.  In True "Doc" fashion, he continued the same result for Saturday and Sunday with some of the best racing of the weekend.
Friday = 6th place          Saturday = 5th place          Sunday = 8th place
13X – Richie Dey, coming off a lights out crash a month ago at Ohio Dreams that resulted in a concussion and a broken hand, could not sit on the sidelines for the weekend.  Unfortunately recouping from the crash with time off the track, Richie was far from 100% but still showed his unmatched determination and go-for-it attitude.  Richie rolled through motos but came up short in Semis for the three days.  He will be back.  Beware.
Issac did make things interesting on Sunday turning the main event racing into mudding.  Be sure to check out some of the videos going around, it's worth a few laughs and grins.
Next stop for the Morphine Crew is SC in a few weeks.  Be sure to come check out the racing and the crew.
Factory Team Sponsors: HARO BIKES (www.harobikes.com), Fly Racing (www.flyracingbmx.com),  Alienation (www.alienationbmx.com), DK Bicycles (www.dkbicycles.com), Folmer BMX (www.folmer-bmx.com), Hawk Racing (www.hawk-racing.com), Rennen (www.rennendesigngroup.com), Tioga (www.tiogausa.com/bmx), DNA Energy (www.dnaenergydrink.com)
06/09 Review: Alienation Team BMX Grips
by bmxultra.com
We've been checking out the Alienation Team grips, click here to read the full review.
05/09 BMX RACER Magazine issue #6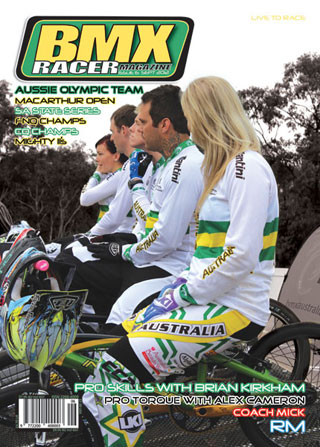 BMX RACER Magazine press release
G'day race fans!
Issue #6 of BMX RACER is available from Newsagents and iTunes this Friday 7th September!
This awesome issue includes
the Australian Olympic Team,
CQ Championships,
Macarthur Open Day,
FNQ Championships,
SA State Series,
NT Tropic Thunder Satellite City meet,
Pro Skills with Aussie Olympic Team member Brian Kirkham,
Pro Torque with Alex Cameron,
Kwik Kidz,
Coach Mick,
Project .22
And heaps more BMX action!!!
BMX RACER Magazine is also available from Oxley Cycles, BMX MAD and BMX EDGE and selected BMX clubs.
04/09 BMX Wins Big at Regional Academy Awards
Hunter Academy of Sport press release
The Hunter Academy of Sport held its annual presentation night on Monday the 3rd of September. The evening was held in the Great Hall at the University of Newcastle whose grandeur was very fitting for such an occasion.
The evening started with an interview of 2012 Olympic gold medallist Nathan Outeridge, who is a former Academy graduate. He spoke to a captive audience of local and state members of parliament, business and sponsor representatives and the family and friends of approximately 550 athletes.
During the night each BMX athlete received their graduation certificate on stage. At the same time two outstanding riders were awarded with scholarships to help with travel and expenses over the coming months. The two deserving riders were Brock Griffiths who won the University of Newcastle Scholarship and Steve Wakeham who won the BMXNSW Scholarship.
The conclusion of the night saw the awarding of the four overall prizes – 'Best Male Athlete', Best Female Athlete', 'Best Team' and 'Best Athlete in an Individual Sport'. The latter award was won by HAS BMX team captain Brock Griffiths.
Brocks achievements over the past year have included becoming state champion, a national medallist and a member of both the state and national teams. Brock will complete the year with a bang by representing Australia in the Trans Tasman Test Team race against New Zealand during October. It was a fantastic accomplishment and very proud moment for Brock, his family, the BMX team and the team sponsors.
When asked how it felt to clean up at the awards night Brock laughed and with a look of deep thought on his face just smiled. He did eventually talk but he was literally speechless for a while!!
The Hunter Academy of Sport BMX team sponsors and partners include: Eagleboys Pizza (eagleboys.com.au), BMXNSW (bmxnsw.com.au), Advanced Physiotherapy (newcastle-physiotherapy.com.au), Mind Body Balance, Multisport Solutions (multisportsolutions.com.au) and NIB Health Insurance (nib.com.au).
03/09 New Products: 2013 Intense Bikes
by bmxultra.com
We were amongst the first to check out the 2013 Intense Bikes back in July, at the time there was a ban on posting photos to the web, but it didn't mean we couldn't take them and post them when the ban was lifted. We have been busting at the seams ever since to show our readers. So here's the shots that we got of the brand new top of the range Sonic and the mid level Code. Enjoy.
They will be available very soon. You will be able to get yours from a dealer near you.
Intense BMX is distributed in Australia by Elite Cycle Imports.
Posted in: Archive