Answer Products with Joey Licata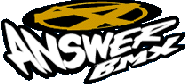 bmxultra.com: What is your primary job in Answer?
I am the marketing Manager and Product Manager for Answer BMX.
bmxultra.com: What does it entail?
I am in charge of all aspects of marketing for BMX-advertising, rider support, and race support. I also am the product manager for BMX. This means that I see every BMX product from concept to final production, and every aspect in between.
bmxultra.com: How long have you been involved with the BMX side of things?
I have worked at Answer Products for 6 years. 4 of which have been exclusively BMX.
bmxultra.com: Have you/do you race BMX?
I have been racing BMX since 1983. I currently race in the A-Pro division in the USA.
bmxultra.com: What bike do you ride?
Free Agent-cro-mo.
bmxultra.com: Do you think there are any advantages using cromo instead of alloy frames or vise versa?
I think that the only advantage that the Free Agent cromo has over aluminum is the "liveliness". They use thin guage butted tubing so it gives it a real lively feel. Aluminum seems to have more of a dead feel.
bmxultra.com: What sponsors do you have?
Answer is my main sponsor. My co sponsors are Free agent (bikes), Chris King (headset and hubs), Redline (cranks) Atomic (rims and brakes), Zeal Optics (sun glasses), Club Roost (tires), and Marwi (ti spokes)
bmxultra.com: What is your favourite track?
Black Mountain, Arizona.
bmxultra.com: What is your best finish?
1st in A-Pro.
bmxultra.com: Have you raced AA before?
I have not raced AA, but I do race Pro open sometimes. In 1997 I was $40.00 away from turning AA and in 1998 I was $ 120.00 short.
bmxultra.com: How do you work and find time to train as well?
I ride at lunch for about an hour twice a week. I ride the local track (Simi Valley) twice a week in the evenings, and I go to the gym twice a week. Once in a while when I can fit it in (not very often), I ride trails.
bmxultra.com: What training do you do?
Track time is very important. Even if your not going 100% at the local track, it keeps you fresh. I train at the gym 2 times a week to keep my first straight strong. I could probably go 3 or 4 times, but with work and a family, it's hard to find time.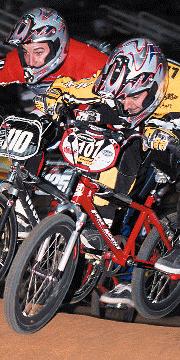 bmxultra.com: What would you say was the most significant change in BMX over the years you have been racing?
I think that the tracks have been demanding a better product than 10 years ago. Today's tracks are much more technical, therefore forcing bike manufacturers to make better quality frames and components to withstand more abuse.
bmxultra.com: What would you change about BMX if you could?
The only thing that I like to see is more television coverage. BMX is an awesome sport and the public awareness is very minimal.
bmxultra.com: What does answer produce?
Forks, stems, handlebars, pads, plates, grips, helmets, pants, jerseys, gloves, and shoes
bmxultra.com: Do you think you'd still make BMX shoes if people weren't using clips?
Definitely! Every rider needs shoes. If he's clipped in or not, there is still a need for a performance BMX shoe. The market has shifted towards clip pedals, but don't be surprised when it shifts back to flats.
bmxultra.com: How many people does Answer employ?
Depending of the time of the season, it varies from 130 to 180. Currently, we are at peak season, with all of the new product releases right around the corner, so our current staff is at about 175.
bmxultra.com: What is the most popular selling item at the moment?
It's hard to say because our entire line is doing so well right now. I'd probably have to say our pants and our forks.

bmxultra.com: Who rides for the Answer BMX team?
Our team is doing extremely well. In 1998 we won the ABA Golden Crank "Team of the year" award and we recently won the UCI Team Challenge "World Championship" award. Our Factory team roster
is as follows:
Tank Carder 10X
Dustin Black 11X
Paul Lang 12X
Bubba Harris 13X
Mike Day 14X
Ryan Staats 14X
Ronnie Schlickenmeyer 16X
Staci Patton 15G
Jennifer Schlickenmeyer Girl Pro
Doug Luden A-Pro
Joey Licata A-Pro
T.J. Johnson A-Pro
Chris Schoonover AA-Pro
bmxultra.com: How has the internet effected Answer?
It has given us a bigger and better way to get the word out. I (Answer) feel that we have something to offer that is bennificial to racers. We don't make any gimmic products. Everything that we make has a purpose. We don't make products just to make a profit.
bmxultra.com: Are there any new products we should look out for in the future?
For 2000 we have an all new line with a lot of exciting new products. Our clothing line looks great, as does our fork line. We will be releasing our long awaited MAG PRO in September of this year. It has cast magnesium legs and a cnc'd aluminum crown and steerer tube. It is super stiff, light, and strong. It will retail for about 200 USD. It has been race tested by top pros such as Jason Richardson, Kevin Tomko, Jamie Staff, and Chris Schoonover.
interviewed: – 5 August 1999
Posted in: Interviews