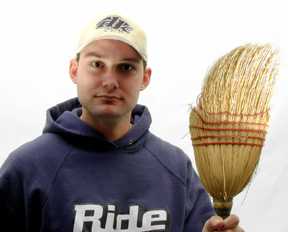 DK's Team Manager Steve Buddendeck has been involved in BMX since the early days, working in many roles including writer, photographer and editor for Ride and Snap. Ultra discusses BMX and managing one of the most popular BMX racing teams in the world today. Would it be a cushy job being DK's Team manager? Read on and make up your own mind.
bmxultra.com: How did you get involved in BMX? When and Where was it?
Steve: Just like a lot of kids growing up in Rochester, New York, I wanted a motorcycle. My parents said no way, so I got a BMX bike, started jumping, and then got into freestyle. It¹s difficult to figure out when it was, but I bought my first issue of BMX Action Magazine in 1982.
bmxultra.com: Did you ever get that Motorbike?
Steve: Yes, I bought one two months ago. I tried riding motocross for the first time in October and had a lot of fun. Alan Foster and Robbie Miranda took me to a track in California. Afterwards Robbie kept pushing me to get one, but I wasn¹t too sure. Finally Colin Winkelmann bought one, so I knew that I¹d have someone to ride with here in Ohio. Soon after Matt Pohlkamp won a CR250 for winning the Monster-X and I bought his old bike. A ¹99 Suzuki RM125 that he¹d only ridden five times. Everything just came together.
bmxultra.com: How did you first get involved with Snap Magazine?
Steve: After I graduated from college I ran a BMX clothing line called 2B with my friend Hal Brindley. We advertised 2B in Ride BMX Magazine, so we knew Brad McDonald, Ride¹s Editor. Brad read a story that I¹d written in Leigh Ramsdell¹s zine Orgasmic Toaster. After reading the story he asked me if I¹d like to write for Ride. I said yes and covered some events. I became more and more interested in writing and was hired by the NBL as the Assistant Editor of Bicycles Today Magazine. A few months after I started working at the NBL Brad asked me if I¹d like to start an all BMX race magazine. I was so excited because Ride was the only good magazine out there. We started Snap in August of 1994. I can remember designing the Snap logo while OJ Simpson was being chased down the freeway near Brad¹s apartment. I was the Editor for a year and a half. I still shoot photos and write articles for Snap and Ride today.
bmxultra.com: What were you doing there before you started at DK?
Steve: I was East Coast Editor of Snap for awhile and the Editor of BMX Business News Magazine. At the same time I ran my own advertising agency in Winston-Salem, North Carolina. I sold photos, made ads, and judged all of the ESPN contests including the X-Games. DK grew to be my biggest client and I was eventually hired to work at DK fulltime.
bmxultra.com: What is your current relationship with Snap?
Steve: I¹m a contributing writer and photographer. I still enjoy shooting Photos more than anything else that I do work-wise. I¹d like to work for myself shooting photos again someday.
bmxultra.com: What is your most prized photo of?
Steve: It¹s tough to pick an absolute favorite. There was a photo I took of Craig Reynolds riding trails in Snap that I like a lot. He was just flowing through the trails, no tricks, and it was getting dark out. The flash lit him up perfectly, it was super sharp, and the dirt on the landing got this eerie feel to it.
bmxultra.com: Who is the easiest rider to work with when doing a photo shoot?
Steve: Again it¹s tough to say, but probably Robbie Miranda. He works super hard no matter what you¹re shooting. Chris Doyle and Todd Walkowiak are great too. They both have so many different tricks that you can shoot all day long.
bmxultra.com: Do you have any hints in taking BMX photos? Best film and paper to use? What is the best lighting for BMX photos?
Steve: My best advice would be to really think about what you¹re doing. Take time to figure out how a camera works and take notes on how you¹re shooting. I used to keep a notepad full of the notes on my shutter speed, f-stop, and flash power so I could remember what worked the best. I always use the same film, Fuji Velvia 50. It¹s slide film so there isn¹t any paper involved. Occasionally I¹ll shoot Kodak Tmax 400 for black and white. As far as lighting goes, a bright sunny day with a clear blue sky is the easiest setting to get great shots. I like shooting into sunsets with several flashes. It¹s more difficult, but sometimes you get some amazing shots.
bmxultra.com: What does your job entail at DK?
Steve: So much that it¹s difficult to describe. Simply put – I run DK¹s Promotional program. Everything from selecting riders to soliciting team sponsorships to creating ads to shooting photos to planning our videos to writing reports to designing jerseys to planning our website to setting up the DK Dirt Circuit series to running each event. Pretty much everything DK does promotion wise I¹m involved with. It gets to be too much and I get burned out a lot. Luckily I have two really talented artists, Ben and Andy, working with me now, plus an assistant named Amy who helps me out. Cory Muth takes care of our website now and helps a lot with the contest series. He¹s going to create the new DK video too.
bmxultra.com: Who are the DK team sponsors?
Steve: 1-800-COLLECT, DC Shoes, Sun Rims, Kobalt Tools, Tektro, Fox racing, ATI Grips, Profile, and UGP.
bmxultra.com: You said you were out for the filming of a movie for DK, what can we expect to see and when is it due for release?
Steve: The video should be similar to our first one, Damn Kids, in that it will feature the DK team riding everything that we can get on film. I think it¹ll be much better than the last video in that everyone on our team has gotten so much better. Colin Winkelmann is healthy and riding well. Leigh Ramsdell is doing a lot of new original stuff. Todd Walkowiak and Chris Doyle have both stepped it up and learned to ride ramps and street. I think that both of those guys will surprise a lot of people. They¹re both underrated on dirt, just wait until you see them ride street. The video will be out in June. It doesn't have a name yet.
bmxultra.com: What sort of work goes into making a video? Long hours?
Steve: I¹m sure that every video is different, but for us it starts with long hours of filming and also planning out where each rider wants to film. It takes so much footage just to make each four minute rider section. Cory Muth does the editing. From what I¹ve learned it takes a lot of patience, planning, and a vision of how you want things to come together.
bmxultra.com: What happens when you are all geared up for a big day of filming and the riders are too buggered to do anything big? Or one of them gets an injury?
Steve: It can ruin a trip pretty quick. I went down to North Carolina to shoot with Chris Doyle for an entire week and he got hurt on the second day. Luckily I had a lot of other riders to shoot with, otherwise the trip would¹ve been ruined. The weather ruins a lot of trips too.
bmxultra.com: It must have been great for DK to have both Neal and Robbie in the 1997 World Championships Elite final at Canada?
Steve: Yeah, that was really great. Especially because Neal and Robbie had both won their first AA Pro nationals the weekend before the Worlds. Back then people thought of those guys as just trail riders who¹d made it into AA Pro. 1997 was a turning point for both of those guys. They¹re proved to themselves that they could do it.
bmxultra.com: What is it like to work with Neal Wood?
Steve: Neal is great. He¹s come a long way since he was the NBL¹s #18 pro, but he hasn¹t changed much since. Years ago while other pros were complaining about not being able to upgrade to first class on their flight home he¹d be sleeping in the DK trailer. He¹s always given more than any other pro (besides Robbie) was willing to give. I appreciate everything he¹s done for our brand and for me personally. He makes my job a lot easier.
bmxultra.com: What about Robbie Miranda?
Steve: Robbie is great too. Like Neal, he¹s always willing to do more than is expected. Robbie is willing to work hard at everything. He¹s very focused and doesn¹t back down from a challenge. Like jumping the DK trailer for an ad. He didn¹t even know what he was getting into, but he was confident that he could do it. Another thing is that a lot of people don¹t realize how young Robbie is. He¹s only 22 and should have a long successful BMX career. He already has the ability to win big races. He proved that at the Christmas Classic by winning AA Pro. The only thing I don¹t like about Robbie is that he¹s very quick to discount any success that he may have. He should relax more and enjoy what he¹s achieved. He's pretty uptight.

bmxultra.com: Robbie must be extremely skillful to have done so well in the BMX Plus street Olympics, would he have recieved any bonuses for that?
Steve: No bonuses for the BMX Olympics, just for wins, photos, and big titles.
bmxultra.com: From what I have read Neal was quite surprised to have taken out the 2000 Nora Cup, did the results surprise the rest of DK?
Steve: Yes I was surprised. It¹s hard to know what kids look for in a pro these days. Neal wins races, can jump a bike, and is very personal with his fans. It¹s nice to know that kids picked someone cool instead of the guy who wins the most races.
bmxultra.com: DK has been around for a long time, I think I have a stem which would date back to the late 80's, I've been thinking of getting it carbon tested for a more precise date. What do you think it is that has grown the DK thing over the past 2-3 years, given DK have been around for so long?
Steve: DK¹s CEO Bill Danishek is willing to take risks. He hires smart people to do the work that he can¹t do. It¹s paid off in that we are consistently ranked as a top brand by the readers of Snap and Ride magazines. We beat brands that are a hundred times bigger than we are. We¹re able to do this because we stay in touch with the sport. We listen to our riders a lot too.
bmxultra.com: There seems to be a lot of DK's getting around here in Australia, particularly the y2k models. You would have to be happy with that, are export sales as big as the domestic (USA) sales?
Steve: I don¹t think we export as many bikes as we sell in the states, but we¹re selling more and more overseas.
bmxultra.com: What are your favourite websites?
Steve: I have a lot of favorites. The web is such an excellent place to find information and ideas. I visit DC Shoes site the most (www.dcshoes.com). I¹ve always admired their brand and liked how consistent every element was from their products to their print advertising to their website. I¹m so completely stoked that they¹ve come onboard as a DK team and DK Dirt Circuit sponsor this year. They have no idea of how much I¹ve admired their brand.
bmxultra.com: What effect do you think the web has had on the world of BMX?
Steve: I cannot even begin to describe its affect. It allows consumers to make better educated decisions regarding the BMX products that they want and provides so much entertainment. It also saves us a lot of time as far as getting information on our contest series to the riders.
bmxultra.com: What do you think is the most significant change to BMX over the past few years?
Steve: Television. TV has made BMX big time entertainment. This has allowed all of us, riders and people in the industry, to enjoy a lot better standard of living. Some people complain about TV, but its brought BMX to so many more people. I¹d rather see more and more kids get into BMX than play baseball or whatever.
bmxultra.com: What music do you listen to?
Steve: All kinds really. Right now I¹m into emo-punk stuff like The Get Up Kids, some Samiam, and I like old punk like Bad Religion. My CD collection includes everything from rap to country.
bmxultra.com: What do you think of Neal Young?
Steve: I don¹t.
bmxultra.com: Does DK have anything new that we should look out for in the near future?
Steve: Better products and better availability. Our riders continue to provide input on better and better products. Neal Wood¹s signature frame and bike will be out in our 2001 line-up. Todd Walkowiak and Chris Doyle have their own signature trail frame coming out. Right now our biggest concern is getting DK bikes into more and more bike shops. We have an amazing team, the best promotional campaign, and a ton of great products, but bike shops are so consumed with bigger brands like Specialized, Giant, and GT. A lot of bike shops won¹t give kids what they really want.
bmxultra.com: BMX in the US is at an all time high while in Australia its the opposite. You get about 120-180 riders per race meeting the Pro riders are racing for their share of $AU500. What do you think it is that it making such a difference in the US? Is it the population difference? The fact that both the ABA and NBL are very good at promotion and are very competitive?
Steve: I¹ve never experienced BMX in Australia, so I don¹t know how accessible it is. I¹ve heard that there are a lot of public skate parks and plenty of tracks, but how expensive are BMX bikes? I can remember talking to some riders at a track in Denmark. BMX was so expensive there that only small group of kids could afford it. BMX in America can be very affordable compared to other US sports like hockey, motocross, etc. Right now we¹re enjoying a population boom of teenage kids and that¹s helping too. The NBL and ABA are both building more BMX tracks than ever before too.
bmxultra.com: A DK Y2K Team Legend is about $AU1995, which is pretty expensive, do you think it would be better for the sport in Australia if there were more local companys making BMX gear, if we could gear up our own BMX industry instead of importing the hottest item in the states?
Steve: Again, I don¹t know enough about the Australian economy. $2,000 US sounds like a lot for any BMX bike, but maybe everything is more expensive there. I think that any country that has enough BMX riders to support their own companies should do it themselves. I don¹t know how feasible that is.
bmxultra.com: Are all DK's made in the US?
Steve: Not everything. We have three different frame builders that make DK frames over here, plus low end model being made in Taiwan.
bmxultra.com: Do you think that Countries can learn from America and judge patterns in BMX growth etc?
Steve: Again I think that the cost to participate in BMX plays a huge factor. Yes, other countries can learn a lot from the American BMX scene, but I think that other countries might be able to utilize resources that we don¹t have here. Liability insurance is a huge concern here. Americans are stupid in that they want to sue everyone. That makes building tracks, skate parks, trails, and basically anything fun very difficult. U.S. liability issues really hold BMX back. I¹ve been to skate parks in England and Germany that were so unbelievable. You could just show up and ride. You didn¹t have to pay anything or even sign a waiver.
bmxultra.com: What effect has the DK website had on your workload/working habits?
Steve: The DK website has helped my job a ton. It provides answers on our product line, riders, and contests that I used to take calls about. It¹s a great place to send people to learn about our company. Cory Muth designed the site and we work together really well. We discuss possible content and he packages it into a site that looks cool and is very efficient. I think Cory does a great job because he¹s so in touch with BMX. He was one of DK¹s top amateur racers and continues to ride for DK today.
bmxultra.com: How many people does DK employ?
Steve: I¹d guess about twenty between both our Ohio and California operations. It fluctuates depending on the season. We get very busy in the summer and before Christmas.
bmxultra.com: Do you see BMX becoming a mainstream sport any day soon?
Steve: Yes and no. I don¹t think that schools will ever build tracks and Include BMX in gym class, but I do think that more and more people will become exposed to and accept it. TV shows like the X-Games, Gravity Games, and DK Dirt Circuit, as well as people like Dave Mirra and Matt Hoffman help get BMX to the masses. BMX is getting a lot better in my opinion.
bmxultra.com: Is that a good or bad thing?
Steve: It¹s a great thing. Some riders complain about BMX getting big, but I think that they¹ve forgotten that they were complaining when BMX was small too.
bmxultra.com: Where do you see BMX in 5 years time?
Steve: I¹m not sure? I can see freestyle and dirt jumping getting bigger and bigger, but I¹m not too sure about BMX racing. The sanctions are stuck in the past. Racing in America is driven by entry fees. Freestyle is driven by entertainment value. The NBL and ABA have to add some more entertainment value to their races. Right now BMX is pretty boring for the average person.
bmxultra.com: Who would you say has been the most influential rider in the past few years? Why?
Steve: Matt Hoffman. Matt could¹ve easily enjoyed a successful career as the best bike rider of all time, yet he chose to push the sport along with his riding. He¹s helped everyone in BMX with his involvement with ESPN. He runs contests, produces TV shows, owns a bike company, owns a clothing company, does demos, and still pushes the limits of what can be accomplished with a BMX bike. Matt has helped so many of today¹s BMX superstars get where they are today. I also have to give Steve Swope props for helping Matt accomplish so much of what he¹s done.
bmxultra.com: What advice would you give to people who are looking for a sponsorship?
Steve: Don¹t make getting sponsored your number one priority. Have fun and really enjoy the time that you spend on your bike. Once you¹re in a position to get sponsored it should happen naturally. Keep in mind that being sponsored isn¹t just about getting free bikes and airline tickets; it¹s a huge responsibility. You have to help your sponsor sell products.
Interviewed: 14 Dec 2000
Posted in: Interviews